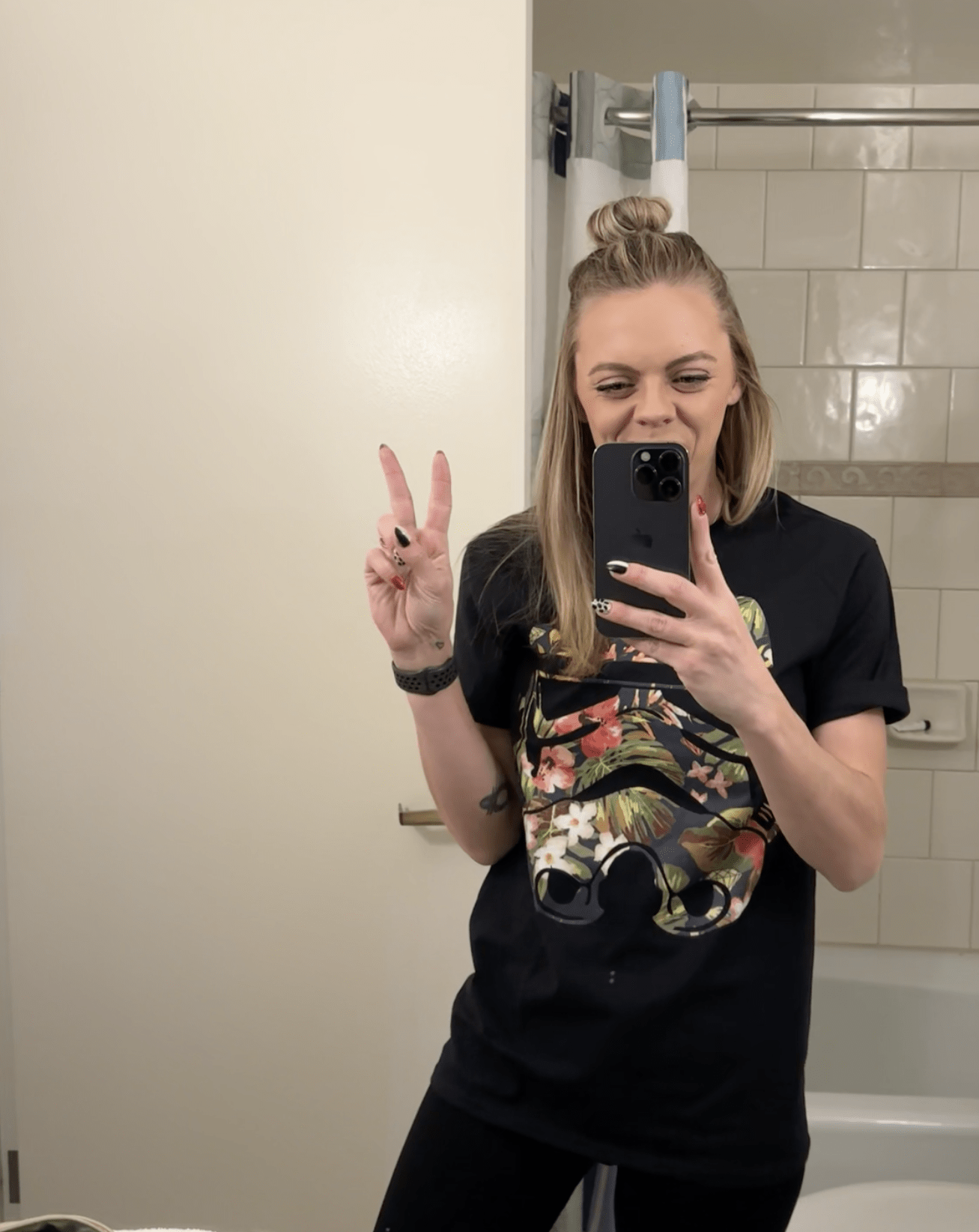 I FELT OVERWHELMED when I thought about what to take to Disneyland Park for the first time. Now I still get the butterfly feeling of excitement, but I no longer feel stressed and overwhelmed when packing for Disneyland. 
Disneyland, the happiest place on Earth, is a dream destination for people of all ages. The enchanting atmosphere, thrilling rides, and beloved characters make it a place where lifelong memories are created.
However, careful planning and packing are essential to make the most of your magical adventure. In this blog post, we'll provide you with a comprehensive packing guide to ensure you have a stress-free and unforgettable experience at Disneyland.
Please note any health or life necessities you will not travel without. While my pillow is not on this list, please know that it goes on every trip, no matter what. Mommas got bad hips and needs a good pillow.
All jokes aside, don't forget what makes you and your whole family unique.
Now let's pack.
Comfortable Clothing:
Disneyland outfit. Hands down important. The second we discuss planning a Disneyland vacation, we instantly start thinking about what themed shirts we take for our park days.
Different colors, favorite things, or a matching set for every family member. Careful planning goes into the outfits of Disneyland.
Comfortable clothing all around is essential. From leggings and dockers to tennis skirts and dresses or even board shorts, clothes are the first thing to consider.
If the weather is warm, I gravitate to shorts or a tennis skirt. It's all about looking cute and being functional.
Now for the winter months, leggings and a jean jacket with a light sweater or spirit jersey are my go-to's.
Nordstrom Zella pockets shopstyle.it/l/bZkMI
Pack lightweight, breathable clothing appropriate for the season. Don't forget to check the weather forecast before your trip to prepare for any unexpected changes.
If you plan on going on the water rides like the Grizzly River Run in Disney California Adventure Park or Tiana's Bayou Adventure/Splash Mountain in Disneyland, you will want a change of clothes or shoes. While on a really hot day, this is no problem at all if it is a little colder or you hate wet clothes, you will want something new to wear.
While I would stress the importance of this in the past, nowadays, you can pick up whatever you might need at one of the gift shops like the World of Disney store or have something delivered, but still better to be prepared.
Star Wars Shirts
Vader and Troops https://shopstyle.it/l/bZkMU
Marvel & Avengers Shirts
Comfortable Footwear:
10,000+ steps a day is child's play when it comes to walking at Disneyland. These parks are over 450 acres of pure fun, and you will definitely walk from one end of the park to the other twice a day. Easily.
If you are one of those people who has a hotel nearby and like to head back for a nap, that is additional walking to and from the park to keep in mind as well.
A day at Disneyland can mean miles of walking and standing in lines, so reliable and comfortable walking shoes are crucial. Opt for well-worn, supportive sneakers or comfortable sandals (not us, but we see many people in them) that have ample support and have been well broken in to avoid painful blisters.
Chafing and blisters, literally, nothing is worse than that combination at a theme park. Speaking of chafing, body glide is the best anti-chafing stick out there. It's easy to apply and does not leave you a mess after application. Suitable for husbands/spouses and kids as well.
Disneyland Tickets, Documentation, and Wallet:
When it comes to tickets and planning ahead of time, Disney has one of the best theme park app interfaces. Lots of time, energy, and money goes into this app.
You can purchase tickets right through the app, but most people buy tickets online through the Disneyland website, but some purchase from Costco Vacation or even Get Away Today & undercover tourist to save a little money.
All Disney park tickets are e-tickets and can be added to your My Disney Experience app with your reservation number. Make sure you create your Disney account and log in on all your devices and link any family members accounts to you as well.
Before you leave home, double-check that you have all your park tickets, reservations, and any identification you may need for your Disney vacation.
Nothing is worse than thinking you have a pass for that day and finding out you are actually not supposed to be there until tomorrow.
A few other essential items are your Credit card, ID, Debit card, Disney gift cards, and travel documents—a couple of quarters and a penny or two. There are a few spots to make a smashed penny around the park; if you see one, you must have. You will want coins to make them.
Purchase any add-ons ahead of time.
Disney offers two add-ons for your park experience. Genie+ and Park Hoppers.
Genie+ is the most up-to-date version of Fastpass, and park hoppers allow you to jump between parks. You used to wait until late in the afternoon to hop parks, but now you can jump as early as 11.
Depending on how many days you have selected and what parks you go to, we highly suggest Genie+ and a park hopper pass.
It gives you the best chance to get everything done you want to and not have to wait in the dreaded lines for longer than necessary.
We will never go to a theme park anywhere and not purchase the FastPass style add-on.
(yummy Mickey snack image)
Snacks and Hydration:
While Disneyland offers a wide array of delicious food options that we take a great part in, bringing your own snacks can be a brilliant idea, especially to keep hunger at bay during long lines and save a little money where you can.
Especially if you are traveling with littles having snacks will help hold them over between meals and throughout the day. While we LOVE eating at the park and trying all the specialty foods, it can cut into your ride time. We utilize quick service restaurants with mobile orders within the park to schedule food and beat restaurant crowds.
A few dining experiences are well worth the time, but make sure you make a reservation 90 days ahead of time.
When you first arrive at your Disneyland hotel, make a grocery store run or a grocery delivery to fill your hotel room with all your own food and snacks your family loves.
Remember to stay hydrated throughout the day, too, as the California sun can be intense. There are lots of water fountains and places to get a water cup or even refill your reusable water bottles throughout the day. Glass containers are not allowed, so make sure you have a metal refillable water bottle.
If you are prone to motion sickness, eating well and drinking lots of water is the best way to beat it. Don't ruin your day by not staying hydrated or snacking.
Reusable Straws
Speaking of staying hydrated, both Disneyland and Walt Disney World Resort are all about straws that disintegrate while you drink. While yes, they are good for the environment, I haven't found anyone that likes to eat their straw while they drink, so bring your own reusable straws.
Skip plastic straws if you can, and opt for silicone or metal straws instead. I always seem to smack my teeth on the metal straw, so silicone is a better option.
metal https://shopstyle.it/l/bZkJK
silicone with cleaning https://shopstyle.it/l/bZkJQ
Backpack or Bag:
Carry a small, lightweight backpack to store your essentials, such as sunscreen, water bottles, snacks, and any souvenirs you might purchase.
One thing you will see all over the park and in all the stores are Loungfly backpacks. Some of these are exclusive to Disney and the park specifically.
These backpacks are a great size and hold a lot of your essentials throughout the day. While it typically won't fit the massive Stanley cup, it does hold a 12-16 oz water bottle easily.
Loungfly makes backpacks in all designs, depending on the theme you are going for. I have a special Bambi and Jurassic World backpack from Loungefly and a Harry Potter backpack from Freshly Picked that I use on all of our theme Park days. They are the perfect addition to functionality and your overall fit.
Bambi Loungefly Backpack
While not a "Disney" bag specifically, there are lots of colors and styles. The backpack specifically fits a waterbottle on the outside and has a cool pocket on the inside, as well as a zipper pocket and a stretchy front pocket.
The layout of this bag is one of my favorites if you are not a Loungefly lover.
Our other favorite bag to carry around is a park bag or fanny pack. These crossbody bags are perfect for holding your cell phone, charger, sunglasses, wallet, keys, and sunscreen. 
Most rides allow you to have your park bag or Loungefly-sized backpack with you; that way, you do not leave any of your valuables behind. 
You want to make sure it's comfortable to wear for extended periods, especially if you do not have a stroller to dump your things throughout the day.
You can rent a locker for the day with unlimited in and outs; the only downfall is that they are typically at the front gates of the park, and getting back to that throughout the day can be challenging or time-consuming.
Sun Protection:
Protect yourself from sun rays by packing sunscreen, sunglasses, and a wide-brimmed hat. Sunburns can quickly put a damper on your Disneyland adventure.
Spray sunscreens are great and easy to use, but remember to over-spray and rub in the sunscreen so you are not left blotchy.
Powder makeup sunscreen is compact and easy to apply. It leaves your face not feeling oily, and it protects you from long days in the sun.
Don't forget about your lips. While we often feel our shoulders getting a little sun, our lips, on the other hand, do not give us warning. Burnt lips are never fun, and they seem to peel and hurt longer than any other sunburn.
Cell Phone and Case
Don't forget your phone and a case to protect it. A pop socket is always a great addition to your phone case. It makes for easy holding, particularly if you use it on a ride or walking around with it out.
Portable Phone Charger:
You'll likely be using your phone for photos, checking wait times, and using the Disneyland app. Carry a portable phone charger to keep your devices powered throughout the day to avoid running out of battery.
This is something I do not EVER leave my home without, even on a regular none park day. While a little more expensive, you want to look for one that is around 10,000 mAh or more. These will charge your phone at least once but most likely twice during the day.
When you return to your hotel, plug it in; it will be ready the following day. 
This charger has each cord attached, and they tuck back into the sides. It keeps your bag organized and does not require you to carry your cord in addition to the charger.
A few of the theme parks, including Disneyland, provide fuel rods as a form of portable charger option in the park. The swap-out kiosks can be found all around and located on the map. You can purchase fuel rods on Amazon or within the park (a little more expensive), but they come fully charged, and you can exchange them throughout the day if needed at one of the kiosks.
If you forget your battery pack, this is a perfect option! You might spend a little extra at the park, but you will have a fully charged phone and won't miss out on capturing the magic throughout the day.
Rain Gear (if applicable):
Bring a compact umbrella and a waterproof poncho if you're visiting during the rainy season or when rain is in the forecast. This way, you can continue to enjoy the park, rain or shine.
Many people will flock inside when the rain starts making it the perfect time to jump in line for a ride.
If you are a winter person or love the rain, this will not be an issue at all for you.
Portable Fan
Introducing our lifesaver on hot days – the Portable Fan!
With this compact and powerful cooling companion, you can stay cool and comfortable as you navigate long names, thrilling rides, and exciting attractions.
These portable fans are lightweight, easy to carry and fit right into your bag or pocket. It features multiple speed settings, ensuring you can customize the breeze to your liking.
Powered by long-lasting batteries, you won't have to worry about running out of refreshing air. Some even have phone chargers as well. 
Autograph Book and Pen:
One of the best things to do while you are in Disney is meet and greet with your favorite characters.
Don't forget to pack an autograph book and a reliable pen for those looking to collect character autographs. Make sure you pack a large Sharpie or pen for the characters to use. Many times their hands are gloved or entirely covered by a bulky costume.
Meeting beloved Disney characters is a highlight for many visitors, especially kids meeting their favorite character for the first time. 
First Aid Kit: 
A small first aid kit can be helpful for minor cuts or blisters. Although Disneyland has first aid stations, it's good to have some basics with you so you don't have to walk all the way back to the front of the park.
If you are prone to motion sickness, Dramamine or anti-nausea bands are something you do not want to forget! There is one roller coaster in California Adventure, but two roller coasters in Disneyland Park.
Hand sanitizer
Motion Sickness
Advil, Aleve or Tylenol
Deodorant: Native travel size
Lip balm
Bandaids
Tampons
Allergy Medication
Hair and Head Accessories
If we are discussing one of the most important items for what to take to Disneyland, having your hair in check is up there. While I'm not a mickey ear wearer, my daughter and every other Disney girl seem to be.
Our daughter's favorite thing to do in the World of Disney store is try on every set of ears and ask to have her picture taken.
Cute headbands and Mickey's ears are all over the park. Disney has a lot of ears to pick from when you get there, but many people want to buy them ahead of time. Shop Disney has a lot, but you should always check out Etsy for a more unique look.
Bobby pins
Hair ties
Claw clip
Apple Airtag
We put Apple airtags in and on everything!
The stroller is the best spot to keep everything, but if you park it in stroller parking and then go out on a few rides, a cast member will sometimes move strollers around to make more room.
As you return to where you thought your stroller was, you will sometimes be surprised by the scavenger hunt for your stroller. The air tag gives a very precise location and helps narrow down your things.
Airtags https://shopstyle.it/l/bZkPT
Silicone air tag case https://shopstyle.it/l/bZkRq
Cooling Towels
During the summer months, a great way to stay cool besides the portable fan is a cooling towel. Easy to get wet and hang over your shoulders. These cooling towels stay cold while cooling you down in the summer heat.
Disneyland has a lot of shade while you wait in lines but you will want something while walking around or sitting down to eat outside.
Ziploc Bag
One insider tip is to put all items that will set off the detectors at the security checkpoint in a clear Ziploc bag to avoid unpacking your entire bag. Think TSA, but less stressful and ridiculous.
Disney parks care a lot about the safety of their guests. Cast members are all around the park to help at any time, but before you enter, you must go through the security area with metal detectors and bag checks.
Your day bag will most likely be packed to the brim, but keep the following items separate to avoid extra time going through security.
reusable water bottle
umbrella
sunglasses
portable batteries
cameras
Preparing for the trip
There are a few things to remember besides the item checklist. Weather and park hours play a massive part in planning. As well as the age of the travelers in your party.
Research Weather
Research the weather and park hours to decide what to take to Disneyland. Middle of the summer months, on a hot day, you will most likely not need a sweater of any kind. Middle of November, a light jacket or long sleeve will be necessary.
Southern California weather can be unpredictable, so knowing whether to pack light clothing or bring along a sweater and a rain poncho is crucial, especially on rainy days.
Disneyland is more unique than the other theme parks in Southern California. While summer hours are a little later in the evening into the early morning hours, winter hours are shorter.
Disneyland Park Hours
Knowing the park's hours will help you optimize your day's schedule and determine what will be important on this trip.
Make a checklist of the essentials to take to Disneyland
While we have shared an in-depth guide to the essentials, creating a comprehensive packing checklist is a must-do. Having a list ensures that nothing important gets left behind in the excitement of the trip.
We've provided a checklist and spots for you to fill in for your own needs as a family.
Age of the Parkgoers
Consider the age and needs of all travelers for what to take to Disneyland
Finally, if traveling with children or elderly family members, consider their specific needs when packing. Items like baby supplies, medications, strollers, or special walking assistance should be on the list.
By catering to everyone's requirements, the trip becomes more comfortable and enjoyable for all.
Disneyland Packing List Note
Side note: While this works really well for Disney, this Disney packing list is a great packing list for all theme parks. If you are headed to one of California or Florida's many other theme parks, we highly suggest this ultimate theme park packing list.
Disney provides a lot of amenities to their parkgoers, from shaded areas to baby rooms. Disney has you covered. Some theme parks could be better for park amenities, and you will want to make up that difference with this theme park packing guide.
Create an Itinerary
Research and create a Disneyland itinerary that considers all of your group's preferences and interests. Follow these steps to create a comprehensive and enjoyable itinerary for your trip:
Research the Park
Familiarize yourself with Disneyland and its attractions. Look at the park map, study the different lands (e.g., Fantasyland, Adventureland, Tomorrowland, Pixar Pier, Avengers Campus), and make a list of the rides, shows, and experiences you want to prioritize.
Set Priorities
Identify your must-see attractions and experiences. Understand that it might be challenging to fit everything into one trip, so focus on what matters most to you.
Check the Schedule
Disneyland offers various shows, parades, and character meet-and-greets at scheduled times. Check the official website or the Disneyland app for the daily schedule and plan around these events.
Consider Park Hopper Option:
If you have a Park Hopper ticket, you can visit both Disneyland Park and Disney California Adventure Park on the same day. Factor in travel time between the parks when creating your itinerary. While the parks are directly across each other in Downtown Disney, you will want to account for the walk.
Create a Daily Plan
Divide your trip into individual days and assign specific activities to each day. You might group similar attractions together based on their location in the park to optimize your time.
Use the Disneyland App
Download the official Disneyland app to check wait times for rides, make dining reservations, and get real-time updates on shows and events. The app will help you adjust your itinerary on the go.
Factor in Wait Times
Be realistic about wait times for popular attractions. Some rides can have long lines, so account for this when scheduling your day.
Meal Reservations
If you plan to dine at specific restaurants, make reservations in advance. Popular dining locations can fill up quickly. To snag one of the limited reservations at a popular spot book 90 days ahead of time and log in around 3:00 am 90 days ahead of time to guarantee a chance for a spot.
Include Breaks
Allow time for rest and meal breaks in your itinerary. Walking around the park all day can be tiring, so plan for moments of relaxation.
Be Flexible
While it's essential to have a plan, be open to changes and spontaneity. Unexpected things can happen, and you might discover new attractions you want to experience.
Share the Itinerary
If you're traveling with others, share the itinerary and gather input from the group to ensure everyone's preferences are considered.
Conclusion
Following this Disneyland packing list will prepare you to embark on a magical adventure at Disneyland. From comfortable clothing and reliable footwear to practical items like snacks and sun protection, having these essentials on hand will ensure your focus remains on creating cherished memories with your loved ones. So, pack your bags and get ready to experience the wonder and joy that only Disneyland can offer!
Other Helpful Disney Guides
Good Neighbor Hotels within Walking Distance