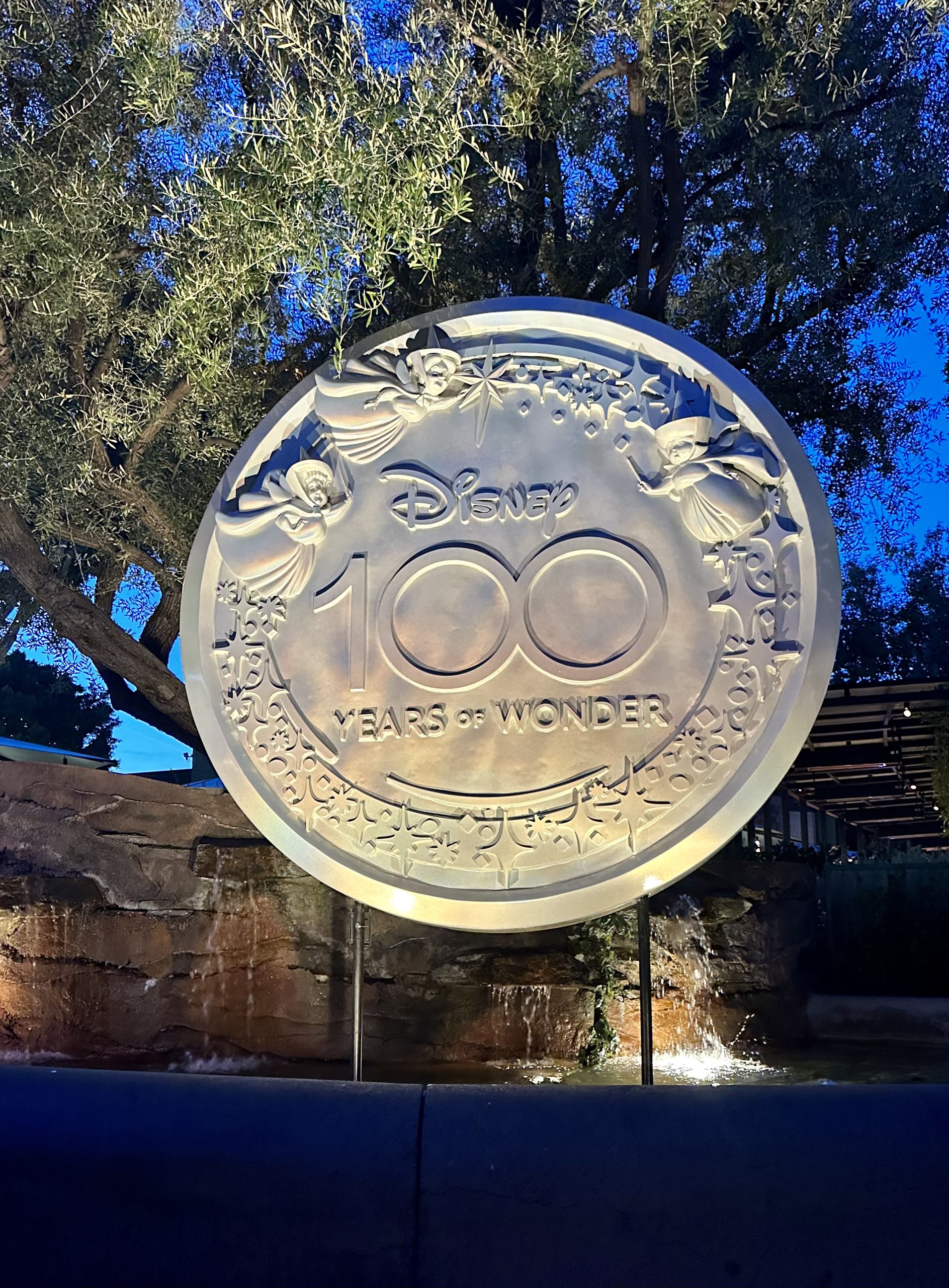 Finding the best Disneyland good neighbor hotels to stay at can be a little daunting. Do you go with the one right across the street, or stay a little farther away but get better amenities? Depending on what kind of Disneyland vacation you are planning will dictate where you stay and what is important during your stay.
We were recently in Anaheim for my husband's work conference, while I got to explore Disney. We stayed a short 7-ish min drive from the park and had no issues with Anaheim Marriott Suites. The hotel was great and had a wonderful 1 bedroom suite perfect for families.
But in November when we went for my family reunion trip we all stayed at the Paradise Pier Hotel. This was such a special trip and our room was absolutely the best part. We had nightly shows and access to the park early.
Both were amazing trips but had vastly different objectives.
We are a Disney family in any way we can get it. Whether we have to drive a little extra and use the parking lot at Disneyland or walk across the street and into the park with early access. No matter where you stay don't forget to spend a little time in Downtown Disney and check out the shopping and restaurants.
There are massive benefits in staying on-property compared to a good neighbor hotel. But at the end of the day this Disneyland vacation isn't about the hotel room you spend sleeping in. Have fun in the park and enjoy your time together.
But I do want some good accommodations, a comfy bed, and a room that makes sense. So let's talk about Disneyland Good Neighbor Hotels
Best Disneyland Good Neighbor Hotels
Best Hotels to stay at Nearby Disneyland
Top Disneyland Resort Hotels in order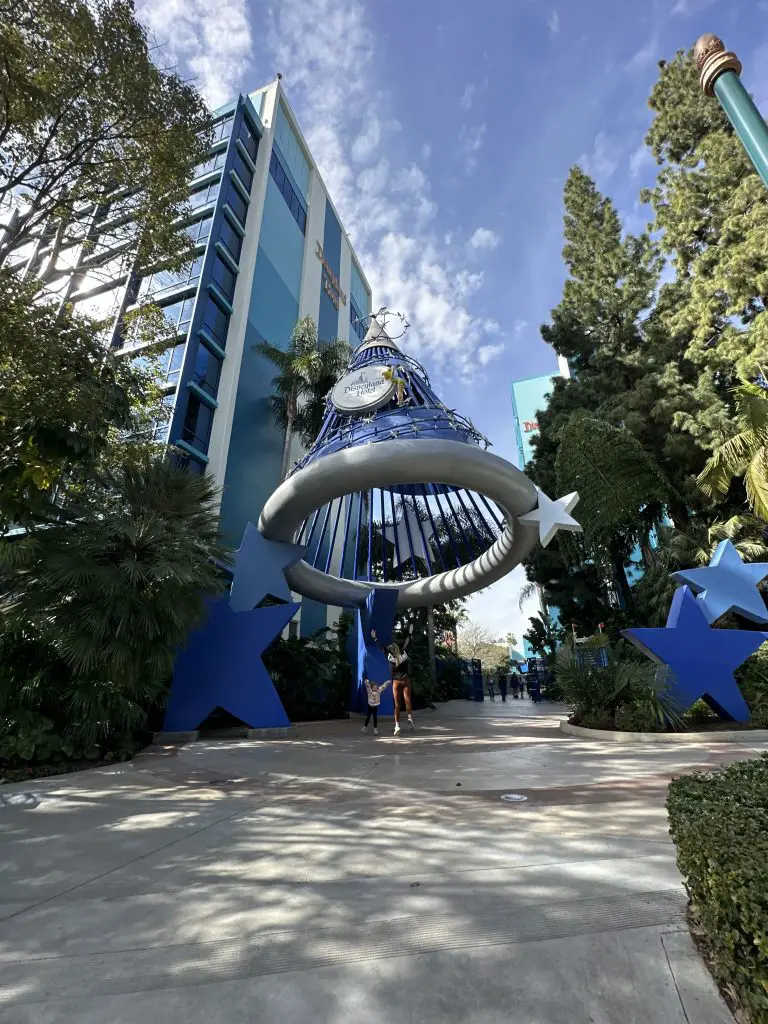 Best Disneyland Good Neighbor Hotels or Off-Property Hotels
Many of the good neighbor hotels offer standard rooms, family suites, cable tv, and a pool area. Not all of the good neighbor hotels offer shuttle service, so please call before if you are looking for shuttle service the hotels we are going to share with you today for your next Disneyland trip are all within walking distance or a short drive if we think the hotel is worth it.
The closest hotels to the main entrance to Disneyland park are off S Harbor Boulevard. Katella Ave and Harbour Blvd, are the two busiest roads since they are closest to parking and Disneyland. If there is one thing we would suggest it would be to stay away from Ball Road, although there are a lot of hotels over in that area it's a long walk from that area.
Fairfield Inn by Marriott Anaheim Resort
The closest with the best reviews and the most updated Disney-themed rooms. It is directly across the street from the main entrance so about a 10-minute walk and completely worth it!
It checks pretty much every box a family hotel in today's age should have: Pool and hot tub, game room, fitness center,
Dining is the only thing I find Marriott to not have in all of their hotels. There is a Panera Bread nearby. This is a motel meaning the walkways are outside and if you want to open the windows know people will walk by. It is still a great spot but worth noting.
This is our number one pick for Best Disneyland Good Neighbor Hotels to stay at.
Anaheim Marriott Suites
We stayed here on our most recent trip, it was a 50/50 work/play trip and our priority was the Anaheim Convention Center. I had a car so I was able to get around easily from this location. and it had a target across the street. But, for Disney this hotel is less than 10 min from Downtown Disney and the Theme park parking lots, we found it to be very conveniently located, with great guest rooms and suites.
Our 2-Queen Beds Suite, had a living room, coffee bar, and designated desk area. Then the two queen bedrooms with a door. It was really great having the vanity separate from the bathroom shower and toilet. There were a lot of mirrors around making it easy for large families to get ready, making it a great family suites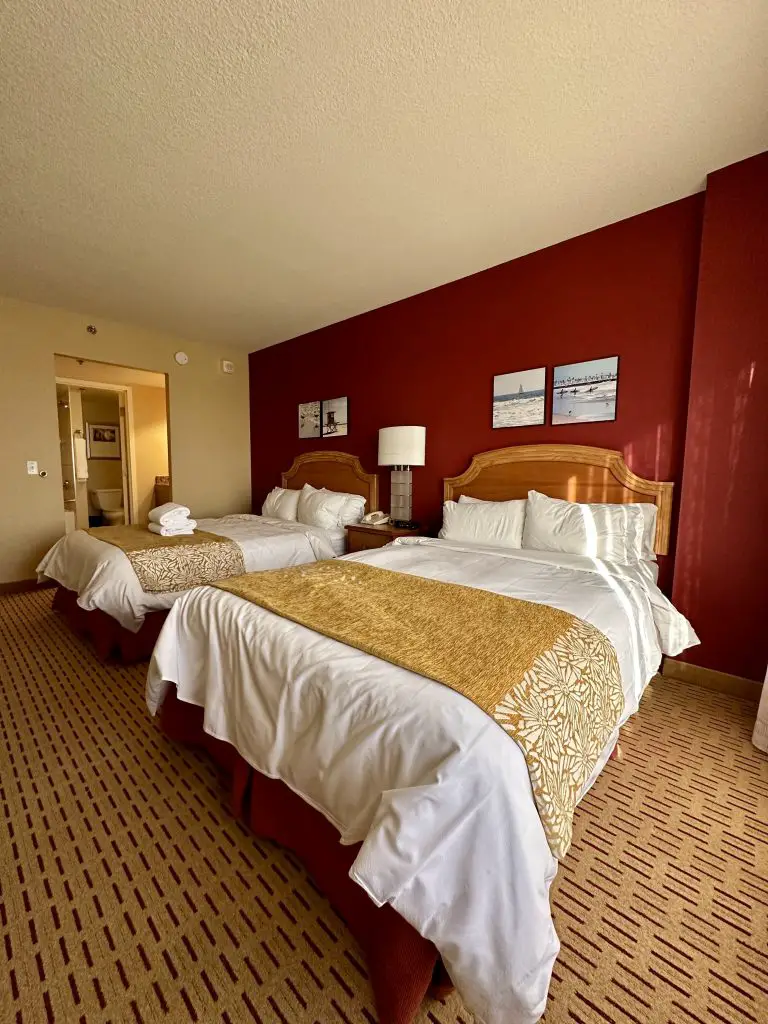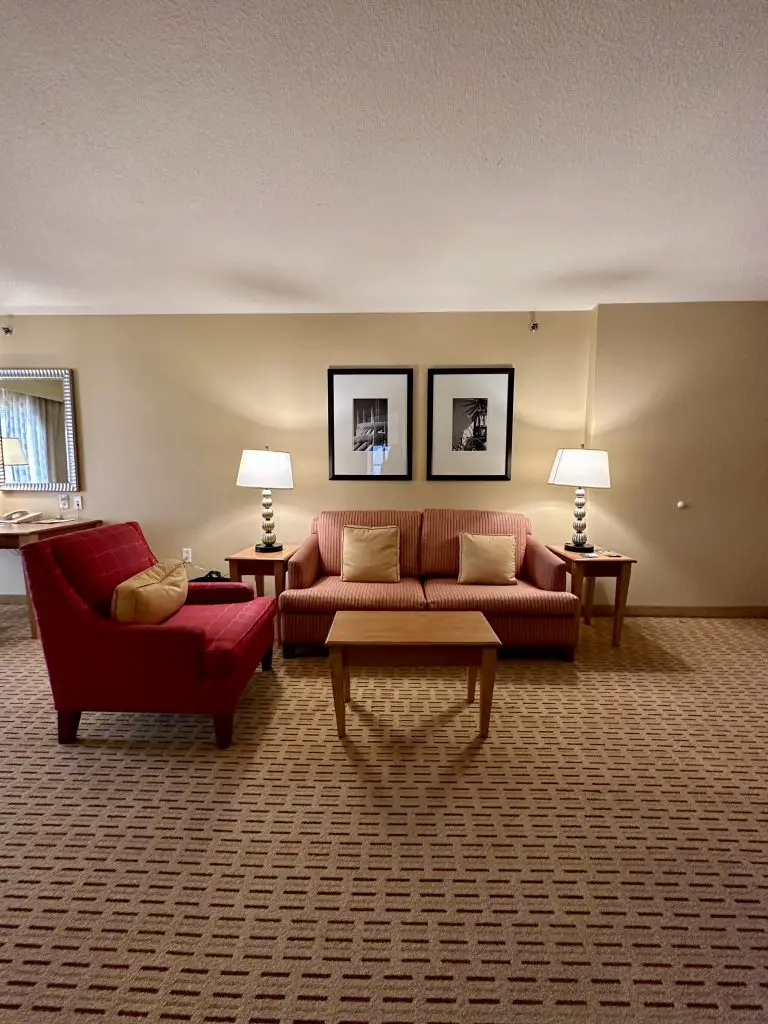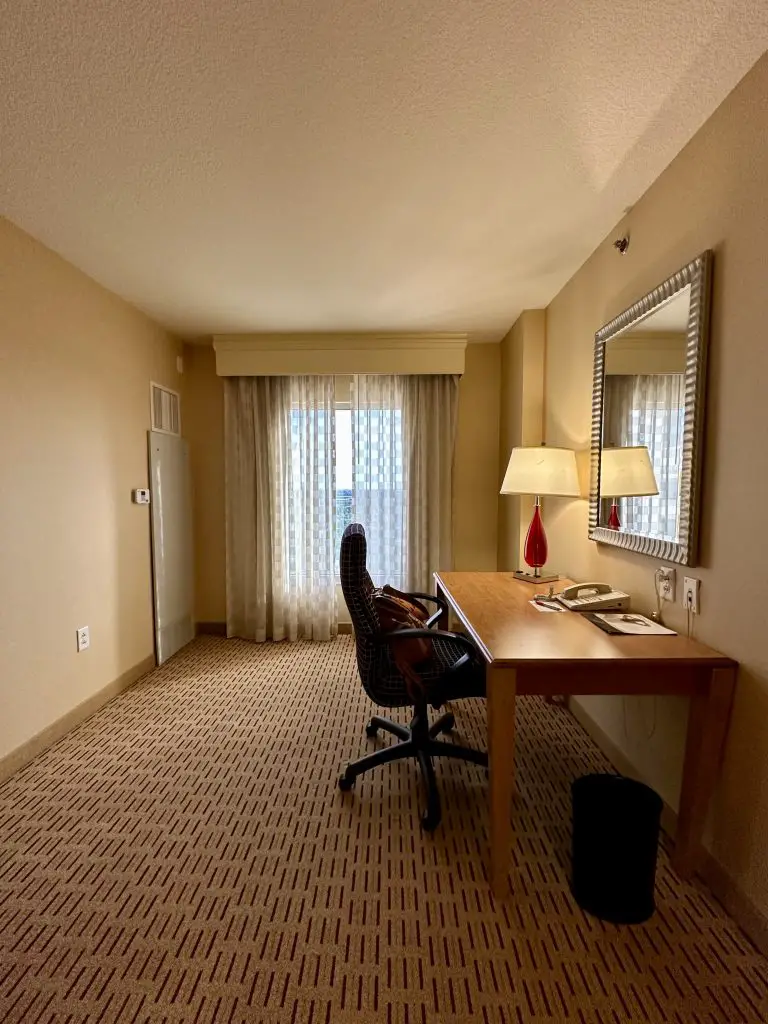 Westin Anaheim Resort
This hotel has the most spectacular view of California Adventure from its rooftop bar. We had an opportunity to attend a work event here, and the staff was absolutely wonderful and the drinks were great. We've stayed at a Westin Brand in Paris, while still in another country the Westin Brand is fabulous all around.
Courtyard Anaheim Theme Park Entrance by Marriott
If you are looking for a hotel near Disneyland with bunk beds this is the hotel for you. It is a quick walk to Disneyland park, and has a massive pool and water park for guests. Reservations are needed for the surfside waterpark. One of the main things this hotel has is complimentary wi-fi but does not include breakfast. It does have an onsite restaurant with food available. Something else interesting about this hotel is that every room is set up the same making booking a lot easier.
Howard Johnson Anaheim Hotel and Water Playground
Also known as HoJo Anaheim is popular for its short walk to the park, as well as it's water playground, also has jr bunk beds perfect for your littles. When they say water play ground think mini water park, but don't get me wrong it also has a separate pool and hot tub away from the children's pool/play area. The HoJo is a kid's water wonderland.
Sheraton Park Hotel at the Anaheim Resort
Newly renovated and just one block from the theme park this hotel has a large pool with a cabana bar, 3 dining options on-site, and a gift shop. Room amenities include a balcony, coffee maker, cable television, and views of the park.
Hilton Garden Inn Anaheim Garden Grove
Not far from the park about a 25-min walk, this hotel offers complimentary wi-fi and pets. Enjoy food at Garden Grille & Bar their on-site restaurant for breakfast and dinner. End the day relaxing in their heated pool.
Residence Inn by Marriott Anaheim Maingate
Newley renovated, and 1.5 miles from Disneyland this hotel is pet friendly and family-friendly with a kid's pool, oversized pool, and hot tub to enjoy. Breakfast is complimentary but parking is not. Parking is one of those things that doesn't seem to be covered by most hotels in the area.
SpringHill Suites Anaheim Maingate
These Modern style suites have two options for bunk beds. One has two queen beds and the bunk beds while the other option has one king bed and bunk beds in a separate room.
JW Marriott
Brand new high-end hotel. It does have a little higher of a parking fee, unfortunately, it is not included in your room stay. This will be one of the best places to stay because of how new and beautiful this hotel is.
Castle Inn & Suites
A quick 10 min walk there with large guest rooms and suites. Has free wi-fi and parking at this hotel. It does not include complimentary breakfast but the close proximity and other perks might make it worth it.
Element By Westin
One of the newest opened in July of 2021. They have suites and bunk suites with queen or king beds, a full kitchen also known as a kitchenette with dishwasher, oven, fridge, microwave with a sitting/living room, and jr bunk beds. Since this hotel is newer the technology is a little more advanced and has USB wall plugs so you can charge everything at one time. A really fun and unique thing about this particular location is that they have bikes you can rent for the day and bike back and fourth to the Park.
Other Nearby Hotels
Anaheim Inn
Best Hotels Nearby Disneyland Not Good Neighbor Hotels
While not approved by Disney to be a "good neighbor hotel" Hotel Indigo looks absolutely adorable and is within walking distance to both Disneyland park and California Adventure, for a reasonable price with free parking and you don't have to cross any of the main roads to get to the park.
The rooms are a little on the smaller side, but it's a great spot to stay especially if you are focused on hotel cost and close proximity.
If you don't mind driving to the park or a 20-minute walk to the park we found this to be a great option for an overall Disneyland vacation hotel, because of its restaurants, lounges, outdoor swimming pool, two hot tubs, and water structure play area.
Hilton Anaheim is an approved good neighbor hotel
We would classify this as one of the luxury hotels, and if you are a Hilton Honors Member this is a great way to get free breakfast and use points to stay at a hotel.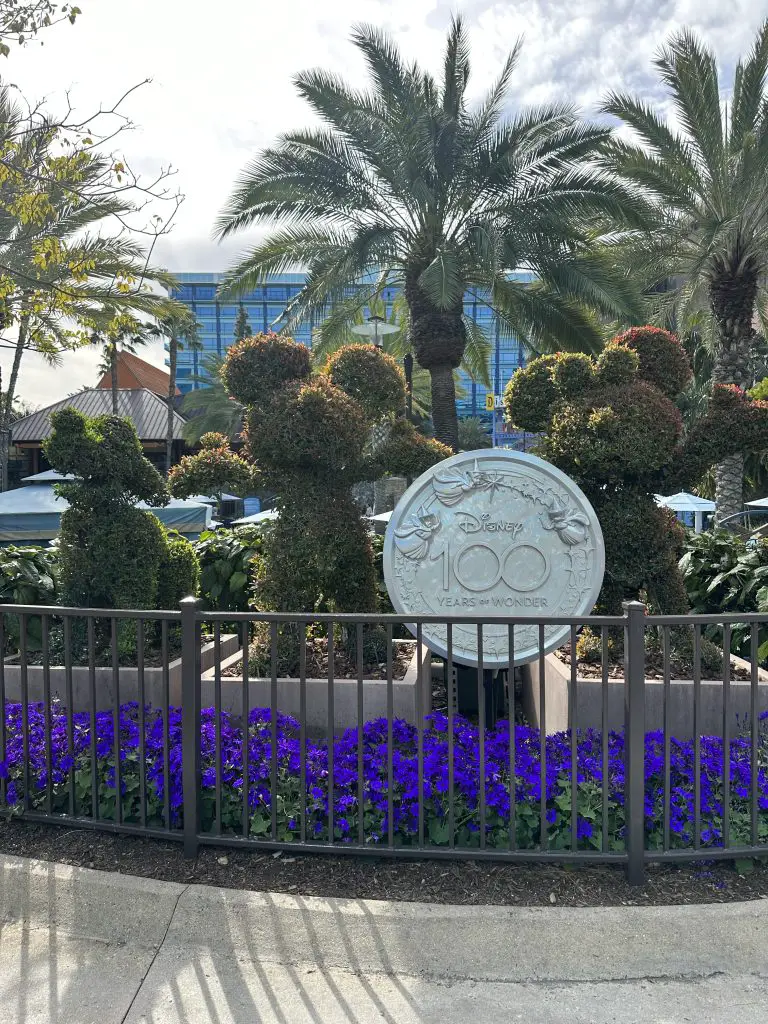 Top On-property Hotels in Order
Staying at a Disneyland Resort hotel gives you extra magic hour access but for Disneyland parkgoers, you get access to the park 30 min prior to the park opening. That means you should show up to rope drop early especially if you are wanting to make your way to radiator springs or rise of the resistance.
There are three Disneyland Resort Hotels in Los Angeles, all of them are located off of West Street and W Kaella Ave and are the closest hotels to the theme parks
You will notice that Paradice Pier hotel is on our list twice. Currently, under construction, while a little inconvenient, accommodations have been made for hotel guests of Paradise Pier to enjoy the other nearby hotel accommodations in the meantime. If you want everything located in one hotel like restaurants, and a pool you will want to skip Paradise Pier right now. We thought it was completely worth it, especially with the California Adventure Park View. We were able to watch World of Color every night.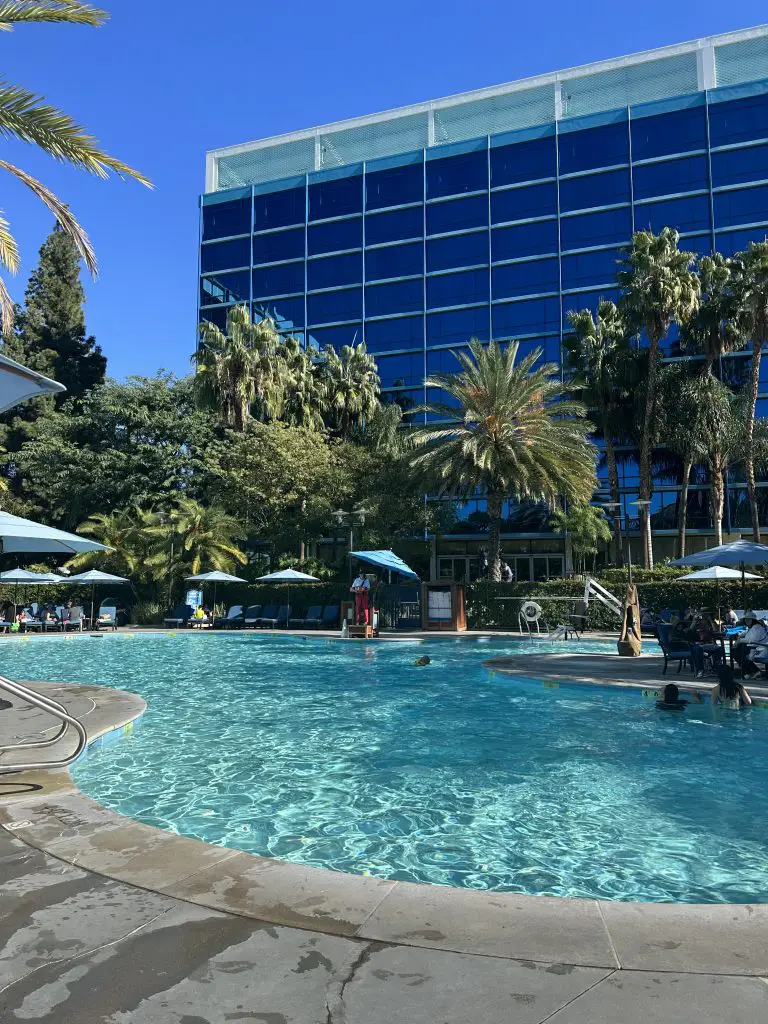 Disneyland Hotel
Ranked one of the best Disneyland hotels, is typically known for its massive Mickey hat and Goofys Kitchen this Disneyland Hotel is close to Downtown Disney and both theme parks.
While it does not have its own entrance like Grand California and Paradise Pier, you have access to the monorail, and it's a short walk to both park entrances.
When you walk into the rooms, you get the full happiest place on earth feels, the headboards are wood engraved with the Disneyland Castle and have fireworks that light up.
Like we mentioned if you stay on property you have access to the monorail that sends you right into the park from downtown Disney, you have access half an hour prior to the park opening. This is one of our favorite things to do is rope drop the park and beat the long lines with our young children in Fantasy land.
Make sure to stop and take a picture under the large Mickey Hat.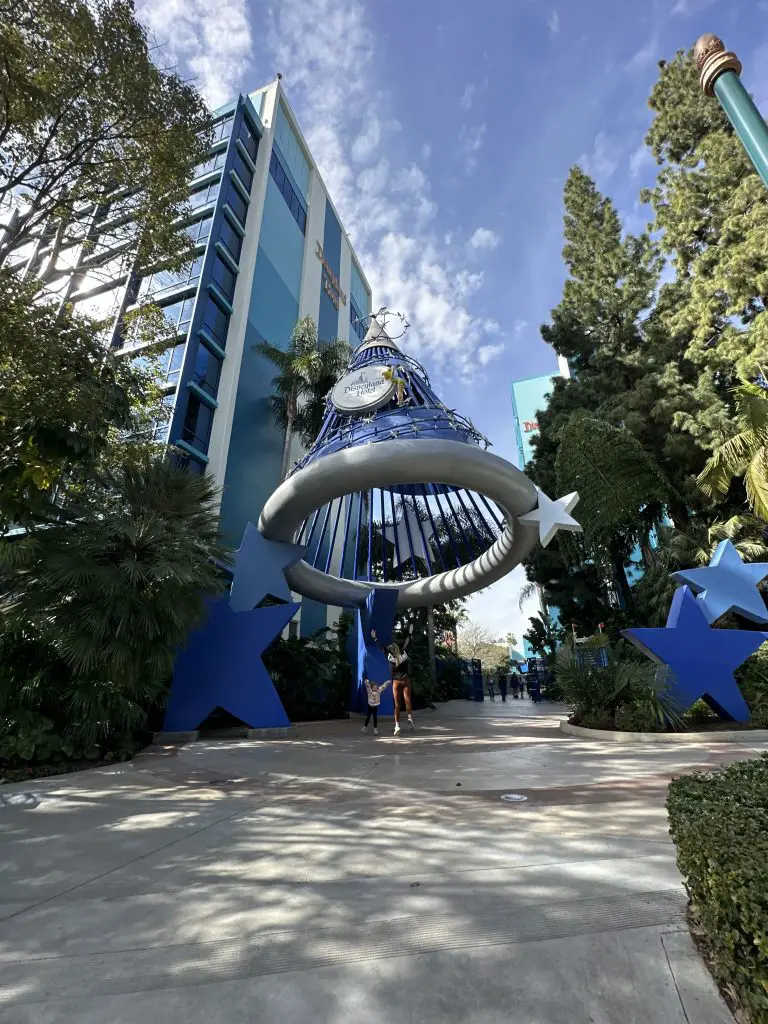 Right outside the Adventure Tower you will find one of the best Themed Pools and slides and is the perfect spot to relax and enjoy a slow day by the pool.
Like most Disney Hotels you will find a fully stocked and large gift shop with many of the park merchandise.
There will be an additional tower for the new Villas Disney Vacation Club that is currently under construction and will be opening late this year.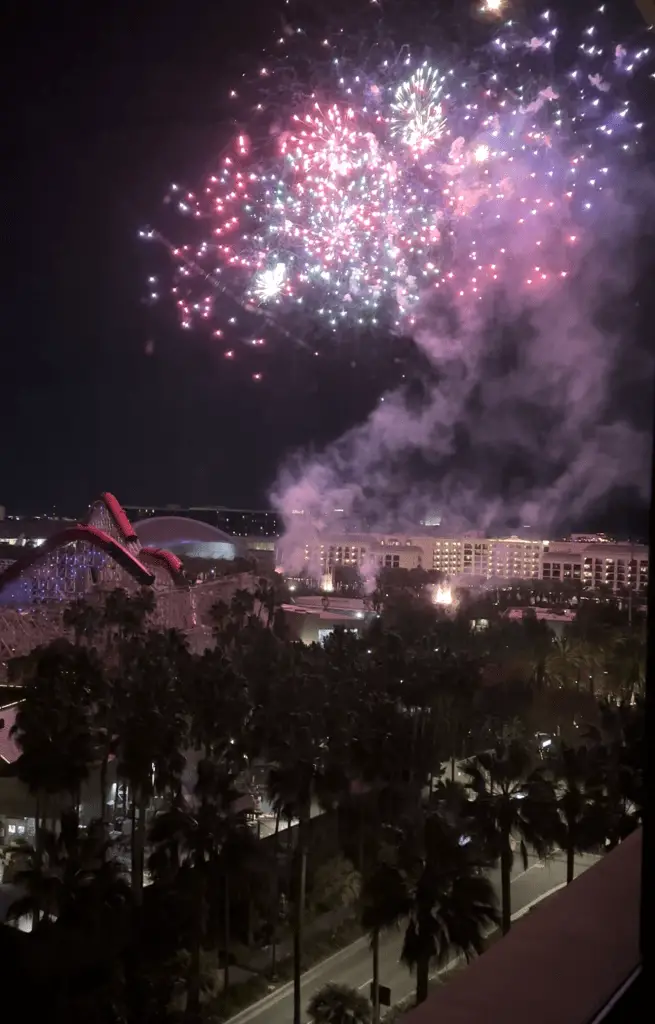 Paradise Pier with a Park View
With the California Adventure Park view, we found the hotel completely worth it especially because they made arrangements for accommodations at the other hotels while they are under construction. We spent one afternoon at the Disney Hotel pool because their pool is currently under construction, breakfast at Goofy's Kitchen, and dinner at Storytellers Cafe. It was the best of all hotels.
As one of the most expensive Disney Hotels you will not be disappointed by your experience. The most beautiful woodland aesthetic makes you feel cozy and at home. Known for its gingerbread house during the holiday season, and storytellers cafe restaurant it has easy access to California Adventure through a private entrance that puts you in the park by Goofy's Sky School. With a heated outdoor pool and slide for kids, this hotel has a great balance for all families.
Unlike most of California, Disney's Grand California Hotel & Spa focuses on a forest feel with large towering Evergreens instead of palm trees. The spa feels like a retreat and has been completely remodeled.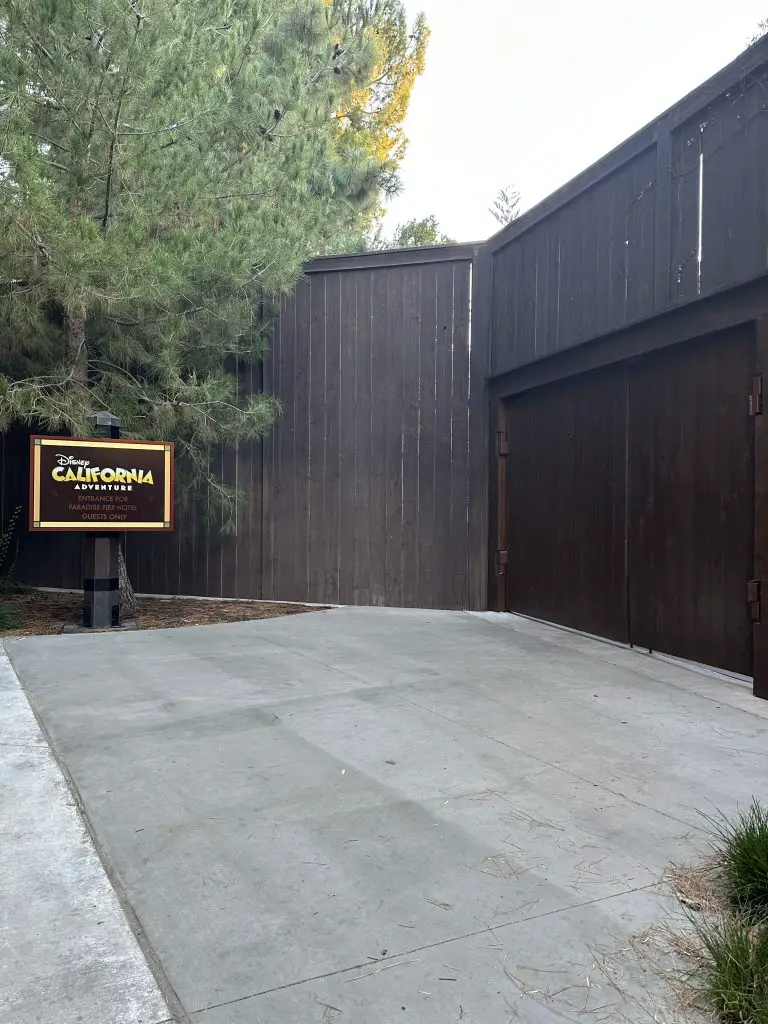 Paradise Pier Hotel
Currently, Disney's Paradise Pier Hotel is undergoing refurbishment as it transforms into Pixar Place Hotel. The Pixar re-theme is expected to be complete in 2024 and Disney says it will "weave the artistry of Pixar into its comfortable, contemporary setting" and makes you feel like you are walking around a Pixar art gallery.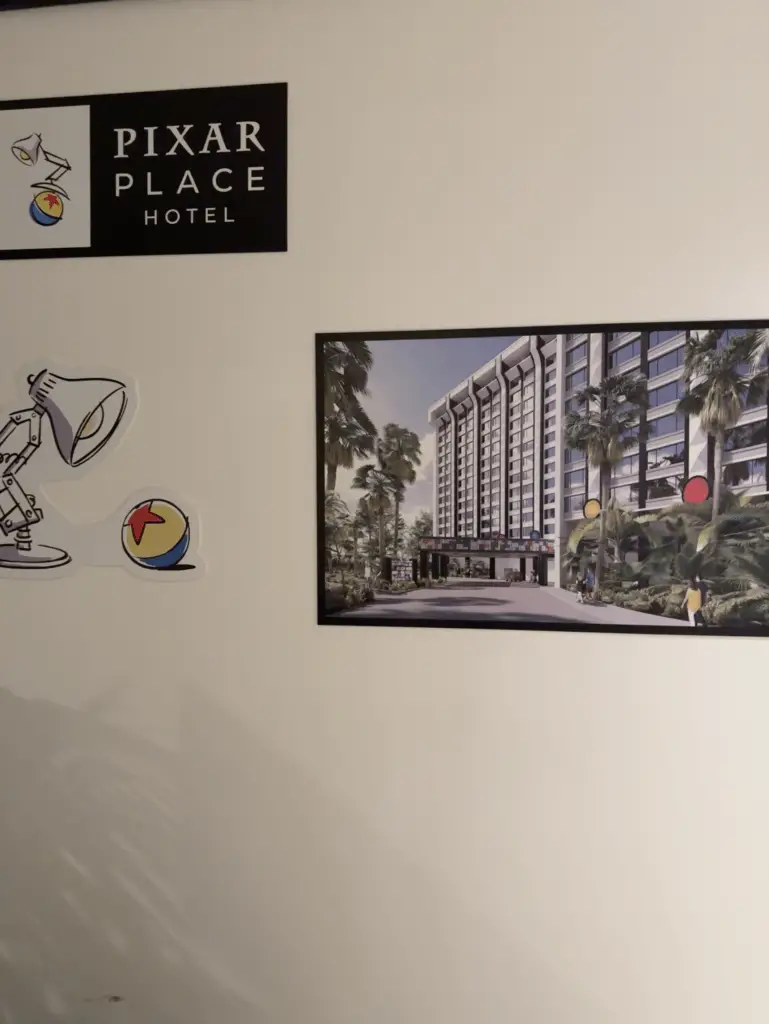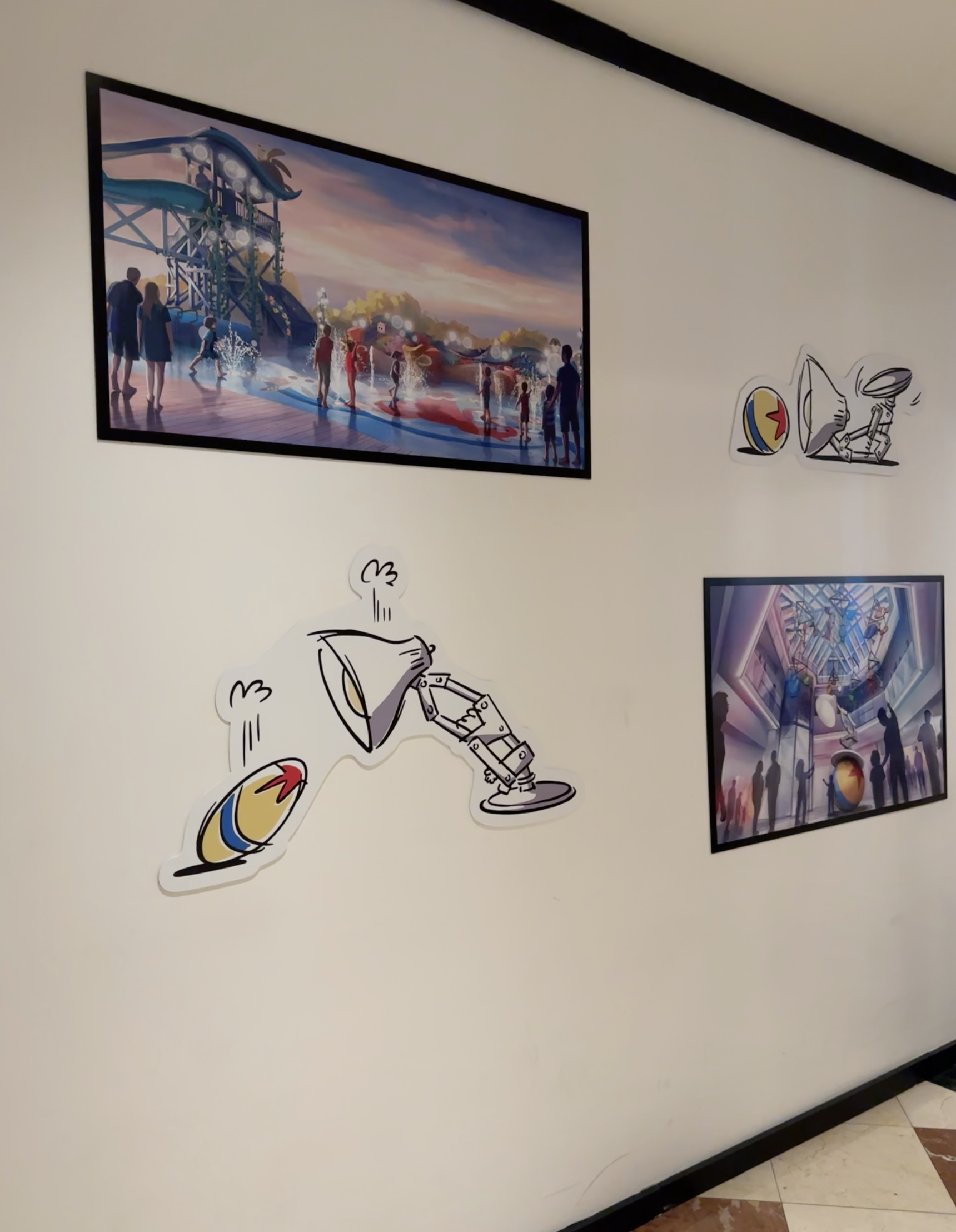 We hope this hotel roundup helped you narrow down the best Disneyland good neighbor hotel you will stay at for your next Disneyland Vacation
Next up figuring out your park schedule with rides, shows, and food.
Frequently Asked Questions
Do good neighbor hotels get extra magic hours Disneyland?
Unfortunately no, Disneyland good neighbor hotels do not get access to extra magic hour.
Which Disneyland hotel has direct access to the park?
Paradise Pier Hotel and Grand Californian Hotel have access to Disney's California Adventure Park. All three have regular access to Disneyland with no special entrance.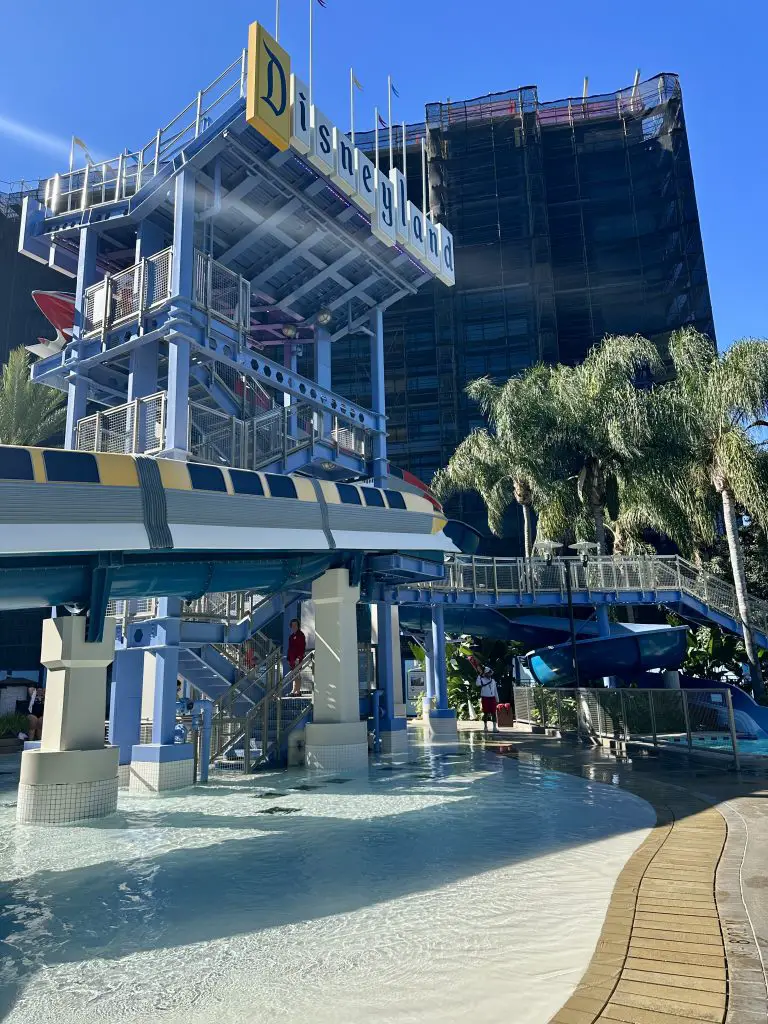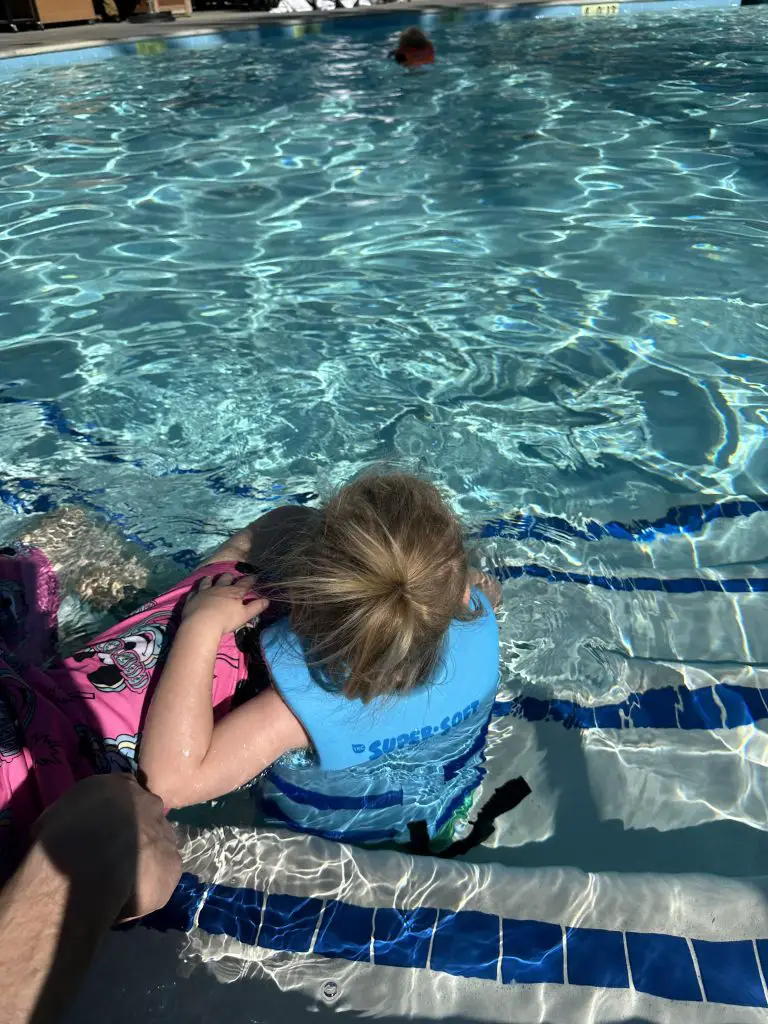 Other Guides you might like
Top Theme Park Tips for Toddlers