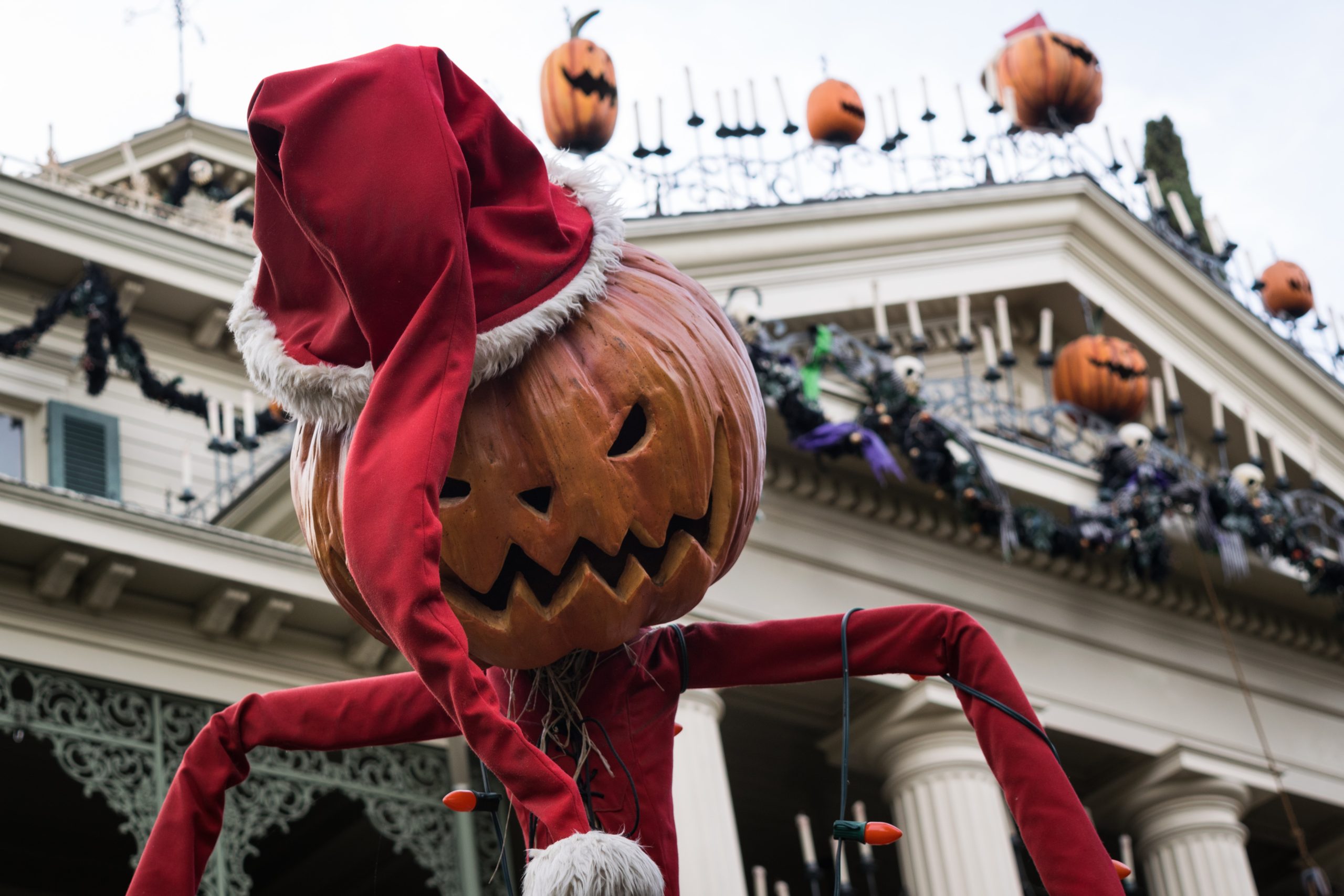 Is Disneyland busy in October?
Is Oogie Boogie worth it?
What should I wear to Disneyland in October?
We are going to discuss all things Disneyland in October.
Is Disneyland Busy in October
October is busy in Disneyland. And it can be especially on Tuesdays and Thursdays all month long in September and October. Halloween and fall bring some of the best decor of the year, but the only downfall crowd levels are higher, if you know the tricks going in, this time of year can be the best for theme parks.
Disneyland, the iconic theme park known for its enchanting atmosphere and magical experiences, is on the bucket list of many travelers.
However, before embarking on your Disneyland adventure, it's crucial to plan your visit strategically. One question that frequently arises among prospective visitors is, "Is Disneyland busy in October?"
In this blog post, we'll explore the popularity of Disneyland during the fall season, discuss the factors that contribute to the crowd levels, and provide tips to help you make the most of your visit and beat the crowds.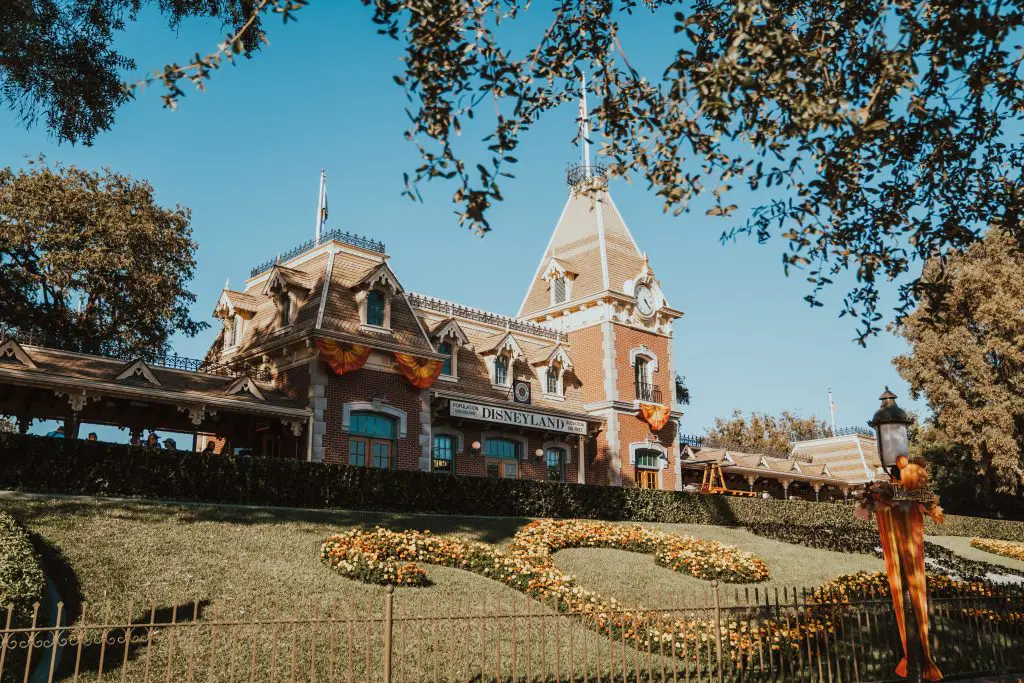 Embracing the Fall Season
This is one of my favorite times of year pumpkins and Jack Skellington in the happiest place on earth, what possibly is better? nothing…
October is an exciting time to visit Disneyland as the park embraces the spirit of autumn. The average high temperature is around 80°, and the park is adorned with festive Halloween decorations with all of your favorite Disney characters. Additionally, Disneyland offers special events like Oogie Boogie Bash, which further adds to the appeal of an October visit.
Crowd Levels in October at Disneyland
While Disneyland can be crowded throughout the year, October is considered a relatively moderate month in terms of crowd levels and long lines. The summer vacation period has come to an end, and children are back in school, leading to a decline in attendance.
However, it's important to note that certain weekends and holidays in October, such as Columbus Day or Halloween, may witness increased footfall. Therefore, it's wise to plan your trip carefully, considering these factors.
Here is a quick Monthly Overview of the Disneyland Crowd Calendar
Jan: Moderate – Avoid New Year's week
Feb: Moderate – busy for Valentine's Day events
March: High
April: Worst time – Spring break all month lol
May: Moderate
June: Moderate to high
July: Worst time
Aug: Moderate
Sept: Moderate to good
Oct: High to moderate – Especially around Halloween
Nov: Moderate – Avoid Thanksgiving week
Dec High to Moderate – Avoid the second half of the month and Christmas break
Factors Affecting Crowd Levels
Various factors influence the crowd levels at Disneyland in October. One key aspect is the proximity to Halloween. As the holiday approaches, more visitors flock to the park to experience the unique festivities and special attractions for a limited time.
Additionally, annual Passholders have special access for and at events, discounts, and promotions, making it an extra busy time for those getting in their park days before the end of the year.
Crowd levels throughout the year are massively affected by park hours during non-peak times. You can check park hours 60 days in advance so you can plan accordingly. Typically during peak times, DCA closes around 10 pm, and Disneyland closes around 12 am.
Check Disneyland Park hours here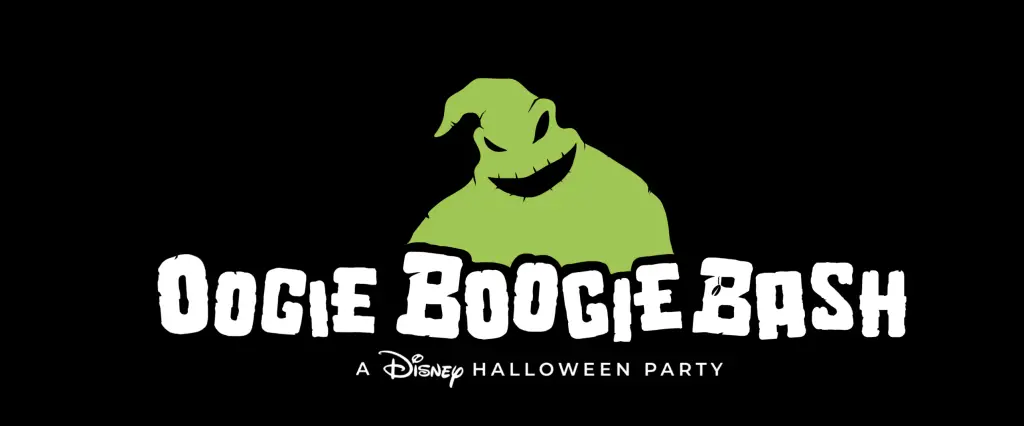 Oogie Boogie Bash
Probably one of the biggest contributors to the crowd levels in Disneyland and California Adventure Park is the Oogie Boogie Bash. On select nights for the Months of September and October, Oogie Boogie Bash takes over the park after hours.
Well, not super after hours. Starting at 3:00 pm with the mix-in time, After Hours special event park goers have extra time to enjoy the park. Starting at 6:00 pm on these select nights, California Adventure closes to the general public to host the popular event. 
Disneyland will often get the brunt of this event, with park hopper guests heading to Disneyland Park once they are kicked from California Adventure for the event.
When planning your visit, even if you are not attending the special event, we suggest staying away from these special days in the month of October or planning an additional day to break up your time at the park.
Ticket prices vary for this event depending on what day you are looking to go. Surprisingly Halloween is not the most expensive night. You cannot purchase these tickets at the gate, and they go on sale in July, typically selling out within the day.
Read more about Oogie Boogie Bash Tickets and the Great Pause of 2023.
Similar to the Oogie Boogie Bash, Walt Disney World celebrates Mickey's Halloween Party, and the not-so-scary Halloween party also draws a significant crowd as well.
You can check out a Disney World Crowd calendar here
Fall Decor for October in Disneyland
Starting September 1st, both Disneyland Resort and California Adventure transition to the Halloween season, and Fall is all around. Pumpkin Heads and the Headless Horseman draw large crowds to celebrate the amazing season.
There are special treats, and even a few of the rides get a special update during this time. This is pretty much the main reason we love Disney during Halloween is the special detail to everything, including the rides. There are a few ride closures during this time for cast members to transition the ride, but they are typically completed before the event starts Sept 1st.
Guardians of the Galaxy – Monsters After Dark
At Disney California Adventure Park, the popular Guardians of the Galaxy – Mission: BREAKOUT! ride undergoes a chilling transformation during Halloween.
As night falls, the attraction becomes Guardians of the Galaxy – Monsters After Dark, featuring a darker storyline and eerie decor. The queue area and ride itself showcase spooky lighting, haunting sound effects, and atmospheric enhancements that immerse guests in a hair-raising adventure. 
This is probably my favorite ride in California Adventure, and the Monsters After Dark theme is just a cherry on top. It's the Haunted Mansion of DCA for me. 
Haunted Mansion Holiday Overlay
One of the most beloved attractions by like everyone, the Haunted Mansion, receives a bewitching makeover during Halloween but often stays throughout the rest of the year.
The Haunted Mansion Holiday Overlay combines elements from both "The Nightmare Before Christmas" and the classic Haunted Mansion ride, creating a unique and spine-tingling experience. The decor inside the mansion features a lovely blend of eerie and festive elements, showcasing the creativity and attention to detail that Disney is renowned for. 
Thank you for blessing us with Nightmare Before Christmas, although I wish this was something we had all year long.
The Pumpkin Festival on Main Street, U.S.A.
As you enter Disneyland, you'll be greeted by a sight that captures the essence of Halloween—the Pumpkin Festival on Main Street, U.S.A. Here, you'll find an array of intricately carved pumpkins adorning the storefronts, balconies, and lampposts. Each pumpkin has its own personality and adds a playful and welcoming vibe to the park. Colorful bunting lines the streets, and everything seems to have the sepia filter applied until the end of October.
Mater's Graveyard JamBOOree
You can call it Radiator Screams for the month of October and September. Head to Mater's graveyard for tons of fun, Haul-O-ween music, and themed cars dance party. While I would not normally opt for Mater's on a non-holiday, during this time, it has the best music that goes along with the ride. We love the swinging of the cars at Mater's and Luigi's Rollickin' Roadsters music.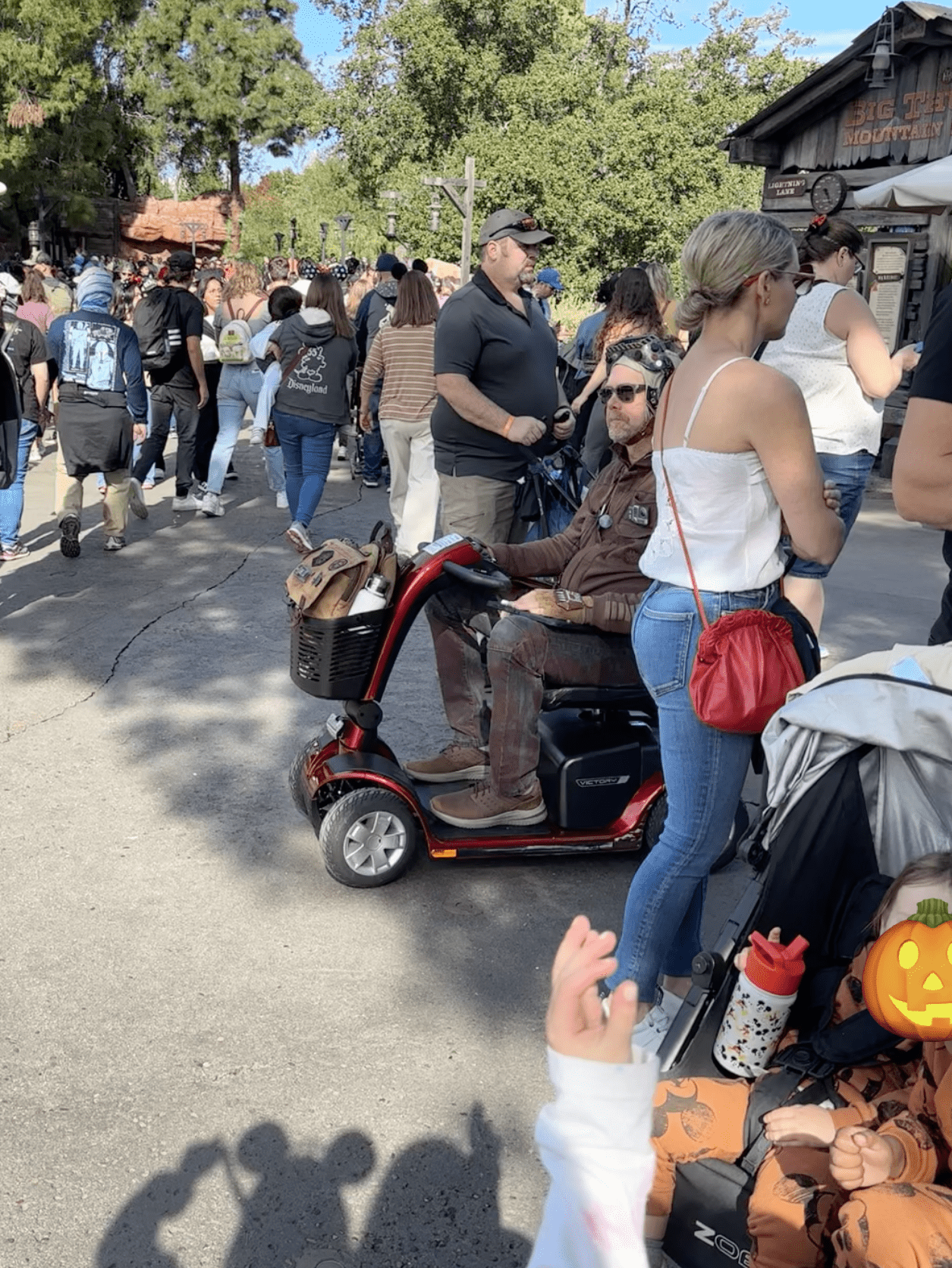 Best Tips for Navigating October Crowds in Disneyland
Plan your visit during weekdays
If possible, choose weekdays for your Disneyland adventure. Mondays through Thursdays typically see fewer visitors compared to weekends, offering a more "relaxed" experience. This time of year brings a great time but larger crowds for the season. I semi-joke when I say a more relaxed experience because I don't find anything more relaxing than being in this theme park, but the stress of getting on rides and having a good Disneyland trip can cloud your experience. 
Arrive early and Stay Late
That means some early mornings are in your future. Be an early bird and arrive at the park before it opens. This way, you can enjoy some of the popular attractions with shorter wait times and beat the mid-morning rush. Magic Hour guests will already have a half hour on general admission, but you still want to beat the large morning crowd, so we suggest showing up at least a half hour to an hour before the park opens to have the best chance.
Utilize Genie Plus
Disneyland offers Genie Plus as an additional service, allowing you to reserve ride times in advance in a virtual queue. Make use of these options to minimize wait times for some of your favorite attractions. Here are a few tips to make it the best Genie Day and get your money's worth.
Take Time to Understand Genie Plus
Genie Plus is a paid add-on service that Disney Resorts offers at their theme parks. Think FastPass and MaxPass, but paid and a tiny bit more complicated. This paid service gives you access to shorter lines by waiting in a virtual queue. This is where it becomes complicated; you can only have one out at a time, but can reselect every 2 hours and when you have used the active pass, but only on certain rides and only once a day per ride. phew.
While the rules get a little intense, we were able to ride 15 rides in one day during Thanksgiving week, and I have to say that was a great success!
Read our complete guide on using Genie Plus.
Purchase Individual Lightning Lanes
Similar to genie plus, this is an add-on to your theme park ticket. Individual Lightning Lanes are an a la carte add-on that allows guests to access select attractions through virtual queues/or wait times. Guests will bypass the regular standby queue and enter attractions through the designated Lightning Lane entrance. This is a great way to significantly reduce your wait time at the most popular attractions in the parks.
Park Hop
Another great way to avoid crowds is having the ability to park hop. Having the ability to jump parks is one of our favorite hacks when it comes to attraction wait times. Wait times can be high mid-day for popular rides, but if you see a ride's wait time is low, we will often jump parks to ride the attraction and see other things until times and crowd levels break.
Add an Extra Day at The Park
We think a day in each park is a good amount of time. Especially with early mornings and late nights, adding genie plus is also a massive help. But sometimes rides can go down, people can get sick or tired, and the day can get away from us. Having that additional day in either of the parks or adding a park hopper pass provides so much flexibility and time to relax and experience everything with little stress.
Take Advantage of Extra Magic Hour and Special Access Lines
While this is one of our top tips, we know it's a pretty penny to stay at a Disney Resort. It can be an expensive add-on to the already expensive Disney experience. If you're staying at one of Disneyland's official hotels, you'll have access to Extra Magic Hours, which provides early admission to certain attractions before general admission, also giving you a chance to get in line and "rope drop" lands if the family rides aren't your thing. When we have used this in the past, we have been able to get through almost all rides within Fantasyland before the park opens.
We stayed at the Paradise Pier Hotel with a park view while it was under construction. It did have a slight discount at the time but it was still completely worth it. The only downfall was no onsite food or restaurant. Soon to be the Pixar Place Hotel, the new updates are much needed, and we cannot wait to stay there once it is finished. They have this special entrance for Paradise Pier Hotel guests only and its such a great added bonus.
There is also the Disneyland Hotel and the Grand Californian, two of the other hotels with access to the extra magic hour. You can also look into the Villas at The Disneyland Hotel that is slotted to open Sept. 28, 2023.
Make Dining Reservations & Mobile Orders
To save time and ensure you get a table at your preferred restaurant, consider making dining reservations in advance. This will help you avoid long queues and maximize your time exploring the park. Don't overbook yourself at restaurants. You probably don't need breakfast, lunch, and dinner booked each day, but we highly suggest booking a great dinner spot. We personally love Blue Bayou in Disneyland. This is the restaurant inside Pirates of the Caribbean. You can show up early for your reservation time and ask a cast member if they have any waterfront tables available.
Mobile orders are a great way to plan food and eat on the go. Make sure you download the Disneyland app and search for restaurants with mobile orders so you can plan ahead of time. One of our favorite things to do is grab Pyms and walk around Avengers Campus. They have great unique coffee and breakfast, as well as craft beers.
What to wear to Disneyland in October
The average temperature in Southern California is around 80° for the high and 59° for the low. For some, that might mean a light jacket for cooler nights. But during the day, you will most likely want shorts and a T-shirt or tank top, lots of sunscreen, and a good cooling towel to stay cool.
Good weather will always pull more crowds, but our favorite is when it rains. Most people don't want to be out in the rain, but if you are prepared with a rain poncho, you can take advantage of shorter lines on outdoor rides during this time.
Rain in Southern California is not as prevalent as it is in Florida, and this time of the year has great weather and isn't too hot or cold. You might not use them, and they fold up so small it's so worth the chance.
Now that we have the weather conversation out of the way when it comes to what to wear let's talk about going all out for the Disney theme.

Mickey Ears
Mickey's ears are a classic accessory and a popular choice at Disneyland. You can find a wide variety of options within the park, from classic ears representing different characters or themes. Choose a pair that matches your style and showcases your favorite Disney elements. There are lots of third-party creators that make fun and unique ears as well.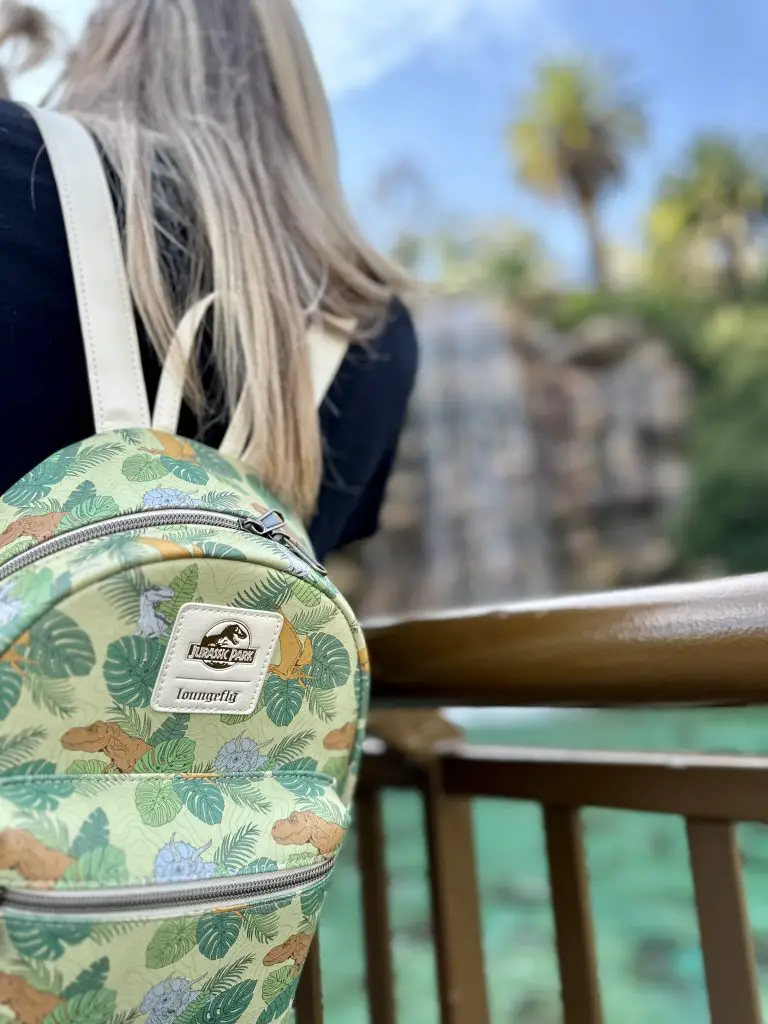 Loungefly Backpack
Although the photo is taken at Universal, the backpacks in the picture give a clue as to why it is a popular choice among fans.
Loungefly backpacks are a very popular accessory known for their Disney-themed designs. But make so many cute backpacks for lots of pop culture items. They offer a practical way to hold all your belongings while showcasing your love for Disney. Pick a backpack featuring your favorite character or design that compliments your overall outfit.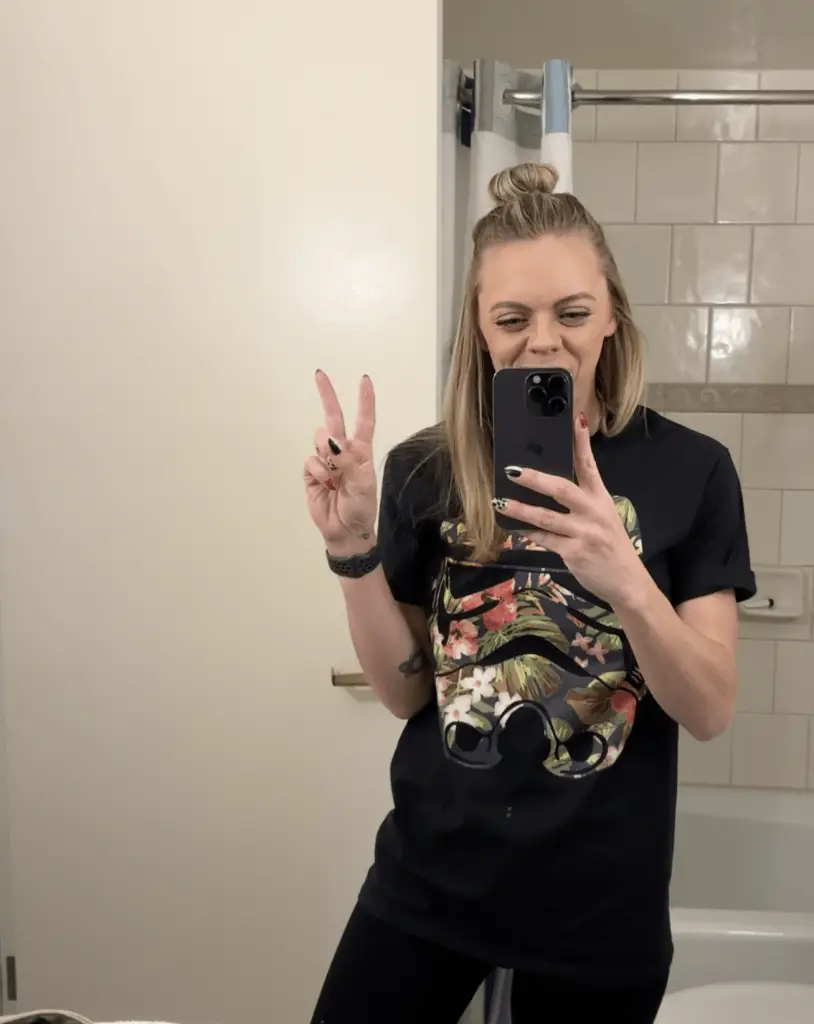 Themed Shirts
Every time I put on a graphic tee, all I do is sing, "Graphic Tees are the best Tees"
Themed shirts are one of the best ways to represent your favorite characters.
Disneyland, as well as online, offers a wide range of themed shirts featuring Disney characters, attractions, or specific events.
While you are in the park, pop into the main Disney store, along with themed stores like Star Wars and Marvel, to find shirts with quotes, iconic images, or references to beloved Disney movies and characters, some exclusive to the park.
We often head to Etsy and look for unique ones as well and plan a shirt for each park day. It gives us a fun way to match as a family and still represent our favorite character for the day.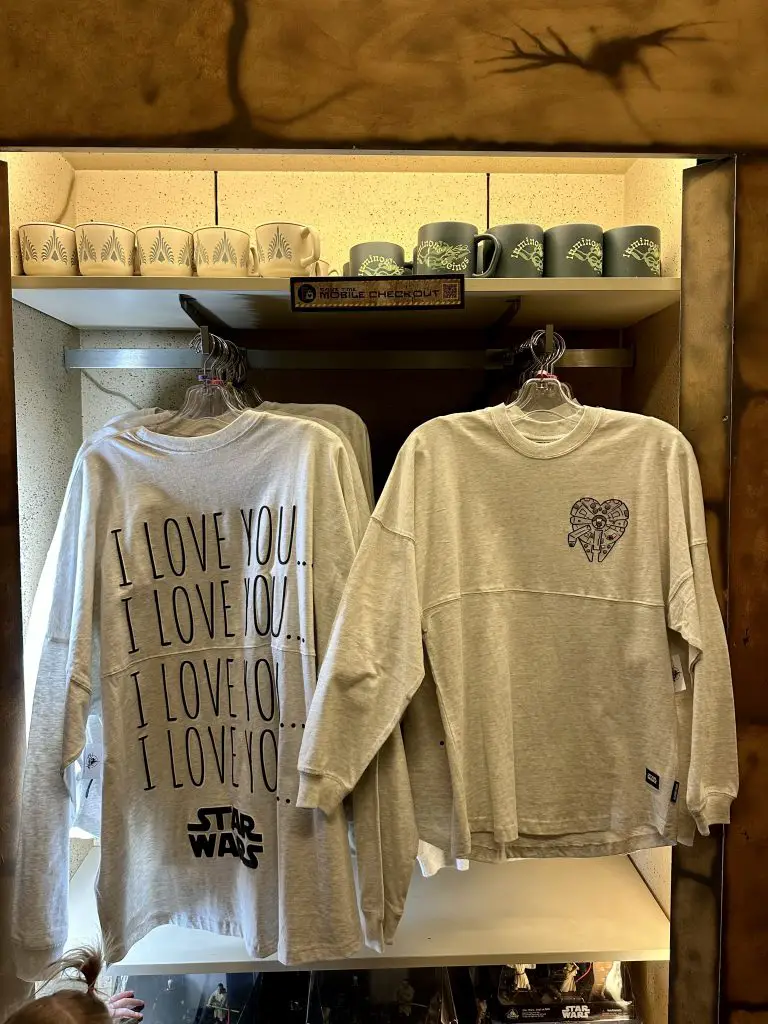 Spirit Jersey
The shirt people live in at the end of fall and into the Winter Season. The famous Spirit Jerseys are oversized, long-sleeve shirts often adorned with the Disneyland logo across the back. They come in an array of colors and themes with Disney characters, locations, and themes to them. Each year has a special colored spirit jersey as well as a special event-themed spirit jersey for events like pride night and Oogie Boogie. Select a spirit jersey that aligns with your Disney spirit and coordinates with your overall ensemble. 
Last Thoughts
Don't forget to wear comfortable shoes for walking long distances and dress appropriately for the weather conditions. Layering your outfit is often a good idea as temperatures change throughout the day. Have a fantastic time at Disneyland while showcasing your support for your favorite Disney characters.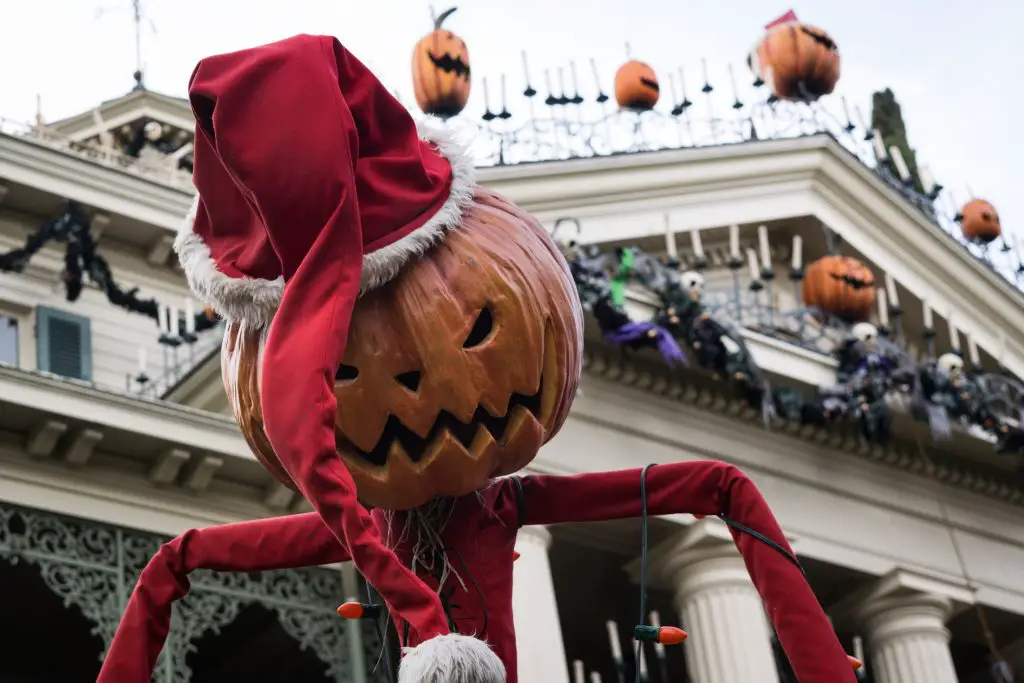 Frequently Asked Questions About Disneyland in October
Is Disneyland crowded during October?
Yes, for those Halloween lovers, Disneyland can be crowded in October. October is the month to celebrate seasonal events, and for two short months, Disneyland and California Adventure transform for Halloween festivities. Everyone that has waited all year for Halloween to be here flocks to celebrate the holiday. On November 1st, Disneyland will transition to the Festival of Holidays and Christmas everywhere. Surprisingly many crowd calendars suggest Halloween day is one of the best days to go, with lower crowds. 
Is Disneyland worth it in October?
If you are a Halloween lover YES Disneyland is worth it in October. If Halloween and fall decor don't do it for you, then avoid Disneyland in October. Disneyland is busy in October and so not worth it if you don't love the decor and theme. If you love Halloween and fall, we highly suggest September over October, but if you are the ultimate Halloween lover, go all out and enjoy the festivities.
Is Disneyland busy in September?
September is one of the best months to visit Disneyland, many kids have gone back to school after their summer break, and for many families, they will wait until fall break to plan their Disneyland vacation. Early September can be a decent time to go but keep in mind Labor Day weekend, as that is still a 
Should you buy Disneyland tickets online or at the gate?
You can purchase Disneyland and California Adventure tickets at the gate day of, but we highly suggest not doing this. Waiting until you get to the park to purchase tickets is a
Are Halloween costumes allowed at Disneyland and Oogie Boogie Bash?
While Halloween costumes are allowed, masks and specific costume add-ons have some restrictions. The acceptable accessories list is pretty short at transparent wings, plastic Lightsabers, toy swords, and tutus. For more restrictions and costume guidelines, head to the Disney Parks blog for more information.
Visiting Disneyland in October offers a wonderful opportunity to experience the magic of the park during the fall season. While crowd levels can vary, October generally provides a more manageable atmosphere compared to peak season. By planning your visit strategically, taking advantage of tips like arriving early, utilizing Genie Plus, and making mobile orders, you can make the most of your Disneyland adventure and create unforgettable memories. So, pack your bags, put on your Mickey ears, and get ready for an enchanting journey into the world of Disney this October!