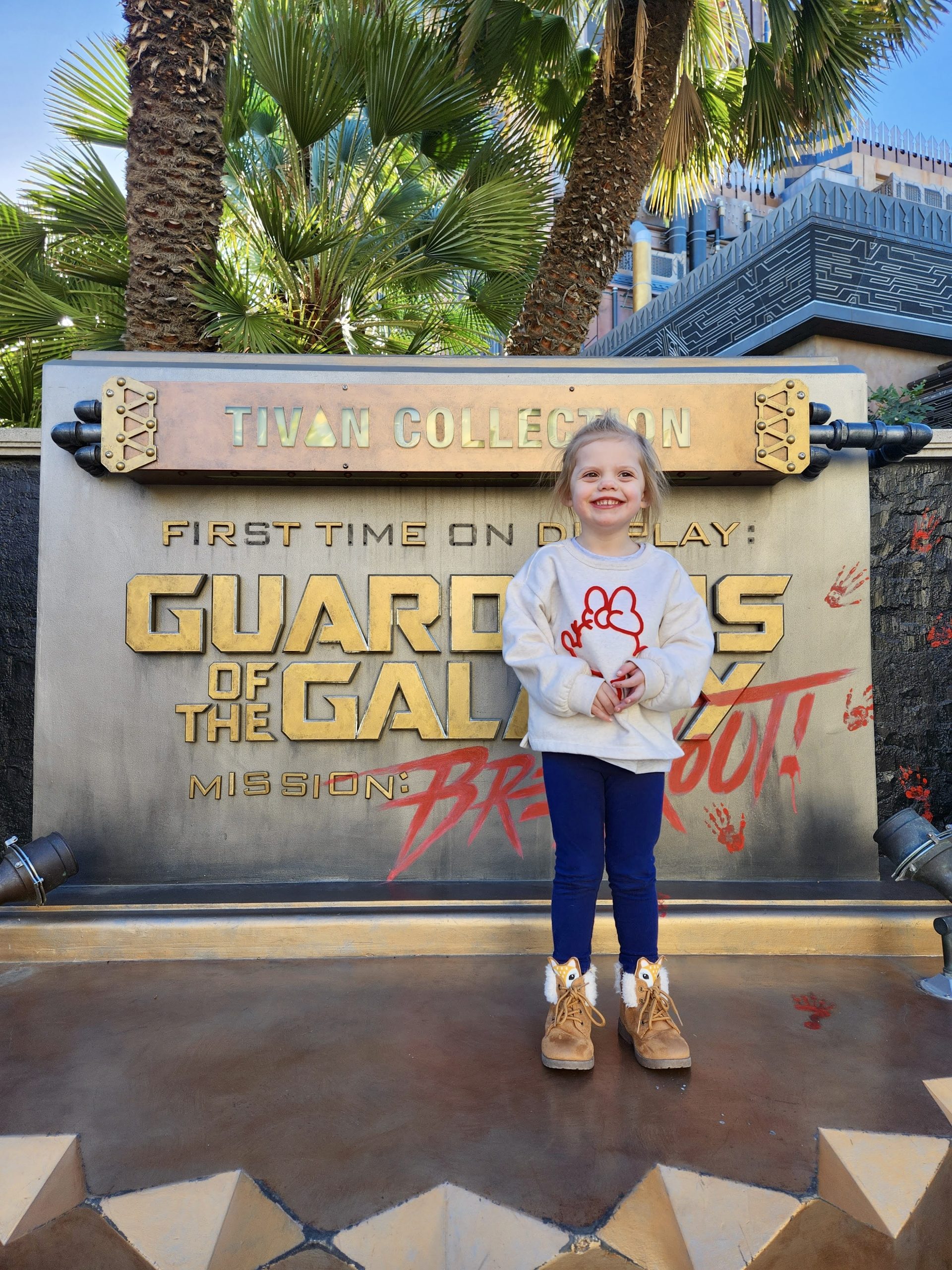 We took our first theme park trip during the pandemic with our soon to be 2 year old. What in the heck were we thinking traveling across the United States to go on a Disney World vacation? Well, not only did we discover some pretty fantastic theme park tips for toddlers we have fallen in love and want to travel through California to discover the best theme park for toddlers and share all the tips and tricks with you.
Now you can always head to the big channels and get their generic supplies list for a theme park, BUT we are talking about a family who has traveled across the country not once but back to back for theme parks three years in a row. (that's all the years she's been a toddler). Our tried and true theme park tips for toddlers will help you feel less overwhelmed especially if this is your first visit.
Tips on how to pick the best theme park for toddlers
Picking the best theme park for toddlers can be difficult, but there are a few essential things to keep in mind when researching parks. One of the most essential things to think about is your toddler's height and their temperament when it comes to rides. If they've never been to a theme park (I'm assuming since you are here reading this), we will start with 36″ and terrified of most things. Most theme parks cater to younger crowds, and while some of the more adult-centric theme parks have a lot of coasters, many have special sections designed for toddlers.
Roller coasters are fast and can be scary to a toddler. Thank goodness Universal Orlando and a few other parks have starter coasters and toddler-friendly attractions. Some rides might be too intense for a toddler, but you will typically find both rides and attractions that are made for them.
For more theme park tips for toddlers check out the top 19 amusement parks for toddlers for a breakdown of each park and what they have.
What to pack for toddlers when going to an amusement park
Taking toddlers to a theme park can be a fun and exciting experience for the whole family. Here are some theme park packing tips for toddlers to ensure that your trip goes as smoothly as possible and ensure you have a good time.
Water Bottles
Many of the theme parks allow you to bring in a refillable water bottle. You can typically take your refillable water bottles to any of the stands around the park and get cold water. No need to stop for water frequently or spend money on water while in the park.
If you are in one of the Disney theme parks and forget a water bottle you can always purchase one in the Disney store of course but if you are looking for a budget-friendly option head to a Starbucks and get a Trenti ice water or venti ice water and reuse the cup during your time there.
Carabiners
These come in handy, especially if you do not have cup holders that hold your water bottles. We've hung our bags, backpack, water bottles, and even our popcorn bucket from the carabiners. Make sure you buy the largest size so that it holds everything and fits over the handles of the stroller. There are special Mickey-shaped ones as well if you are a die-hard Disney fan.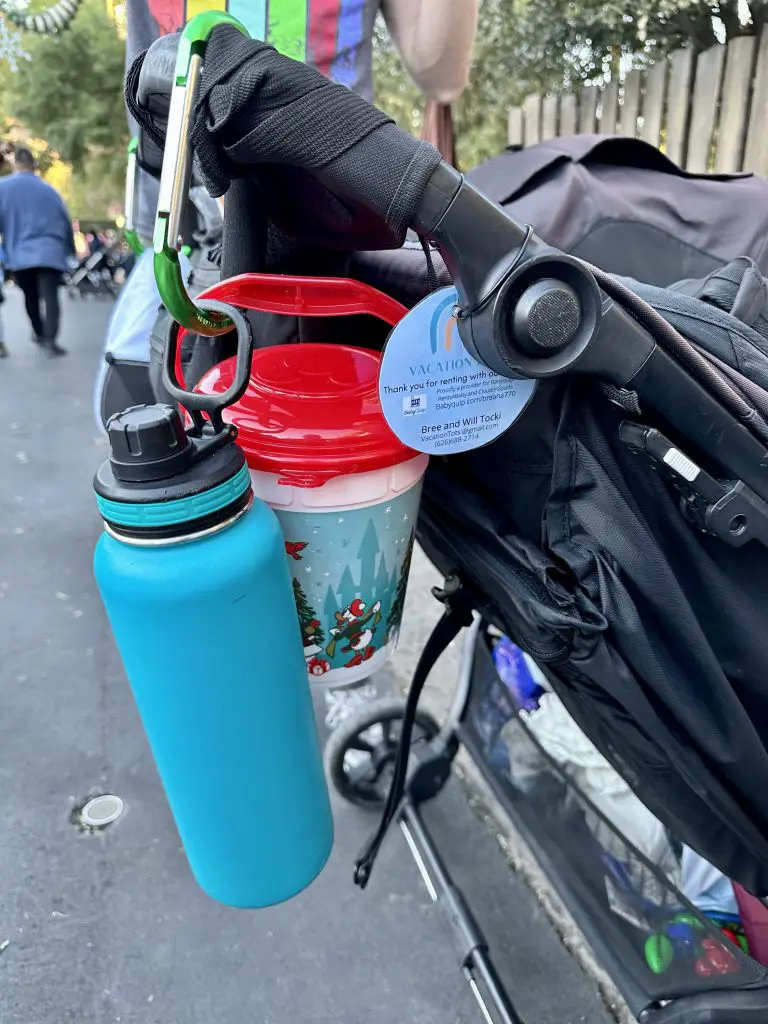 Stroller
This is the most important tip when it comes to theme park tips for toddlers!
While you can bring your own stroller, we find it easy to rent a stroller from babyquip at the location we are staying. Not all strollers are created equally, and many parks, such as Disney, are putting restrictions on the strollers you bring into the parks. Too many companies have created these massive double stroller contraptions that can't fit through doors, let alone go through the streets and sidewalks within a theme park.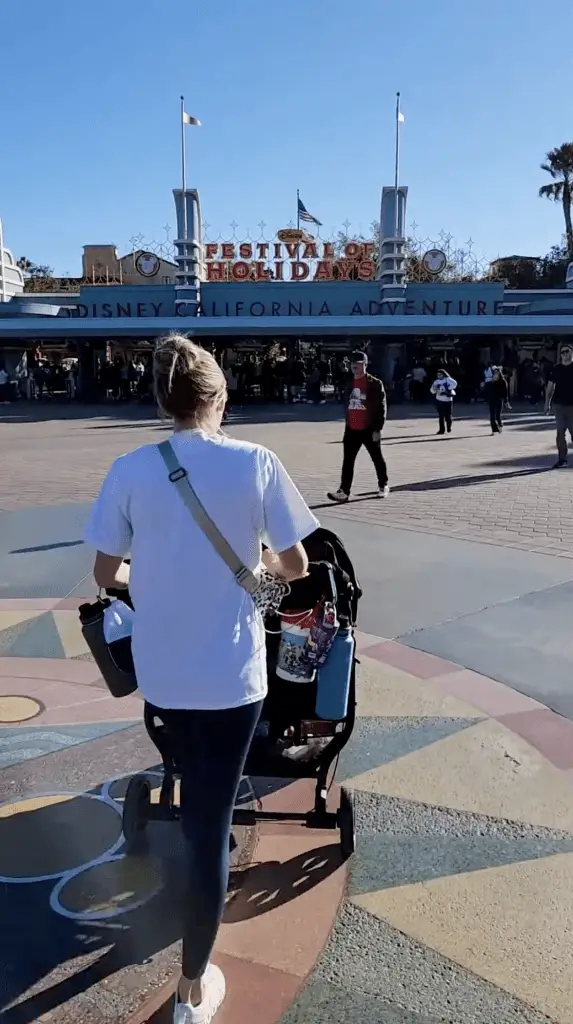 Recommended Stroller
Whether you rent or bring your own. There are so many options out there for renting strollers but if you are a traveler and have any plans to do anything with your toddler we highly suggest the Joovy wagon stroller, our friends let us borrow theirs and we are so thankful to be introduced to such a great stroller, they are a family with three littles and it works perfectly for them and we would suggest the double side-by-side jogger as well, we rented this the last theme park vacation and it was perfect as well.
Your day will be ruined by not having a stroller, older children get tired of walking also, and it gives your kids somewhere to sit and relax if they get overstimulated. Toddlers nap even at theme parks, you don't need to pack up and head back to your hotel room for a nap. Although the last thing you want is an overtired child that can't hang out all night or until the park closes.
Whatever you do, do NOT rent strollers from Disneyland park or Walt Disney World. They have no storage and are just plastic bucket seats that don't recline. These are great if you have a 10-year-old that doesn't want to walk by themselves all day but if you are looking for something your child can nap in that will hold all your stuff Disney does not have you covered.
Our favorites are the Joovy wagon and the double stroller by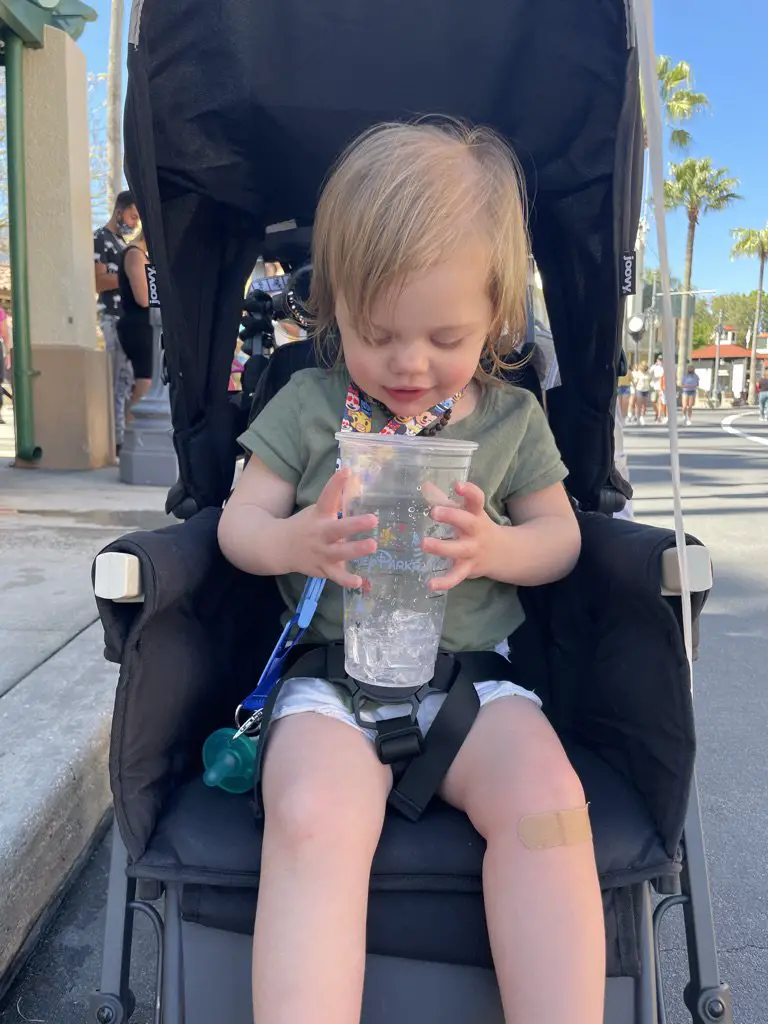 Baby Carrier
You cannot take your stroller through the ride lines. Meaning your toddler will have to walk and stand in line the entire time. I don't know about you but my toddler is heavy and my arms get SO tired holding her. Having the ability to hold them in line will save everyone's arms and backs. We've had her fall asleep in line in the carrier and it was a lifesaver.
We've had a few carriers in our time, after our daughter outgrew her infant carrier I was on a mission to find one that would work when she got bigger. When I found the Tula it became our favorite. The 360 transitions really well from the infant stage to the toddler stage, and you can carry them on your back, side, or front. In addition, your toddler can sit facing in and out. It's extremely versatile, lightweight, and very durable.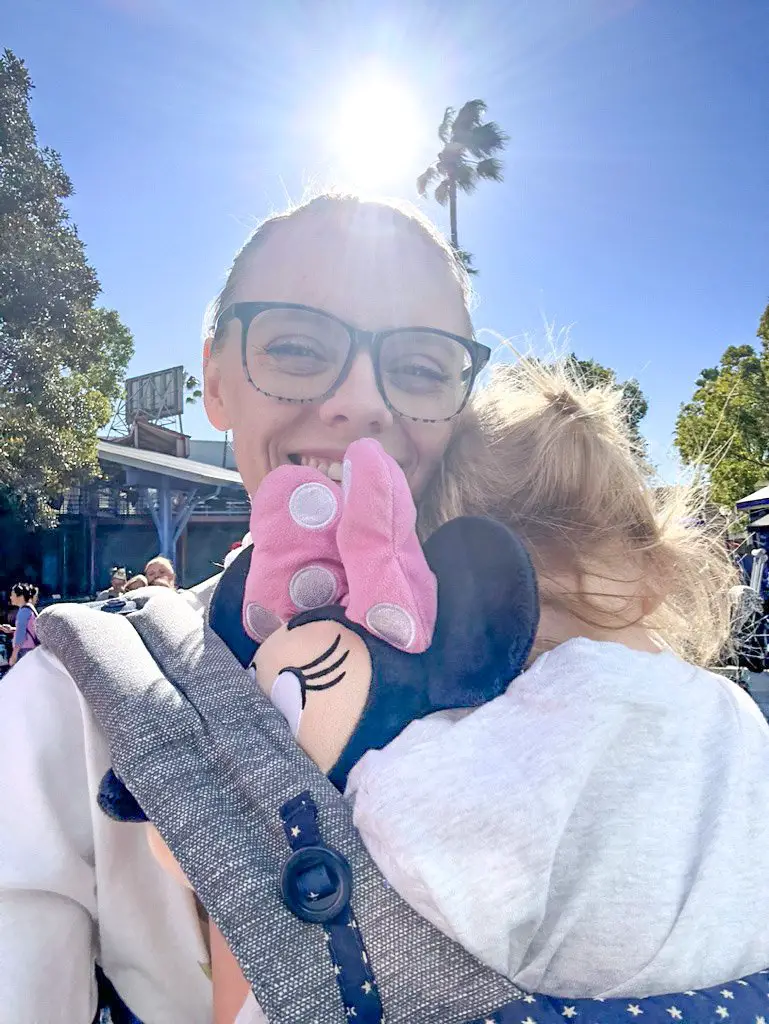 Umbrella
Make sure your stroller has a canopy or cover before you head off for your trip! Nothing is worse than attempting to keep your little one out of the sun and not having enough shade to do so. If your stroller doesn't have a working sun cover you can opt for an umbrella. The nice part about the umbrella is that you can let anyone in your party use it and stay out of the sun while you walk or if you are having trouble finding shade to eat or relax this is the perfect opportunity to get out of the sun.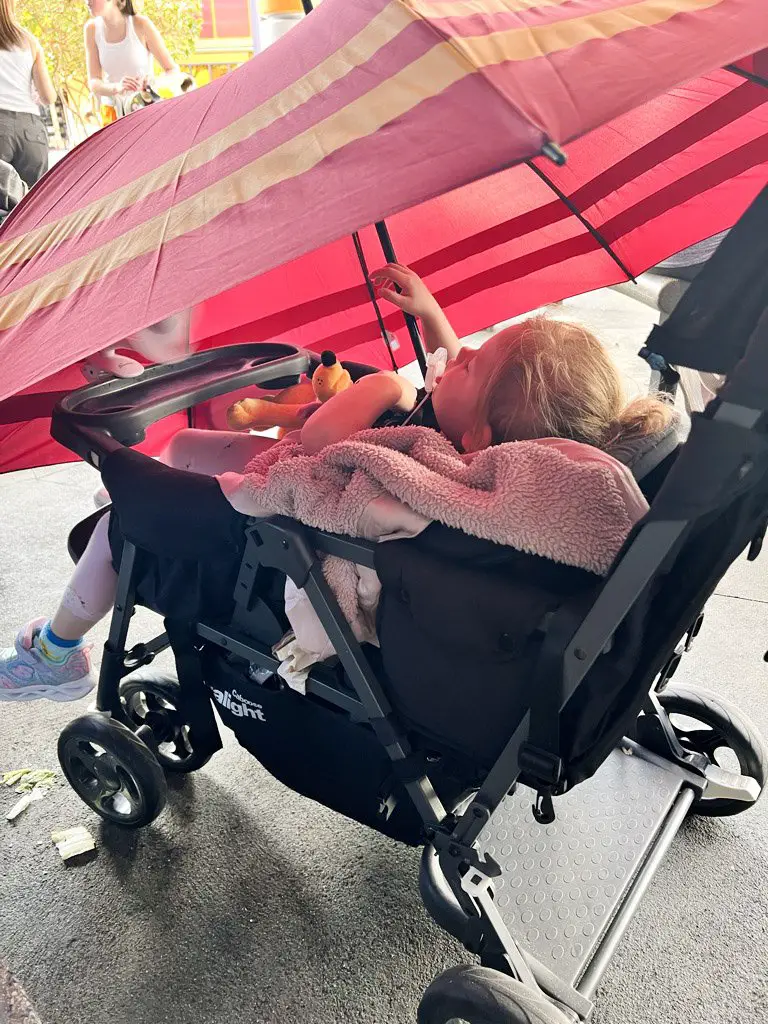 Fan
It can be so hot in Southern California, Texas, and Orlando for most of the year. It's important for everyone to get out of the hot sun and cool down, as adults we do a pretty good job managing our temperature. Kids on the other hand can overheat quickly since they are not great at sharing exactly how they are feeling. Heat, hunger, tiredness, and water are some of the top things kids lose their minds over. Stay on top of keeping them cool with one of these fans. We like the rechargeable option or the battery-operated one.
Extra Clothes and a bathing suit
There are not a lot of spots where kids can get their clothes wet but have a change of clothes for when the morning and night cool off and it's really hot during the day. If your hotel is close you might opt for heading back, we like to take everything with us for the day and not stress about going back to the hotel no matter how close they are.
Rain poncho
Although this is not Disney World where the Florida weather changes in seconds, having a rain poncho is simple and easy. Instead of getting soaked with your clothes or having to pack extra clothes that take up more space the rain ponchos fold up small and fit in your backpack easily. A rain jacket would work also, although they do not fold up as well as the ponchos do.
Baby Wipes and Wet Wipes
Although these could go in your first aid kit, there is nothing like having a wet wipe for any sticky situations. I guess this is where I should mention diapers or pullups as well. Besides cleaning hands and sticky things with baby wipes you will most likely have them first because your toddler may still be in diapers. Seriously don't forget them it can be a hassle and a lot of anxiety to run out of diapers or wipes.
Medication and First Aid Kit
Prescription medication and over-the-counter. Advil, Tylenol, allergy medicine, and anti-nauseous medicine bring it all! Most of the parks do have an amazing first aid spot if you forget anything, but you only need a few of each for the park and should repack each morning before you go. A few other items to put in your first aid kit would be bandaids, blister blockers, chafing cream, sunscreen, hand sanitizer, Neosporin, and Aquaphor, and please do not forget any of your own personal medications.
Hand Sanitizer and Wipes
After covid, many theme parks have hand sanitizer stations outside the rides, but we bring our own because we find many other times to use it, and they are not all full and easy to find. You should make it a habit to wash your hands frequently throughout the park but I don't want to go all germaphobe on you, so hand sanitizer it is.
Cell Phone
I know funny to put it on the list, but we've left the hotel and had to run back for a cell phone. As a side note: we've seen many people write their cell phone number on their children's hands or even their clothes just in case they get lost. A GPS watch or Airtags are a great idea if you are worried about your child getting lost.
Portable Charger
There is nothing worse than not having your phone charged for the day. With technology taking more of a priority in our lives, and the ease of portable phone chargers, you won't have to worry about not being able to use your Disney app to get into your hotel room, or the park apps to manage rides, and order food ahead of time. We love this solar-powered portable charger. It will charge up to 4 phones and has fast charging capabilities, it is a little on the heavy side, but it has a flashlight. A few parks are beginning to have power banks you can rent for the day, but it is so infrequent that we don't rely on the parks to provide them to us.
Cooling Towel
No matter if you are attempting to beat the Florida heat or Southern California in the middle of the day it is hot no matter what! Cooling towels are an easy way to cool yourself off. They keep you cool without getting you soaking wet and are lightweight.
Glow Sticks
Save some money at the end of the night! Head to the dollar store and pick up glow sticks and give them to your kids at night so you don't have to buy any of the flashing color spinners that end up tangled in hair by the end of the day.
A side note about the bubble spinners, they only hold so many bubbles, and please know your toddler will go all out and hold down the button while all those bubbles are wasted. Remind yourself they are having fun and they were so excited about this toy. Be ready to distract them as soon as the bubbles are gone because a meltdown is on its way.
Reusable Straws
If you HATE paper straws bring reusable straws. We all know paper straws suck! They disintegrate as you are drinking from them, and Disney is full of them, especially in Florida and California.
Comfortable Walking Shoes
We found the best comfortable shoes for theme parks are Nike, Adidas, and On Cloud. Many people swear the best shoes are crocs, and unfortunately, we cannot get behind them, but these are a personal preference for many, so we do not want to not put them on the list. If you do opt for a cheaper pair of shoes, take two sets, so when one becomes unwearable or worn down, you have a second option.
Costco often has a deal on Adidas tennis shoes, we pick up a pair for our Disney World trip and they are extremely comfortable and wash really well.
Dress Code
No, there is no specific dress code in any of the theme parks, besides profanity, but that doesn't mean you shouldn't have matching outfits or a theme for your party. Having a matching theme or bright colors is a great way to spot each other quickly because of the different colors, and it's a fantastic way to share your support for your favorite characters.
We plan our outfits depending on what rides are within the park and stick to an overall theme instead of having matching shirts.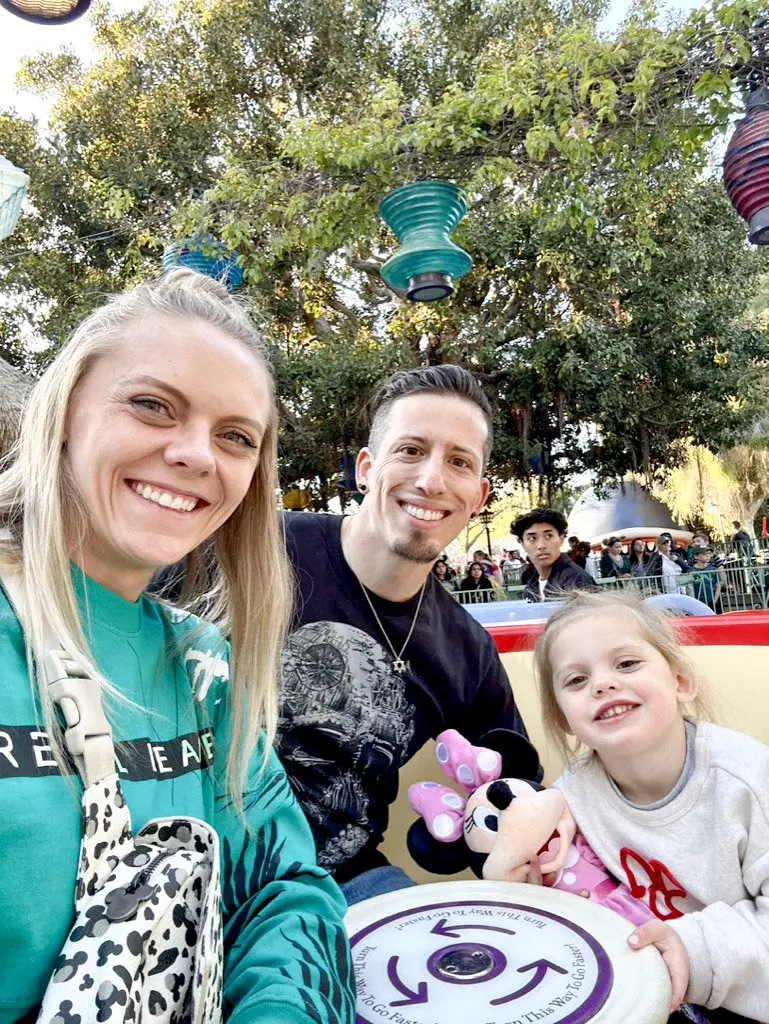 How to prepare for a theme park with a toddler
Know the height requirements and create a ride guide
Knowing height restrictions prior to getting to the front of the line will save you a meltdown. Almost all of the theme parks have ride guides with height restrictions on them. You can also look up ride guides for specific parks written by parents that have been to get a really good idea of the rides and what to expect. Rides typically do not have age restrictions but that is also something important to keep an eye out for.
Featured Ride Guides
Rider swap or Fast Pass
Some younger kids might not be tall enough to get on all theme park rides. That's where rider swap comes in, rider swap is when one adult stands in the regular ride line, while another adult stays back with the young children not tall enough to ride the ride. Once the first parent comes back from riding the ride, the other parent who waited with the child will go back to the front and typically bypass the line or a portion of the line. It saves a lot of time for the second parent because they don't have to wait in the long line.
Fast pass is a generic word used for bypassing the line. Many theme parks have a "fast pass" equivalent that can be purchased in addition to the park pass. For example for an additional cost at Disney theme parks, you can purchase genie + and have access to shorter lines. Some are individual lightning lanes and you have to pay an extra cost for just that ride or you can buy the pass that allows you to access multiple rides. The individual LL is typically for a newer/popular ride. Most rides are available with Genie+. Here is our guide on how we rode 13 rides in one day at Disneyland with Genie+
Wait times
It is widely understood that you might have to wait a long time to get on a ride. Peak times, holidays, and school breaks like spring break are not the most ideal times to go to theme parks, especially Disneyland. Do your research ahead of time, if you notice a new ride or land opening you may reconsider your time, or know going in that wait times will be longer. Buying a fast pass of any sort will be the best way to beat long wait times.
Know the lay of the land or at least where the baby care centers are
Pick up the theme park map at check-in or at one of the stores throughout the park to have a good idea of what the park looks like. You can often find the PDF online or download the theme park app if you want it on your phone.
Baby care centers typically have a changing room, a spot to breastfeed, and get supplies if you run out.
This also brings us to knowing where first aid is at. We've only needed it once so far, thank goodness, but we were in desperate need of Dramamine and a spot to lay down for a while.
Download the Theme Parks App
You can typically check ride times and set alerts, mobile order food through mobile ordering, and look at the map with the theme park apps.
My Disney Experience app: Disneyland and Walt Disney World
LEGOLAND
Universal: Universal Orlando Resort and Universal Studios Hollywood
SeaWorld
Six Flags
ADA, Special Access, or Assistance needed
This is probably our favorite "secret" to share for theme park tips for toddlers. Reach out to the park ahead of time if you have a child or adult with special needs, developmental delays, or accessibility needs, most of the parks will give you special ADA access to skip lines or have access to a shorter line. The theme parks may require a doctor's note or medical information so call and ask ahead of time so you can be prepared.
When a child throws himself on the ground and tantrums just to wait in line, the idea of a theme park is horrifying. Not to say every toddler who throws tantrums should have access, that is not the same thing. BUT if that resonated with you because you actually have a child that needs more assistance, don't skip theme parks, there are workarounds and you will have fun also.
Be aware of meal times
Meal times don't just disappear because you are having fun. If your toddler is a breakfast, lunch, and dinner with snacks in between kinda kid, they will most likely stick to that schedule and avoid eating because they are having fun. We all know a hungry toddler is not one to mess around with. Keep on top of meal time by planning snacks, and mobile orders to pick up food. Nothing is worse than a hungry family.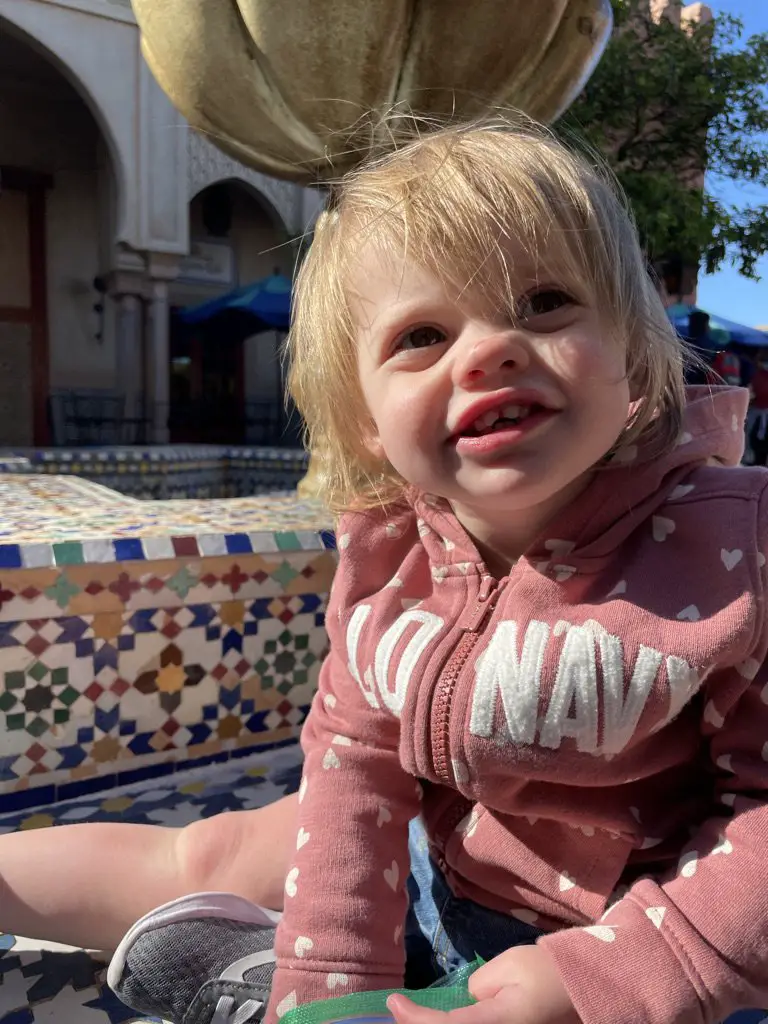 Packing food for the amusement park
As we begin to wrap up Theme park tips for toddlers we think it's important to discuss Amusement park snacks. Here are some of our favorite snacks to pack for a park day.
Fruit snacks
Fruit strips
Pretzels
Yogurt melts
Pistachios
Nuts
Cuties
While most parks allow you to bring outside food into the park, that is something you will need to plan ahead for. That might mean packing extra in your luggage from your home, making a trip to the market, or planning for grocery delivery.
Pack snacks, or even a packed lunch for the theme park it will help you save money and allow you to ride more rides.
What to bring to an amusement park
Out of all of the theme park tips for toddlers, the packing list is probably the most essential. You won't use everything every day. Some days it will be completely dry with no clouds for miles, and some days you will encounter a downpour like never before. Take advantage of the rain. While many flock to indoor stores and restaurants, you can jump in line to some of the long lines that are now short while you wear your poncho. We will share the many items you should bring with you each day but keep an eye on the weather and any other local-specific issues.
Stroller
Water Bottles
Carribiners
Lunch and snacks
Poncho or change of clothes, bathing suit, and/or flip-flops if you are planning for water rides
Medicine bag with essentials
Charging cords
Portable chargers
Cell phone
COMFORTABLE SHOES
What bag to bring to an amusement park
You need somewhere to store all your items, and while the bottom of your stroller does have space, it's not the space you need. We've tried so many different bags and have narrowed it down to two bags. One backpack and the other being a crossbody or personal backpack (like a Loungefly). Fanny packs are fine and so are big totes, but I feel like I'm 12 with a fanny pack on and totes seem to fall over and everything moves around too much.
We use the backpack to hold all of those miscellaneous, and bulky items. While the crossbody is more for your wallet, and cellphone while on a ride. Universal is really the only theme park we have been to that doesn't let you have a bag on the ride. Make sure your crossbody has a zipper so that your items do not fall out while on a ride.
Best Theme Park for Toddlers
Walt Disney World Resort
Animal kingdom
Hollywood studios
Magic Kingdom
Epcot
Disneyland Resort
Disneyland
California Adventure
Universal Orlando
Islands of Adventure
Universal Studios Hollywood
Legoland
California
New York
Florida
Six Flags
Discovery Kingdom San Jose/ San Francisco
Magic Mountain Los Angeles
Over Texas
Fiesta Texas
Great America (not the same as California's Great America)
Darien Lake
Over Georgia
Great Escape
Great Adventure
New England
Frontier City
St Louis
America
SeaWorld
San Diego
Sesame Place
San Diego
California's Great America
Best Disney Park for Toddlers
Hands down, if you are thinking West Coast, head to Disneyland, and if you are thinking East Coast, Walt Disney World's Magic Kingdom park. While the other parks have things for toddlers, these two have a significant focus on younger theme park goers.
With both parks having a Fantasyland, you will have plenty of rides for your toddlers to ride and character meet and greets for them to enjoy. While many think It's a Small World is the best ride ever created, you will not find this on our ride guides or suggest it as one of the rides for toddlers. It is a great casual ride, but we hate the slow boat cruise and the songs, so it's going to be a no for us, but by all means, take your toddlers and find out yourself. Disney is an entirely different experience and if it's your first time you will want a specific Disney with toddlers tip list.
A few of our favorite things to do inside the Disney parks are to see some of our favorite Disney characters like Disney princesses, Disney Junior characters, Disney Junior dance party, adventures of Winnie the Pooh, Peter Pan, and anything Mickey Mouse.
Theme parks with a water park
Kids theme parks are great, but adding a water park to the trip is the best way to add a day in the sun relaxing. The best part is kids can swim and play on slides while you relax or you can always partake in the play.
Castaway Bay
Universal's Volcano Bay
Disney's Typhoon Lagoon
Knott's Soak City
DreamWorks Water Park
We hope our theme park tips for toddlers help you have a fantastic time on your next theme park adventure and if you learn anything new or want to share a cool item we would love to hear about them!
Enjoy!
Other posts you may like
Top 19 best toddler amusement parks