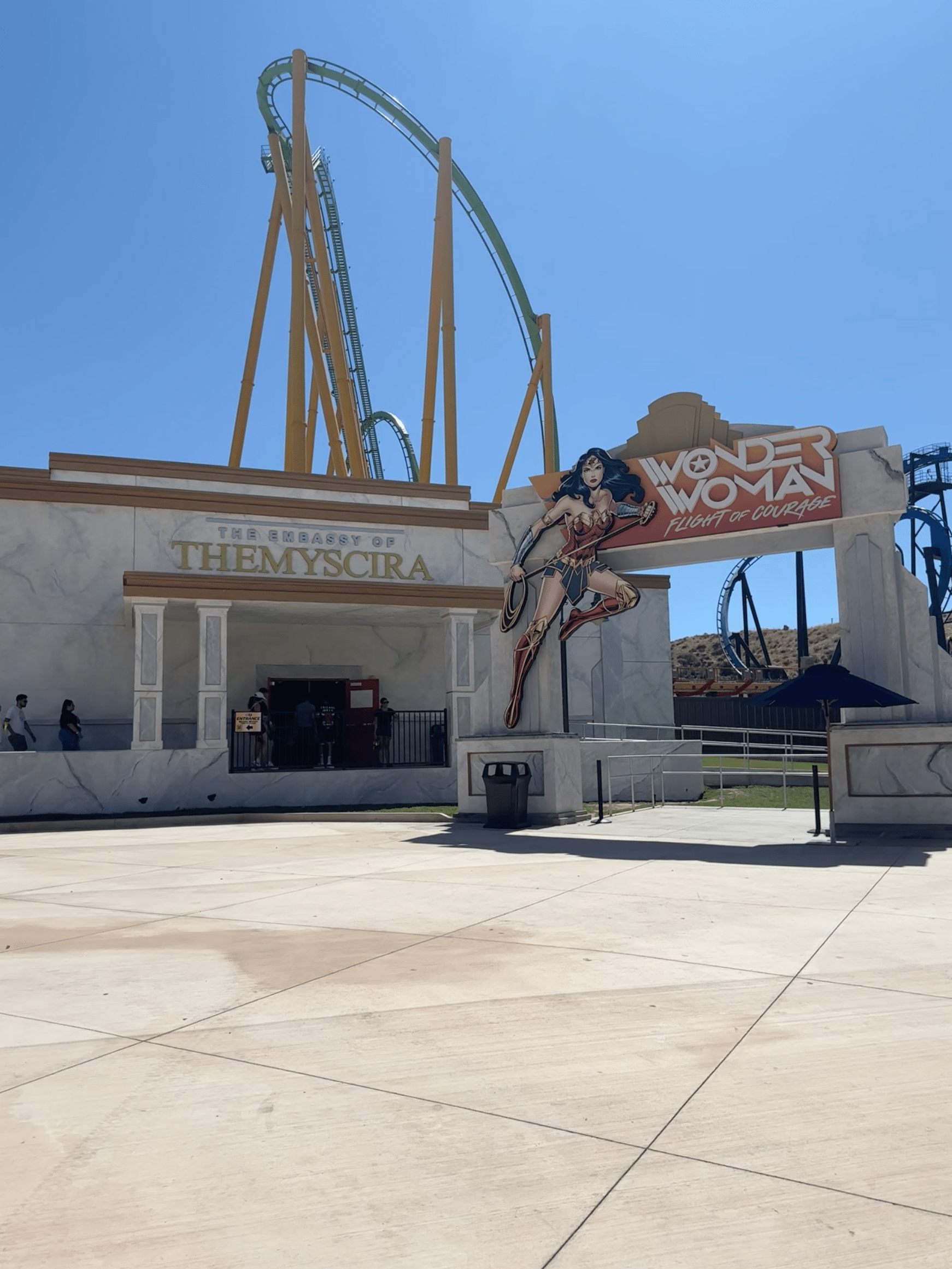 The Flash Pass Experience at Six Flags
For adrenaline junkies and theme park enthusiasts, few places offer the kind of heart-pounding excitement that Six Flags is known for.
With its collection of world-class roller coasters and attractions, a day at Six Flags promises unforgettable memories.
However, the popularity of this iconic theme park can also mean long lines and wait times. But fear not! There's a solution that can make your visit smoother and more enjoyable: The Six Flags Flash Pass.
What is a Flash Pass?
The Flash Pass is your golden ticket to a shorter wait time and a more streamlined and enjoyable experience at Six Flags.
It's essentially a virtual queue system that allows you to reserve access to some of the park's most popular rides, all while minimizing your time spent waiting in the physical line.
With a Flash Pass in hand, you'll spend less time waiting and more time riding.
The Flash Pass is an extra cost in addition to your park admission ticket and varies in price depending on the pass you add on.
The Different Tiers
Six Flags offers a few different Flash Pass options to cater to your needs and budget. 
Regular Flash Pass​
This pass allows you to reserve your spot in line virtually for select rides, cutting down on your wait time in the physical line.
With this pass, you do not cut down on the wait time, especially, you can wait wherever you want in the park, whether that's eating snacks, grabbing a drink, or riding another ride with a shorter line.
You will still have the full wait time posted in the park. 
Gold Flash Pass​
With this upgraded option, you'll enjoy reduced wait times even further and can reserve spots on some of your favorite rides.
The Gold Flash Pass cuts the queue time by 50% and allows you to wait virtually as well. This is the most popular pass for most people because of the versatility of it. 
Platinum Flash Pass​
Enjoy the ultimate form of convenience. The Platinum Flash Pass provides the shortest wait times and the widest selection of ride reservations.
As you breeze through the park, you'll feel like a VIP and jump to the front of the line. The Platinum Pass cuts the queue time by 90%.
One-Shot
This is a pay-per-ride flash pass that allows you to pick and pay for individual rides instead of an all-day access pass.
The flash pass single-ride prices range on ride popularity and the park you are at. Once you select the ride, time slots will pop up, and you can select your preferred return time and reserve your spot.
Your countdown will begin as soon as you select your ride, and once your time is up and you have reached the front of the queue. You can take your QR code to the attendant to let you through and onto the ride.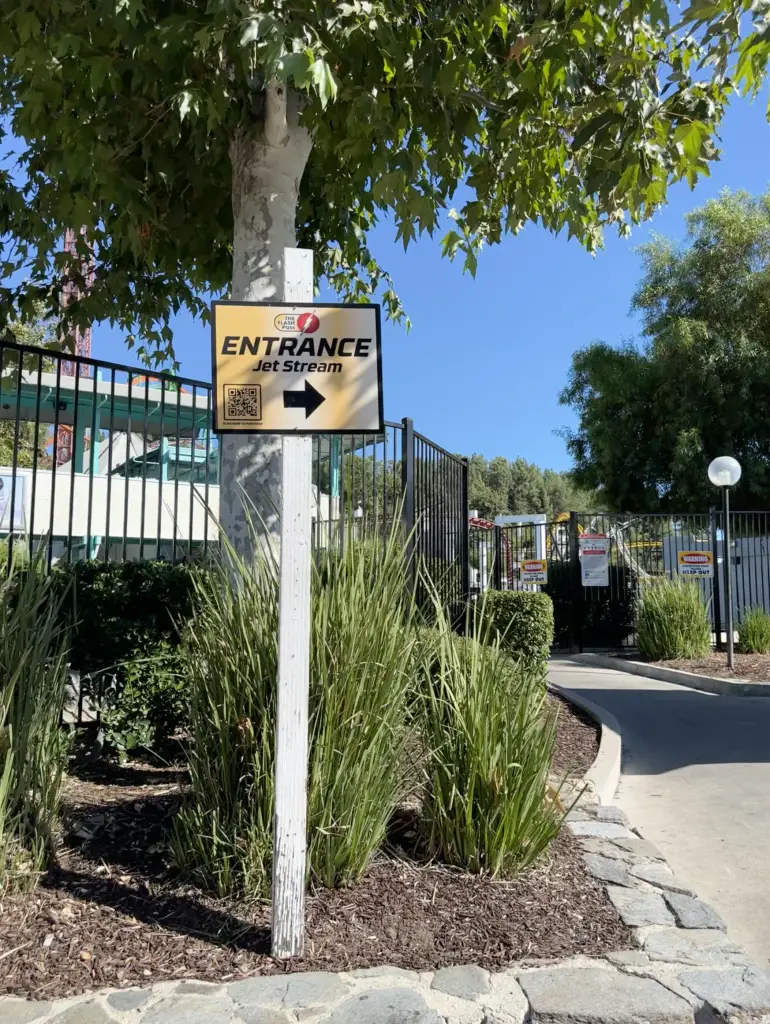 The Different Tier Prices
The price of the flash pass varies depending on the level of pass you select. While the line passes work the same in each park, the price varies drastically depending on where you are going.
Flash Pass Platinum starts at around $50
Flash Pass Gold starts at around $70
Flash Pass Regular starts at around $120
Flash Pass One-Shot Pass Starts at around $10
Please remember these passes have varying prices depending on the park you are at for your day. Six Flags Magic Mountain is the most expensive Flash Pass park.
Depending on your budget as well as the park's crowd levels, really dictates what pass you should get.
The Pass in the Park
On our most recent visit to Six Flags Magic Mountain in mid-August. Schools in the area had just started for many on that Monday. The longest wait time was posted at 1 hour. We got the Gold Flash pass to cut wait times by 50%. Making the longest wait 30 minutes for Wonder Woman. 
This pass tier allowed us to get on every ride in the park once, and the rapids ride three times throughout the day to cool off.
While it was an extremely hot day in Santa Clarita, we rode 13 coasters. Without the Gold Flash Pass, there was no way to accomplish everything in one day.
We suggest the Gold passes for your next visit and upgrade to the platinum passes for days when lines are at their highest.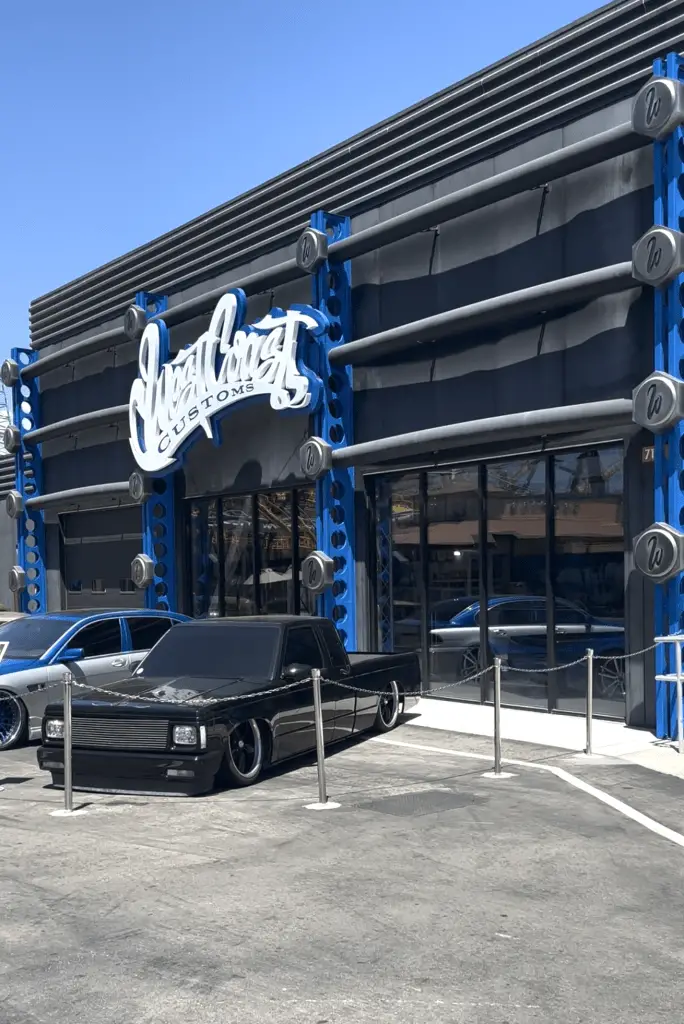 How Does The Six Flags Flash Pass Work
Using the Flash Pass is a breeze at Six Flags Parks.
There is no need to go pick up or rent a Flash Pass device like you used to in the past.
All you need is to purchase the Flash Pass ahead of time on the Six Flags app or at the Flash Pass Center in the park called Flash Pass Headquarters.
On a busy day, there is typically a long line to purchase the pass, so purchase it ahead of time if you can.
Once you have entered the park, you can activate your flash pass through the confirmation email it sends you. Click the Activate Flash Pass and follow the steps to sign in.
You can only have one pass out at a time but can ride each ride as many times as you want with no limitation.
How to Book a Flash Pass Ride
After logging in and creating an account. You will use the third-party flash pass platform to book your rides.
You will scroll through rides and find the one you want to ride next
A posted wait time will show on the ride you select, and once you have confirmed your selection, the countdown will begin.
Depending on how much time you have to wait, this is your opportunity to eat, sit in the shade, get on a ride with a shorter wait time, or make your way over to the ride you selected.
When your countdown is done, and you get the green bar with the QR code, make your way to the ride's entrance and look for the Flash Pass line entrance.
Walk all the way through the line until you reach a park attendant.
The Attendant scan your barcode that will show up on the platform when your wait time is up. You will continue through the line and onto the ride. 
Once you are scanned in, make your next ride selection to start the countdown right away.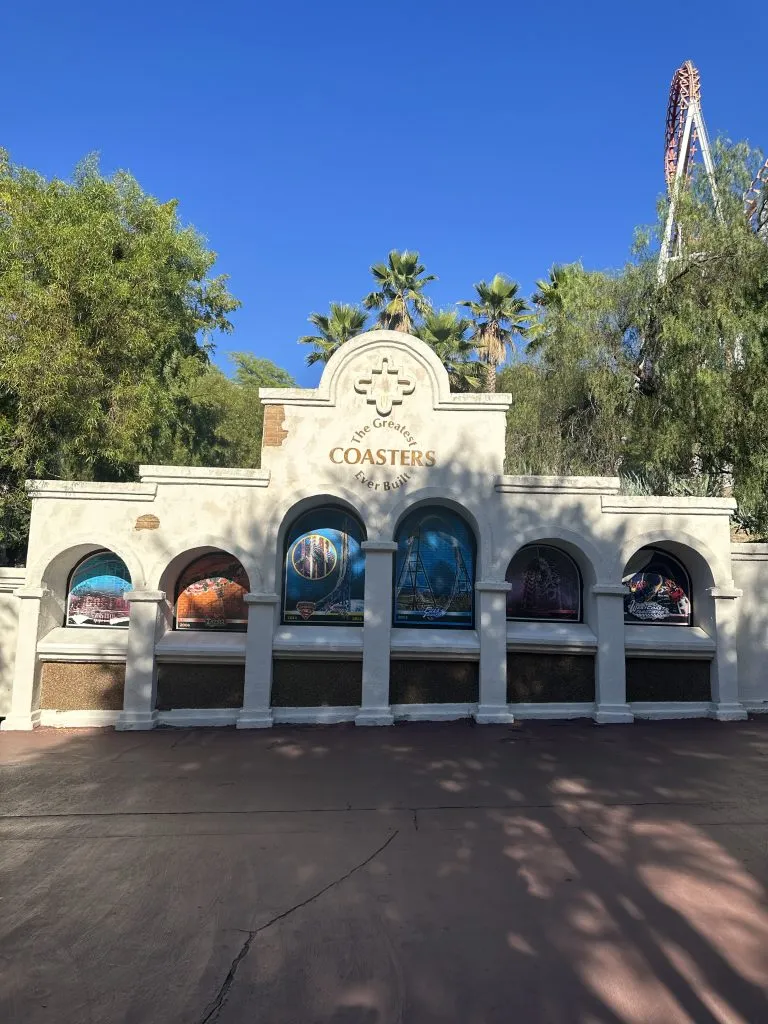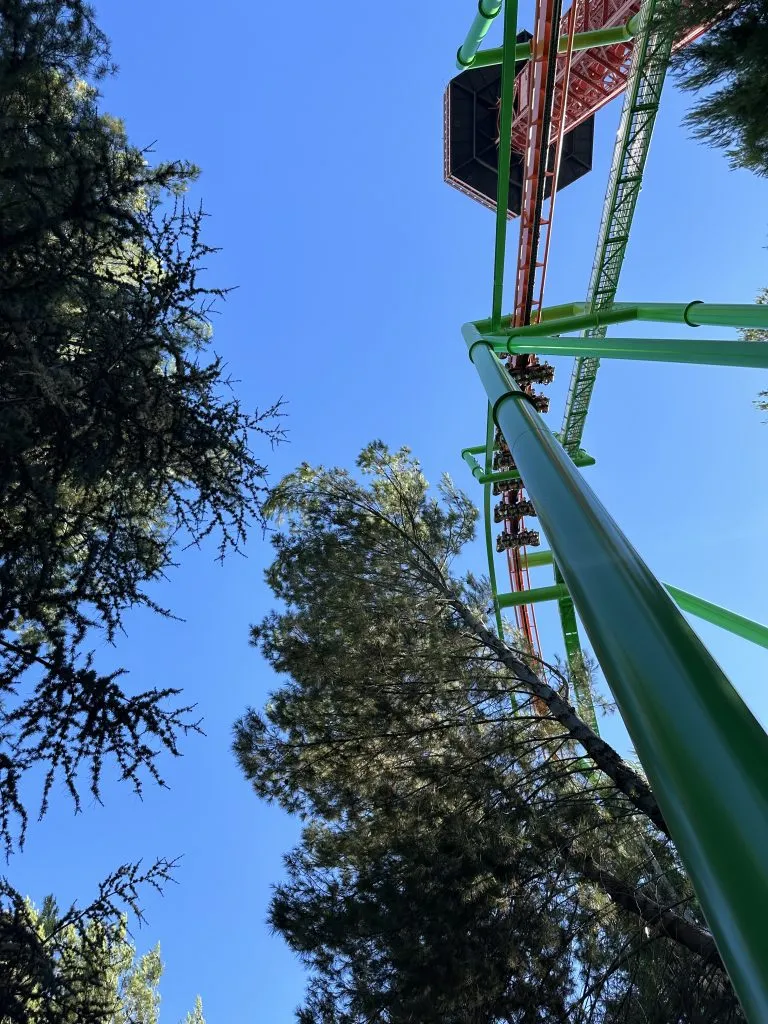 Canceling a Flash Pass Pick
You can cancel your ride selection at any time. Once you select a ride, you can scroll through the ride Iist and watch other times. 
If you see a popular rides queue line drop, you can cancel your ride selection and select that lower wait time instead.
This can sometimes be controversial because if that original ride you selected wait time spikes and does not come back down, you now have to wait longer than necessary for that original ride selection.
Sometimes it works out in your favor, though. We originally selected Tatsu for its 10-minute wait time. While I was scrolling in the app, Twisted Colossus dropped to 10 minutes from its original 45-minute wait time.
We canceled our Tatsu reservation and jumped over to Twisted Colossus instead. Once we scanned into Twisted Colossus, we reselected Tatsu that was still at a 10-minute wait.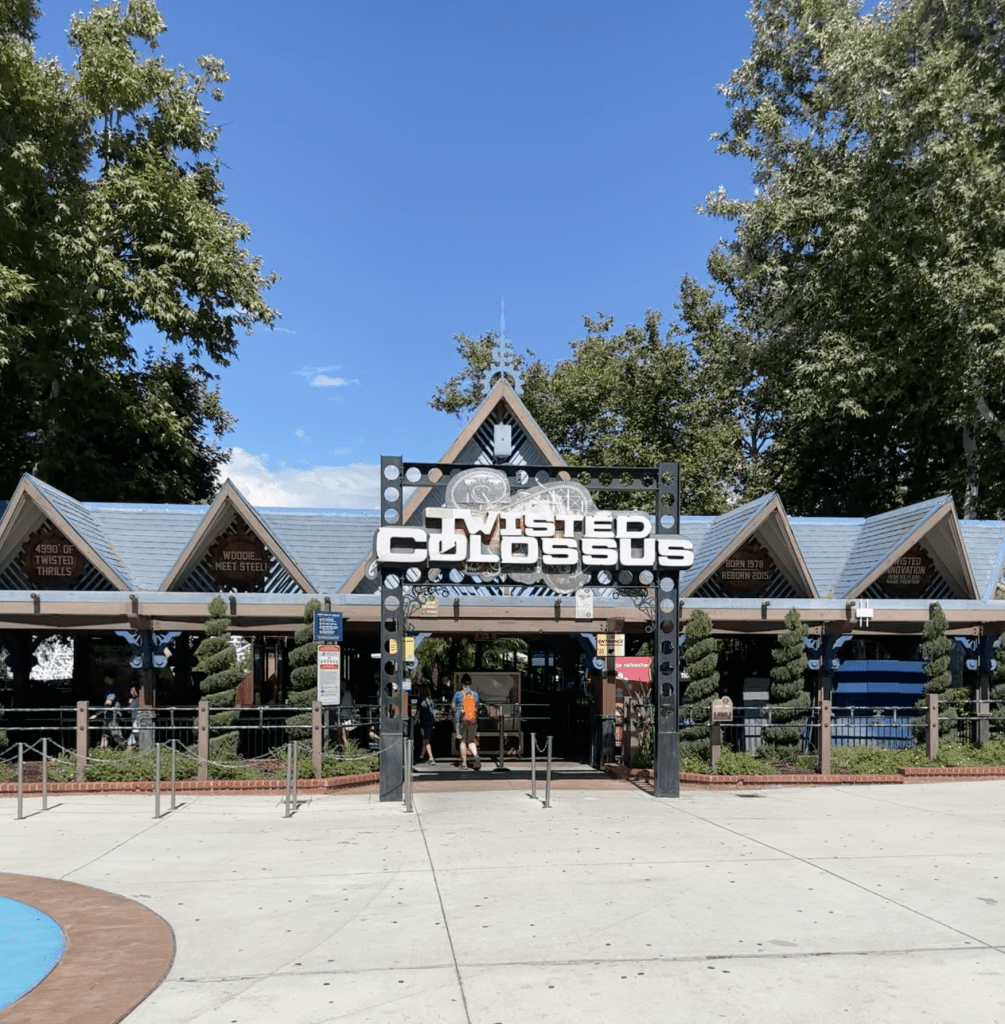 Top Rides To Use Flash Pass With
Six Flags Magic Mountain
Twisted Colossus
Wonder Women
Full Throttle
New Revolution
West Coast Racers
Riddler
BATMAN
SUPERMAN
Medusa
Kong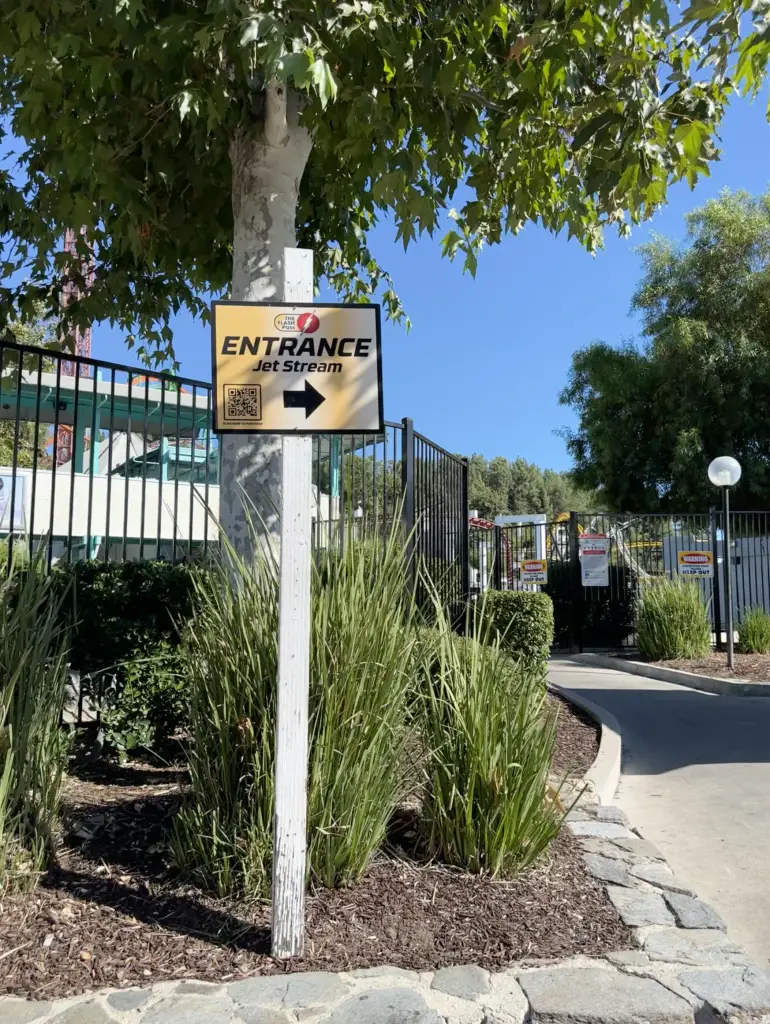 Where to Find Flash Pass Lines
Similar to the standby lines, Flash Pass has its own lines to access the ride.
Unfortunately, many of these amusement park add-ons have grown over of the years, and there is no designated entrance for these lines.
Often times you will find it by the exit of the ride, but sometimes the flash pass line entrance is located by the ride entrances instead of the exit.
Each ride is different, and there is no consistent pattern.
Our biggest suggestion is to read the location description in the Flash Pass app and look for the Flash Pass signs either on the ground or near the exit and follow the signs until you reach the line or attendant.
We found a few difficult to find but asked staff members, and they directed us to the entrance.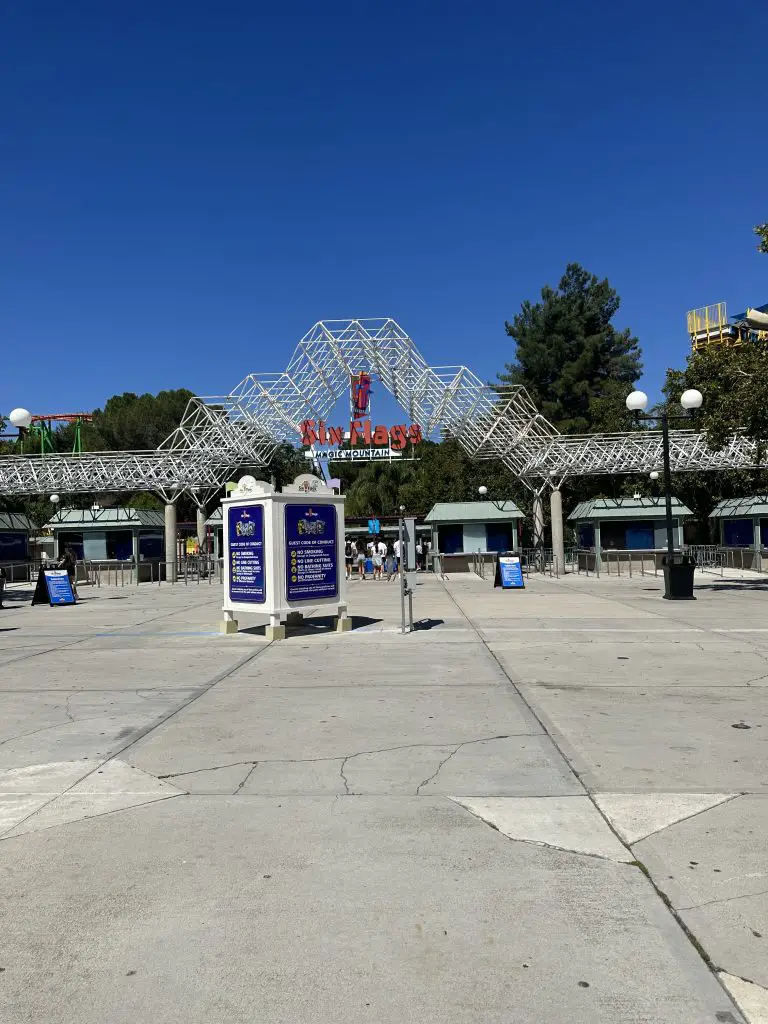 Why You Should Consider a Flash Pass
Maximize Your Time
The most obvious benefit of a Flash Pass is the time you'll save. Instead of standing in long lines, you can experience more rides and attractions throughout the day.
For many of the Six Flags parks, a one-day ticket is not enough time to experience the entire park or even a good portion of the park's attractions.
You might get a few days here and there where crowd levels are really low, and you can get on most of the rides at the park without a pass. But figuring out what days those are is almost impossible. 
Beat the Crowds
During peak season or on weekends, the ride lines at Six Flags can be daunting. A Flash Pass allows you to bypass these crowds and enjoy your day to the fullest.
For most theme parks, wait lines are not going anywhere in the foreseeable future, and the theme park industry is projecting massive jumps in attendance and revenue in the next 5 years.
Reduced Stress
Let's face it; waiting in line under the hot sun isn't the most enjoyable part of your theme park adventure. With a Flash Pass, you'll feel more relaxed and can focus on having fun.
Ideal for Families
Families with young children or members who can't or don't want to wait in long lines will particularly appreciate the convenience of a Flash Pass.
Some of the theme parks like Six Flags Great America and Great Adventure have JR. Flash Passes to use on their kids' rides. 
Not all Six Flags parks offer this Jr. add-on, mostly likely because of the lack of family/kids rides at the other parks. 
But as a family, any way to cut wait times is a massive benefit for kids.
Final Thoughts on Six Flags Flash Pass
While a Flash Pass at Six Flags does come at an additional cost, the benefits in terms of time saved, stress reduction, and overall enjoyment are well worth it for many visitors, including us!
It can transform your day at the park from an ordeal into a thrilling adventure filled with excitement and fun. So, next time you plan a trip to Six Flags, consider adding a Flash Pass to your adventure and get ready for a day of unforgettable rides and unforgettable memories.
We know this is the only way to experience theme parks now and in the future.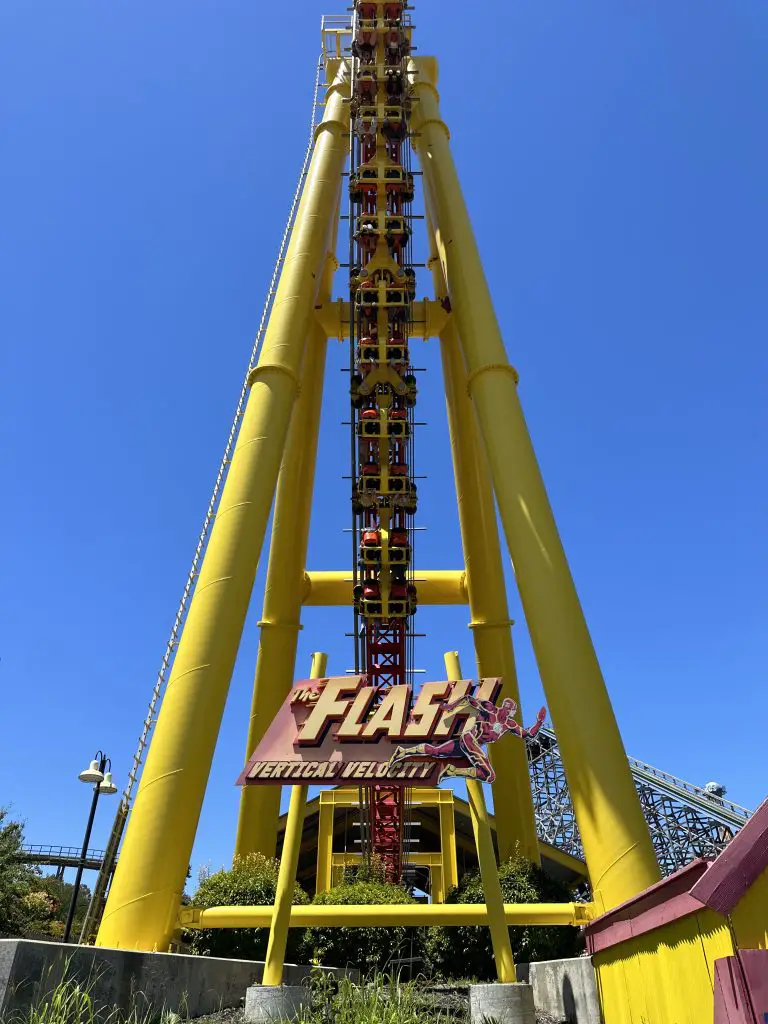 Other Guides
Six Flags Magic Mountain Thrill Ride Guide
Six Flags Discovery Kingdom Ride Guide
Theme Parks for Toddlers In California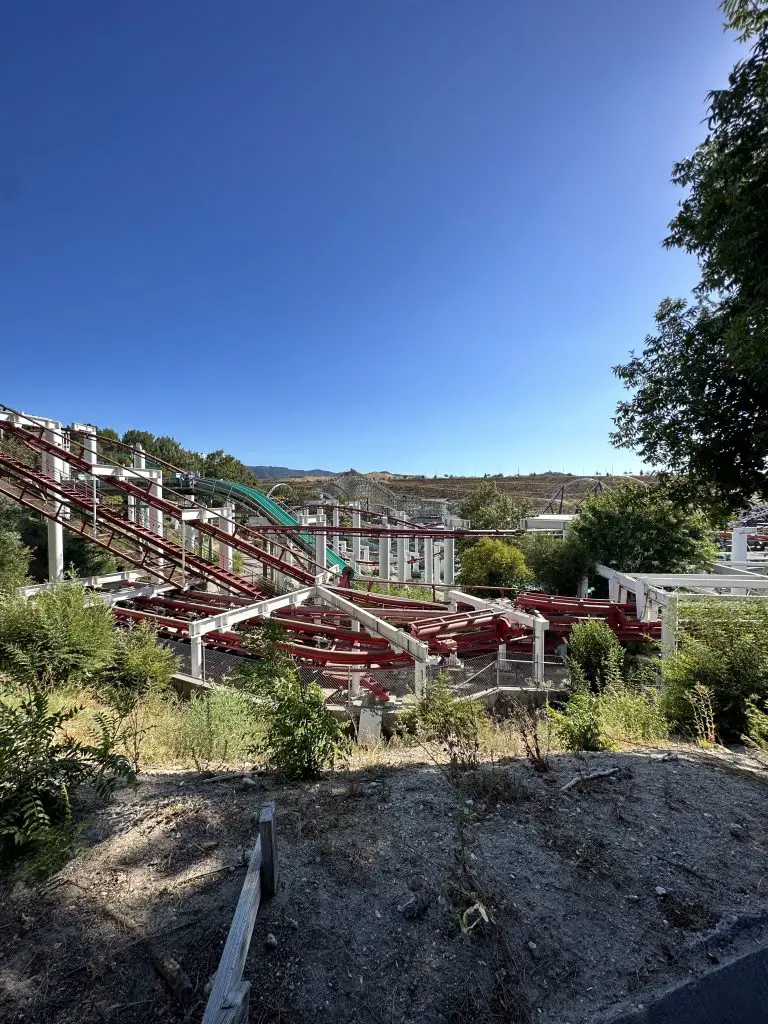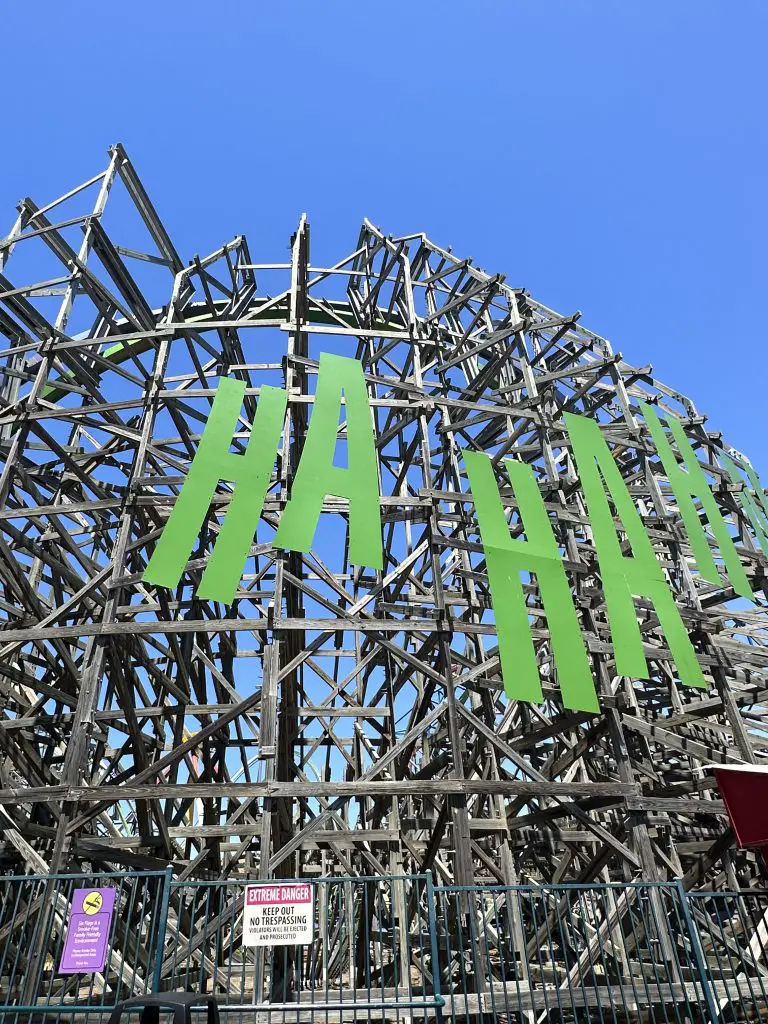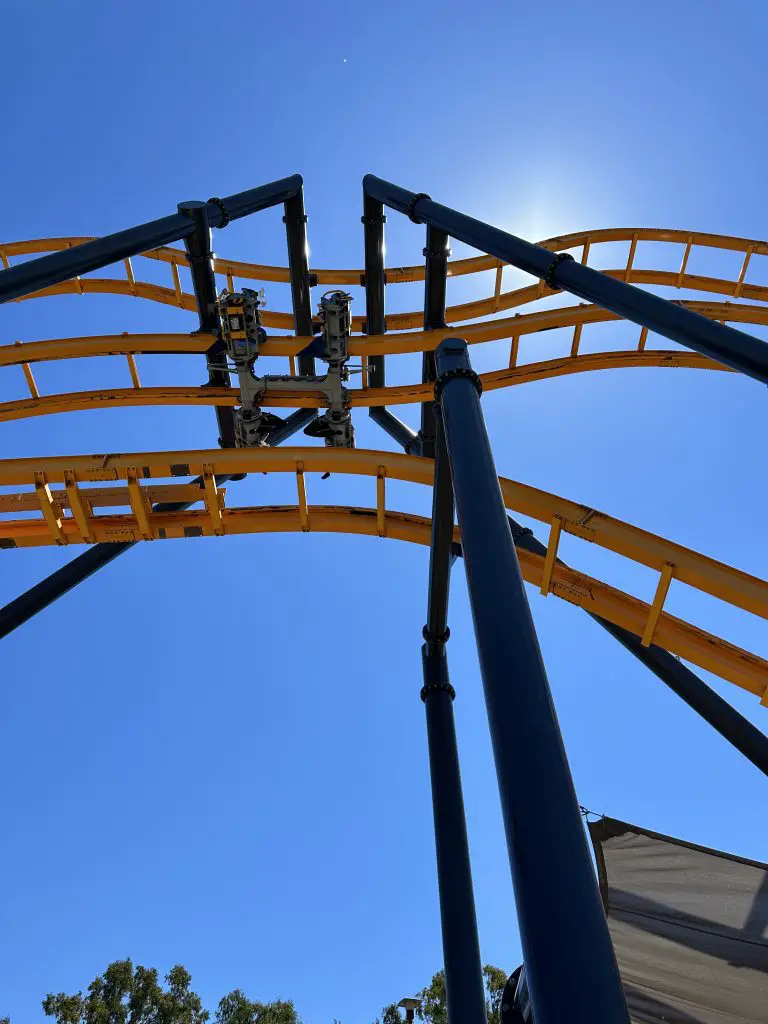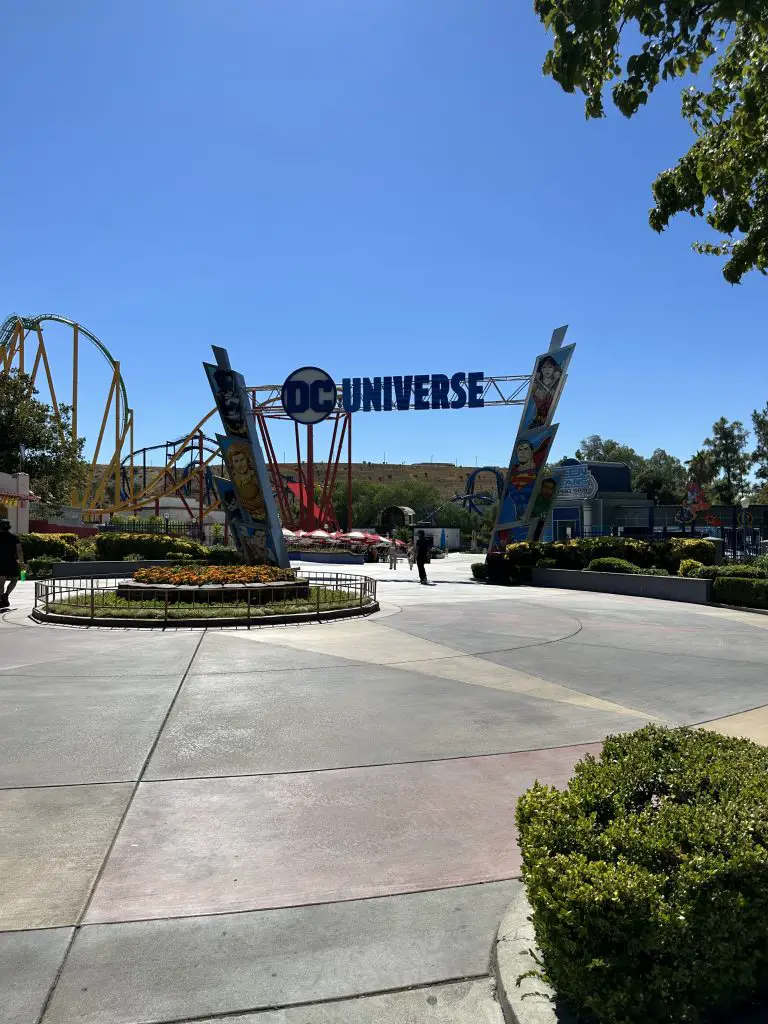 Purchase Park Passes and Flash Pass