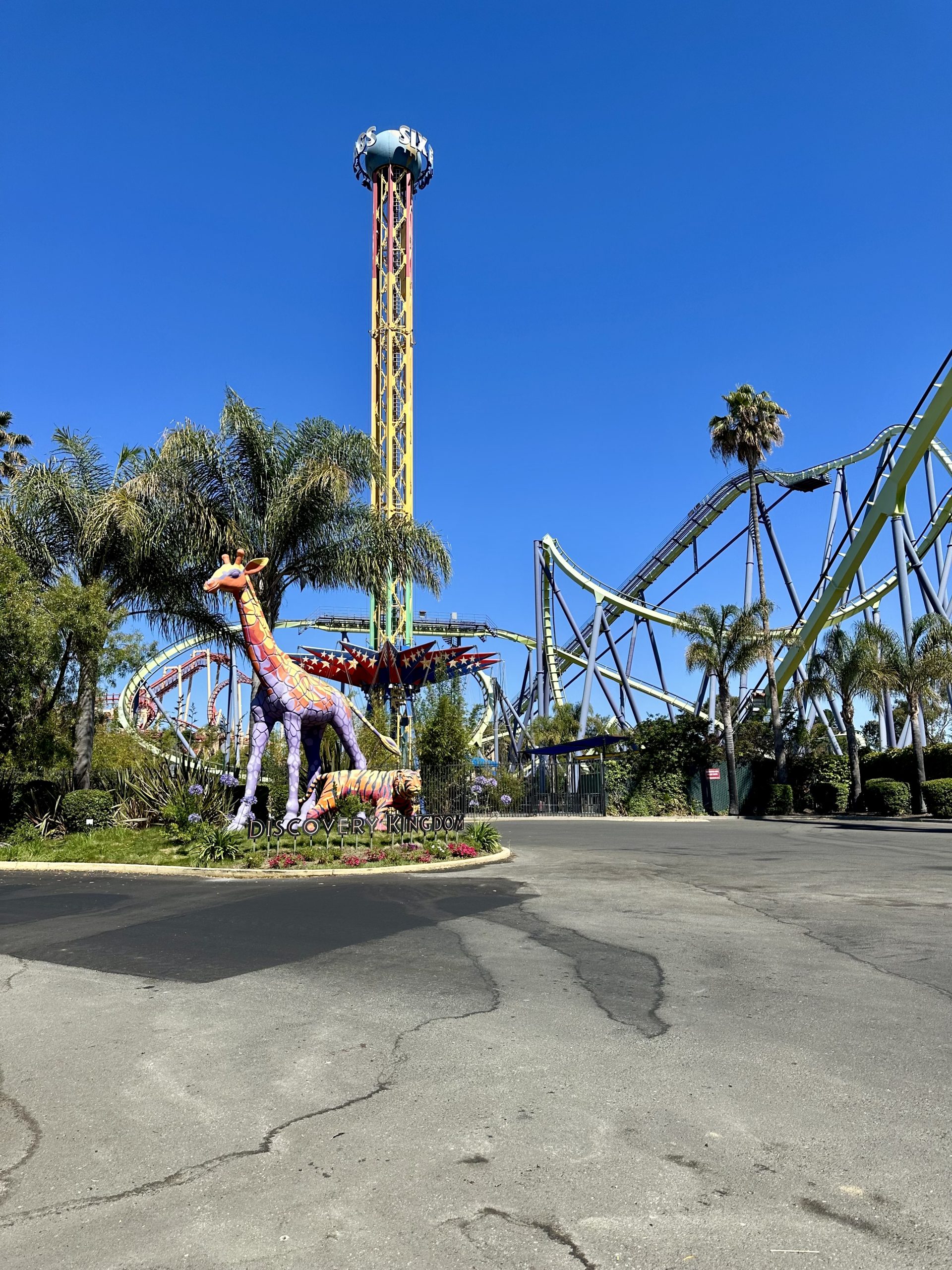 We just got back from a pre-birthday weekend with a major focus on the Coasters of Six Flags Discovery Kingdom.
It could be better, but it is getting better…
They do have new rides and the OG's like Meduca, a 23-year-old roller coaster. If you've been in the past 10 years, you have most likely been on this ride.
There are lots of shift changes and tests on their roller coasters. We are assuming it's the age of the park and that it is not the main focus right now. The "thrill capital of Northern California" has recently rethemed a lot of the area to reflect the dc universe and is still in need of a major revamp.
They do have some park upgrades, but if you are looking for a quick thrill-seeking day, this is a great stop.
In this blog post, we will take you on a tour of the exhilarating roller coasters at Six Flags Discovery Kingdom. Highlighting the unique features and intense thrills of each coaster, providing an in-depth look at what makes this amusement park a must-visit for adrenaline junkies.
If you are looking for a coaster with a top spin or barrel roll, the screams of parkgoers indicate the thrills and adrenaline rush that we all seek.
Let's break down the 2023 Coasters of Six Flags Discovery Kingdom.
Coasters of Six Flags Discovery Kingdom Ranked
The Joker
Kong
The Flash
BATMAN The Ride
Medusa
Superman
Cobra
Sidewinder Safari – Temp closed
Boomerang Coast to Coaster – Temp closed
Now that we have ranked the coasters of Six Flags Discovery Kingdom let's dive into what makes them special and a few rider tips to make it a great day.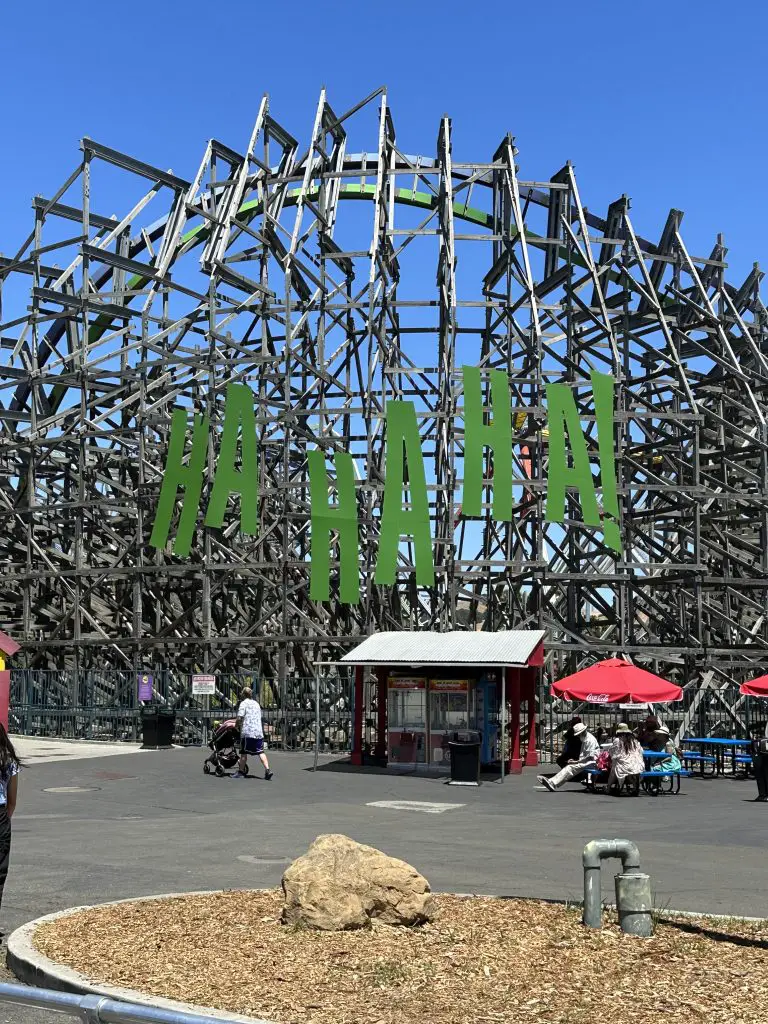 Coasters of Six Flags Discovery Kingdom Explained
The Joker
As one of the new coasters, this ride is so fitting, with the Joker's steel frame taking over the old wooden coaster. The Joker comes in and wreaks havoc using what is there and making something his own.
Rethemed and completely redesigned by Rocky Mountain Construction these roller coaster designers have a few Six Flags coasters.
They took the old standing wood coaster and overlayed a steel frame with unpredictable twists, turns, bumps, and upside-down thrills.
This coaster is unique to Discovery Kingdom as the other jokers are similar to each other and nothing like this ride.
This was one of the best rides and a must-do for us, so much so that we rode it twice and bought a one-shot pass to ride it again and skip the line. If you are a Hagrids Motorbike fan or love the feeling of the back seat on Big Thunder Mountain, this is the coaster for you. It was the most thrilling roller coaster in their park.
Secret tip: The front and the back cars give the best thrill!
If you love the feeling of free fall, you will want the front car, and you're able to wait if you would like. It could take a turn or two, but it's totally worth it.
BUT if you are looking for the best ride, sit in the last car. We promise it is COMPLETELY worth it.
Using a one-shot add-on
We purchased a single shot for this ride, as I mentioned. We needed to head back home and wanted to get in one last ride. The $10 one-shot is totally worth it on a hot day, and on a hot ride, you select your time to ride and are able to wait virtually where ever you want within the park. Once it's your time, you make your way back to the front, and the employee with scan your barcode. It is a short 10 min from this point to get on the ride.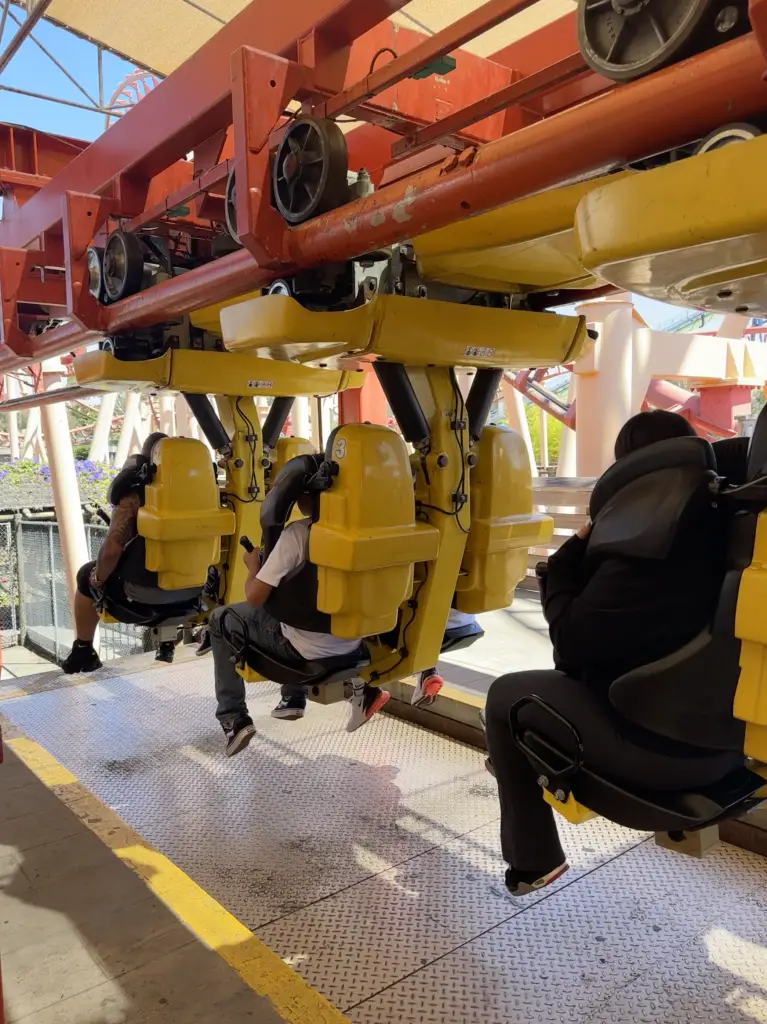 Kong
We were able to ride this one twice. The first wait was less than 15 minutes, and the second time was around 30ish minutes. Making it a great one to jump on while you wait for Medusa.

The Vekoma suspended looping coaster is floorless and sends you on an adrenaline-filled ride.
One of our favorite parts is that while the ride is a little quick, it holds a lot of guests, with LOTS of turns and thrills, and is a nice shaded queue.
Rides Tip: Wait for the first seats if you want the unobstructed view, but anywhere on this ride is a lot of fun. The ride is great, and brace yourself for the ending. It's a little rough, and the break at the end is pretty hard.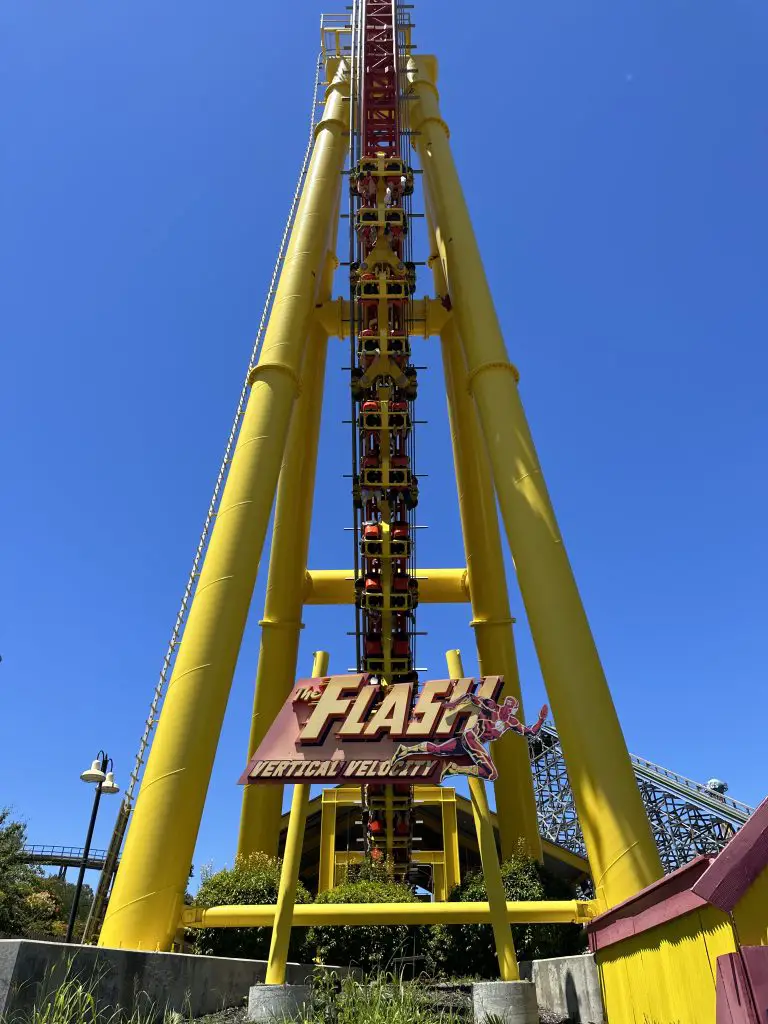 The Flash
Once called V2: vertical velocity, this retheme for the DC area was absolutely needed, and let's be honest, we love that we can go as fast as the flash for just a few seconds.
You shoot forward and rocket up the barrel roll, slightly pausing before rushing backward to gain more speed.
It does have this awful scream every time it goes, and it's not just the guests we are talking about. You can hear them throughout the park as well, but this scream can be a little loud and repetitive while you are in line.
Riders Tip: The middle of this coaster is really the best for thrill seekers. On the twisted launch, you sit for a good second completely upside down, we sat in row 12, and that gave us the perfect suspended feeling.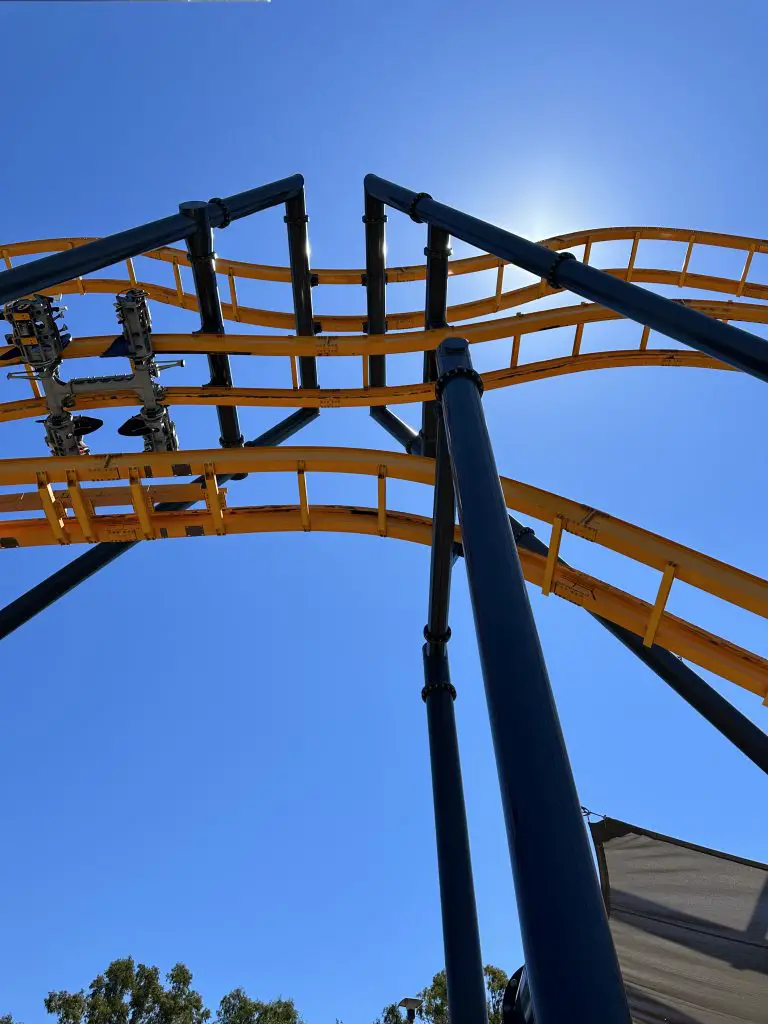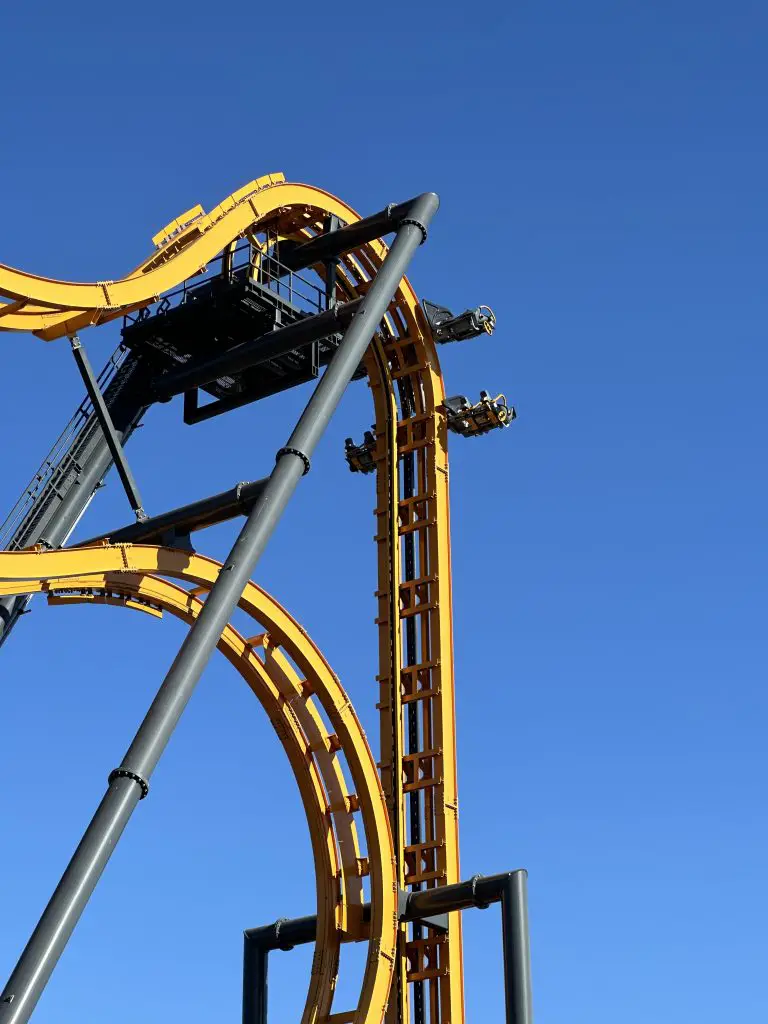 BATMAN The Ride
Six Flags Discovery Kingdom has a looping BATMAN, which is a little different than BATMAN at other Six Flags Parks. Some of the other parks have the same/similar ride name, but it's a completely different ride in the other parks.
We are heading to Six Flags Magic Mountain next and cannot wait to see what that BATMAN ride there will bring.
For the coaster at Discovery Kingdom, though, this particular ride spins unexpectedly but does not have any inversions caused by the track. There is just nothing quite like the anticipation of the flip. Not really knowing when you will flip, and dip gives this ride a unique feel in such a small footprint.
If you go as a group, it's fun to sit across from your friends where you start out looking at them and then not see them because the ride gives you a different view perspective. With most roller coasters, you are fixated and watch the car or people right in front of you the entire time, and this switches it up really well.
It is a short ride, but the queue is cool, it has a full Batman Car, and they have a short story that you can follow along to. It's missing a few items, but the ride itself gives it a great overall experience.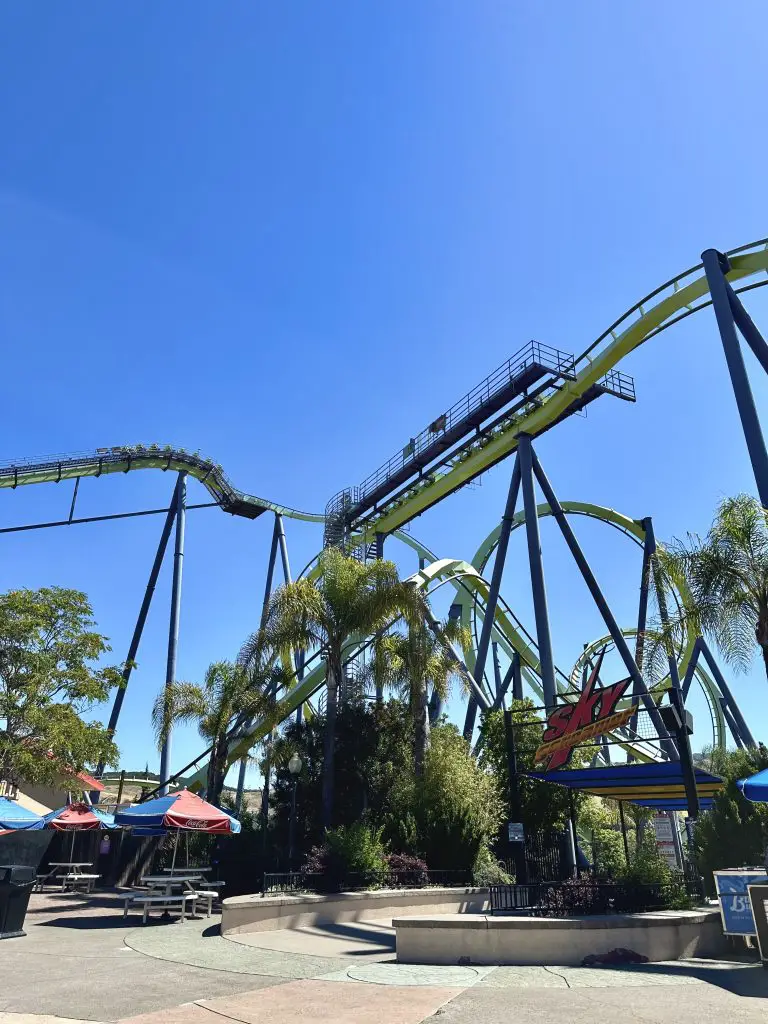 Medusa
One of the OG's still running. Off and on a lot during our visit, the Medusa is one of the best coasters in the park. It spans almost 4,000 ft and is one of the main coasters you can see from the freeway when you are driving to Vallejo.
This is a floorless coaster design, and your feet dangle in front of you in the seated position. And I have to ask, are you a leg bouncer or kicker when they are suspended below you?
I always love the clicking noise as you make your way to the top before the drop, there is that moment when everything goes quiet before the drop.
That initial drop will give you a great feeling of adrenaline as it goes straight into a flip.
This coaster has around 10 bankes, flips, and turns that span the ride keeping you entertained for quite some time.
Riders tip: Adrenaline junkies to the front and those that are a little more sensitive should sit in the middle of the coaster where it is most stable.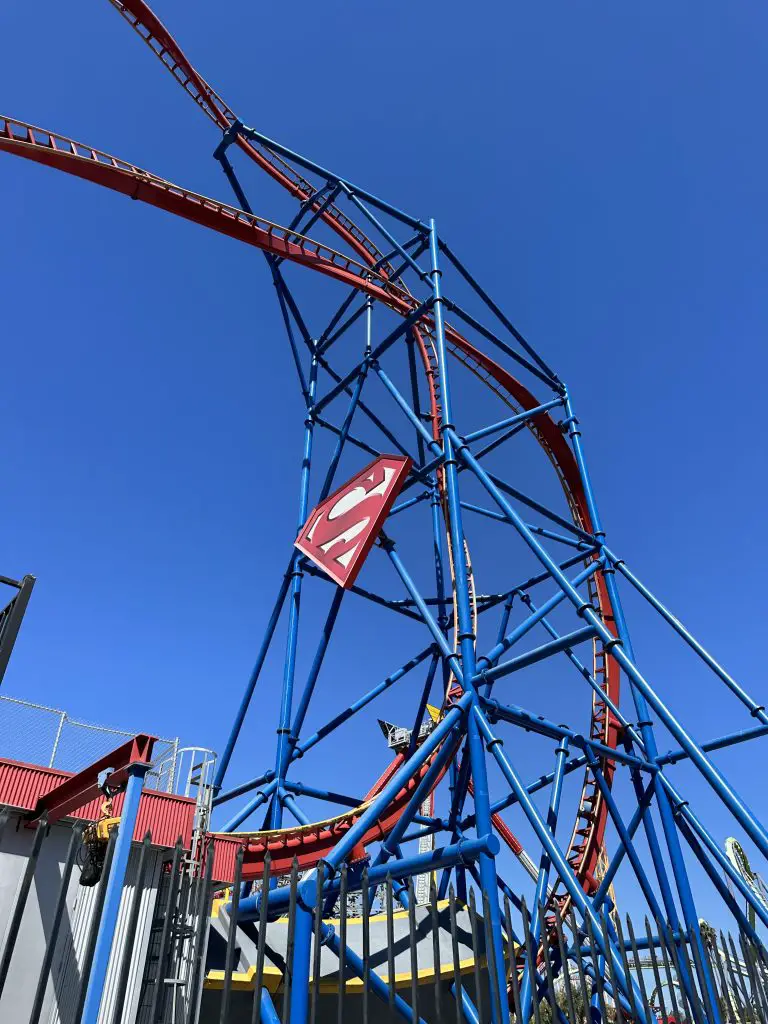 Superman: The Ultimate Flight
We are pretty sure someone threw up on the ride while we were waiting in line, and they had to close temporarily to clean it.
This is one I did not ride on our most recent trip. I had a very bad reaction to Rockin' Roller Coaster in Hollywood Studios and was having major flashbacks with the neon lights and fast twists.
Since I didn't ride it, my husband and our good friend did, and I will share what they had to say about it.
At Discovery Kingdom Superman ultimate flight is a seated coaster with a shoulder harness. Think of a fast-slingshot loop-style roller coaster with a barrel roll.
You are slingshot forward, then race backward to gain more speed and go through the load station one more time before making your way around. The loading station is where the blue neon lights will be.
When you come out of the load station the second time, you gain what feels like just the right amount of speed to go straight into the air and into a slow twist at the top.
It gets very hot inside the loading station, and the ride car is very small, seating only 12 people in two cars.
It does have a little bit of repeating motion and does not do any full flips. If you like that zero-g feel, this is a great ride, we think that BATMAN gives a better experience for essentially the same thing.
Cobra
Cobra is a great family-style coaster with no inversions. It goes fast but not too fast and does a double cycle at this particular park.
The line is typically short and goes relatively fast.
There is not much for the adrenaline seeker here but is really great as a first roller coaster for little kids and people who are not completely sold on the thought of coasters.
Sidewinder Safari
Sidewinder Safari is known as a wild mouse-style coaster. These are cars that run solo or spin around on a narrow track, with a focus on making sharp turns without any banking.
Others like this are Goofy's Sky School in California Adventure and Coast Rider at Knott's Berry Farm.
This fast coaster does not have any inversions, but the high speed and turns make this really fun and unpredictable.
Unfortunately, it was closed during our recent visit, and it doesn't show an open date. I would typically put this higher on the list, but without the ability to ride it, it's hard to place it on the list.
Boomerang coast to coaster
Temporarily Closed.
No current information besides closed as of 2023.
Closed Coasters
Boomerang coast to coaster
No current information besides closed as of 2023.
I think there will be an update since this is one of the original coasters in the park.
Harley Quinn Crazy Coasters
Opened in 2018 and quickly closed a few years later
As of 2023, it is currently dirt. We will wait in anticipation for the next coaster if one will ever come.
Roar
Refurbished to The Joker in 2016. Absolutely wonderful update and tribute to the old wooden coaster.
Dare Devil Chaos Coaster
Closed but cannot find the exact date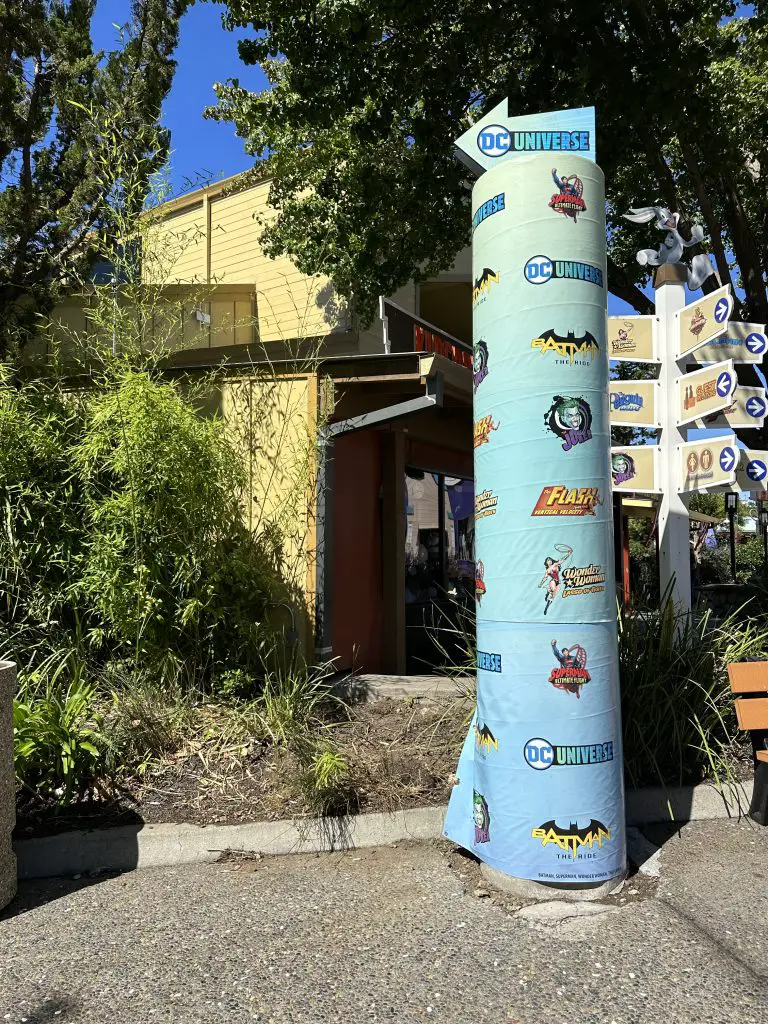 Over All, thoughts of the Roller Coasters at Six Flags Discovery Kingdom and Going Again.
We are considering taking our daughter with us next time to experience the kid areas. They currently have Looney Tunes Seaport, Seaside Junction area, and Tava's Jungleland. As well as the animal aspect, but that's for another day.
For the Coasters and adrenaline, this was the perfect spot to get on some thrill rides, and we will never forget The Joker as one of the greatest coasters at Six Flag Discovery Kingdom.
While adding a Flash pass can be expensive, we think they are completely worth it and make the day so much better.
Six Flags Discovery Kingdom, once known as Six Flags Marine World, is located in the city of Vallejo, right outside San Francisco, Ca. This is one of many theme parks in northern California. The 135-acre park has some of the greatest thrill rides as well as fun rides for the whole family. You can see animal exhibits like sea lions, penguins, and a dolphin show. While there is no longer a killer whale show, you will have a great time with the new Shark exhibit featuring a hammerhead shark and many more.
If you are looking to escape the heat for the day, you will definitely want to take advantage of one of the water rides like white water safari, and monsoon falls.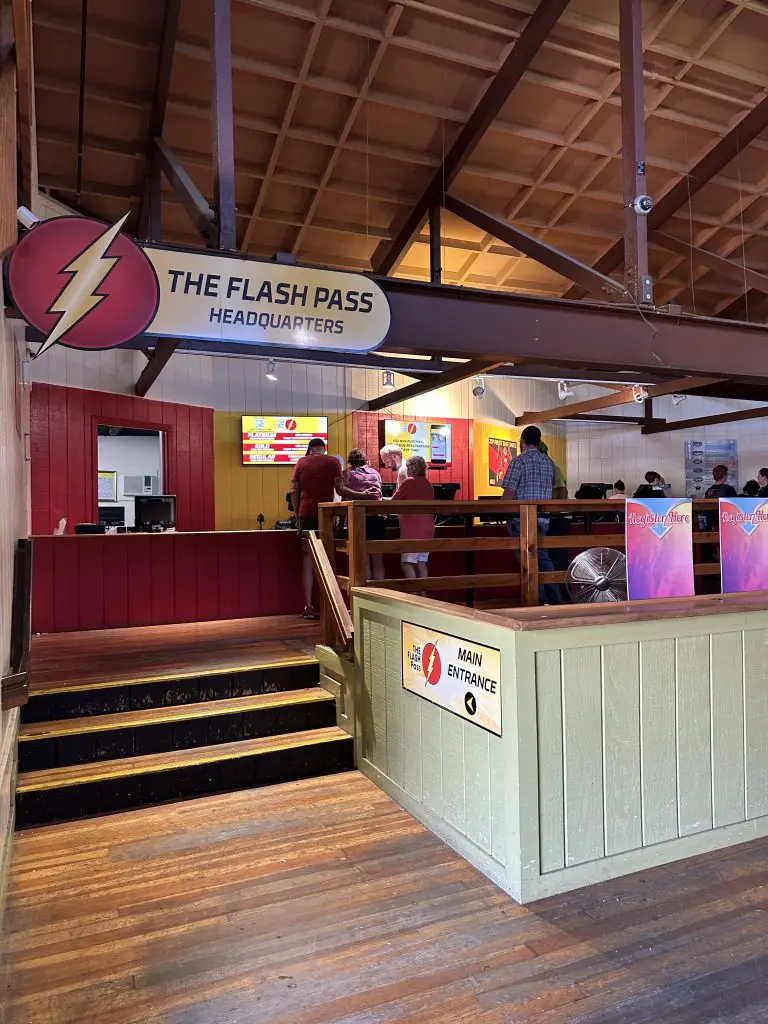 Theme Parks with Coasters near Six Flags Discovery Kingdom
California's Great America
Six Flags Magic Mountain
​Knott's Berry Farm
Seaworld San Diego
Universal Studios Hollywood (Coaster coming in 2025/2026)
Other Guides
Universal Studios Hollywood Secrets to avoid wait times
Universal Studios vs Disneyland What Park to Pick
Visit the site and purchase tickets