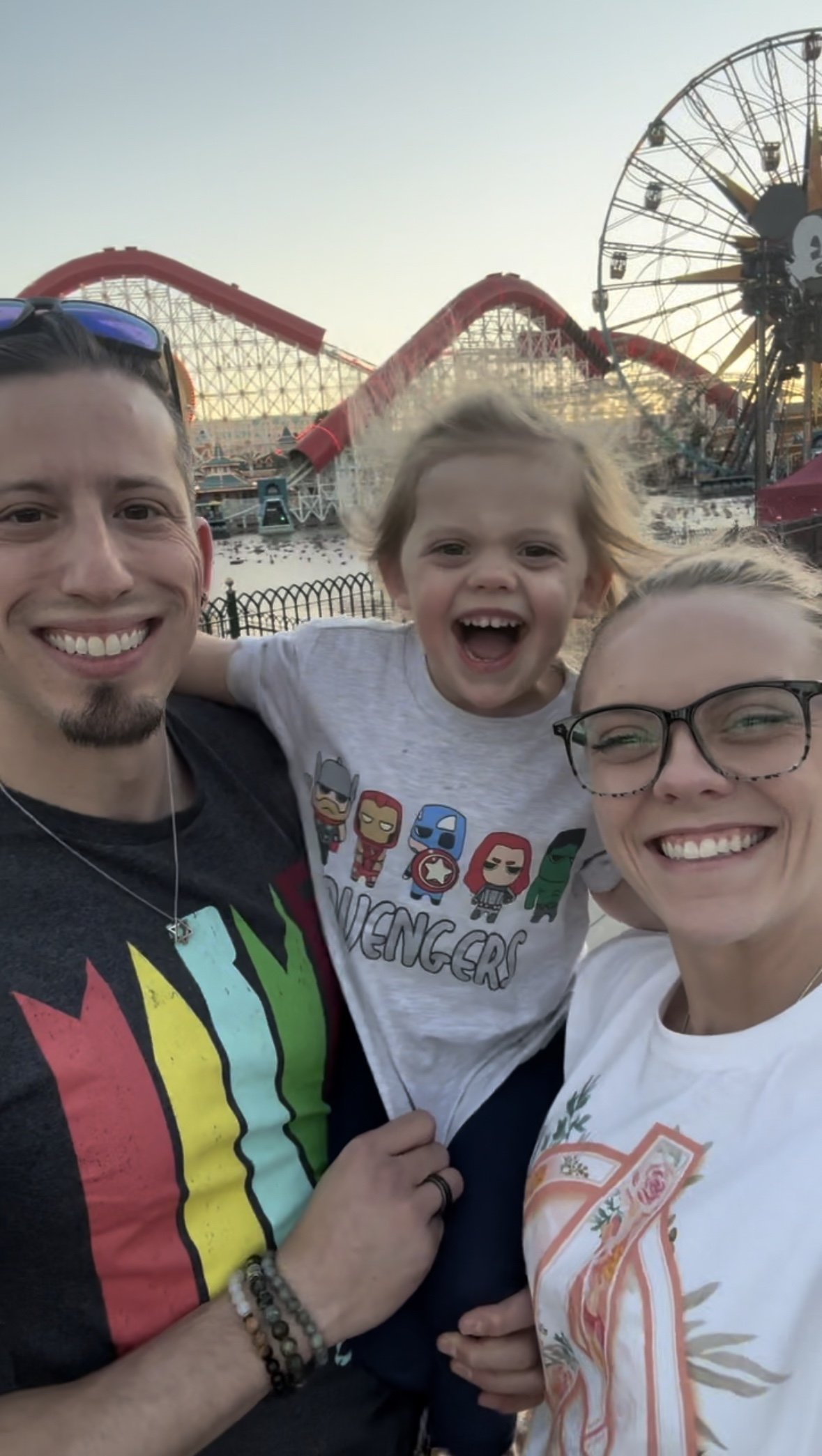 California, known for its diverse range of attractions, offers a delightful array of amusement parks specifically for toddlers' needs and interests. These parks provide a safe and engaging environment for their imaginations to explore, embark on thrilling adventures and create lasting memories.
I will never forget the hype talk our daughter needed to go on our first roller coaster to watching her put her arms high in the air, screaming for joy, and begging us to get back in line again for another ride.
There is just nothing like experiencing the joy of theme parks with your child for the first time.
In 2020 I had the opportunity to take my husband and daughter to Disney World for the first time, and this photo will always be cherished.
From iconic destinations like Disneyland Park to unique gems like Gilroy Gardens, California amusement parks for toddlers are a gateway to fun-filled adventures for the whole family.
The best part is most toddlers are free admission under 3 years old, making it so worth it.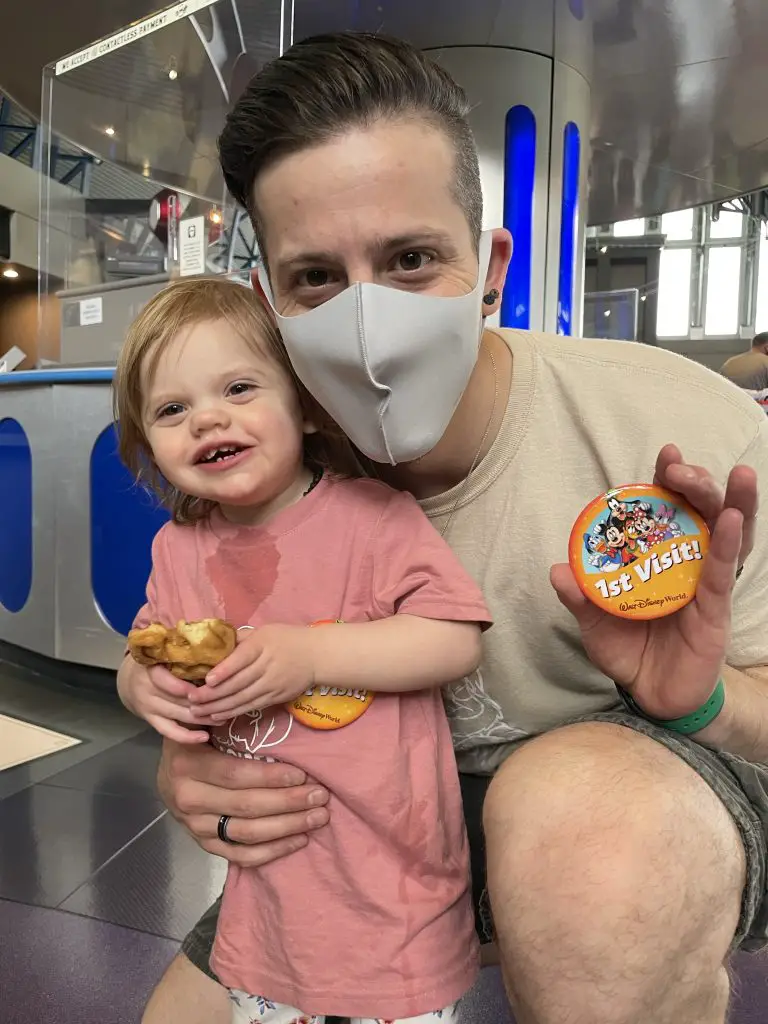 Age Appropriate Entertainment
Not all theme parks focus on toddlers and kids. While California has multiple theme parks for toddlers, it's important to know going in what theme parks have gentle rides, interactive play areas, and entertainment or shows. That way, you don't waste money or time going to a theme park with only five toddler rides and leave thinking you will never return.
Amusement parks in California for toddlers
There are 33 theme parks in the state of California; we will break them down a little later so you can decide what is the best option for your family. While some in the 33 are boardwalk theme parks and smaller family centers, we will talk mainly about theme parks similar to Disney in this post.
California is followed closely by Florida, and Texas has multiple amusement parks for toddlers across the state.
While Florida and Texas have a single focus area for theme park locations, amusement parks for toddlers in California are evenly distributed across the state in both Northern California and Southern California.
We want to break down a few things that make your theme park experience worth it, and if you want just the list, head further down the page to Top Amusement Parks for Toddlers in California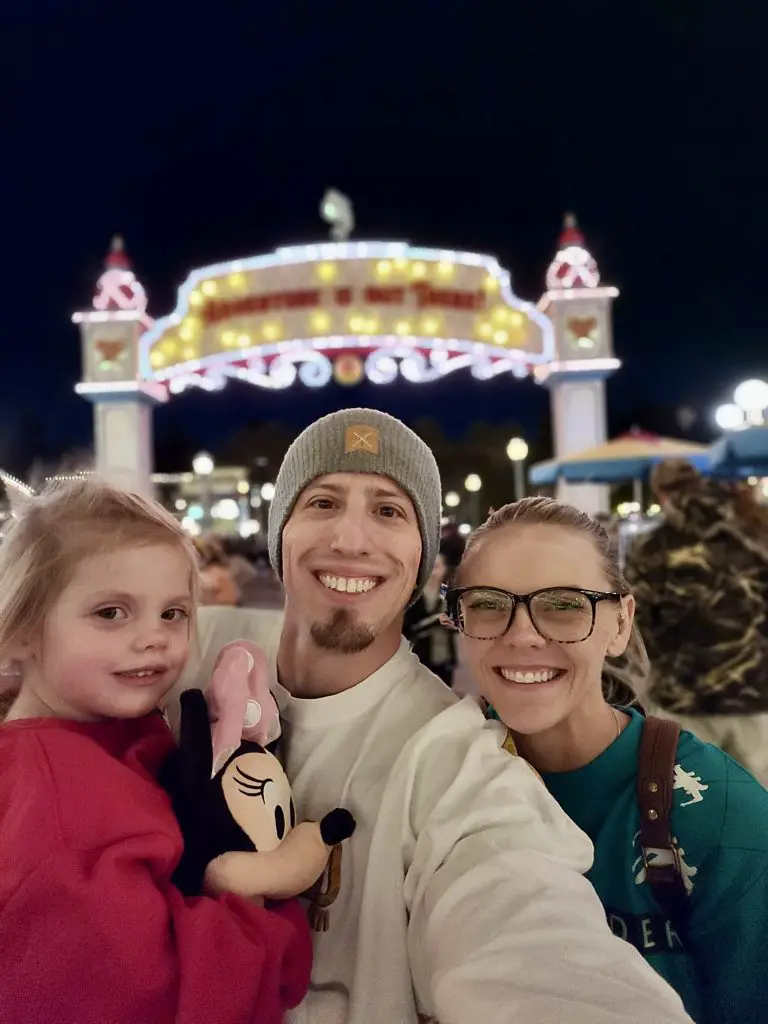 Factors to consider when choosing amusement parks for toddlers
There are a few things to keep in mind when choosing an amusement park for toddlers in California. First and foremost, a family-friendly environment, accessibility for families, attractions, and, last but not least, amenities.
Safety
Ride Safety
Parents should know that amusement parks prioritize the safety of even the youngest of kids. That includes strict adherence to ride guidelines, height restrictions, and regular ride maintenance.
Park Security
Ensure the park has proper security measures, like trained staff, surveillance systems, and clearly marked emergency exits in place. Places like Disneyland and Universal take security very seriously, which is not something they skimp on.
I will never forget during one of the fireworks shows in Disneyland, my cousin wandered off, and the staff was quick to help her back to us. While no parent wants to stress about a lost child, it is nice to know a park cares and is focused on creating a safe environment for children and their families.
Crowd Management
Consider the park's crowd control measures, especially during peak times and during shows. Many theme park employees have the day's schedule of events and a rough idea of park capacity. When you see one of them directing guests, ask if they have the day's schedule and when the next event will start.
One newer thing that parks are beginning to experience is issues with minors. Many parks have implemented a chaperone guideline, significantly improving the park's overall experience around younger adults and issues involving minors.
Accessibility
Stroller-Friendly Environment
Wide walkways are a must at theme parks, but with strollers getting larger, we will see what comes of it. We opt for the single-width double strollers or the jogger-style double stroller to accommodate the tight spaces. While we love the Joovy and Babyjogger, we like to rent strollers from babyquip and bypass having to store the stroller at home when we are not using it for theme parks.
Almost every park has wide sidewalks, ramps, and designated stroller parking areas to use within the park.
Whatever you do… DO NOT rent the plastic strollers from the park. They are terrible and should only be used in a desperate cry for help.
Nursing and Baby Care Centers and Facilities
Only some parks are on the same level as Disney when it comes to its nursing and baby care facilities. Many are taking notice and providing better services for mothers and babies.
Many of these care facilities have diapers, wipes, and even items you can purchase if you need baby items.
Most have a cool and secluded space for parents and their children to relax and cool down.
Family Restrooms
Most parks have nursing and baby care areas, but the next best thing to look for at theme parks would be a spacious family restroom with changing tables and child-friendly facilities. It's perfect for families to pile in, do their business, and off they go. Being together and locking all your children in one area to use the restroom is very lovely. No crawling under the stall, unlocking the door, and running while you are in the middle of a pee, nothing. Just a peaceful family pee.
Accessibility for Persons with Disabilities
While most people think of wheelchair disabilities and whether a park is accessible, many do not think about the mental side of disabilities. Whether it's ramps, pathways, and facilities or a version of the "fast pass," many parks have things to accommodate both. Check and call ahead of time if you need services. That way, you can put together any doctor's notes or items you will need for the park. While some might be stuck in the past, head to one of the many theme parks that are inclusive and accommodating to everyone.
If a theme park does not have the above items, we suggest skipping it and heading to a park with everything a family needs to have a great day. Now that we have that out of the way, it's time to discuss attractions as a family.
Attractions
Gentle Rides
Children have an array of temperaments when it comes to rides. Whether dark, loud, scary, or thrilling, fortunately, all rides are not created equal. There are a few parks that have limited kids' rides or lower height requirement rides but are dark and scary, making it not really a kid's ride. We will mention those parks below but for the most part. You will be entertained for hours if you stick with the staple parks. It's picking the smaller, less well-known parks where you can run into more issues.
Staple Parks: Disney, Universal, Six Flags, LEGOLAND, and Sea World. These five have been focused on kids for years and know how to keep everyone in the family entertained.
Interactive Play Areas
Disneyland just remodeled Toontown, and other theme parks also have small areas where kids can climb, slide, and run around within the park. We typically utilize these in-between mobile food orders or times when one of us is on a ride and the other is waiting to parent swap or if someone doesn't want to ride a scary or dark ride.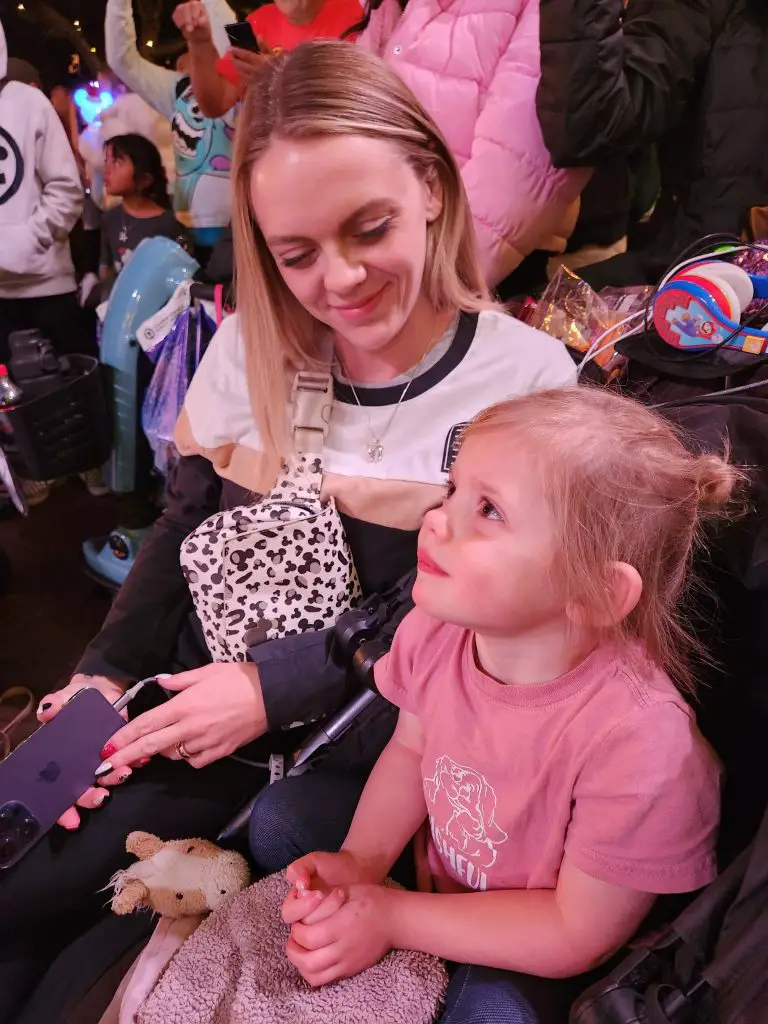 Shows and Entertainment
Rides are great, and all but not everyone in the group and not all kids want just rides all day. Seek out shows, parades, tours, musicals, and performances that are entertaining and feature beloved characters and themes your child already loves.
These are a really great way to sit somewhere, shaded or cool, and slow down a little bit.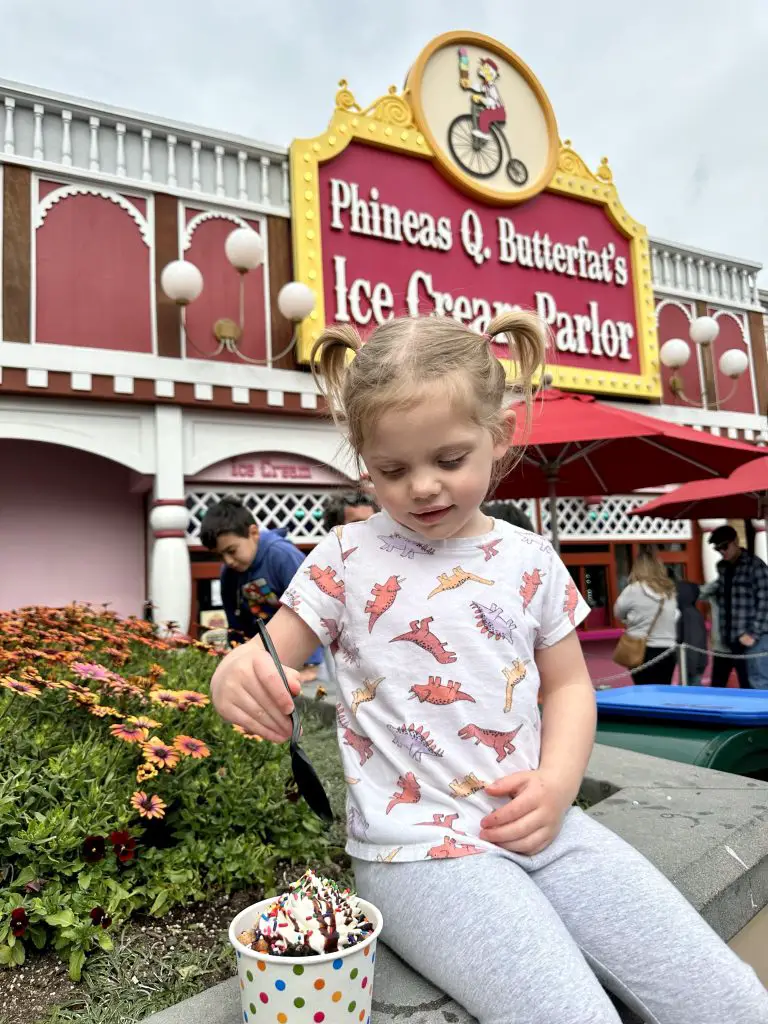 Amenities
Sitting Areas
Someone asked me once if there was a spot to hang out and sit while your toddler plays around. And while this sounded utterly foreign to me, the helicopter parent, some parents want to sit and relax while they watch their child play nearby.
Some parks have play areas for toddlers and kids to play in, and there are spots to sit and watch them. Some have a single entrance and exit, and some have a small fence around them.
Dining Options
This is a silly topic to discuss because all our child wants to eat is chicken and french fries, which is a staple food everywhere.
I know some kids can be very picky, and some with food restrictions. Finding restaurants with healthy food options and accommodating dietary restrictions can be difficult in most parts of the United States, and theme parks are no different. Each theme park is different, but you can usually find something within the park for everyone.
Mobile Ordering
While sort of a dining option, we thrive on mobile ordering. Even our small local waterpark uses this system, which alleviates MANY hangry breakdowns. For many kids, theme park days mean the food isn't a focal point of the day, and they often forget to snack and eat very little, then become a hangry gremlin out of nowhere.
Mobile ordering is the easiest way to order food ahead of time, making it an easier grab-and-go option. Many places have you wait in line or sit and wait at the restaurant cutting into the time you would typically spend within the park.
Parent Swap Services
A park without some kind of rider swap/ parent swap is not a kid-friendly park. We try to steer clear of these parks because they are geared more toward adults.
Parent swap is a service many theme parks provide where one parent will wait in the main line while the other parent and the child, either not tall enough or scared to ride, will remain outside the queue of the ride or right at the ride's entrance.
Once the first parent has gone, it is time for the first parent to watch the child while the second rider/parent rides the attraction.
This is typically available on rides with higher height requirements and rides like roller coasters or thrill rides.
Stroller Rentals
While I would typically NEVER rent one of the theme park strollers, you never know what could happen with your own or even the day. It's important to know if the amusement park has strollers and wheelchair rentals.
Now that we've covered the ins and outs of what makes a great toddler theme park, it's time to dive into the top theme parks for toddlers in California.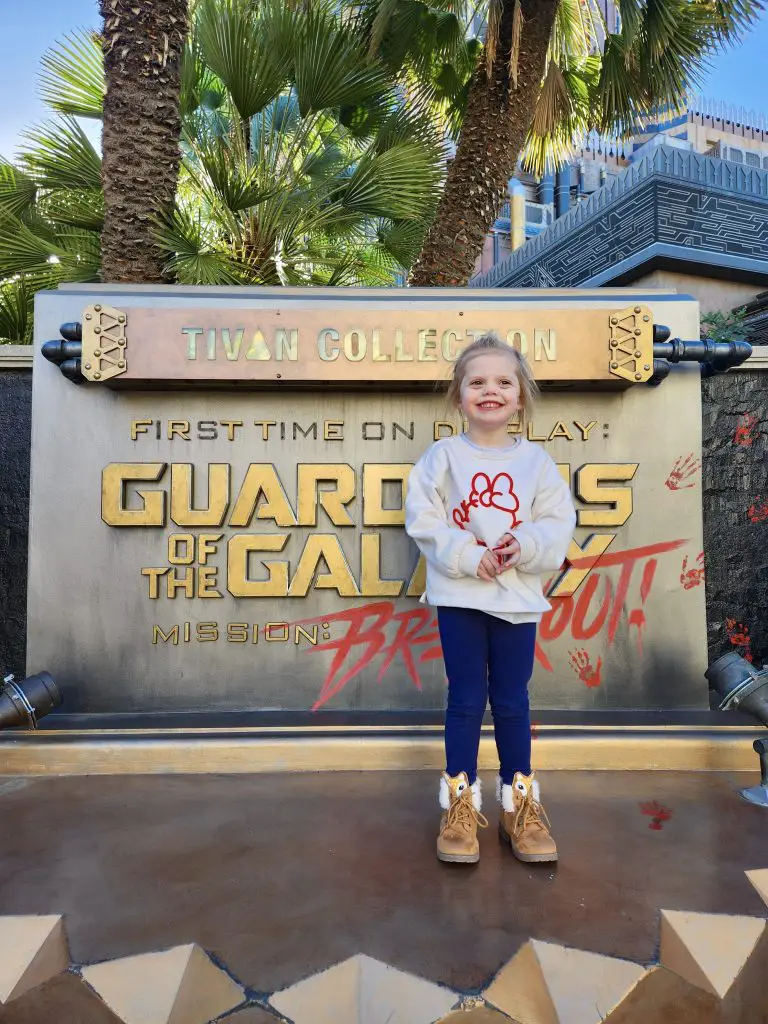 Top Amusement Parks for Toddlers in California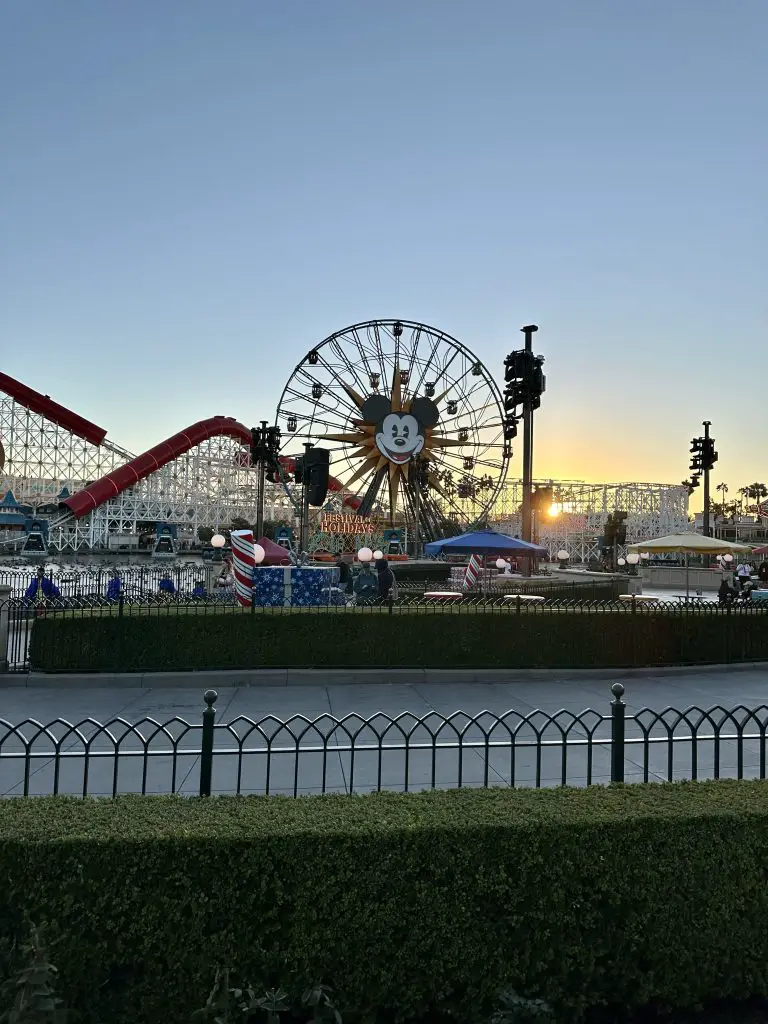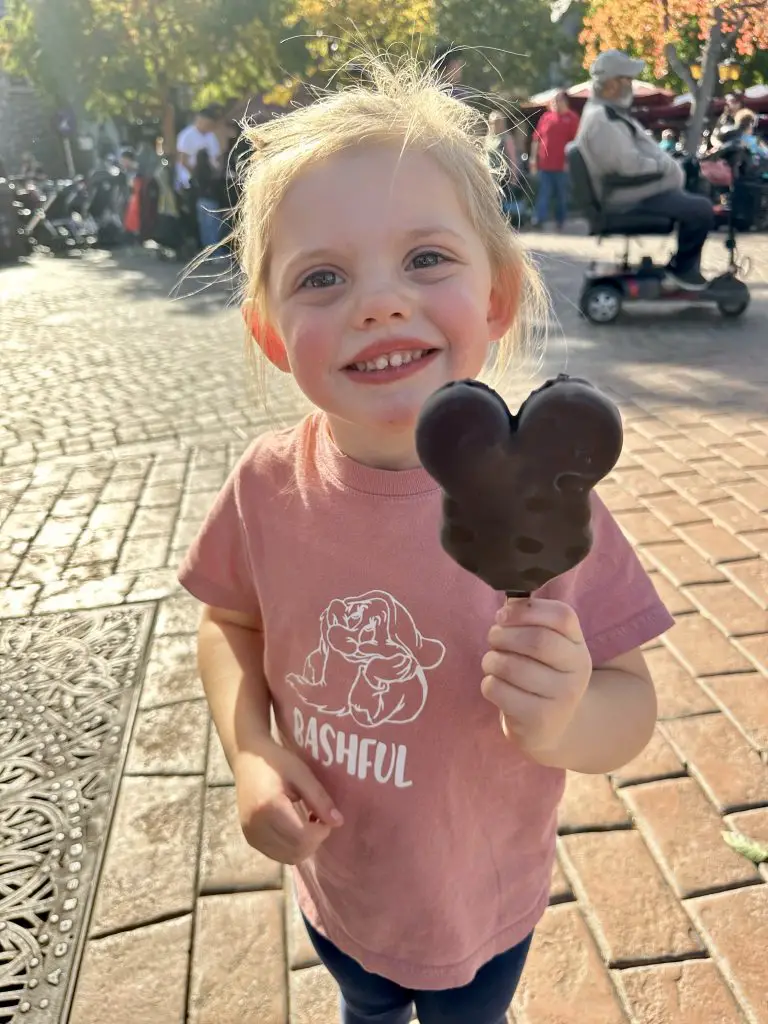 Disneyland & Disney California Adventure Park, Anaheim
Disneyland has such an enchanting atmosphere and is one of the top amusement parks for toddlers in California, especially in the toddler-friendly attractions.
Again I will always remember my daughter and husband with their 1st timer badge from Disneyland.
Mickey's Toontown and Fantasyland
Both of these areas are geared toward toddlers and younger kids. With over 15 rides between the two locations, your toddler will have the time of their life running around experiencing these rides.
If we could share one crucial thing with you, it is to jump in line for Mickey and Minnie's Runaway Railway first. If not, join the virtual queue. Then head to Fantasyland for all the kid's rides.
Our other suggestion is to stay at a Disneyland hotel so that you get early access and have extra time to run through all the Fantasyland rides before the park opens to the general public.
You will find kid-friendly rides throughout the park for kids and toddlers to enjoy, but these areas are specifically set up strictly for them.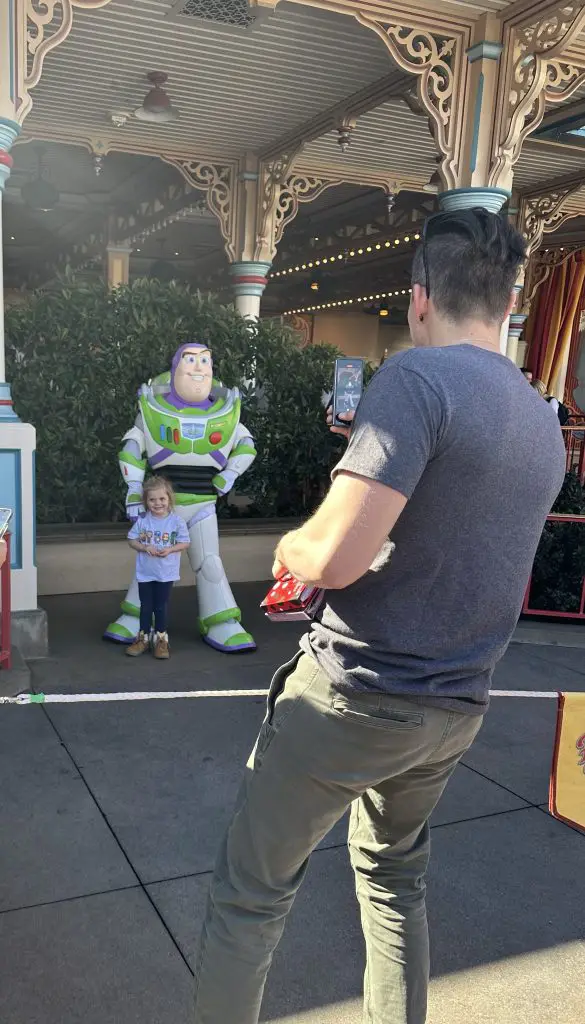 Character Meet and Greets
Mickey, princesses, Marvel, Star Wars, villains, little mermaid, and more. Disneyland is one of the best when it comes to character meet and greets and meet all your favorite Disney characters.
Parades
Sit and relax along the main street with the castle in the background as the infamous parade goes by. Our last time at Disneyland was during the holiday season, so the parades are themed around the holidays, but during the normal year and other events, you can see your favorite characters go by and some pretty incredible floats.
The overall magical experience
Go and especially before your toddler is 3. Kids under 3 are free, and we took our daughter for the first time when she was almost 18 months, and we thought that was a really great age. They are excited, know what's going on, and they are still free. While most people will say their children won't remember, our daughter has a steel trap and remembers so many things from our Walt Disney World trip.
We highly suggest staying at a Disney Resort to access Magic Hour, but for a more budget-friendly option, there are a few REALLY great Good Neighbor Hotels within walking distance we also recommend.
Disneyland vs Universal Studios Hollywood, what park to pick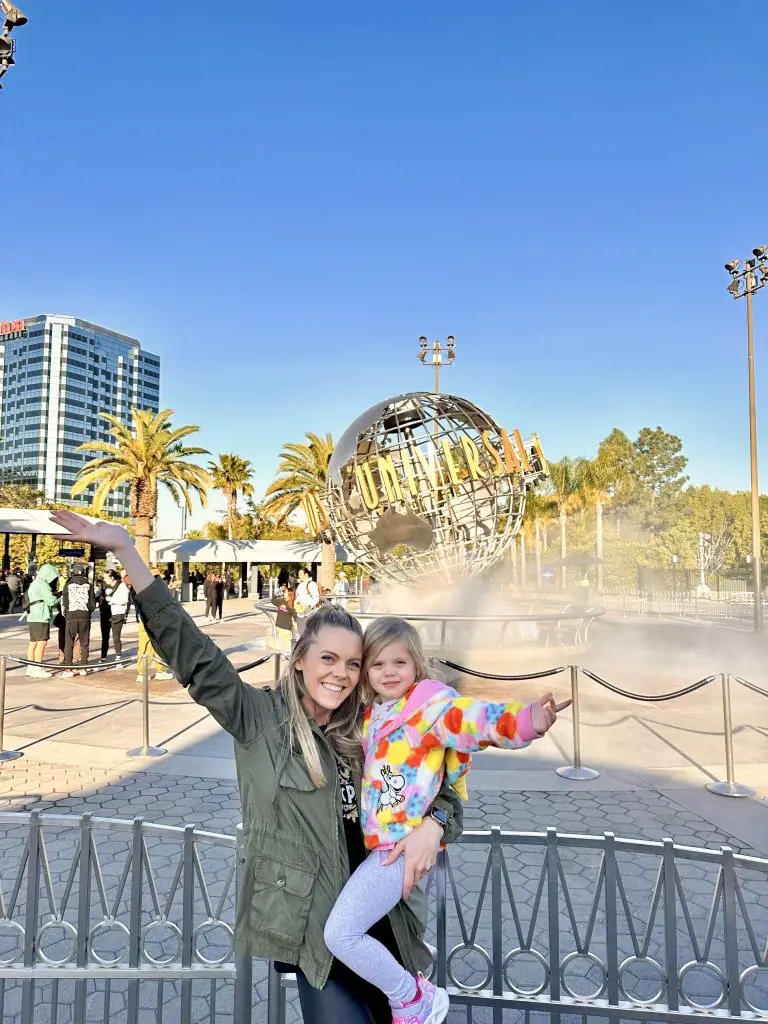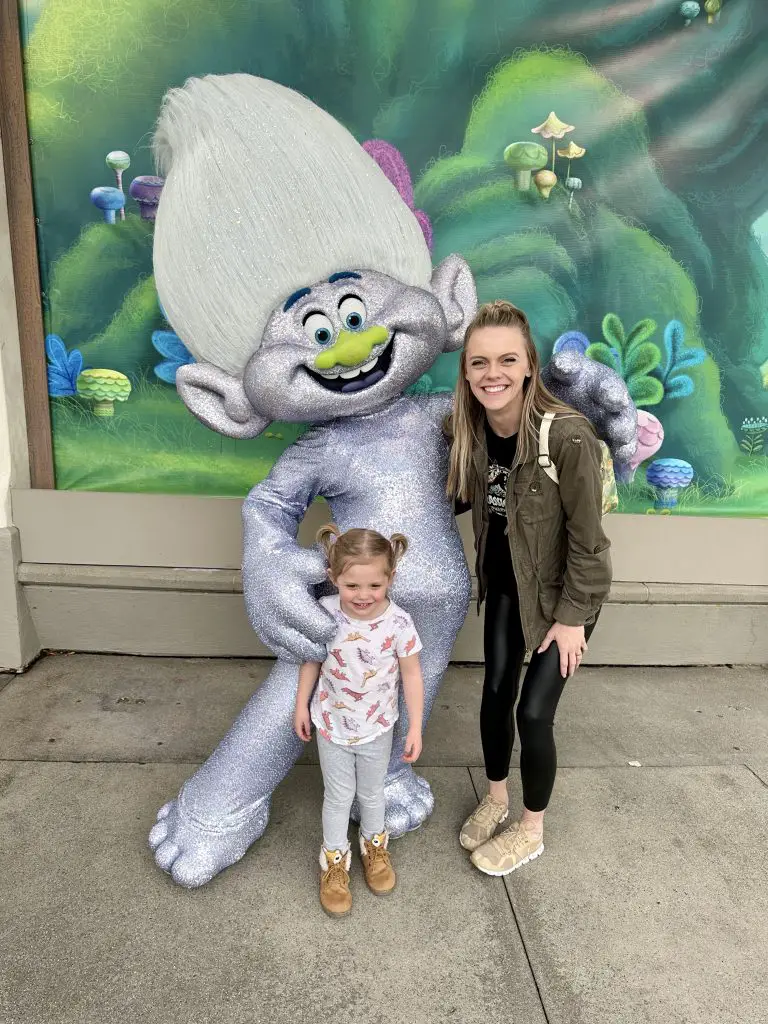 Also mistaken for Super Mario, this amazing new interactive area has been introduced in many Universal theme parks worldwide.
Through the warp pipe and into Peaches castle to the Mushroom Kingdom, this area is the most interactive area we've been in. With multiple mini-games, secret keys, and a Mario Kart ride, any 90s baby will be on Cloud 9.
For a full guide on this area head here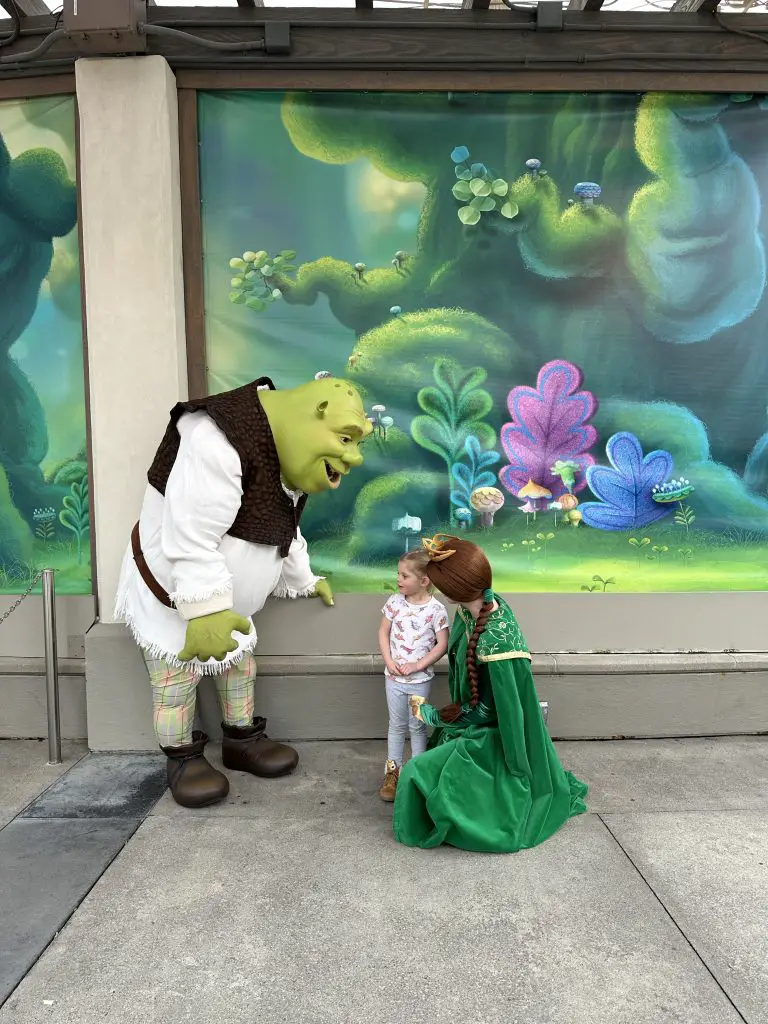 Character Meet and Greet
While Peach, Mario, and Luigi are in the Super Nintendo World specifically, all other characters have designated spots around the park they hang out with and are there for photo opportunities and to interact with.
We think that Universal is the best for character meet and greets. They make kids feel so special and get down on their level.
Our favorite is the Raptor encounter and getting the chance to see the new triceratops. I love that they have still taken the time to focus on this area and don't seem to be taking away characters any time soon.
Parades and Shows
While nothing compared to Disney or Universal Studios Orlando when it comes to parades, you can see a few shows at Universal Studios Hollywood that are very unique to them.
The first we have to mention is Waterworld. Waterworld is the oldest-running Universal Hollywood Studios show that has you in the middle of unbelievable stunts, fun and soaking thrills. Check show times in the Universal app on your park day.
The other shows are focused on The Wizarding World of Harry Potter, with multiple themes and performances throughout the year. You can watch the castle light up or singing frogs on the stage within this area.
The Overall Experience
Universal Studios Hollywood is great for kids at 42″ or taller. There are a few rides for under 40″, but to take advantage of almost all rides, you will want to wait until your child is closer to 42″.
We took our daughter while she was 40″ and still had a blast throughout the park.
LEGOLAND California Resort, Carlsbad
DUPLO Playtown
Legoland Park knows how to keep kids entertained and, first up, a kid's creative dream. This area has large blocks where kids can build and put together buildings and structures.
Aquaria Touch Pool
The interactive touch pool is the perfect way for kids to learn about sea life and get up close and personal with spiny sea urchins or sea stars. We have such a great time teaching our daughter about sealife and allowing her to touch them as we discuss fun facts and ways to help our sea life.
Focus on Creativity and Imagination
I love that Lego continues to find ways to be inclusive and think about kids of all ages and developmental stages. LEGO for the win always.
Toddler-friendly Rides and Shows
Many of the rides at LEGOLAND are created with little kids in mind. This park has so many interactive areas and themes for all kids. This is a really great starter park for families.
SeaWorld San Diego, San Diego
A tough conversation for many. No matter your stance on the whales at SeaWorld, it is still a unique theme park with educational pieces to spend the day with the entire family.
Educational and Interactive Experiences
SeaWorlds main goal is to create a deeper understanding, respect, and desire to protect our sealife and wildlife. Through camps, field trips, and teacher workshops, SeaWorld has multiple educational opportunities for guests.
Sesame Street Bay of Play and Aquarium Touch Pool
Sesame Street Bay of Play opened in 2008 in SeaWorld San Diego, and it was the perfect addition for kids to play and engage with six themed rides.
Animal Shows
SeaWorld San Diego offers multiple animal encounters to watch and engage with. From Sealions and dolphins to whales, kids and adults will love to watch. There are set show times throughout the day so make sure you check the schedule and show up early to get a good seat.
Toddler-Friendly Rides
Depending on how tall your toddler is, they can ride up to 8 rides that are low thrill and easygoing. One of our favorites is the Bayside Skyride. This is the perfect way to take a break while you ride the gondola over Mission Bay.
Also Worth Noting
Not far from Seaworld San Diego, you will find lots to do, like the San Diego Zoo, Balboa Park, and Mission Beach, all really great spots for families to make a great getaway weekend in San Diego. We love to rent a beach house and explore the many family-friendly activities and food San Diego has to offer.
Gilroy Gardens Family Theme Park, Gilroy
Kid Focused Rides
This Northern California theme park is completely focused on kids. There are a few rides that have a height requirement higher than 40″. Making this a wonderful entry-level theme park for younger children and those adults trying something new.
Flower and Botanical Gardens
If you are looking for a place to relax and catch a break from the busyness of the park, head into the garden areas for a moment of solace. There are six areas to walk through and experience.
Overall Thoughts
Pair a visit to Gilroy Gardens with a visit to the Gilroy Garlic Festival and a stay at one of the wineries to get a full and well-rounded experience of Gilroy, California. This is definitely considered a locals park and has a very great low-key vibe.
Knott's Berry Farm, Los Angeles
Head to celebrate the past times. This renowned amusement park is located not far from Six Flags Magic Kingdom and Disneyland in Southern California. This park has something for everyone who visits. From the thrilling roller coasters like GhostRider and Xcelerator to their low-key family-friendly rides like Calico Railroad and the Balloon Race. Knott's Berry Farms has multiple themed areas, including Fiesta Village, which has seen a significant renovation, and Camp Snoopy for the kiddos.
The festival atmosphere is an ideal destination for both families and thrill-seekers. Enjoy the delicious food, themed events, and exciting rides all in one place. Similar to Disney, Knott's has a special Knott's Hotel that gives guests a more in-depth experience only offered to those staying at the hotel.
Six Flags Discovery Kingdom, Vallejo
Located right in Vallejo, Six Flags Discovery Kingdom is a fantastic amusement park for Northern California. This park has something for everyone, with thrilling coasters all the way down to the Dolphin show and butterfly habitat. If you are looking for a fun, quick day out, head to this must-visit destination for an exciting day of fun.
Six Flags Magic Mountain, Los Angeles
Much more of a big kid or adult park, this theme park caters to thrill seekers all around. While there are family-friendly rides like Loony Tunes Lodge and Justice League, if you are looking for a thrilling good time on a coaster, check out Twisted Colossus, Full Throttle, and X2.
With thrilling rides, experiences, and delicious food, Six Flags Magic Mountain is a must-visit destination for adults more so than an amusement park for toddlers.
While not at the top of our list of amusement parks for toddlers in California, this theme park will still keep families entertained.
Santa Cruz Beach Boardwalk, Santa Cruz
The Santa Cruz Beach Boardwalk is a classic seaside amusement park that has been delighting visitors for over a century. Nestled along the beautiful Santa Cruz coastline, this iconic attraction offers a charming blend of vintage charm and thrilling entertainment.
With a thrilling rollercoaster to a charming Ferris Wheel, guests can experience the best of a boardwalk-style theme park. Santa Cruz Beach Boardwalk offers an array of delicious dining options, from classic carnival fare like corn dogs and cotton candy to seafood specialties and tempting treats.
If you are ever on the East Coast, we highly suggest Myrtle Beach Boardwalk and Promenade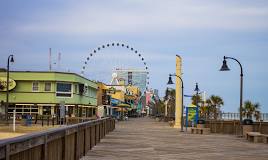 Children's Fairyland, Oakland
Children's Fairyland is a beloved amusement park located in Oakland, right outside of San Francisco. The park features a variety of activities and attractions to entertain children of all ages and temperaments.
Guests can explore one of the many themed areas, such as Alice in Wonderland, Peter Rabbit, or Storybook Gardens. Children's Fairyland is the perfect destination for families to build last memories at a slower pace.
California's Great America, Santa Clara
While this park does have a bit of an end date to its life, we hope someone picks them up and continues the location, even if it goes under another giant umbrella company, like Six Flags, SeaWorld, Disney, or Universal. We will wait patiently and see.
California's Great America is right outside Santa Clara, California, and is an excellent place to visit with family and friends. This theme park caters to all ages, from thrilling roller coasters to water rides and family-friendly activities.
Apart from the rides, the park also has a wide range of food options to satisfy your taste buds. California's Great America is the perfect spot for families to jump on one of the popular attractions like Gold Striker and Mass Effect: New Earth experience.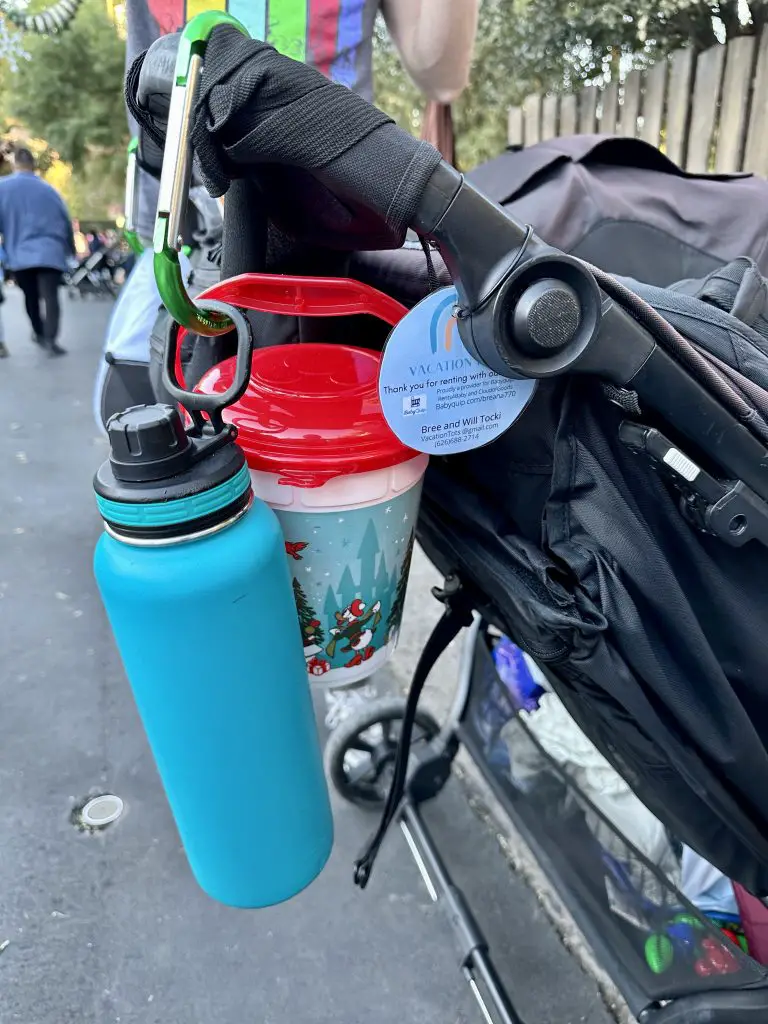 Tips for a Successful Visit
Creating a successful trip takes planning and patience, especially when it comes to amusement parks for toddlers in California.
While California specifically doesn't have any issues with toddlers. Taking a toddler to an amusement park can be a little bit of a chore the first few times. Here are a few tips to keep you sane.
Research and Book Tickets in Advance
Many amusement parks for toddlers in California tend to get crowded, especially during holidays and weekends. Plan ahead of time by checking crowd planners and booking tickets ahead of time. Often times you will save more money by purchasing your tickets ahead of time online.
Create an Itinerary
While not as concrete as you might like, having a general idea of a plan around the park's map and attractions beforehand will help ensure a smoother day.
Look for rides, shows, and activities suitable for your toddler and family. Make a rough plan with time to stop and snack, rest and eat, and prioritize your must-see attractions for early in the day.
Check height requirements and age restrictions ahead of time
Many theme parks have their height requirements posted online but can be tougher to find. Measure your toddler at home before heading to the park with their favorite shoes on to get a good idea of the height you should stay around. The worst is walking them to the beginning of the queue and finding out they are not tall enough for a ride they were looking forward to.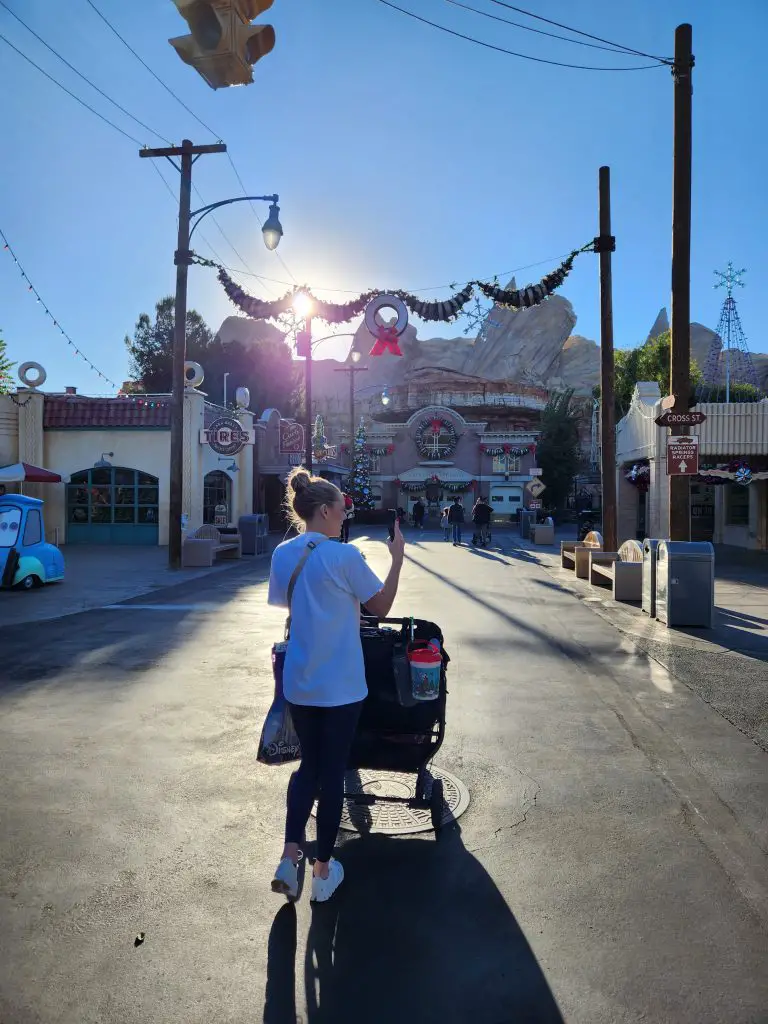 Park Essentials
Sunscreen and Hat
Protecting your toddler from the sun's harmful rays is essential. Apply sunscreen before entering the park, and carry a small tube with you for reapplication throughout the day. Don't forget to pack a wide-brimmed hat to shield your child's face and neck from direct sunlight. Some parts allow umbrellas, which can be a great addition if your child is not a hat kinda kid.
Snacks and Water
Toddlers can get hungry and thirsty quickly, so pack a variety of healthy snacks and drinks. Consider portable options such as cut-up fruits, granola bars, and small water bottles. Having readily available snacks will help energize your child and prevent meltdowns throughout the day. Stay on top of timing to get ahead and schedule a mobile order.
Comfortable Clothing and Shoes
Choose clothing that allows freedom of movement and is suitable for the weather. Dress your toddler in lightweight, breathable fabrics during summer visits and layer up during colder months. Don't forget to pack an extra set of clothes in case of spills or accidents. Opt for comfortable, closed-toe shoes that provide support and protection. You can also bring a change of clothes and shoes to change into if needed.
Our favorite go-to outfit is a comfortable pair of sketchers, a character-themed shirt, and shorts. We pack pants and a sweatshirt for when the sun goes down or if the weather is not great.
Chaffing Cream
While not so much for toddlers, you will thank me later for a good chaffing cream for yourself. We love body glide, and you can order it right on Amazon.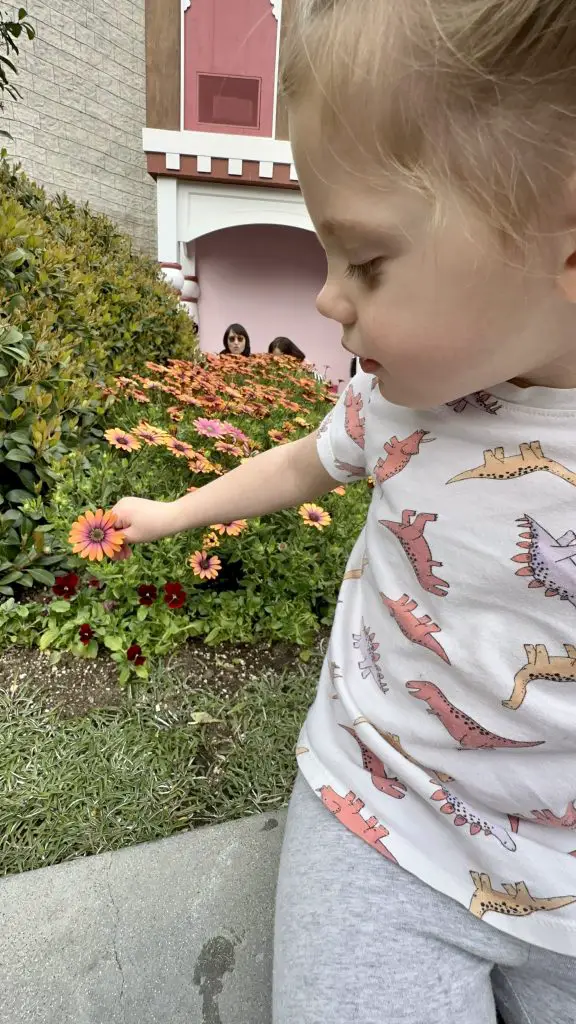 Pace Yourself
It's better to have an extra park day and use half of it than miss out on multiple attractions and rides because you didn't have enough time. Enjoy yourself and take as much time as you need.
Take Brakes
Toddlers have limited energy reserves, although they seem to have unlimited batteries. It's so important to slow down and take breaks throughout the day. Find shaded benches where you can sit down and rest. Our favorite is to grab a bite to eat and post up in a shady spot to watch the parade.
This will allow your child to recharge and reduce the chances of overtiredness or overstimulation. Tantrums are typically the result of lack of sleep, hunger, or overstimulation.
Keep an eye on your little ones and plan accordingly for their schedules.
Plan Quiet Activities
In addition to breaks, incorporate quieter activities into your day. Some amusement parks have a designated play area or indoor spaces for toddlers. These areas are often age-appropriate with toys, games, or interactive exhibits where children can slow down and engage in calmer play. We mentioned earlier about taking advantage of indoor shows, musicals, tours, and other slower-paced activities. Many of the big theme parks have schedules posted for the day that you can find online easily.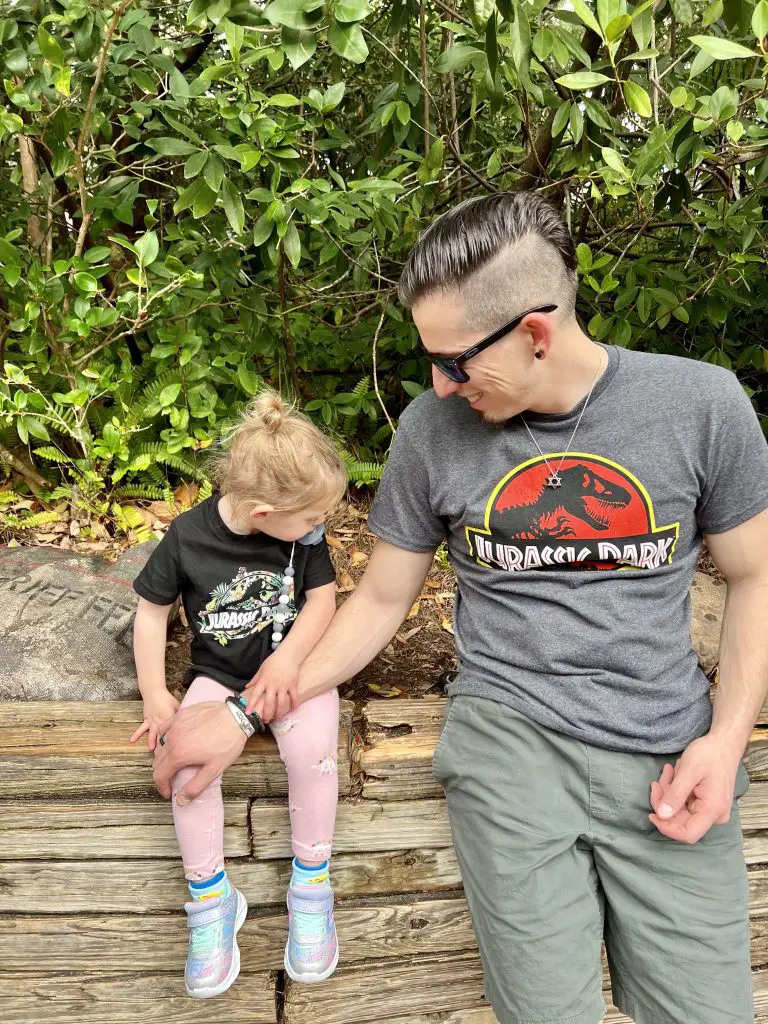 Capture Memories
Bring a Camera of Smartphone
Toddlers grow up quickly, and capturing the special moments of their amusement park visit can create such special lasting memories. Bring your camera or use your smartphone to take photos and videos of your child's reactions to the rides and attractions. One thing you will not want to miss is your child's face when they see their favorite character for the first time.
Encourage Participation
Remember to get in on the fun and enjoy the rides with your kids. Engage in interactive activities together and capture memories through photos and videos. Actively participating in the experience with your toddler will create even more valuable memories for both of you.
Remember, at the end of the day, each child is unique and enjoys different things. Adapt these tips to suit your toddler's individual needs and preferences. By planning ahead, packing essentials, pacing yourself, and capturing memories, your toddler's amusement park visit will be an enjoyable experience for the whole family.
Embark on unforgettable adventures at one of the many amusement parks for toddlers in California. California is home to several incredible family-friendly theme parks with beloved characters, interactive play areas, and delicious food.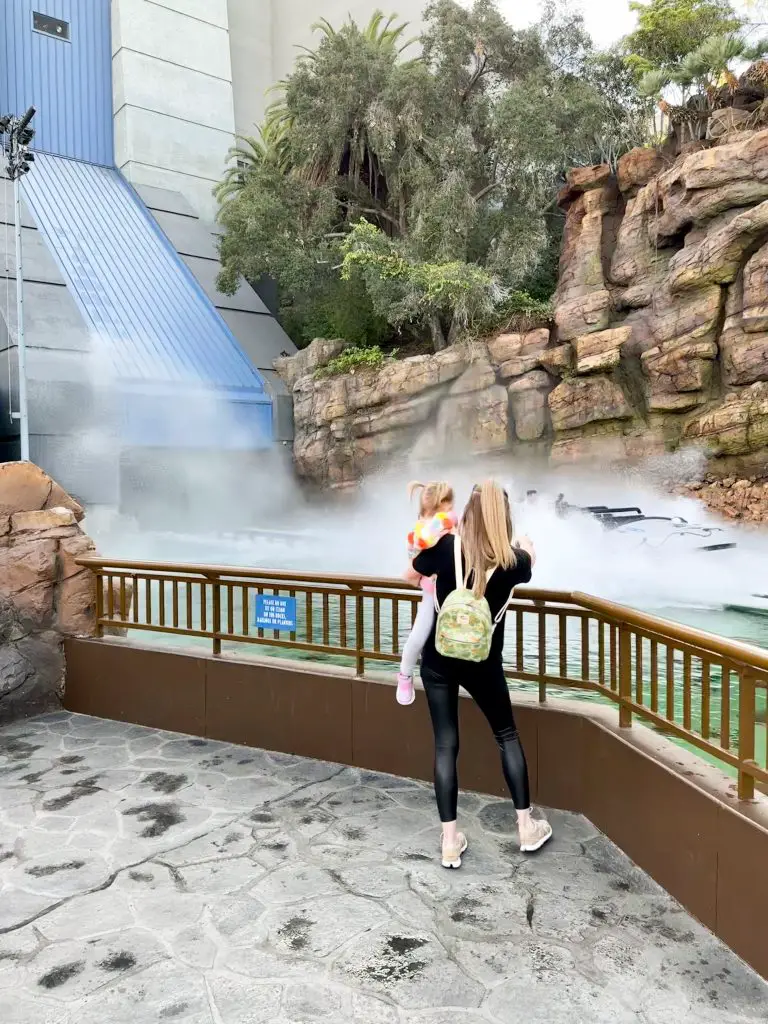 Other Guides
Super Nintendo World Universal Studios Hollywood
Universal or Disneyland What Park to Pick