So you're looking for the best things to do at Universal Studios Hollywood? We have put together the top things to do, the best places to eat, and must-do activities with immersive lands and interactive areas. 
We've created a robust list of the best things to do at Universal Studios Hollywood. Before we jump to the big list, we wanted to get a few important things out of the way first about Universal Studios Hollywood.
Universal Studios Hollywood Tickets
Let's start with tickets first. You might have already purchased tickets, and that is just fine 🙂 BUT, next time, we highly suggest using one of the following platforms to purchase Universal Studios Hollywood tickets at a discount.
Ticket prices for general admission
Finding a ticket for a decent price is hard to come by. There are not a lot of "discount" sites out there that are trusted, but our favorite is Get Away Today and Undercover Tourist. You can use either one and receive up to 38% off general admission tickets at the Gate. 
Universal Studios Hollywood Tickets
Express Pass
One other thing we typically will not do without now is the add-on for skipping the line. – Universal uses an express pass. Similar to most of the others. You will wait virtually for your time and then scan in to bypass a portion of the line. We will talk more about benefits, especially if you are only in Universal Hollywood for one day.
Single Rider Lines
Single Rider is also a really great option for getting through lines quickly at theme parks. Universal Studios happens to be our favorite because their single riders are typically open all day. You can typically save around 30+ minutes by using the single rider.
This is updated from our most recent visit, Sept 2023, and this is one of my favorite theme parks in Southern California.
Now let's dive into the best things to do at Universal Studios Hollywood.
Best Things to do at Universal Studios Hollywood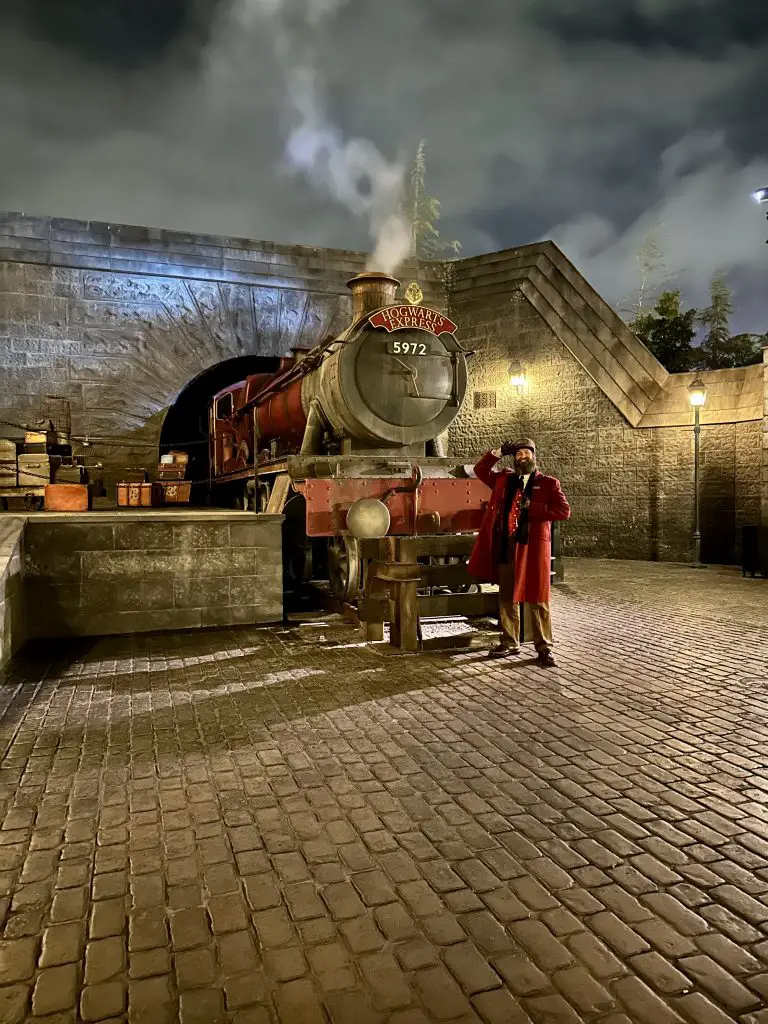 Explore the Immersive Lands
There are two fully immersive lands in Universal Studios Hollywood. With the new ride announced for Fast and the Furious, it will be interesting to see how immersive the land is. I'm not sure there is a way to make it quite like the Wizarding World or Super Nintendo, but I'm sure Universal has something great planned for the new rides area. Let's dive into the lands in Universal Studios Hollywood.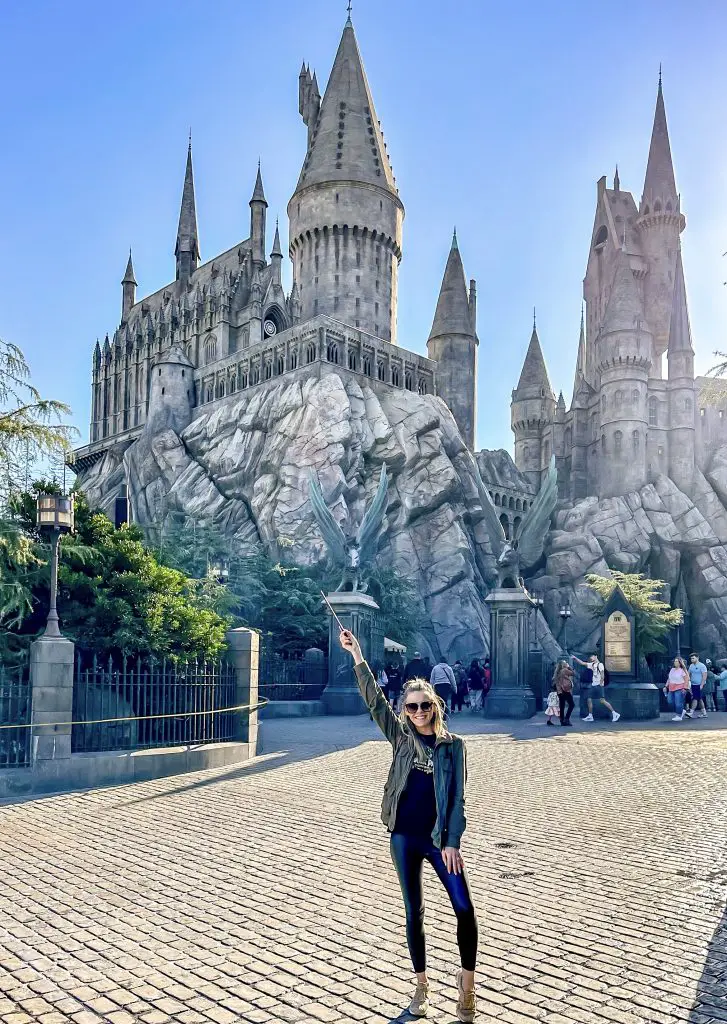 Wizarding World of Harry Potter
The Wizarding World of Harry Potter at Universal Studios Hollywood is a magical dream come true for fans of the beloved book and film series. This meticulously crafted land is divided into two enchanting sections: Hogsmeade and Hogwarts Castle.
As you wander the cobblestone streets of Hogsmeade, visit iconic locations, cast spells, savor Butterbeer, and ride two stunning rides.
The attention to detail is astonishing, making you feel like you've stepped into J.K. Rowling's imagination.
What you need to experience the land to its fullest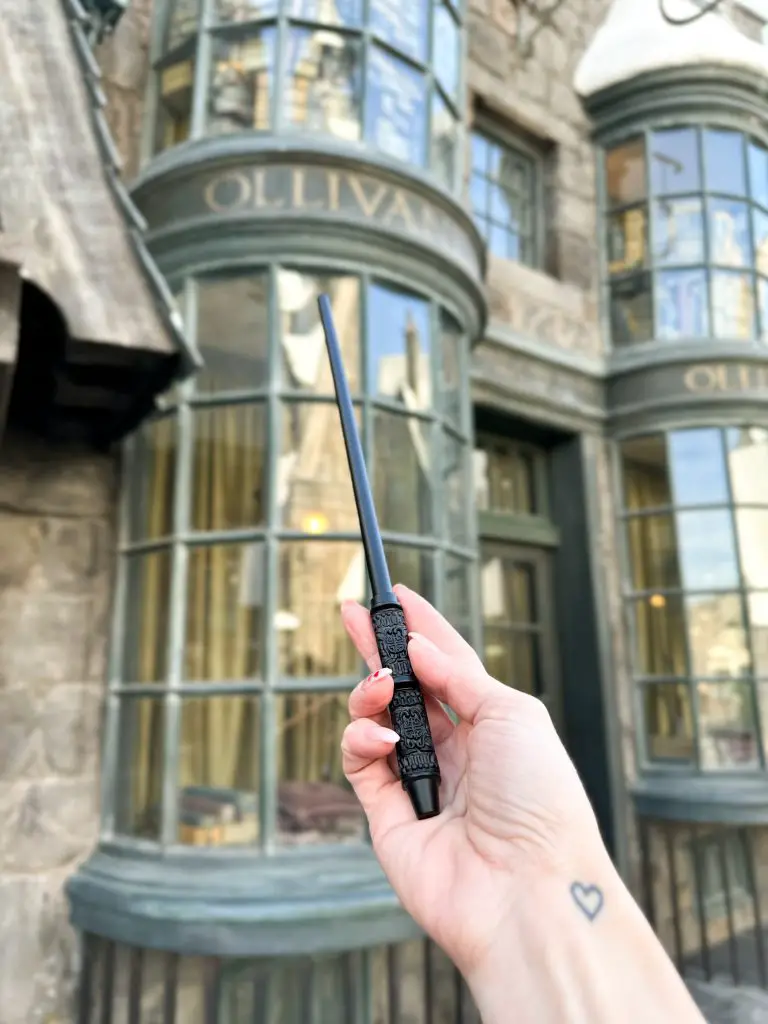 Wand
You can purchase a wand that is not interactive, so make sure you are aware of that when purchasing your first wand. You can pick up a wand inside Olivanders. The boxes with the gold sticker are interactive wands, but again, double-check before you check out.
There are so MANY wands to pick from, and you can also have it engraved if you would like to make it even more personal. The interactive wands run around $60+ and you can use them to cast spells at the wand locations around the land.
Casting spells
There are multiple wand locations around the land. Some are hidden, and some are out in the open.
The most important part to pay attention to is the direction of the wand movement and where the camera that picks up the movement is located. Some of them are hidden or at a specific angle. Many times you are doing the wand movement correct but not pointing the interactive tip at the camera for it to pick it up.
Early morning and later at night are great times to explore the wand locations.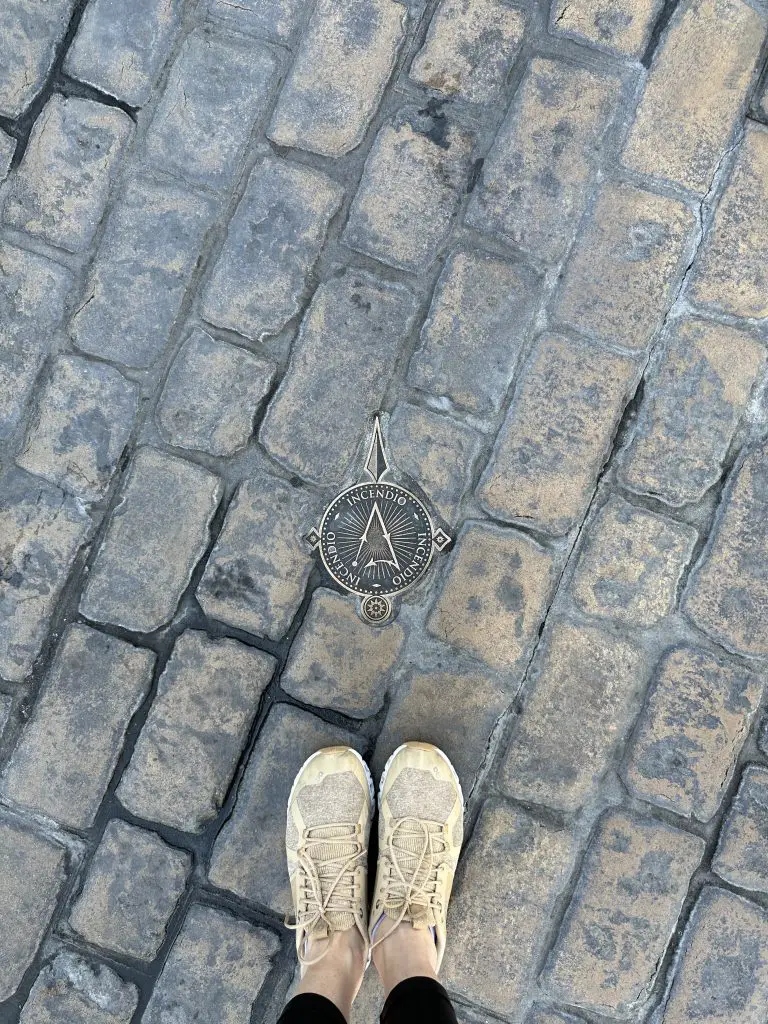 Wand locations 
There are two types of wands you can purchase in the wizarding world. There is an interactive wand and a non-interactive wand. If you want to completely immerse yourself in the land and participate in all the best things to do at Universal Studios Hollywood Wizarding World of Harry Potter, you will need an interactive wand.
There are multiple interactive wand locations throughout the wizarding world of Harry Potter.
Our favorite is the door and the top of the building where the fire comes out.
Secret Easter Egg in The Wizarding World of Harry Potter
Ear Muffs
Specific to Universal Studios Hollywood only, you will find the ear muffs used in the sorcerer stone where the kids replant the screeching plant.
Send postage from the Owlpost.
Something unique is being able to send out postage from the Owlpost inside the Wizarding World.
Olivanders Vip Wand Experience
This is the ultimate Harry Potter experience
Work with Olivander himself and have a wand chosen for you
Many people love this interaction because it makes it fully immersive, and people get the VIP experience with a one-on-one with Olivander himself
This is considered an attraction and does have a wait time involved. typically very short when you first get into the park, the wait time could go up to 30 min, and sometimes the queue is closed down because they are at capacity.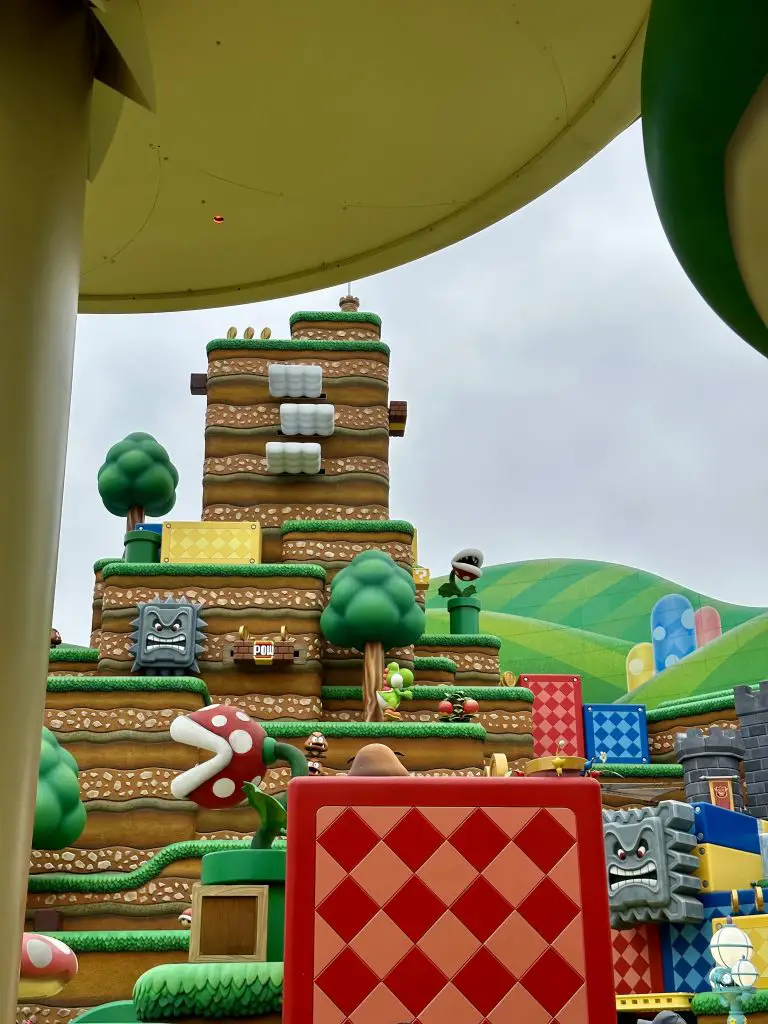 Super Nintendo World
One of the best things to do at Universal Studios Hollywood is check out the new immersive Super Nintendo World Land. Super Nintendo World tops our list of the best things to do at Universal Studios Hollywood.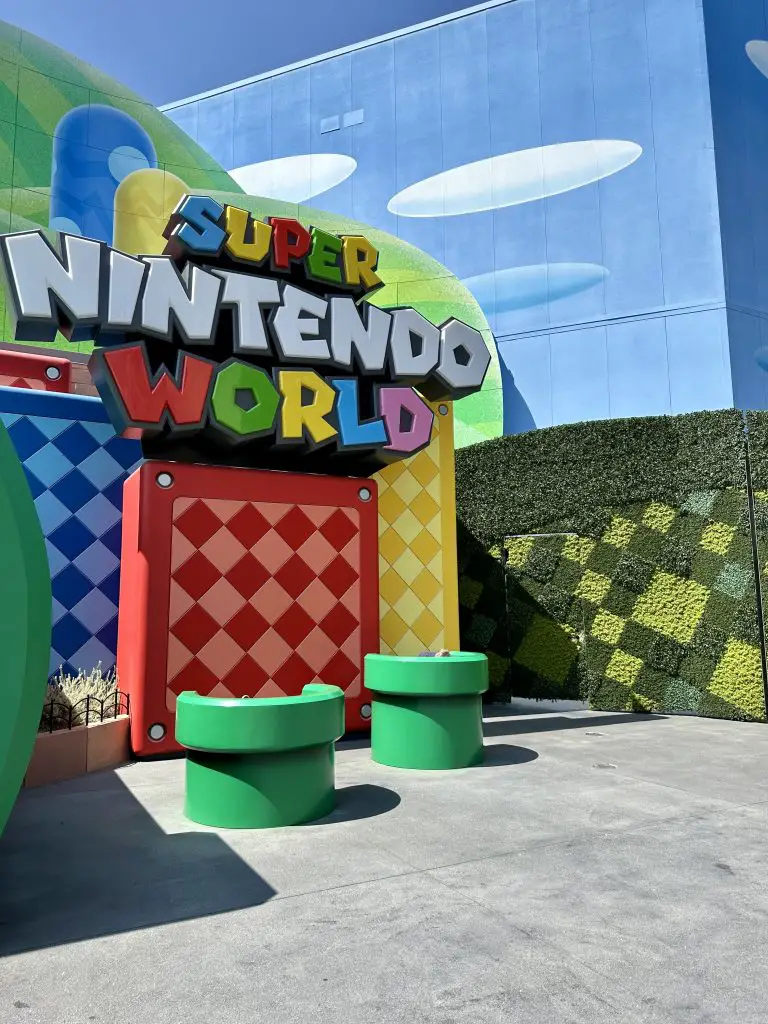 This new land opened in early 2023, Super Nintendo World is a captivating and immersive themed land at Universal Studios Hollywood.
Designed in collaboration with Nintendo, it brings the beloved world of video games to life, allowing you to step into iconic Nintendo games and characters.
From interactive experiences to thrilling rides and character encounters, Super Nintendo World offers an unforgettable adventure for fans of all ages.
It's a place where the virtual and real worlds merge to create a one-of-a-kind, action-packed experience, making it a must-visit attraction at the theme park.
What you need to experience the land to its fullest
There are two things you will need to experience this land to its fullest, and they are not required.
The first is to download the Universal Studios App and make sure it is updated and open when you enter the land. This will give you access to a different portion of the app. It tracks points, keys, and more.
The second is to purchase one of 6 interactive power-up bands. These do cost money and can be found in one of two areas once you are in the area. You can purchase them from two of the stores in the Nintendo area or one of the multiple kiosks by the Piranha Plant mini-game

Power-up bands allow you to gain coins and earn secret kets to enter the Bowser Jr. area, where you can save the Mushroom Kingdom. You can track the coins, keys, and stickers in the app or on one of the boards inside the land.
Secret Keys
As you plan mini-games and explore the area, you will earn secret keys to access the Bowser Jr. area. You will need 3 secret keys to gain access to this final mini-game area, where you will use your power-up band to swat away bombs and defeat Bowser Jr.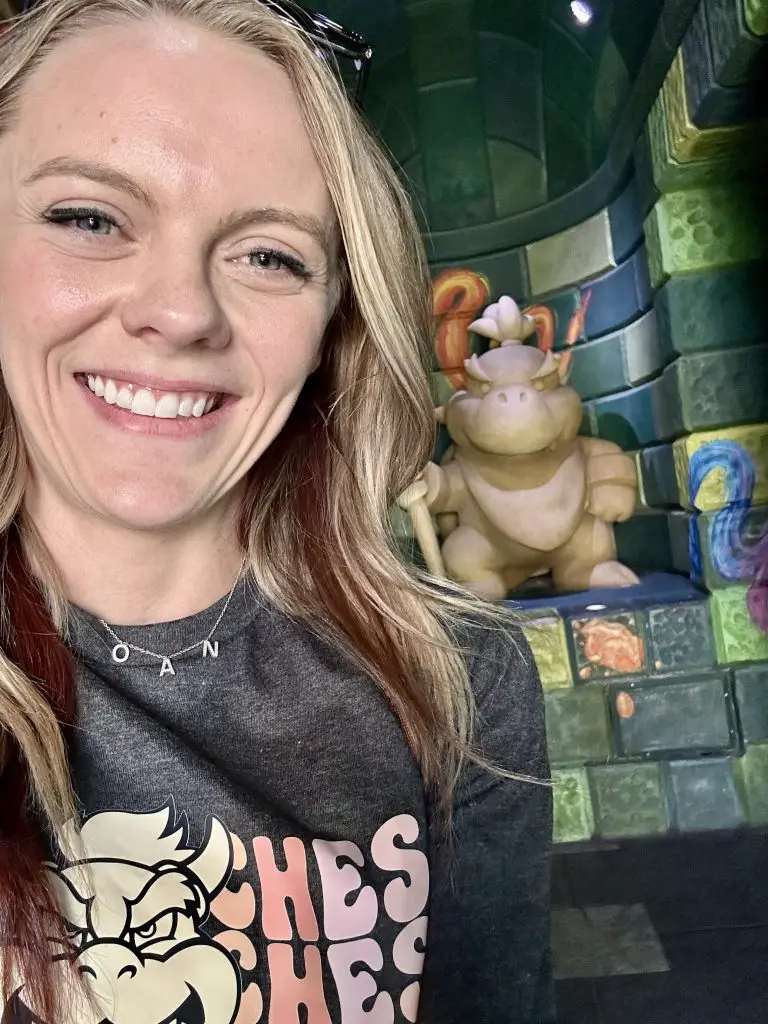 Ways to Earn Secret Keys
Mini- Games
There are 4 mini-games in this area. Some are easier than others, and a few are multiplayer.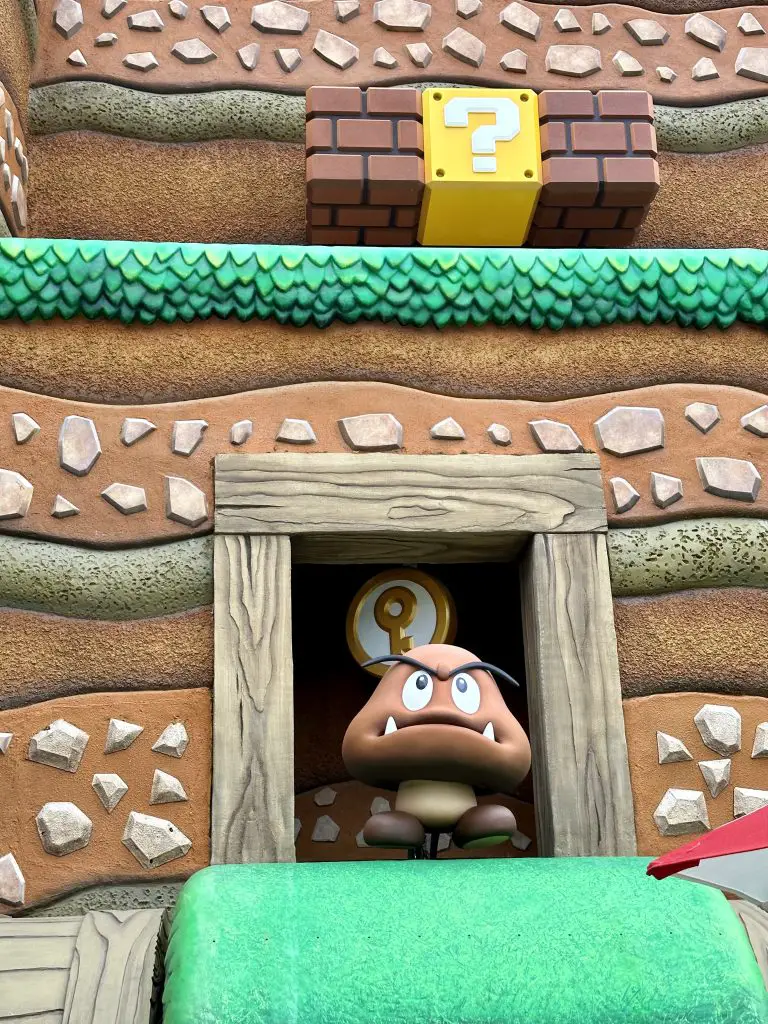 Goomba
Spin the wheel as fast as you can to make goomba fall off the backside.
The wheel is very easy to twist, and the handle does twist as well so you don't have to readjust your arm while you are trying to spin them.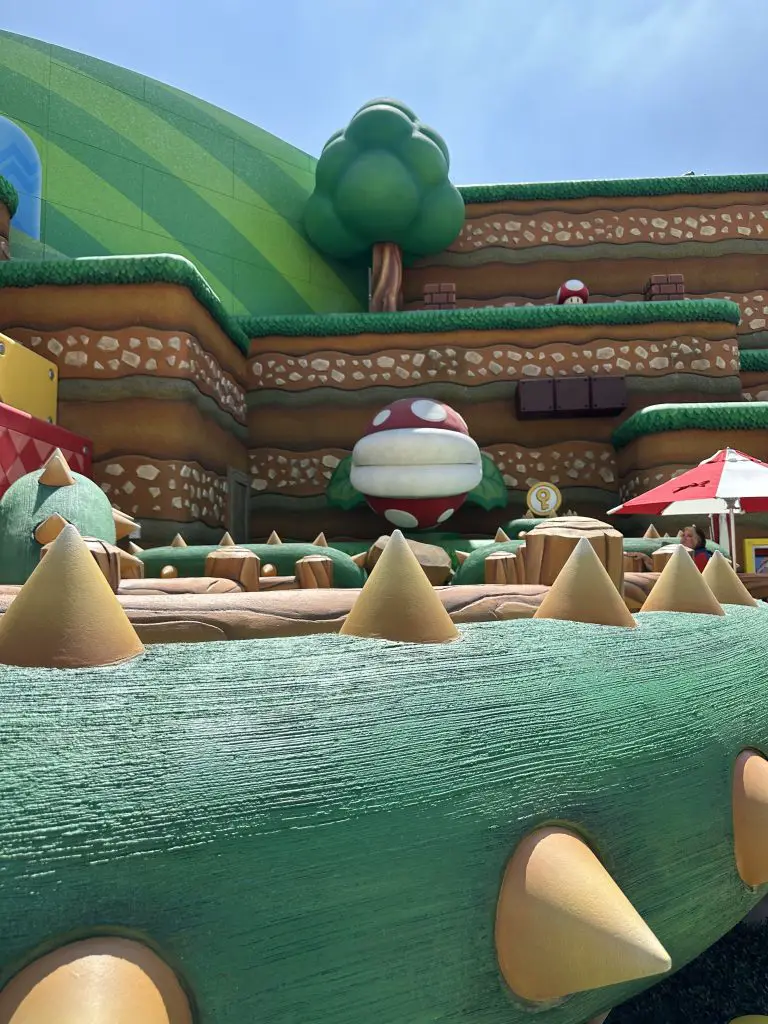 Krupa
You must time the shell perfectly to hit Krupa.
This one can be a little difficult since you must use your arm with the magic band to hit the box exactly right to hit the shell. The shell is hard to see from one side as it goes into the tunnel.
Piranha plant
This is probably the hardest out of all of the mini-games. You can have up to 4 players in this mini-game.
I had to play it twice to win. The first time I played with another player who joined me, there was one timer still going off right before the main clock timer went off.
The trick is only to hit the red-timers. If you hit a white timer that isn't red, it will turn back to red immediately, making there more red timers. During peak sun hours, the red timers are a little more difficult to see, and you must hit the middle of the timer perfectly in order to turn them off.
Block Game
While also a mini-game, this one is a little more unique. You must turn all the blocks to yellow or blue before the timer is done. If you have a second person with you, this is significantly easier so that you can split the board in half.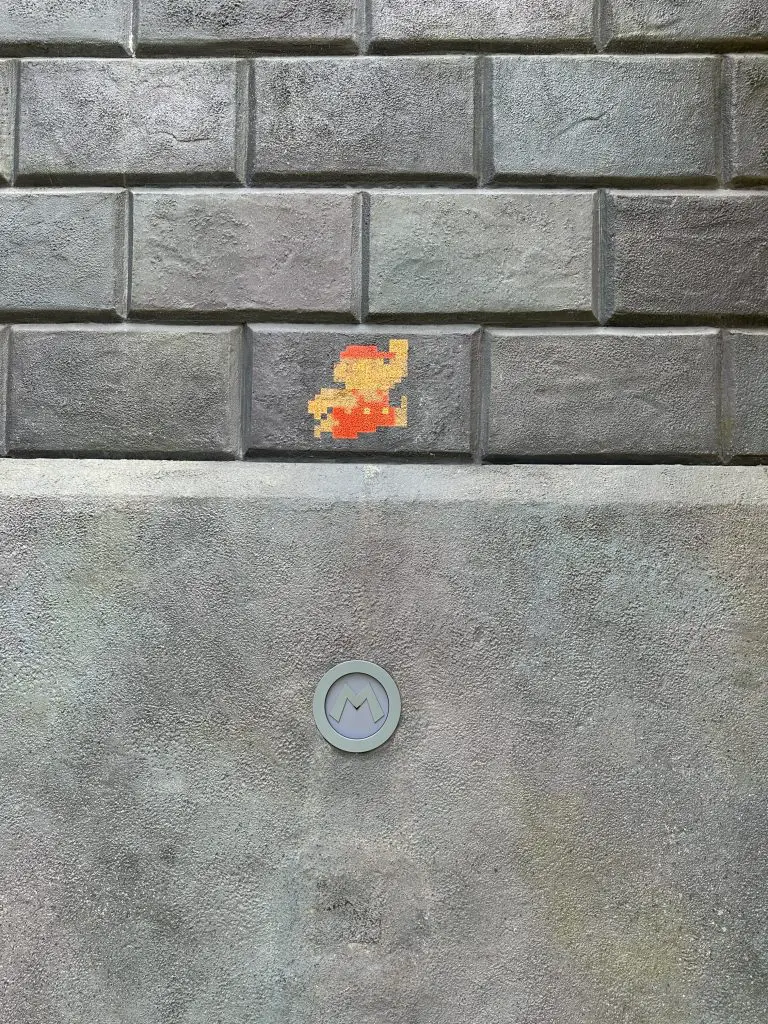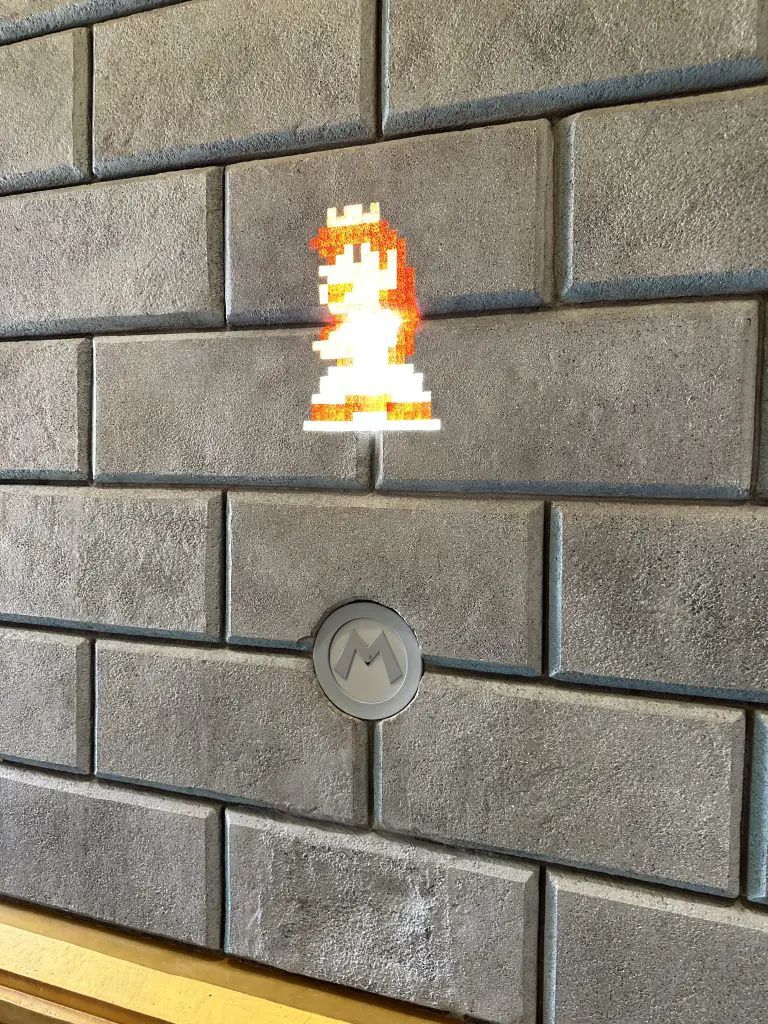 Find all the Mini Bit Characters in Super Nintendo World
There are 4 mini-bit characters around the land. If you find all 4 you will also earn a secret key. I will not give you the exact locations because that completely takes away the experience. But I will give you some great hints to help you find them.
Bowser – Somewhere dark
Peach – Somewhere Beautiful
Luigi – Overlooking the Kingdom
Mario – On the ground floor by Toad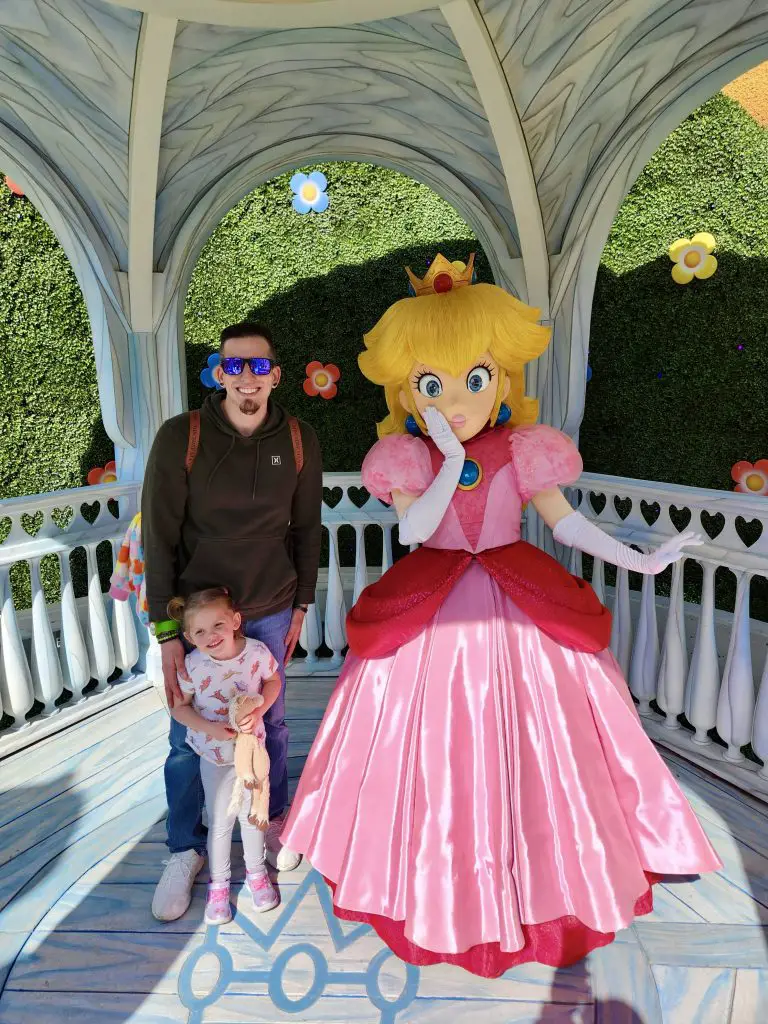 Character Locations
You can see 4 characters in the Super Nintendo World land. Make sure to check the app and the character locations for their daily times.
Peach
Once you enter the land, you will see a cute round white gazebo where you can meet Peach.
Mario and Luigi
They are together and smack dab in the middle of the land next to two question blocks.
Toad
While the other 3 launched with the land when it opened, Toad was a little behind, and he was announced in mid-2023. Typically, in the back of the land over by Toadstool Cafe, you will find Toad.
Easter Eggs
There is a set of stairs that will take you to overlook the land from a second story. You can overlook the land from the ride as well, but if you take this set of stairs and overlook the land, you will see a hidden set of Pikmin.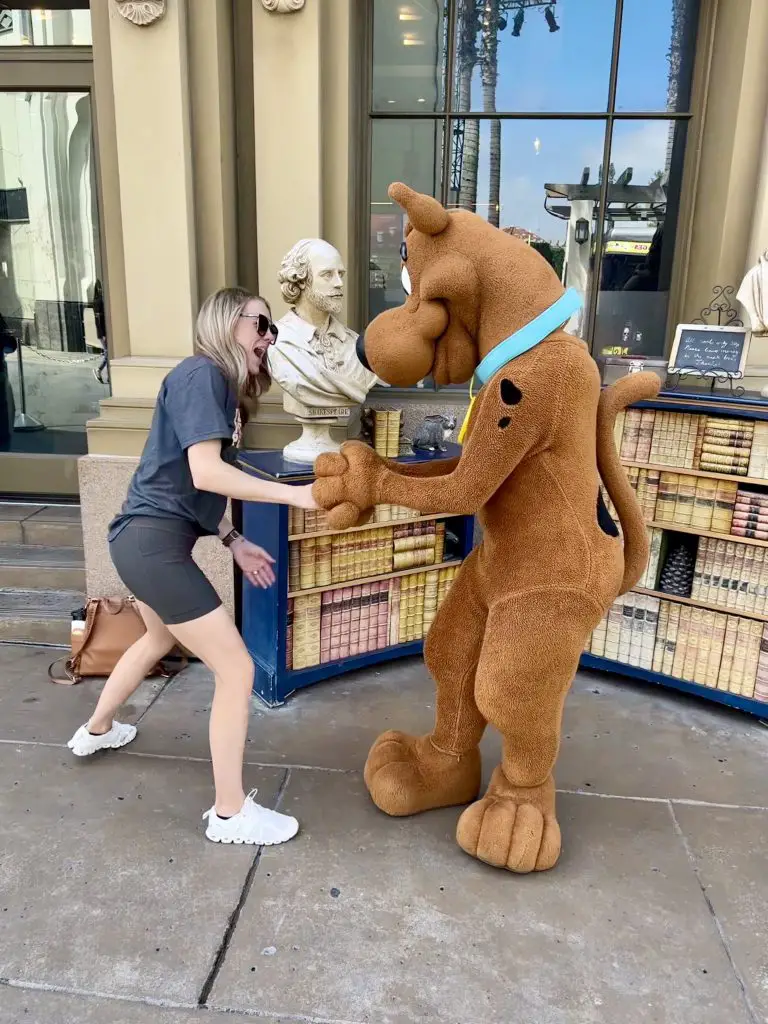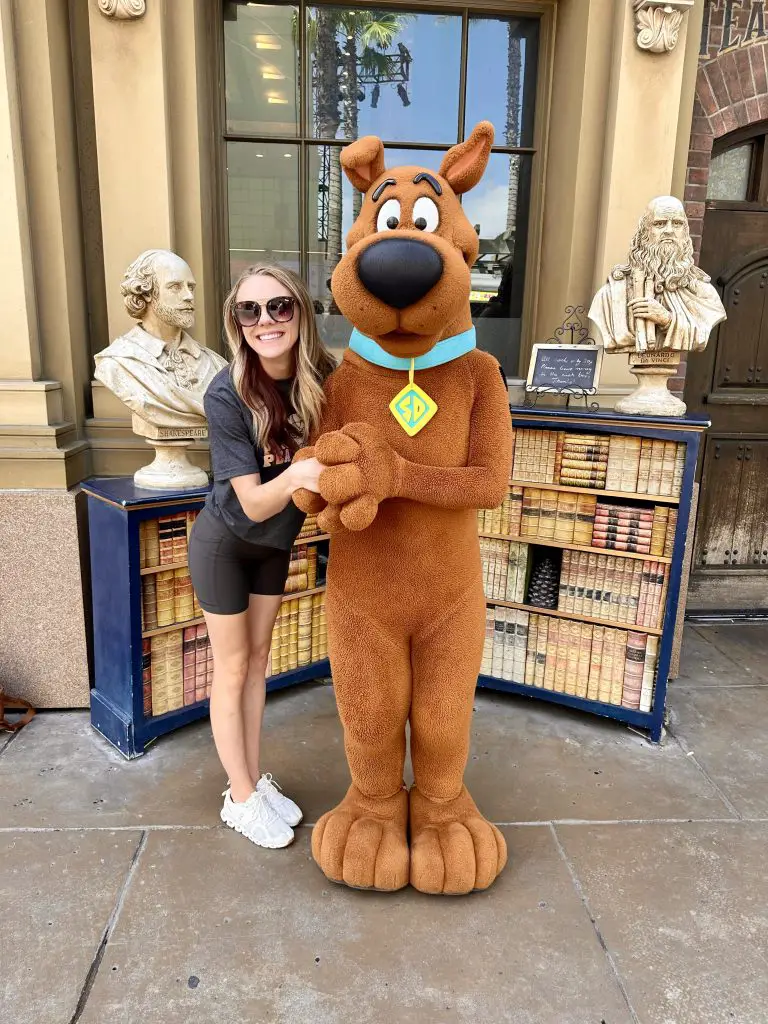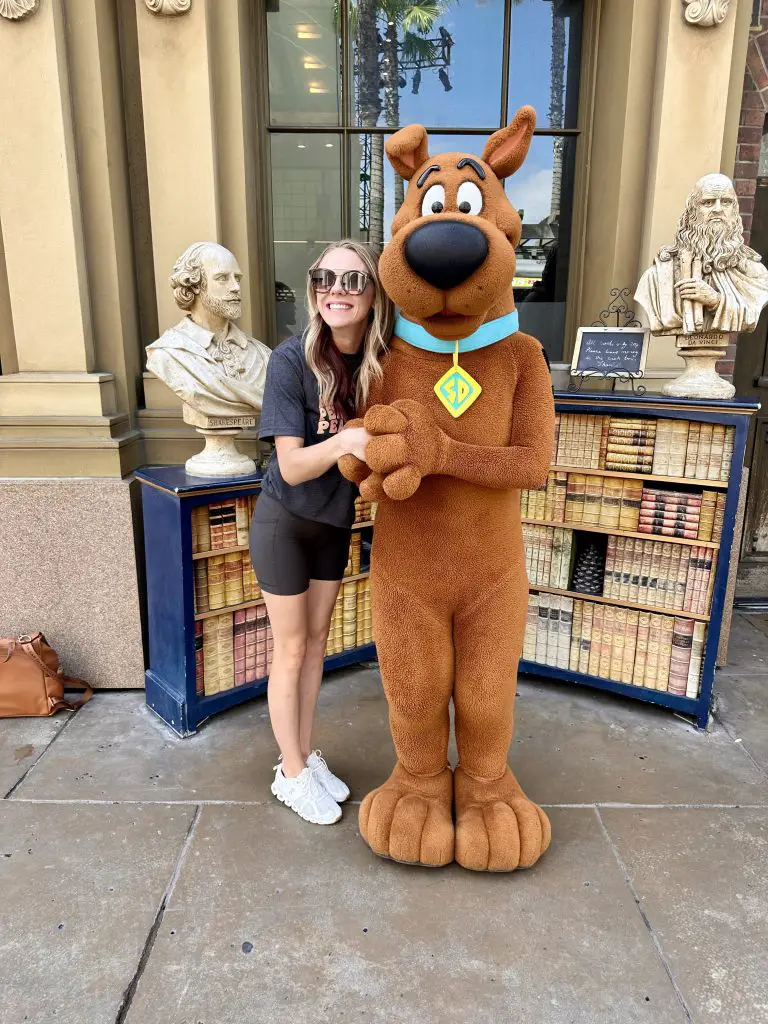 Meet Characters
One of my favorite things about the characters of Universal is how interactive they are. Not only do they interact with kids but adults as well.
Unlike Disney, the characters of Universal are similar to actors and will hang out and interact with you. While they are walking to and from their location or around the park, characters will stop and take pictures, walk with you, and make funny jokes.
While walking down the street, you may run into a lot of different characters and street performers. On my last Character interaction, I was walking out of Starbucks, and there was a crowd of people making a bunch of noise, so I made my way over to discover two cleaning crew members busting out their best moves to Just Dance.
With the help and the hype of the crowd, these two danced in unison, and one even did the splits to end his solo dance-off.
Not twenty feet from them was Doc from Back to the Future, just walking around talking to people. He nodded his head as he walked by and said hello, good day.
Then, he stops and says hello before taking a photo with a guest and making his way to his spot.
I took a photo with both Scooby and Poppy, and the experiences are just totally different. With a big hug and a handhold, Scooby made me feel like a little child again.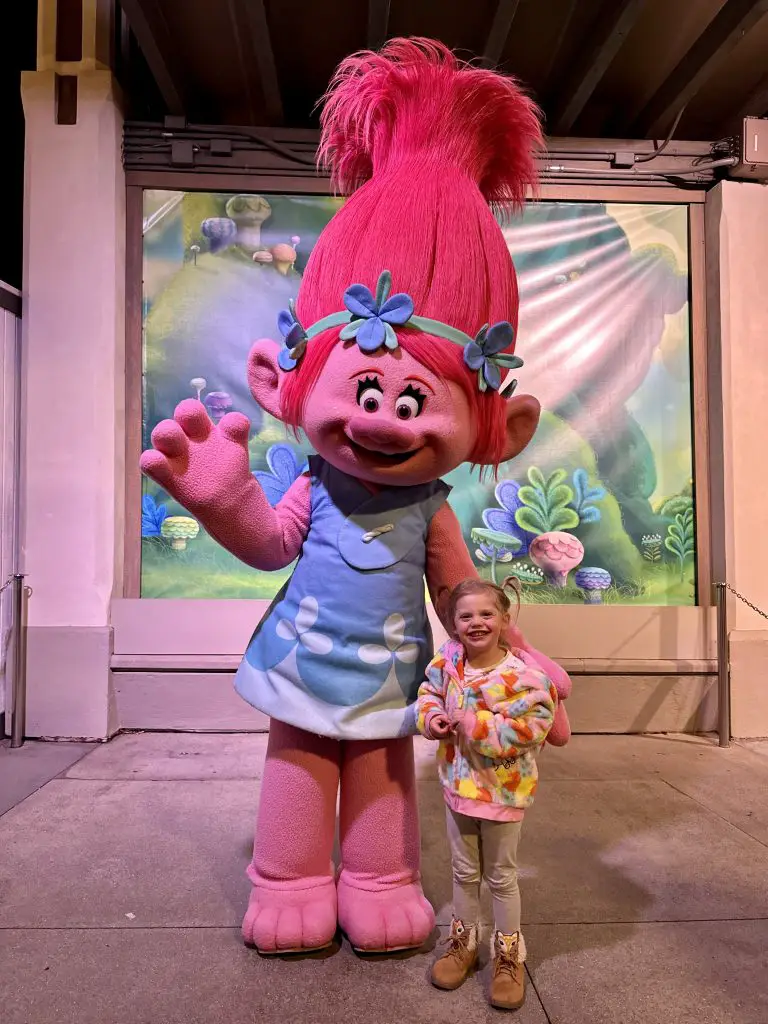 Characters at Universal Studios Hollywood
Poppy and Guy Diamond
Mario and Luigi, Peach and Toad
Scooby-Doo and the Gang
Optimus Prime and Mega Tron
Raptor Encounter, Baby raptor and Triceratops
Frankenstein and Bride of Frankenstein
Count Dracula
Marilyn Monroe
Hello Kitty
King Julius
Doc Brown from Back to the Future
New York City Goers
Gru and the Minions
Shrek, Fiona and Donkey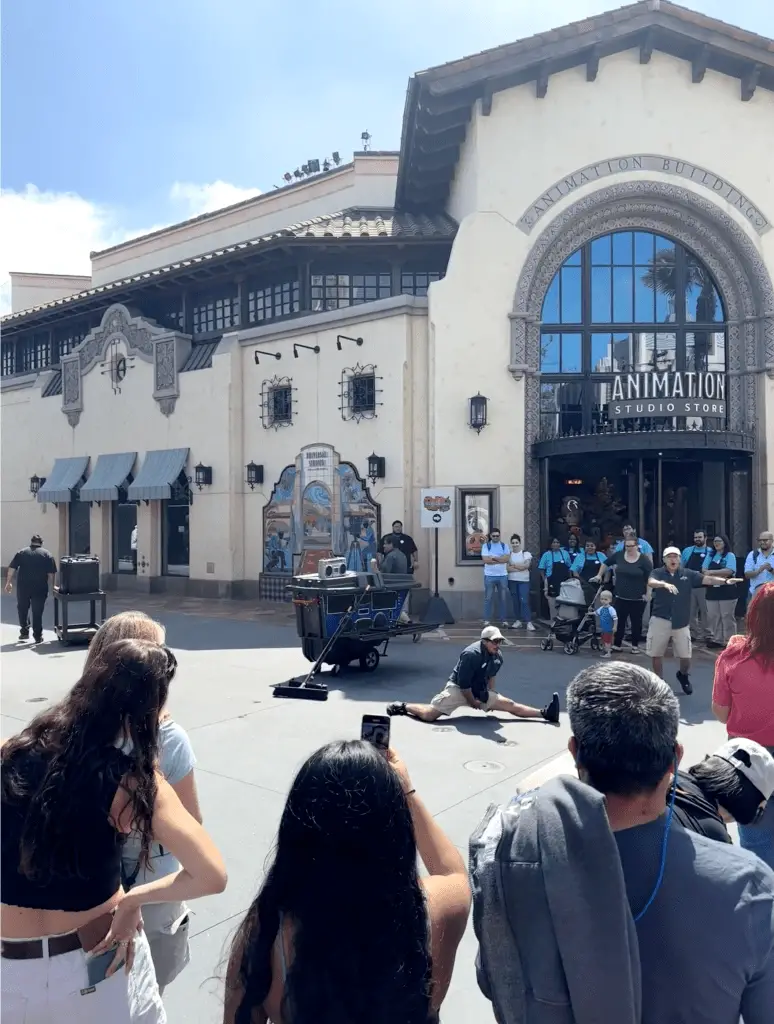 Ride the Most Popular Attractions
Universal Studios Hollywood offers a thrilling array of rides and attractions that cater to a wide range of tastes.
From the heart-pounding excitement of rides like Mario Kart: Bowsers Challenge, "Jurassic World – The Ride" and "Transformers: The Ride 3D" to the immersive adventures in "The Wizarding World of Harry Potter," there's something for everyone. For those seeking nostalgia, classics like "The Simpsons Ride" and "The Studio Tour" take you on a journey through iconic movie sets.
However, it's important to note that wait times can vary, especially during peak seasons, so planning your visit strategically can enhance your experience. Whether you're an adrenaline junkie, a film enthusiast, or just looking for family fun, Universal Studios Hollywood offers a diverse and memorable lineup of rides and attractions.
If your child is under 40" this is not the most ideal park when it comes to rides. For more information about Universal Studios Hollywood and Disneyland when it comes to park comparison, read this post about what park to pick. Universal Studios or Disneyland what Park to Pick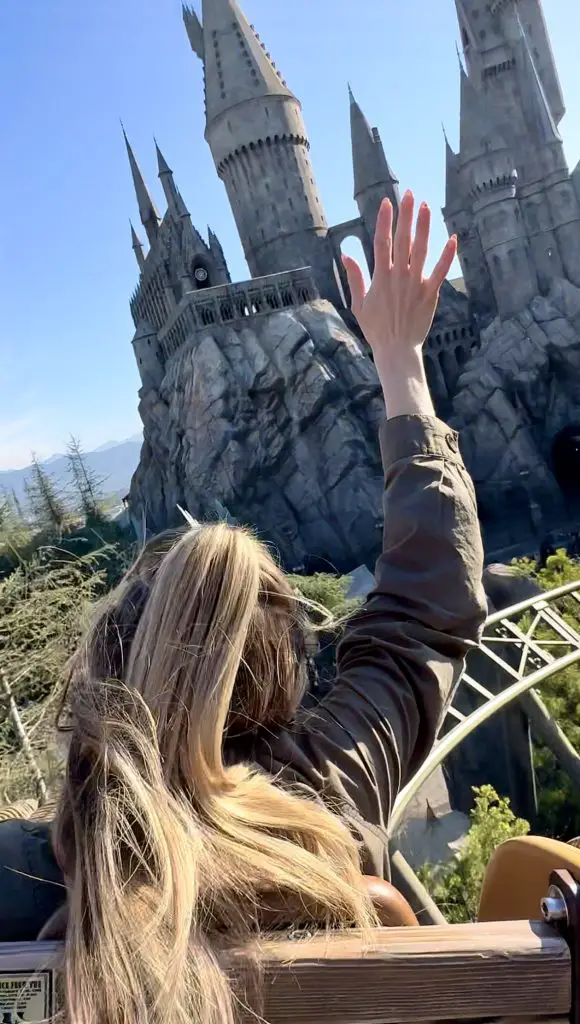 Flight of the Hippogriff
Height Requirement
39″
Lot Location
Located in the Upper Lot, this is one of the few roller coasters at Universal Studio Hollywood.
Ride Details
This family coaster is perfect for kids and people starting out. These are double cars, and this ride is very similar to the one in Orlando.
At the top, you can capture a really great photo with Hogwarts in the background. 
Revenge of the Mummy
Height Requirement
48″
Lot Location
Lower Lot
Ride Details
One important note about this ride is that Universal does not allow videoing on the ride, and you will need to put your small and large bags into the lockers. The lockers are located right at the entrance and exit to the ride. I typically use a small crossbody in the parks and was asked to put away my bag.
You are more than welcome to take your phone with you, but please know there isn't really a great spot to store your phone when you get on the ride, and you are responsible for not dropping it.
Forward and a surprising, unexpected reverse.
I forgot how great this ride was! Don't come at me, but this is significantly better than Indiana Jones. This dark ride has surprises at every turn. It's fast, smooth, and an amazing ride.
This is a roller coaster and has tight banks and turns with no inversions.
The creepy crawly things always get me, and I am always worried they are crawling all over me. It takes me a solid minute to be ok after I get off the ride. 
BUT. I have to say Indiana Jones has NOTHING on Revenge of the Mummy.
Mario Kart
Height Requirement
40″
Lot Location
Lower Lot
Ride Details
A must-see attraction in the lower lot, this ride uses 3D goggles with new technology and virtual reality.
One of the greatest parts about this ride is the Mario hat and magnet VR glass. While most rides have you wear 3D goggles, this is a completely new technology and absolutely amazing. If you wear prescription glasses, you understand the struggle of goggles or glasses and your prescription glasses. That is not an issue with this ride goggle system.
The Mario hat will fit snugly and comfortably on your head. Make sure it is pulled down your head just to your eyebrows without covering your sight.
Once you make your way down the stairs to the ride vehicles, you will board your kart, where you will clip on your VR glass.
The VR glass will show you the virtual reality world as well as how many shells you have and how many coins you have earned.
This is an Epic Battle between Mario and Bowser. Your goal is to earn more than 100 coins to beat Bowser.
You will earn coins by making the correct turns when prompted on the screen and hitting the opposing team's characters. They are a slight red tint, but most of them are a variation of bowser.
You will lose coins when you hit your teammates or make an incorrect turn.
Like a real-life Mario game
I was worried after hearing that Mario Kart was not a fast ride that it wouldn't be fun. I was greatly wrong, and you should not listen to these people.
This ride will keep you entertained the entire time, and the speed is not something you will even notice. There are not a lot of turns and twists.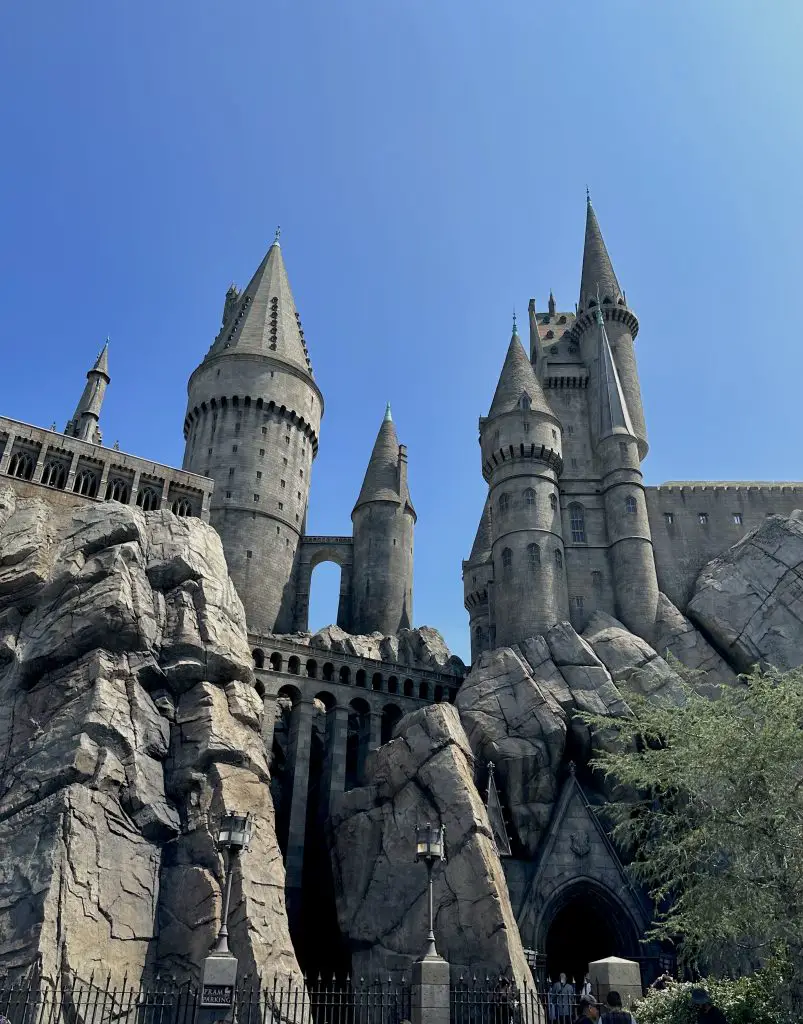 Harry Potter and the Forbidden Journey
Height Requirement
48"
Lot Location
Upper Lot
Ride Details
Located inside the Hogwarts castle, you will take a tour of some of the best corridors and passageways of Hogwarts castle.
Dumbledours Office, Dark Arts Room,
the Forbidden Journey Ride is a dark ride and may cause motion sickness.
This uses an arm-style ride vehicle, and you are flying through different scenes of the movie.
You will experience many things as you fly around Hogwarts Castle. A Quidditch match, whomping willow and dementors.
This ride vehicle is slightly limited to body types and size.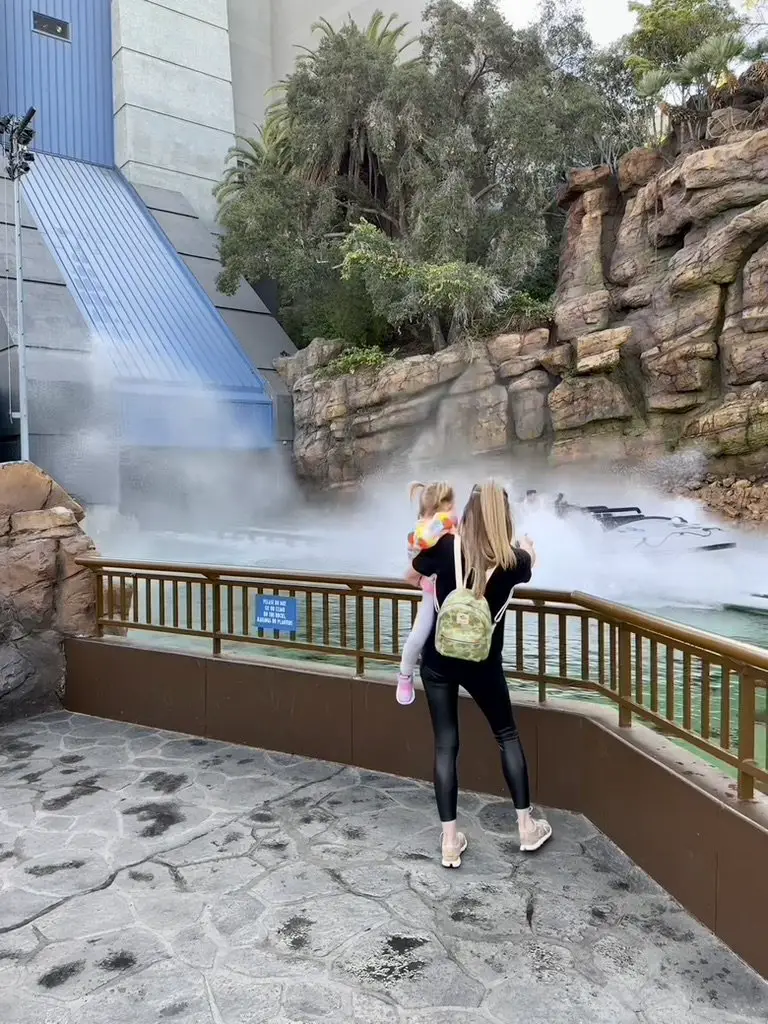 Jurassic World Ride
Height Requirement
42"
Lot Location
Lower Lot
Ride Details
This water ride is so thrilling, and one of my favorite rides, Mario Kart, takes the cake when we are talking about winter visits, though. I've been on this ride multiple times, and I still get lost and forget when the large drop comes!
Originally themed for Jurassic Park in 2018, it received a massive overhaul for Jurassic World.
There are multiple large dinosaurs throughout the ride, and there is one that will completely surprise you right before the large 84-foot drop at the end.
This water ride does not soak you like a rapids ride or log ride would.
That does not mean you will not get wet at all, but depending on where you are seated in your boat, you may get sprayed by a splashing dino or a splash from one of the smaller drops.
No matter how many times I've ridden this ride, I forget the last drop, and it always surprises me.
I'm always surprised by the height requirement for this ride. I wouldn't assume it would be so high, but we are still patiently waiting to take our daughter. She loves dinosaurs, and while I think she will like the ride, we will be preparing her for the big, scary dinosaurs and darkness of this ride.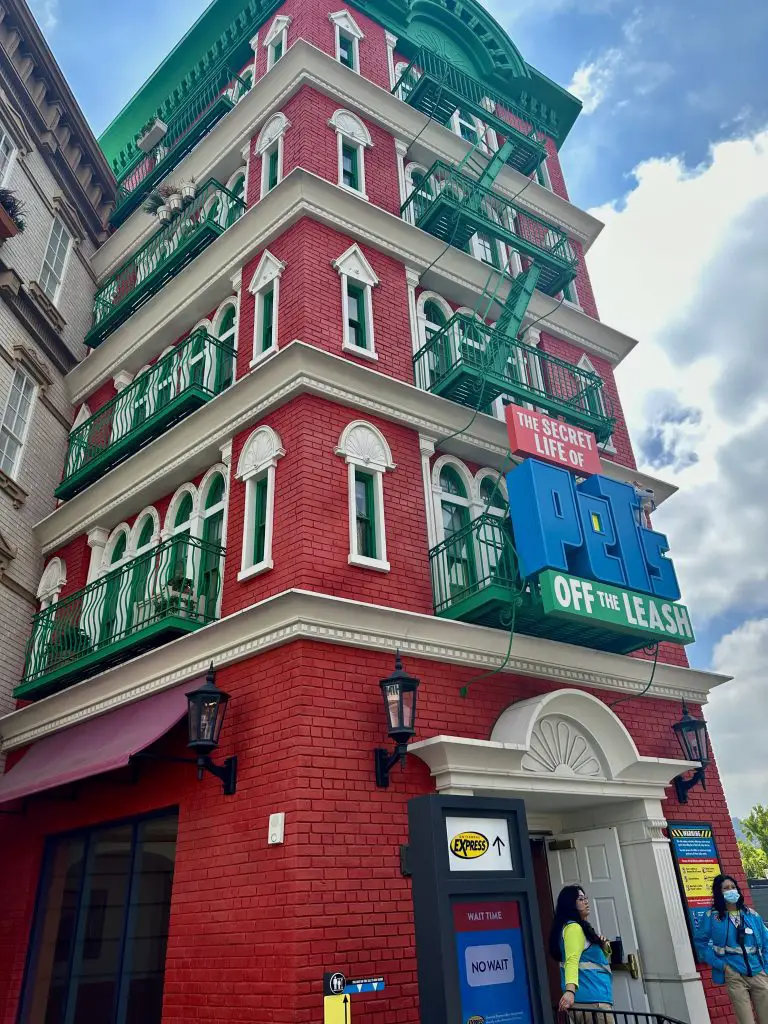 Secret Life of Pets
Height Requirement
34″
Lot Location
Upper Lot
Ride Details
The "Secret Life of Pets: Off the Leash!" attraction at Universal Studios Hollywood is a delightful and immersive experience that brings the beloved animated film to life.
This ride takes you on a journey through the bustling streets of New York City, where you'll encounter all your favorite characters from the film. The attention to detail is exceptional, and the use of innovative technology makes it a captivating adventure.
However, this ride always seems to be really busy, and you should jump on a virtual queue line as soon as you see it or make it one of the first few rides you get on once in the park.
Nevertheless, if you want to step into the world of Max, Gidget, and their furry friends, this attraction is sure to leave you with a smile on your face.
This is lower on the list and possibly a skip for many adults. While very cute, adults might find this ride slow and a little boring if they don't have kids. If you have kids, this is a great ride.
Yes, based on the kid's movie Secret Life of Pets, this kid's ride is completely the cutest queue I've seen in a long time. If there is something Disney and Universal know how to do, it's ride theme.
The last time we went as a family, our daughter curled up into the tiny dog and laid down. It was so freaking funny. There were multiple spots throughout the ride queue that we found completely entertaining.
Despicable Me
Height Requirement
40″
Lot Location
Upper Lot
Ride Details
Also a skip for many adults.
It was the most motion sickness I have ever experienced on a ride besides Rockin' Roller Coaster in Disney World.
What's most surprising is that you board a standing ride vehicle, and they are on a motion platform that makes the movements. Our daughter did have fun on this ride but compared to the other rides, it was the lowest on the list.
I don't find the queue for this ride very entertaining. It's mostly outside and has snake switchbacks with not much theme around.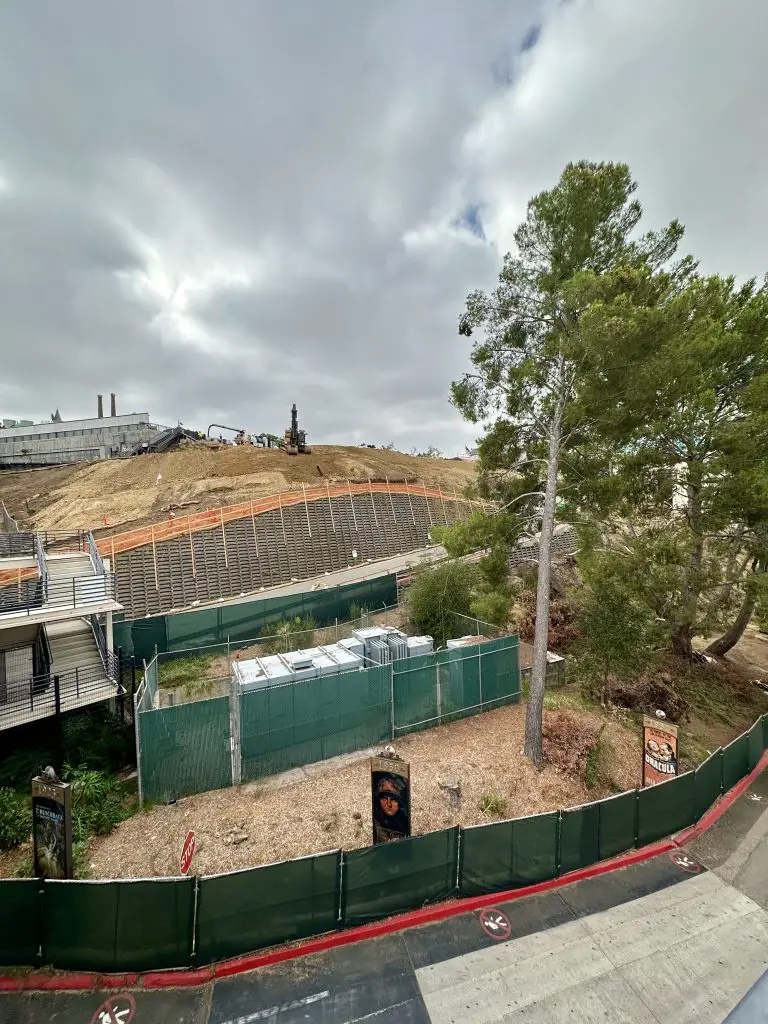 Future Ride: Fast and the Furious
Height Requirement
To be determined, we are guessing closer to 50."
Lot Location
Upper Lot
Ride Details
The Fast and the Furious Roller Coaster will take over the Animal Actors and Special Effects Show. They both closed in January in the upper lot. It is currently under construction with a 2024 target open date, and we will wait patiently for this day and be one of the first to try it out.
This intense roller coaster will make its way from the upper lot to the lower lot and back up and is reported to be a street race with drifting.
We have seen little concept art for this ride, but if it's anything like what they've done with other Universal rides, we have HIGH hopes for a REALLY great coaster that was much needed in Hollywood.
Once this ride is complete, we will do a full review and update.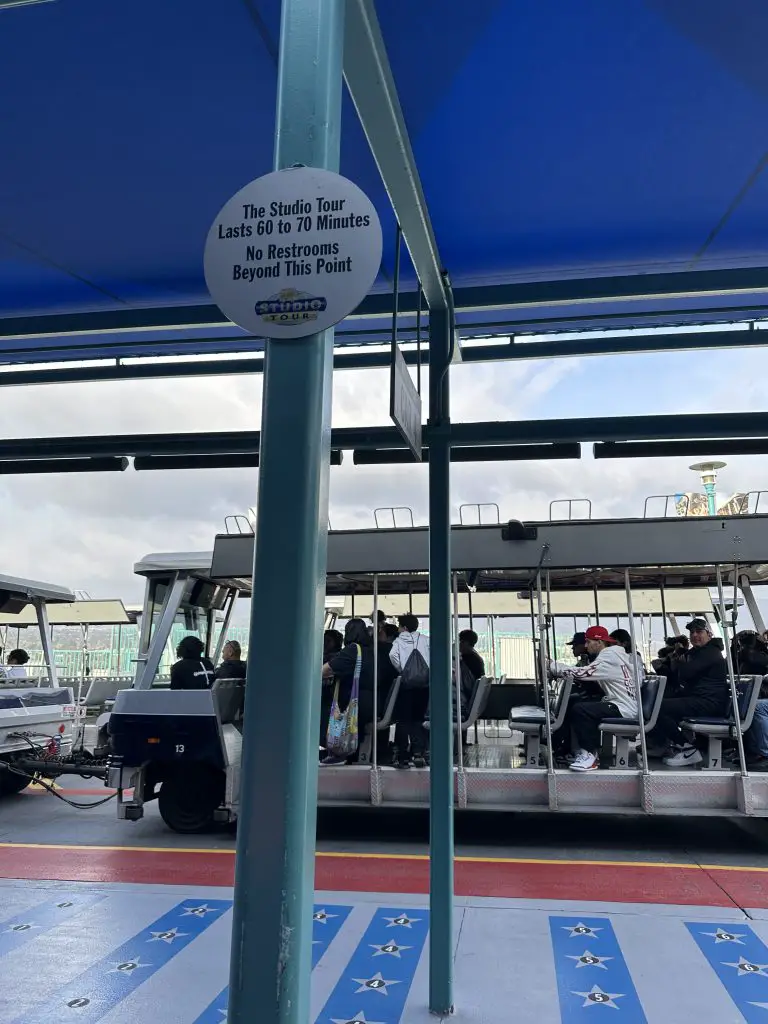 Take a ride on the World Famous Studio Tour
Height Requirement
None
Lot Location
Upper Lot
Ride Details
While this is considered a ride, we like to categorize the World Famous Studio Tour as more of a hybrid show and ride.
The World Famous Studio Tour is considered the main attraction of the amusement park and exclusive to the Hollywood location. I will say this is one of the best things to do at Universal Studios Hollywood if this is your first time or you really care about TV and movie sets, or if it is a must-do to see Bruce the Jaws Shark (slowly raises hand)
Not a lot has changed over the years to ride it every time you are there with that out of the way.
If this is your first time, Universal Studios Hollywood's world-famous Studio Tour is a must-see experience.
This iconic tour offers a behind-the-scenes look at the magic of movie-making. You'll journey through the heart of a real working film studio, where you can witness blockbuster movie sets, encounter famous film characters, and even experience thrilling attractions like the Fast & Furious Supercharged ride. More on that in a second.
The tour provides a unique blend of entertainment and education provided by Jimmy Fallon with help from the Bus Tour Guide, making it an ideal destination for both fun-loving families and avid movie enthusiasts. While it's a fantastic experience, keep in mind that wait times can be lengthy during peak seasons, but the immersive experience is well worth it.
So, if you are planning your trip, we would highly suggest this as a must for your first time. If you have little kids, please note this is a 45 minute tour and there are no bathrooms or stops along the way.

There are restrooms and stroller parking at the bottom of the Studio Lot. You will take a few escalators down to get to the rides line queue, and we highly suggest leaving your stroller at the top and not taking it to the bottom with you.
Our favorite spot to sit is tram 3, and in the furthestmost right seat, the far left side is also great. You will experience two different up-close experiences depending on the side you pick.
Things you will see and experience
Flash Flood
The Downhill Flood has been in movies like Big Fat Liar and Fletch Lives
King Kong
An epic battle scene between Kong and a V-Rex. This section does require the 3D goggles and the tram car does shift and move.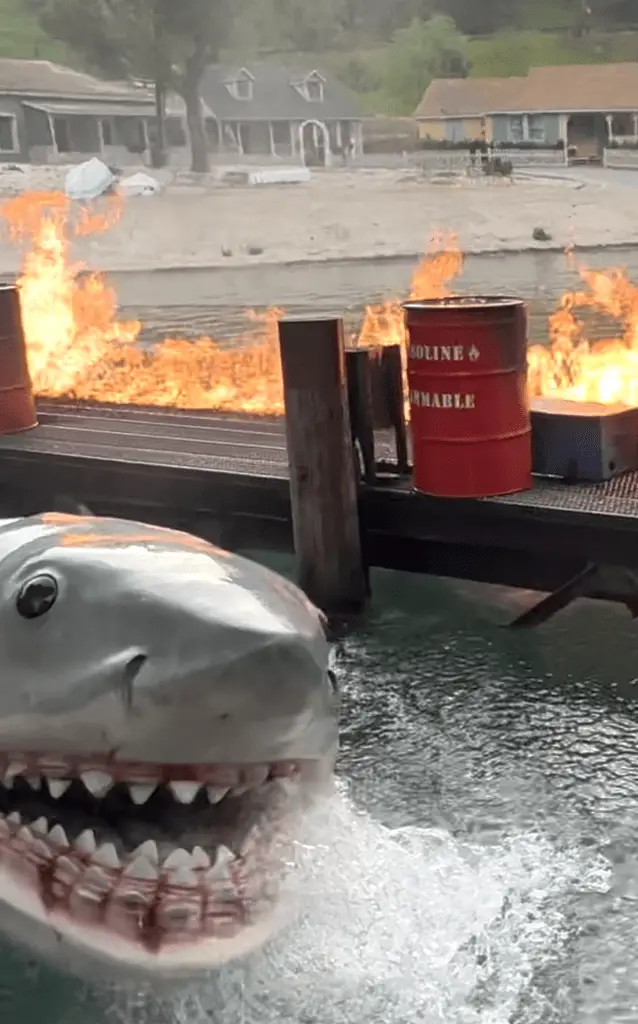 Jaws
You have to sit on the right side of the tram in order to see him with no view obstruction.
Fast and the Furious Full Throttle
We are really curious about what Universal will do now that there is a new roller coaster announced with Fast and The Furious for the Upper Lot. There is a portion of the studio tour that features a car chase with the Fast and Furious Family. I wouldn't think they would keep both since so many people complain about how underwhelming this section is. We will keep an eye out for future Roller Coaster announcements.
Film Studio and TV Shows
Desperate Housewives
War of the Worlds
Psycho
Back to the Future
Watch Water Word
Universal Studios Hollywood's WaterWorld show is an adrenaline-pumping, action-packed spectacle that's been entertaining visitors for years. Based on the popular 1995 film "Waterworld," this live stunt show takes place in a massive aquatic arena.
You'll be on the edge of your seat as daredevil performers engage in breathtaking stunts, including high-speed jet ski chases, explosions, and daring dives.
It's an exhilarating experience that's perfect for thrill-seekers. However, it's worth noting that the show's schedule can vary, so be sure to check the times in advance to catch this wet and wild adventure during your visit to Universal Studios Hollywood.
This incredible special effects show is great for everyone in your family. Please know that this is a water show, and the potential to get wet is high, especially in the Splash Zone.
In the Splash zone, you WILL get wet. I cannot tell you how many times people ask that question, and while you think it is self-explanatory, people still seem not to believe it. If you are going to a later show, make sure you are prepared because you will look like you just walked out of the shower with your clothing on, and Southern California can get a little chilly in the winter months at night.
There are amazing stunts, flying planes that crash into the water, and lots of barrels blowing up. Definitely one of the best things to do at universal studios Hollywood.
Eat Delicious Themed Food
Dining options at theme parks have significantly improved over the years. We've enjoyed food at some of the best within the park, and we are excited to share the best places and what you should eat.
Similar to their queues and ride themes, food at Universal is also themed.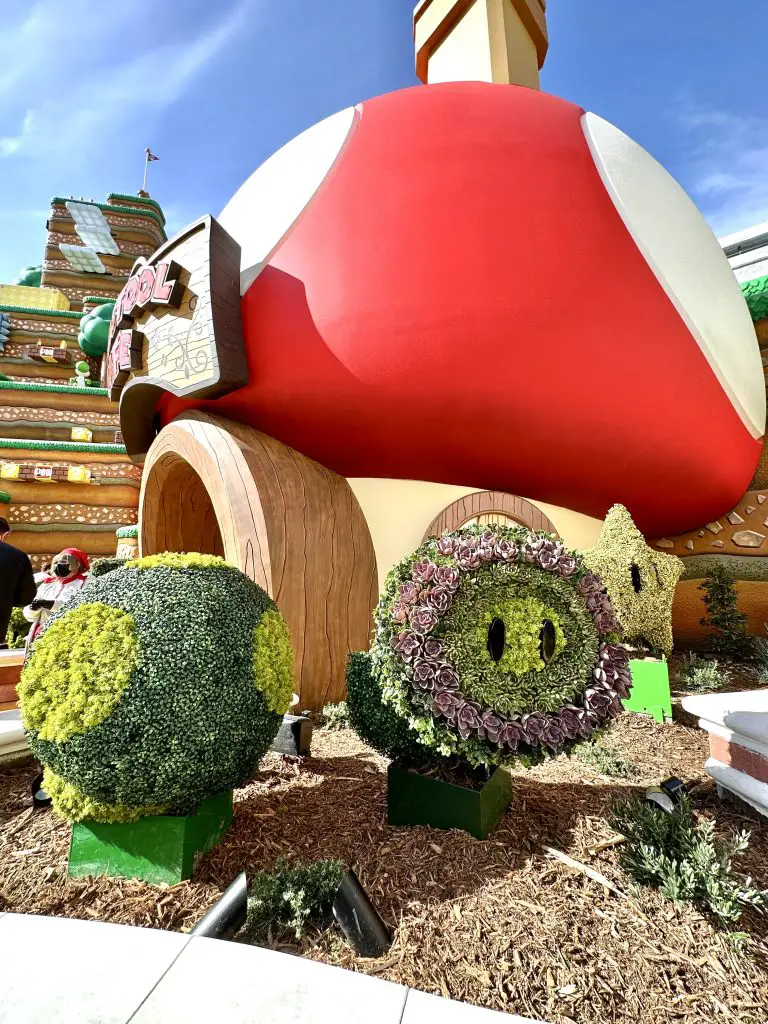 Toadstool Cafe
This is one of the best things to do at Universal Studios Hollywood when it comes to dining options. I have to admit this restaurant has the best theme and really goes all out with its food presentation.
Make your way down to the lower lot first thing, and make sure to scan the QR code to book a reservation for the day. These fill up quickly, and the day does book up.
The inside is absolutely adorable. As you enter the mushroom entrance, you can do a quick scan with your power-up band at the mini gift. You have a choice of a big gift or small gift and will receive coins or a single coin depending on the random roll.
The counter you order at has toads working behind the team members and it looks like you are sending your order off to the toad kitchen.
Once you get your number, you will make your way to your seat. Make sure to leave your number at the edge of your table so that the runners can bring your food and easily take your number.
The dining room theme is on point and has a small show that takes over the entire room. The TVs and lights around the dining room dim, and it looks like the toads are in trouble.
I won't spoil too much more; you will have to head there to see all the details and try out their tasty food.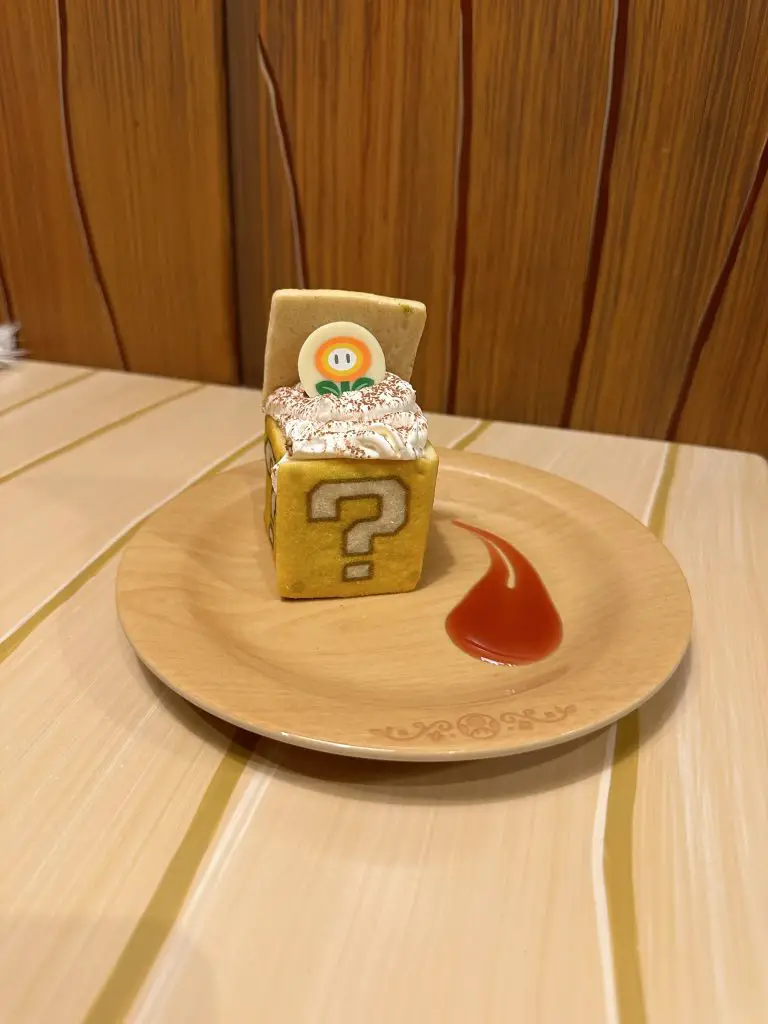 What to Order
We will sum it up to just about everything on the menu, but our favorite was
Piranha Plant Caprese
Mario Mini Burger Adventure Set
Luigi Burger – Grilled Chicken with Pesto

For Dessert
Block Tiramisu
Princess Peach Cupcake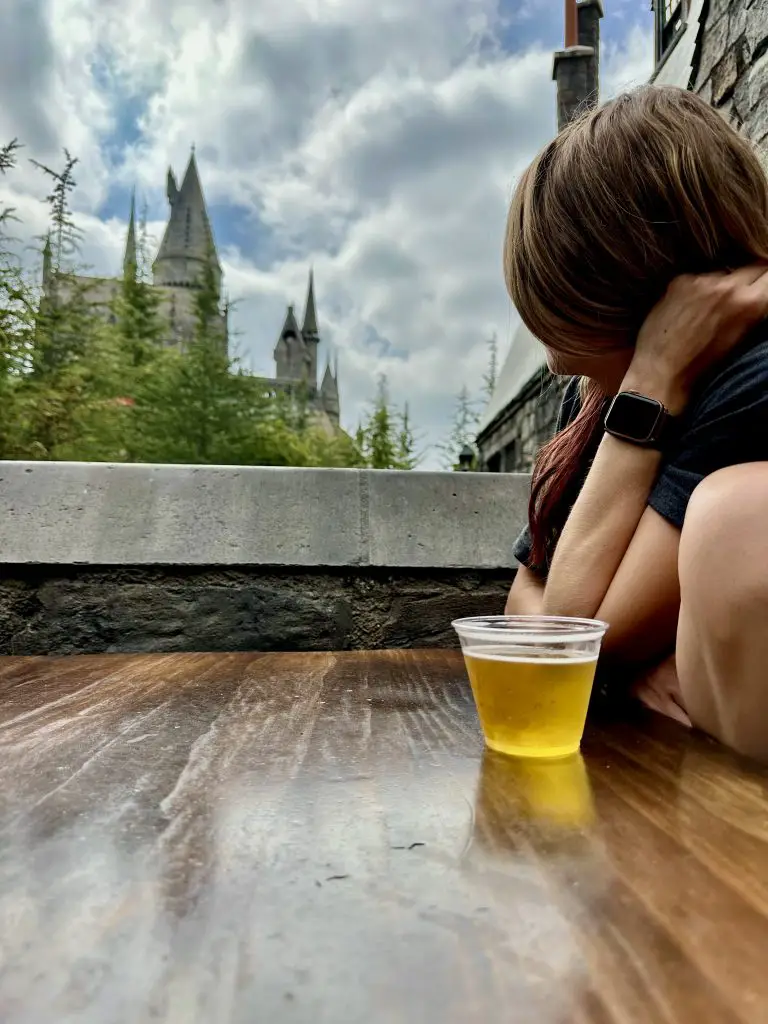 Three Broomsticks
This cozy, rustic restaurant, located in Hogsmeade, offers a delectable menu of British and wizarding world-inspired dishes, making it a must-visit for Potterheads and food enthusiasts alike.
From traditional fare like Fish and Chips to the mouthwatering Butterbeer, you can savor a taste of the wizarding world while taking in the enchanting ambiance.
The attention to detail, from the wooden beams to the magical decor, immerses you in the Harry Potter universe. While it can get crowded, especially during peak times, there is seating outside as well, and it has a perfect view of the castle.
I'm not a meat person, and a roasted chicken dinner plate is just not something I want to order out in the real world.
But all the other bloggers and tubers of this world have all said these two things are the most delicious and completely worth it.
While you can stand in line and get a Butterbeer outside at one of the Butterbeer carts, you can get mead, butter beer, and other specialty drinks inside when you get your meal.
Mobile order is available at this location.
What to Order
Turkey Leg
Fish and Chips
Butterbeer
Shepherd's Pie
The Great Feast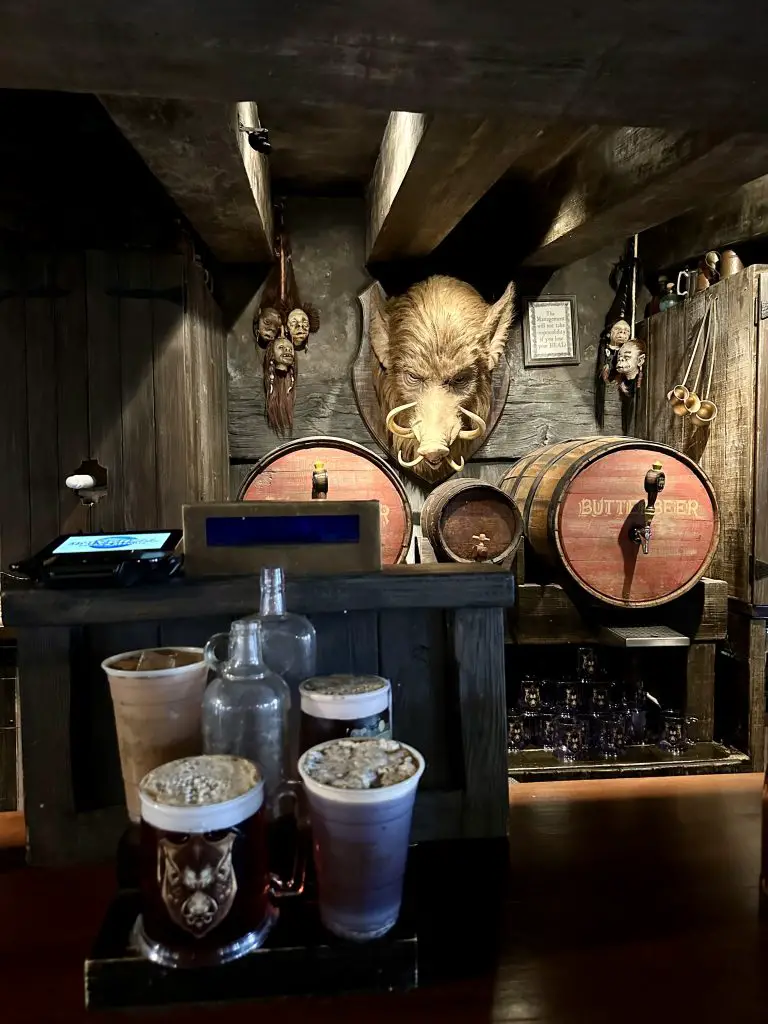 Hogs Head
Hogs Head is attached to Three Broomsticks If the butterbeer cart is busy, head inside the Hogs Head Bar and pick up a butterbeer, Mead, and other brews.
They typically have seasonal drinks and additional options to pick up, and it is almost never busy inside.
I always try out whatever mead they have for that season.
My typical order from Three Broomsticks is actually the Honey Mead or Holiday/Theme Mead if they have one and a cold butter beer.
Frozen is wonderful, especially on a hot day, and hot is perfect for those cooler nights.
The Butter Beer is not alcoholic
Mead is alcoholic
You cannot order food at the bar, but you can make a mobile order or head into the main dining area to eat or find a spot by the castle.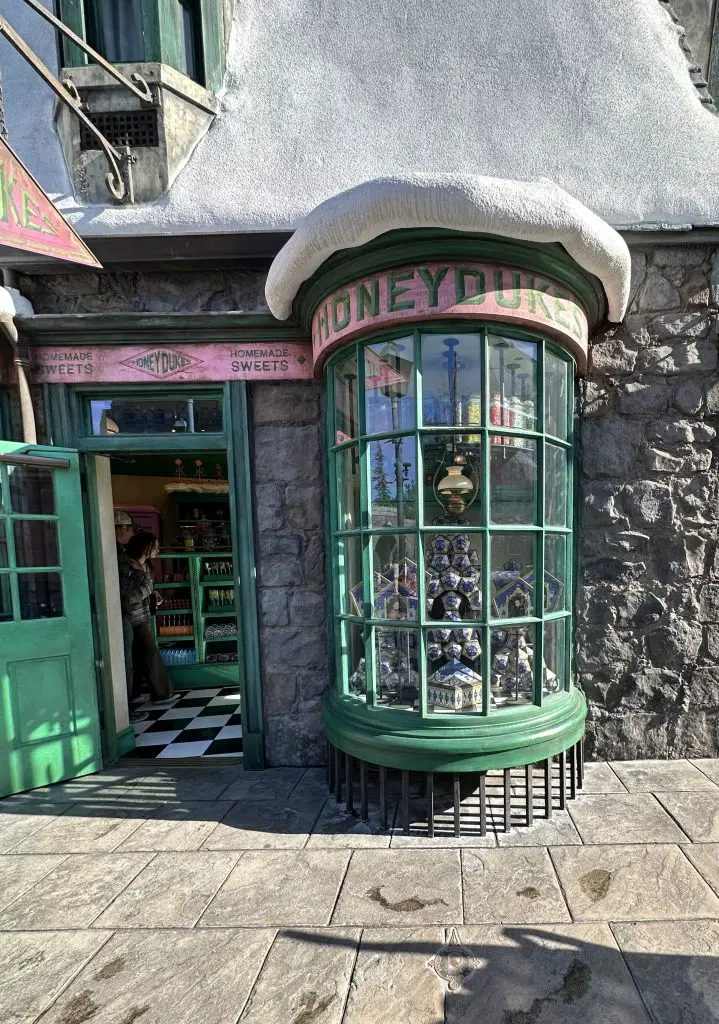 Honeydukes
For all your sweet treats and candies. This is the perfect spot to pick up any of your specialized Harry Potter treats.
This is the spot to pick up one of the famous chocolate frogs.
Butterbeer Cart
Pick up one of the delicious Butterbeer varieties at the Butterbeer cart, and don't forget to take a quick picture next to the barrel.
What to Order
Hot Butterbeer
Butterbeer
Frozen Butterbeer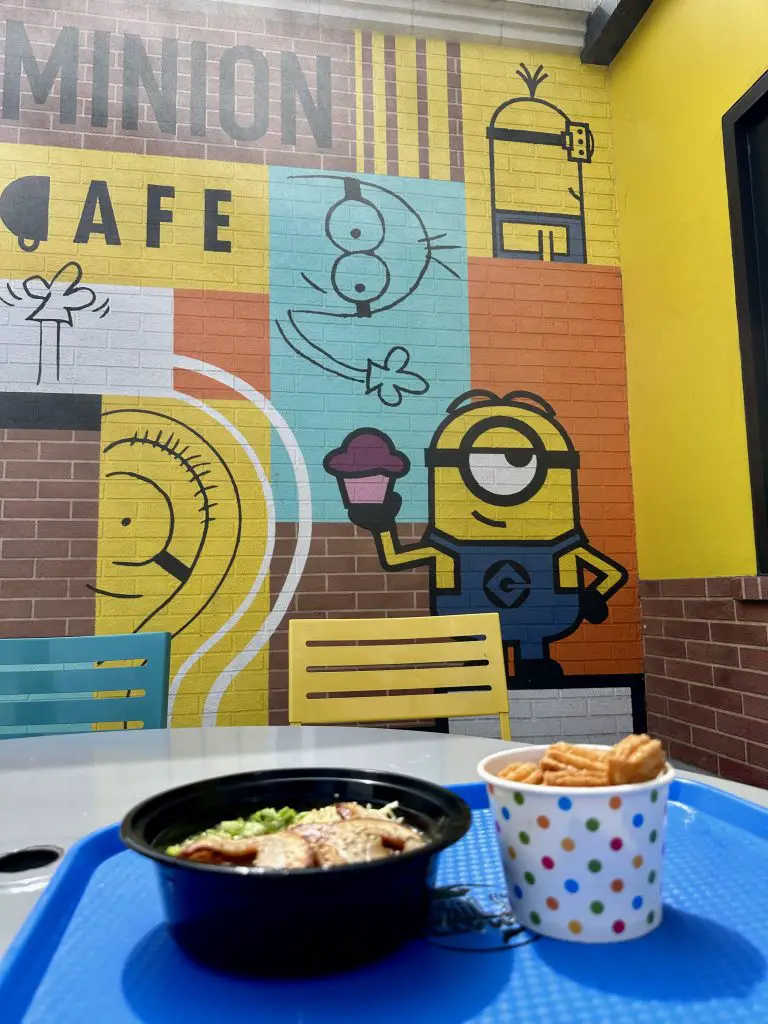 Minion Cafe
The Minion Café at Universal Studios Hollywood is a whimsical dining experience that caters to fans of the mischievous Minions from the "Despicable Me" franchise. The cafe captures the playful spirit of these beloved characters, both in its decor and menu
The last time I was there, I got the pork ramen, and it was very yummy with a rich, creamy broth. I was pleasantly surprised by the ramen.
I also ordered the bite-size churros. They were good but a little hard for churros.
Mobile order is available.
What to Order
Pork Ramen Bowl
Pulled Pork Grilled Cheese with Banana BBQ Sauce
Bite Size Churros
Unicorn Cupcake
Cotton Candy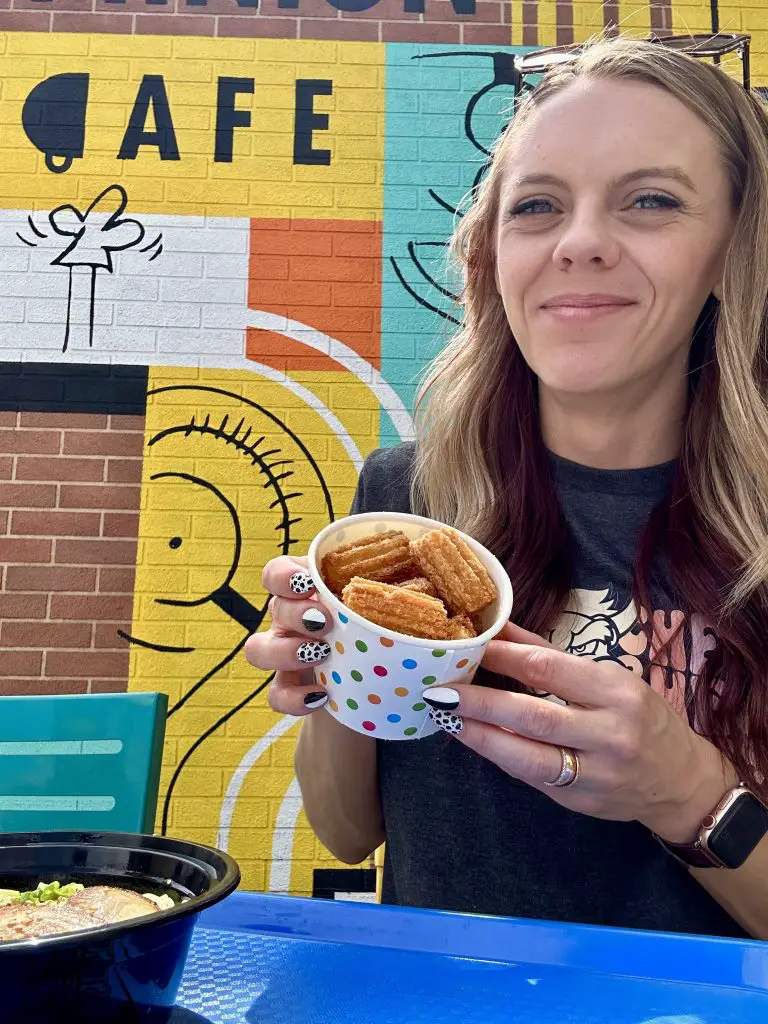 Minion Treat Cart
Small treat cart outside Minion Cafe that has yummy treats and beverages.
What to Order
Churros
Popsicles
Deli Market
The Deli Market at Universal Studios Hollywood is a convenient spot for a quick, satisfying meal.
Here, you can find a variety of deli sandwiches and salads, perfect for refueling during your theme park adventure.
While it may not be the most elaborate dining experience in the park, it offers a decent selection of fresh, made-to-order options that are ideal for a pit stop between rides and attractions.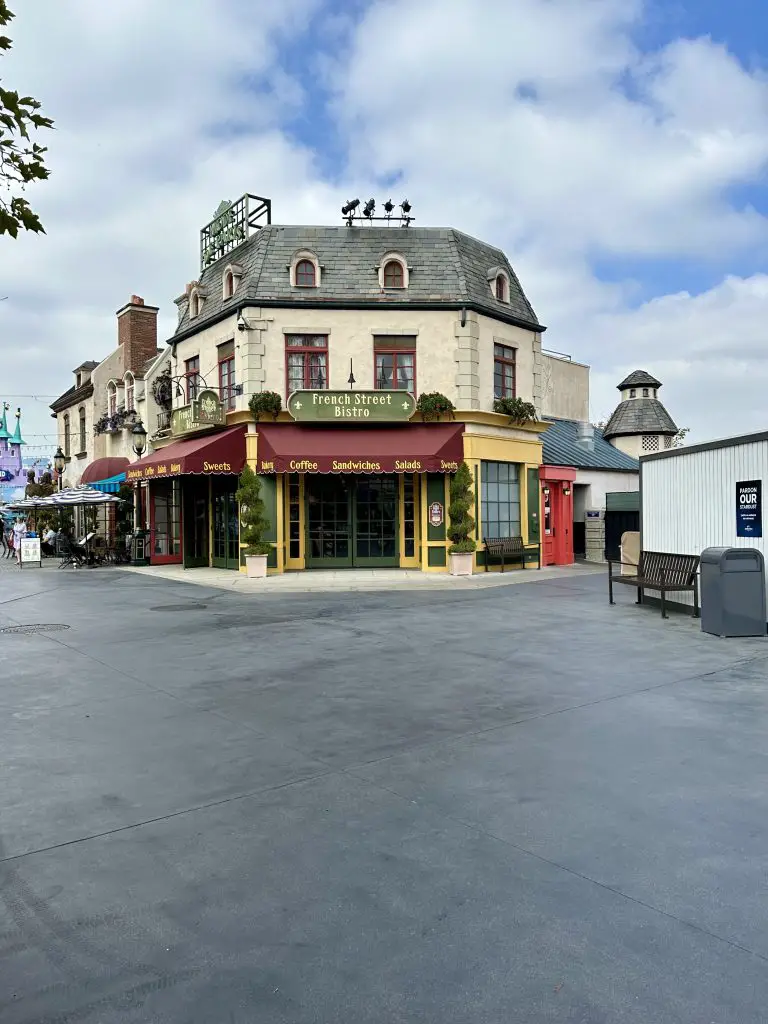 Tour de France
Tour de France, a charming restaurant in the French Street area of Universal Studios Hollywood, brings a taste of France to your visit.
With its lovely outdoor seating and European-inspired ambiance, it's a great place to enjoy French classics like crepes, croissants, and quiches.
The menu also includes refreshing beverages, making it a delightful destination to relax and savor a bit of French cuisine while exploring the park.
Mels Diner
Mels Diner is a nostalgic diner that harks back to the 1950s with its classic American comfort food.
Located in the Upper Lot of Universal Studios Hollywood, it offers a retro atmosphere complete with jukeboxes and checkered floors.
You can feast on burgers, milkshakes, and classic diner dishes in a setting that feels like a scene out of an old movie. It's a fun place for families and anyone looking to step back in time while enjoying a tasty meal.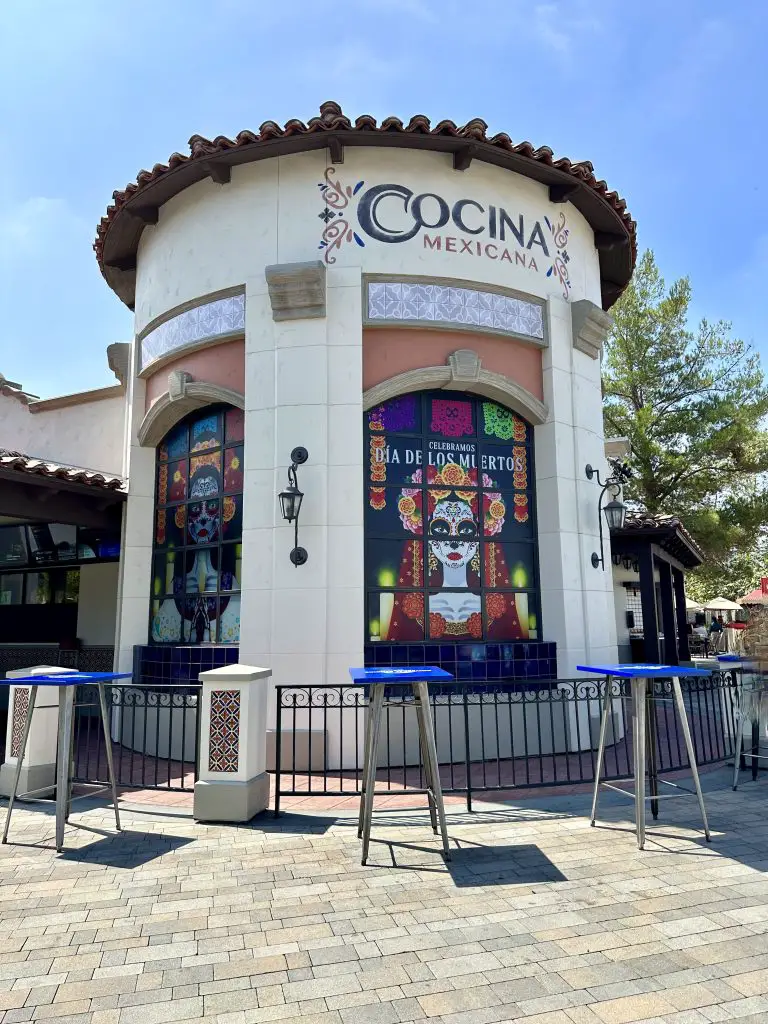 Cocina Mexicana
Cocina Mexicana in Universal Studios Hollywood provides a flavorful escape to the world of Mexican cuisine.
Situated in the Lower Lot, this eatery offers a diverse menu of Mexican dishes, including tacos, burritos, and nachos.
It's a great choice if you're craving some south-of-the-border flavors during your visit. The vibrant decor and the option to customize your dishes make it a popular spot for those who appreciate the delicious and spicy tastes of Mexico.
Krusty Burger
My personal opinion: It used to be great, but that was before Three Broomsticks, Minion Cafe, and Toadstool Cafe came around. Now I wouldn't step foot in there unless all the other spots were closed.
Krusty Burger at Universal Studios Hollywood is a delightful tribute to the iconic fast-food joint from "The Simpsons." Nestled in Springfield, this quick-service restaurant serves up classic American fare with a humorous twist.
You can savor Krusty Burgers, the Clogger Burger, and the famous Sideshow Bob Footlong, all while enjoying the quirky atmosphere of Krustyland.
Don't forget to wash it down with a refreshing Buzz Cola or a Duff Beer. It's a fun and tasty stop for fans of the show and those seeking a lighthearted dining experience in the midst of the park's Simpsons-themed area.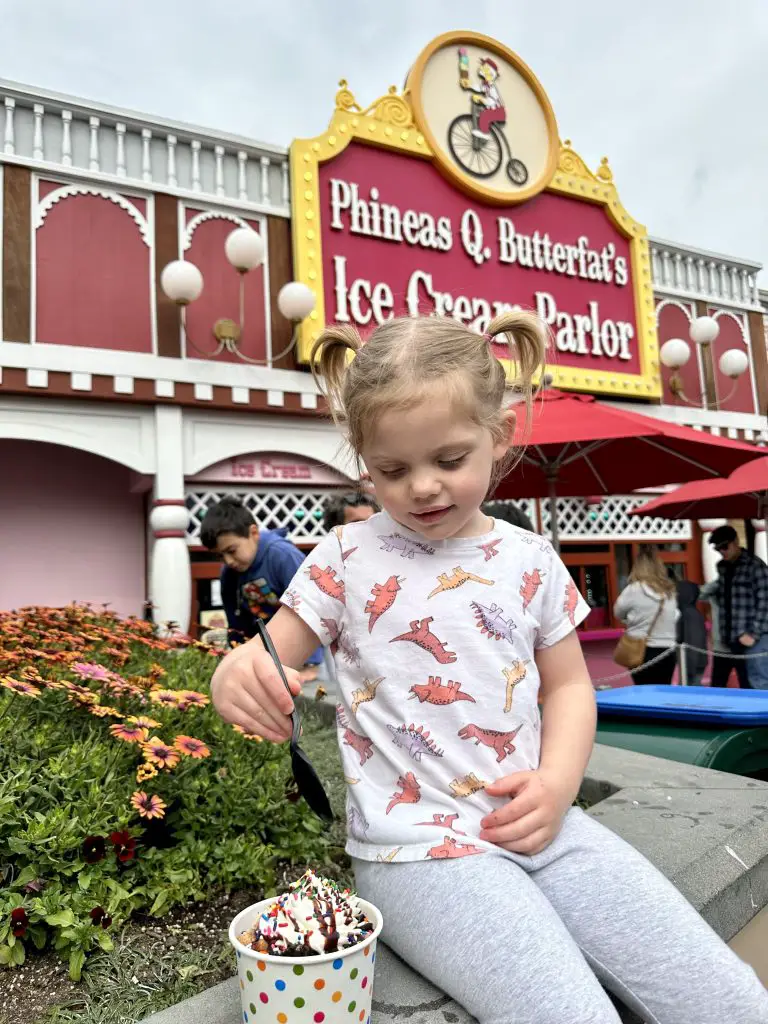 Visit During one of the Special Nighttime Events
For the most thrilling and immersive experiences and the best things to do at universal studios hollywood, consider heading to one of the many seasonal events.
Events and Seasonal Activities
Halloween Horror Nights
Grinchmas
Holidays at Universal Studios Hollywood
Christmas in The Wizarding World of Harry Potter
EVE at Universal Studios Hollywood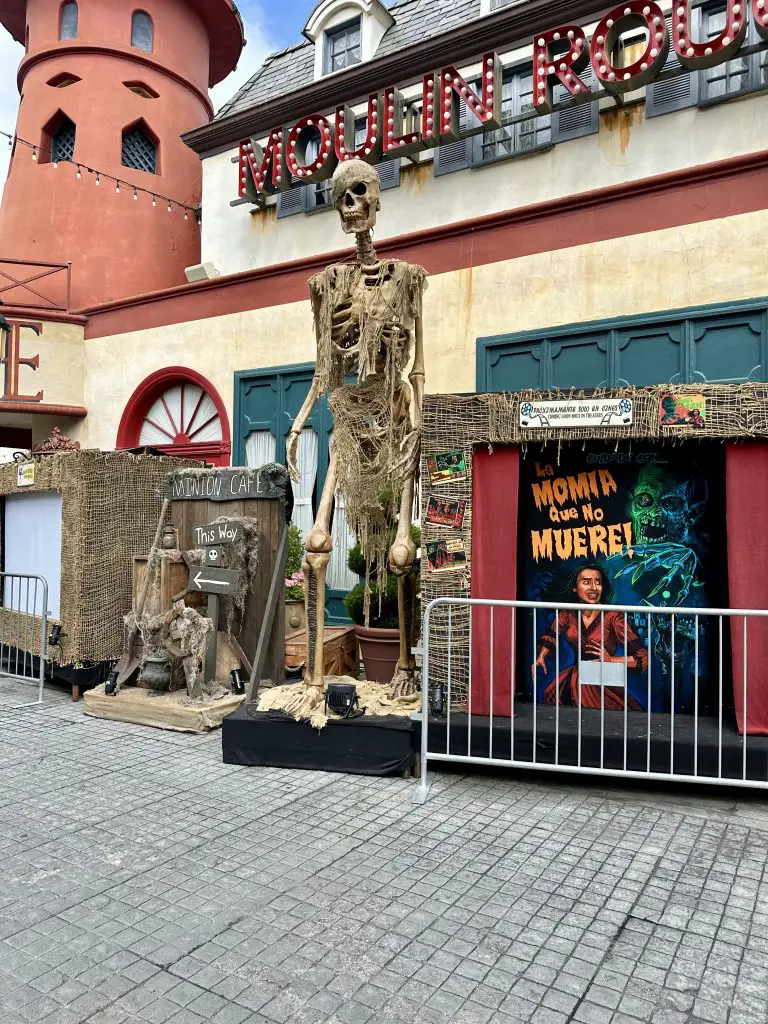 Halloween Horror Nights
Universal Studios Hollywood's Halloween Horror Nights is a spine-chilling event that transforms the park into a realm of terror and thrills.
For those who love the adrenaline rush of fear, this is a must-attend experience. The event features a lineup of haunted mazes, scare zones, and live shows that bring iconic horror movies to life.
From encounters with terrifying creatures to navigating dark, eerie corridors, it's a night filled with unforgettable scares.
However, if you're not a fan of horror or easily frightened, this event might not be your cup of tea. Lines can be long, and the intensity of the scares can be overwhelming for some. Nevertheless, for those seeking a heart-pounding, Halloween-themed adventure, it's an unforgettable experience that's sure to leave a lasting impression.
Also known as the Fog, this spooky-themed event is for the most thrilling and fully immersive Halloween events. There are multiple houses with original movie, show, and game themes as well as
Houses in the Past
Walking Dead
Stranger Things
Chucky
Last of Us
Delicious horror food
A lot of the food is creepy and delicious
Fun spooky-themed drinks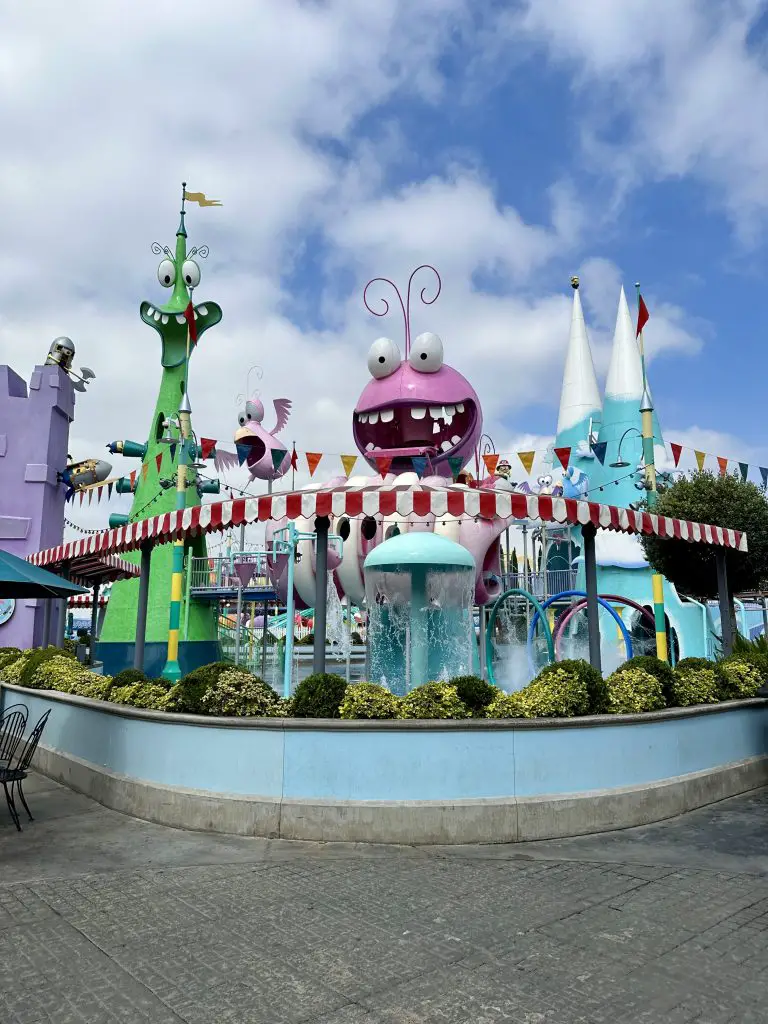 Explore Super Silly Fun Land for Little Kids
Right out of the Despicable Me Movie. Super Silly Fun Land is perfect for the smallest of kids in your group. If you are bringing small children, this isn't the best place for all-day fun for them. This park has various attractions and rides for everyone in your group.
Young kids can enjoy Secret Life of Pets the ride, meeting characters, and, most importantly, rides and fun games at Super Silly Fun Land.
Other Universal Studios Hollywood Rides and Attractions
Kung Fu Panda
Minion Mayhem

Long lines and so much motion sickness it was completely not worth it.

Secret Life of Pets
Simpsons Ride
Transformers the Ride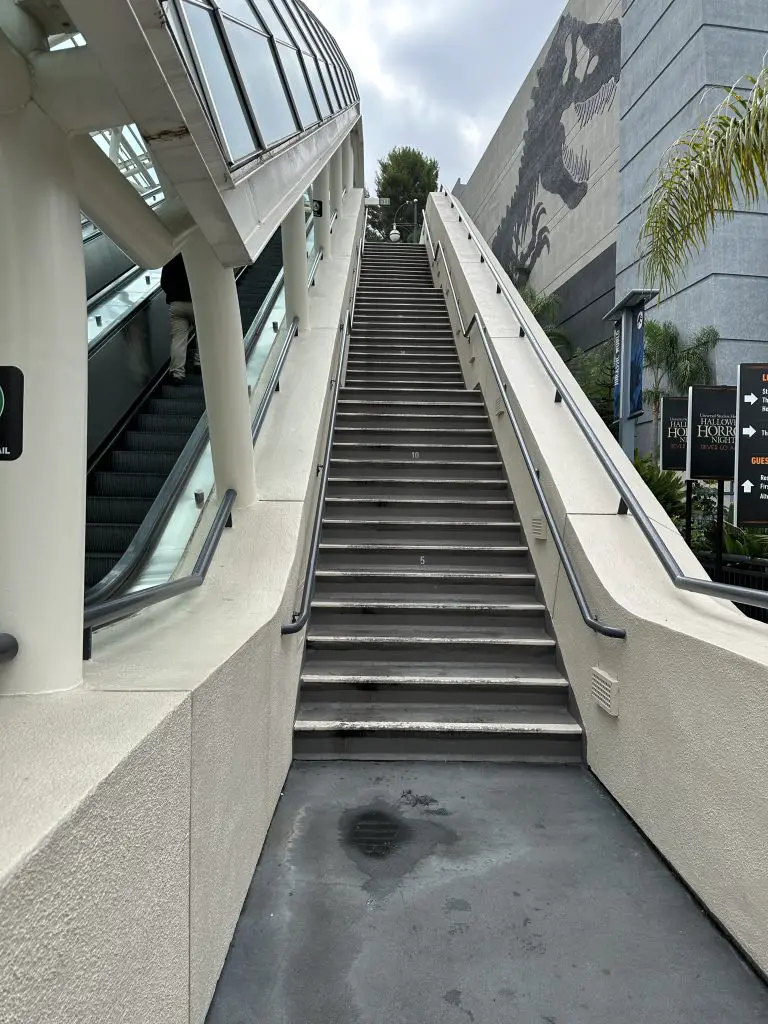 Upper Lot, Lower Lot Shuffle
The escalators from the lower lot to the upper lot are looong! Like 10 minutes long on a slow day, and on a busy day, it could take double the amount of time.
I would normally say start in the lower lot and don't come back once you are done, BUT the best rides are in the lower lot, and with wait times increasing for Mario Kart, you will be spending a lot of time in the lower lot.
The Mummy, Jurassic World, and Super Nintendo World are the best things to do at Universal Studios Hollywood lower lot.
Wizarding World of Harry Potter is the main Upper lot attraction.
Here are a few tips and tricks to keep in mind for your next Universal Studios Hollywood Trip.
Times to Avoid
It's always a good idea to avoid peak times like spring break if possible. Summer months can also be busy, but the best times to go are in February and September because they draw smaller crowds.
Southern California can get pretty warm during the summer, and we highly suggest skipping the months of July and August.
Universal Express Passes
An ABSOLUTE MUST for us! We love bypassing lines, but here's a little explanation about the Universal Express Passes.
The Universal Express Passes at Universal Studios Hollywood are a valuable addition to your theme park visit.
These passes grant you priority access to some of the most popular rides and attractions, reducing your wait time significantly.
Whether you opt for the Universal Express, Universal Express Unlimited, or the VIP Experience, these passes allow you to make the most of your day by skipping regular lines.
While they come at an additional cost, the convenience and time saved are well worth it, especially during peak seasons.
It's important to plan ahead and consider your priorities when choosing which pass to purchase. The Universal Express Passes are an excellent way to maximize your enjoyment and make your visit more efficient, letting you experience all the park has to offer with minimal waiting.

Vip Experience
If you ever have the opportunity to experience exclusive access to the VIP Experience, you will have a chance to see the park in a completely different way.
The VIP Experience at Universal Studios Hollywood is the epitome of an exclusive and unforgettable visit to the park.
It offers a premium level of access and personalization, ensuring a top-tier experience. With VIP status, you'll enjoy perks such as a guided tour of the working movie sets, front-of-the-line access to all rides and attractions, and exclusive behind-the-scenes insights into the film and TV production process.
Additionally, the VIP Experience includes a gourmet meal at exclusive dining locations, providing a culinary treat that matches the grandeur of the day.
While it comes at a premium price, the VIP Experience is a fantastic way to make your visit truly exceptional, especially for dedicated film enthusiasts and those seeking the utmost luxury and convenience during their Universal Studios adventure.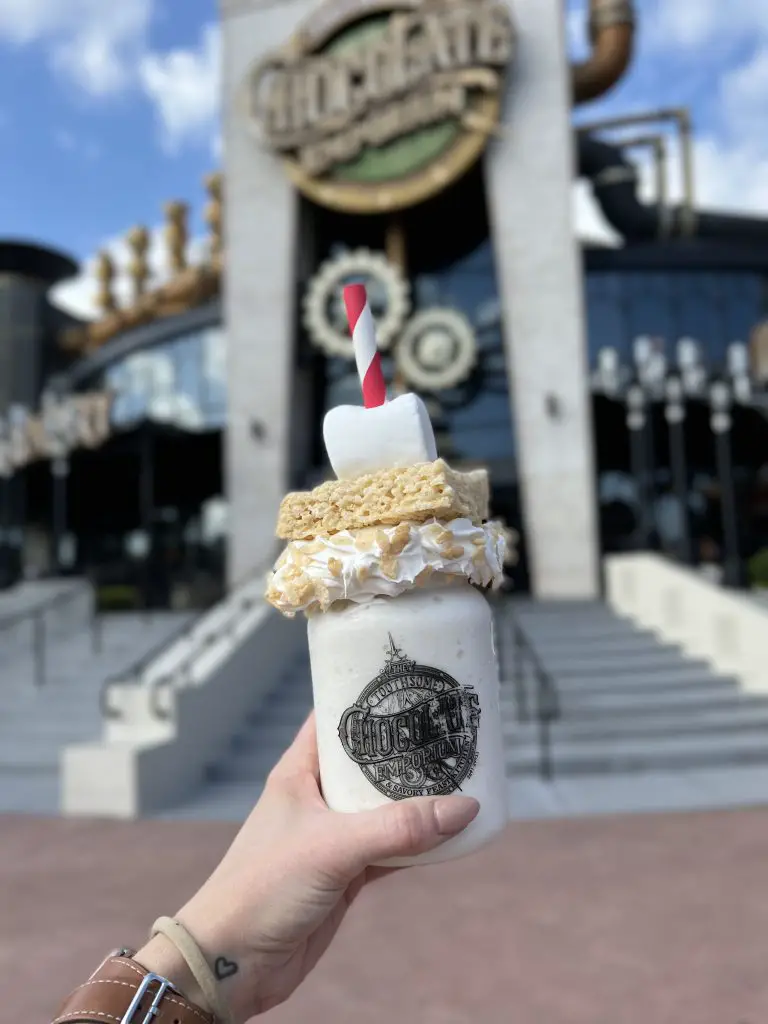 Universal City Plaza
CityWalk at Universal Studios Hollywood is a vibrant entertainment, dining, and shopping district that extends the fun beyond the theme park gates.
This lively promenade is a hub of activity, featuring an array of restaurants, bars, and shops.
You can find a diverse range of cuisine, from sushi to burgers, and enjoy live entertainment at venues like the Universal Cinema.
It's the perfect place to unwind after a day of theme park adventures or even visit independently for a taste of the Hollywood nightlife.
We highly suggest going in the middle of the day or blocking time out for City Walk specifically. The hours are not great and overlap with the theme park's hours and don't allow for a good balance to experience both on the same day.
A Few Things That Are at the Universal City Walk
Park Entrance
Movie Theater – Universal Cinema
5 Towers Stage
The Toothsome Chocolate Emporium & Savory Feast Kitchen
Super Nintendo World Store
Abercrombie & Fitch
Lids
Billabong
Universal Studios Store
Hot Topic
The Los Angeles Sock Market
Universal Citywalk parking
Parking Lots
Address to Universal Studios Hollywood
100 Universal City Plaza, Universal City, CA
Los Angeles, California
Other Helpful Guides
Mario Kart Ride Universal Super Nintendo World Hollywood
Super Nintendo World Hollywood | Secret Keys, Tips & Tricks FULL Guide
Secrets to Avoid Universal Studios Hollywood Wait Times