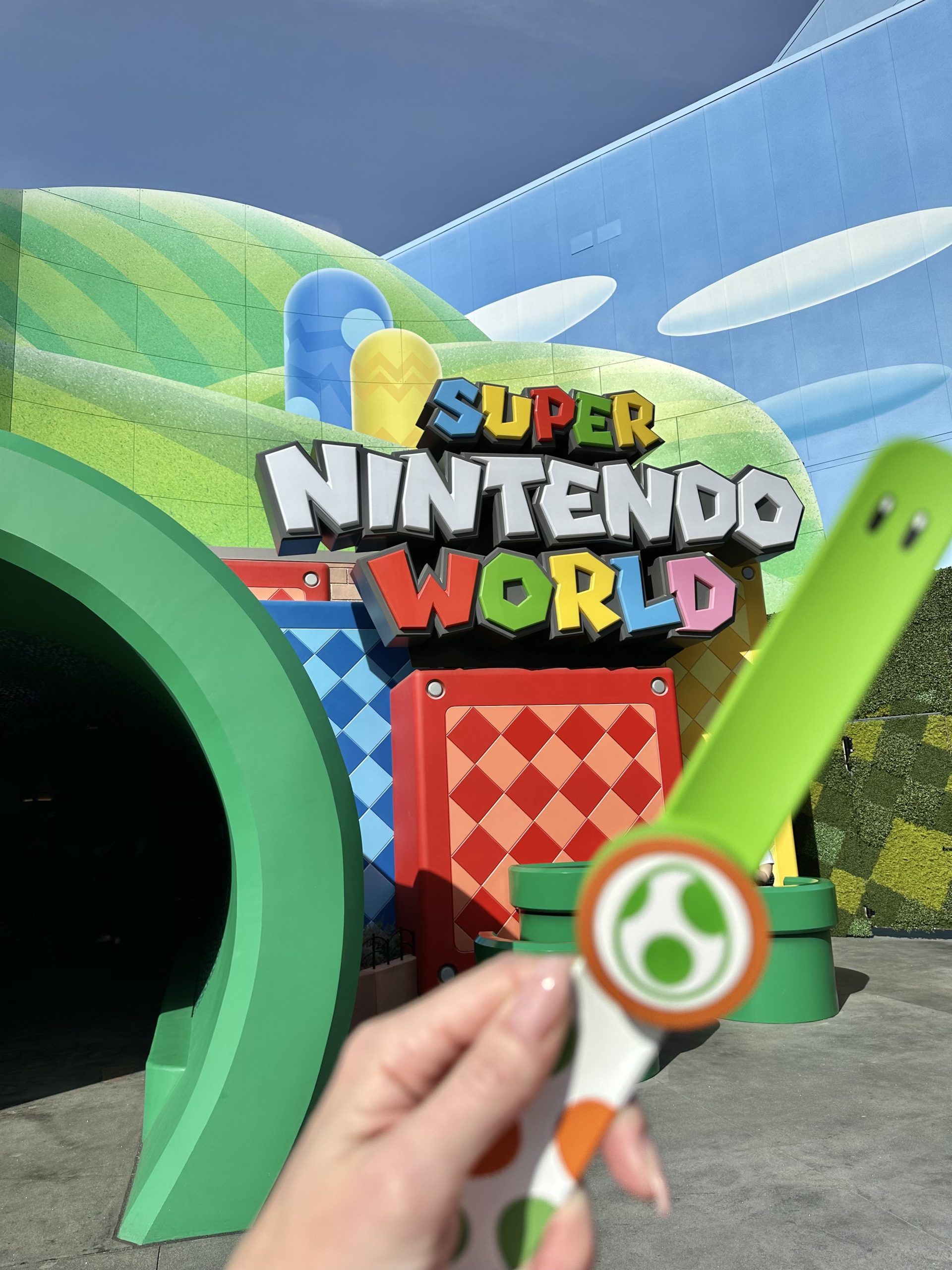 Super Nintendo World Hollywood First Look
So packed but SOOO cool! We went on opening weekend to the new Super Nintendo World Hollywood, so we already knew going to the park would be busier than usual.
This trip was so last minute that we were still determining if we would have time or even get access to this new area.
Theme Parks are really using and leaning into this virtual line system. For Universal, in addition to your park ticket, you had to purchase a $20 early access pass, or you could select a virtual line time once the park opened. Disney uses this same concept as well with their rides.
Along with hundreds of others at the park entrance. 🍀
We happened to be there extra early because I had a little work to do in Citywalk, the cool restaurant and shops area outside universal studios park. They are opening a new restaurant soon, and they have the COOLEST milkshakes and macarons. We had them while we were in Orlando last year. I would make a special stop for a movie and a milkshake anytime I'm in Southern California.
But I digress.
When we finally made our way to the gates, it was around 8:15 or so. By 8:30, I opened the app and noticed the virtual line open up for Super Nintendo World.
I looked at Mitchell and said let's a go.
😂
And as I'm writing this, all I hear is Mario's voice.
How to get access to Super Nintendo World Hollywood
If you want to gain access to Super Nintendo World, you will want to show up early to the park. You cannot access the app unless you are within the park. Meaning you cannot select the virtual line pass for the park unless you have a valid park ticket and you are at the park for the day.
You can add an additional pass to gain access to Super Nintendo World, and as of this update, it is $20 and gives you access to the park an hour early.
Through the Warp Pipe at Super Nintendo World
Sorry, one important note before you go through the pipe. If you want to get a photo of the Super Nintendo World sign with the green warp pipes, you will need to wait in the additional line to the right before you enter the large warp pipe to enter the world.
This is your only chance, as going back through the warp pipe and out this way again might not be allowed. The Super Nintendo World sign is after the virtual line pass check station, and you won't be able to access this area if you decide to leave.
beup beup beup. This entrance is like no other entrance, and you run through a warp pipe that puts you right into peaches castle, then out into the world.
You transport entirely into the area, and it's such a fantastic experience and is a complete immersion into the world. I want to take a moment to explain the immersive land and the interactive areas.
This area takes you to an entirely new level. Much like going to the Wizarding World of Harry Potter, you enter the land and can feel like you are in Harry Potter. It literally feels like you are a character in Super Mario, and you've just entered the game for the day. Everywhere you look in this land is Super Nintendo World—mountains of green, frozen land, and Bowsers Castle.
If you head towards the frozen land, you will actually find a hidden set of stairs that takes you up to the top, and you can look out over the land from above.
The attention to detail in this area is unlike any other theme park.
They have multiple characters from the game around you, from the turtle shells and sand pokey to the fire flower and the Piranha Plant.
Mini-Games and Keys
Before we talk about the mini-games inside super Nintendo world Hollywood, please know you MUST have a power-up band to partake in any of the mini-games, gain access to Bowser Jr. Castle and the coin boxes around the land.
Throughout the area, you will notice little mini-style games that you can use with your power-up bands.
These mini-games are life-sized versions of games that would see and play in Mario. Your goal is to collect gold keys to access Bowser Jr. castle.
Each mini-game will have a designated area to stand in line and wait to play the gold key game.
Paranah plant game: You run through and turn off all the alarm clocks to win the first gold key
Goomba: Goomba Crazy Crank If you spin the wheel fast enough, the goomba will fall off, and you will gain your second gold key.
Swamp Area: Once you scan your power-up band and a grid with blocks will pop up, and you have to make all the blocks either yellow or blue in order to gain your third key.
Koopa Troopa: Hit the shell at the right time as it passes through the pipe to hit Koopa and win the key.
You are limited on time in your mini-games, and you must get all three of them to gain access to Bowser Jr Castle.
Now that you have unlocked the three keys, you scan your power-up band on the lock outside of Bowser Jr. Castle and make your way inside for the Bowser jr. shadow showdown.
Inside the castle, you will watch a short preshow and partake in a mini-game to defeat bowser jr. You must swat and duck around the bombs to win the golden mushroom.
Don't forget to keep an eye out for the Interactive queue and spots to use your power-up band before you enter the room to play against bowser jr.
Mario Kart: Bowsers Challenge the Ride
The first thing you will want to do in this area is make your way to Bowser's Castle to ride the Mario Kart attraction. This ride's wait time is very high since it is one of the newest attractions. Since so many people have access to the area an hour ahead of the park opening, the ride line is typically an hour before the park even opens.
Mario Kart: Bowser's Challenge is the main attraction and is very family-friendly with a 40 inches tall minimum, and to ride alone, you must be 48 inches tall.
The queue is very interactive and has lots of hidden gems all around. This area has so much attention to detail and special notes from Mario Kart, like the golden cup and trophies you win at the end of the race. You are able to have your cell phone through the queue but cannot film on the ride.
When you were little, I'm sure you wished you could just be in the video games… and this is it!
Universal Studios is very strict in Orlando about filming, and this is really the only area where filming on the ride is prohibited in Hollywood. Please be respectful and follow the rules.
This augmented reality Mario kart ride is a VR-style ride. Before you get on the ride, you are given a headband-style Mario hat that you tighten to fit your head. Once you get on the ride, you will clip your augmented-reality glass to your headband.
A special note about these headbands: if you wear glasses, you will love these. It does not hinder your ability to wear glasses and partake in the ride. I struggle with distance sight, and the 3D glasses, etc., are very hard to wear with glasses and make it really hard to do the game to its fullest. That is not the case for this ride. You are able to wear your glasses and enjoy the ride with no issues.
If you have a child or someone who does not enjoy the augmented reality glasses, you can take them off. The area inside the ride has lots to look at and details all around. You just cannot partake in the coin portion of the ride or see what is happening during the race without it on.
Your main goal is to get as many digital coins as you can to beat Bowser. You work as a team and your team scores are totaled and either team Mario or team Bowser will win. Just like in Mario kart you will drive with your steering wheel and throw shells at other players, I think we can all say we have had years of practice for this day.
Toadstool Cafe
We had a chance to grab lunch at Toadstool cafe, and it is the cutest themed restaurant we've ever been to.
Before you make your way inside to order, take advantage of the chance to gain more coins by selecting between the big present and the little present. I know we keep talking about the attention to detail, but there is no other way to explain the small details and things that Universal has put around the park for people to enjoy and interact with.
The menu is fully themed, and everything has a Super Nintendo and Mario spin to it.
We ordered a cheeseburger, a Caprese salad, and two desserts: the princess peach cupcake and a blocked tiramisu.
The Caprese salad was a piranha plant caprese, and the cheeseburger had the mountain and Mario on it.
The desserts were the best. Both were absolutely adorable to look at, and the tiramisu was terrific and full of flavor.
We asked for a box for the princess peach cupcake so we could have it a little later in the day, but it was jelly filled and so moist.
The cheeseburger had a really great flavor and came with a side of corn on the cob and broccoli. Coming from a girl who isn't much of a meat eater, she absolutely loved her very first cheeseburger.
Everything you order is themed, and there is not a single thing on the menu that isn't absolutely delicious and adorable to look at.
If you hang out long enough at the restaurant, you will notice the screens all around, and the lights in the restaurant will change color, and a new scene will take over.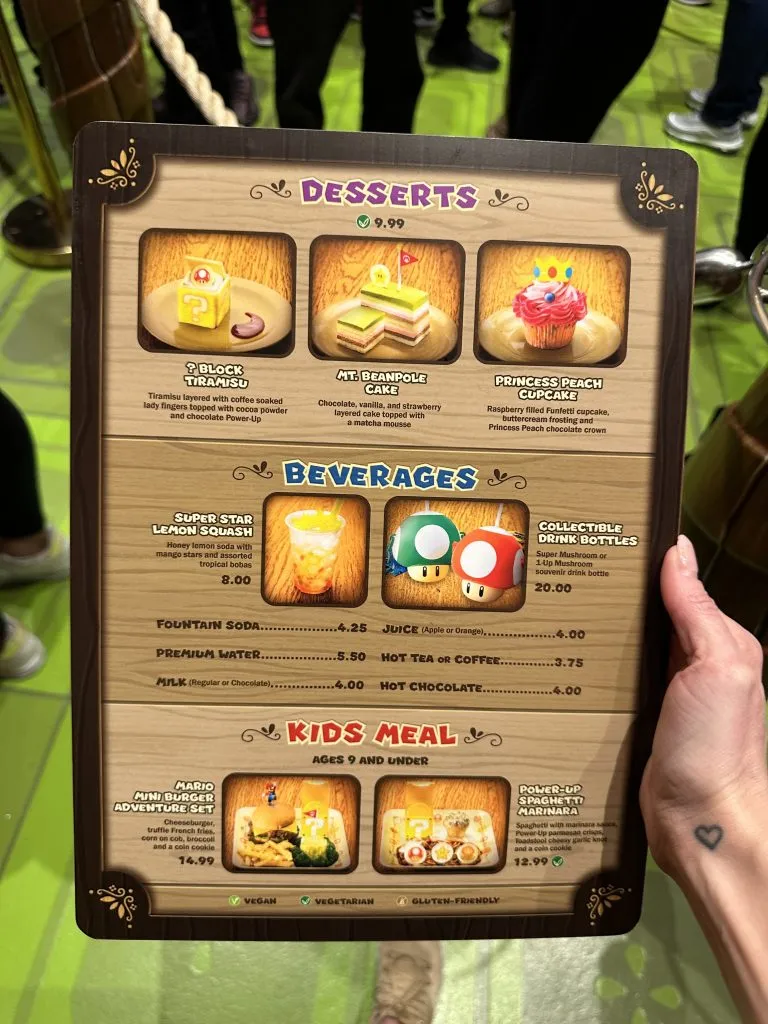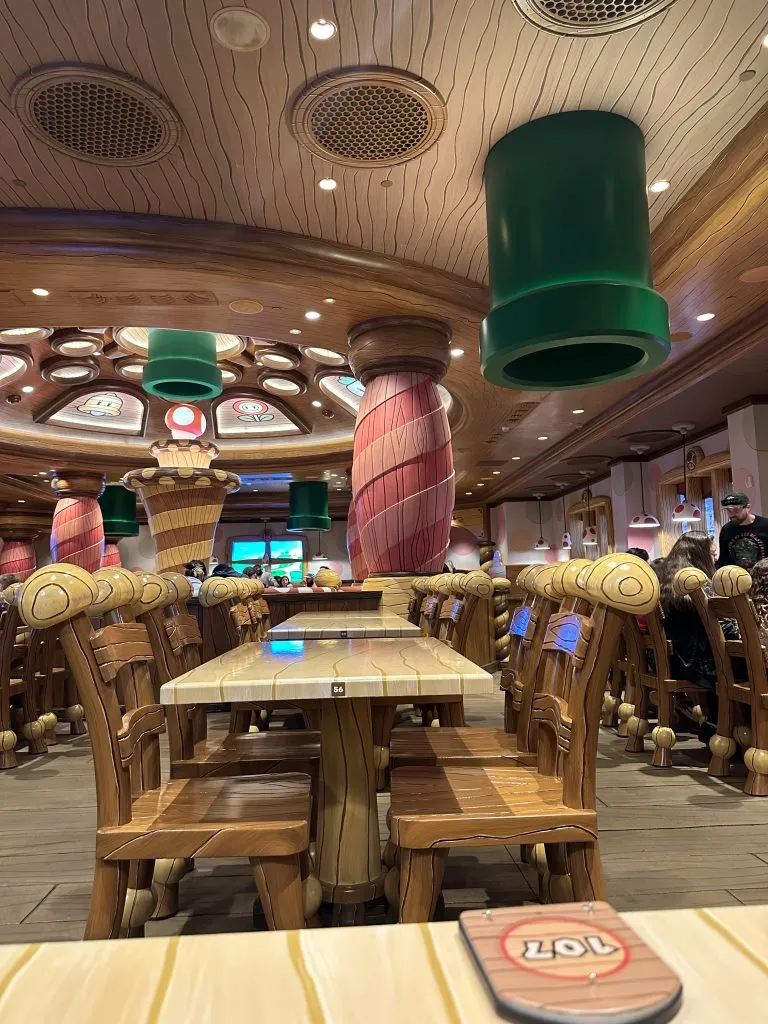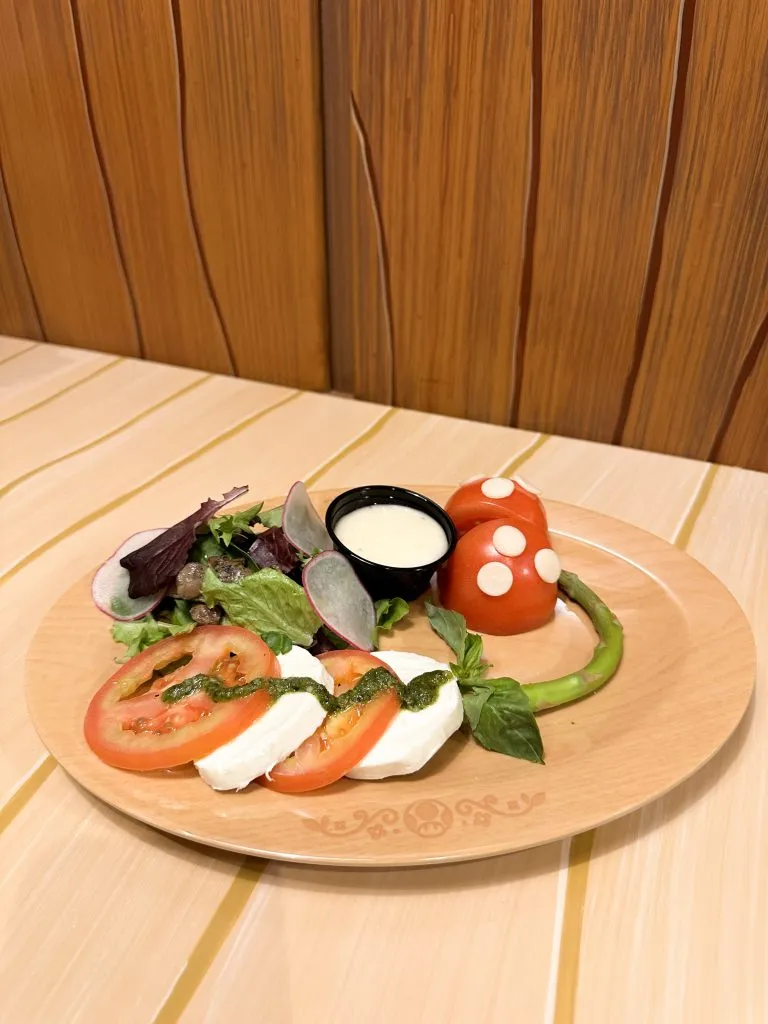 Some of the other menu items you can order from chef toad:
Fire Flower Spaghetti
Super Star Chicken Salad
Mario Burger
Super Nintendo World Character Meet and Greets
There are three characters you can meet and greet in Super Nintendo World. This is the only area you are able to see these characters. Each character has a specific time they show up, and please note the lines are a little longer inside Super Nintendo World than you will experience in any other parts of the park.
The three characters you can meet are Princess Peach, Luigi, and Mario.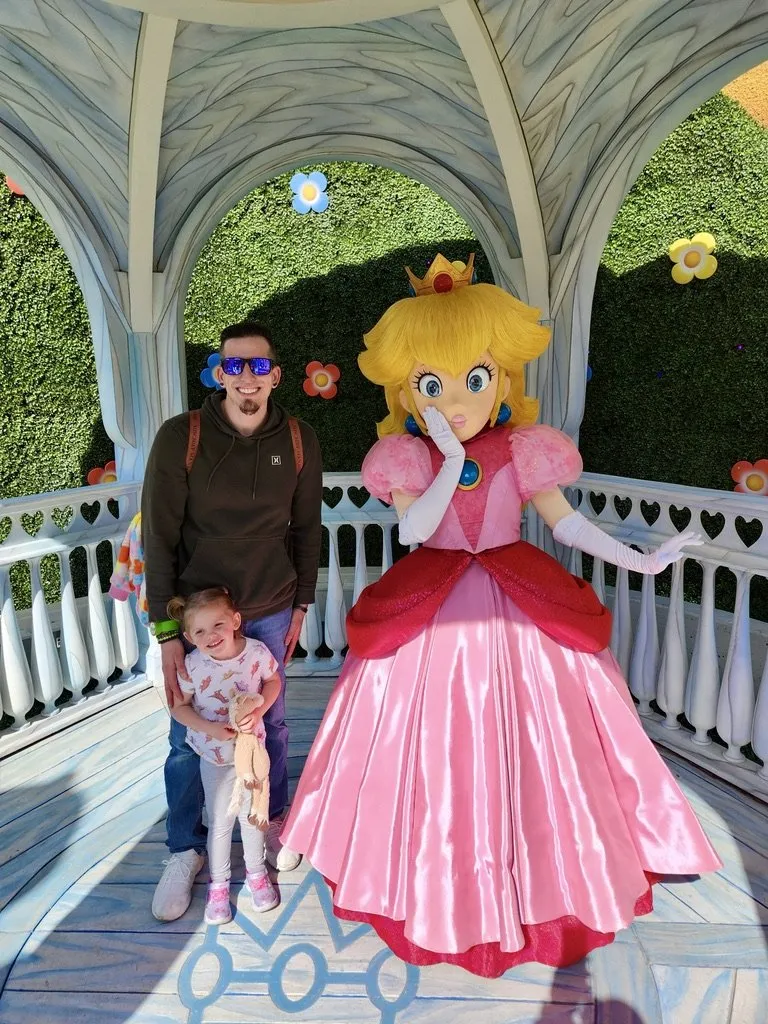 Super Nintendo World Hollywood Frequently Asked Question
Do you need a power-up band to enter the land?
While you do not need a power-up band to enter the area, you do need the power-up band to partake in the mini-games and gain access to Bowser Jr Castle.
How much do the power-up bands cost?
At this current posting time, the cost of the power-up band is roughly $40
What different power-up bands are there to pick from?
Princess Peach, Daisy, Luigi, Mario, Toad, and Yoshi
How do you buy a power-up band?
Once you are inside Universal Studios Hollywood, you can purchase a power-up band from many of the retail locations. But our favorite spot to grab one is right inside Super Nintendo World at 1-UP Factory.
How do I connect my power-up band?
Once you are inside the park and in Super Nintendo World, a new portion of the app will launch, and you will have access to different features. There will be a spot to click add power-up band, and you will scan the backside of your power-up band where the QR code is, and it will automatically connect to your account.
You are able to change your character's pose, color, and even your team name within the app.
How do you save money at theme parks while visiting California?
Using bundle sites like Get Away Today or Undercover Tourist, you can get a discount, bundle theme parks, in addition to getting a 4th night free when booking through these sites.
If you follow the link and use the code Motherhood10 for $10 off your Southern California stay.
How many rides are in Super Nintendo World Hollywood?
One official ride, 3 mini-games, and a 4th mini-game you can access after you collect the three golden keys.
How do I get a reservation for Super Nintendo World Hollywood?
You can try one of two ways. If you are at the park early enough on the day of your visit, when you open the app, you can select the virtual line reservation button within the map when you are looking at Super Nintendo World.
The other option is to purchase the early access ticket addition for $20. Once you purchase your theme park pass for a specific day, you are able to add the Super Nintendo World early access pass for an additional $20, which gets you into the park an hour early to explore Super Nintendo World.
You can also scan the QR codes within the park or go to the virtual line reservation kiosk down by Super Nintendo World to make a reservation.
These two can be a gamble since access to the land is limited to capacity, and spots might fill up with the two other options leaving nothing left once you get back into the park.
Is it better to go during the day or closer to nighttime to see Super Nintendo World Hollywood?
Early in the morning, you will have the floor of people with early access passes and anyone that got a reservation through the virtual line.
We think both times are great times to go, but nighttime has a really cool vibe and feel since it is bright green and glowing.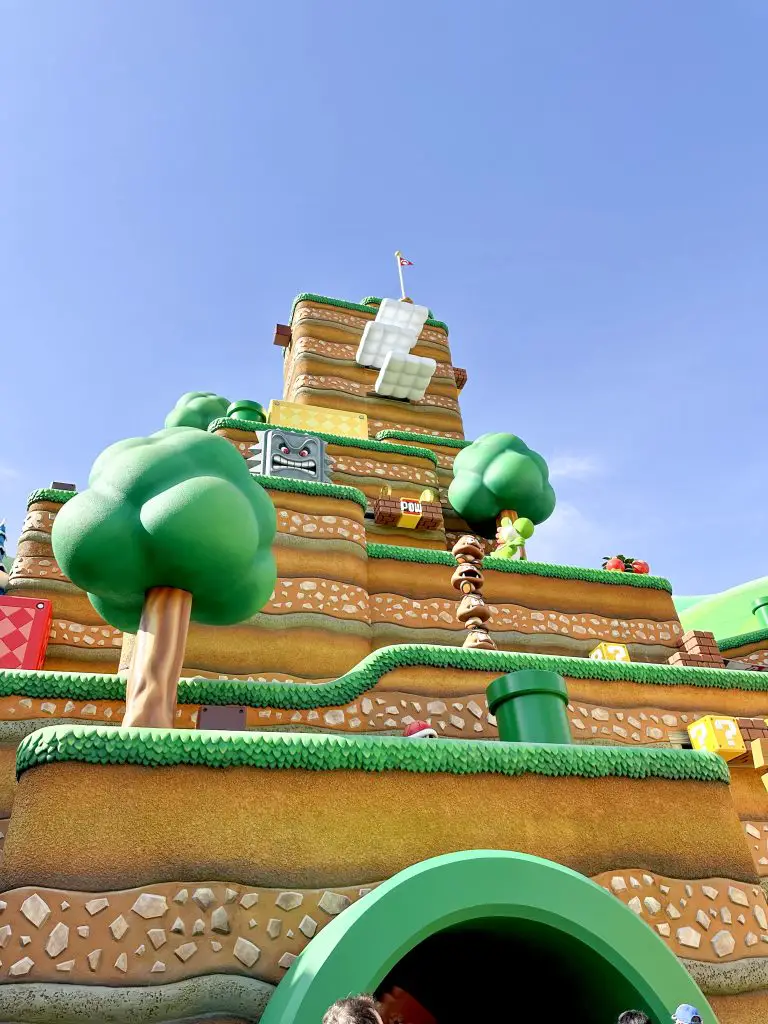 Final Thoughts and Things
I was worried the music would be odd being Nintendo themed, but the music is delightful.
The only thing I couldn't get out of my head all day was the coin collection noise. When people with power-up bands hit the coin boxes, they make the Mario coin noise. A lot. 😳 *insert noise-canceling AirPods.
There are so many easter eggs, and interactive games, for the super Nintendo fans, you could spend the entire day just in this area.
There are 6 power-up bands to select from, and Sloan picked Yoshi for us. The universal app actually knows you are in the Nintendo area and launches an interactive section once you're inside and connects to your band.
You can collect stamps, view your rank, track how many coins you collect, and use the map to track your adventure. You also use the power-up band to win keys, and if you get them all, you get access to a particular area.
The power-up bands are so cool, and you can actually use them with your Nintendo Switch when you get home. I am always so blown away by the attention to detail and technology.
It is so bright and colorful in this new land, and it feels like you are in a game. I can now see why this land is so popular. 👏🏼
We can't wait to explore again, play the mini-games, and ride Mario kart next time.
We did get a chance to have lunch at Toadstool Cafe, which is the cutest themed restaurant I've been to. Everything looked amazing and had terrific flavor. Sloan had a hamburger for the first time and loved it. Coming from a girl who isn't much of a meat eater.
Sloan had to get a picture with princess peach and a few coins before we left and explored other parts of the park.
Super Nintendo World Hollywood is so cool and such a great addition that was much needed in Universal Studios Hollywood.