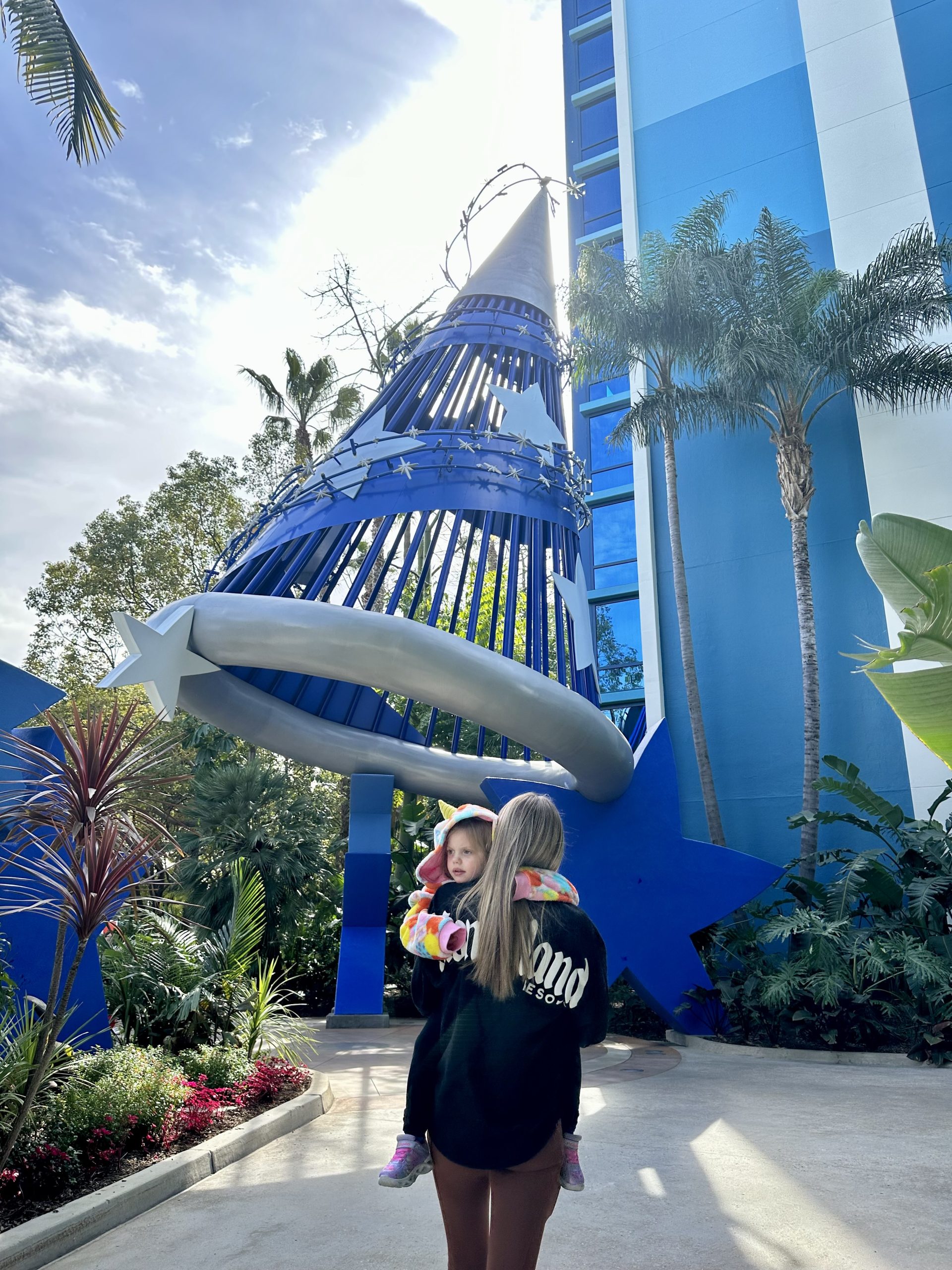 There are not a lot of things to do in Downtown Disney with kids, compared to Disney Springs in Florida. Unfortunately, everything is bigger and better on the east coast, but if you are looking for a great place to hang with your whole family and get some delicious food, this is a fun way to experience Disney
Things to Know Before You Go to Downtown Disney
Make sure you download the My Disney Experience App, this is the easiest way to check times for entertainment, find a restaurant, and look at the map.
But let's be clear and make sure we know what we are talking about. The Downtown Disney location is in Anaheim, California, with Disneyland and California Adventure. While Disney Springs is in Lake Buena Vista or Orlando, Florida, where Walt Disney World Resort is with Epcot, Magic Kingdom, Hollywood Studios, and Animal Kingdom.
The west coast gets a smaller Walt Disney World vacation experience, but if you are new to Disney, this will be a great way to get an introduction experience to Disney Resorts and everything Disney has to offer.
Stay for the Things to do in Downtown Disney with Kids Guide
Leave for the Things to do in Disney Springs with Kids Guide 🙁 sad to see you go
Downtown Disney is the main walking path from the Resort Hotels to the theme parks. On the one end of Downtown Disney, you will find the Disneyland Hotel and the pathway to Disney Paradise Pier Hotel and the Downtown Disney Parking Lot. Then if you take your time and walk to the opposite end of Downtown Disney, you will find the park entrances for Disney California Adventure Park and Disneyland Park. If you continue to walk past that, you will find the Theme Park dropoff points as well as a few hotels, both Disney Good neighbor hotels and other hotels close to the theme park.
The Grand Californian Hotel is one of the only Hotels that connects to Downtown Disney and California Adventure Park. The Grand Californian entrance to Downtown Disney drops you in between Sephora and The Disney Dress Shop, giving you amazing access to both areas.
But you are reading this because you are most likely in Downtown Disney with your kids and want to find things to do on your non-park day.
So let's dive into our favorite stops and things to do in Downtown Disney with Kids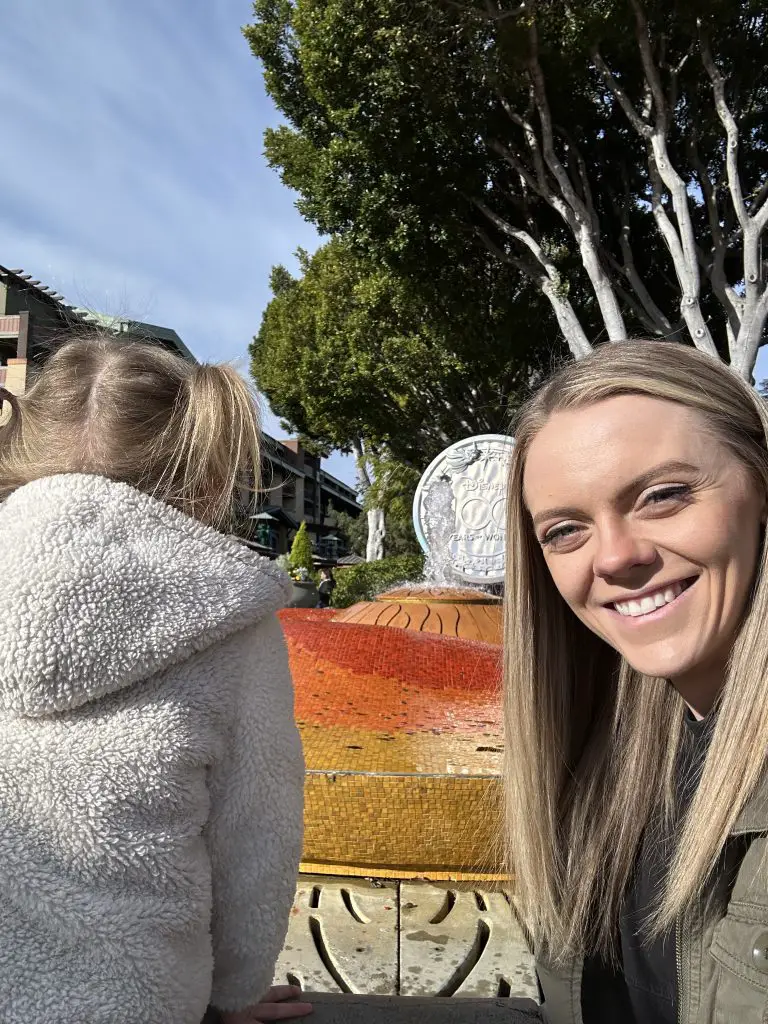 We love the Disney experience and will take a little taste of Disney any time we can, especially if we have made the trip all the way to Los Angeles, you might as well make the most of it, right…?
Well, we did just that on our most recent trip, In addition to sharing the top things to do in downtown Disney with kids, I'm going to share everything else you can do, where to eat, and how to get the best parking rate.
Things to do in Downtown Disney with Kids
Downtown Disney is a little different and isn't quite as large as Disney Springs in Florida. There are no little rides or activities to do in Downtown Disney, but, there are still lots of stores and things to do in Downtown Disney with kids.
The most interactive activity you are able to do is at the Lego store, and the water feature that gives you a little Disney magic. Besides that, this won't be a child's playground quite like Disney Springs.
But let's talk about the Top Things to do in Downtown Disney with kids.
Downtown Disney LIVE! Stage
Listen and dance to live performances from talented artists and musicians on select nights. You can look at the Downtown Disney online schedule to see when the next performances are. Guests can sing and dance to various musical entertainers from Motown, rock, and jazz to reggae.
With special and seasonal performances throughout the year, this is one of the best free things to do in Downtown Disney.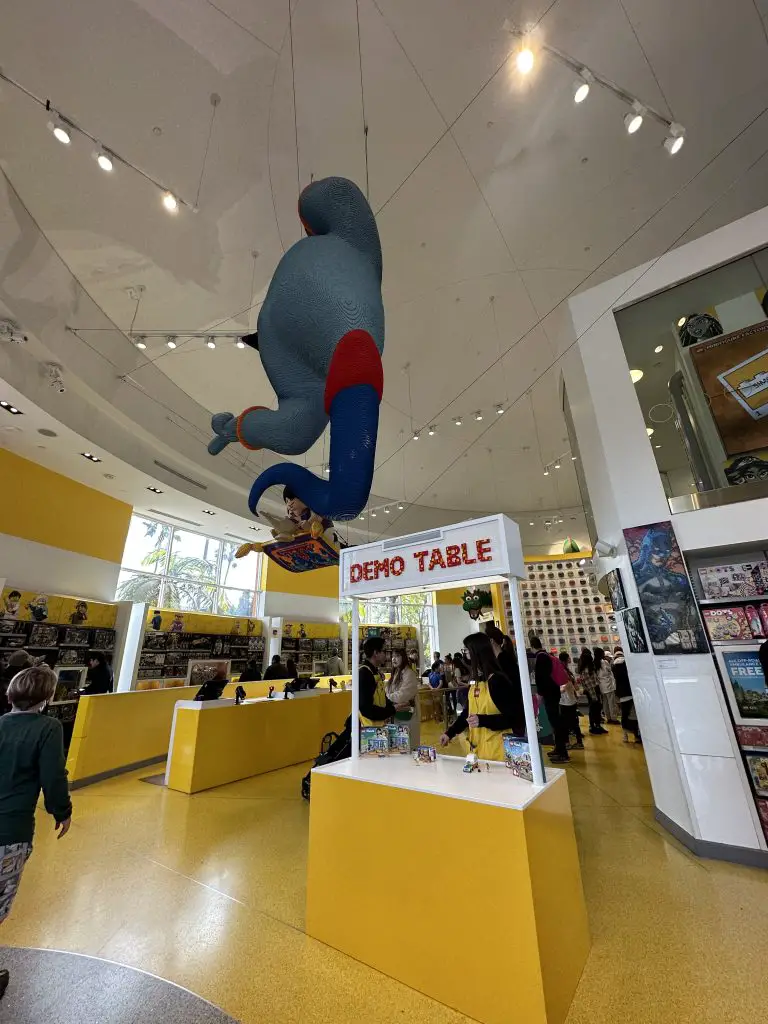 Lego Store
First up for things to do is the Lego store. Before you even head into the store, you will see giant life-size replicas of characters from Disney movies. There are little signs saying what the statue is of, but also how many legos it took to build the character and scene. This is a great spot for your kids to grab a photo with one of their favorites. Currently, they have Woody and Buzz with the RC Car from Toy Story, a Dragon blowing fire on a horse and knight, and Beauty and The Beast with Lumiere and Cogsworth.
Once you are inside, you will notice a giant Genie and Aladdin on the ceiling, and a glass enclosure on the second floor with a life-sized version of Darth Vader, and you will see a lot of the larger lego builds already put together. Currently, they have the roller coaster, Eiffel Tower, and Grogu in the carriage (not a real build)
One of our daughter's favorite things is to walk through all the displays and find her favorite lego. Since we spend so much of our free time hanging out at the hotel, we let her pick out a toy or lego that she can play with at the hotel. It's a great way to keep them occupied for longer periods of time and then have something special to bring back home from our trip.
While you explore the store, you can pick your favorite color lego bricks from the lego color wall, and play with their interactive build display.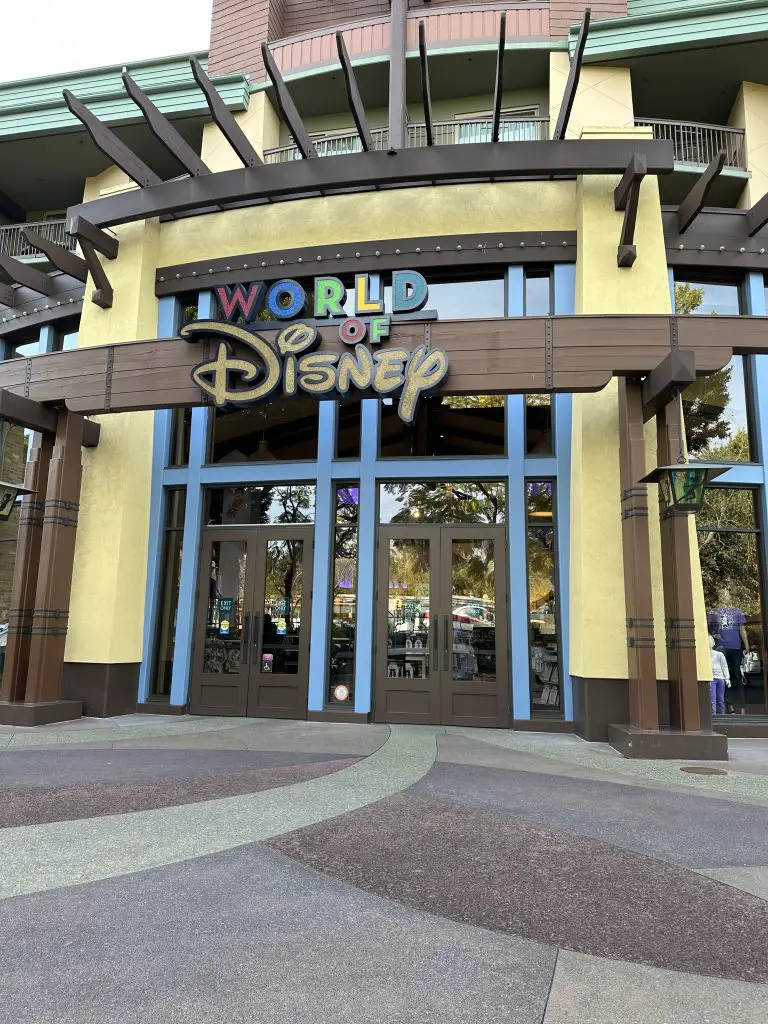 World of Disney Store
This is always our first stop when we get to Downtown Disney. We want to see all the new merchandise and pick out our new spirit jerseys if they have one we really like.
Well, this was that trip. We went just days after valentines day, and Star Wars did us dirty. $75 x 2 Spirit jerseys later, we now have matching Star Wars shirts that say I love you… I know…
Yup, we took it to that level. Usually, I can get a color-coordinating outfit with him and I together, but we have never had full-matching shirts before. Melting a little for our matchy-matchy outfits.
Next up, we had to check out the kid's sections and what they have. Sloan stumbled into the Pixar section and found a fluffy colorful sweatshirt with a unicorn horn on the hood. She was immediately set on it, and there was no changing her mind from there.
We walk the entire store and get a feel for what they have and what we would like to get. We then take pictures of the items we want, review them, and then decide, and sometimes that means picking them out the next day or later that night. Don't view and buy at the same time. That, my friends, is how you go broke and spend WAY too much at the Disney store.
Saving money at the World of Disney Store
Our other big tip to save money is, whether your credit card has grocery store bonus points or not, purchase Disney gift cards from Costco or the grocery store. You can sometimes save a little money on the gift card, or earn bonus points you would not normally earn at Disney.
Our other big tip is to use the Disney gift cards as a way to budget. You can plan ahead and decide that you are only going to spend $1000, and once it's gone, it's gone. Use only that gift card for food, merchandise, coffee, etc. You will begin to decide what is most important to purchase or just a want that is not necessary.
The largest Disney store is in Orlando, but the Anaheim store felt just as large and had great options for the whole family and the perfect place to pick up your Disney swag and spend a bunch of time walking around with your toddler.
You can always pick up a toy and take it outside to one of the benches, grab a small bite to eat, and relax while they play.
Disney has plans for a grass area in Downtown Disney for just that. Grab some food and relax on the grass.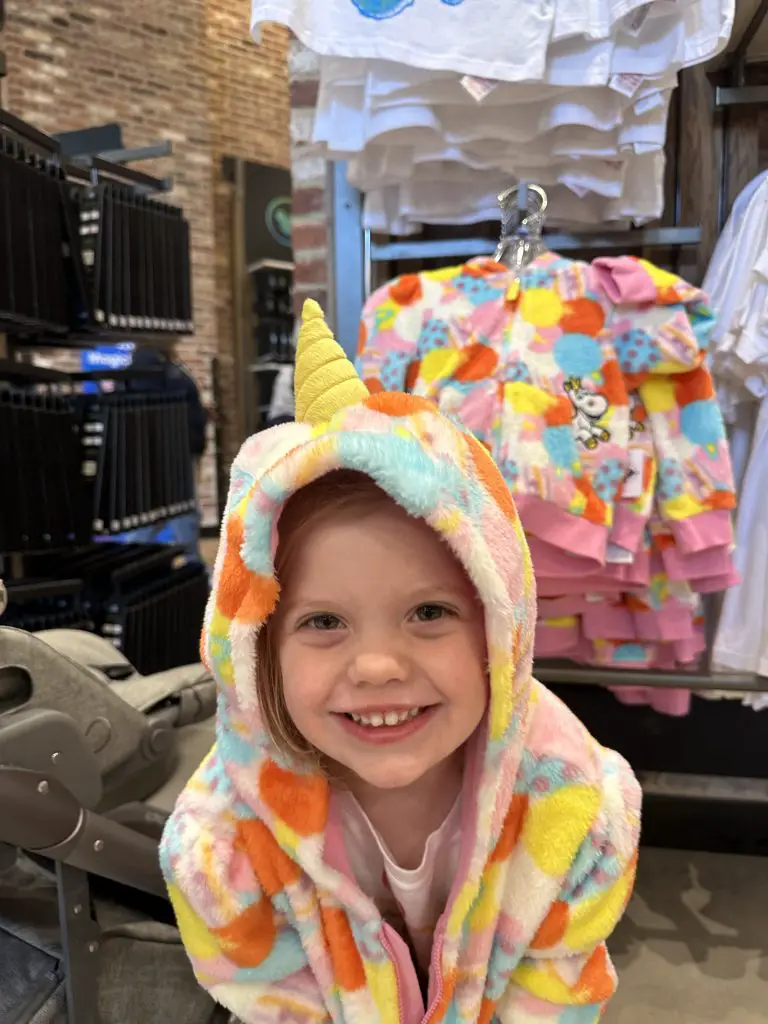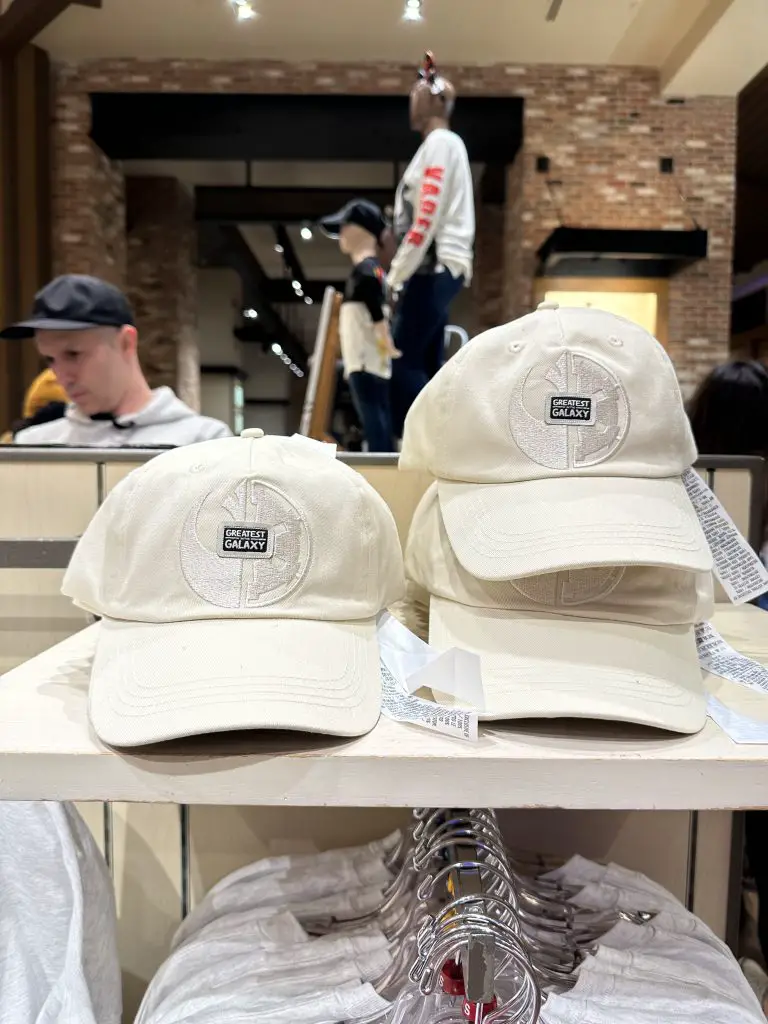 Pressed Penny
There are a few penny kiosk's around the area, and you will find them across from the Lego store, Wetzle pretzel, and World of Disney store. This is a good way to keep a toddler busy while they watch the penny in making. The press machine does supply the penny, and it is the cheapest thing you can buy in Disney Parks and Downtown Disney.
They have 100-year special edition pennies at the moment.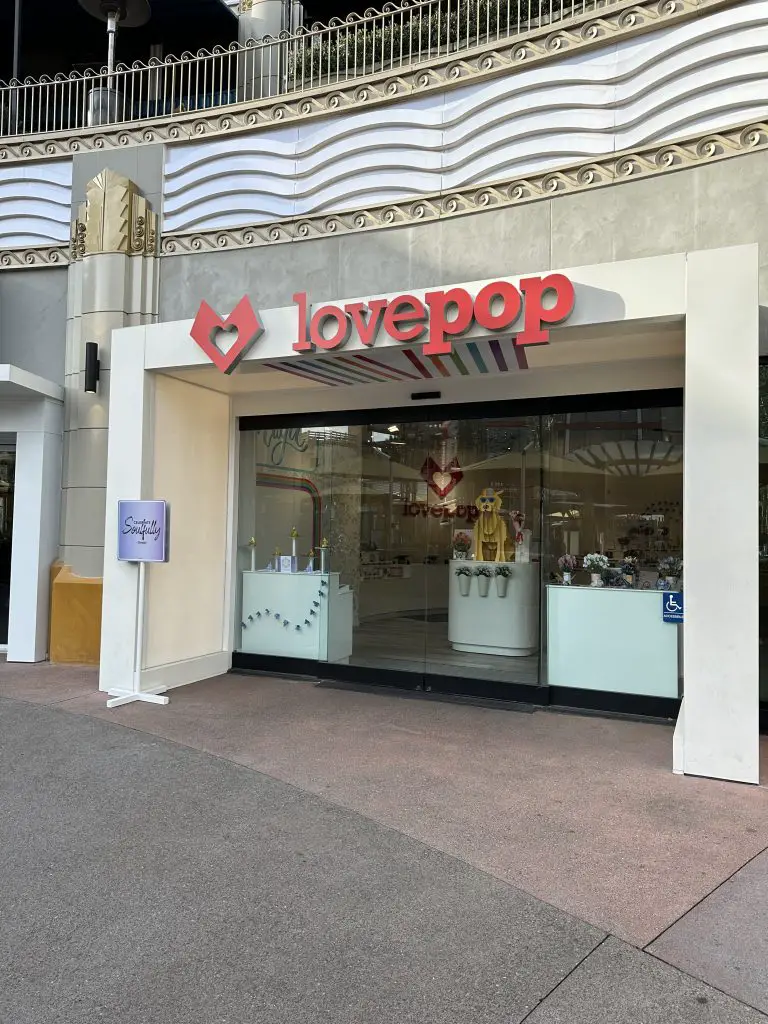 Love Pop
The cutest cards, and specialty cards for Disney. It is so fun to look at the cards, they are like mini art pieces, and each one is just so unique. While you are walking through with your toddler, talk about the cards, and play an ispy inspired game with the cards.
Marceline's Confectionery
Our favorite sweet shop. This candy and sweets shop has candy apples in multiple colors and themes, cake pops, and some of the best treats you can only usually find within the park. They have candy and giant lollipops as well. Keep an eye out during special events. There is currently a Minnie Mouse caramel apple for the 100 Years Celebration.
When you are looking at the outdoor display, you will notice the cast members making whatever dessert is up for that time, typically a caramel apple. You can hang out and watch them assemble their apples, its such a good time watching how precise and the attention to detail.
The glass enclosure inside always has the perfect desserts on display. We had no intention of buying anything from the confectionery until we walked along the case and left with 2 extra items. A pink Minnie Mouse half-dipped sugar cookie, and a chocolate-dipped pink bow cake pop. On a hot day, make sure to keep your cake pop out of the sun, or it will melt, while still delicious to eat, it now is not as pretty to look at and can be very messy.
Star Wars Trading Post
The outside of the parks best place for Star Wars items. This is one of the larger themed stores within Downtown Disney. The store is very immersive and has a lot to look at inside.
Both The World of Disney and Star Wars Trading Post had Star Wars merchandise, but obviously, the trading post had significantly more than the Disney Store.
We did notice there was a pin trading spot right when you are heading into the Starwars Trading Post and another one heading out to the parking lot. If you are a pin trader, keep an eye out for these two locations.
Splitsville Luxury Lanes
Splitsville in Downtown Disney provides a fun and unique experience to an old-school activity. This entertainment complex has 20 bowling lanes and 25 flatscreen TVs with indoor and outdoor dining. Vintage vibes with a retro makeover.
Another live entertainment option on select nights is you can listen to live music while you relax and have food and a cocktail or even enjoy the music as you bowl.
Bowling is always a fun activity for toddlers and if yours is anything like mine a basket of fries or food will entertain her for a long time.
Where to eat in Downtown Disney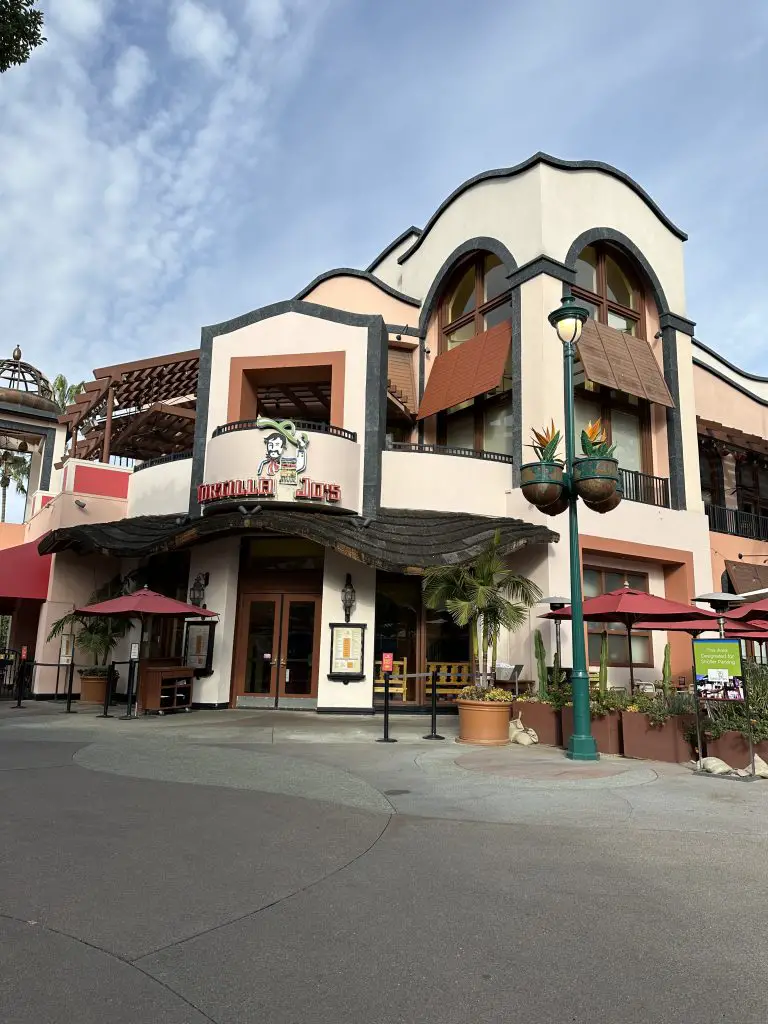 Tortilla Jo
If you are craving tacos, and chips with salsa, this is your spot. Tortilla Jo's is easy to get into, and the atmosphere is high energy making it a great stop for a family.
Earl of Sandwich
Thank goodness they moved it! As Earl of Sandwich was slotted to be removed, it has since moved to the other end of Downtown Disney by the theme park entrances. Known for being the least expensive but best-tasting meal in Downtown Disney. Many people are thrilled to see Earl of Sandwich in its new location in Downtown Disney.
Black Tap Craft Burgers
Unique, unique, unique. Great unique burgers that come in a variety of flavors. I opted for the chicken parmesan
If you are looking for just shakes, use their CrazyShakes Window
CrazyShake Window by Black Tap
The best shakes are perfect for any photo op. If you are skipping food and just getting a shake make sure you use the window at black tap.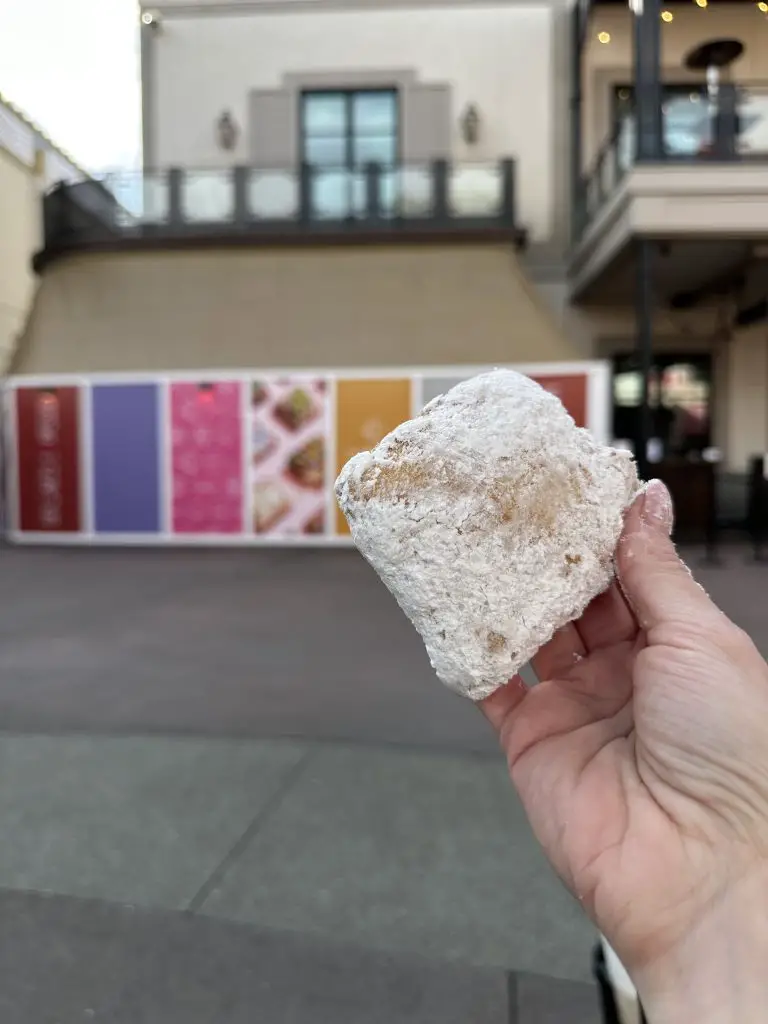 Ralph Brennan's Jazz Kitchen Express
Great New Orleans food, and if you have been to the beignet cafes in Louisiana, you will notice they use the beignet box mix you can purchase there. They are really the best, and I'm so thankful I stumbled upon those.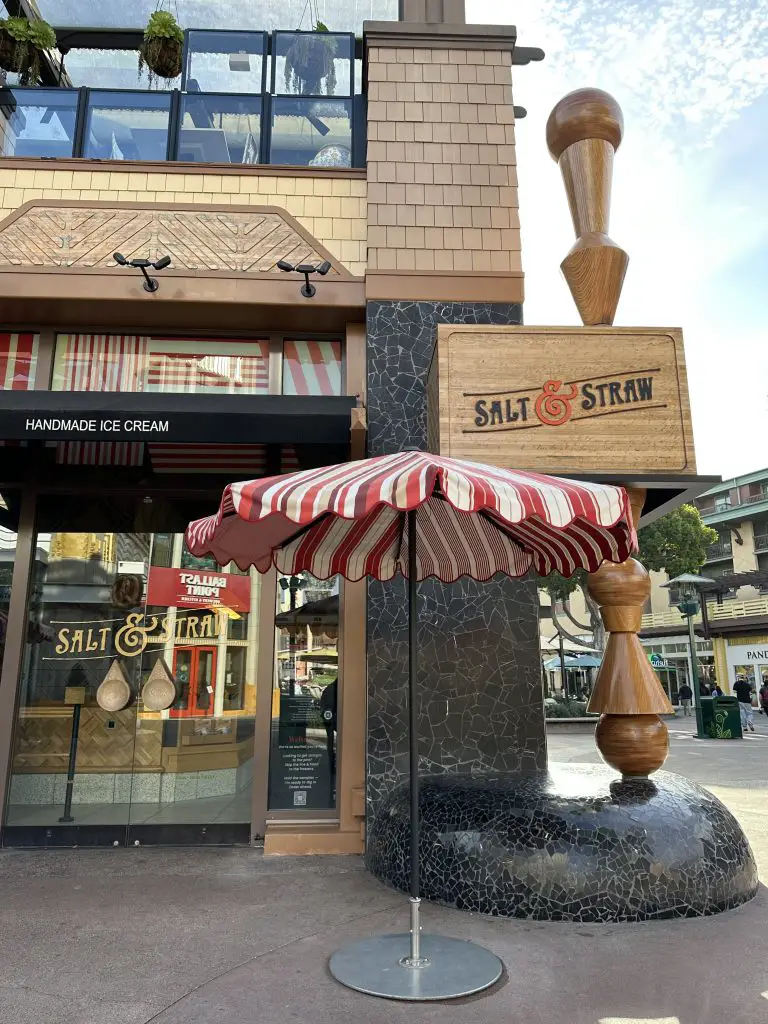 Salt & Straw
Ice cream, and waffle cones to satisfy your sweet tooth. No need to go into depth on an ice cream shop, but I can't help to bring light to their seasonal flavors as well as some of their classic flavors that are not actually classic by any means. One of them is Pear and Blue cheese.
La Braya Bakery
La Braya Bakery has closed recently and will soon be replaced by Porto's Bakery. We will be excited to see what the new bakery will bring
Blue Ribbon Corndog
Get the one-of-a-kind panko-crusted pickle dog. Yup, you read that right. A hotdog but inside a pickle and then breaded and fried. They do have regular corndogs you can get as well, but let's be honest, Disney is full of fun and unique food, and we have to try all of the best things they have to offer. Pickle corndogs included. This is just a cart and not a sit-down option, but corndogs are perfect for a grab-and-go-style lunch.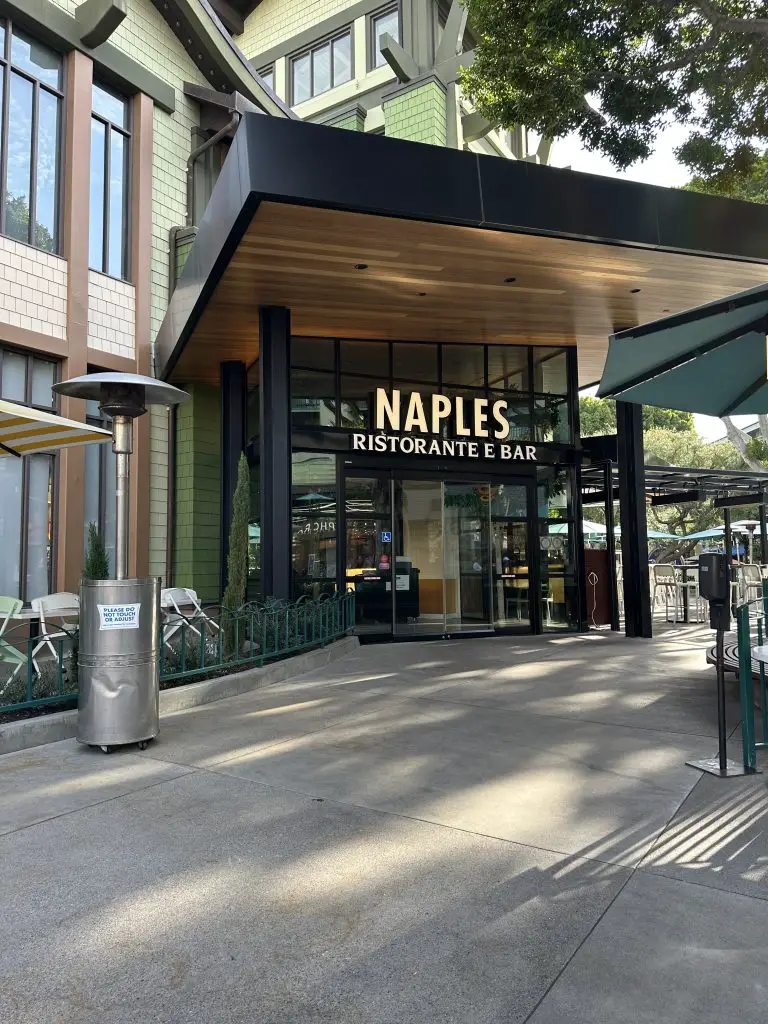 Naples Ristorante e Bar
If you are looking for Italian flavors, this is it. Known for transporting you to "the boot" with their traditional and adventurous Italian menu items. If you are looking to fill your belly after a busy day this is your stop. You can make reservations through the My Disney app 60 days in advance.
Also. If you are wanting Italian but can't get a reservation, try out the on-the-go at Napolini right next door. This quick-service window has wood-fired pizza, fresh boxed salad, and sandwiches to pick from.
Other Fun Things to do Near Downtown Disney with Kids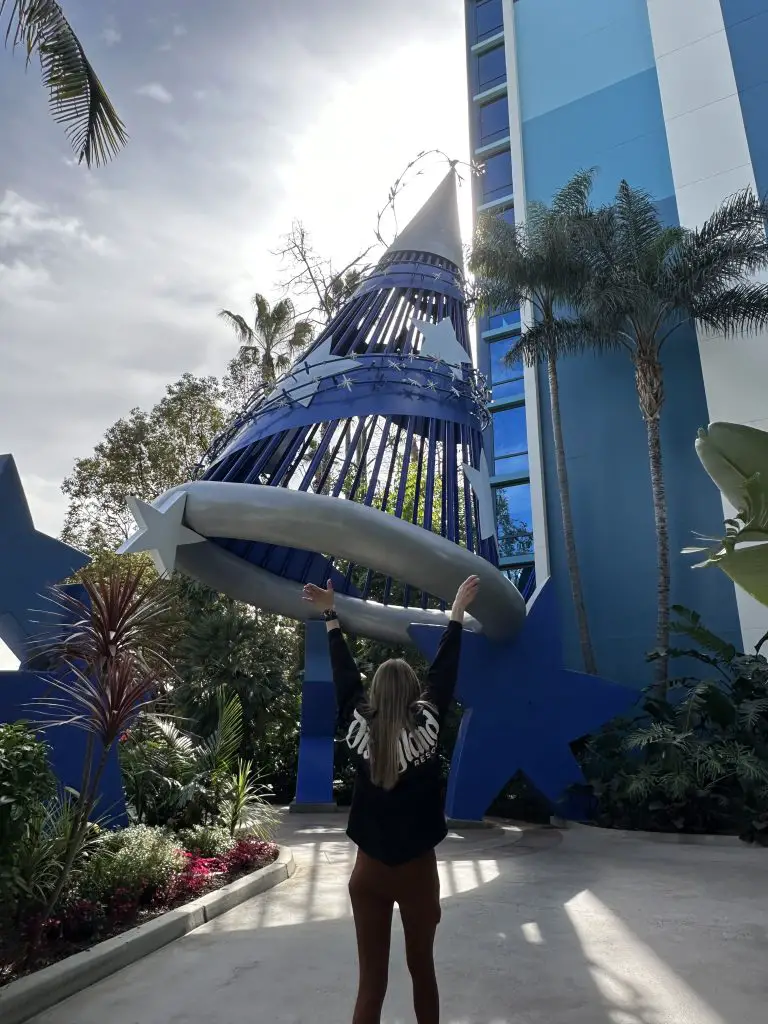 Big Mickey Hat
Take a picture at the big Mickey Hat outside of Disneyland Resort Hotel. This is definitely one of our favorite free activities. There is something about being under the giant Mickey Hat that gives the best Disneyland vibes.
Go to Goofy's Kitchen
While not right inside Downtown Disney, the best part about the Disneyland Hotel is that it is right across from the entrance of Downtown Disney. This is one of the Disney character breakfasts you can partake in, and it's right inside the Disneyland Hotel. Make sure to book your reservations 60-90 days in advance for this breakfast.
Disney Princess Breakfast Adventures
Also not right in Downtown Disney, but since we are on the topic of character dining options, we might as well touch base on the two that are inside the Grand Californian Hotel. If you have a Disney princess lover, you won't want to miss this one. Join some of the Disney processes at Napa Rose inside the Grand Californian for a one-of-a-kind adventure. Partake in enchanted activities, a delicious three-course meal, and a personal visit with Disney princesses.
Mickey's Tales of Adventure Breakfast Buffet
Rounding out the third character dining meet and greet with Mickey and friends, this buffet is inside Storytellers Cafe inside Disney Grand Californian Hotel & Spa. Similar to Goofy's kitchen, characters will be out and about in the dining area for your children to see.
Please make sure you book these 90-60 days in advance, reservations are HIGHLY recommended.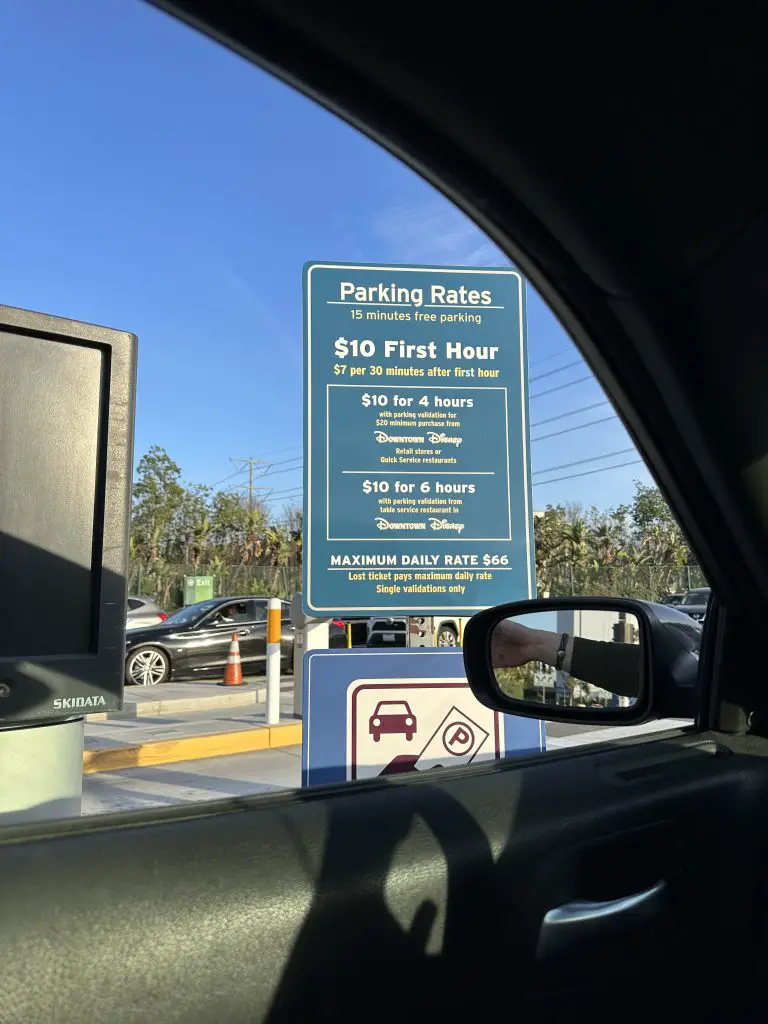 Parking at Downtown Disney
Downtown Disney names the parking lot sections, things like Simba parking lot, and 1A 2B with a picture of the character, making it significantly easier to find your car. Anything to help you figure out where you parked in these giant parking lots is helpful.
Paying for parking can be confusing. Let's break down how to get the best for your buck.
If you pay over $10, mistakes were made, and you must go back and get your ticket validated because there is no way you spent over 4 hours in the downtown area and not purchase a single thing.
Parking can be confusing!
If you sit down at a restaurant, you have access to parking for 6 hours at $10
If you purchase anything from the stores or the quick-service restaurants, you have access to parking for 4 hours at $10.
Do Not forget to validate your ticket at one of the spots you eat or purchase items from, but if you forget, take it over to the Star Wars Trading Post with your receipt, and they will take care of it for you.
You can have your ticket validated for 5 hours of parking.
DO NOT LOSE IT! It is a $66 charge
New Updates to Downtown Disney
Things to do in Downtown Disney with kids will continue to evolve, and new dining options and additions will soon pop up in the area. With the closure of 4 locations, and plans for a hotel and 4 new additions: Poto's Bakery & Cafe for Califonria-Cuban inspired dishes, pastries, and desserts, Din Tai Fung Chinese restaurant with a focus on soup dumplings, Paseo and Centrico an upscale Mexican cuisine, and an open lawn concept for special events, activities, music and entertainment and more.
Things that are not in Downtown Disney District *sorry
Weve put together the unfortunate list of things Downtown Disney does not have that many people think and hope they will find in California's Downtown Disney District.
Bibbidi Bobbidi Boutique, while close, is located inside Disneyland in Fantasyland and in Magic Kingdom at Walt Disney World theme parks.
Rainforest Cafe in Disney Springs, while it was a part of the opening of Downtown Disney in 2001, it has since closed to make room for another hotel
ESPN Center/Zone, also a part of the opening in 2001 in Downtown Disney, has also closed to make room for another hotel.
T-Rex Restaurant is one of the top themed restaurants but also in Disney Springs
House of Blues is known for its live music and live entertainment. While not in Downtown Disney, it is very close by at the Anaheim Garden Walk located at 400 W Disney Way
Gideon's Bakehouse is the best cookie bakery EVER! but also in Disney Springs
Goofy's Candy Company in Disney Springs Downtown Disney has Marceline's Confectionery which is very similar
Raglan Road, delicious and a must for dinner, is in Disney Springs
Hot Air Balloon, head to Disney Springs for this fun little attraction, it is a tethered hot air balloon, but you can still hitch a ride up and look at the layout of the land.
Marketplace Carousel, while fun is not at Downtown Disney. Fingers crossed, they put something similar in at Downtown Disney
Coca-Cola Store is also a very cool stop, but not in Downtown Disney.
Candy Cauldron is a great candy spot and is in Disney Springs
Where to Stay Near Downtown Disney
You will find many hotels on Disneyland Drive, and W Katella Ave, all within walking distance of Downtown Disney, and the theme parks.
Disney's Paradise Pier Hotel
Disneyland Hotel
Grand Californian Hotel
Hotel Indigo
Anaheim Portofino Inn & Suites
Good Neighbor Hotel – A full list of the closest and best hotels near Disneyland
If you book with Wanna Get Away, you get your 4th night free and discounted parking rates.
Other Guides You Might Find Helpful
Best Good Neighbor Hotels Near Disneyland
Top Theme Park Tips For Toddlers
19 Best Amusement Parks For Toddlers