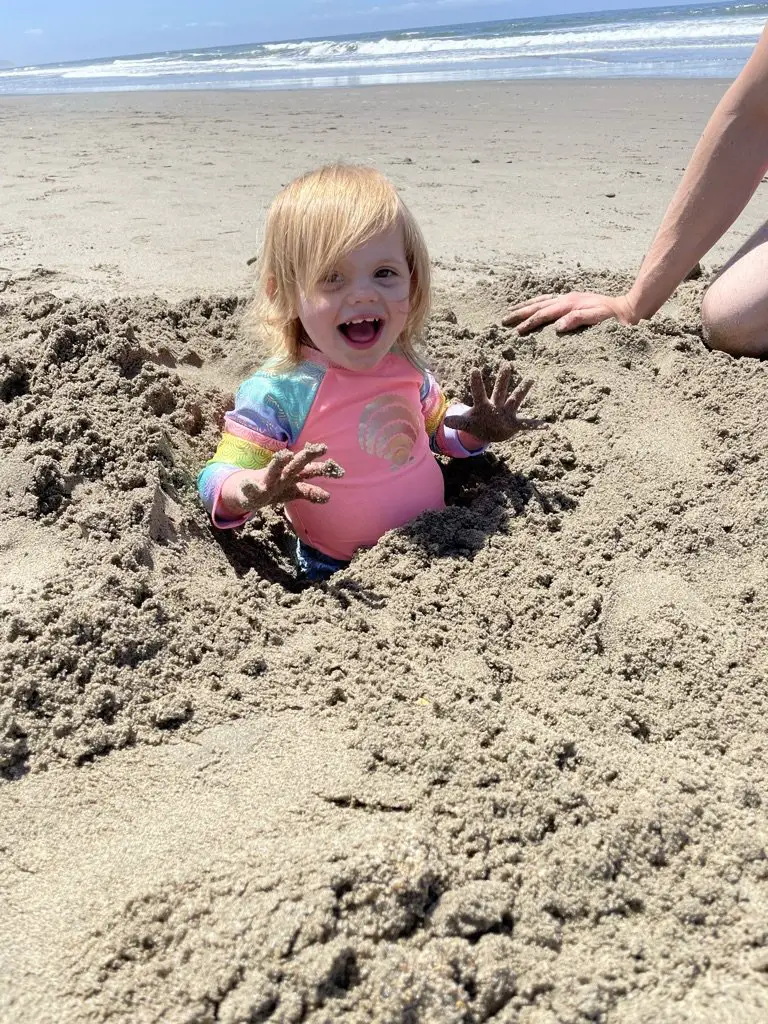 Ultimate Packing List for Beach Vacation with a Toddler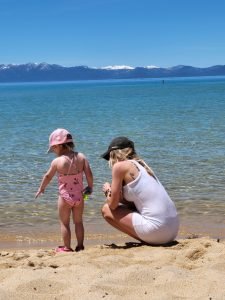 Thankfully we've been on multiple beach trips and put together a packing list for beach vacation with a toddler. I remember in high school heading up to the lake for the day. Bathing suit, towel, and a bottle of water… and maybe sunscreen if we remembered it. Well, a toddler beach trip is a little more work.
The beach will always have our hearts. The sound, the cool crisp air, and a cup of coffee on a deck watching the waves. What is better than that?
Our daughter will ask when our next beach trip is, as we are leaving the beach. She clearly gets it, but we aren't sure she understands what goes into a beach day and all the packing for a toddler.
Heading to the beach for Christmas/ Winter break is a tradition we started a few years back and now has become our favorite thing, and we look forward to our family beach vacation every year.
A day trip to the beach might as well become a full 7-day beach vacation since you bring a lot of the same items. We will break down a packing list and a bonus road trip packing list depending on the type of trip you are taking.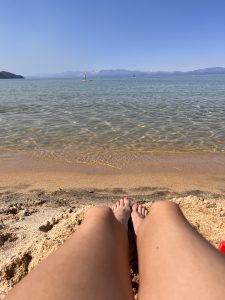 Family Beach Vacation Packing List
Bathing Suit
You think I'm kidding, but do not forget these! I cannot tell you how many times my husband and I have discussed the hotel having a pool and not bringing out suits. Now when it comes to a beach vacation, it's less likely you will forget, but here is your reminder. I will touch on rash guards or long sleeves here for those that like to be in the sun but don't want all of their skin to see the sun. The sun is brutal, and we all know sunscreen is important. A rash guard or long sleeve can provide a barrier between you and the sun that doesn't require a timer to reapply.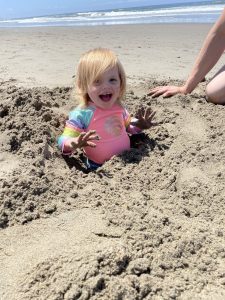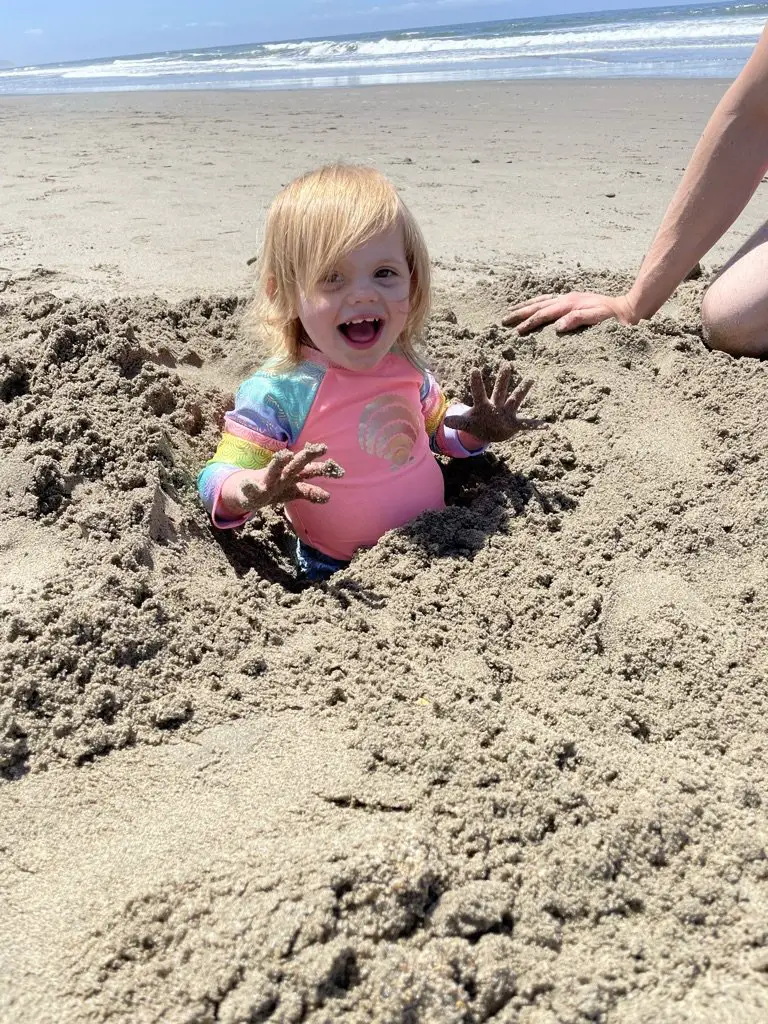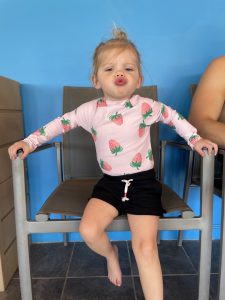 Beach toys
Sand toys are sandy but a must-have for toddlers! We picked up a great beach toy set from Costco last year and took it on our most recent beach trip. Everything fits in the big bucket it came with, but a mesh bag allows you to shake all the sand out of the toys.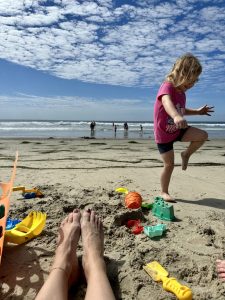 Small toys are great, but you can't go wrong with an inflatable beach ball. You can play keepie uppie (if you watch bluey, you get it). Essentially, you bounce the ball to each other, keeping it off the ground.
Hanging out at the beach all day means you will need to get a little more creative with games to keep your toddler busy. For the most part, they will stay pretty occupied with the water and a few toys, but you know your toddler best.
An inflatable tube is also a great way to keep your toddler occupied. You can put them in it and pull them around while they sit, or just let them use it how they would like.
Without beach toys, your packing list for a beach vacation with a toddler will be a little less fun. Toddlers like toys and things to do.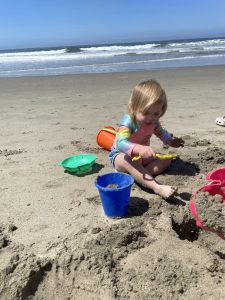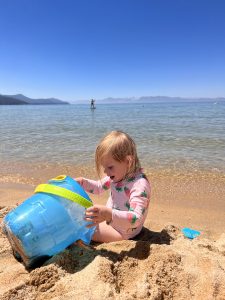 Reusable swim diapers
Reusable swim diapers or disposable swim diapers. We use reusable diapers so that we don't have to stress if we brought enough diapers for the trip and are not spending money on a one-time-use diaper. We will mention here regular diapers for after the beach and any diaper changes on the way home if you toddler is not potty trained yet.
Dry bag or wet bag
No matter what you call it, have a bag to put your bathing suits, or wet clothes in after you change to head home. A wet bag is really great for diapers or wet clothing. We used our wet bag for diapers since you can easily dump them and wash the bag when you are done for the day.
Cooler
Pack your lunch and snacks for the day. A few great things we suggest packing for food are fresh fruit, vegetables, cheese, deli meat, premade salad, nuts, and hard-boiled eggs.
We usually bring Ice packs instead of ice, so you don't have all the water at the end of the day. There are some really great coolers out there that keep ice cold all day and do not melt. But for those of us that don't want to pay hundreds of dollars for a cooler, we will opt for ice or ice packs to keep things cold.
While a traditional water bottle will do, using an insulated water bottle will keep your water cold all day. We like to pre-fill our water bottles with water and ice and stick them in the fridge overnight. We will pack them in the cooler when we are ready to leave in the morning, and they stay cold all day. You can do something similar with a plastic water bottle by sticking them in the freezer. The ice will melt during the day, giving you cold water. The only downfall you cannot really drink the ice until it melts.
Trash bag or plastic bag
For all your trash and others that leave it on the beach. Just a friendly reminder to pick up your trash while at the beach. While most of the pollution in our oceans is coming from fishing boats, trash from our local beaches is being pulled out to sea every day. Keep our turtles and fish safe
Flotation Device
This is the most essential thing on your packing list for a beach vacation with a toddler. Life jackets are required for children under 13; if a lifeguard is on-site, they will ask that if you are in the water, wear your vest. Even though you have a life vest for your children, it's important to hold on and keep a very good eye on kids near the water. We have used a few different types of vests and have found these to be the best options when it comes to the ocean, lake, and pool. Please keep your toddler safe!
Swim Vest
Like a traditional life jacket with a buckle between the legs to help it stay on. Swim vests are designed more for kids who know how to swim or have an understanding of the basics. If your toddler has not quite started swimming yet, this is still a good option just requires you to help in areas where they can no longer touch the floor or ground.
Puddle Jumper
These are quick and easy to put on your kids, and unlike the traditional swim vest, an adult is needed to unbuckle the back. So if you have a toddler that hates wearing a vest and takes them off, this might be your fix. Puddle jumpers are really great for kids that don't quite know how to swim. Because of the design, it helps them float a little more evenly and upright. If your toddler, for any reason, does not have great control of their head, this is not a good option.
Inflatables
We don't absolutely love this for the ocean since it requires you to help your little one significantly more than a traditional swim vest. This can be a really great option for your tiny little one that cannot swim and is not quite old enough for the traditional vest. The inflatables are typically easy to pack since you have to blow them up.
Just as a reminder, although flotation devices are created to help people float in water, that does not mean your toddler should be left alone unattended in the water for any reason.
Covers

Beach Umbrellas
One of our favorite things to pack for the beach. There are three major types of skin cancer — basal cell carcinoma, squamous cell carcinoma, and melanoma. Many people get skin cancer from UV rays. Unfortunately, many of us learned tanning beds and baby oil were not a great idea and must pay for them now. One way to stay safe, besides sunscreen and reapplying, is to stay out of the sun as much as you can. A beach umbrella fits more than one person and is a great option.
Water Shoes
If you have a toddler with sensitive feet or don't like to walk through the hot sand, water shoes are definitely a great idea. Sandles are ok, but if you are on a beach with soft sand, the flip-flops become pointless, and you might as well walk barefoot in the hot sand. We like water shoes that either cover the entire foot or have a heavy band on the back, so they stay on. Nothing is worse than a flimsy shoe that gets stuck in mud under the water, and now you have to go on a mission to find it.
Something to sit on
Nobody wants to park their butt on the sand without something to sit on. Depending on how much space you have will determine what you pack with you on your next beach vacation.
Beach towels are a little different than regular towels. Regular towels are thick and fluffy and are typically smaller than one that is designed for the sand. A great beach towel is created so that sand doesn't stick to it, large, and thin, so it can be folded up easily, and dry quickly.
Beach Chair
Some people like towels, and some like chairs. We opt for keeping our load light when heading to the beach for a trip but love taking the Tommy Bahama beach loungers, and they make them in toddler size for a quick day trip. They have straps so you can wear them like a backpack, and they typically have ice packs and a storage zipper. If it's a lowkey short day at the lake or beach, we love packing everything into those two zippers and not stressing about a beach bag and a cooler for the day.
Massive and sometimes comfy. A beach blanket typically has a waterproof bottom to help with sand and stakes for the corners, so it doesn't move. Not only are these typically stylish and beautiful laying on the sand, but they are also extremely durable.
Beach Bag packing list for beach vacation with a toddler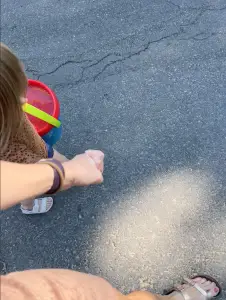 This one we leave packed for our beach vacations because repacking your bag will not be fun after you go through and put together everything from the packing list for a beach vacation with a toddler.
There are a lot of beach bags on the market, but you want to choose a bag that will fit everything you need. Your beach bag should be waterproof or ok to wash and be lightweight. Since you will be carrying all your items around, having something lightweight that you can put down and not worry about getting dirty is important. Here are a few items we pack in our beach bag for every trip; a change of clothes, sippy cups, baby powder, extra diapers, a small bag with your personal items, a first aid kit, sun protection, and snacks. We use to use our diaper bag, but now that we don't use it regularly, we have switched to more of a beach bag style instead.
Sun Hat
A wide brim hat or baseball cap will help keep the sun off your face, but some people opt for a beach tent or umbrella instead. We bring both so that when we are out playing away from the umbrella, we still have shade for our faces.

Beach Wagon
A travel stroller is not the most ideal when it comes to a beach outing. You will want a collapsible wagon or a wagon made for off-the-beaten-path strolling. Some strollers are good for pushing through the sand, but to be completely honest, the wagon is the way to go. The wagon doubles as a toddler "stroller" and a way to pack all your stuff and wheel it instead of carrying it.
Baby Carrier
Although you have the wagon, it will most likely be packed full of all the other teams you are bringing to the beach for the day. If you opt to skip the wagon, it is a lot easier to carry everything and your toddler if you use a carrier. Literally, every trip we go on, we pack our carrier. Trains, car rides, planes, day trips, toddlers are heavy, and if I can use anything to help with the weight, I'm all for it. Once our toddler outgrew her infant carrier, I went on the hunt for a carrier for toddlers, and we found that the Ergobaby had the highest ratings and was best for toddlers.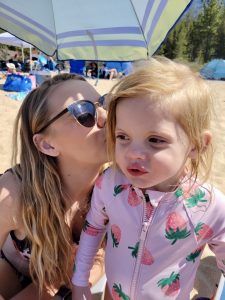 Toddler Beach Essentials
Ultimate Packing list for beach house vacation with a toddler
When it comes to your beach house and your car, there are a few other essential items that will make your stay even better. Here are the following items we have found were best for a beach vacation.
High chair
If your little one is used to sitting in a high chair, we highly suggest keeping to the same routines if you can. We either find a house that has items for toddlers or go to babyquip and rent our toddler items from there. The people from babyquip will pick up and drop off your items where you are staying.
Travel crib
If the house you are staying at does not have one, you will want to rent or pack your own for your trip. We've actually seen people pop a travel crib or pack-n-play up in the sand and put their little kids in it. Especially for those who do not crawl yet, this is a perfect way to keep them safe, out of the sun and away from the sand.
We do not use the travel crib this way. Before our toddler started sleeping in her own bed on vacation, we would put her in a travel crib.
Car Seat
If you are going on the trip with your toddler, you will most likely not forget their car seat, but let's be honest, we don't know how the McCallister family forgot Kevin, but they did. So we are putting it on your list so that you can check it off.
We use a car seat specifically for travel, so we do not mess up our Nuna car seat in our main car. The Nuna is expensive, and putting on a plane and having it ruined is not worth it. We purchased a Graco 3-in-1, and its lightweight and easy to travel with.
Coffee machine
Not all beach houses have a coffee machine, and boiling water and instant coffee just aren't the same. Although that takes up a lot less space. We love to bring either our Nespresso or Keurig. If you pack the Keurig, you can typically buy pods from your local market.
Dish soap and sponge
While Airbnb's are getting much better about providing essentials for vacation renters, we have gone to far too many homes that have forgotten or don't stock the basic essentials.
Paper towels, dish soap, hand soap, washing machine soap, dishwasher soap, tin foil, and plastic bags.
You can always get to your beach house and then create your essentials list once you get there, but the most important things are listed above.
Other Posts You Will Enjoy
21 Best Apps for Flying with a Toddler