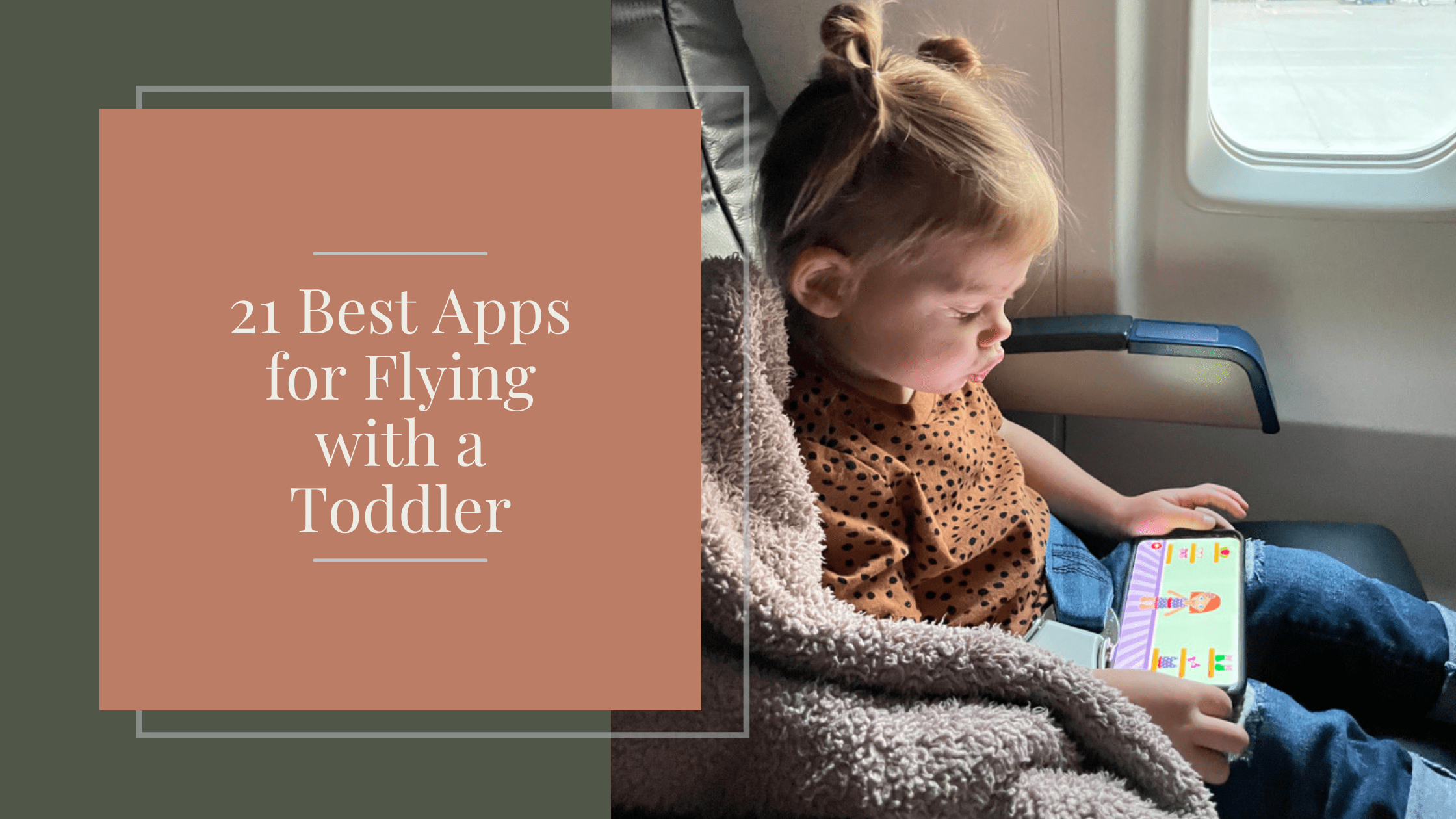 Apps for Flying With a Toddler
We were on a hunt for the best apps for flying with a toddler before our trip to Hawaii a few months ago. Hawaii was the second-longest plane ride Sloan had been on, and we learned from earlier in the year when we flew to Florida for Disney World, we needed a few extra activities to keep her busy. The only apps for toddlers we had initially were tv and movie apps, and we were in desperate need of games.
Gapes or Games, as most people call them, make traveling a lot easier, especially on a mobile device. The only downfall is that some of the games are a little advanced for a two-year-old, so to help them get started, you need to play the game with them. 
You do, we do, they do.
That is one of the biggest parenting lessons I have learned over the years and what's funny is that I learned you do, we do, they do from a course called Career Visioning, where you learn to hire employees.
Children are bright and need to see how to do something before feeling confident enough to do it independently. There is a wide variety of apps for a toddler. 
If you are flying with a toddler we have a few other ideas besides just apps that are great to keep them busy and happy.
Let's dive into the top apps for flying with a toddler.
Top Apps for Toddlers
Pink Fong Series
They have 12 games with different themes and activities. Each app has its own in-app purchases. They do have free options and come with four free games. It is the most expensive app I have paid for myself or anyone else for that matter. It's $15 per game or $8.99 a month, and if you want to pay for all access for the year, it's $99. It is a little more expensive for kids' games, but Sloan loves the dinosaur and shapes and colors apps.
Animatch
NEW YORK TIMES mentioned AniMatch in the Travel Section as a great game to have on trips for restless kids! We instantly downloaded it! It is $.99.
Elmo Loves ABC's
This app is full of games, activities, and videos, to help teach them about letters, sounds, and words. This one is free.
Elmo Loves 123's
It is very similar to Elmo ABC's app, and this app helps them with numbers and counting. Free
The wheels on the bus
This is not just a simple wheels on the bus app. It has coloring, interactive sing-along, car race, math, puzzles, and so much more. This one is free.
Little Red Hen
It is a little more complex for Sloan at first, and she does still ask for help, but this game allows them to help the chicken grow wheat, harvest it, and then bake bread. Free
Popping Bubbles
Exactly as it sounds, kids get to pop bubbles. Not the most advanced, but it does keep them busy. Free
Moo, Baa, La La La
It is Sandra Boynton's best-selling book of all time, Sloan loves it, and it is even better in digital form. There are multiple Sandra Boynton book apps, but they are $1.99 each.
ABC Mouse
This one does require a subscription but has over 10,000+ activities for all academic levels. It is Free to download
Educational Puzzles
This is a main go-to for Sloan. Kids can pick between different categories to match. Three outlines and three puzzle pieces pop up on the screen, and they have to match the outline to the puzzle. Free
Baby Puzzles
This is another really great one for younger kids. Each category is Free, and some open up after a few days and require a parent to enter a code. But it's still free. It's very interactive, with popping bubbles and matching pieces to create animals and other things. Free
Baby Balloons
Similar to bubble pop but has a few other categories. You can pop animals, numbers, or color balloons. Each round will put a specific thing to pop, and once the child pops enough to fill the bar, it will go to the next level. Free
Busy Shapes and Colors
This one is a little more difficult over time, but essentially they drag a shape through the correct shape hole, and it goes to the next level. I believe the app is a little glitchy, which makes it a little more difficult. Free
PBS Kids
This is a top 4 for Sloan. PBS Kids has tons of free games for kids to play. Once you download the app, you have to go through each character and download the games. Free
Animal World
For the younger kids, this app is all about animals and their noises. Free
Peek-a-Zoo
Another one for younger kids, this app is all about zoo animals, a simple touch, and revel the zoo animal. Free
Fish School by Duck Duck Moose
Great for ages 2-5, children will learn letters, numbers, shapes, and colors in educational activities.
Starfall ABC's
Starfall is a nonprofit, and these games motivate children to interact with letters, sounds in words, sentences, and games.
Learn & Play by Fisher-Price: ABCs, Colors, Shapes
All ad-free games and activities focused on ABCs, Colors, Shapes, and so much more. You can play together or let them independently play. Free
Dentist
If you do not like the Dentist, you will want to skip this one! Lol, You brush, drill, scrape, fill and pull teeth. You get to pick an animal to help and then perform dentist work. One of Sloan's favorites, some of the activities are funny, but she picked the game up quickly, and it helps her pick the right tools and use her hand-eye coordination to perform the tasks. Free.
Kids Car Wash
Just as it sounds, it took Sloan a little to learn this one, but once she was off and going, all she says now is Mommy's car is dirty and car wash. Kids get to clean, polish, and wash cars and airplanes. It does have in-app purchases, and she is happy with the available free vehicles. Free to download
Huge tip
DO NOT use your google account to log into anything. Ads will run on every game you open, and they get in the way of your toddler's games, causing them to accidentally click the ad and take them to the ad screen on googles website, ultimately frustrating your toddler.
Most apps are great for when you are connected to wifi but apps for flying with a toddler are few and far between because they cannot use wifi. Wifi on planes is tricky because it only works with that airplane's specific app and not just all apps on your phone.
Some of these apps have real-life scenarios, like the dentist game, Sloan has no issue going to the Dentist, but I caution some parents to keep that in mind before their kid plays some of the games.
We hope you enjoy this list of the best apps for flying with toddlers. I know they come in handy for us in more scenarios than just the airplane.