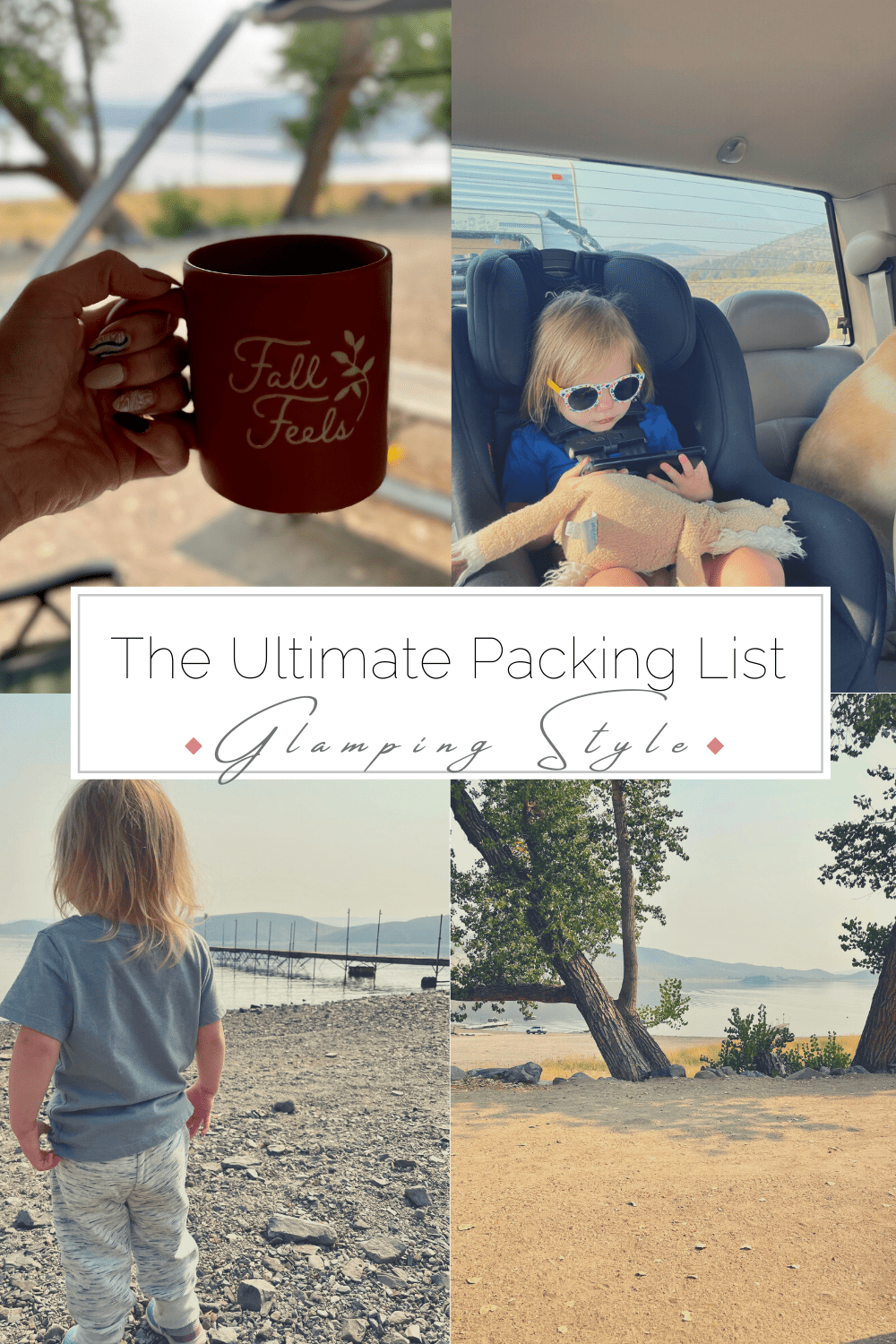 The Ultimate Camping List for your RV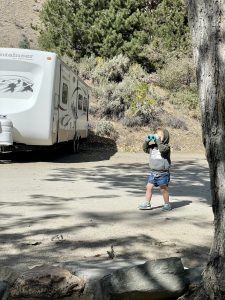 A good portion of this post is about your RV packing list in general so that you are prepared, so you can skip the stress and ensure you have the best camping trip. As a kid, we were gone for weeks and weekends all the time camping. Almost every camping trip was a family reunion. There were upwards of 50 people that went camping, kids, adults, teens, babies, and dogs… lots and lots of dogs. That made coordinating dinners and spots a mission and a half, and every year it was perfect.
Those traditions have kept, and as an adult, we camp quite a bit. We did take some time off while I was pregnant with Sloan, and honestly, hot, dirty, sweaty, pregnant camping did not sound appealing at all. Then we decided to skip for the first few years after Sloan while she was tiny.
You can head here and read more about camping with a toddler and what we experienced, and our suggestions for what we will do next time around.
If the thought of packing food or coming up with meal plans gives you anxiety, I have put together a simple 4-day meal plan that you can find here.
The essentials for towing and your car (thanks Mitchell) and the essentials for indoors and outdoors are included. From your kitchen to your bathroom.
Everyone travels differently and in their own style. Yes, you would put us in the "glamping" category. We do not tent camp, and that is just not something I would like to participate in again. I did it as a teen, and I've seen what I've needed to see, and I'm good.
Feeling at home whether we are camping, at a hotel, or Airbnb helps us be comfortable and keep to our routines as much as possible.
Please keep in mind that towing and your safety are essential, and maintaining a lighter load will help with all of that. You don't need to live out of a suitcase and should still keep the essentials and minimalist ideal when it comes to camping.
Camping should give you the freedom to live on the road; it's enjoyable and relaxing. Disconnect from the world if you would like or work if needed. I know many people who take their work on the road and bring a full blow computer monitor to work.
Hookups or dry camping, some call it boondocking, regardless of what you decide to do. I'll break down this list to easily digest and plan, and it will start with the technical RV essentials, Towing necessities, and then home. Home will be broken down into a bedroom, bathroom, kitchen, and pantry section. I will then chat on additional and outdoor items and then wrap up with dog essentials.
RV and Tow Accessories
Leveling blocks
Wheel chocks, not chucks
Level
Small shovel
Heavy Gloves
Locks
Dumping supplies and gloves
Tow hitch
Tongue lock
Jumper cables
Tow mirror
Tire pressure monitor
Back-up camera optional
Toolbox with essentials
Generator (when you have no hookups)
Home
One really great thing about having an RV and your own RV, for that matter, is having the ability to pack it and unpack it how you see fit.
One decision you will have to make is whether or not you want to unpack and repack each time or purchase specific items for RV only.
We decided to have RV-specific items, so we didn't have to unpack and repack. Now some trips require more layers of clothing and extra blankets, and we are mindful of each trip.
This list is broken up into different parts of your home. As a memory jogger, I highly suggest going through your rooms and seeing what you use and what you find important to have with you.
Bedroom
Sheets
Pillows and pillowcases – We still bring our pillows from home
Comforters or heavy blankets
Fan – battery or wired
Bathroom
Towels and washcloths
Soap, shampoo, conditioner, razor
Hairbrush
Toilet paper, and yes, it's specific
Hand soap
Toothbrush and toothpaste
Toilet bowl brush
Trash can
Kitchen
A lot of your supplies will be in this section. We find it better to have RV-specific kitchen supplies and utensils so that we do not have to worry about breaking something special or unpacking and repacking every time we travel.
I have broken down the list into grocery and pantry, cleaning and household goods, and Utensils.
Household Goods and Utensils
Cutting board
Plates
Bowls
Eating and Cooking Utensils
Knives
Cups
Coffee Cups
Coffee machine

We bought a camping Nespresso its small and easy to use
Or you can go with one of these if you want basic coffee

Pots and pans
Baking sheet
Mixing bowls
Measuring cups
Paper towels
Towels
Trash Bags
Dish Soap, drying rack, and scrubber
Tin Foil
Ziploc bags
Storage containers
Can opener
Wine and Bottle Opener
Scissors
Ice cream scoop
Grilling Utensils
Groceries and Panty Supplies
Grocery
Yogurt
Fruit
Eggs
Milk
Butter
Deli Meat
Meat for dinners
Veggies
Pantry Supplies
Spices
Cooking spray
Olive Oil
Flour
Sugar
Salt and Pepper
Ramen
Bread
Peanut butter
Honey
Soup
Chili
Chips
Additional and Outdoor Items
Grill and Burner
Folding chairs
Firewood

Firepit if you can to make sure you are fire safe

Folding table
Outdoor Table cloth
Tarp
Rug
Popup
Flashlights and headlamps
Charcoal, propane, Starter fluid, Wood, lighters
Fly swatter or bug zapper
Bike rack and bike
Board games
Cards
Books
Notepad and Journal
Frisbee
Tennis ball
Sand Toys
Blowup mattress
Dog Essentials
Dog beds
Toys
Bowls for food
Bowls for water
Leashes and Collars
Flea and Tick Collars
I sure hope this helps for your camping and RV adventures. Every trip, we make a shortlist of the missing things we need to add to the camper for the next time. I highly suggest doing a yearly, if not every six months cleanout. Make sure you eliminate anything you are not using or that needs to be updated and should stay in.
After your first few trips, you should have everything dialed in, and you will book more and more trips because you are having so much fun.
Download the complete checklist here.