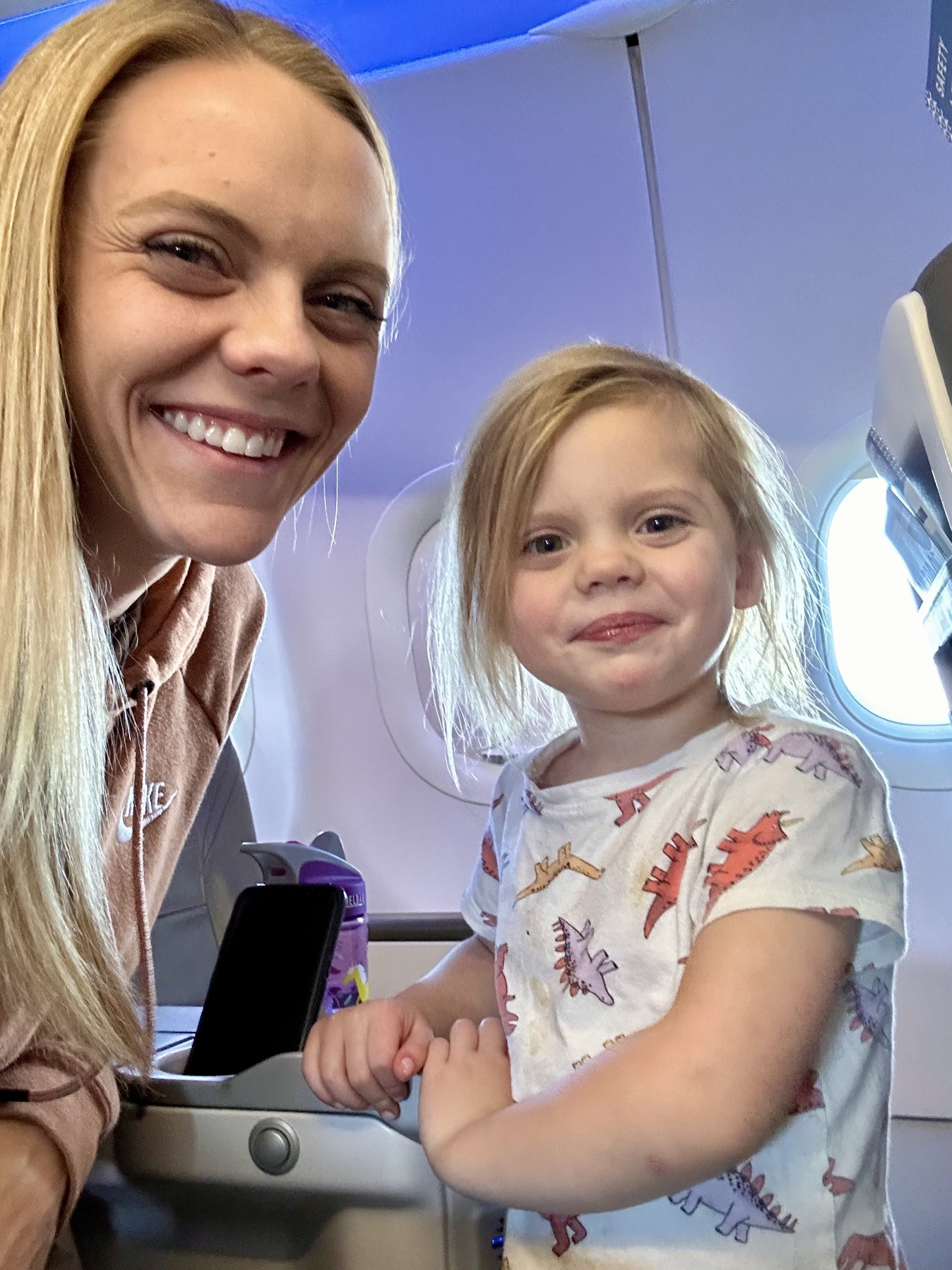 How to have a successful, stress-free flight with a toddler starts with our checklist and top tips for flying with a toddler. If there is one thing that parents stress about, it's how to get on an airplane with a toddler.
That's why we created this flying with a toddler checklist. After several flights over the years, we have created the ultimate checklist for everything you need to pack each flight.
Flying with a toddler Checklist
Pre-flight Flying with Toddler Checklist
Boarding Process with a Toddler
Emergency landings
What should be in your bag
What bag should you use
We know that you want to pack anything and everything to avoid a meltdown on the airplane, and this list will help you create your family flying with a toddler checklist, and what you should leave behind. 
Flying with a Toddler
We suggest doing a quick read and glance at the FAA and TSA rules and regulations to better understand the major airlines and flight information if this is your first time.
If you have young children, you understand the struggle of keeping them entertained even on a short road trip, and now you've booked a long flight and want to know what to bring to make it a successful trip.
There is nothing worse than an ill-prepared parent on a flight with a toddler having an absolute meltdown. With lots of success and watching many failures, we created this checklist after our first flight with our daughter. Now, 4 years later and hundreds of flights later, I'd say she is a pro, and we've nailed down the best flying with a toddler checklist.
If you are preparing to hop on an airplane with a toddler, here are the most important and useful items to add to your airplane packing list. Once you have done this a few times and followed our checklist, it will take little preparation in the future to have a successful trip with your toddler.
Flying with a Toddler Checklist
Before we get started on the full packing list for flying with a toddler, we will quickly discuss the importance of a carry-on bag and a toddler travel backpack.
There are things you will need access to in an emergency and not right away, and there are things your toddler will want and need access to during your flight.
We will break down more of the important reasons why you will want a carry-on in addition to everyone's personal items, but most of the flying with a toddler checklist items will go into your toddler's travel backpack.
Your toddler's backpack will hold most of their plane activities and personal items. Water bottle, toys and activities, tablet, snacks, change of clothes, lovie and blanket, wipes, and diaper or pull-up If needed. Think of this as the diaper bag you used to carry, but hopefully, they can carry their own backpack. If you are not confident they can carry their own bag, you will want to get something large enough to hold their items and yours as well. 
Flying With Toddler Checklist
Best Toddler Travel Backpacks
Toys
Our favorite thing we have implemented over the years is a bag of toys we call the travel toys. These are small toys and even new toys that our daughter doesn't have access to unless we are traveling. This helps keep that "new toy" feeling last a little longer.
One thing many people don't think about is keeping your child busy in the hotel room during downtime and when everyone is getting ready. This bag of toys doubles as a great set of toys for your child to play with at the hotel and on the airplane.
We go as mess-free as possible, and while we think play dough is fun, your toddler may cut it into tiny pieces, so keep an eye on them while they play. When it comes to slime or sand, those are a huge no-go with us on an airplane. That is a next-level mess that we are not ready to take care of and won't be doing. Many of our travel toddler toys are magnet-based and quiet toys to ensure a fun and enjoyable experience for everyone.
If you do have a toy your child adores and it does make noise, you can tape the speaker to muffle some of the sound.
Best Travel Toys For Toddlers
Magnet Tiles
Wooden Block Sets Magnet
Magnet Puzzle Book
Magnet Play Set – Petit Collage Magnetic Play Set: Rocket Ships – Pottery Barn
Pop up Fidget Spinner
Pop it Fidget Toys
Doodle Stigs wax yarn set
Play Dough
Bigger Block Legos
LCD Writing Tablet
MagMen Colorful Magnetic Fidget Toy
Coloring Books and Crayons
A color and activity book helps pass the time on your flight and is a great distraction for your toddler. If you are not a screen time family, you will want to pack a few extra items in this category and skip the checklist item for a tablet.
Stickers, puzzles, and coloring are great options for kids, and there are many options on the market currently, and many have mess-free in mind. We love the I Spy books because it is something many people can do together and a great activity for small children.
A special note about messes and keeping it together: I think by now, we have all heard about the popcorn debacle with Anthony Bass and his wife. Nobody likes to leave a massive mess, and it is our responsibility as a parent to clean up after ourselves and our children. So we try to go as mess-free as possible.
The triangle-shaped crayons work best on a flight; they won't roll off the side of the tray tables, but any crayon works well.
When it comes to coloring, we like mess-free markers, water coloring books, not watercolors, and magnet-style activities so we don't lose our things. Target is the best place to pick up a bunch of activity books, as well as small toys for a flight.
Best Activity and Coloring Books for Toddlers
Activity Books and Sticker Books
Magic Markers and Magic Paper
Mess Free Coloring Book – Crayola
Melissa & Doug, On the go Water Wow
Dry-erase markers and book – FLOSS & ROCK Magnetic Space Multi Play Pottery Barn
Stickers
Pop Books
I Spy Books
Melissa & Doug Reusable Sticker Book
Triangle Crayons
Wet Wipes, Diaper Wipes, All the Wipes
I don't care how old your child is or if you have a child. Every human should have a pack of wet wipes with them at all times.
Besides being a total germaphobe and shocked, we had to teach people how to wash their hands, surfaces are dirty and sticky.
When it comes to wipes, there are a few different packs you will need.
Diaper Wipes
We like the Water Wipes the most, any diaper wipes will do, but if you have a kiddo with sensitive skin, we've found the water wipes to be the best for all-around wetness and effectiveness while still leaving your child comfortable. Alcohol-based wipes can sting and dry out your toddler's skin and cause irritation.
Alcohol Based WetOnes
When it comes to really cleaning off a surface and disinfecting it, you will want an alcohol-based wet wipe. We like these Clorox, WetOnes, or Lysol travel-sized wipe packs, as well as the Honest sanitizing wipes. We like to give everything a good wipe-down while we are waiting to take off. 
A little tip: give your toddler the wipe and have them wipe everything down from their own seat to the armrest and even the tray tables.
Many kids enjoy "little jobs" and activities that they can do independently.
Toddler Tablet, Phone and More
We like to put the Tablet or Phone further down on the list for families that want to stay tech-free as long as possible. We understand the challenge that tech brings to the experience.
If you are flying with a toddler and a tech family like we are, I want to explain we are a little more strict when it comes to shows and apps our toddler can play. I've put together a small list of the top apps for toddlers and continue to update it as she gets older. I want apps and shows that work with and without wifi because airplane wifi is not like normal wifi.
The top toddler tablet happens to be the Amazon Fire. It does have some major setbacks, but for a kid's tablet, this is probably the best option. In a few years, we will graduate to an iPad for ease of use and flexibility as our daughter ages, but for now, the Amazon tablet and a pay-as-you-go cell phone do the trick. More on why we use the pay-as-you-go here.
These days, many parents have it a lot easier on a plane using tablets to entertain family members. You can download TV shows, movies, and apps to keep your family entertained. With so many streaming services out there nowadays, we like to prep the tablet the week prior to our leaving so that it has everything set for our trip.
A special note for tech items: each of us has a battery pack to use for our tech items. You also want to make sure these are charged ahead of time and ready to go for your vacation. We love this battery pack the most because it has built-in cords for each device.
Top Apps for Toddlers on an Airplane
Toddler Headphones
We've had and used many headphones over the years. Currently, our toddler uses the Wireless Beats Solo 3, they come with a carrying case and have 40 hours of battery life as well as a 5-minute charge for 3 hours of play. This is really important when it comes to charging all our tech before a trip.
I will say we did not start with this set, and I was a little hesitant when my husband said we should get them. This particular set was on one of the Amazon deal days for a discount, so it made the jump a little easier.
We first started with a few cheap pairs of plug-in headphones, then graduated to cheap Bluetooth headphones, and then now have the more expensive Bluetooth headphones. This was an important thing for us to do because we wanted to make sure she could take care of a set of headphones and we all wouldn't lose them. So don't feel like you need to get an expensive set right off the bat, start with a less expensive set and graduate if needed.
For toddlers, we would suggest staying away from earbuds because of the poor fit with their little ears. There are many headsets on the market in a variety of price ranges, and we've shared our favorites below.
Best Toddler Headphones
Beats Solo 3
Gabby's Dollhouse Headphones
Super Mario Headphones
Bluetooth Headphones
Plug-in Headphones
Lovies/Stuffed Animals and Blankets
One of the most important Flying with a toddler checklist items is a lovie or blanet. If you are going to be traveling during nap time or on long haul flights, you will want to bring items that your toddler uses at home to nap or during sleep. Lovies and blankets can help a toddler feel more comfortable and have an easier time sleeping. Also, airports and planes can be cold, and a blanket can come in handy to keep them warm. 
This is where my germaphobic self shows back up. Our daughter can sleep anywhere without her lovies and blanket, but we have a much easier time having her nap with her lovie and blanket. The only downfall is that they are both cloth material, and germs cling to them.
We like to use the WetOnes to wipe them off at the end of the flight. Little intense, I know, but these items are something your toddler will rub on their face or have very close to their ears, nose, and mouth. Those are the main ways germs are transferred, and we like to be on the safer side.
Snacks
Airplane snacks are unpredictable. The airplane will have some form of snack, yes, but that doesn't mean it's enough or that your toddler will like them. And a hangry toddler is next level.
This is your time to pack your kid's favorite snacks and even include other great options that they don't have access to on a regular basis. We don't give the icing-covered animal crackers often, so it's a bit of a treat for our toddler to have them on an airplane flight. Besides Cheetos, which are very messy, we like to make travel a flex time for snacks.
Think about your toddler's favorite snacks and bring them with you in some sort of small snack carrier. Multiple small bags are not the most ideal and take up a lot of space. If you are going to pack extra snacks, we suggest putting them in a large ziplock and putting those in your carry-on bag.
We like to have our toddler help pack her Bento Box before our flight. Not only does it give her a job for our trip, but it also helps create the routine of travel. We found the bento box a few years ago and have one for each of our cars and one for travel. There are a lot of options for snack containers and we've shared some of our favorite options below.
Best Airplane Snack Holder 
Bento Box
Snackle Box
Tower Cups or Stackable Containers
Push Spin Snack Pack
Sippy Cups and Drinks
The TSA liquid restrictions make travel very difficult. But, traveling with an infant or small child, you can bring some liquids through TSA. With that being said, read up on what is allowed, and if your child has specific needs, you might find it easier to bring them yourself.
If not, we suggest getting whatever liquid you need on the other side of TSA. Flights do not limit or have restrictions on drinks besides alcohol, and we're not giving our toddler that.
Milk can be found at a coffee shop or restaurant, as well as apple juice or even orange juice.
Many airports have water bottle refill stations where you can fill your water bottle up after TSA.
If your toddler is still on formula or breast milk, please read up on what is allowed through the TSA website.
You will want to bring ice packs or gel packs to keep them cold, as well as any of the accessories needed for pumping.
One pro tip: Water bottles build up pressure and will leak or spill everywhere when you open them in flight. If you have a straw water bottle, make sure to open it in the middle of the aisle or unscrew the top a little before you open up the straw portion.
I cannot tell you how many times we've spilled water on ourselves or watched it become a geyser in the middle of the aisle.
Best Sippy Cups on an Airplane
Contigo
Iron Flask
Hydro Flask
Stanly Cup
Extra Clothing
Accidents happen! Pack a change of clothing in your carry-on baggage for the just-in-case moments. We've missed a late-night connection before and had to stay overnight without our main luggage. Thankfully, we had our carry-on packed with a change of clothes for each of us for the "just-in-case" moment. Use packing cubes to help consolidate space in your carry-on luggage.
First Aid Kit
Also, for the, just in case moments, things can happen, and you want to be as prepared as possible. Our first aid kit is packed for our toddler and ourselves, and I've included those items on this list.
Hand sanitizer
Tylenol or Motrin – Younger children often need medicine for sore ears.
Allergy medicine
Dramamine and anti-nausea medication
Lavender roller
CBD stress relief roller
Bandaids
Neosporin
Travel potty for potty training – put this in your carry-on 
Ziplock Bags
We like to bring multiple sizes for different uses. Put the quart-sized bag inside a Gallon-sized bag and fold them up inside your hand luggage. These are for the messes and any wet clothing you need to keep away from other things.
Resealable plastic bags are okay, but when it comes to messes, you will most likely want a disposable bag.
Diapers or Pull-ups
Our daughter is out of the potty training stage, thankfully, but many toddlers still require help with pull-ups or using the restroom. An accident is a hassle, but this is not the time to scold them and make a big deal about it.
You have a wet bag or extra ziplocks packed for this very moment. Clean them off, get them changed, and move on.

You never know what's going on or what is causing issues for your toddler. The flushing and loud noises in the airplane bathroom used to be completely overwhelming for our daughter, and she refused to use the bathroom on the airplane. We felt like that left us with little options.
But after the first time, we knew going in that she was not going to use it, so we would go potty before we got on the airplane and then put a diaper on her for any potential accidents while flying Thankfully, we only had to do this a few times before she was ready to use the airplane bathroom.
Use your discretion for where your toddler is at in their journey. If they still have accidents during nap time and you think they will nap on the plane, prep them ahead of time or know that you might have a messy clean up on your hands.
Baby Carrier
This is last on our list and more of an adult item. While we find family travel to be a lot of fun, getting through the airport is not our favorite part.
You can bring a stroller through the airport to make it a lot easier to get around. We find it a little easier to strap our toddler to us in a baby carrier instead of hauling a stroller through the terminal and then having to go to the check-in desk to get a gate check tag.
Either way, you will want a Baby Carrier or a Stroller to get through the airport easier with your toddler and their little legs. Especially if you are going the international travel route, you might opt for the stroller to hold all of your items. 
Best Baby Carrier
Best travel stroller
Pre-flight Flying with Toddler Checklist
Now to talk about everything you need before you get through the security checkpoint at the airport. I have to say, up until a year ago, this was the most stressful part of our family vacation. Now, after so many flights, our toddler knows whats up and how to do this with no issues.
Boarding passes
Birth Certificate
Travel Insurance
Boarding Process with a Toddler
As a family on most major airlines, there is a family board group. If you have chosen your seats ahead of time when purchasing your tickets, we highly suggest getting on the plane closer to the end of boarding and not getting on first.
Getting on first requires both you and your toddler to keep it together in the tiny confinement of the seat for longer than necessary.
BUT, when it comes to open seating like Southwest, take full advantage of the family boarding group and get on the plane earlier if you care about where you sit and to sit together.
For our family, I have really bad motion sickness and often take Dramamine before flying.
We sit on or in front of the wings for more stability while taking off and landing. This helps a lot with motion sickness, and we care where we sit.
If you are not concerned about where you sit, you can board in your normal boarding group and get on the plane. One thing that we have found with Southwest is that if you don't take advantage of the family boarding group, you have a lower chance of sitting together as a family.
We have more tips on flying with toddlers, the importance of activities before you get on the airplane, and how to have a successful flight with a toddler.
Tips and Tricks for Flying with Toddlers
Baby Packing List
When it comes to the youngest of travelers, many of the items will work above, with a small adjustment to age-appropriate snacks and toys.
Babies on a flight need a few things like formula/breast milk, diapers and wipes, pacifiers, bottles, and a few other personal items to care for a baby. Diaper changes can be a little more difficult with toddlers in the bathroom because of their size, but when it comes to babies, it is significantly easier.
Packing a Carry-on Bag for Flying with a toddler Checklist
I don't know if I can explain the importance of packing a carry-on unless I explain what we have been through.
Puked on, emergency landings, missed connections. Air travel is just less predictable than you hope it is for a toddler. Now, don't get me wrong, not every flight has issues, but when you have a bad go on a flight, you just know you need to be prepared.
Looking back, it makes sense people don't pack carry-ons. You have a stroller, a car seat, the vacation bags, and now you have to shlep around a carry-on. It's just too much for many people.
We promise it will all make sense if you have a toddler. For most people, no, you don't need to pack a regular bag and then an additional carry-on. We do suggest packing light and packing into a backpack or carry-on if you can.
But for those brave hearts that want to experience the world with their children, packing a carry-on is essential.
When the flight attendant got on the overcome to inform everyone that we were going to be making an emergency landing in El Paso, we knew we would miss our connecting flight in Phoenix and would have to stay the night somewhere. Having the carry-on with our essentials was not only a good idea, it was the best way for our toddler to feel comfortable and allowed us not to be as stressed. 
Emergency Landing
With a two-year-old, this was not the news you want to hear. It was already getting late, and we were running on very little sleep since our flight out was so early.
As we landed in El Paso, you could hear the people frustrated by the emergency landing and the time it was wasting. With less than .6% of emergency landings happening, it makes sense that people are mad. People were angry at a man who fell very ill the entire flight. The flight attendants attempted many things on the flight to help him and not do an emergency landing. But, sometimes, things are out of our control, and flight attendants and pilots have to make the difficult call not to continue on and opt for the emergency landing.
In this case, it was fast! Less than 45 min on the ground in EL Paso, but it was already too late to make our connection, and they were not going to hold the plane for us Reno folk.
So, off to Phoenix for an overnight, we went. We made our way to baggage claim, but our bags, on the other hand, were not. Everyone on our flight got their bags besides the missed connection people.
Where do your bags go in an emergency landing, you ask?
Nowhere really. Many people don't know that it can take hours to receive your bags after a missed connection flight after an emergency landing. The airline must ensure it is first safe to get the bags off the plane, then pack everything together and send them off to the prospective flights. Those bags that don't have a flight to connect must stay on the property until the next connecting flight. Um… what? 
Yes, you can request your bags, and it will take hours to receive said bags. At 11:00 at night, we didn't have time to wait hours for bags. They had rebooked us on a 6:45 am to Reno the next morning. So, off to the hotel for the night, we went.
What we did have was our carry-on bag with all our daughter's essentials.
Diapers, blanket, formula, pj's for her, and a change of clothes. We had everything we needed to ensure our daughter felt safe and secure for the night, although nothing was as planned.
So what should a carry-on have?
I read so many different resources and asked every mom I knew How to fly with a toddler, but nothing is like an experience on your own, and I'm here to share ours.
Including the list of items on the flying with a toddler checklist, the list below will help you pack your carry-on. 
Flying with a Toddler Travel Checklist
Here is the Flying with a Toddler checklist
Download here
Oh, the Federal Aviation Administration. We love you so much. All jokes aside, we are thankful that you can quickly look up TSA regulations online and go through them. ALL of them… It's a lot. But here are the most essential.
You are competing against the FAA and your babies' needs. Breast milk and all. We have learned something new every time when it comes to what you can bring with a baby and what you cannot bring with a baby.
Diaper packs sometimes throw off the machines because of their alcohol or water content. SO they will pull your bag and go through everything. Easy fix: pull it out, send it through the X-ray machine by itself, and off it goes. We highly suggest TSA pre-check. You don't have to take your belt off, pull any necessary liquids out, and walk on the nasty airport ground in your socks. Ew.
Having TSA pre-check, Global Entry, and Clear makes airport security go much more smoothly. 10/10, get a credit card that gives you a credit for that purchase—making it free. And totally worth it.
Diaper Bag
Your diaper bag will have the most items, but we like packing our backpacks and putting a lot of the essentials we will need quick access to in there and the items we don't need quick access to in the carry-on. You are also carrying the diaper bag or hanging it on your compact stroller through the airport. You don't want to over-pack it and have a heavy bag to carry around.
Diaper bag essentials for toddler travel
Sippy cup
New toys
Coloring Books
First Aid Kit
Hand Sanitizer
Snacks
iPad, Tablet, or Phone
Personal items
Birth Certificate
Diaper and wipes for a single change depending on flight time
Now, the carry-on toddler packing list
Most of the items you will need are not essential all at one point, but you will need them in the airport or in an emergency scenario.
Packing cubes
Diapers
Wipes
Reusable plastic bags
Formula
Extra clothes or pjs
Tooth Brush and toothpaste
Extra Snacks
Blanket
Lovie
Shop This Page