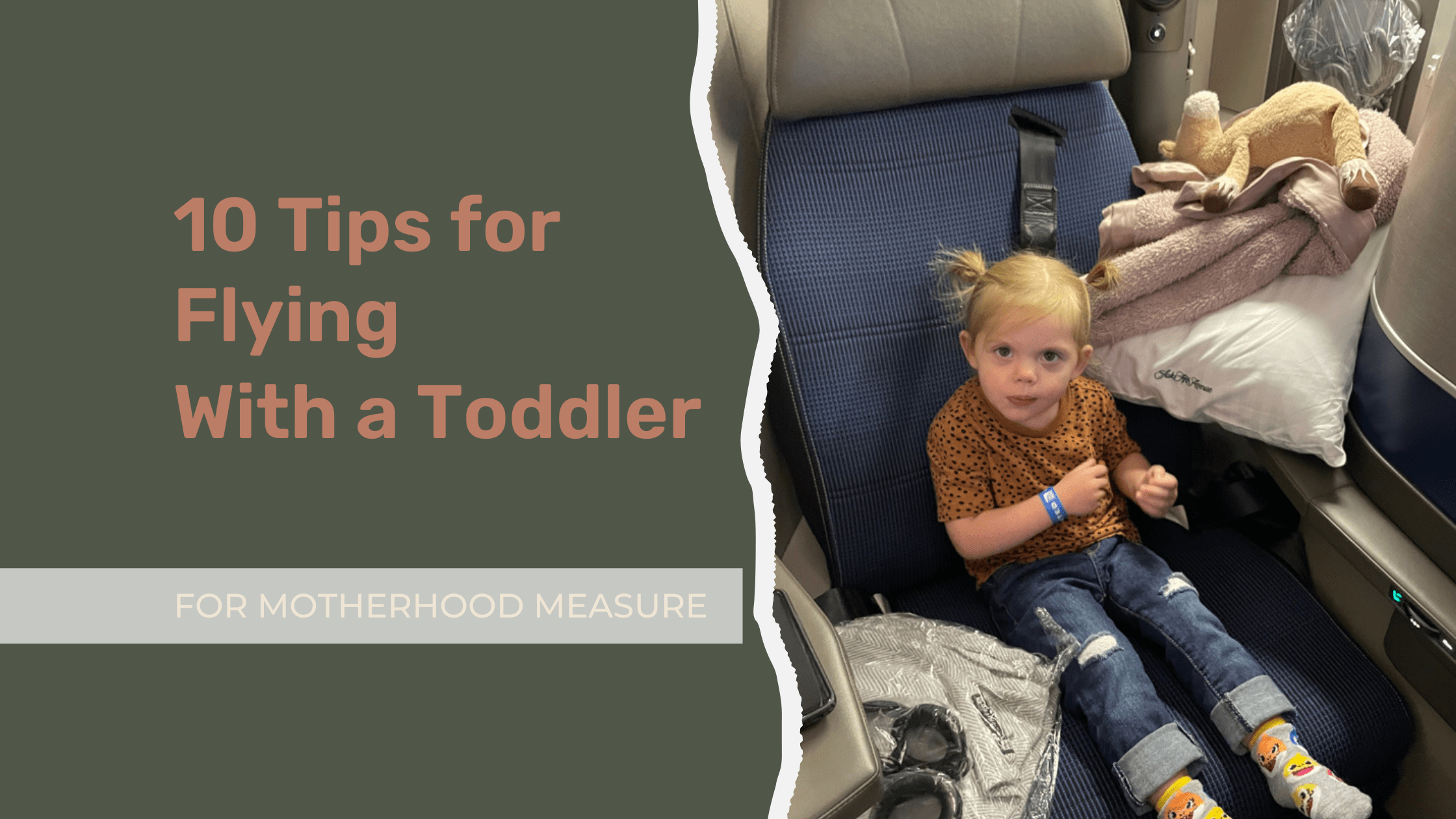 Tips for Flying with a Toddler
I cannot tell you how much research went into looking for tips for flying with a toddler. Let's just start with the elephant in the room. Flying with a toddler is tough work, and add masks in today's world, and you get another layer of difficulty. MASKS suck for a two-year-old and knocking on all the wood in the world that someone finally tells those old congressmen that babies let alone a child under 5, fight us on so many other issues the mask is the least of my worry at this moment in life.
Now that is out of the way, let's discuss normal flying with toddler obstacles we encounter outside of battling a pandemic. Because one day we will be back to previous travel. I used to come back with a terrible cold every time we traveled and haven't had that issue in quite some time now. I will admit, though, ever since wearing a mask on the plane and their "disinfecting cloud," I've kept very healthy. Hopefully, we keep some of these cleaning etiquettes when this is "over," but I digress.
Let's put it this way I had so much anxiety taking her at five months on her first flight.
What if she screams?
What if she doesn't sit down with us?
The questions and anxiety continued to layer. I did as much research as possible and still didn't feel settled.
My MIL works in the mental health field and said this to me, "don't be stressed, you stressed makes her stressed, and that's not good for anything or anyone. If she starts to fuss, we will deal with it then. And we are already in the air. What are you going to have them do? Land the Plane?"
People have been in your spot. Yes, annoying, but it's worse for you, the parent.
And now, last year, Sloan had her first "independent" first-class lie back seat and has over 15 flights under her belt, and I have to say she truly is a fantastic flyer.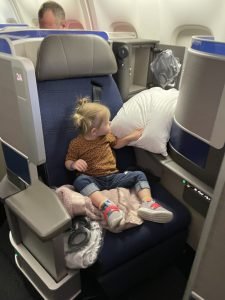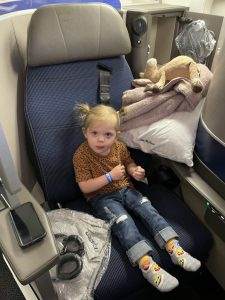 So enough about my back story for now.
Let's get into what you need for flying with a toddler your first time.
Before we start the actual list for during the flight, here are a few things to think about before you purchase a ticket or even board the plane.
The Earlier, the Better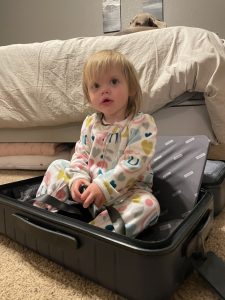 Plan to fly early, we have done a few late flights, and every one of them has been a "disaster" by our standards. She is not as cooperative, and she is typically done with us by the end of the day and just wants to be by herself (we have a very independent child). She doesn't want to nap or sleep. She seems to always be in a good mood and really excited to get on the plane when it's an early flight. Afternoon or later night flights are always a gamble.
Walk around
Please DO not, and I repeat, DO NOT sit and wait to board your plane. They are already going to sit for an extended period, don't make them sit longer than needed.
Anything to keep them busy and wear them out prior to boarding the plane will help. Run up and down the pathway, go through the stores, walk farther to the bathroom, grab a snack, ride the tram if your airport has one, and get a coffee from another terminal. Although this is not a tip for on the airplane, this will help when you get on the airplane and is something I wish someone would have told me when we first started flying.
Please remember children need a few extra moments to calm themselves after running around. Please take a few moments to talk to them about what will happen next and calm them down in preparation to board the plane.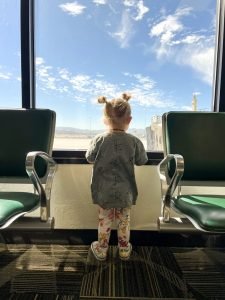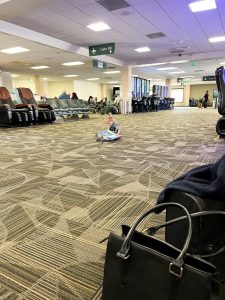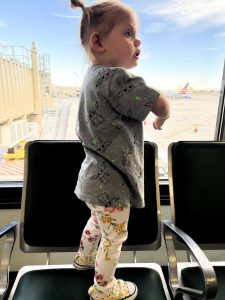 We do not board early for children!
People take forever to get on the plane and get settled. My husband and I found it easier to board separately. Mitchell would board with our given boarding number, and Sloan and I would continue walking around or look out the window at all that was going on outside. Once he boarded, he would get our spots all situated and text me to confirm he had settled. Once the gate called the last boarding section, I would get in line and board the plane.
It guarantees less time on the plane and allows them to get their last wiggles out before having to sit for a more extended period of time.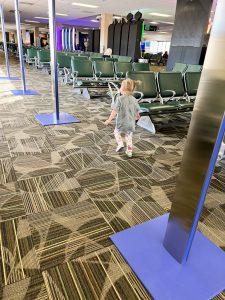 Wipe everything down.
Not just for COVID's sake. News flash: many humans are just gross, and by many, I mean like 90%.
While you are wiping down the tray, you might as well pull out that brochure that tells you how you will survive over water but not land, which also happens to be the only thing you are flying over.
Sloan is obsessed with them, keeping her busy for a solid two sessions. She reads and shows us what is going on, obviously from 2-year-old baby Sloan's perspective.
Snacks
Keep them busy and full. Nothing is worse than a hangry child. Children are simple. We just have to spend the time to understand our own. Flying with a toddler can be tricky, especially on longer flights or transferred flights. And yes, snacks also mean treats. Food is a driver for most humans. Candy included, and we alternate snacks and lunch. You can take food and truly any baby item you need through security. TSA will check for liquids, and we have found that a wipes pack will trigger a scan. But they typically put it in the bomb scanner (also known as Explosives Trace Detector (ETD), and then you are on your way.
Lollipops – sugar-free, healthy,

Chocolate

GoldFish

Pretzels.

Cheerios

Dried fruit

Power bar

Fruit snacks

Fruit strip

Popcorn
Bring disinfectant wipes. Wipe everything down and then lay down (sticky placemats) and let them feed animals and then themselves.
Get their favorite snacks, maybe a few you limit at home because they aren't "healthy" or too messy. Sloan loves Cheetos. We do not love Cheetos. Sloan gets Cheetos at the airport and on the plane. It gives us something to do, and then we walk to the bathroom to wash our hands and clean up once she is done.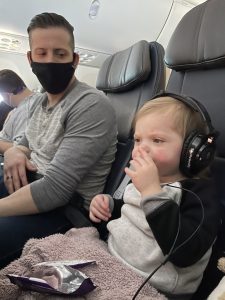 A cup of ice will go a long way
It sounds absolutely ridiculous, I know. Mackinzie, you are literally telling me to allow my child to get wet and then just be wet. Yes, possibly, and you already brought a change of clothing for an accident. Change them outlet the others dry, and they will be the replacement if they mess the backup pair up.
A cup of ice keeps kids intertwined for eve and top it off with a straw. Happy baby alert.
Sometimes we must bend to accommodate joy.
Are you making alterations and adjustments, yes, and are they earth-shattering? No.
As Dr. Seuss says in big dog little dog, "don't make big problems out of little problems.
Bottle and a Nap
As Sloan calls it. A bottle and a nap will do everyone justice. Even if your child has outgrown bottles and pacifiers, most children do not understand how to pop their ears. These poor children screaming on the plane hurt, give that baby a sucker and help a child out and the rest of us on the flight.
Naps or quiet time sounds completely unrealistic, huh? Well, I can promise you kids can do it! Bring their favorite blanket and lovie on the plane. For younger babies, they have a hammock that hangs on the seat in front of you, or you can bring a sleeping mat that your child uses for school and lay it on the ground at your feet. It gives them room to move around and lay down without having to lay uncomfortably in the seat. Sloans favorite thing is to lay on the ground. Don't get me wrong. I started with the "cleanliness" of the plane. Planes are nasty, and I feel like everything is contaminated. The sleep mat gives a slight barrier between them and the ground.
Give them a book, their phone, bottle, pacifier, or sound and let them relax or fall asleep.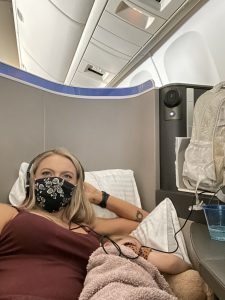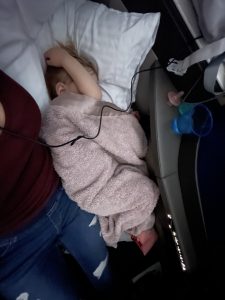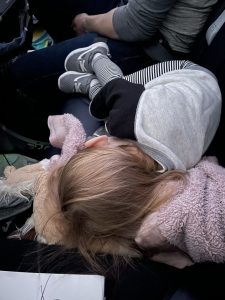 Activities
Keeping a child entertained in a confined spot is no simple task. It's boring, and kids are used to having free range to move and run. They are supposed to stay in a tiny seat or share a seat with you in the early stages. Give them a new toy or activity they haven't seen before to keep them busy on the flight.
Play-doh with cookie cutters

Magic markers and book

Dry erase board and markers

Water Wow coloring books by Mellisa and Doug

Post-it notes

Wasabi Tape

Stickers (although very hard to clean up, you can use them in a book) — we like this one the most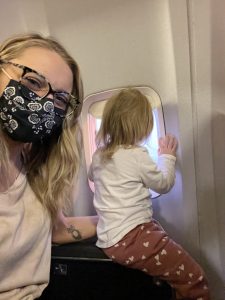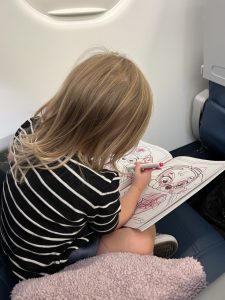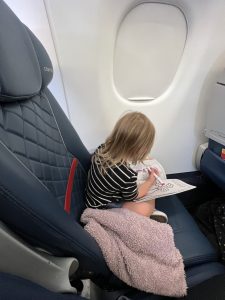 Games
Educational or time wasters. It's time to get the tablet or phone out.
We have four games on her phone she really plays. But here is a list of the best apps for flying with a toddler. We've put together 20 we really like.
We borrowed a tablet from a friend, and it was a terrible experience. The games and shows we downloaded required wifi to play, and we had nothing. Not all planes provide in-air wifi. With many planes having wifi work on specific apps only, make sure you download the plane's app to watch movies and play games they provide.

Movies and screen time
And our last one on the list is screen time.
This is last on the list because it truly is our last go-to. We do not love for Sloan to be attached to her phone all the time and want to keep it for special moments. Although when we travel, that seems to go out the window. Not all families allow screen time, and that is why we find it essential to lean on realistic activities and things to keep your toddler busy and use screentime as a last resort.
Sloans top shows for flying are Cocomelon or Mickey Mouse. Although if it's on Disney, Netflix, or Paramount, she is all about it.
Our top tip is to download everything while connected to wifi at home. Do not wait until you get to the airport to do so. The files are too large, and the wifi at the airport sucks! Although not all of it is 100% educational, it can and does keep her focused. Have an extra battery pack or additional slots so that you can charge their phone and not have to worry about it dying.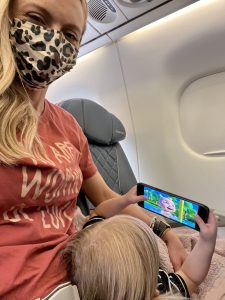 I remember when Sloan was just under two and was still a lap child, we were getting settled in our seats, she said my seat mom and pushed me out of the seat with her tiny feet. All I could think was, oh girl, you will soon have your own. Mom and dad are not thrilled to purchase that ticket each time. I can promise you that.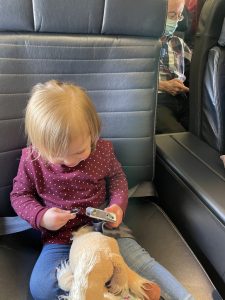 I didn't make it a point to talk about seats. If you can and have extra money, it is worth it for your child to have their own seat, AND not everyone can opt to pay for their infant in addition. It is well worth it, but please don't stress when your baby turns two, you will be forced to purchase the seat even if they don't use it. So take the little time you have to enjoy the free rider.
Be kind to yourself. ESPECIALLY the very first time you travel with your child. Your anxiety is high, and they can feel that. These tips will better prepare you for your trip. Spend some time planning ahead of time and really getting to know what your child likes and doesn't like.
If you want to share tips for flying with a toddler, please leave them in the comments below. I would love to test them out!