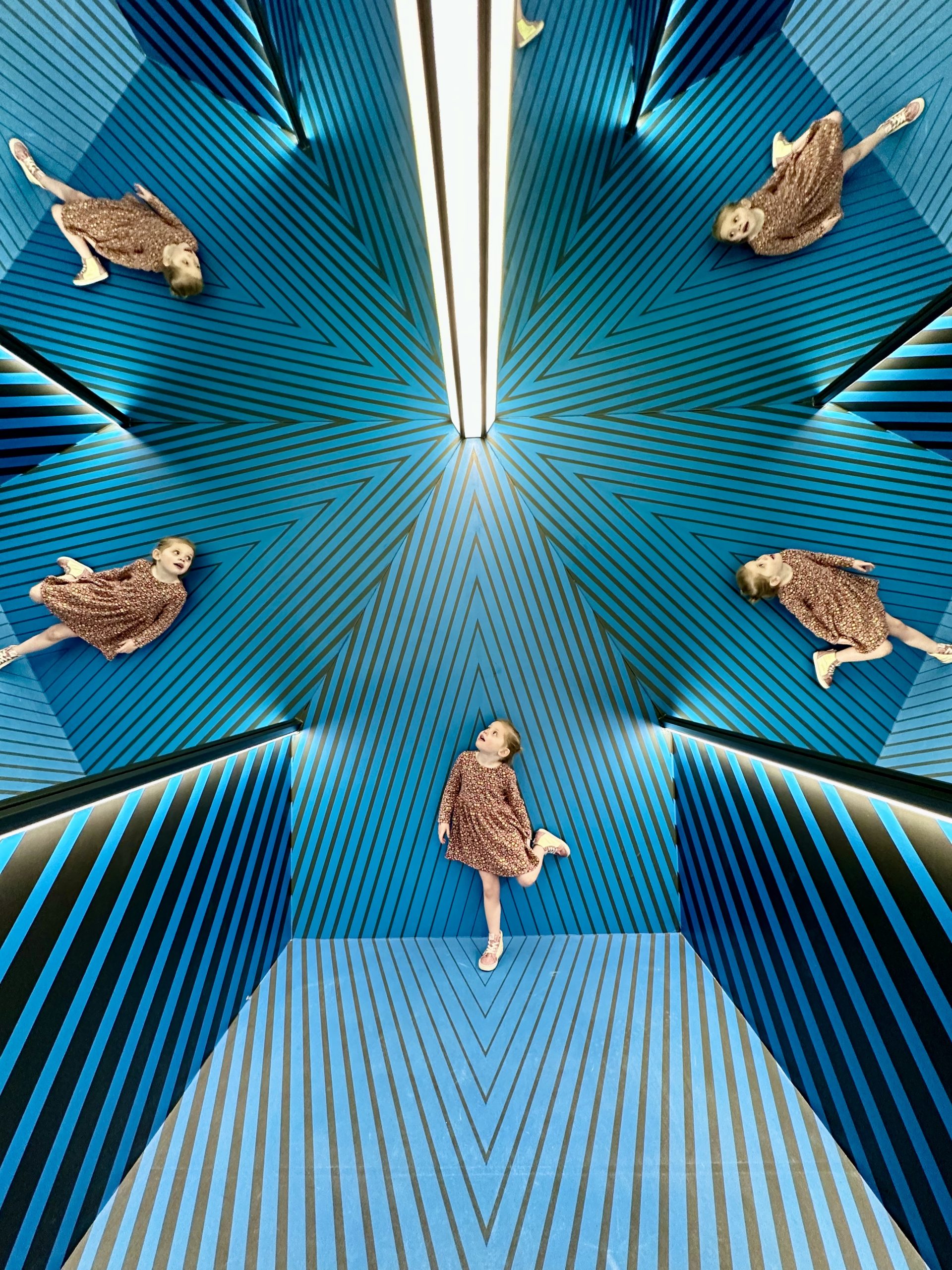 Pack your bags. We are going to Austin. That is one of my favorite sentences. Pack your bags… Yes, please.
That's all I needed to hear, and I was ready to plan our next adventure. We were ready to escape the snow and head somewhere where it was sunny and warm.
The first thing we do is pick a hotel we love, usually a Hilton, or we will find a vacation rental right in town or outside town. Hotels Downtown are typically our go-to for ease of walking, being close to lots of things, and being near public transportation.
Once we selected our hotel, it was time to start the hunt for things to do in Austin with toddlers. I find this is almost as important as picking a hotel, if not more so.
One of our favorite things to do is just explore Downtown and the city we visit.
Finding things to do can be a little tough. Everything can be labeled as things to do with toddlers, I'm not kidding, I saw walking past a building with no significance as a "thing to do in Austin with toddlers," and I lost all hope for people.
Clearly, they have no children and have NO idea what toddlers actually like to do.
While you can take your toddler with you to most places, you might experience that they do not have any fun at all and don't want to be there.
Tips for flying with a toddler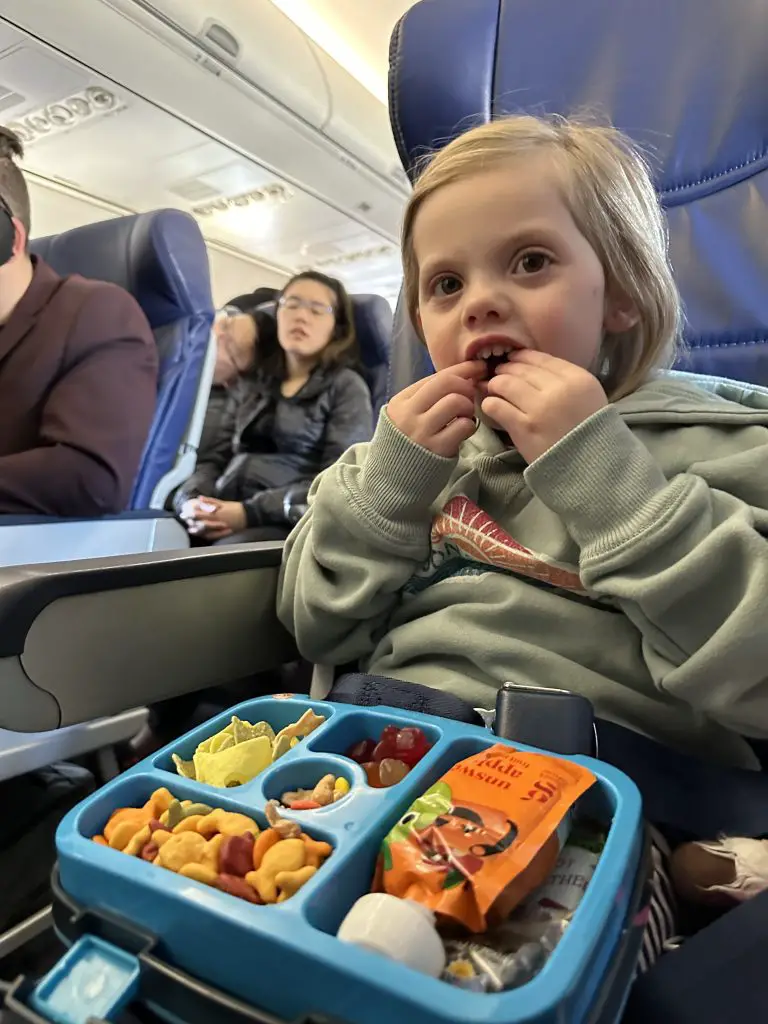 Austin TX
Known for its live music, parks, water, and delicious Texas food, the Capital of Texas is full of life and perfect for the entire family. We hit some of the top attractions and created a list of things to do in Austin with toddlers. We spent about a week in Austin and barely made a dent in the list of things to do in Austin. You will get our honest review and whether or not it really is a good activity for young children. We paid for most of the things we did, but there are multiple free things to do and low-cost activities while you are in Austin.
We will break things to do in Austin with toddlers down into area specific and then into the types of things you can do.
Let's dive into the top things to do in Austin with Toddlers and kids.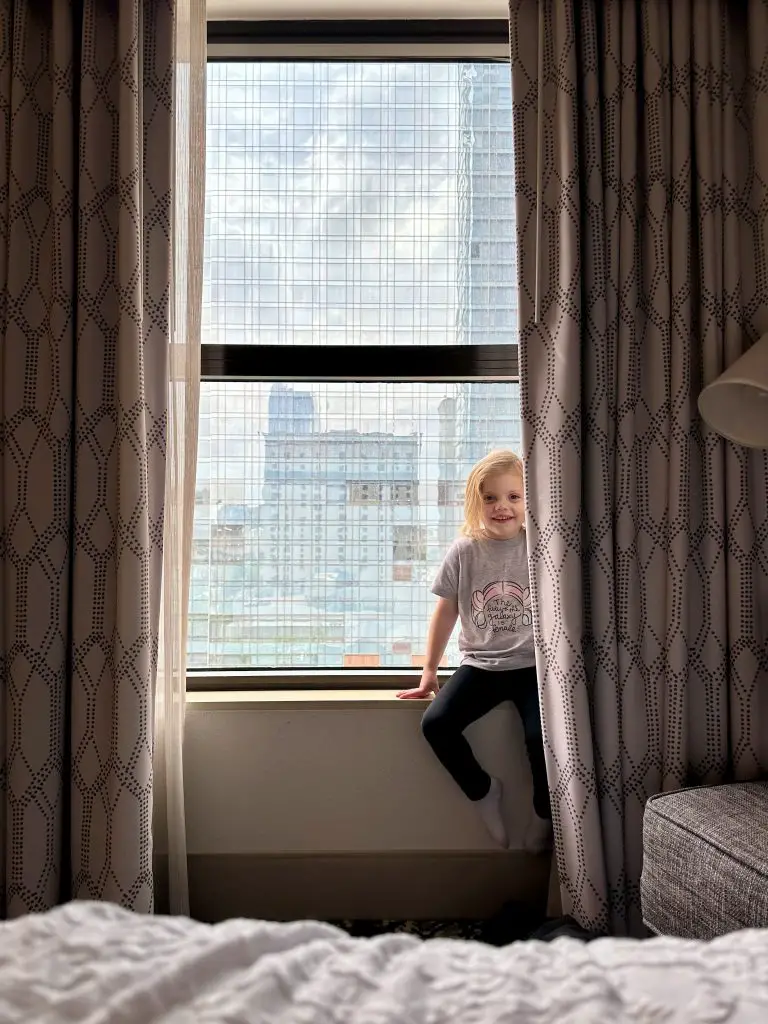 Fun Family Activities and Things to Do in Austin
Fun Family Activities and Things to Do in Austin
Spring break will always bring larger crowds, but Austin has such great weather year-round that peak times are March to May and then September to October. The summer months are typically hot and do not draw as much of a crowd as peak times in spring and fall would. We've broken down Austin
Stroller is a must for exploring the city. There are a few places that don't allow strollers through the exhibit and other places, but most places are stroller friendly. The streets are also very stroller friendly, I will mention there were only a few spots the hills were a little difficult to push the stroller and her up the hill, and I counted it as a workout.
Downtown Austin
When I started creating our Austin Itinerary with things to do in Austin with Toddlers, we always begin with Downtown. As a mother, Downtown in any city can be a gamble. Between druggies and weirdos, you never know what you are going to get. We felt really safe and had no issues walking around Downtown Austin. I will say there are homeless and your occasional LSD drug worshiper, but overall it's a good area with lots of restaurants, coffee shops, toy stores, dessert spots, and other great places. Always keep an eye out and stay safe.
But more on the fun of Downtown Austin, here are some of the great things we did.
Dessert
Voodoo Donuts. This was actually our first time trying a Voodoo donut. If you see one, you must go. They are quite entertaining and have lots of funny donut names. While I do not think they are worth the hype if the wait is over 20 min, they are soft, delicious donuts.
Amy's Ice Cream
Coffee
There are amazing coffee shops all over Downtown Austin, we go through all our favorite spots a little later in the post, but my favorite was Presidential Coffee in The Omni Hotel.
Delicious Food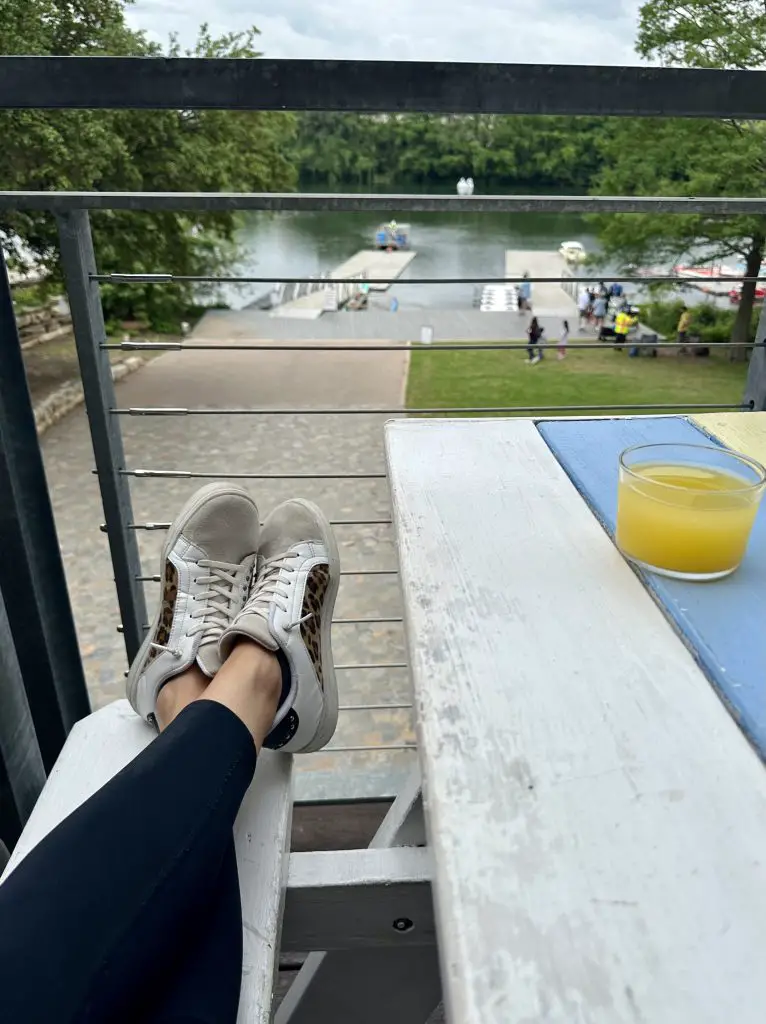 Snacks and drinks on the Water
I work on the go and am always on the hunt for cute spots to work while we are traveling. Atlas was that spot for me. I grabbed a mimosa and sat at one of the cute picnic benches on the patio that overlooked Lady Bird Lake. Atlas had tons of baked goods, coffee, and cocktails.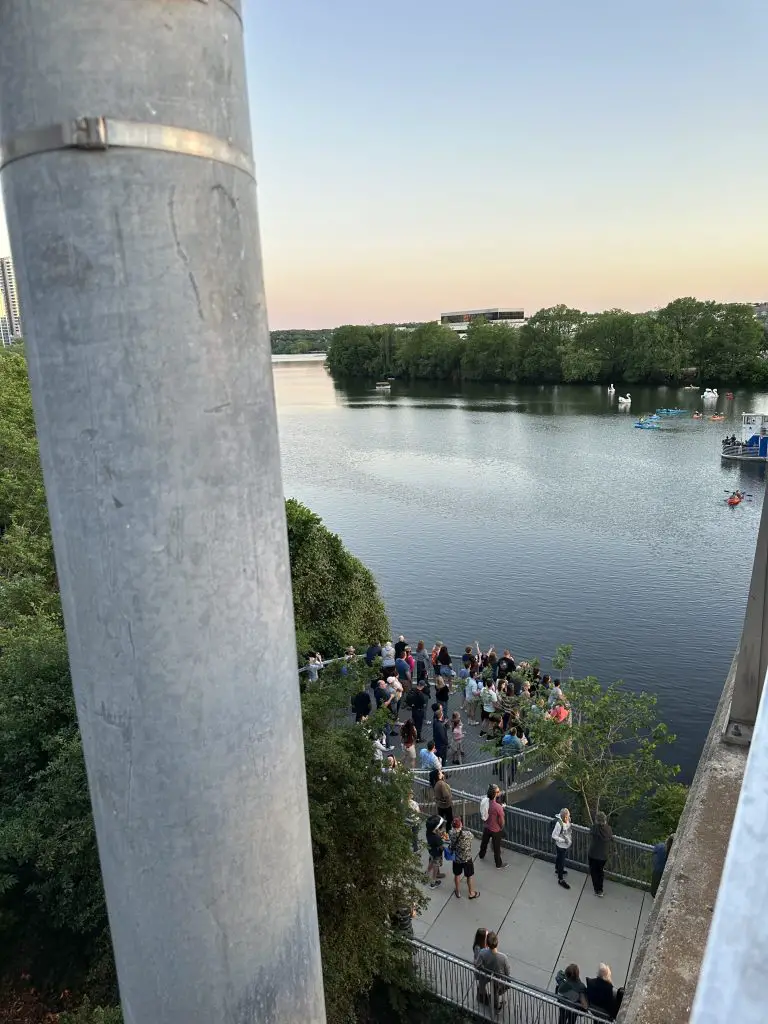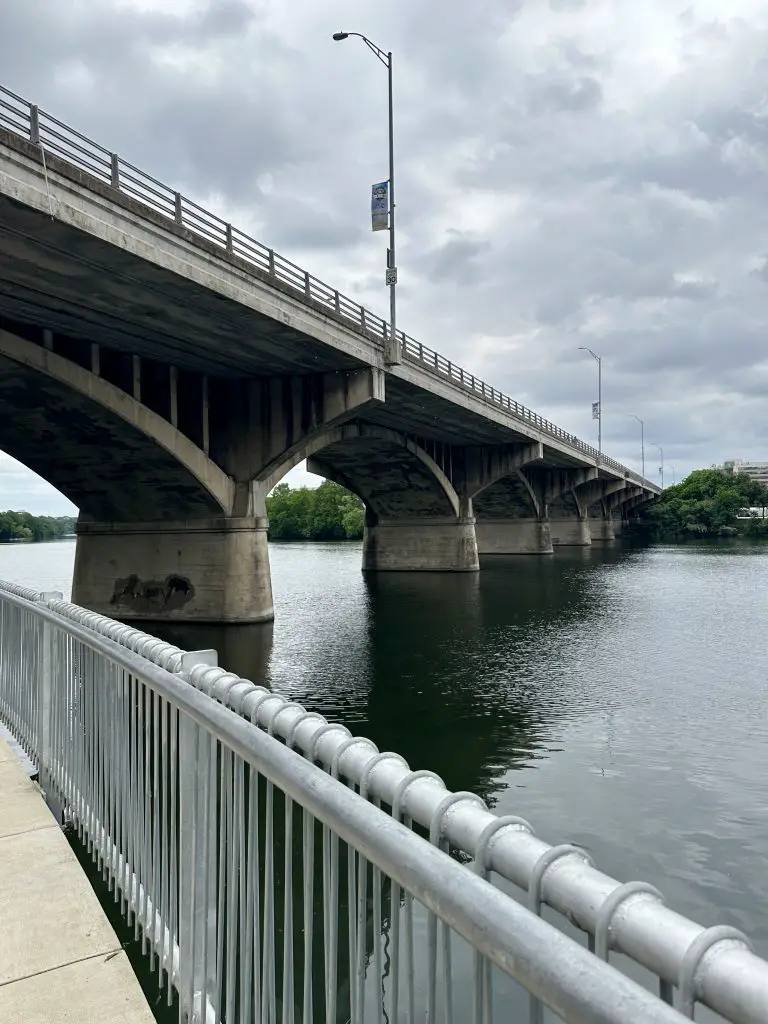 View the bats at Congress Avenue Bridge
The world-famous bats are the perfect after-dinner detour. Right off South Congress Avenue, you will find the world-known bats of Austin. These Mexican free-tailed bats are the largest urban colony in North America, with roughly 1,500,000 bats. The most ideal spot to watch the bats is from the south end of the bridge, and they usually come out right about dusk, so make sure you check the sunset times.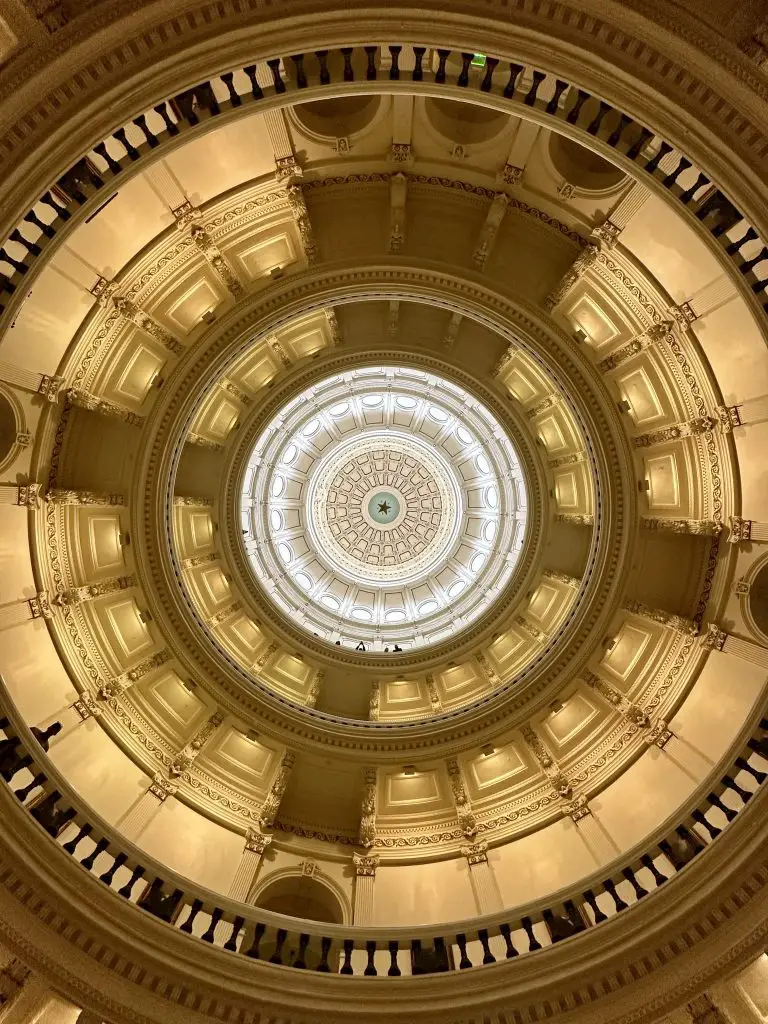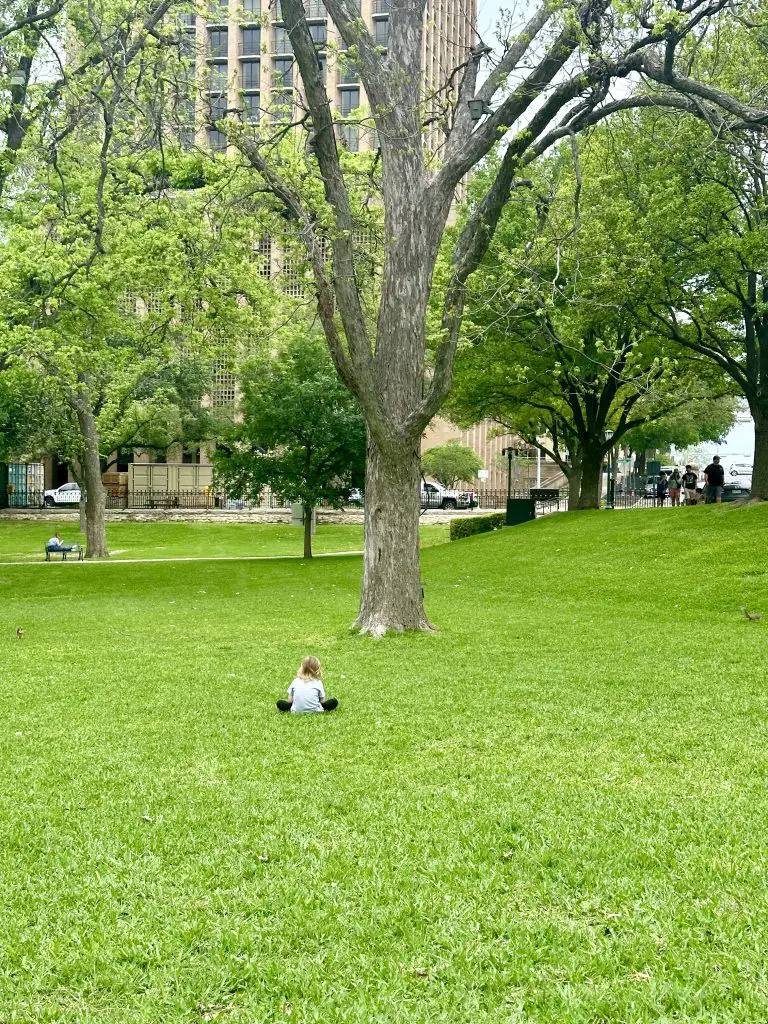 Visit the Texas State Capitol
While a great history spot and somewhere to go, we did not find this to be very kid friendly or a place where our toddler could have fun. I knew this going in, but to give it a shot and explore anyways.
The front of the building and the roof are currently going through a small remodel, so it is covered in scaffolding. Because of the work being done on the building, it is not wheelchair or stroller friendly at the moment. There are elevators inside the building so you can get to the over levels, but for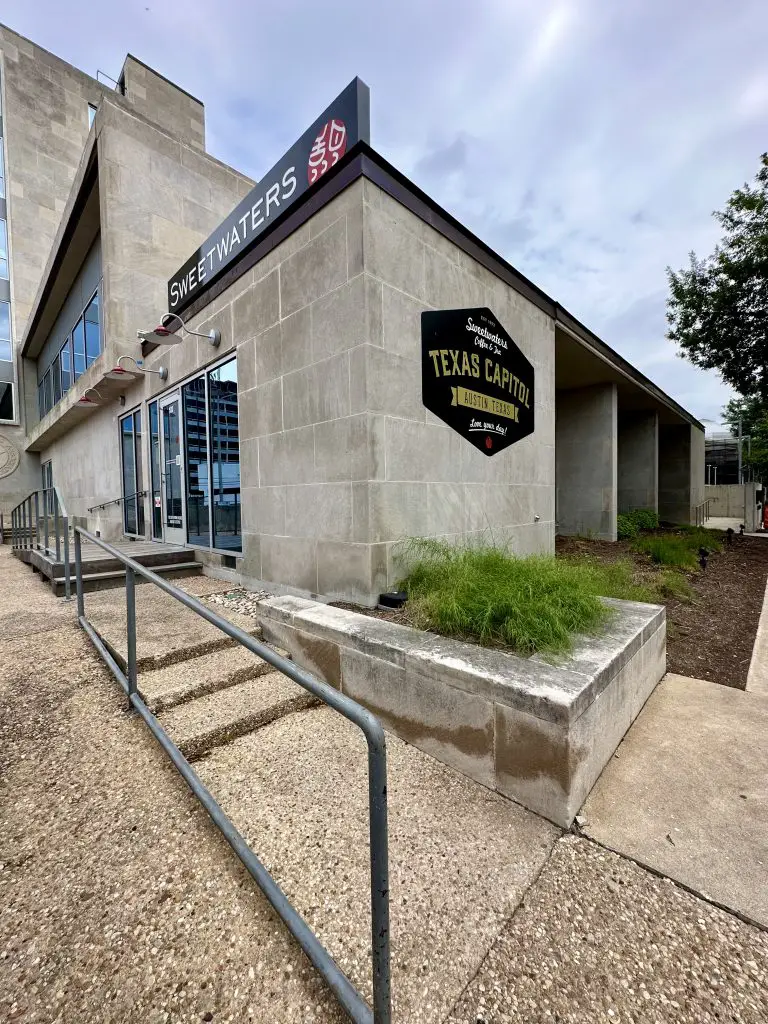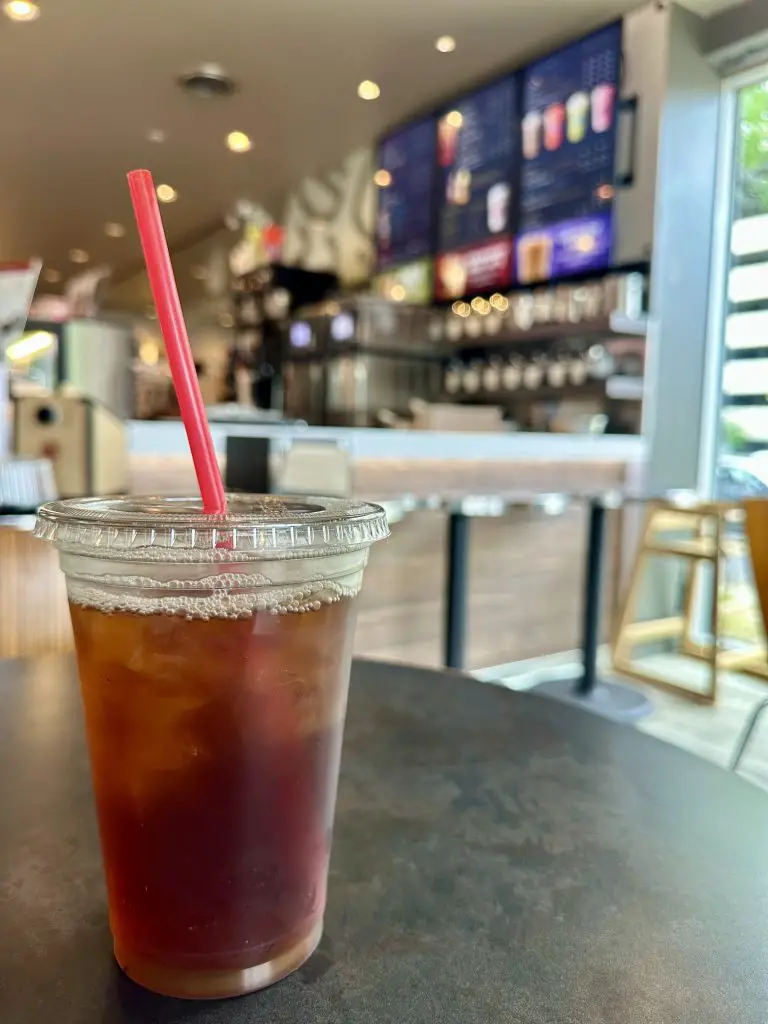 Grab Coffee or tea at Saltwaters Coffee
Saltwaters Coffee is right on the corner, and enjoy the grass and sculptures outside the Texas Capitol building.
Saltwater Coffee has delicious tea and coffee. I grabbed a Black Iced Tea to go. The Capital Grass has a lot of squirrels.
Squirrel.
Dog going after Squirrel
That is all I can think of, but the Texas Capitol lawn has tons of fat and friendly squirrels. No, you cannot touch them, but they allow you to get within 5 ft or so before they run off. Our daughter had a blast running around chasing them in the grass. We picked a bench, parked our stroller, and Sloan ran around for a good 45 min in the grass.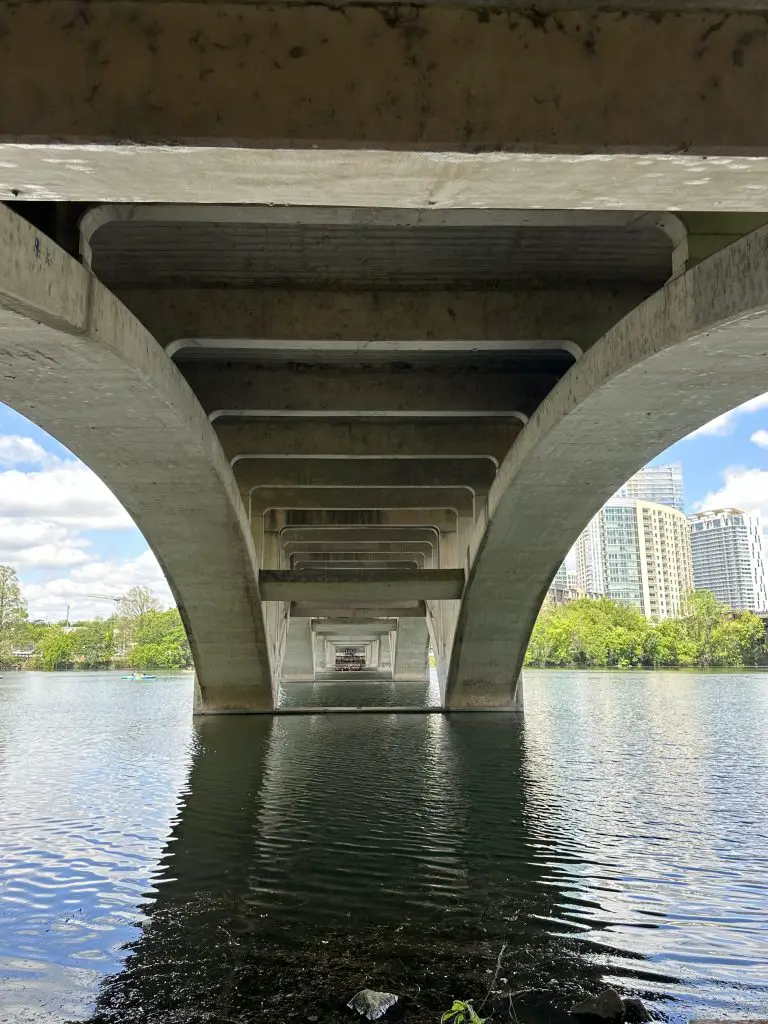 Walk along Lady Bird Lake
There are lots of walkways and trails all over Austin. We walked everywhere on the first two days while in Austin and ended up walking along the hiking trail. This trail goes along the Lake on both sides and uses two pedestrian bridges to move you across the Lake. Austin locals often take their paddle boards, and kayaks out on the lake.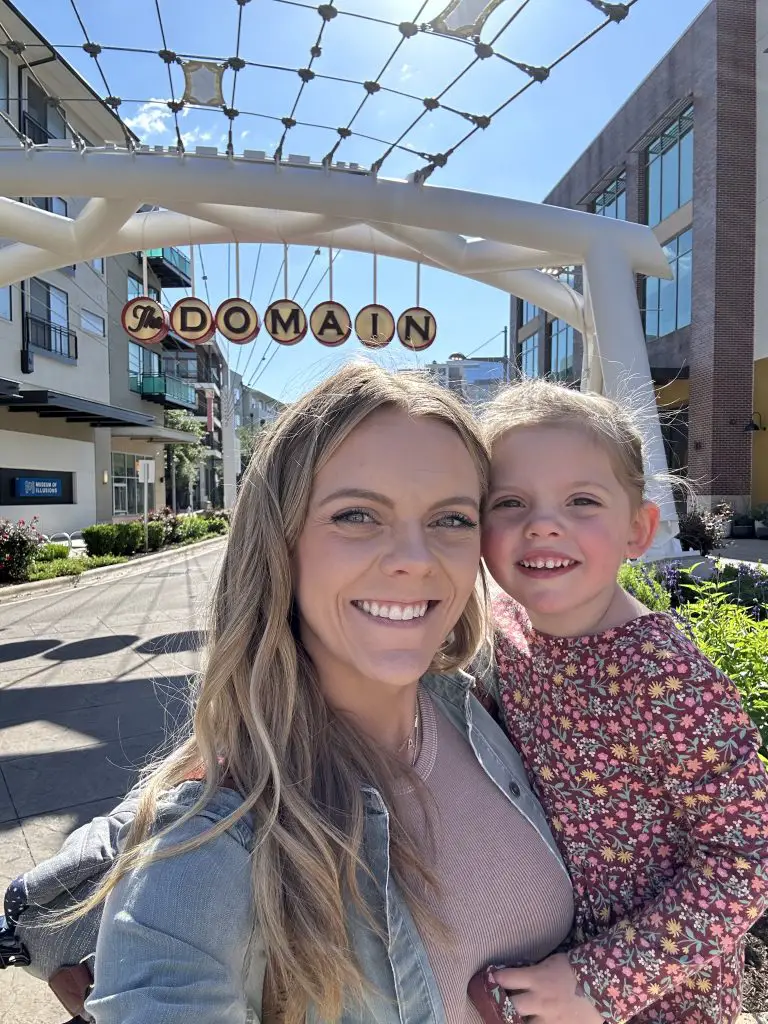 The Domain
A quick train ride from Downtown to Kramer Station, you will find The Domain. This beautiful area is one of Austin's hottest spots to live, work, and play. After our visit, I told my husband we should consider staying there during our next Austin trip and using the train to get to Downtown. We travel for work a lot, and Austin is one of our main stops at least twice a year. This was our first time at the Domain, and it was like nothing I'd experienced before. Denver has something similar but on a much smaller scale and has not done as well in my opinion. There are over 100 mainstream shops and restaurants. Think outdoor luxury mall, delicious food, park-like atmosphere with apartment-like living.
Photos do not do this area justice.
I had no idea what I was getting into, but there were two really great museums on our list of things to do in Austin with toddlers, so off we went. We spent around 6 hours at The Domain, and this is what we did.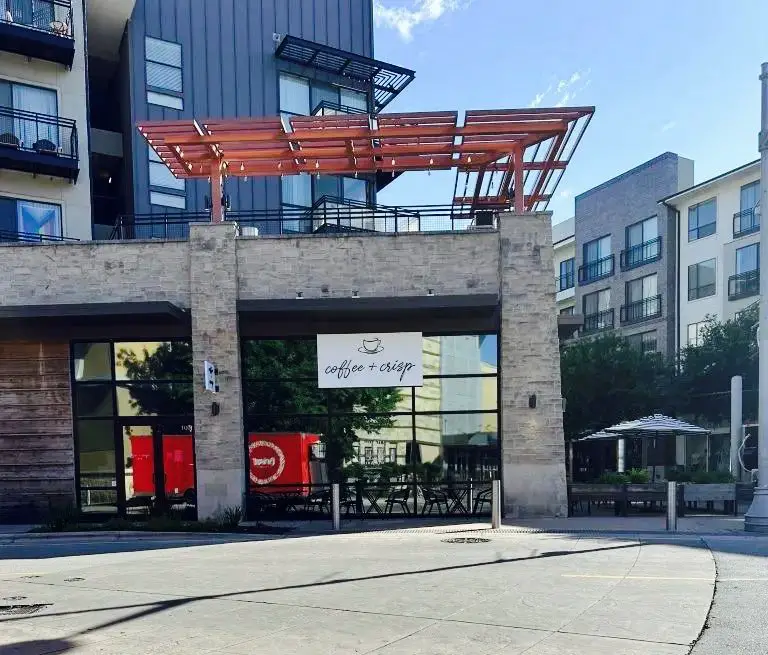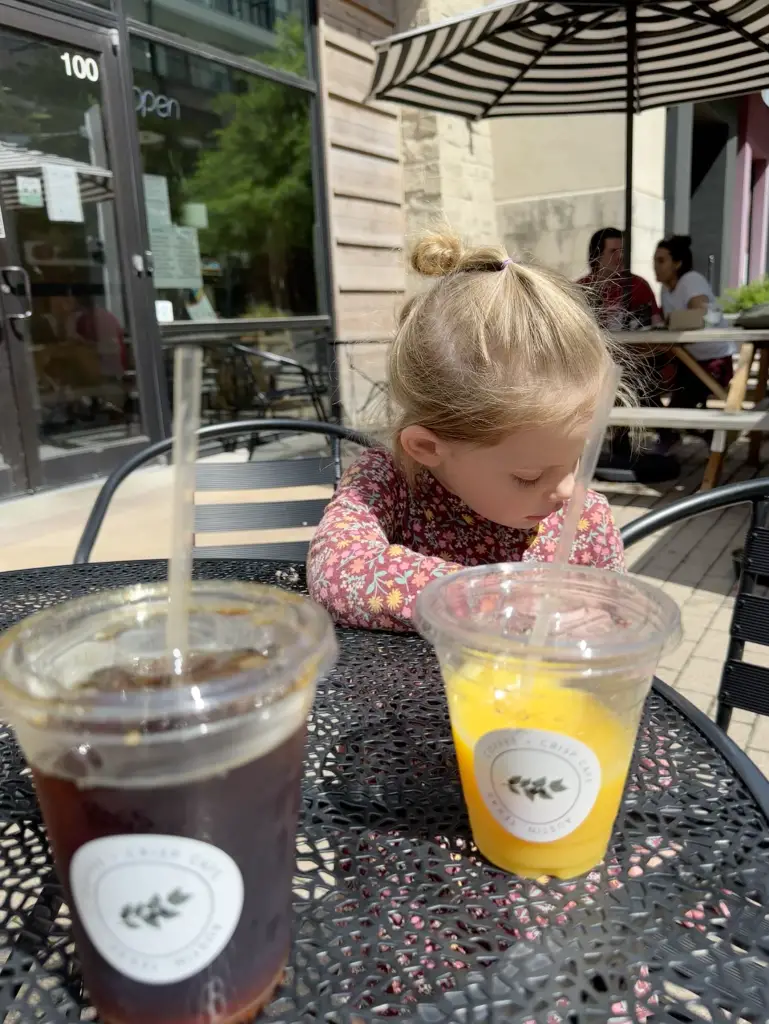 Relax with Coffee and Orange Juice From Coffee + Crisp Cafe
This was the perfect way to start the morning. We arrived by train a little early to The Domain and needed to spend a little bit of time before our reservation at the Museum of Illusion.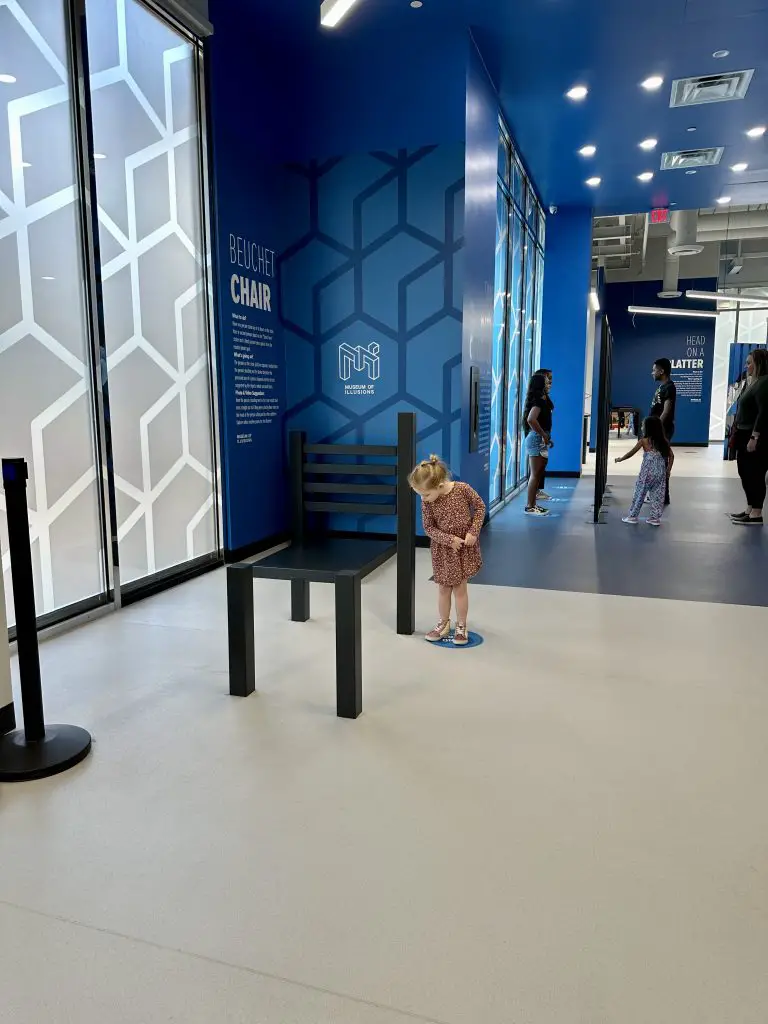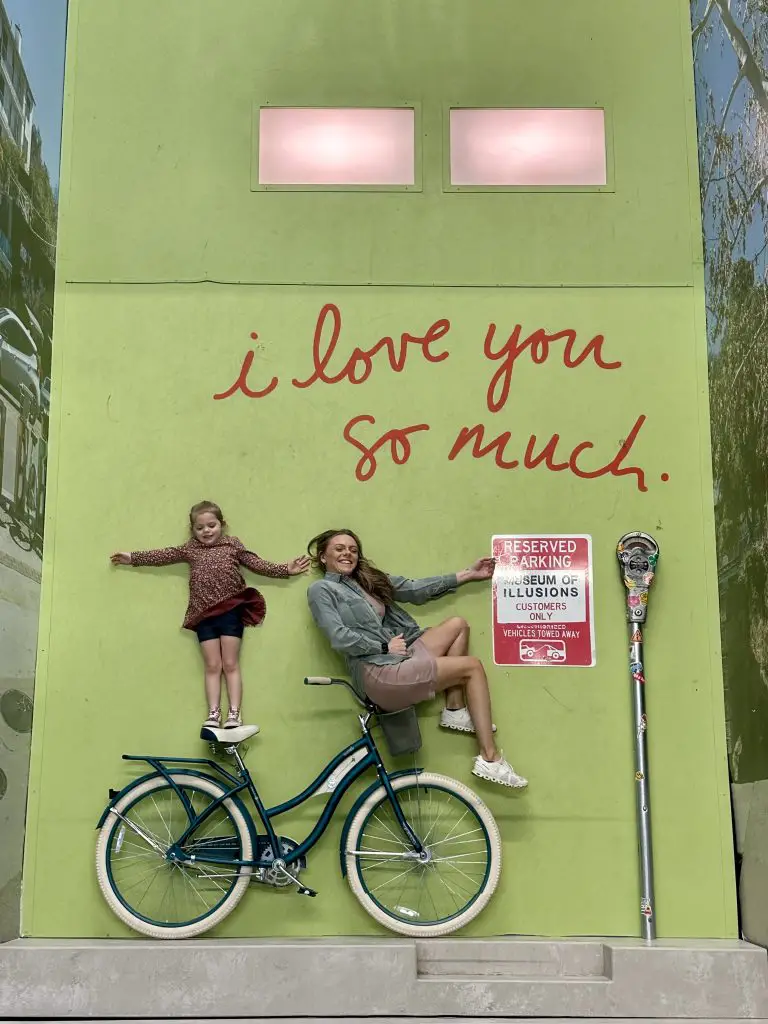 Enjoyed Art and Illusions at the Museum of Illusions
The Museum of Illusion was fun for both toddlers and adults. An educational, captivating, and mind-bending journey through the realms of optical illusions, holograms, and sensory tricks. Fun and challenging for adults and for toddlers, fun and interesting things to do. It's fun for the entire family.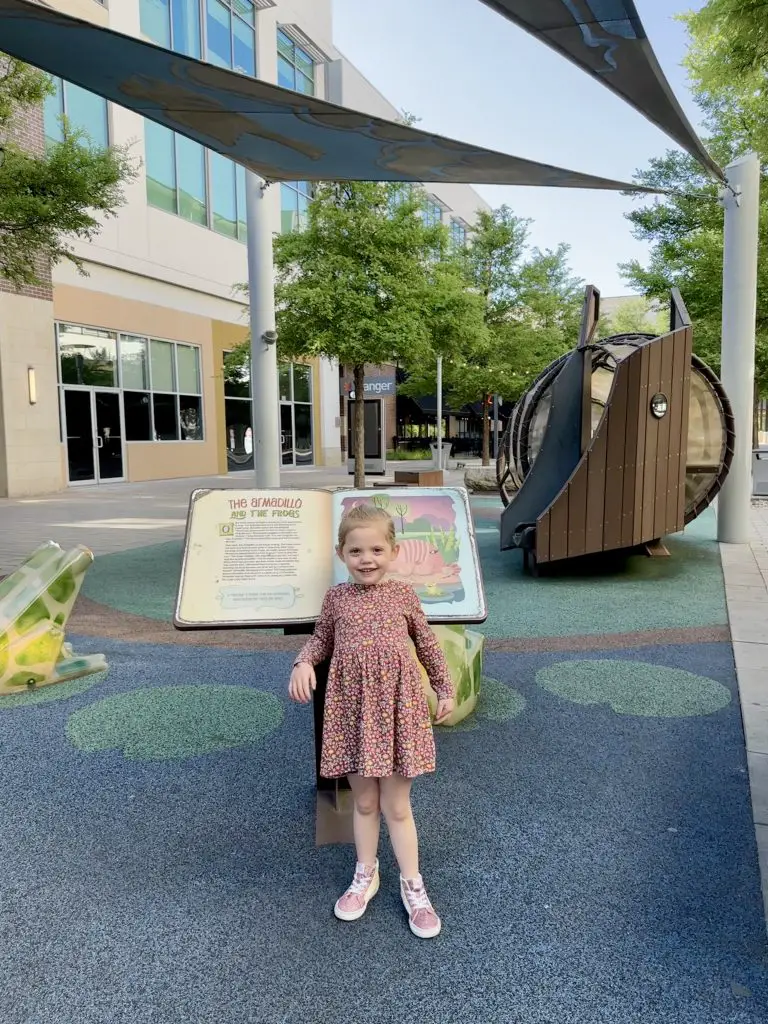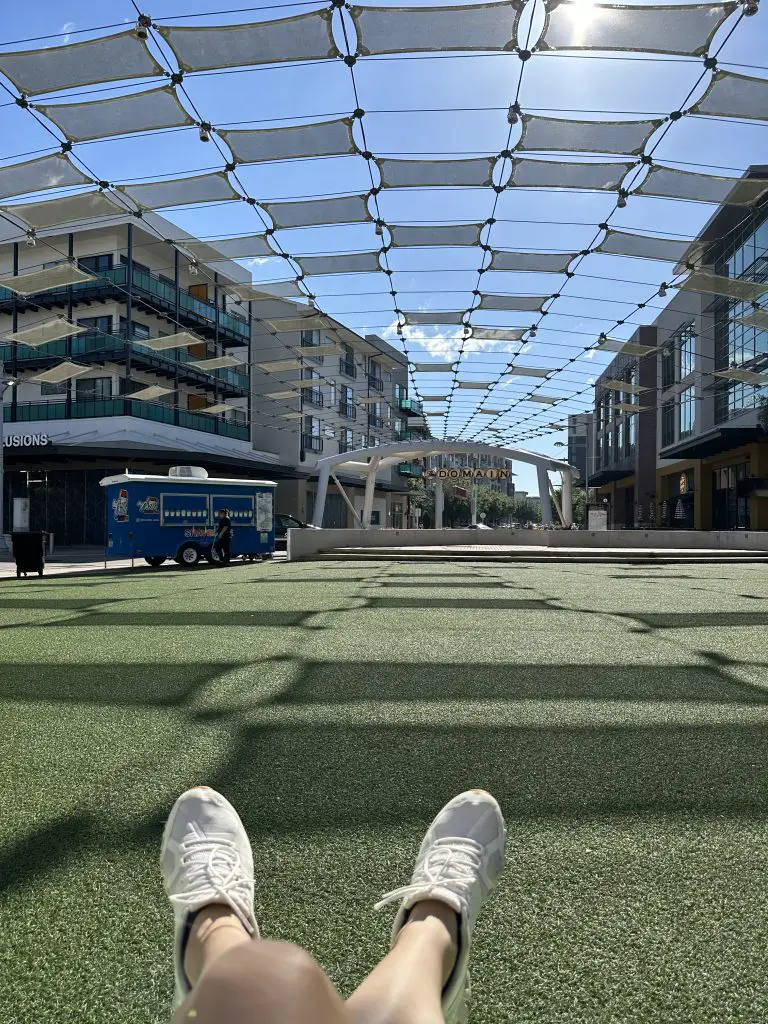 Played at the Park outside the Movie Theater
I always love when a mall has movie theaters. It gives families another thing to do, especially if one person likes to shop, but others want to stay cool inside and watch a new movie in an Imax theater. But outside the theater, there is a large grass area and a few play structures for kids. The play area is perfect for kids and is a great way to burn off some energy while you are at the Domain.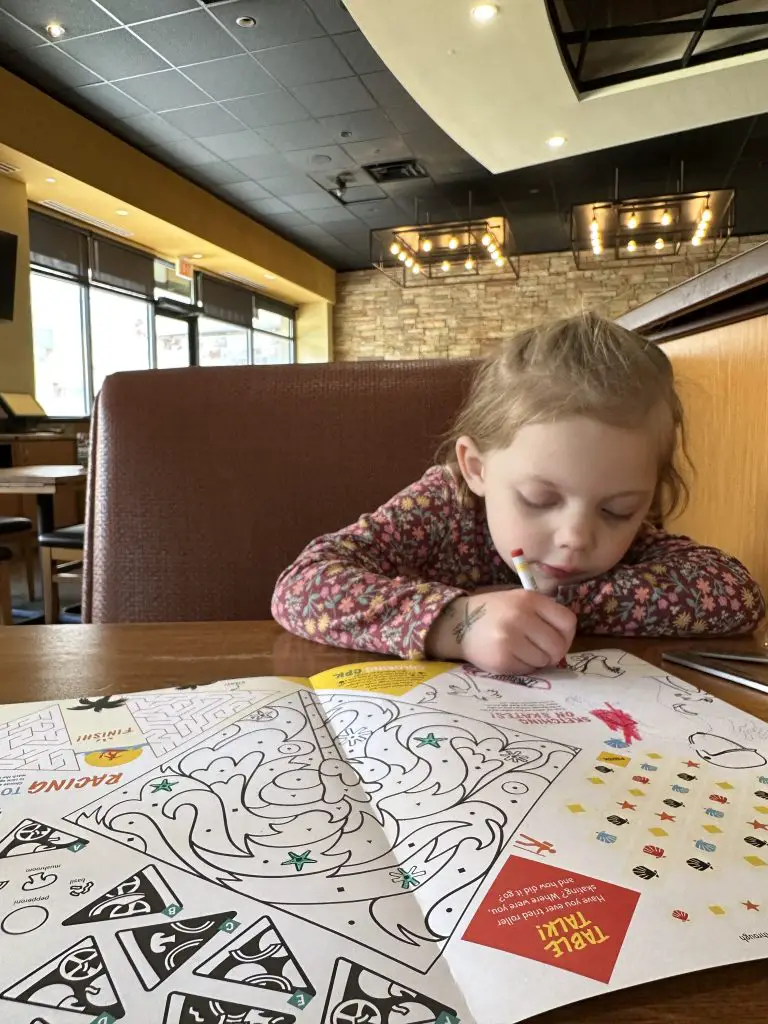 Had a snack at one of The Domain Restaurants
I saw a miniature golf restaurant while we were there and considered doing this instead of a basic restaurant for lunch, but then I remembered we had another big adventure after lunch and should keep the eating portion as low-key as possible. We ate at The Cheesecake Factory; we wanted a quick chicken and french fries before our final activity of the day.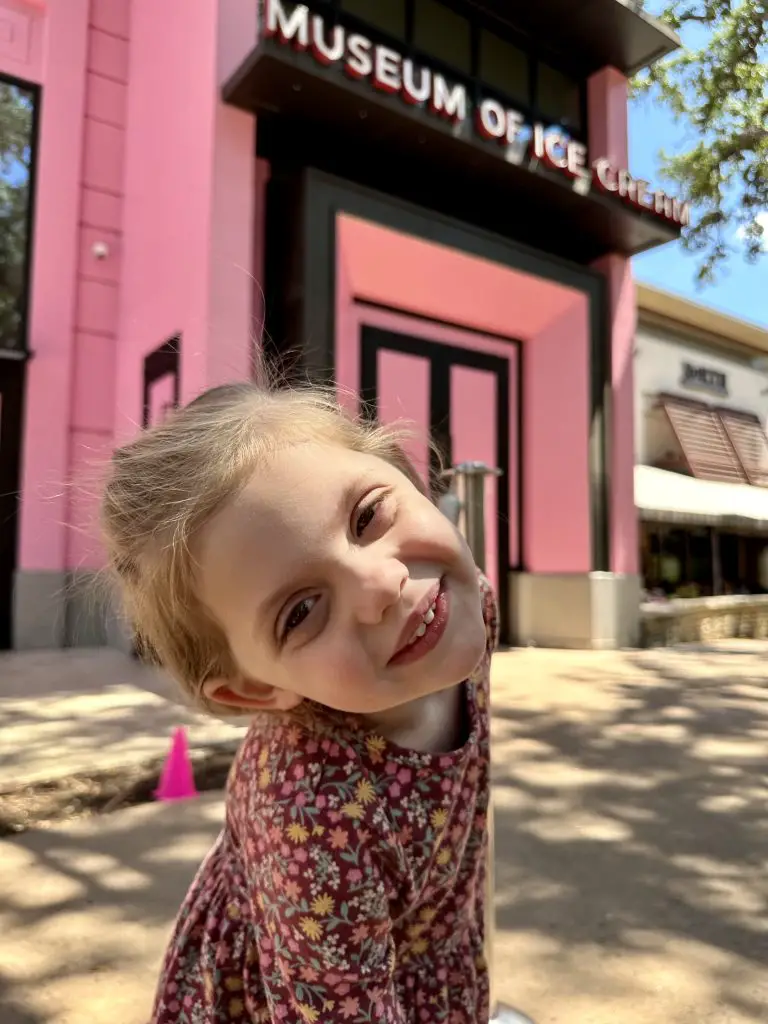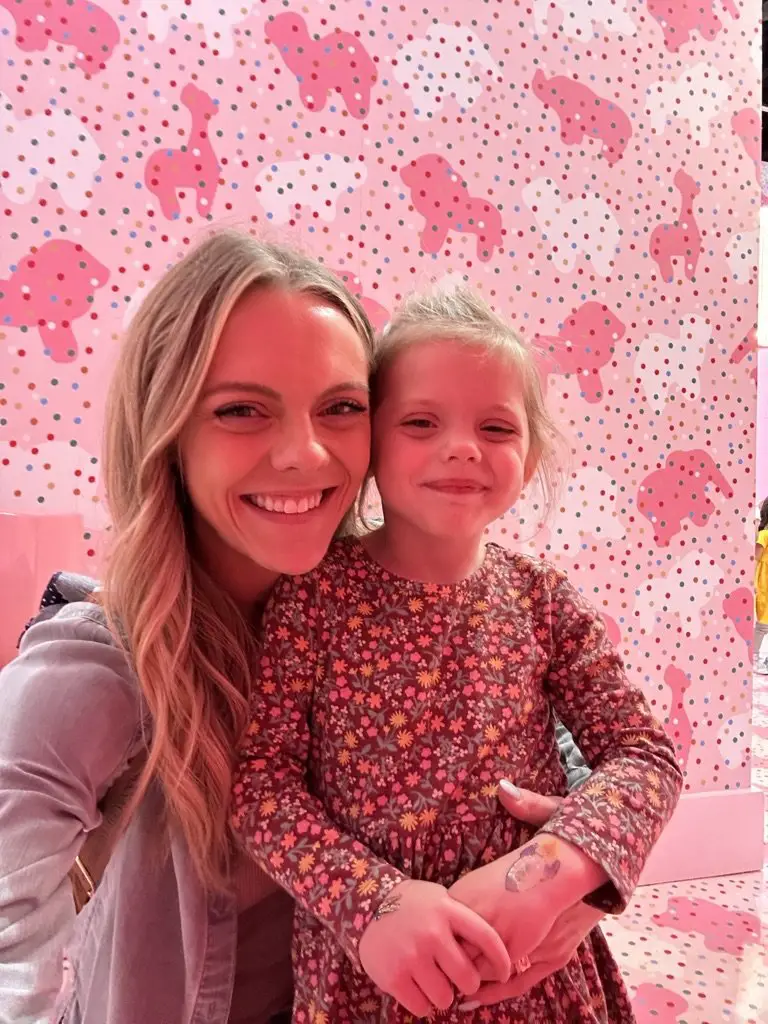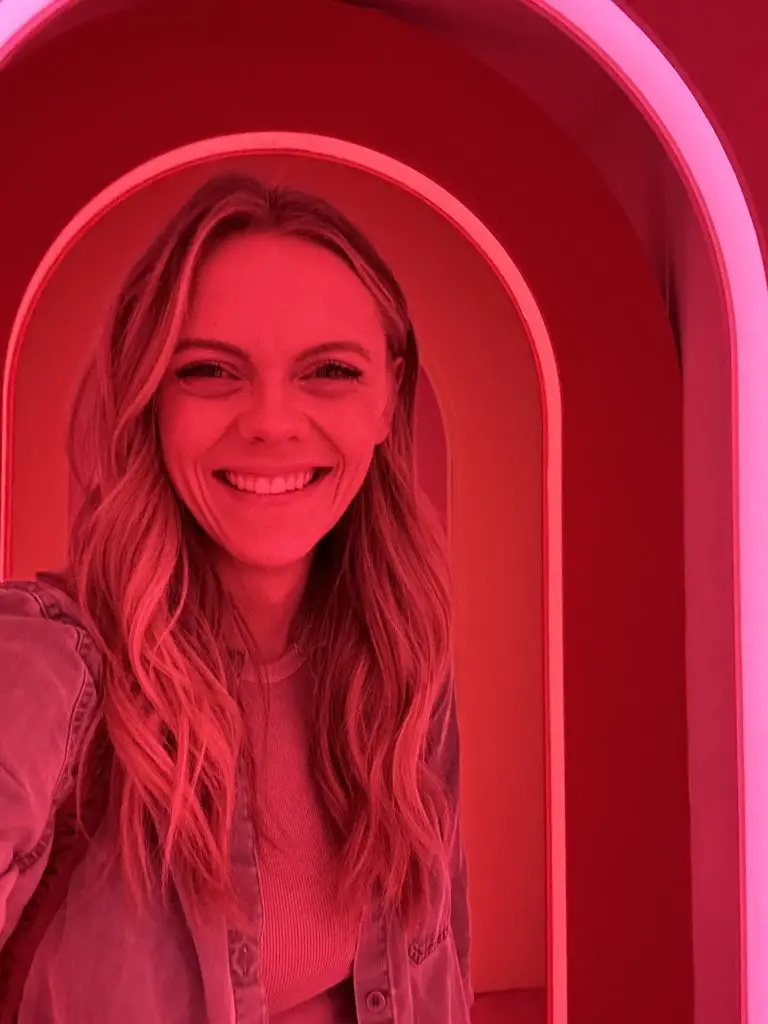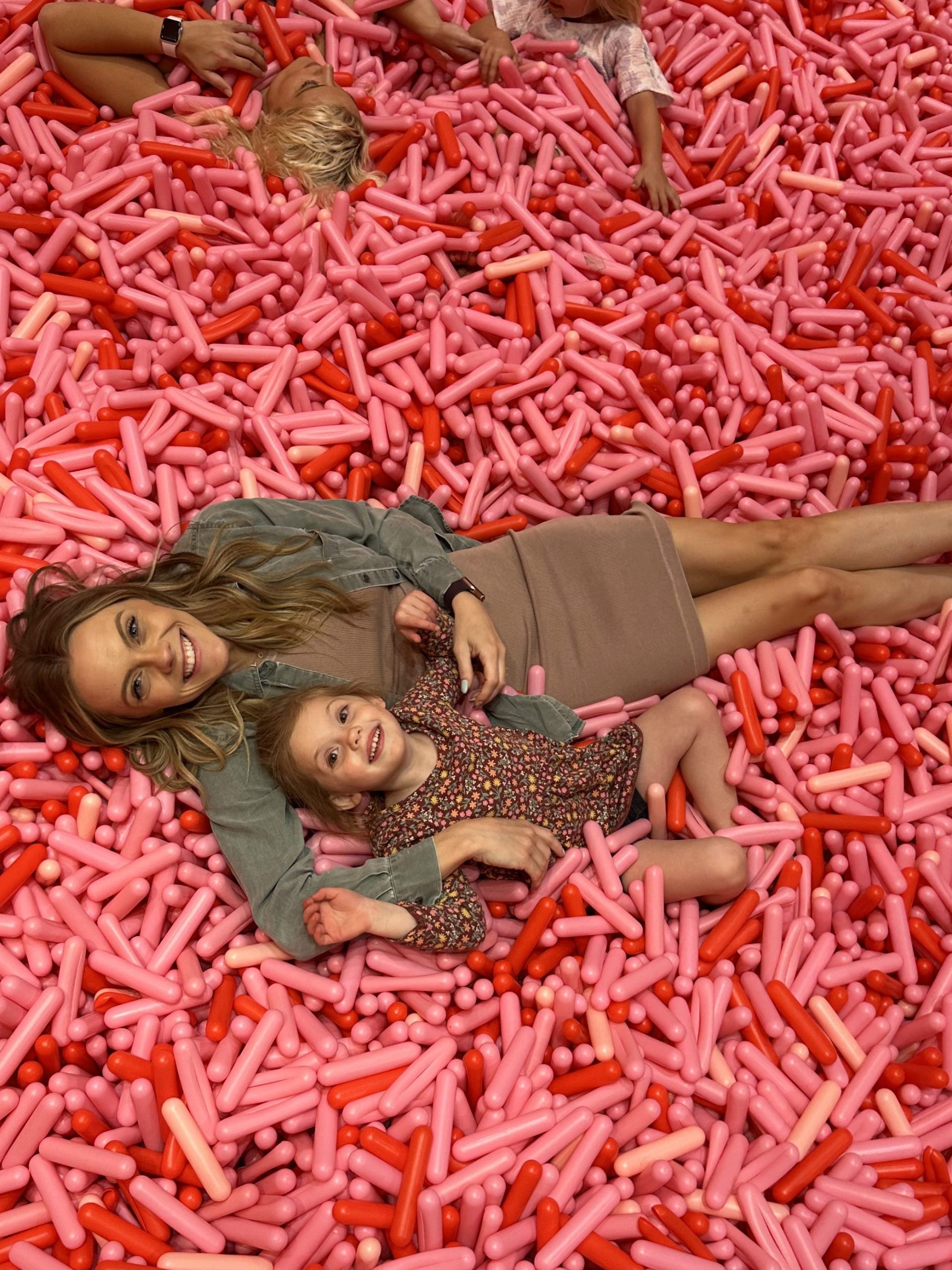 Have Dessert and Play at the Museum of Ice Cream
The Museum of Ice Cream has fun Interactive exhibits and full-size ice cream and cotton candy in multiple rooms. The first part of your tour is guided, and you learn a little about the history of ice cream, participate in an ice cream-themed activity and enjoy a dessert. But there is more. The second half of the tour is self-guided, and there are a few other activity rooms before you end up in the sprinkle pit pool.
We had the most fun in this room specifically.
Map from Visit Austin
North Austin
North Austin is where a majority of activities are at. Downtown Austin is considered North Austin. Here are a few things right outside of Downtown to consider.
Bullock Texas State History Museum
While close to Downtown, it's a little on the outskirts. The Bullock Texas State History Museum is where you will find the story of Texas. Museums are a little more on the older kid side since there is a lot of education involved, but toddlers will still enjoy exploring and looking at all the exhibits.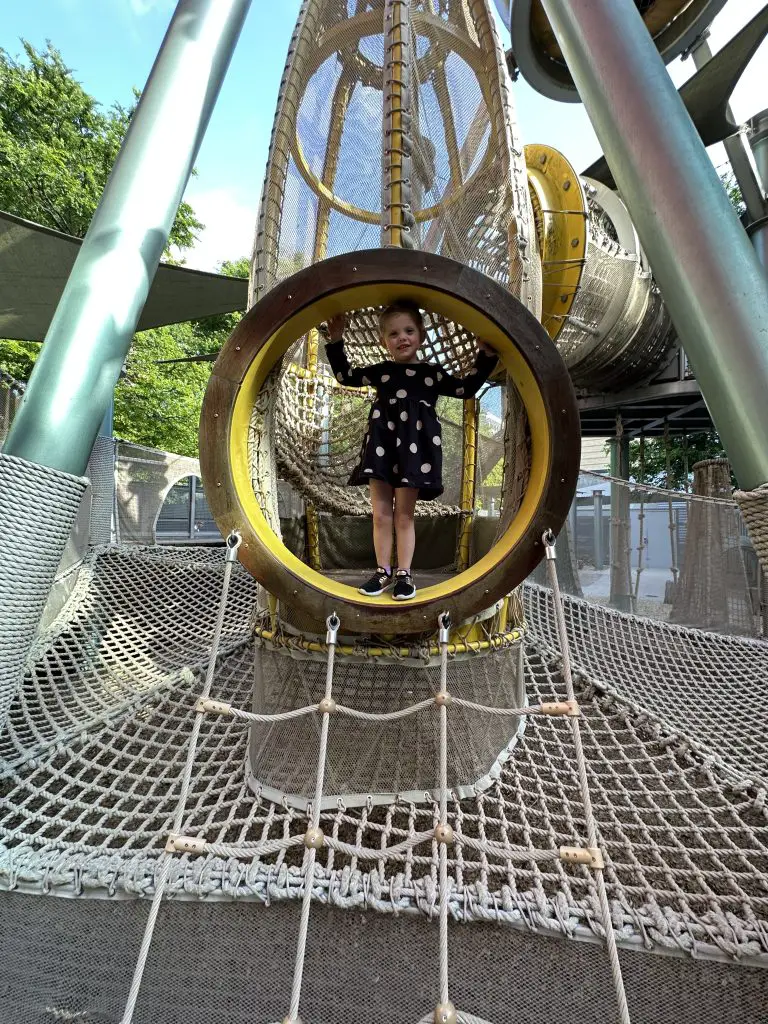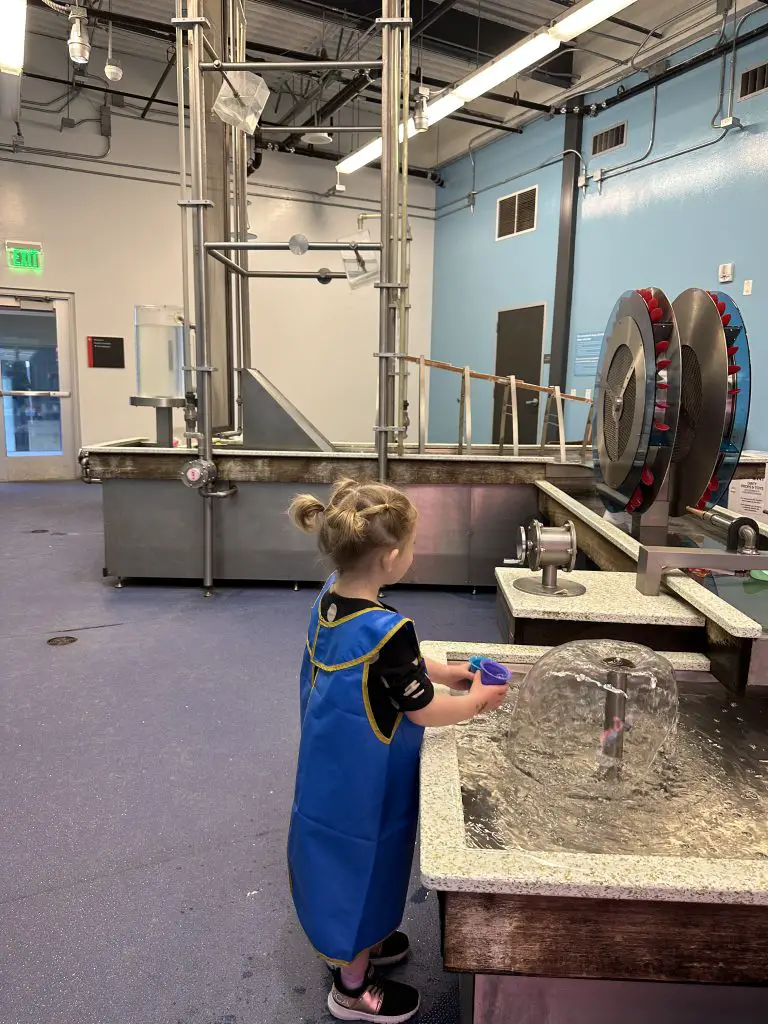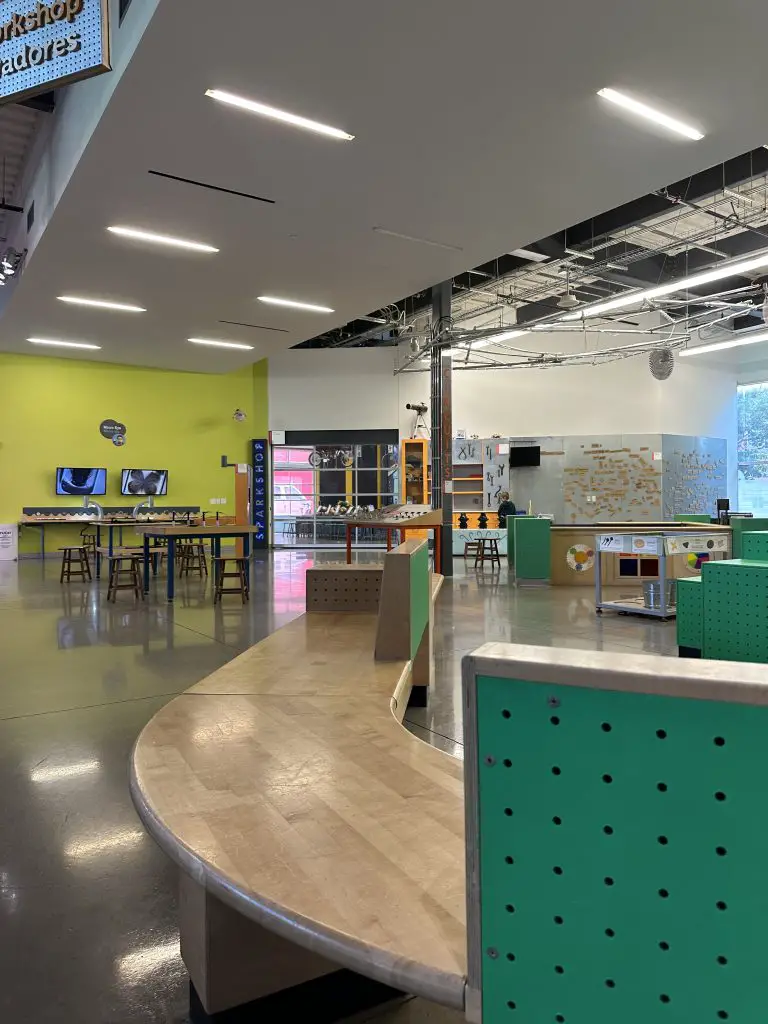 Thinkery
The best kid's museum in Austin and at the top of our list of things to do in Austin.
From the interactive water lab to the interactive Kitchen Lab, each exhibit at The Thinkery is designed to engage children of all ages and interests. Through the power of play, this museum nurtures critical thinking, problem-solving, and a love for exploration. Whether it's tinkering with gadgets, exploring nature, or unraveling mysteries, The Thinkery empowers young minds to dream, discover, and become tomorrow's innovators.
Mayfield Park and Nature Preserve
Also known as Mayfield Park, this historic cottage, garden, and nature preserve is beautifully nestled overlooking Lake Austin.
Blanton Museum of Art
The Blanton Art Museum is one of the largest university art museums in the US. At 189,340 sqft, this museum features world-class art experiences for all ages in the heart of Austin.
Wonderspaces Austin
Wonderspaces Austin has 14 extraordinary artworks and a full bar to enjoy as you fully immerse yourself in the interactive art show.
South Austin
South Austin is known as a "taste of old Austin" by the locals. old-school boutiques, vintage shops, and restaurants while mixing in new food spots. You will find many things to do, like South Congress Avenue, South First Street, and South Lamar.
Pikopy's Town
The perfect place for parents to unwind, work and enjoy a refreshment while you watch them engage and imagine in a child-size town with 9 custom immersive play experiences and so much more. This is designed as a parent co-working space that has coffee, wifi, a printer, and a private phone booth.
Lady Bird Johnson Wildflower Center
Outside of town, you will find beautiful botanical gardens. You will find over 900 species of Texas plants in gardens and natural settings, as well as educational programs for kids, and hiking trails.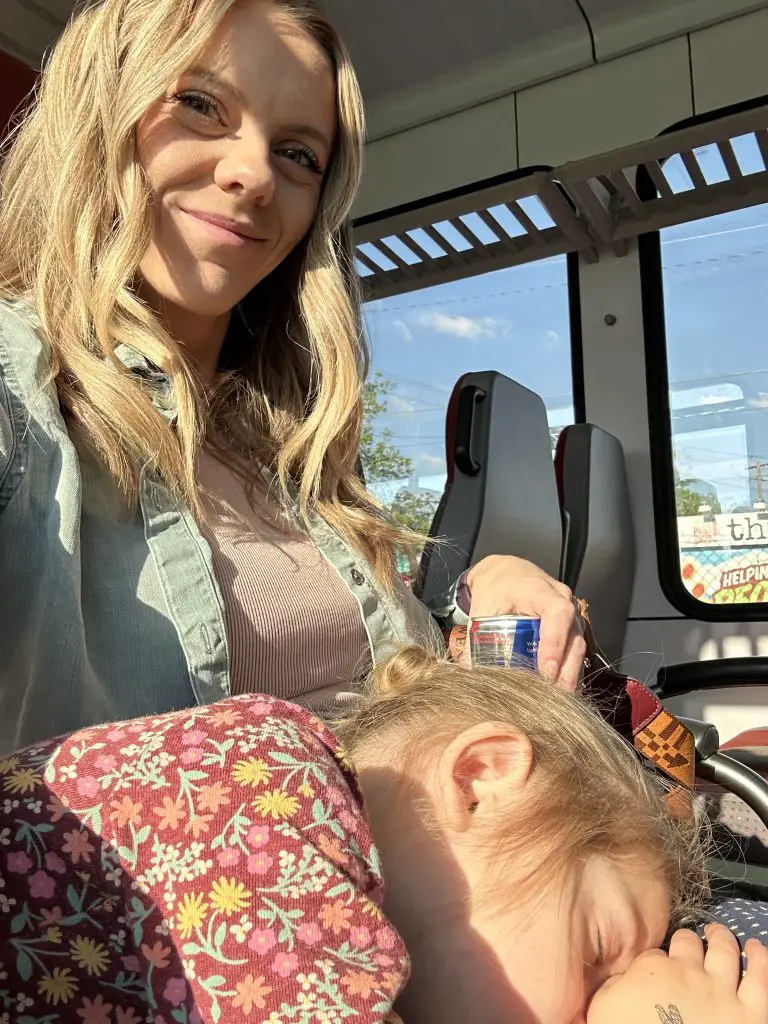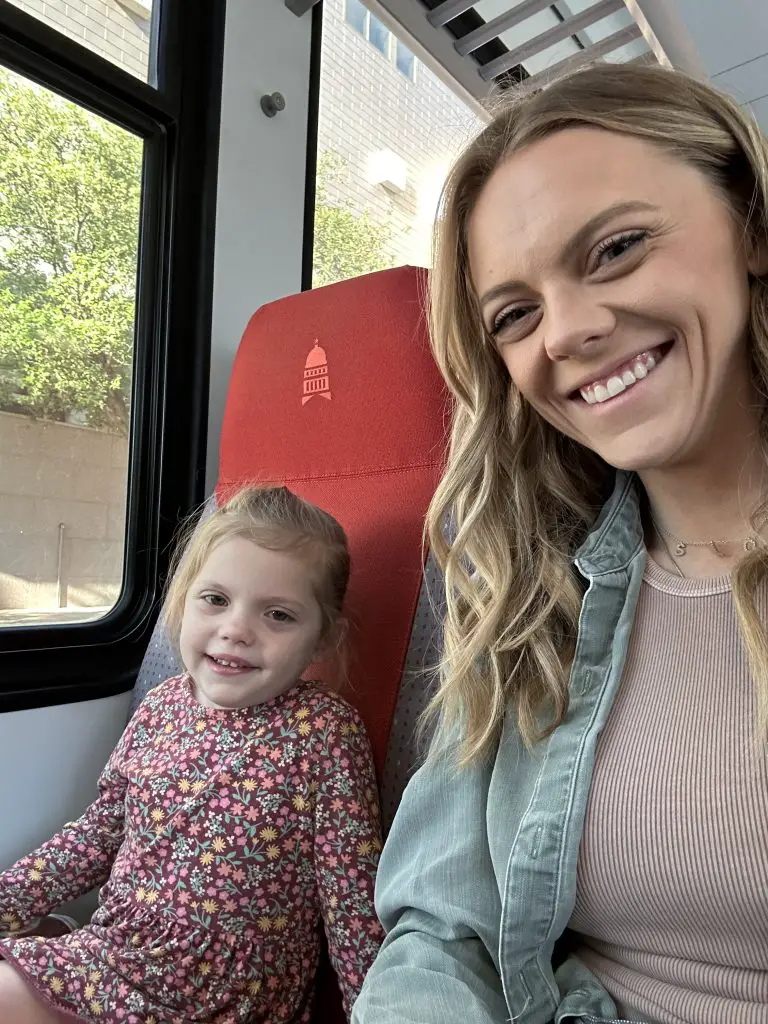 Train Ride
While not your typical thing to do with a toddler, ours loves a good train ride. There is a lot to look at, and you can get to some really great locations by a quick train ride and for a relatively low cost. We rode from Downtown Austin to the Kramer stop and made our way to The Domain, where we spent an entire day at some fun museums.
Top Things to Do in Austin with Toddlers
Indigo play
Indoor play area with a designated toddler and baby play area, perfect for kids to roam freely or have you join in the fun. The indoor play area is designed to encourage learning through play. Owned by an Austin family, this play center will keep your little kids entertained for hours. One added bonus is that it is right next door to the Austin Aquarium so you can hit two birds with one stone.
How much does it cost to play at Indigo Play?
All-Day Play Price
0 – 5 Months $0 (adults $6)
6 – 23 Months $13
2 Years & up $19
Adults $2
Wonderspaces Austin
Full immersive art show with a full bar for the adults. This art museum Is great for the entire family. With 16 fully immersive art exhibits, you will have the best time exploring and wandering around as you get lost in the colors and art.
How much are tickets to Wonderspaces Austin?
3 and under are Free
3 – 12 years are $15
Students, teachers, seniors, Military, and Healthcare are $20
Adults are $24
Austin Zoo
The zoo is always a good time for the whole family and is a popular place in the Austin area. The zoo's main goal is to rescue animals through conservation, and educational opportunities.
Children can partake in the petting zoo or explore over 300 animals.
Bring your own water and wear closed-toed shoes. The crushed gravel trails will be a little more difficult to take a stroller, but it's the perfect spot to spend the day learning and supporting the non-profit Zoo.
Austin Aquarium
The Austin Aquarium is one of the best spots to stop for things to do in Austin with Toddlers. Zoos and aquariums are always at the top of our list. You can combine education and fun for the entire family in one place.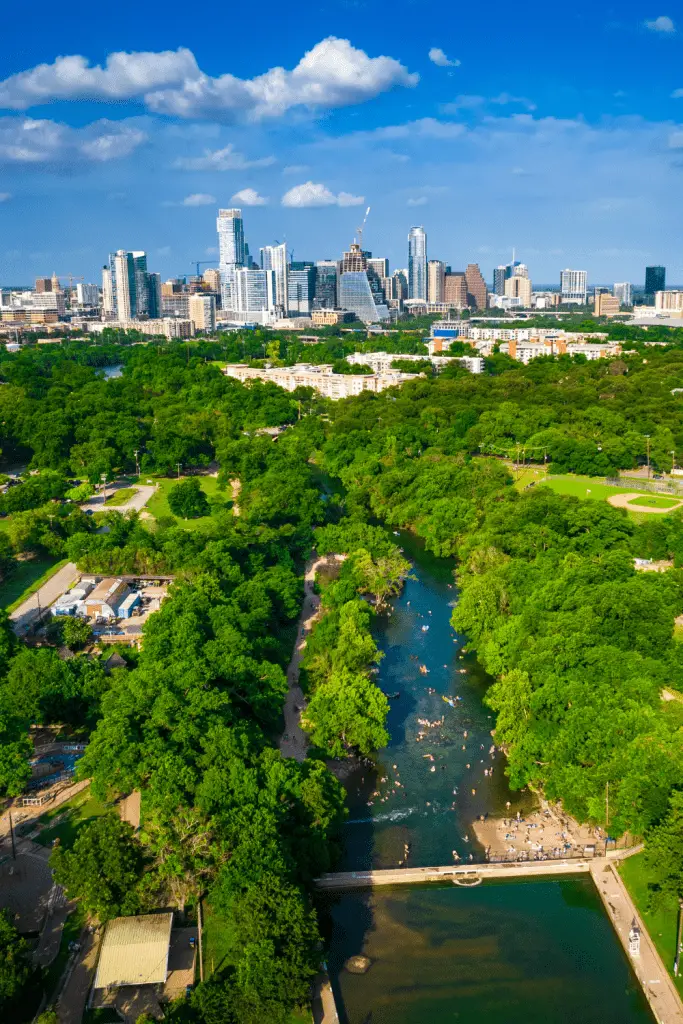 Barton Springs Pool
Also known as the 3-acre pool, has an average temperature of 68-70 degrees, making it the perfect spot to cool off in the summer months.
It's funny they call it a pool because it is literally Barton Creek. There is no "pool" in general terms, but it is a cement-sectioned-off area that is spring feed with water.
Surrounded by grass, it's the perfect spot to hang out by the water and relax in the grass after a nice swim.
This three-acre pool is an average temperature of 68-70 degrees and is perfect for year-round swimming. This federally protected habitat is home to the endangered Barton Spring Salamander.
How much does it cost to swim at Barton Springs?
Barton Springs has ticket centers where you can purchase an entry ticket with a credit card or debit card as well as exact change.
Children 1-11 are $2 for residents and $4 for non-residents
Junior 12 – 17 are $3 for residents and $5 for non-residents
Adults 18 – 62 are $5 for residents and $9 for non-residents
Seniors 62+ are $2 for residents and $5 for non-residents
Veterans and Children under 1 are Free
Other Things to Do in Austin with Toddlers
Visit Bookpeople
One of the largest independent bookstores in Texas, this two-story bookstore is filled with books, magazines, and fun items to purchase. The kid's section is the perfect spot for your little bookworm to search for books and read, as well as Storytime at the BookKids amphitheater.
Rock Climbing
Little Land Play Gym
Big Top Candy Shop
Peter Pan Mini Golf
Toy Lending Library
Lakeline Mall
Barton Creek Greenbelt
Austin Public Library
Now that we have gone through the areas and a few top things to do in Austin, I'm going to break down the things to do into categories and discuss a few options for each.
Arcades
Cidercade
Arcade games, Family friendly in the morning and for 21+ starting at 8 pm. This bar arcade features over 150+ New and retro games, beverages, and food. One really unique thing about this particular location is that it sits right on the water, and there is an outdoor lakeside patio, a good place to relax, enjoy some pinball machines and have a beautiful view.
Pinstack
Just North of Downtown, you will find Pinstack Bowl. Eat, Play, and Bowl. This massive family fun center with bumper cars, laser tag, rock climbing, video games, and so much is a great spot to hang indoors, and have a bite to eat, and bowl.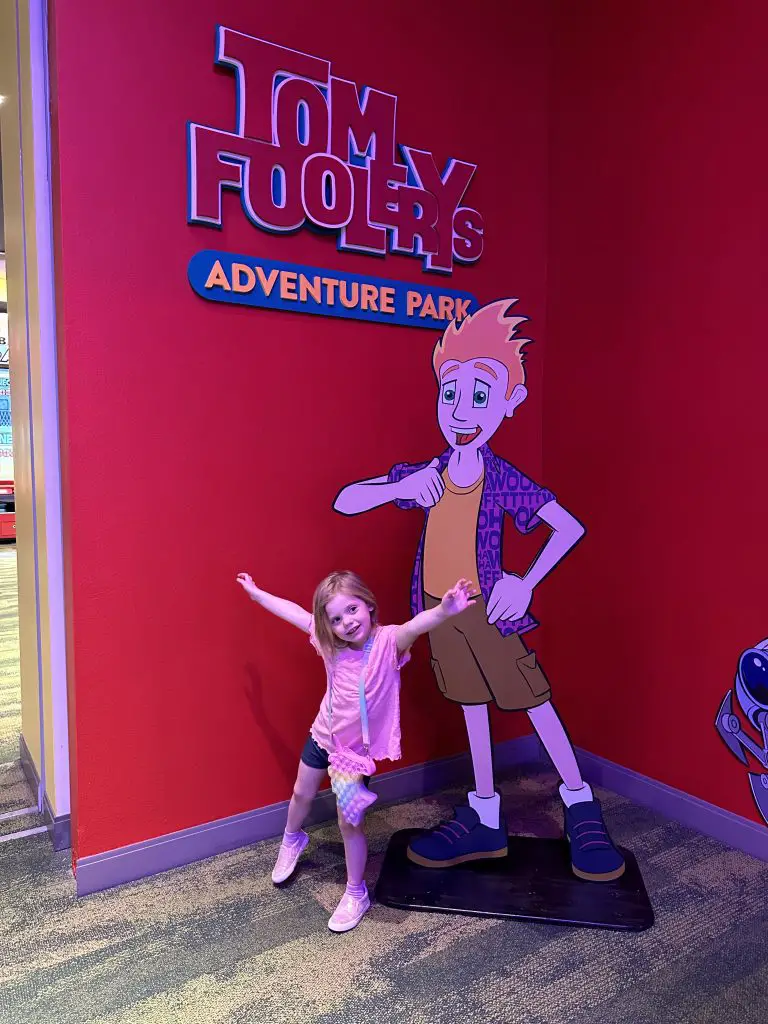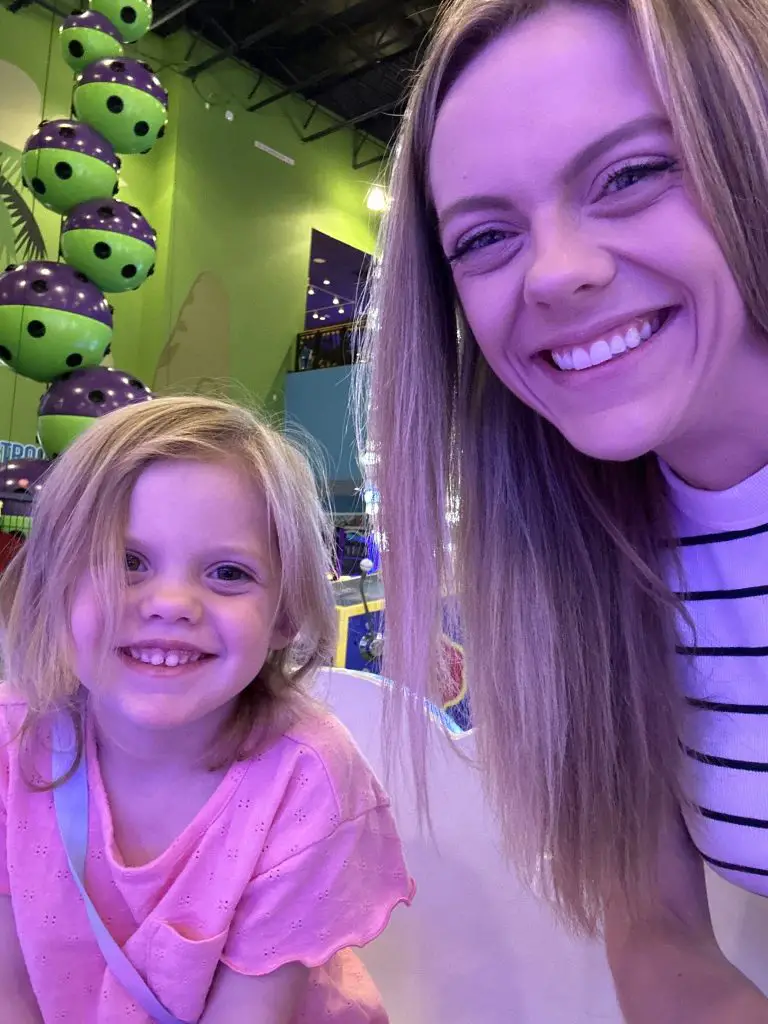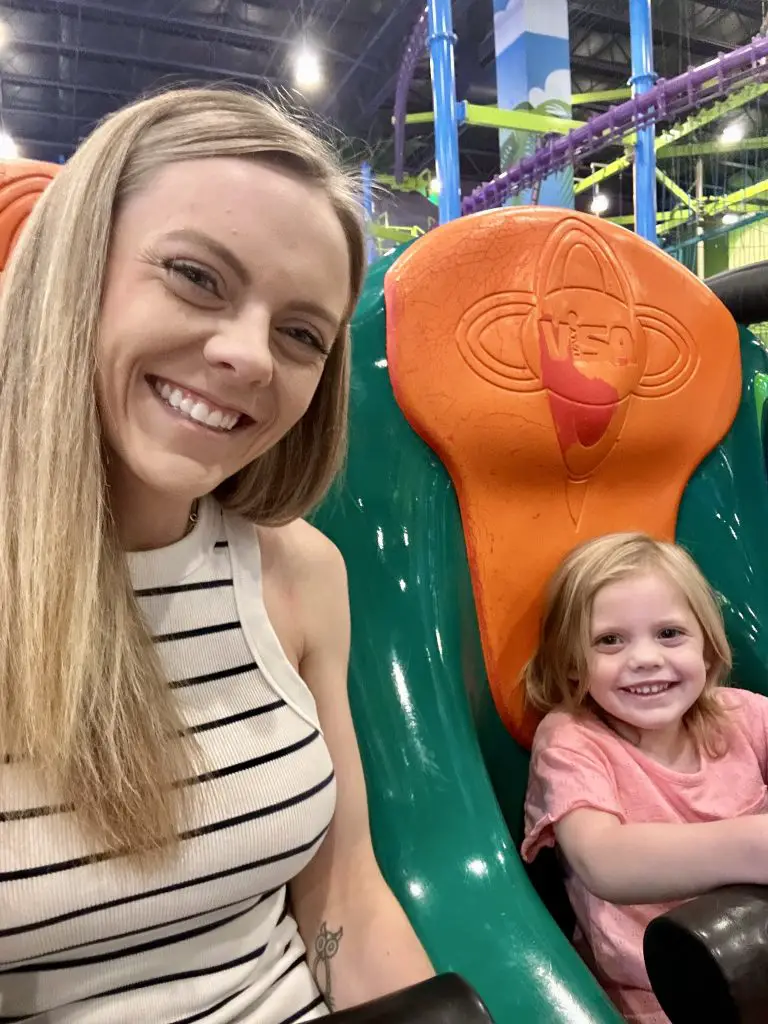 Kalahari Resort and Tom Foolerys Adventure Park
223,000 sqft of fun! When you stay at the resort, waterpark admission is included. But, if you are looking for one of the best indoor waterparks, you do not have to stay at the resort to experience the fun.
This waterpark has over 20 different slides, rivers, and lagoons to partake an enjoy during your stay.
The 80,000 sq ft adventure park will keep the big kids and your toddlers busy all day. Big kids will enjoy rope courses, climbing walls, and laser tag. While toddlers can bowl or play one of the 250+ games.
Jungle Island Family Entertainment Center
Our final indoor family fun center near Downtown. Any fun center is pretty much great for the Austin with Toddlers list.
Museums and Texas History
Not all museums are created equal, especially with kids and toddlers. We loved Austin's Children's Museum, The Thinkery, out of all museums, but here are the top-rated Austin museums for toddlers and kids of all ages.
Thinkery
Our top pick for toddlers in Austin. This museum is perfect for the family on Saturday mornings.
They offer spring and summer camps for locals and is a great indoor place on a rainy day.
Bullock Texas State History Museum
Austin Nature & Science Center
Blanton Museum of Art
Texas Memorial Museum
The Contemporary – Laguna Gloria and Downtown
Murals in Austin
There is so much art around Austin, from graffiti to street art, murals, and mosaics. Check out some of our favorite spots around town. One of our favorite fun and bright artists, Tara Leigh Johnston, continues to bring bright colors and botanicals all over Austin. Our daughter loved our mural day, we drove around and jumped out and took pictures at each of the murals around town, it was a blast and definitely something to add to your list of things to do in Austin with toddlers.
Tau Ceti
📍 E 2nd & Brazos St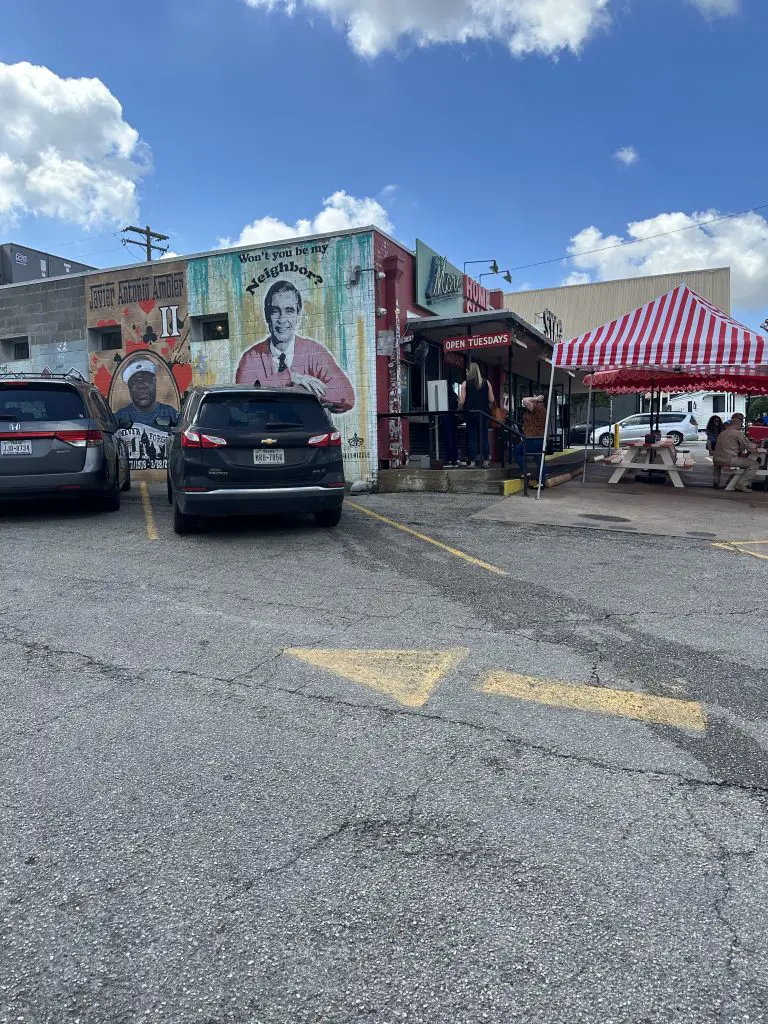 Won't You Be My Friend?
📍 1423 S. Congress Ave
Willie For President
📍 1315 S Congress Ave.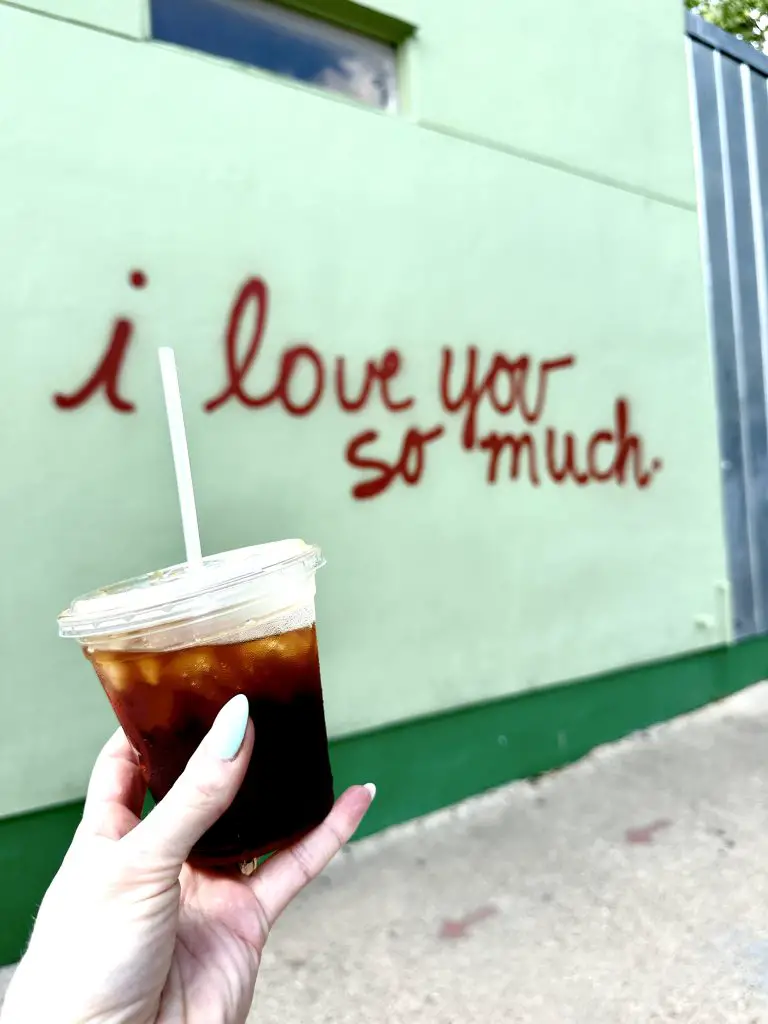 I Love You So Much
📍 1300 S. Congress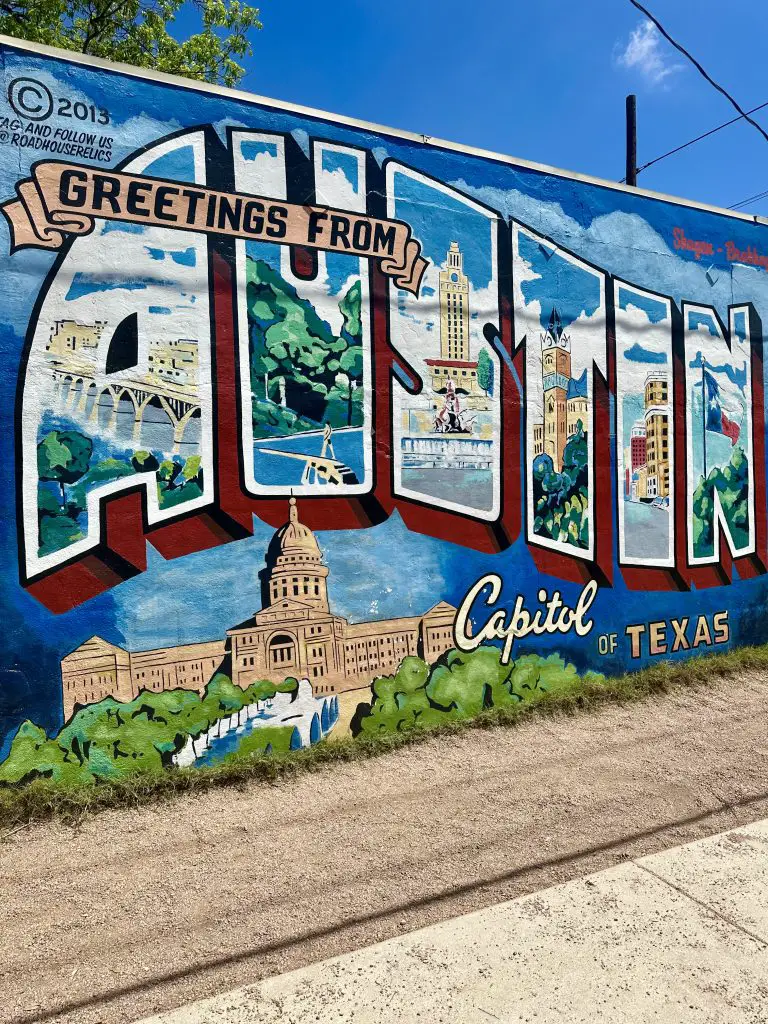 Greetings From Austin
📍 720 S 1st St.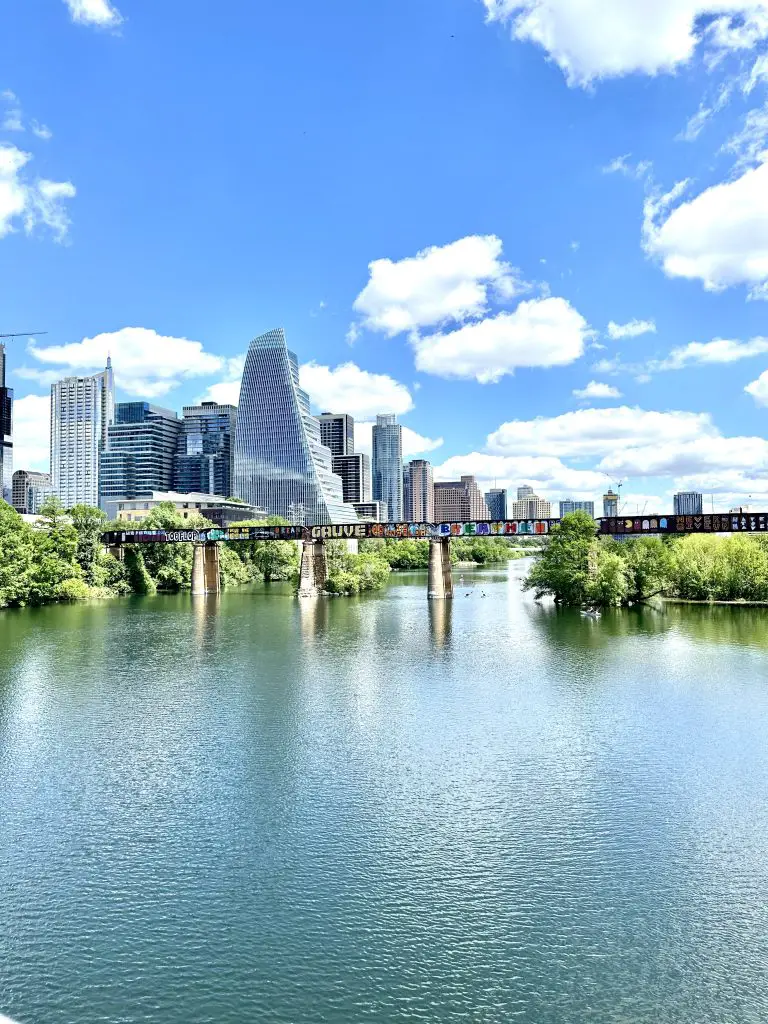 Railroad Bridge Art
📍 283 N. Lamar
Willie Nelson Statue
📍 301 Willie Nelson Blvd.
Peace, Love, Austin
📍 201 Colorado St, Austin, TX
Parks, Gardens, and Lakes
I wanted something fun for toddlers but also something I would enjoy as well. Austin is full of Parks, Gardens, and lakes, making it a great balance between toddlers and adults
As an adult, it's always great when you find a good balance between things to do for a toddler and things you enjoy as an adult.
We walked along the Colorado River on the hiking path. This is also a bike trail, and there are lots of people. There are spots where you can get right up to the water, and it is generally an easy walk.
Zilker Metropolitan Park
Zilker Park is over 350 acres and is larger than Manhattan Park In New York. Known as "Austin's most-loved park," Zilker has multiple recreation options for toddlers, families, and people. You can spend the entire day at the park and not see everything. Play at the volleyball courts, capture a perfect view of the Austin skyline, paddleboard, or take a dip in the pool.
Zilker Botanical Gardens
We spent most of our time at the botanical gardens. I wanted something fun for toddlers but also something I would enjoy as well on our 2nd day in Austin.
How much is the Zilker Botanical Gardens Admission?
Members are Free
2 and under Free
Youth 3-17 are $3 (Local) $4 (Non-local)
Adults 18-61 are $6 (Local) $8 (Non-local)
Seniors ages 62 and up are $5 (Local) $7 (Non-local)
Where to park for Zilker Botanical Gardens?
Additional parking is on Sutter – There are quite a few parking spots up at the main lot, and if you drive around a few times, you may find a spot. If not, follow Sutter Road and park in the additional dirt lot. It is a little bit of a hike back up to the entrance.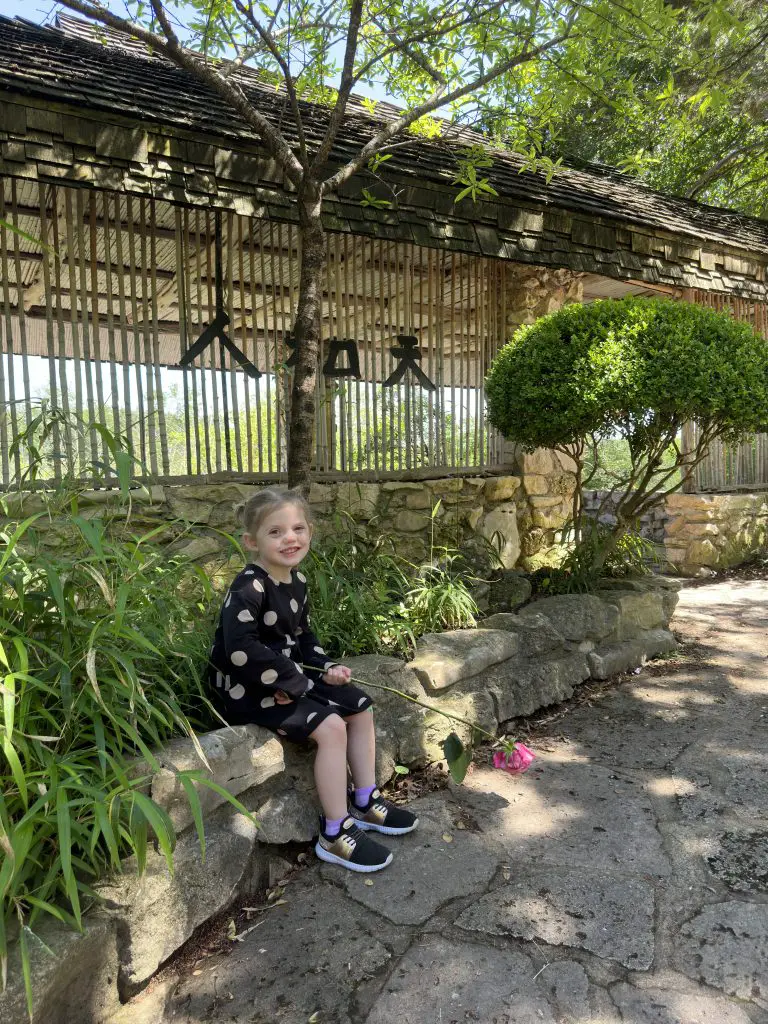 The staff was absolutely the best!
When we first arrived, my daughter had skinned her knee in the parking lot. I took her into the visitors center restroom to get her all cleaned up, and one of the staff members was also in there. She heard my daughter crying and asked if everything was alright and noticed her skinned knee bleeding. She said give me one minute, I will be right back and she brought us Willie bandaids. Sloan picked out a unicorn and a rainbow bandaid from the set, and we were off to explore.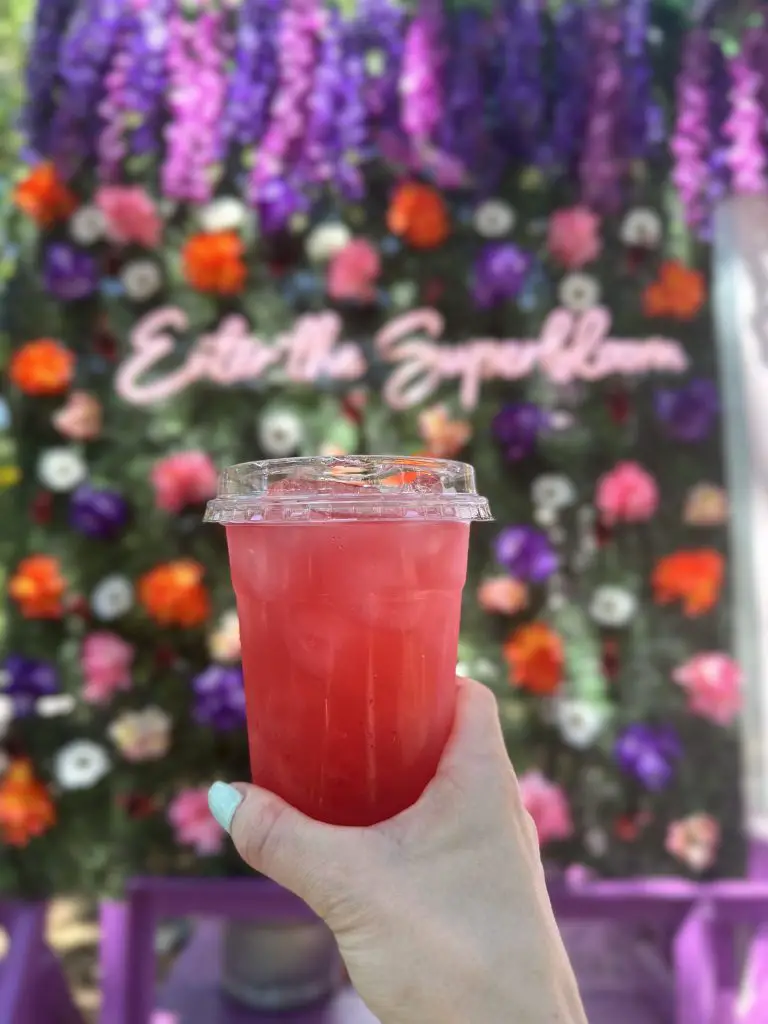 Pretty Cute Coffee
Currently, there is a coffee and tea truck right in the parking lot by the visitor's center. Pretty Cute Coffee has tea, coffee, treats, and popsicles. We ordered the hibiscus tea and two strawberry lemonade popsicles to enjoy. There are lots of tables and chairs to relax at, and we ate our popsicles before heading back into the park to walk around.
We highly suggest stopping here for cold tea before you head into the park to walk around. Please note there are not a lot of trashcans around to throw your items away once inside the garden, so once you are done, you will want to head back up to the visitors center to throw your things away.
There are 6 garden areas to walk through.
Japanese Garden
Tea house
Koi pond
AUSTIN Pond
Waterfall
Bonsai Display
The Japanese garden has benches and spots to sit all around, and if you sit at the top of the garden by the visitor's center, there is a really great view of the downtown cityscape.
Hartman Prehistoric Gardens
Dinosaurs
Footprints
Waterfall
Hartman Gate
This area, while we were there, had a special event going on for local artists. The area had over 40 neon light sculptures around. Typically you would see dinosaurs around the area. There are beautiful waterfalls and streams all around the park.
Butterfly Garden
Butterfly Gazebo
Butterly Fountain
Butterfly Gate
While the butterfly trail has butterflies, you will notice them all around the park. There is not an enclosure where all the butterflies are at.
Pioneer Village
Blacksmith Shop
Esperanza Schoolhouse
Swedish Log Cabin
Vegetable garden
Cactus & Succulent Garden
Hummingbird Garden
Iris & Daylily Beds
Oak Grove
Picnic Area
Oak Grove Storage
Nature Play
Play Area for Kids
The children's play area has musical instruments to play with and is the perfect spot for kids to run around and play and for parents to relax.
Visitors Center
The visitors center has maps and a gift shop to purchase memorabilia.
Restrooms
There are a few restrooms around, but the best is the one inside the visitor's center
Austin Nature & Science Center
Located in Zilker Park, this free educational playground with lots of hands-on nature exhibits, making it a great place for the entire family and a must for toddlers in Austin. There are lots of educational things to do with kids at the Austin nature center and space to run around.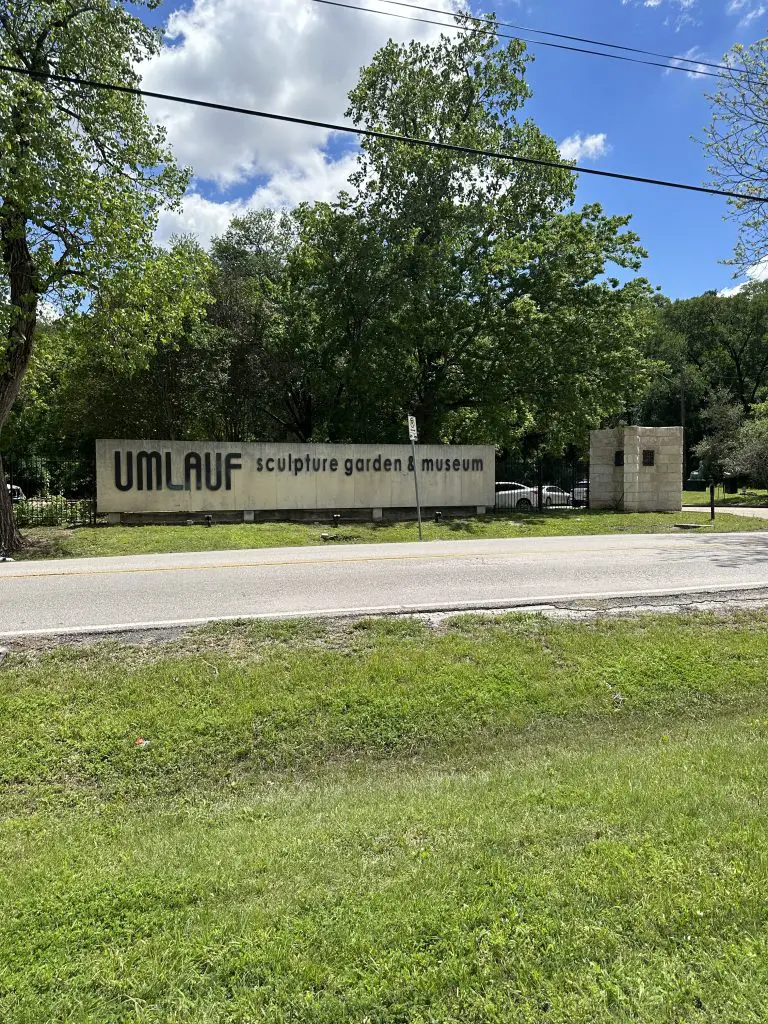 Umlauf Sculpture Garden
For toddlers, this might not be the most ideal. The sculpture garden is overall a quiet spot to explore. The sculptures were fun to look at, and everyone walking around the garden didn't seem to be bothered by children, but this would probably be the best for older children.
While not at the top of our list of things to do in Austin with toddlers. We did enjoy a quick 45 min hang around the sculpture Park. If you are an art family, we highly suggest going. If walking through a museum sounds unappealing, skip it.
The other sculpture museum that we would suggest is The Contemporary Laguna Gloria.
Other things to do in Zilker Metropolitan Park
Barton Springs Pool
Umlauf Sculpture Garden & Museum
Lou Neff Point
Zilker Park Boat Rentals
Zilker Hillside Theater
Austin Nature & Science Center
Zilker Botanical Gardens
Zilker Park Disc Golf Course
Zilker Nature Preserve
Butler Metro Park
Grab a Starbucks and explore the park. Close in proximity to Zilker Park, this smaller park packs a day's worth of things to do.
Alliance Children's Garden
Located near Downtown Austin, the large turf park has multiple mounds to run around and cement slides and sand pits to play in.
Liz Carpenter Splash Pad
The splash pad was high on our list of things to do in Austin with toddlers, but the rain was not something we accounted for. While it didn't downpour, it was a little on the cooler side, and we did not want to be outside in a swimsuit while it was raining.
Other things to do in Butler Park
Alliance Children's garden
Liz Carpenter Splash Pad
Butler Pitch & Putt
City of Austin Parks & Rec
Butler Shoes at Town Lake Metro Park
ZACH Theater
Auditorium Shores at Town Lake Metro Park
Dinosaur Park
For outdoor activities, this is in the middle of our list of things to do in Austin with toddlers. The dinosaur park has life-sized dinosaurs, a large gift shop, and other dinosaur-themed activities to partake in. They could all use a refresh and a little overall park update but this is a perfect spot to explore and run around.
Pease District Park
Cute urban park with walking trails, and a super cool dome structure.
Lady Bird Lake
If you are looking to rent a paddle board or swan boat, this is the spot where all the water activities are. Depending on what your plan is for the day will determine what you rent for the time you are there.
Another great option is a guided tour on one of the Boat tours or cruises
Lady Bird Johnson Wildflower Center
Located in South Austin and not anywhere near Lady Bird Lake, this public botanical garden is over 279 acres dedicated to sustainable earth through education and research. Drawing in nearly 100,000 yearly, you can partake in daily guided garden tours, yoga, and much more.
Live Music in Austin
While not exactly a perfect thing to do in Austin with toddlers. Live music is something younger children can enjoy without really knowing they are enjoying it. As the live music capital of the world, you can pretty much stumble into anywhere and find live music. Even the Austin–Bergstrom International Airport has live music. Here are a few top spots to listen to live music in Austin.
1. Stubb's Bar-B-Q
2. Austin City Limits Live
3. The Continental Club
4. The White Horse
5. The Mohawk
Water Parks and Splash Pads near Austin
Austin has lots of splash pads, and many open during late spring, and are open through summer. Some of the top splash pads are right in Downtown Austin, making it a must on the things to do in Austin with toddlers list.
Volente Beach Resort & Waterpark
Now, I wouldn't normally opt to stay somewhere that has a waterpark in its name. This takes Waterpark Resort to a new level. This boutique waterpark features Wave pools, lazy rivers, multiple pools, private beaches, indoor and outdoor dining, and so much more. The beach bungalows are adorable, and your overnight stay includes your admission tickets to the water park as well.
Splash Shack
We love an indoor water park. Temperature controlled, weather is never an issue. Rainy day but want to splash around in the wave pool? No problem.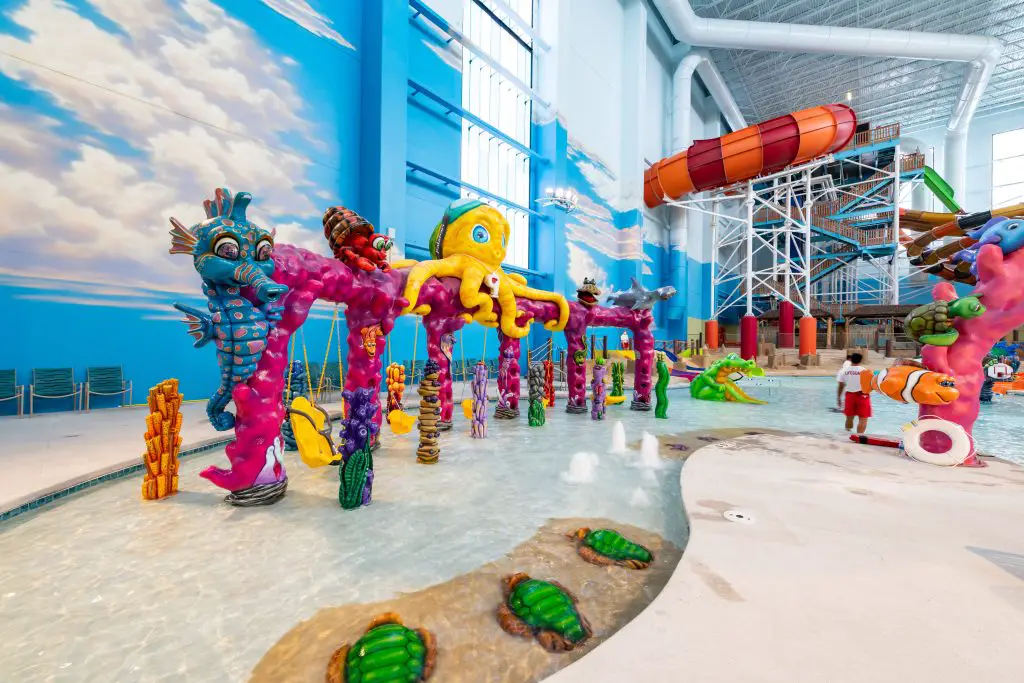 Kalahari Resort and Waterpark
I know we talked about the adventure park and resort in the arcade section, but we have to touch on it again in the water park section. This water park is the largest indoor waterpark in the world! I know, shockingly, right in the middle of Texas, in the tiny town of Round Rock, you will find this massive resort! Round Rock is around 20 min from Downtown Austin, so not far for a day full of fun.
Liz Carpenter Splash Pad
Located in Barton Metro Park
Buda splash park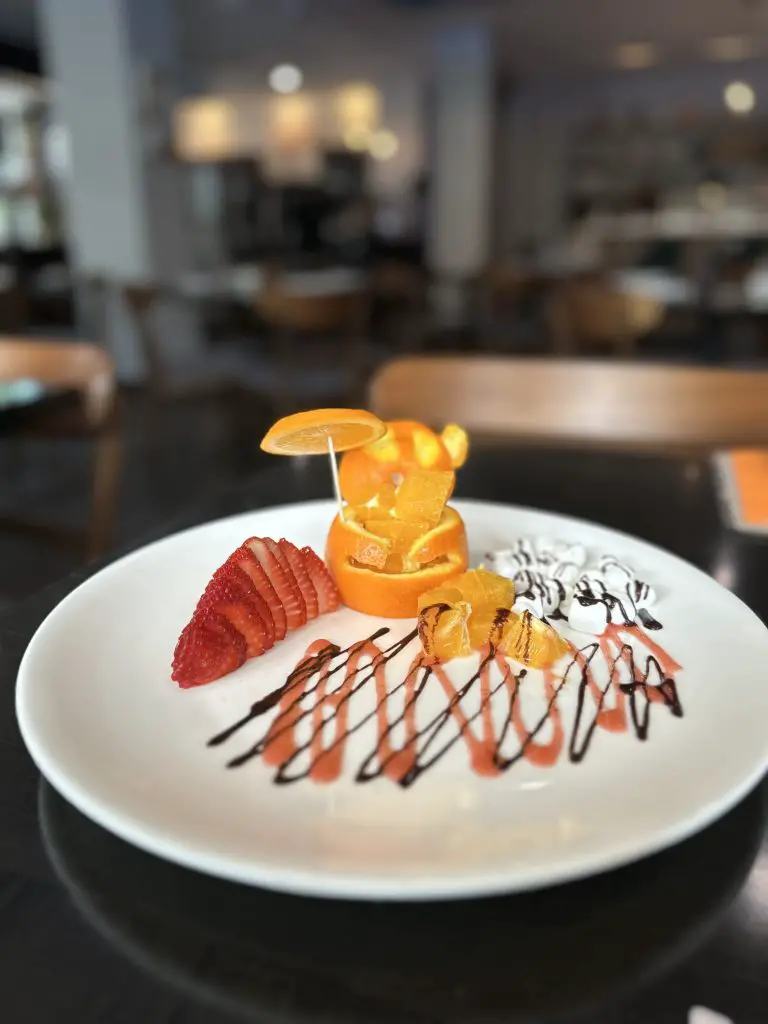 Great Kid-Friendly Restaurants in Austin
There are a LOT of Kid-Friendly Restaurants in Austin. Food in Austin is very unique. The food scene is such a wide blend of multi-cultures that you can get anything on pretty much any street corner.
Here is what we tried and some other top restaurants we weren't able to see but heard amazing things about.
Food in Austin TX
We pretty much only eat at "kid-friendly" Restaurants, but I will indicate if one of them Is not kid-friendly and why it is on the list. We run into our occasional spots, and they typically fall into a cocktail or bar/lounge category.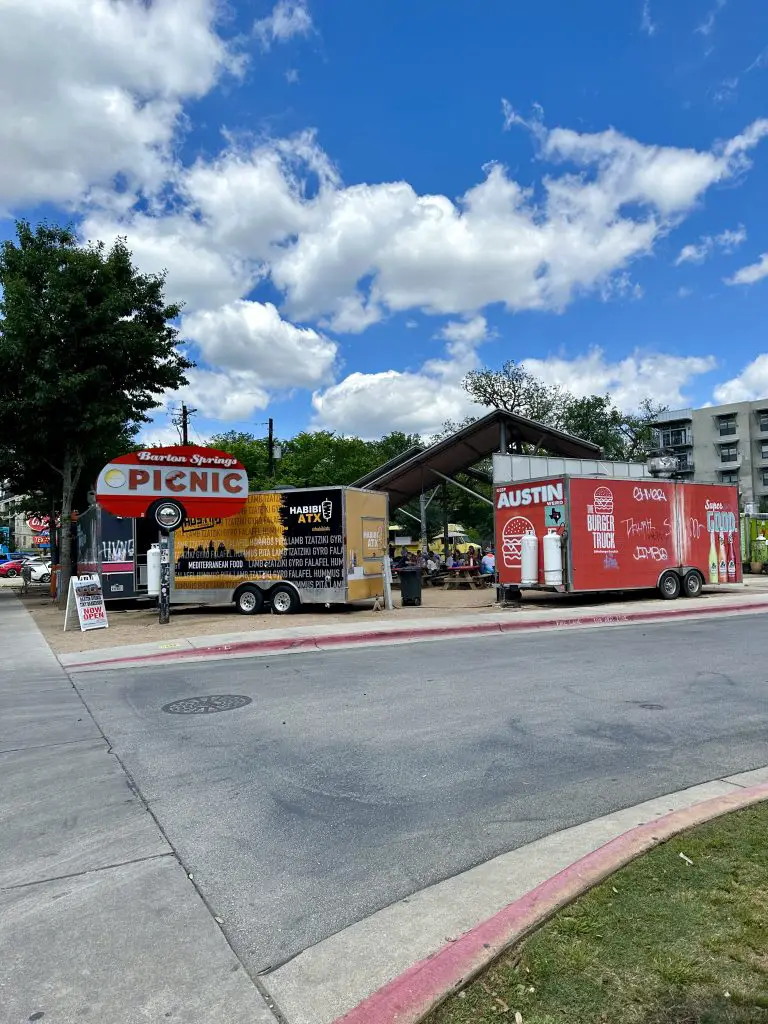 Food Trucks and Food Truck Parks
Austin has like tons of Food Trucks Congregations. Where we live, we have a food truck one weekday during the spring and summer months. but this is all the time these amazing food trucks are parked together in groups. We love food trucks, but the chaos of lines is unappealing. THIS WAS AWESOME! No long lines, I mean, you have your occasional longer line at a popular food truck coop spot, and if you are at the most popular one there, but in general, you won't have too long of a wait for food. And the best part about food trucks is the ability to grab one item from different trucks. So enjoy one of the other foods while you wait in line for the trucks.
Here are some of the top Food Truck Locations in Austin
1. South First Food Court
2. Barton Springs Picnic
3. West Gibson Street Food Trucks
4. East 11th Street
5. Cosmic Coffee + Beer Garden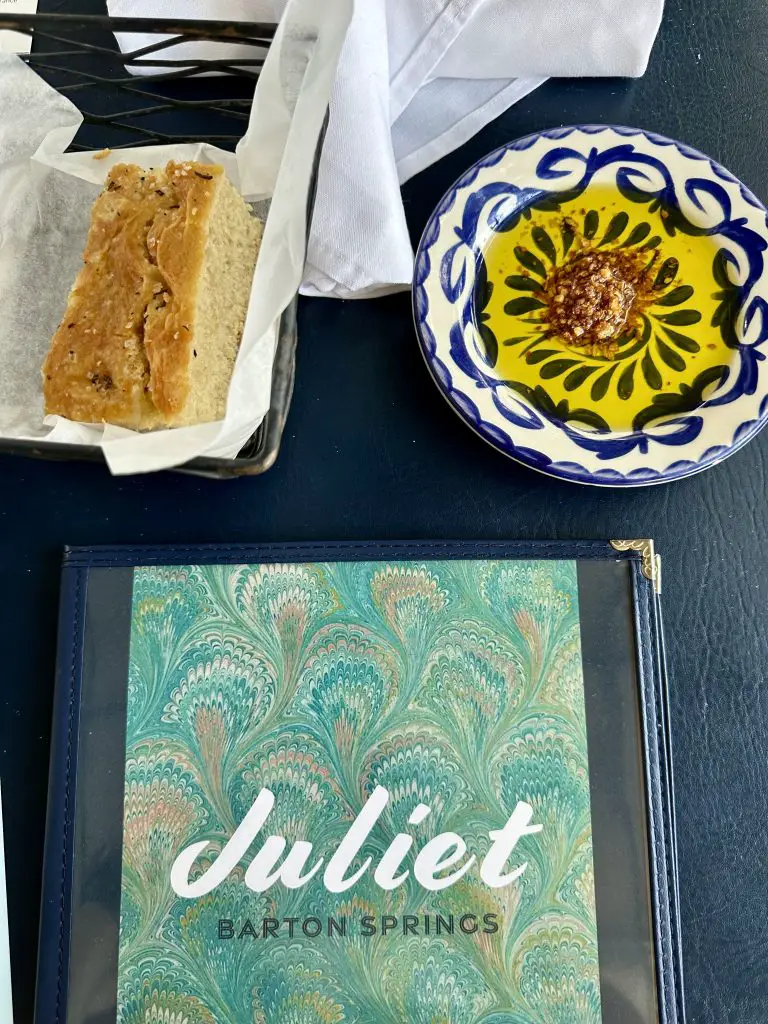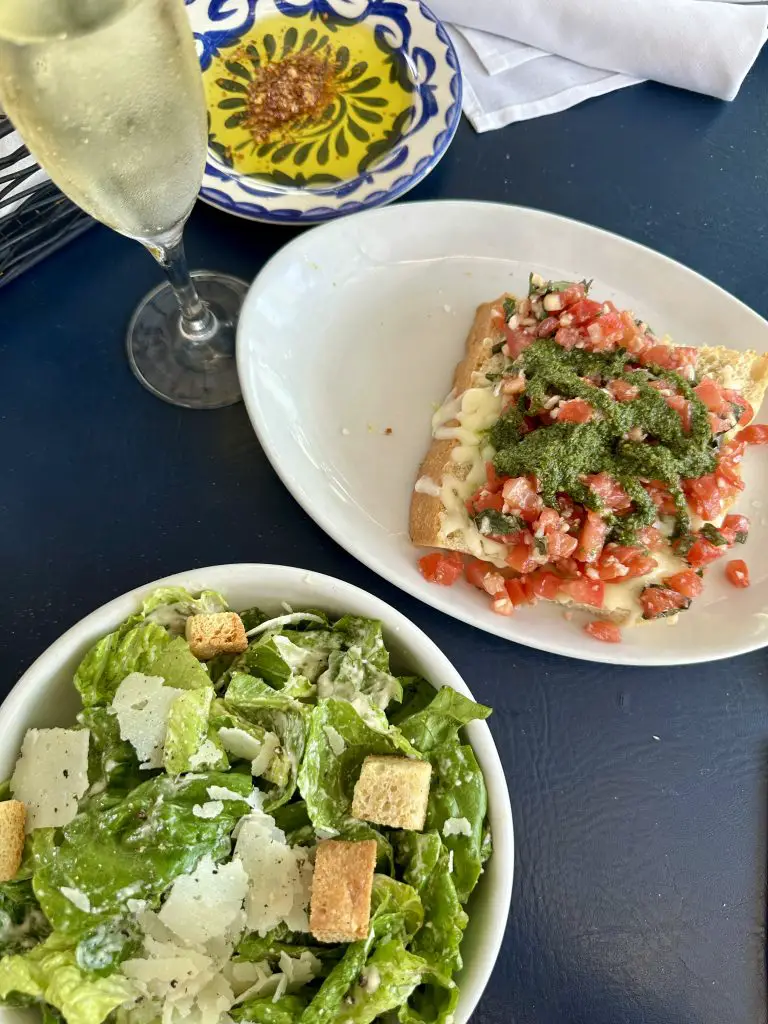 Juliet Italian Kitchen
BEST Italian food I've had, hands down.
I ordered the prix fixe lunch menu special and added a Caesar salad. I chose the Caprese Bruschetta and pesto chicken. Do not pass on any of them. Add a glass of champagne, and you have the perfect lunch.
Alamo Drafthouse
Alamo Drafthouse in Austin has served up the best food, drinks, and films all in one location. This theater and restaurant have everything covered, and I have to admit. Movie date night are always difficult because we want to find somewhere to eat and then make our way to the theater, and Alamo Drafthouse makes movie night more simple.
Maiko Sushi Lounge
We had a really great dinner here. When we first sat down, our daughter was concerned, I didn't bring her chopstick cheaters and the waitress literally sprung into action and got us cheaters right away, she even gave us a second pair to keep in my purse so I wouldn't forget again. 😉
After that, the chef made her a special fruit plate with strawberries, oranges, and marshmallows covered in chocolate.
We ordered: Edemame, pot stickers, Miso Soup, Carpaccio, and a Tuna Bowl
Everything was really great, and If you are looking for sushi, this is a great spot. The carpaccio was absolutely amazing.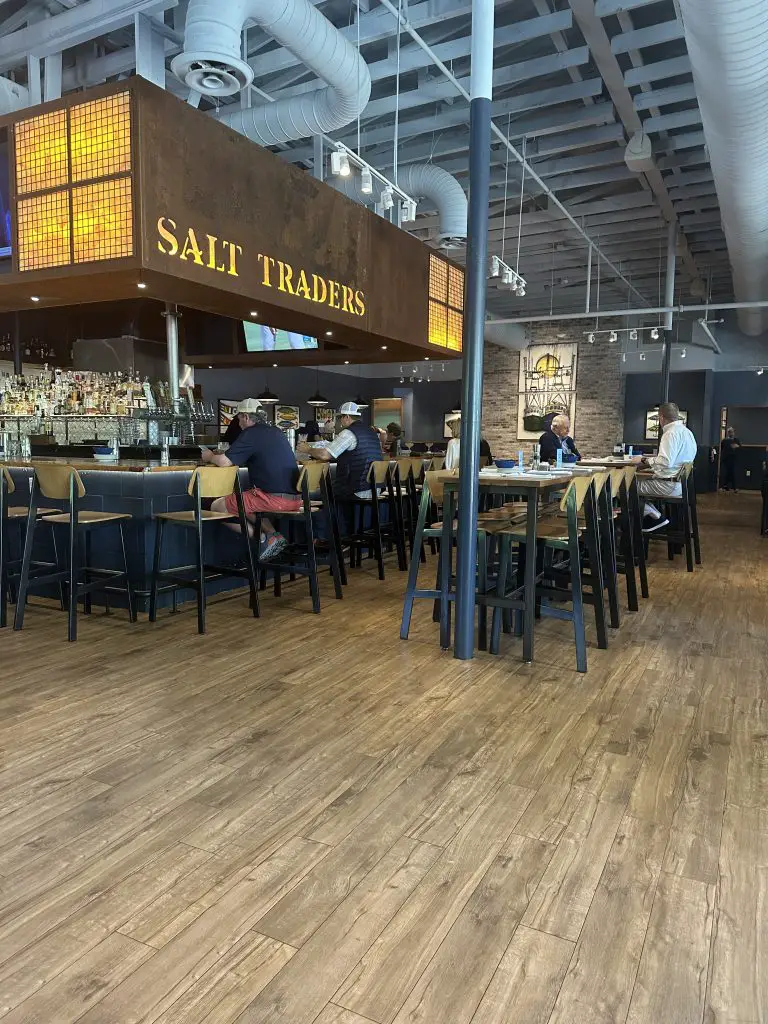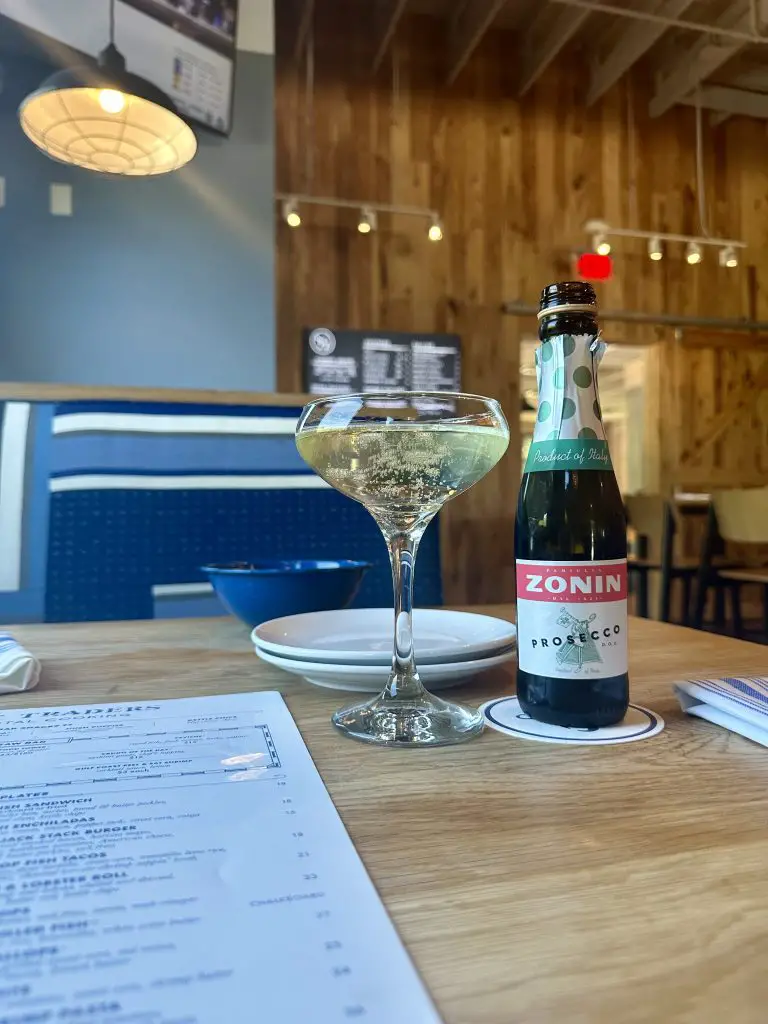 Salt Traders Coastal Cooking
I overheard the waitress suggest clam chowder with fish and chips and dunking your fish into the chowder. I overheard this after we had already finished our food and I had no room to try this delicious suggestion.
Next time we are there, you can guarantee I will be ordering this and giving it a try.
What we ordered: Bread and butter, potstickers, kids cheese burger with fries.
FAREGROUND Eat + Drink
Think indy food co-op. These little co-op spots are all over the place in food truck form, and similar to this spot, there are multiple different ethnic food options in one location. LOVE
When we arrived, there was a CrossFit class going on the front lawn and stage, and it looked like they had frequent classes you could attend. Inside there are 6 different food locations, a bar, local shopping, and a self-checkout market.
Little WU
We ordered Chicken Potstickers and pork dumplings.
Taco Pegaso
What we ordered: Chips and Guacamole, Two Tinga Tacos, and Two Beef tacos.
We did not love the beef tacos. They were just refried beans and beef with a sprig of cilantro. I would say skip them and order the chicken tinga or pork tacos.
You are able to customize your tacos how you want, but we really like to order them as is and see what the restaurant has to offer.
Cheesecake Factory
Now this is more of a norm, and I don't like to talk Ill of restaurants when they are short-staffed. But, the food was good, and the service was really slow. The host was also the waiter, and it sounded like someone had called in.
Sweet Paris Creperie & Cafe
Juan in a million for Breakfast tacos
There wasn't an easy way to get to Juan in a Million, but I've heard this spot has the BEST breakfast tacos.
Cafe Blue Classic Seafood & Oyster Bar
This oyster bar had multiple oyster options, including Blue Points and Osprey Point Oysters. We ordered a dozen oysters, mac n cheese *literally so yummy with fruit and fries, seared ahi salad, and pan-fried almondine.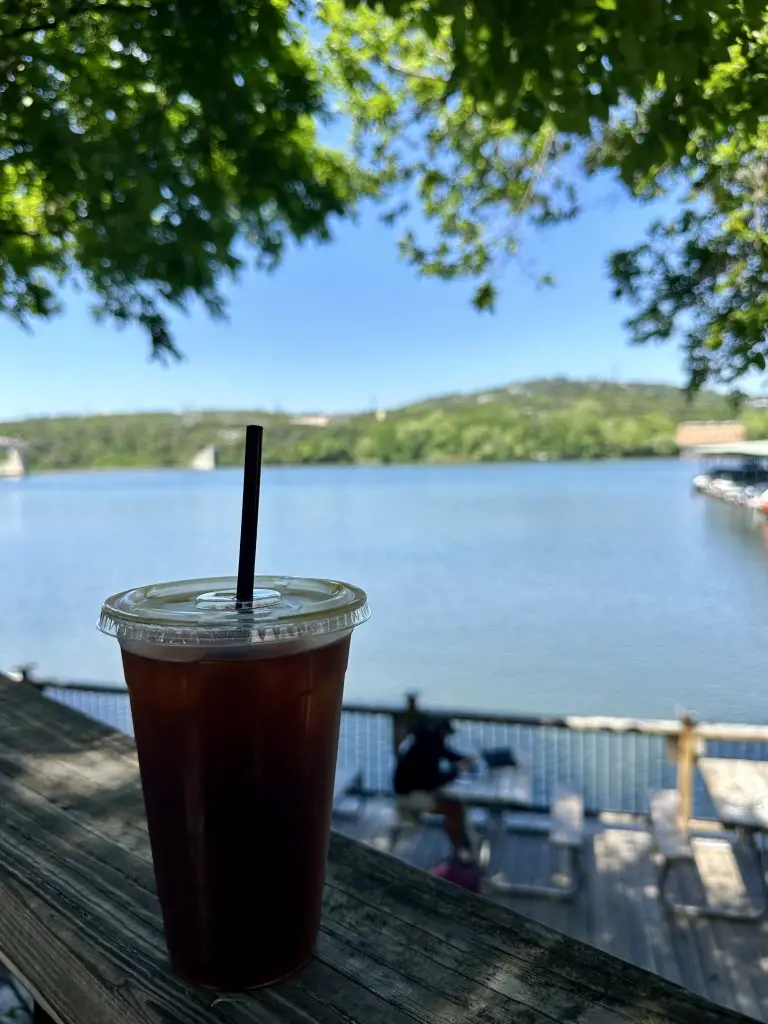 Coffee Shop
Stopping at a coffee shop is one of our favorite things to do together. Grab a small snack, coffee, and hot chocolate for the little, and off we go. We like to find a spot to sit and relax if it's not at the coffee shop. My absolute FAVORITE was the iced vanilla latte from The Presidental House Coffee inside the Omni Hotel.
Presidential House Coffee
THE BEST ICED VANILLA LATTE!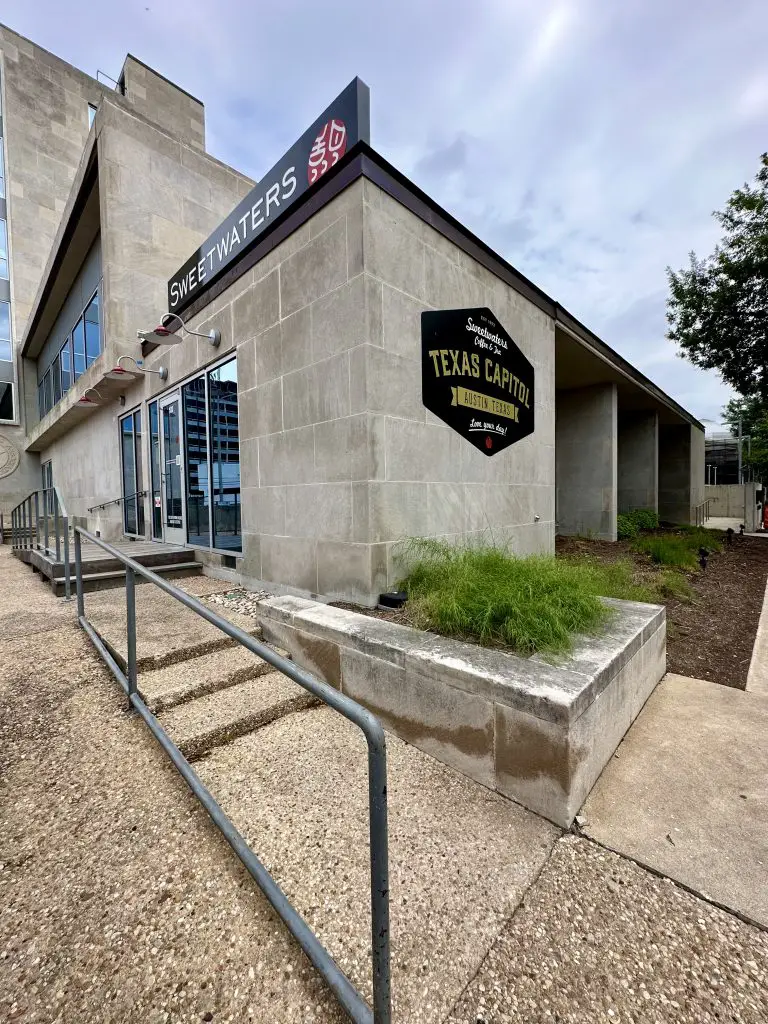 SweetWaters Coffee & Tea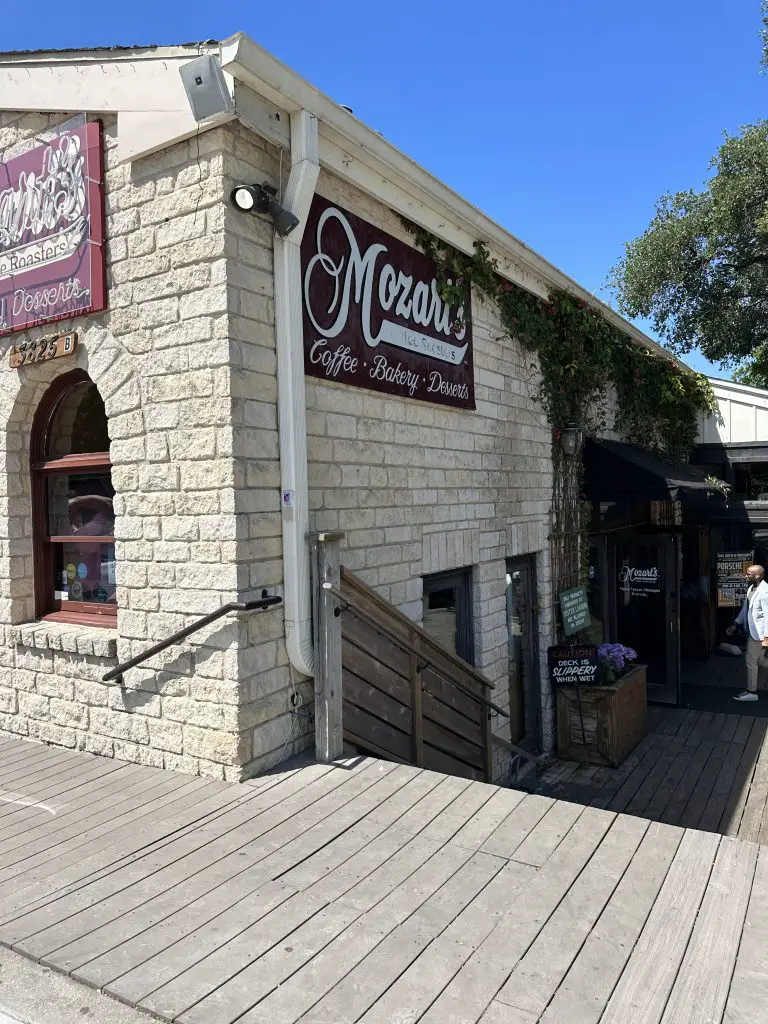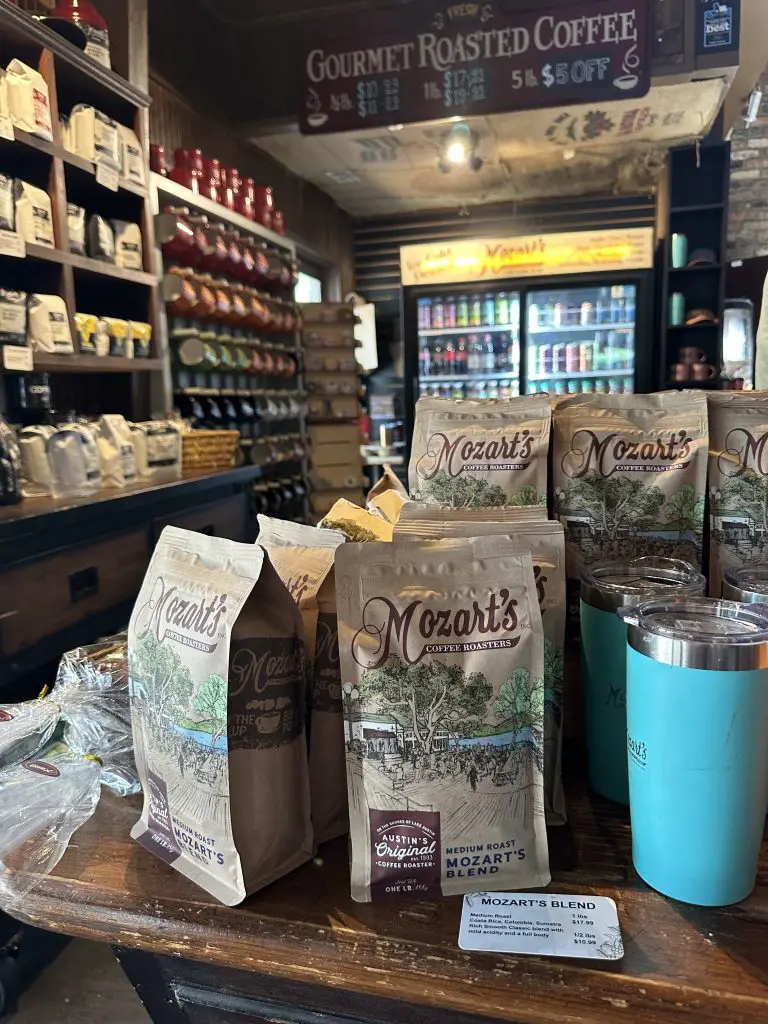 Mozart's
This is actually a coffee shop with baked goods and is a coffee roaster. Meaning they roast their own coffee blends and this location happens to sell them.
What I ordered: Iced black coffee, two spring cookies.
Atlas Cafe
On Yelp there happens to be a few cheese board photos, they do not offer this currently but this was the perfect stop to overlook the water and have a mimosa after a long walking day.
Jo's Hot Coffee Good Food
The BEST Chai Latte and well-known in Austin with multiple locations. Our favorite location is in South Congress.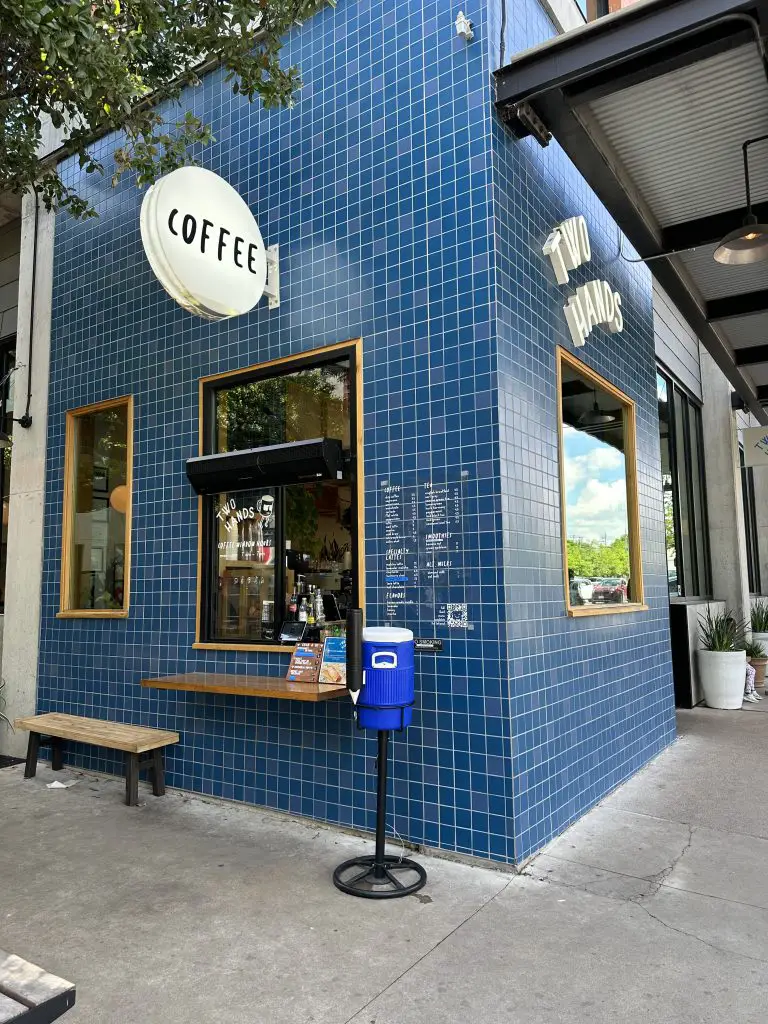 Two Hands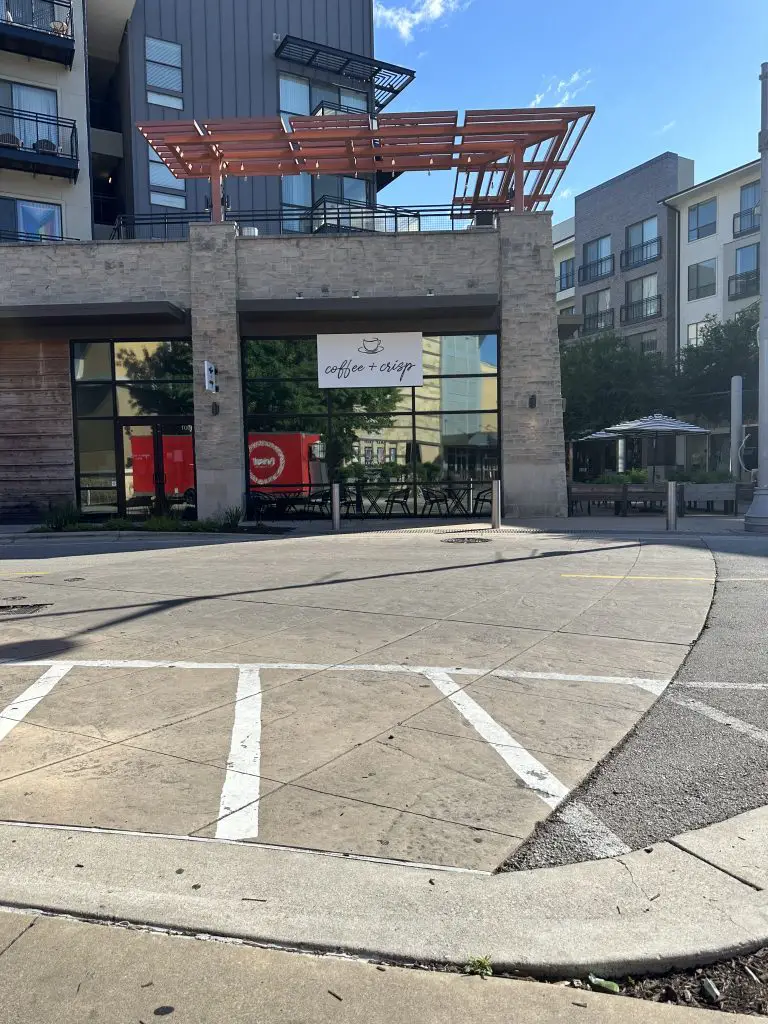 Coffee + Crisp
Revolucion Coffee + Juice
Halcyon Coffee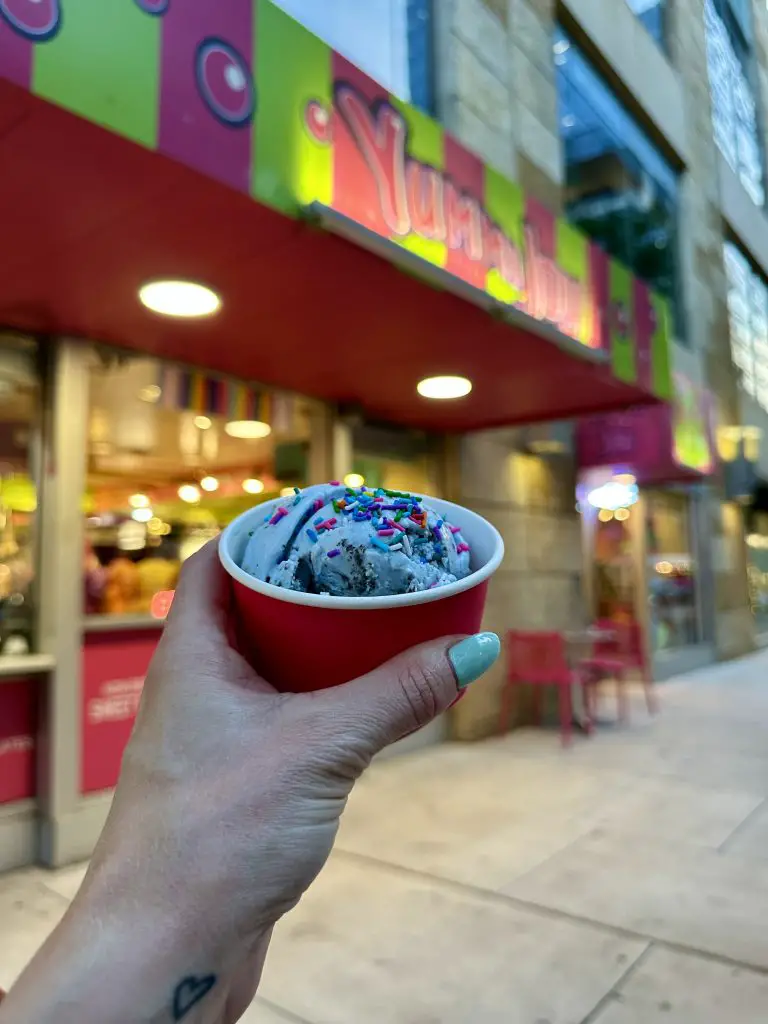 Desserts and Sweets
The Yard
Super cool milkshake bar.
Yummi Joy
Jeni's Splendid Ice Cream
Amy's ice creams
Top Attractions for Adults and Older Kids
Inner Space Cavern
I don't think I could convince my toddler this is something fun, but this will be something we do on one of our trips to Austin when she is older.
The Inner Space Cavern was discovered by the Texas Highway Department and has brought tens of thousands of people through the cave. While not stroller friendly, the easy-to-walk pathways in the cave and cool 72-degree temps are the perfect spots to escape the day and explore a naturally preserved cave.
Austin Bouldering Project
Climbing, Yoga, and Fitness Center
Nearby things to do in Austin TX With Toddlers and Kids
San Antonio
San Antonio is actually a lot closer than we had anticipated. It's close to 79 miles, around a 1.5-hour drive. There is no way we could write a City Things to do post and not touch on where the closest theme park was at. San Antonio is home to SeaWorld San Antonio, Six Flags Fiesta Texas, and a few smaller theme parks. We haven't been able to add extra days to make our way over to San Antonio, but hopefully, we will be able to review both parks in the coming years.
Cedar Creek
Cedar Creek is a small suburb outside of Austin, TX. One thing to note about Cedar Creek is all the fun things you can do there. One that stuck out the most was the Zip Lost Pines zip line course. The Capitol of Texas Zoo and McKinney Roughs Nature Park, and The Dinosaur Park.
Round Rock
Round Rock is also nearby Austin and a quick 25-30 min drive from Downtown Austin. While not as walkable as Austin, Round Rock is known for the Kalahari Resort, and we have to say we spent a day and a half just in the arcade and didn't even get a chance to play around the water park at the Resort.
Dripping Springs
This tiny town outside Austin is an eclectic town with unchanged exteriors and notes to decades before. One really unique thing you will find in this cute little town is swimming in Hamilton Pool. This naturally made pool is surrounded by a waterfall and a grotto to relax in the shade. The town also offers multiple breweries and tasting rooms.
Cedar Park
A small, quick-growing suburb northwest of Austin. This neighborhood is one of the best places to live in Texas. In Cedar Park, you will find Splash Shack, an indoor waterpark, Brushy Creek Lake Park, and the Austin Steam Train Association Museum.
We hope you enjoyed this Austin with Toddlers guide and have so much fun on your upcoming trip.