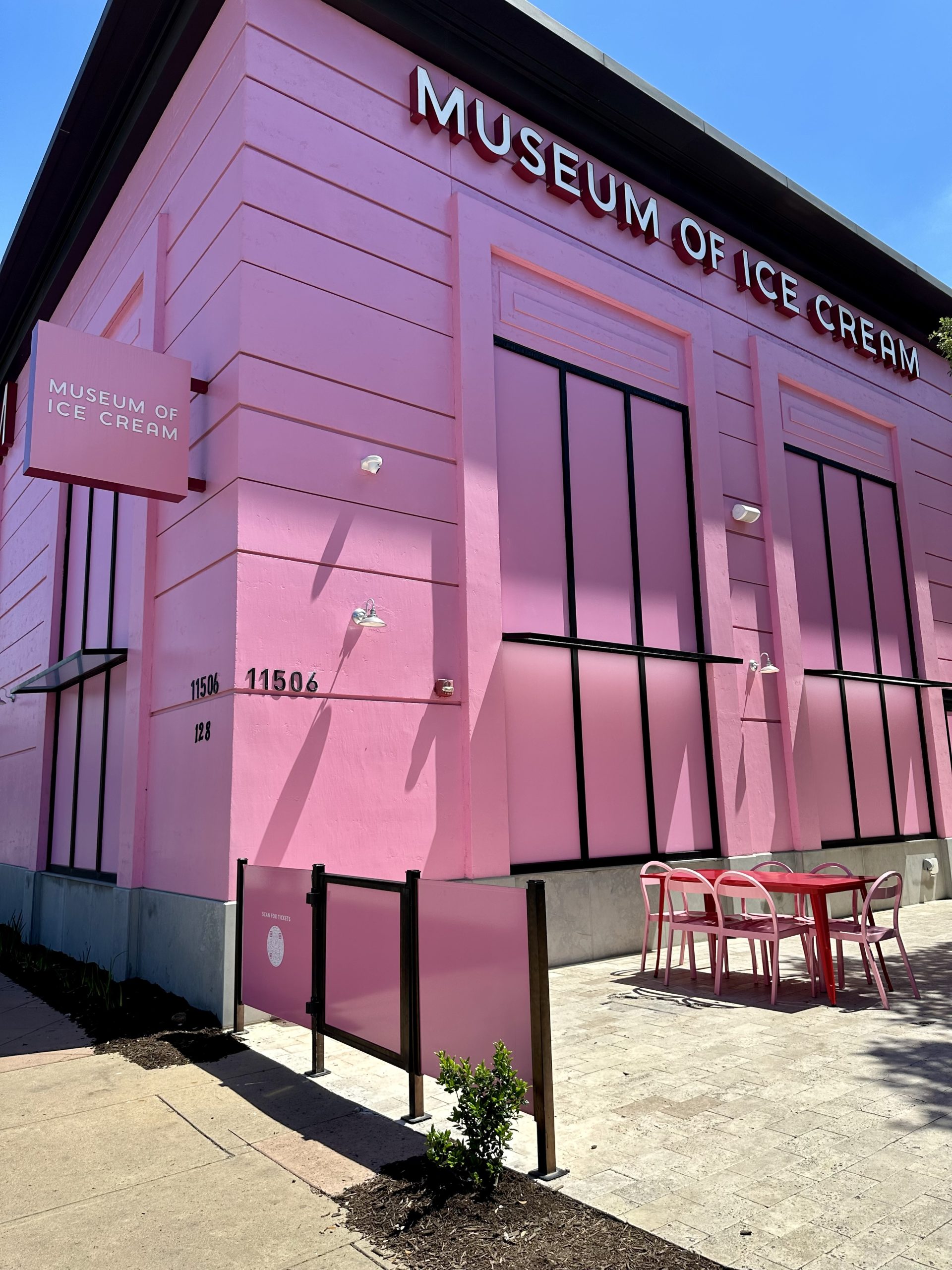 We had such a great time at the Museum of ice cream in Austin, and if you are looking for access to unlimited desserts and an immersive experience, run to the Museum of Ice Cream in Austin. Located at The Domain, a trendy park-like shopping mall right outside of Downtown Austin. Created by the creative director Maryellis Bunn this ice cream adventure is designed to put your phone down and enjoy your time. I did get lots of photos 
Watching the joy of uninhibited playtime is such a blessing. Museums, zoos, aquariums, and theme parks have this way of creating the ultimate family activity. We are always on the hunt for the best museums in the cities we travel to, and when this museum of modern ice cream started showing up, we had to check it out.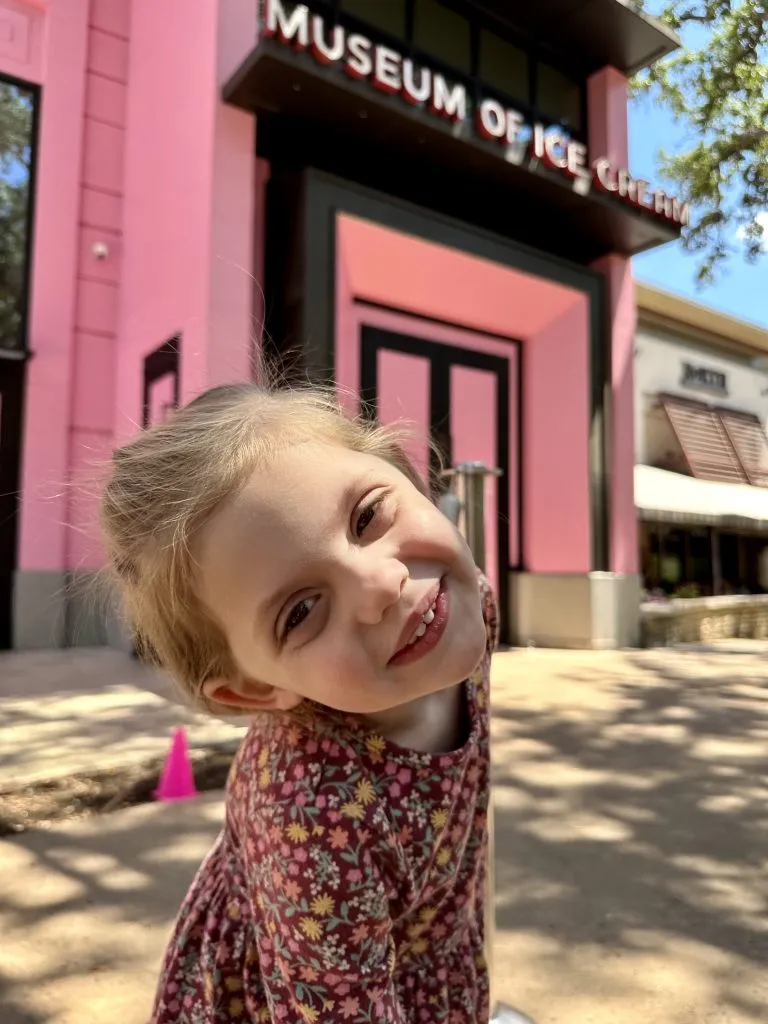 Hours and Location for Museum of Ice Cream Austin
The Museum of Ice Cream Austin is open 12 pm – 6 pm most weekdays and 10 am – 7 pm on weekends, giving you more than enough time to experience the museum. They are closed Tuesdays.
This museum is located at The Domain, a shopping center with multiple restaurants, a theater, shops, and kid's play structures. The Domain has apartment-style living and many hotels around it, and if you are a local to Austin, you are probably very familiar with this popular location. 
If you are looking to stay a little outside of Downtown Austin on your next trip, this is a great spot.
Parking Information
Since the Museum of Ice Cream Austin is located at the shopping mall, parking is really simple and easy. Parking is free at The Domain, and there are multiple parking lots and structures you can use around the property.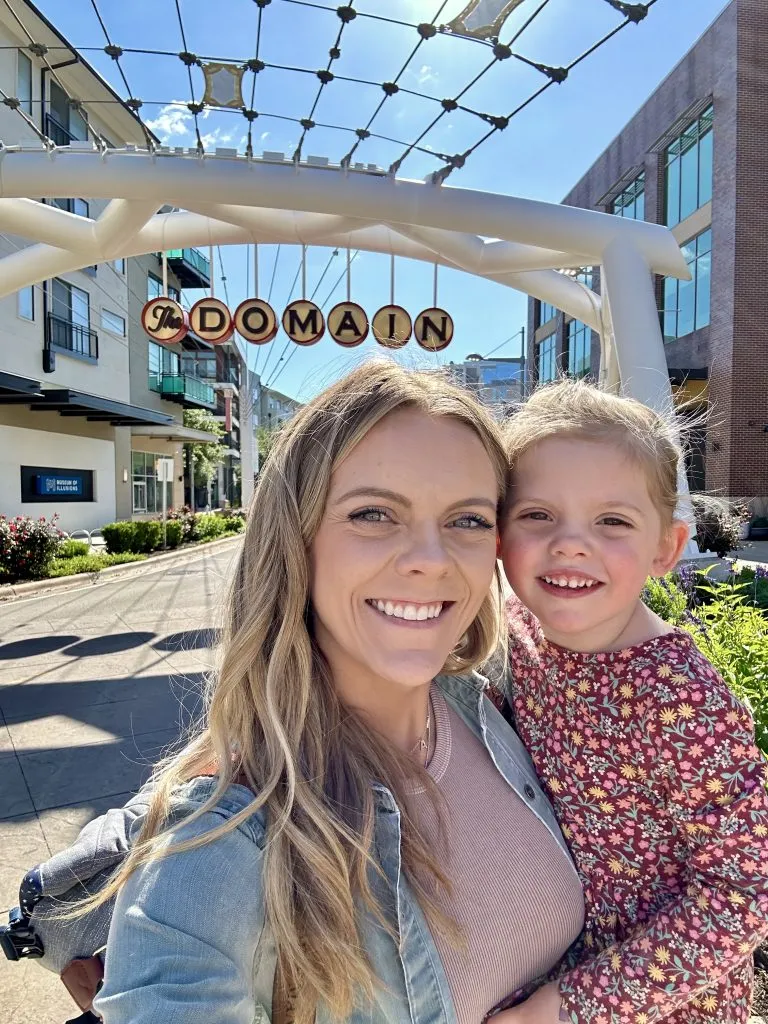 Museum of Ice Cream Austin Tickets, Add-Ons, and Memberships
Museum of Ice Cream Austin Tickets
The Museum of Ice Cream offers two types of tickets for your visit.
Anytime Ticket $35
General Admission $21 – $29
Ages 2 and under are Free
With your Anytime Ticket, you have the ability to go at any time during open hours. When you select the general admission ticket, you will select your beginning time when purchasing your tickets online.
Add-ons at the Museum of Ice Cream Austin
Bachelorette Party Add-On While themed to bachelorette parties, this 21+ add-on comes with 1 sprinkle shot, 1 strawberry margarita in a complimentary boot mug, prink heart glasses, drink koozie floaties, and priority access.
Cocktail & Cream Add-on This adult add-on comes with 1 boozy popsicle, 1 seasonal cocktail, 1 ice cream pit over, and 1 sprinkle shot.
The Celebration Collection This birthday celebration comes with a sprinkle crown and the sprinkle pool sundae
The Sweet Adventure Collection This one comes in two different options. The Scoops of Fun Bundle comes with an Austin boot magnet, a sprinkle sundae, a sprinkle bag, and a golden scoop. The Sweet Bag comes with an Austin boot magnet, sprinkle sundae, sprinkle bag, and a museum of ice cream Austin exclusive tote bag.
The one thing I want to note about this is that if you buy the anytime ticket or a ticket at the ice cream museum day of you run the risk of having to stand outside and wait for the next available time slot. Sometimes it's a really quick wait, and sometimes it can be a little longer. Just something to be mindful of.
Free Admission
The Cafe, Bar & Retail Shop is open to the public and has free admission. If you want to experience the fun room and have an ice cream sundae boat, this is a perfect place to get ice cream at the mall.
Memberships
There are no memberships available for the Museum of Ice Cream Austin
This is a partially guided tour, the beginning of your tour is guided, and the second half of the tour is self-guided.
Deals and Discounts for the Museum of Ice Cream Austin
The best deal and discounts are available when you purchase online and ahead of time. Don't wait to purchase entry tickets at the museum, and if you know you want the extra sweet treats, make sure you purchase them ahead of time.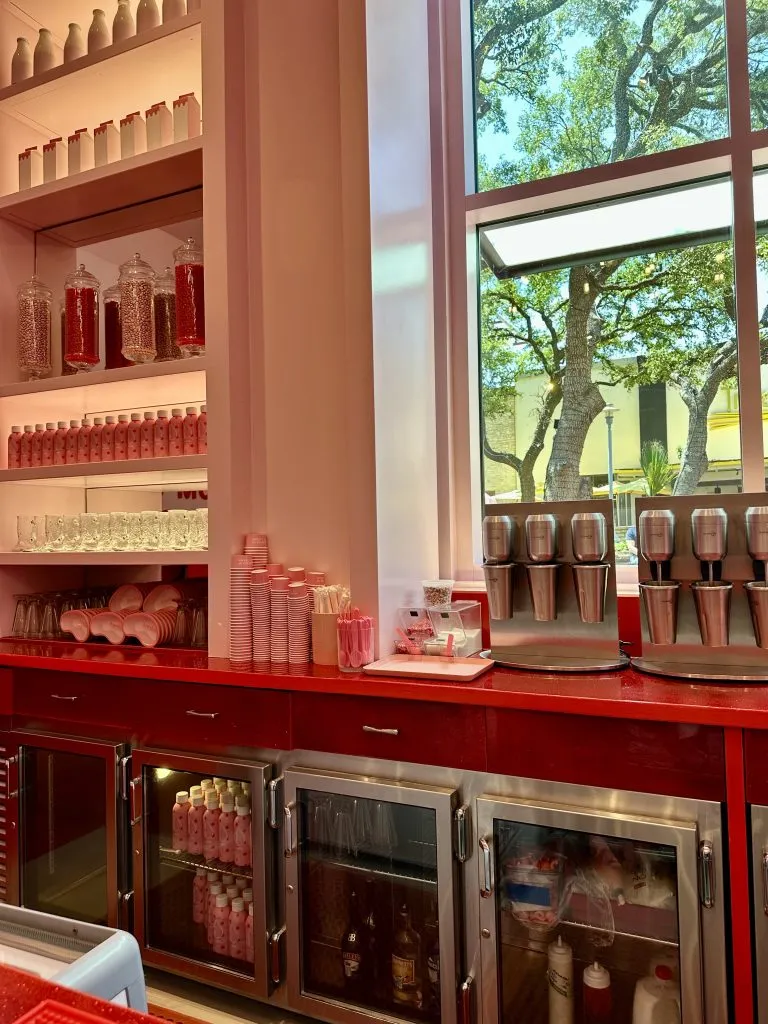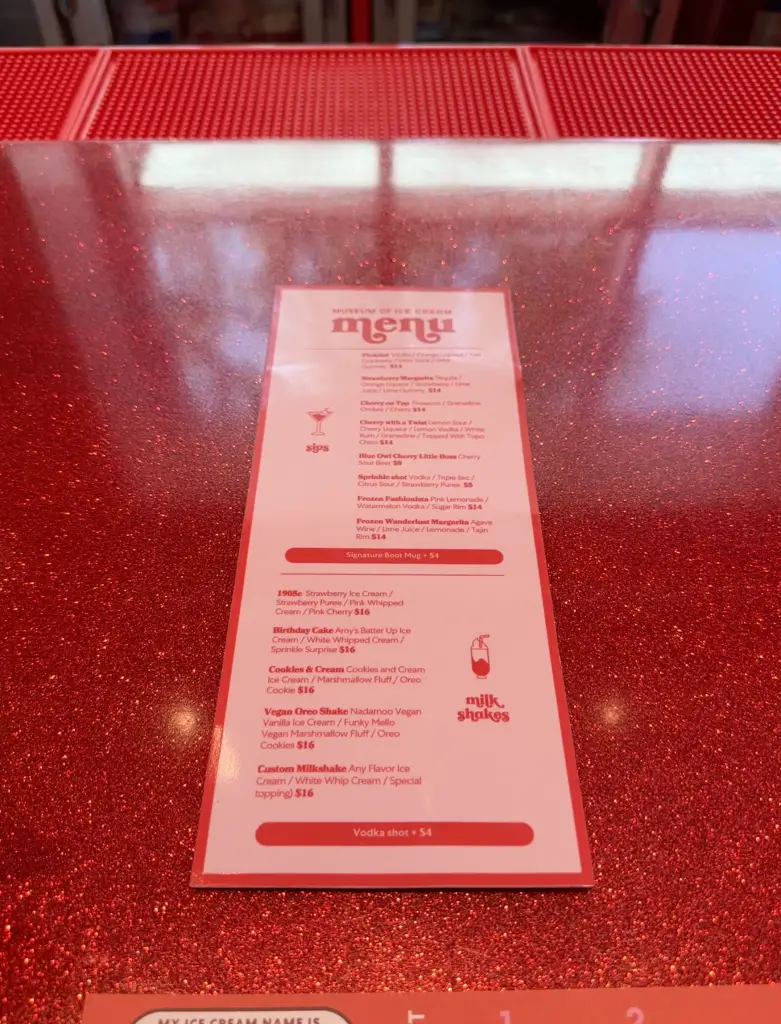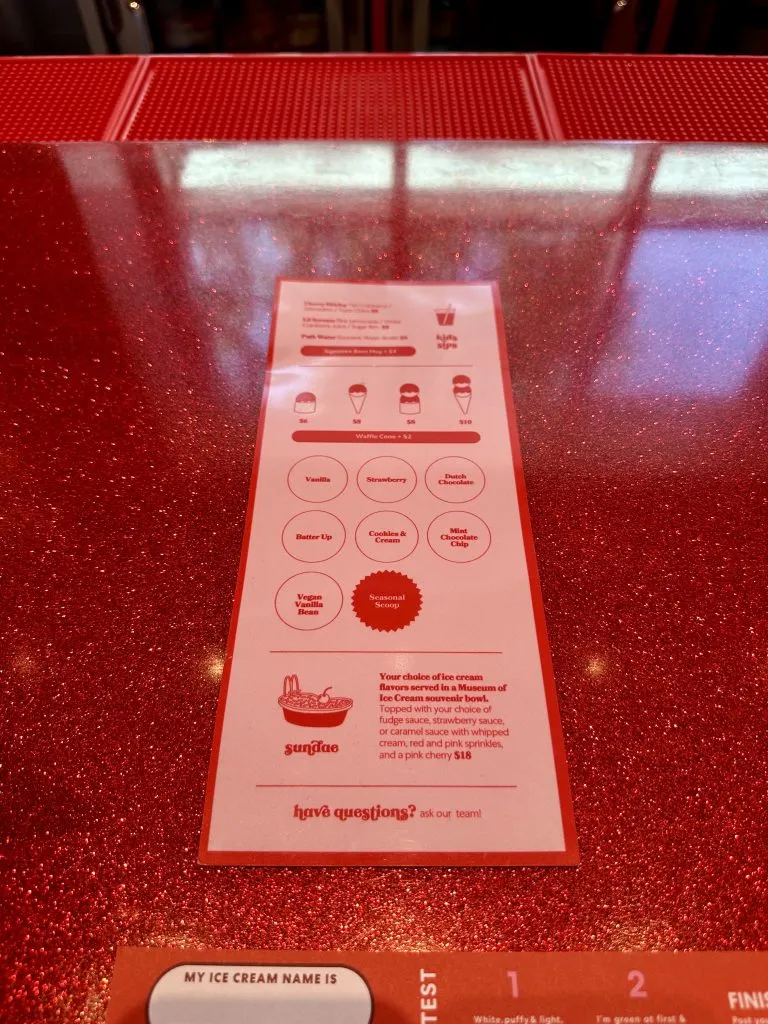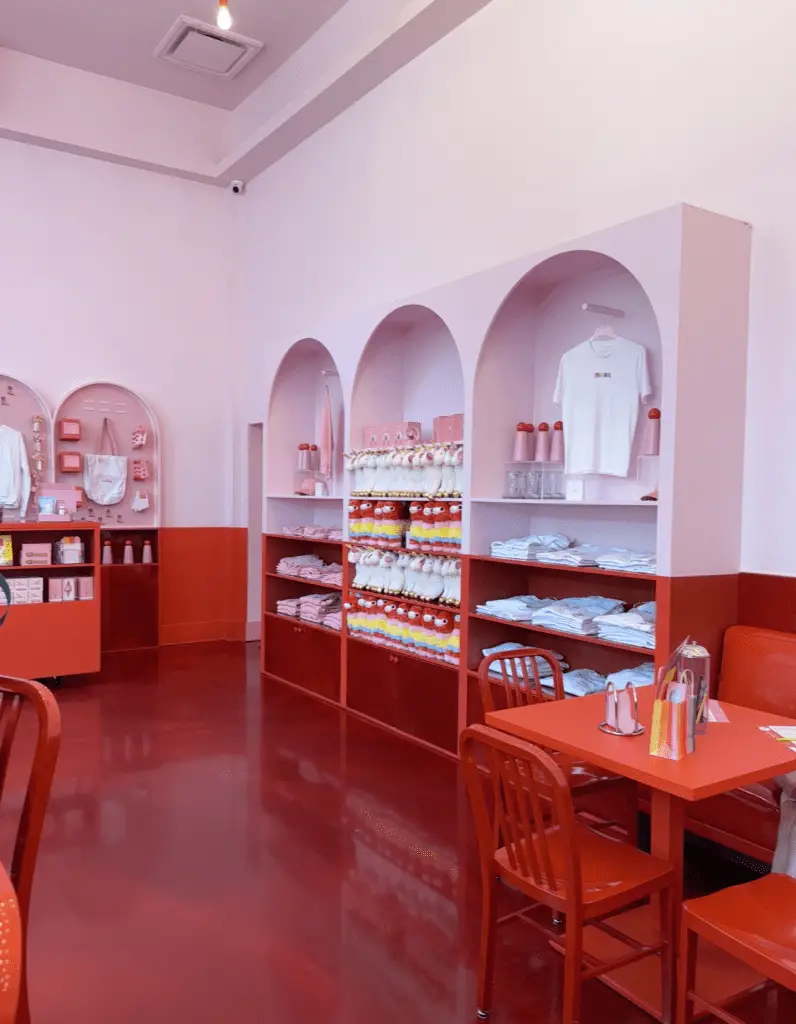 Museum of Ice Cream Austin Cafe, Bar & Retail Shop
This ice cream shop has free entry and does not require an event ticket to be in the area.
I am SHOCKED we didn't come home with a unicorn or a pinata stuffed animal. There are tons of cute memorabilia items to purchase and bring home
Offerings at the Bar
Sprinkle Pool Sundae Inspired by the world-famous sprinkle pool, the Sprinkle Pool Sundae is the ultimate ice cream sundae, and it comes in a reusable pool-themed sundae bowl.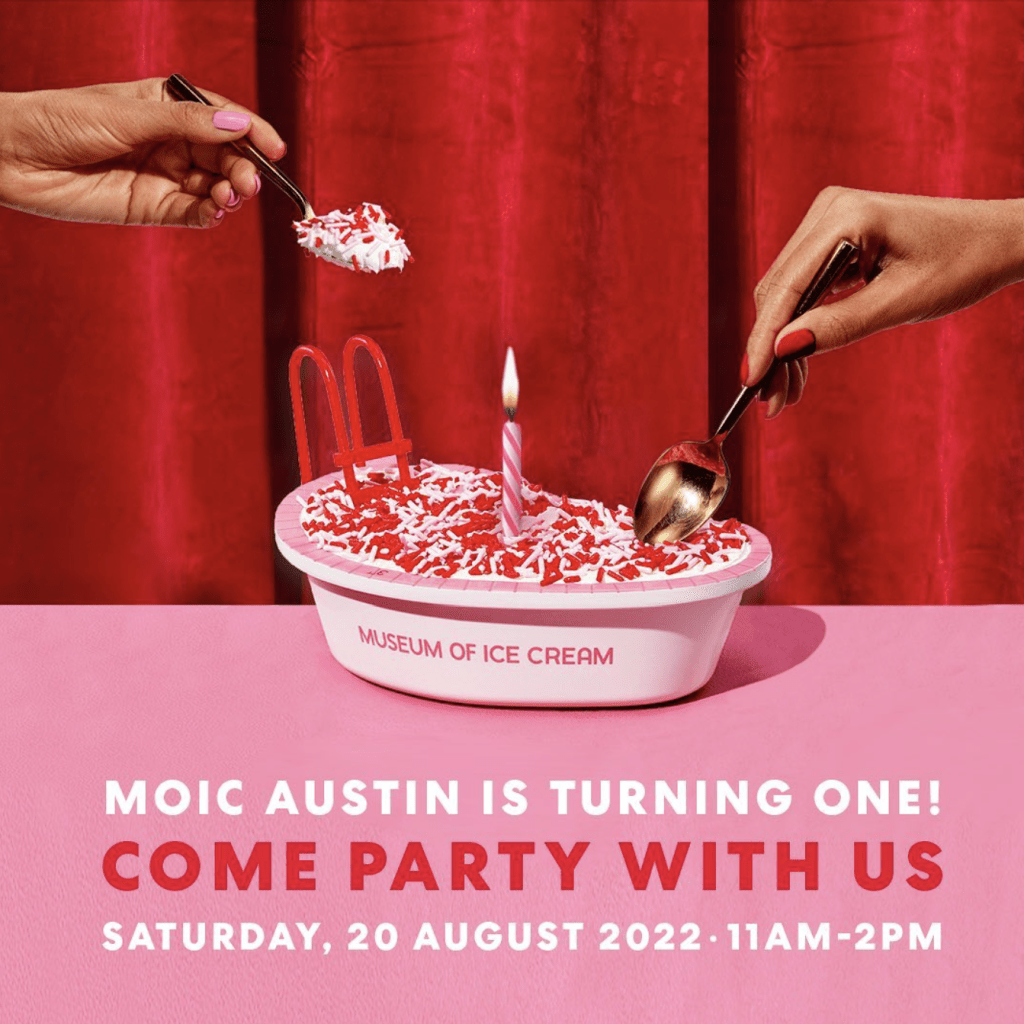 Sips
Cherry On Top Cocktail Bubbles with a cherry on top
Cherry with a Twist Lemon sour, cherry liqueur, lemon vodka, white rum, grenadine, with a topo chico topping
Blue Owl Cherry Little Boss Cherry sour beer
Sprinkle Shot Vodka, triple sec, citrus sour, with a strawberry puree and sprinkle rim
Frozen Fashionista Pink lemonade, watermelon vodka, with a sugar rim
Frozen Wanderlust Margarita Agava wine, lime juice, lemonade, with a tajin rim
Milkshakes
1905c Milkshake A strawberry milkshake and pink whipped cream
Cookies & Cream Cookies and cream ice cream and marshmallow fluff
Vegan Oreo Shake Vegan ice cream, marshmallow fluff, and Oreo cookies
Birthday Cake Amy's batter up ice cream, white whipped cream with a sprinkle surprise
Custom Milkshake Any flavor of ice cream, white whipped cream, and special toppings
Ice Cream and Waffle Cone
Size options
Single scoop, Cone scoop, Double scoop, Cone double scoop
Ice cream options
Vanilla, strawberry, dutch chocolate, batter up, cookies & cream, mint chocolate chip, vegan vanilla bean, and seasonal scoop
Kids Offerings
Cherry Shirley Temple Good old fashion Sprite and cherry
Kids Scream Pink lemonade and cranberry juice with a sugar rim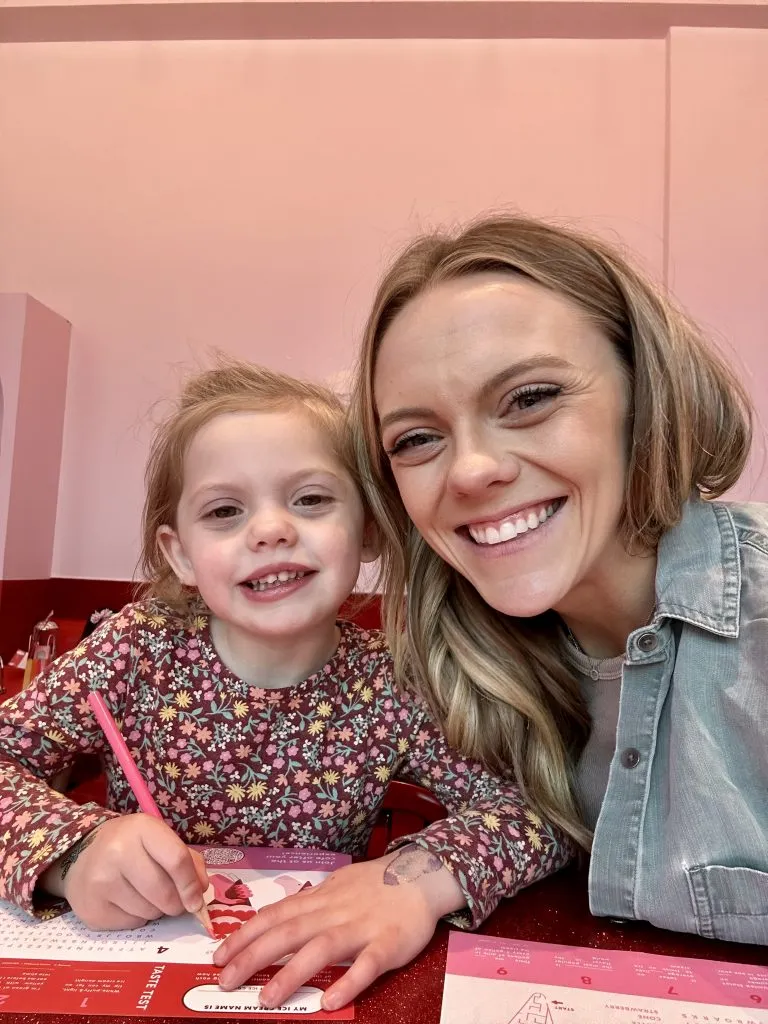 Exhibit Rooms at the Museum of Ice Cream Austin
Each location is different but the same. These popular exhibits are a great place with a vibrant wonderland of immersive installations. Let the journey of Museum of ice cream Austin begin.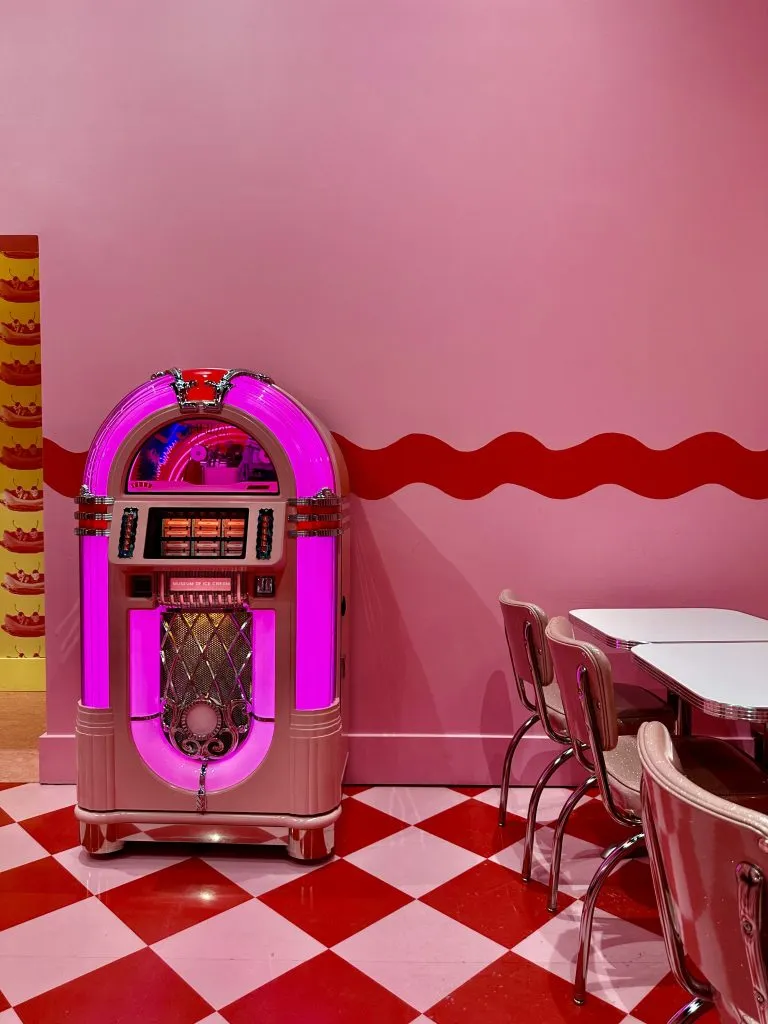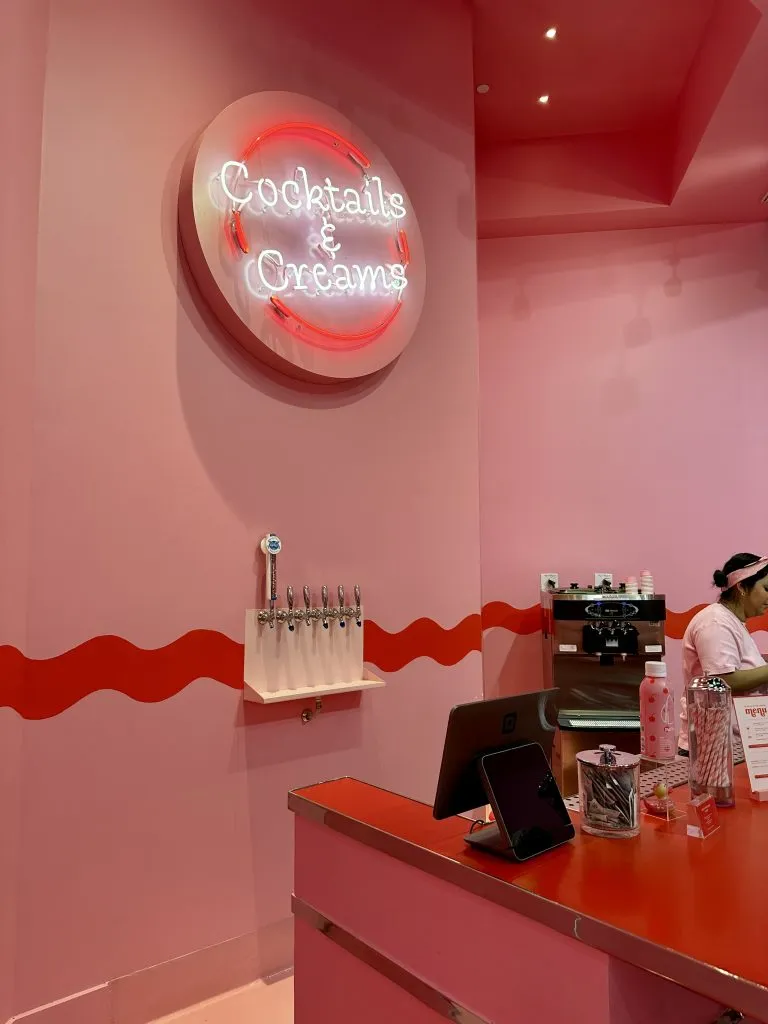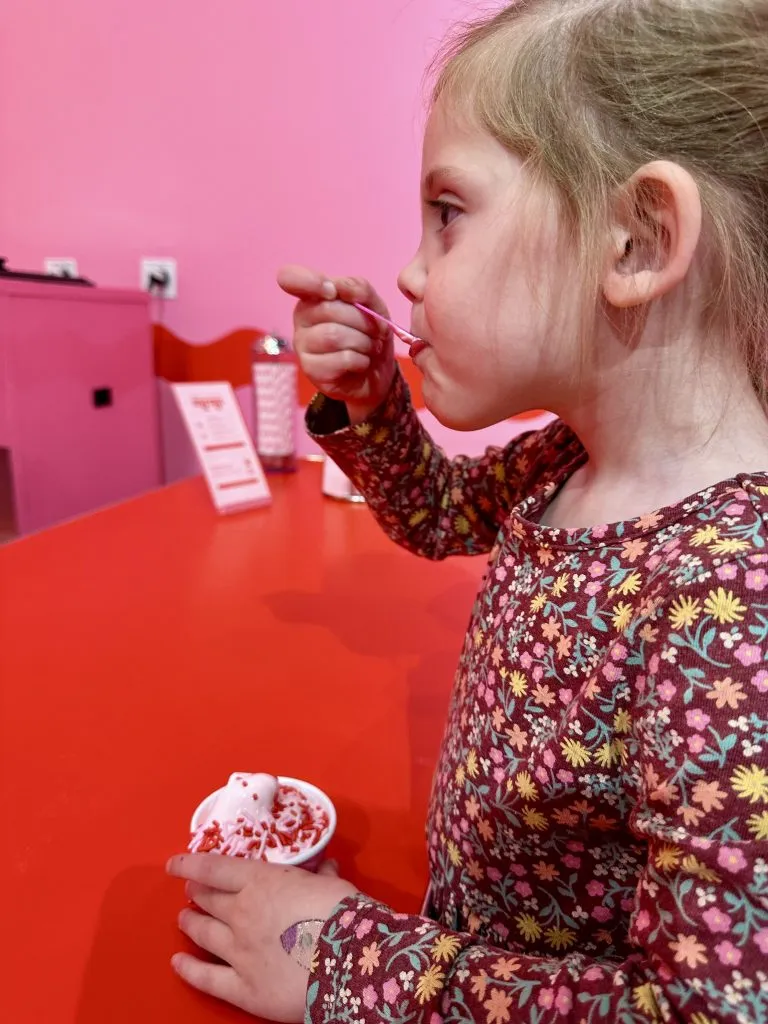 Retro Diner
The Retro Diner had an old-school jukebox and cocktails and creams. This room served up delicious soft-serve ice cream and your choice of toppings. There was a small ice cream trivia.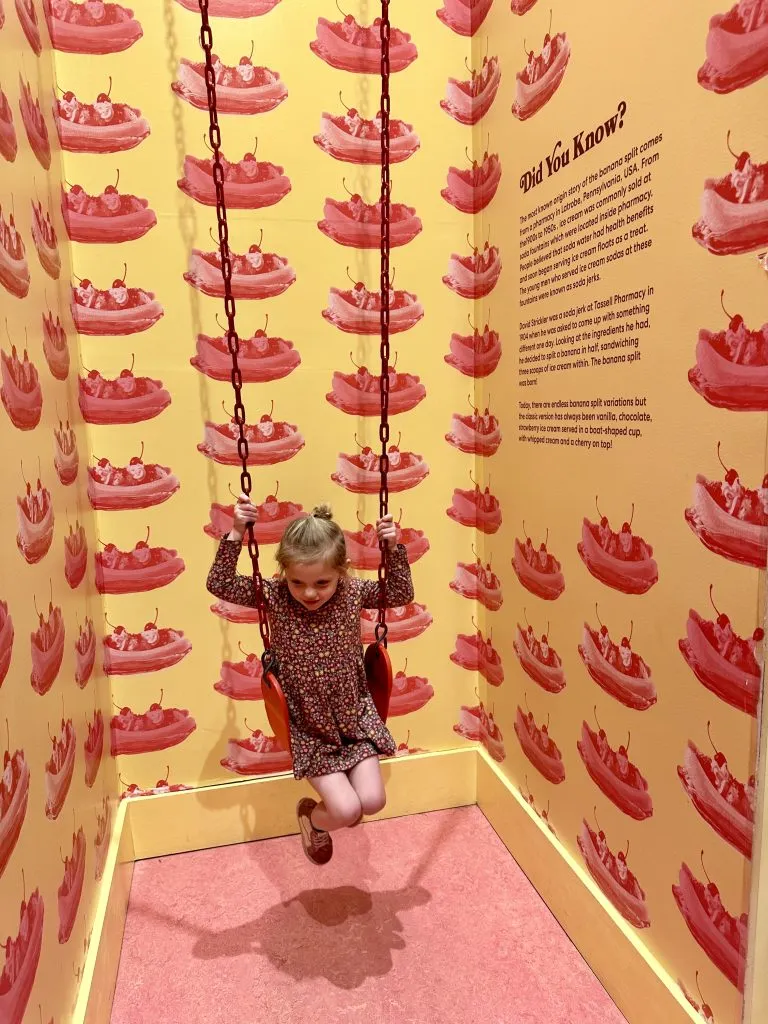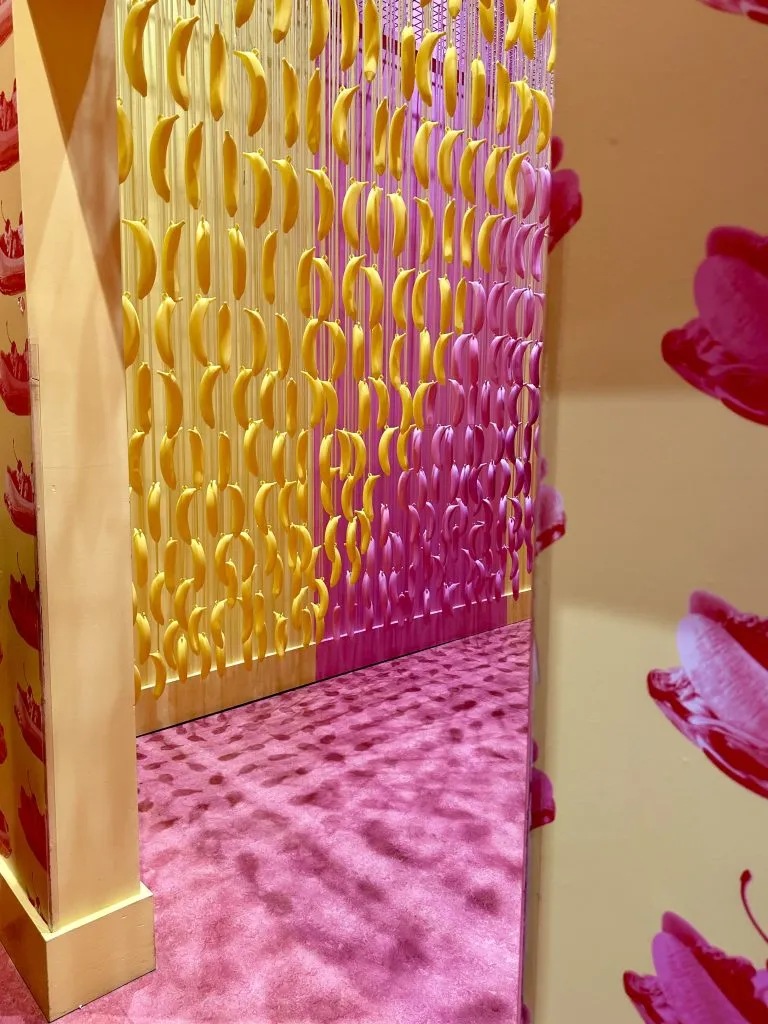 Banana Forest
All about the banana split, hanging bananas for the Banana forest, an adorable swing, and a Konga line with your tour friends. Did you know that the banana split comes from a pharmacy in Latrobe, Pennsylvania? A soda jerk (ice cream server in the 1900s) named David Strickler worked at Tassell Pharmacy in 1904, and when someone asked him to come up with something new, he split a banana in half and sandwiched it with three ice cream scoops and the banana split was born.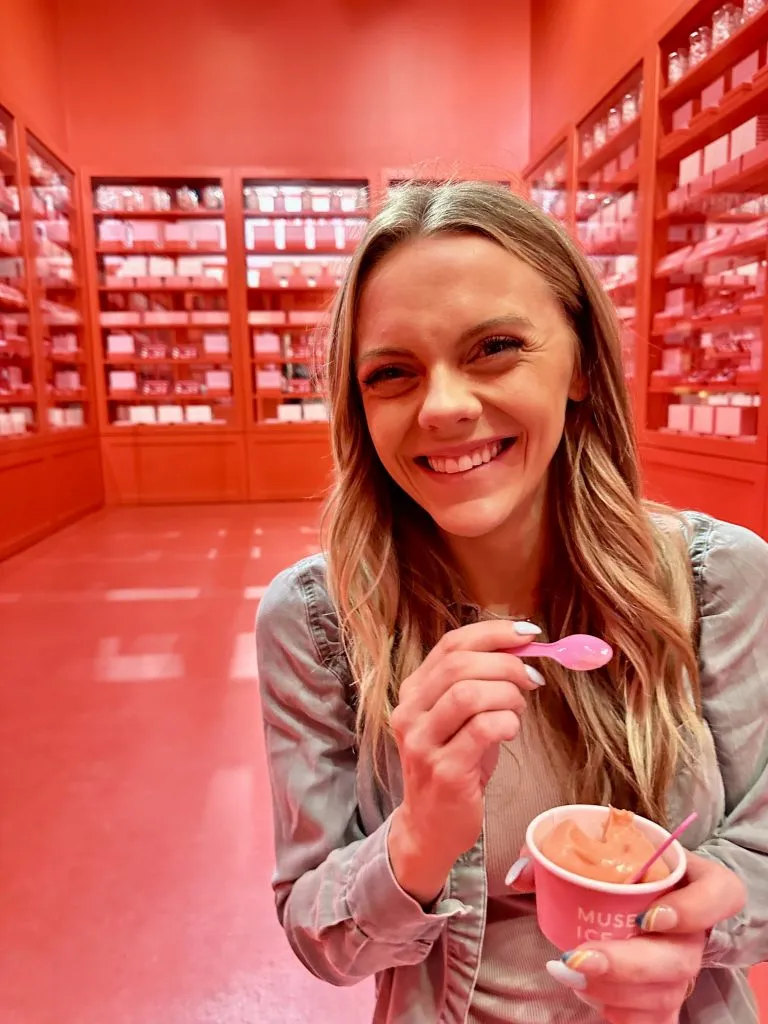 Cream's Candy Shop
This red candy shop has hidden cherries all around the room for you to find. After you search the room for all the hidden cherries, the winner gets their ice cream first, and in this particular room, the ice cream is sorbet. I got raspberry sorbet, and it was delicious!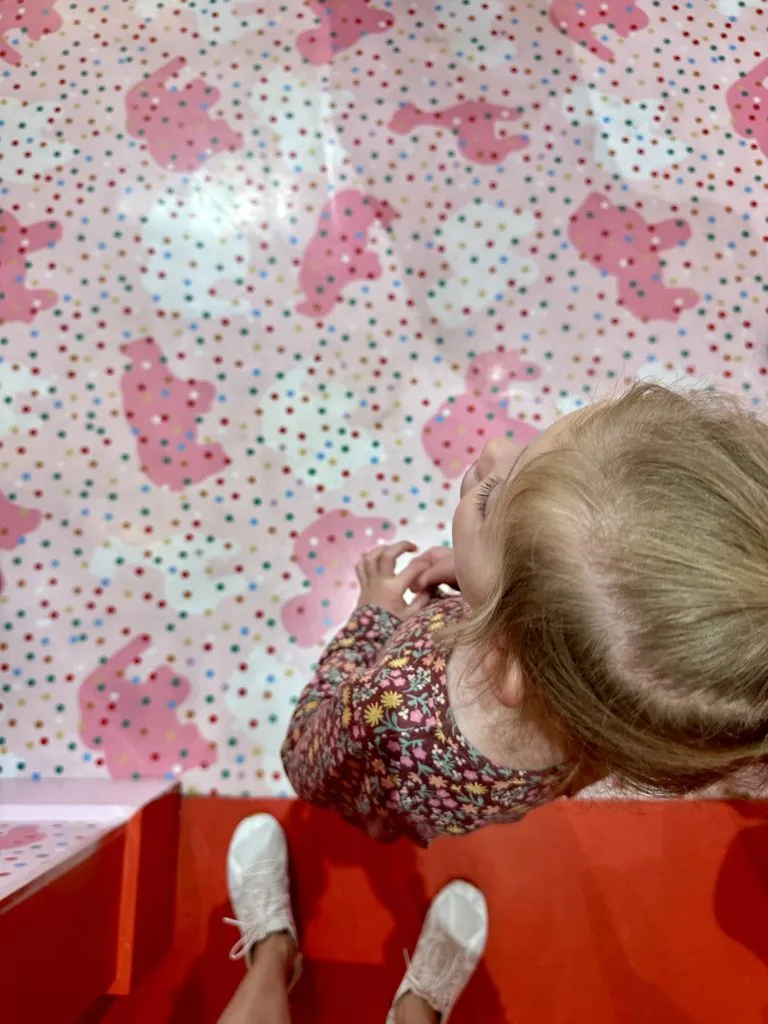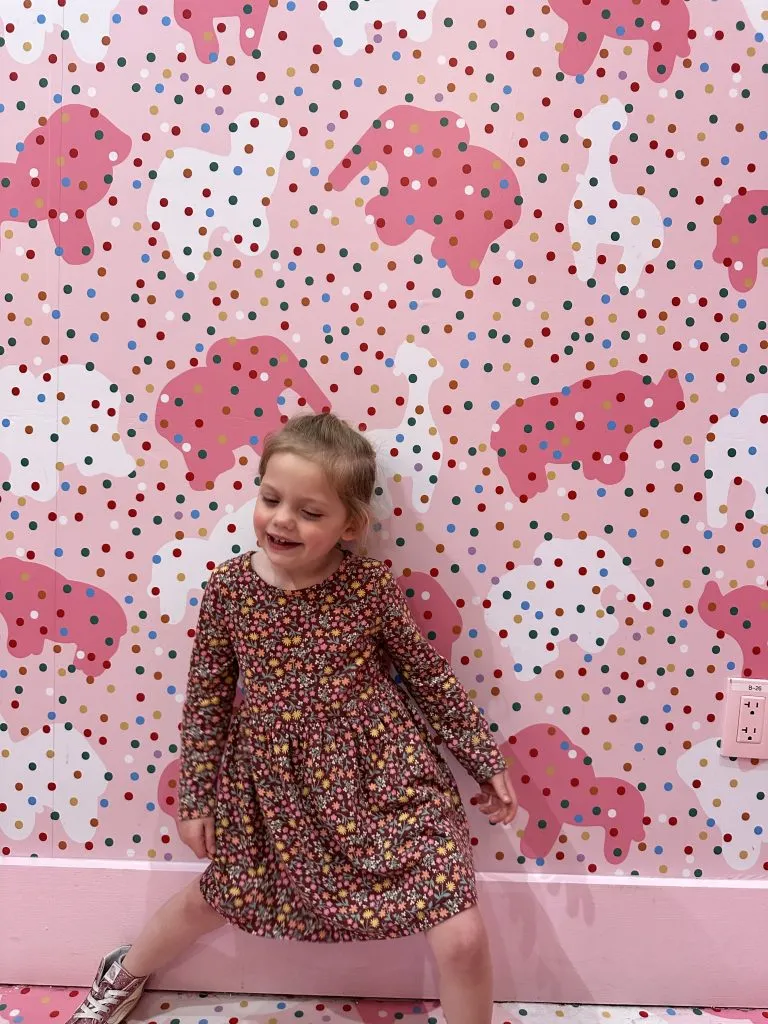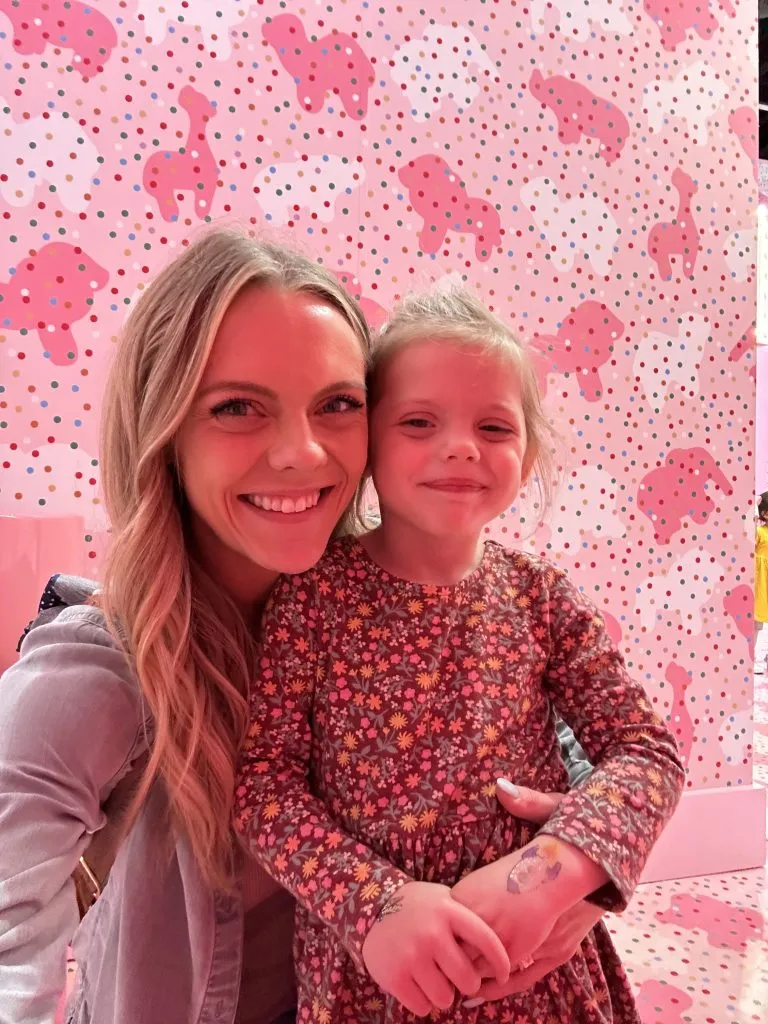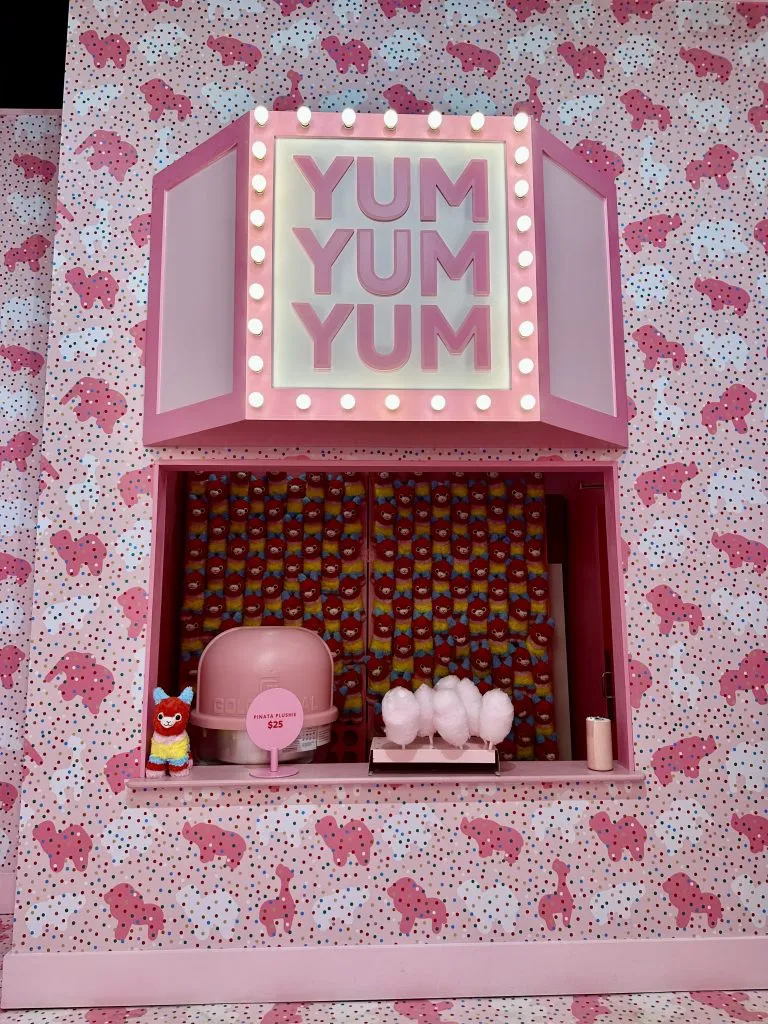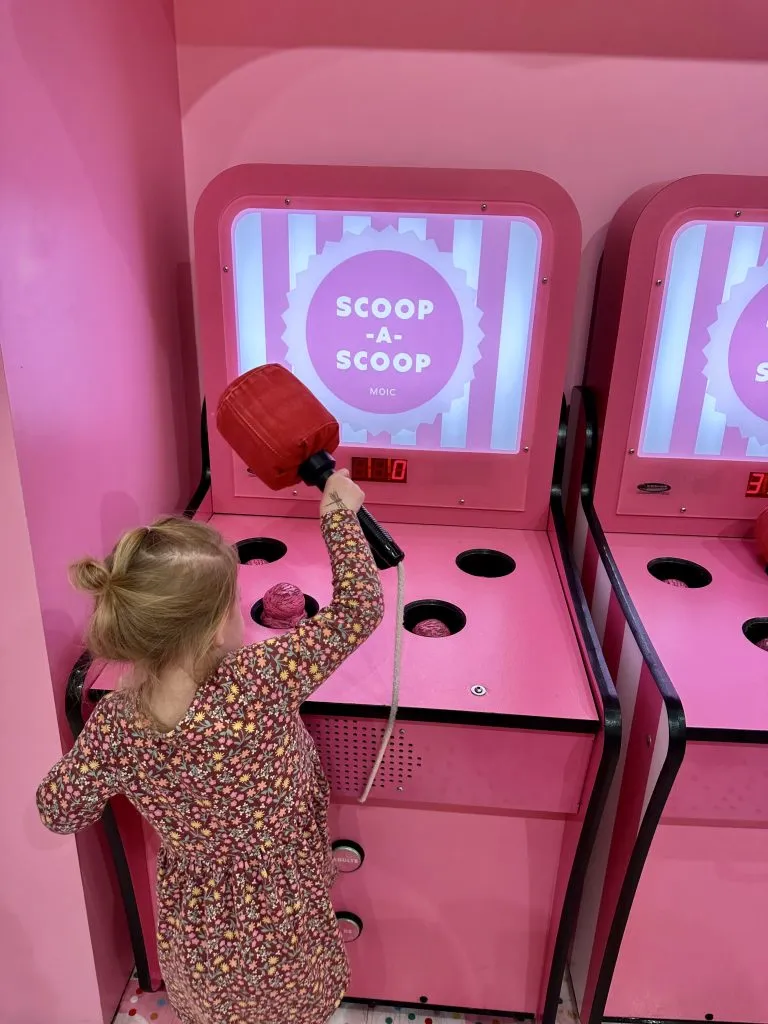 Carnival Room
This carnival-themed room has life-size animal cookies, an ice cream smash game called scoop-a-scoop, and giant carnival cotton candy.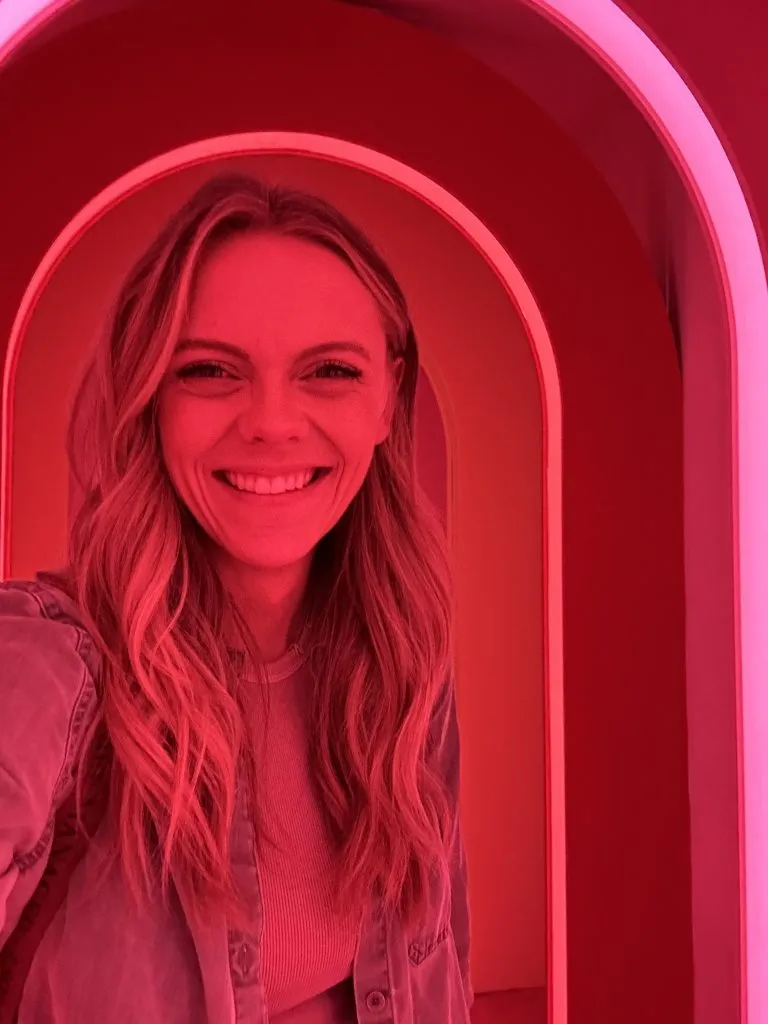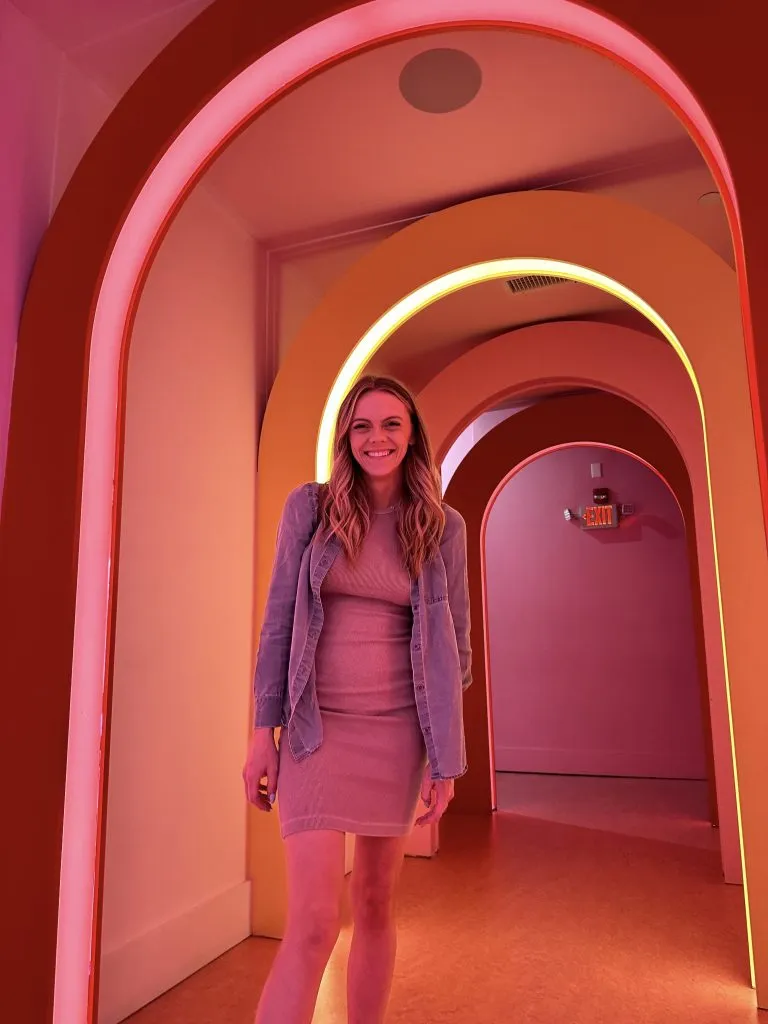 Rainbow Tunnel
There was not a lot to the rainbow tunnel, but I LOVED how it changed the color of everything to pink. While pink is a very common theme in the Museum of Ice Cream Austin, this hallway was fun to look at. At the end of the Rainbow Tunnel, you can play with the letters on the board and with the magnet connectors. Sloan had the most fun with the magnet connectors, and we spent a good portion of our time with those. 
The Rainbow tunnel was a little loud, and Sloan did not love the hallway because it echoed.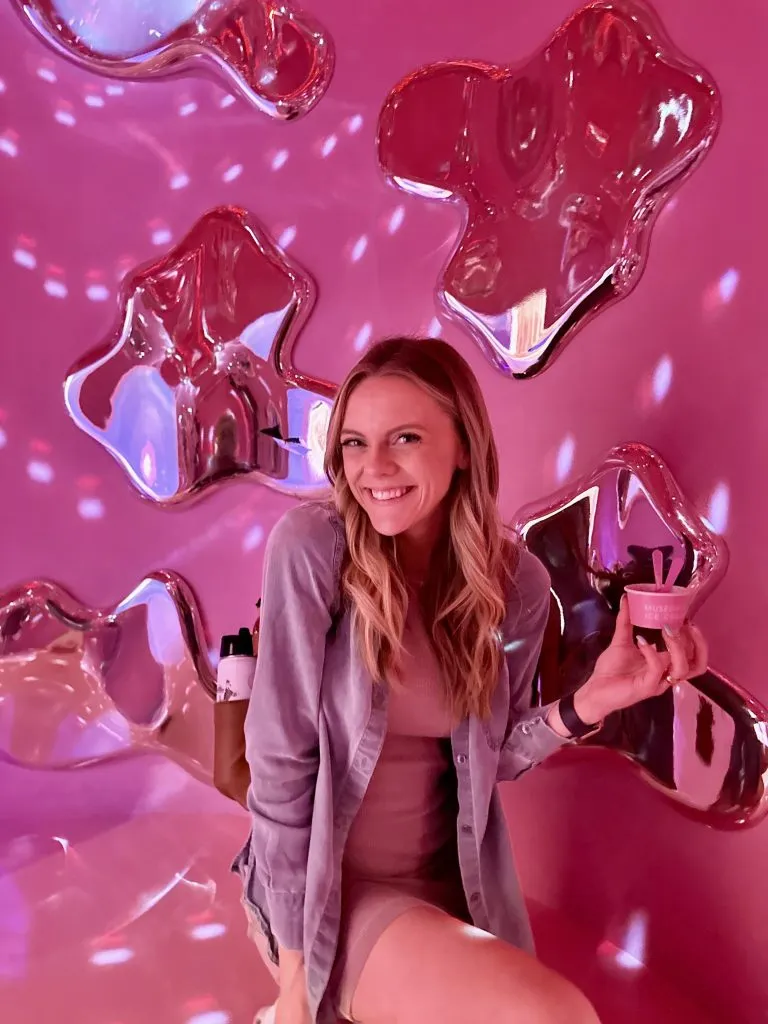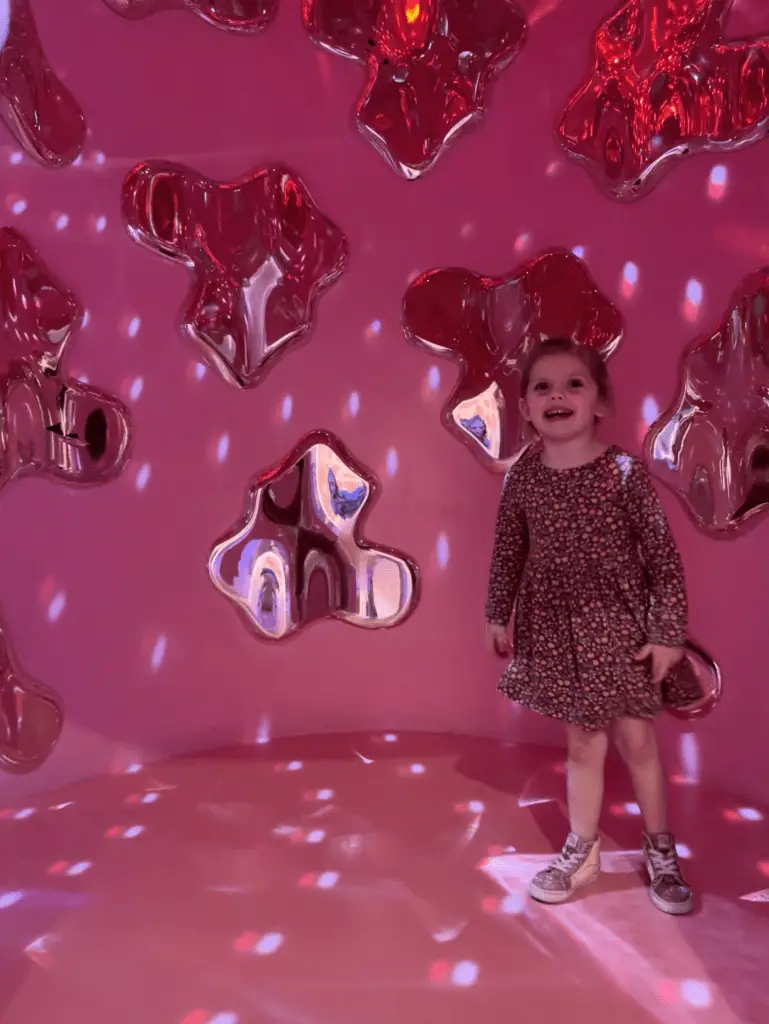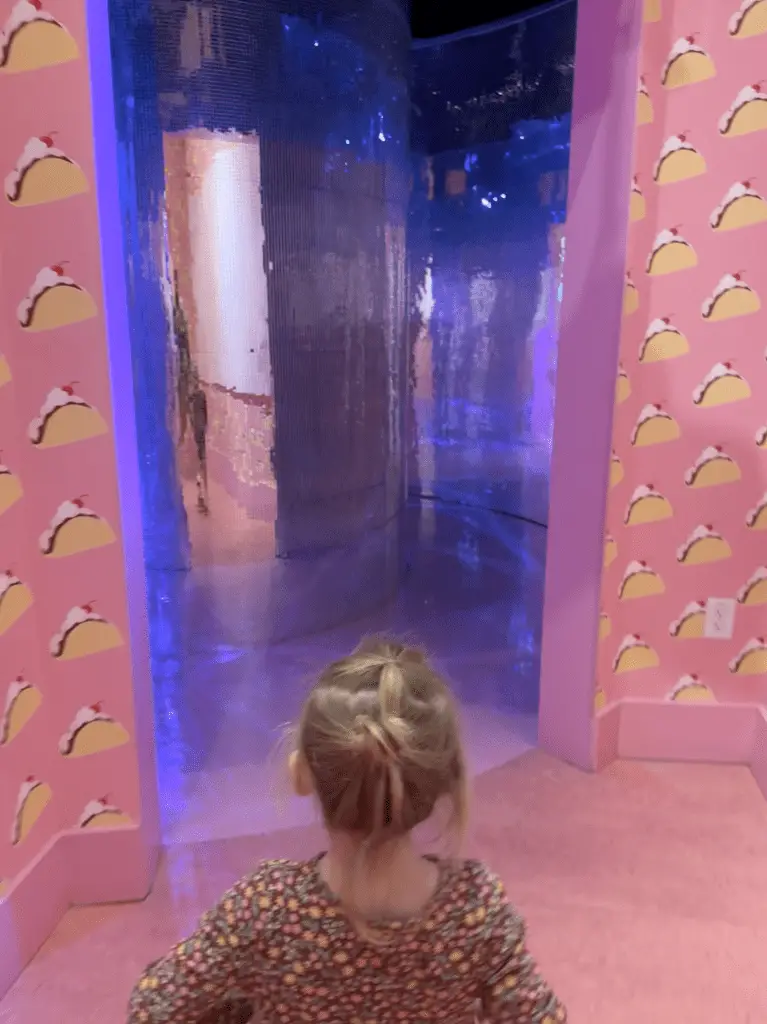 Dance Room
Mirrored walls and dance party music. This room is a quick walkthrough, but my favorite part was this tiny mirrored room with bright pink disco lights. The perfect mini dance party right before your next tasting of ice cream. The ice cream at the end of the dance room was vegan cookie dough, and it was so yummy.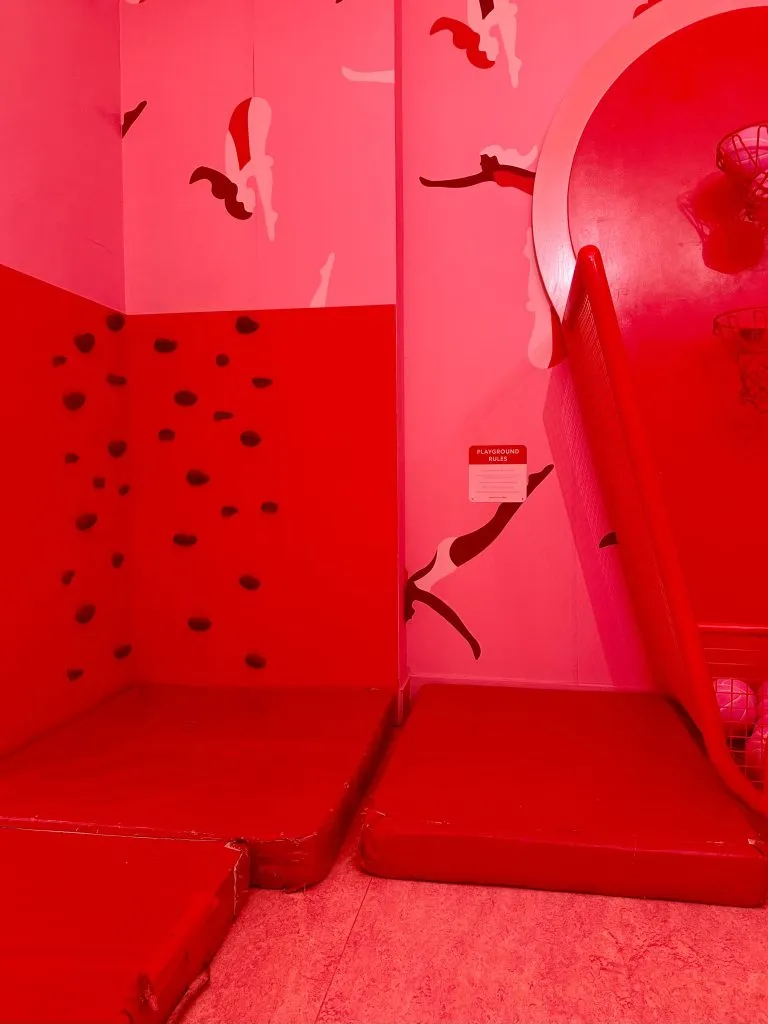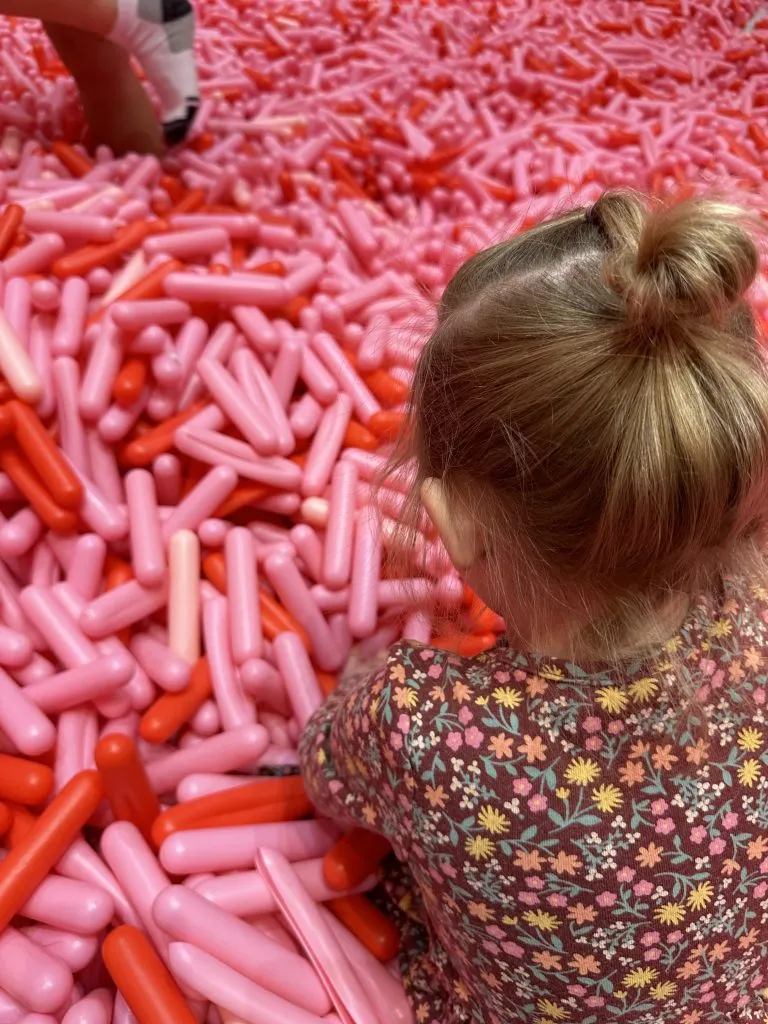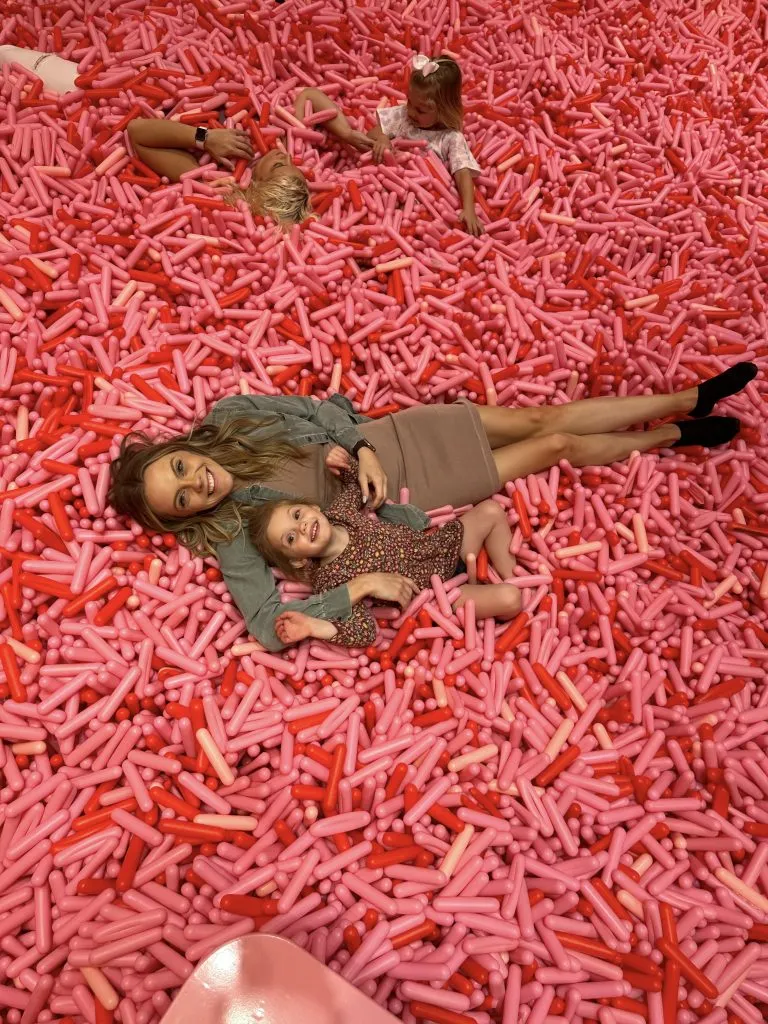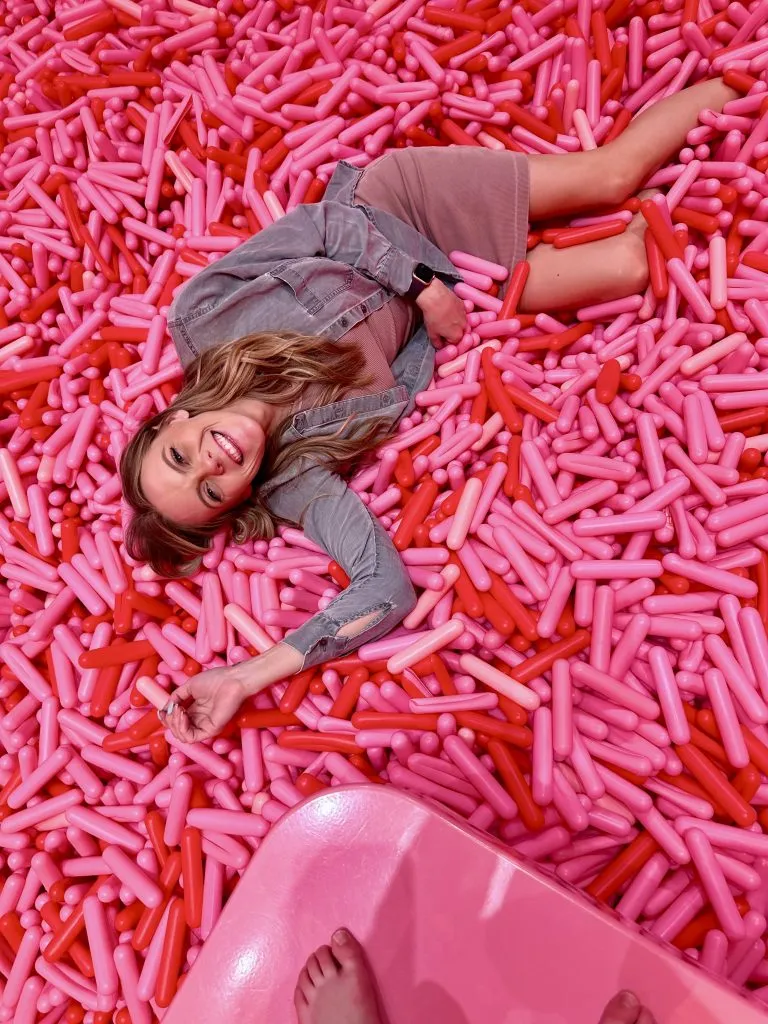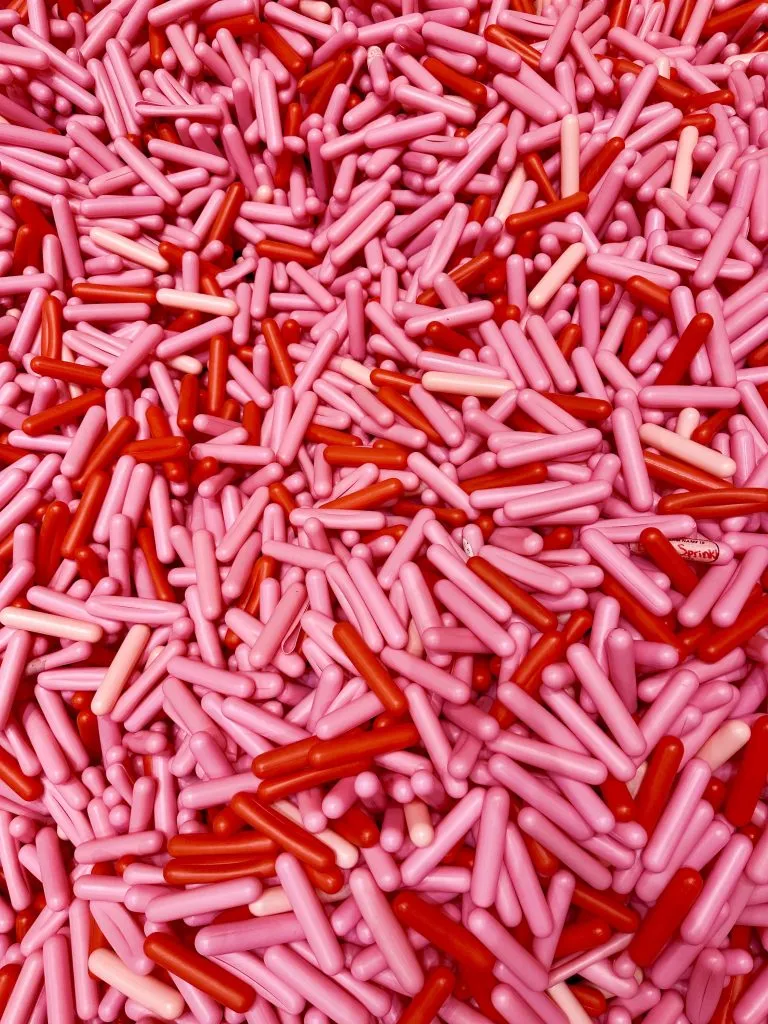 Giant Pool Ball Pit
This entire area is pool themed and even includes a diving board *only for jumping, NO DIVING, and a pool-side cabana to relax while you watch the sprinkle pit. This is the most popular room in the entire museum. The first thing I thought when I saw the sprinkle pool was, ew. It's like a ball pit but with sprinkles. Well, did I learn something new? The millions of sprinkles are antimicrobial biodegradable materials that are cleaned frequently. You are still with others, so if you are concerned about germs, we suggest a mask while you play in the pool.
In addition to the giant sprinkle pool, you will also find a climbing wall, slides, and basketball to keep yourself entertained in this area. While I do not think this room needs anything other than the giant pool filled with sprinkles, some might not enjoy that area.
Ice Cream Offerings
Each room offers an exhibit, a little ice cream history, and sweet treats tasting. While one of the rooms offers cotton candy, most had delicious variations of ice cream. Those ice cream options are soft serve, gelato, sorbet, and vegan ice cream.
For the Austin goers, it's exciting news that Amy's Ice Creams partnered with the Museum of Ice Cream to offer an exclusive custom ice cream flavor, Congress Parade Ice Cream flavor, and their vegan wonder Moontower Mangonada. Both absolutely delicious and a must-try.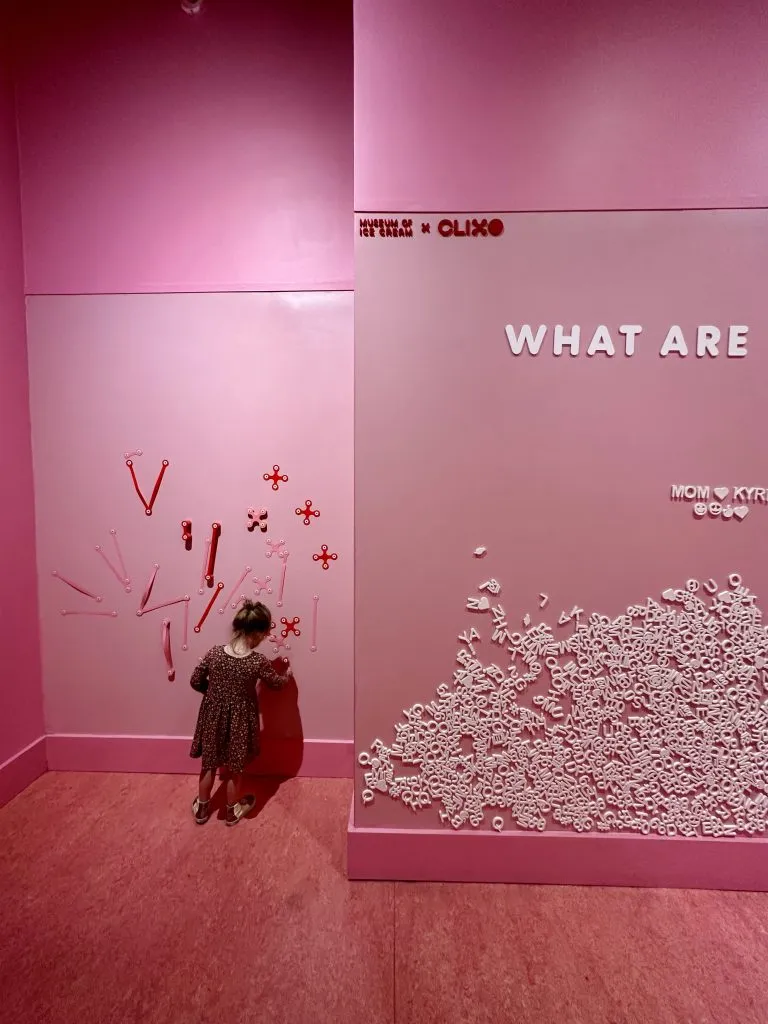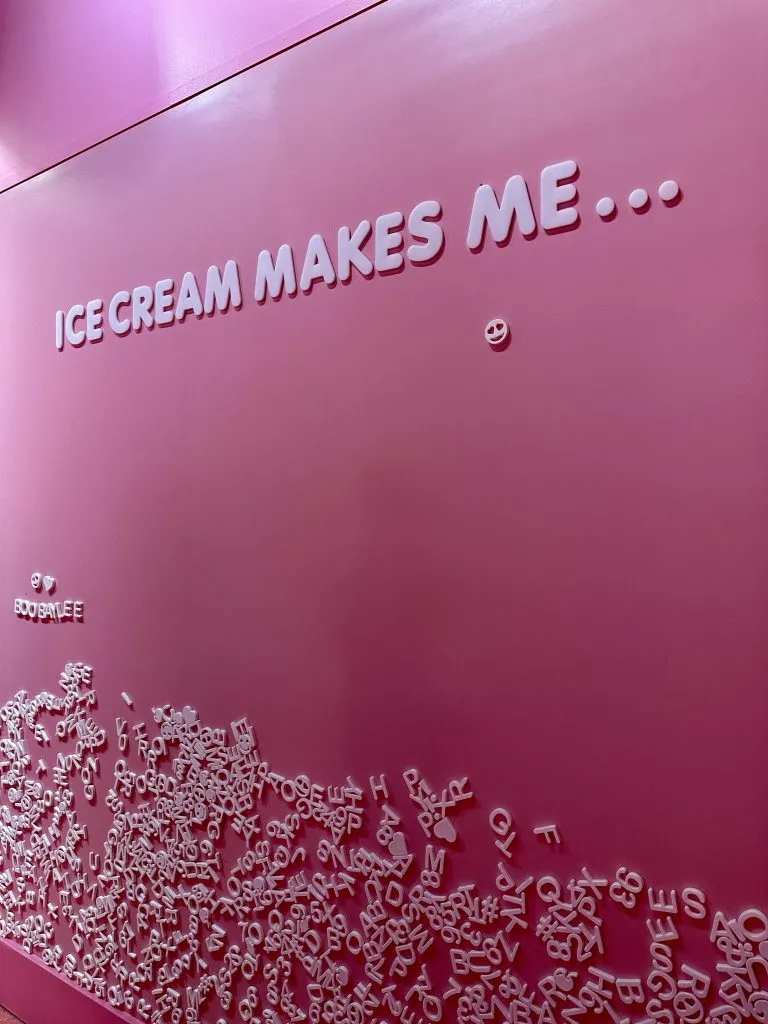 Frequently Asked Questions about the Museum of Ice Cream Austin
Q: What is the Museum of Ice Cream?
A: The Museum of Ice Cream (MOIC) is a fully-immersive and interactive experience of art that celebrates the joy and creativity of Ice Cream. While this is not a traditional museum, the MOIC helps visitors explore various themed rooms and multi-sensory installations related to ice cream and sweets. Each room is designed to be visually captivating and interactive, often with bright colors and oversized props.
Q: How can I get into The Museum of Ice Cream?
A: To visit the Museum of Ice Cream, you typically need to purchase tickets in advance. We highly suggest purchasing ahead of time and not the day of or at the Ice Cream Museum day of which could land you in long lines waiting to enter. Here are the general steps to get into the Museum of Ice Cream
1. Check the website and social media channels: The Museum of Ice Cream is a pop-up-style exhibit. While the locations are there for a long duration of time, it's always good to double check locations are still available. 
2. Ticket Purchase: Once ticket sales are announced or available for the location you want to visit, go to the Official Museum of Ice Cream website to purchase your tickets. Tickets often have specific time slots, so choose the date and time that works best for you and your group.
3. Chose ticket type and purchase add-ons: The Museum of Ice Cream usually offers different ticket options. General admission or a VIP experience (not all locations have this). Consider your budget and preferences when selecting your ticket type, and when it comes to add-ons, please note they are a little cheaper if you purchase them ahead of time. You might also notice a special limited add-on while you are on their site. While we were at the Austin location, they had an edible slime you could add on to your visit.
4. Complete purchase: Follow the instructions on the website to complete your purchase. Provide any necessary information and make the payment.
5. Check for confirmation: After you purchase your ticket, you should receive a confirmation email with your ticket details. Make sure to check your inbox or spam folder for this email. It may contain specific instructions or requirements for entry.
6. Arrive on time: We cannot stress this enough. On the day of your visit, arrive at the Museum of Ice Cream at least a few minutes before your designated entry time. This helps ensure a smooth entry process and allows you to make the most of your visit. There will most likely be a line outside or inside the lobby to check in for your time slot.
Q: Are strollers allowed inside the Museum of Ice Cream
A: Strollers are not welcome in the exhibits, and you will have to leave your stroller in the designated stroller parking outside during your visit. We suggest skipping the stroller or leaving it in your car so you don't have to leave it outside unattended during your time.
Q: What is your review of The Museum of Ice Cream event?
A: This was our first time, and we went to the Austin location. We were very impressed with the magical installations and unlimited ice cream. The staff had a very welcoming culture and foster human connection. If you have a love of amazing food and that food happens to be ice cream, your inner child will scream for ice cream.
The museum experience is always so unique and full of tasty treats. Each room had great themes and LOTS of Ice Cream to taste. My favorite was cookie dough, and my daughter loved the soft serve with rainbow sprinkles. This was the perfect half day experience and a safe space to let your imagination run wild. 
Q: In what cities can you find the Museum of Ice Cream?
A: The Museum of Ice Cream picks the sweetest spot for a pop-up inclusive experience. The locations do change after some time, but the marketing efforts for the Museum of Ice Cream are on point, and new locations are announced with plenty of notice.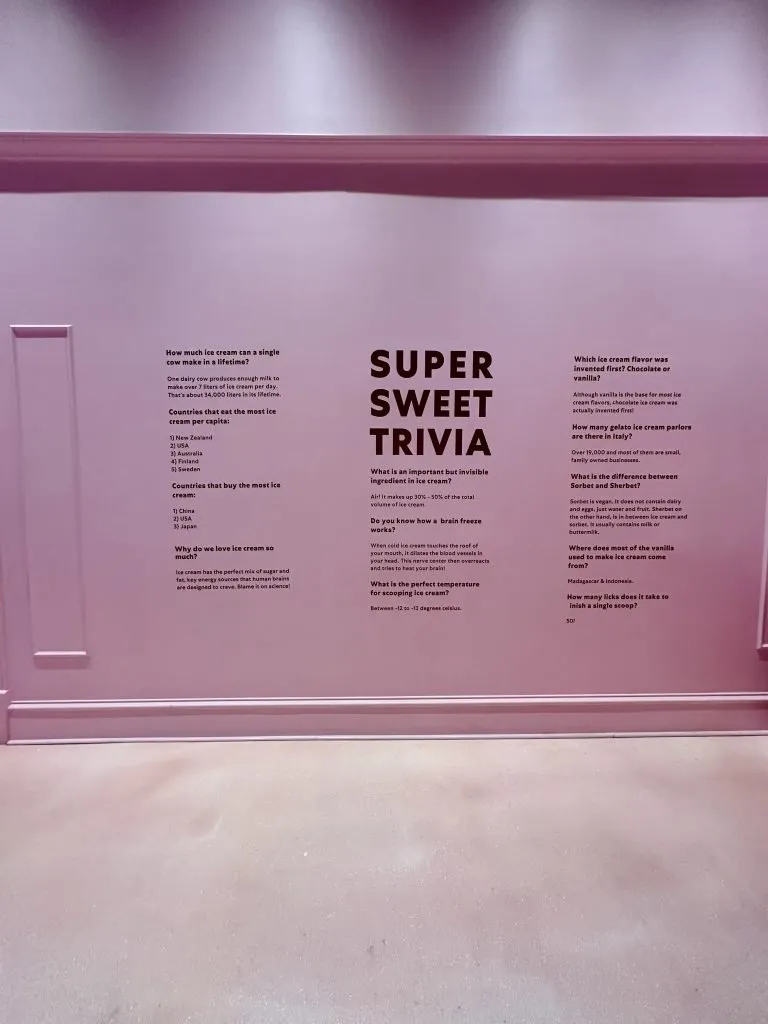 Current Museum Option
United States
Chicago
New York City
Austin
11506 Century Oaks Terrace #128, Austin, TX 78758
Outside the United States
Singapore
Shanghai
Other Museum of Ice Cream Austin Locations
Co-founder Maryellis Bunn and Kendra Scott partnered in Feb 2023 for a pop-up shop in the South Congress Kendra Scott location.
Past Locations
San Francisco
Los Angeles
We hope you have the best time and the Museum of Ice Cream Austin or any of the locations for that matter. We had such a wonderful time, and the classic works of art have been redefined, and ice cream is the new winner. 
Other Guides You Might Like