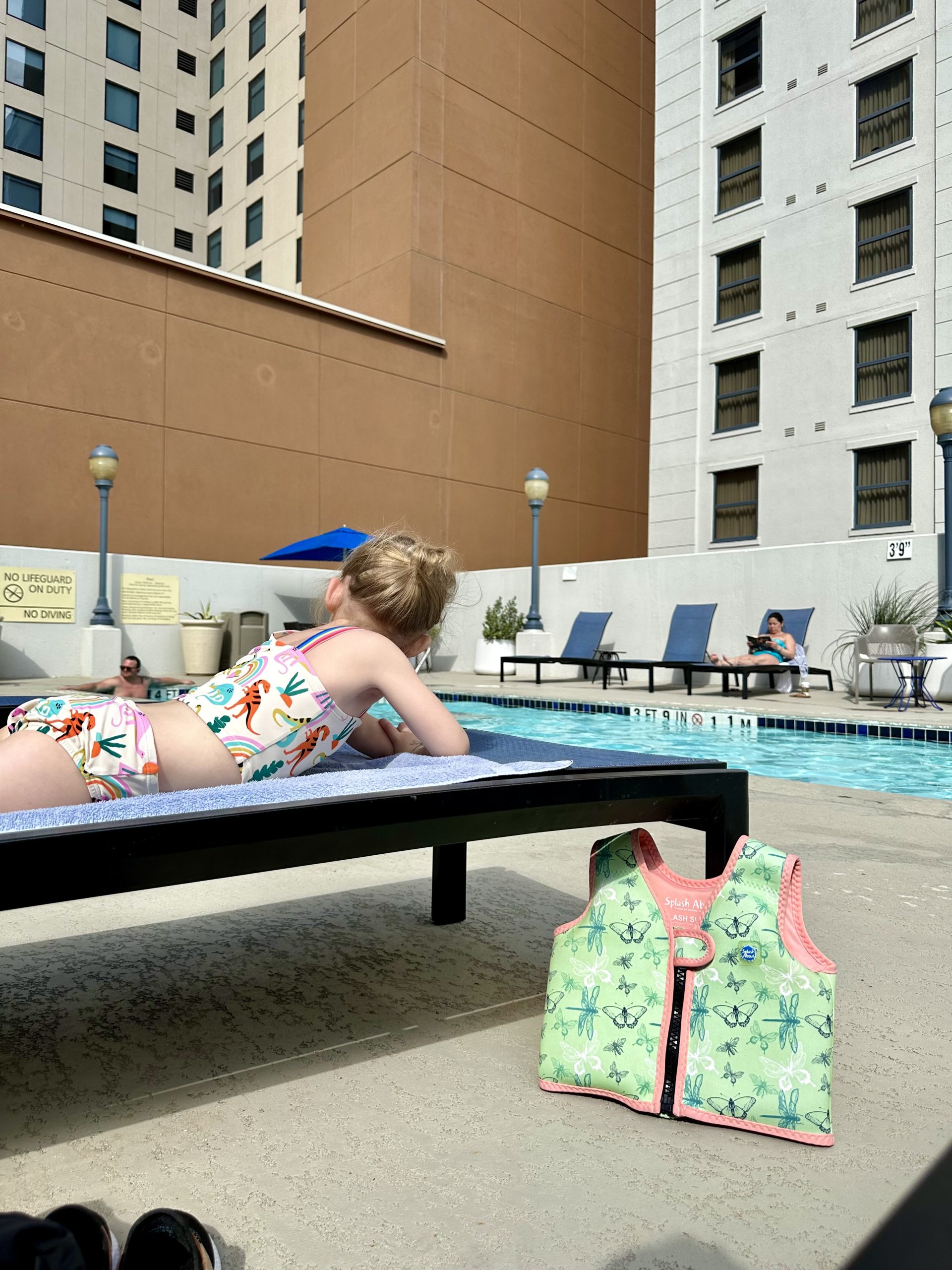 We were on the hunt for the best toddler swim vest once our daughter started swimming lessons. We have a hot tub at home, and before she was able to touch the bottom and swim, we used a swim vest to help her become more comfortable with the water. Water safety is so important, and I won't jump on my pedestal and tell the world that swim safety and lessons should be free in every community.
Something so simple could save so many lives. But until that day comes, swim safety and picking the best swim vest is where we will start. We've put together a list of the best life jackets, puddle jumpers, swim vests, and floaties for toddlers. As well as answer some common questions when it comes to picking the best floatation device for your toddler. Just because a child has on a swim vest does not mean that should ever play unsupervised or without an adult near the water. Have I stressed enough that water safety is like #one importance?
Water Safety:
The American Academy of Pediatrics says that nearly 4,000 accidental drowning deaths occur every year, and as I was reading the data, I noticed one very important note. Deaths were higher among boys than girls, and race, as well as age, were very large factors. If there was one thing I would think every human should have the right to learn, it is swimming. It breaks my heart that children die of something preventable. If your children are not in swim lessons, please get them signed up somewhere local for lessons.
Around 4,000 fatal unintentional drownings a year—that is an average of 11 drowning deaths per day.
Around 8,000 nonfatal drownings a year—that is an average of 22 nonfatal drownings per day.
Source: Centers for Disease Control (CDC)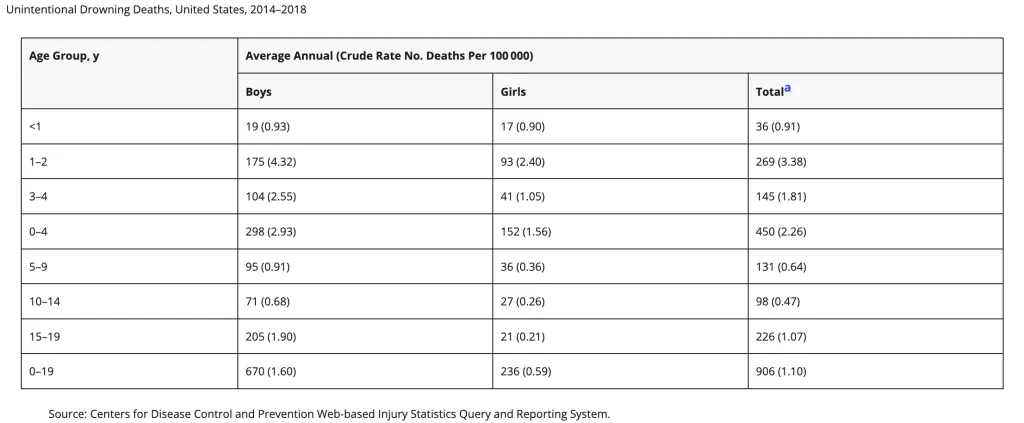 Affiliate Disclosure: This post contains some affiliate links. Your purchase using one of the links through my site does not change the cost of your purchase, my compensation comes directly from the business. How it does affect you, is that it allows me to share more, tips, tricks, and guides with all of you. We are always looking at product feedback and care about sharing the most important information with you, taking the guesswork out of your purchase.
2023 Best Life Jackets For Toddlers Coast Guard-Approved
Top Swim Vests, Floaties, and Puddle Jumper
Swim Vest
Floaties
Puddle Jumpers
Best Toddler Swim Vest For Travel
Types of Life Jackets
2023 Best Toddler Life Jacket Coast Guard-Approved
Life jackets or personal floatation devices are life-saving devices approved by the united states coast guard and should not be confused with other flotation devices. The words seem to be interchangeable and used
After reviewing the top life jackets, we found 5 of the best.
Top 5 Life Jackets and Personal Floatation Devices for Toddlers
If you are looking for an excellent option, here are the top picks. We have used a plethora of these brands over the years and love them.
Body Glove Phantom Child USCGA PFD
Infant: Orange and Blue Infant: Pink and Blue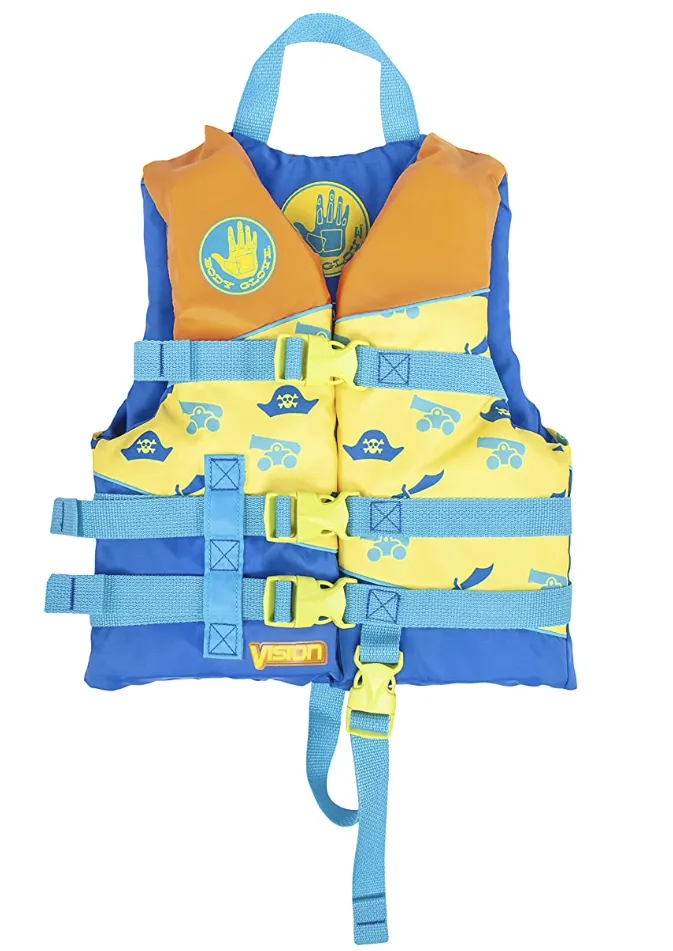 Child: Pirate Hats

Youth: Purple and Teal
Speedo Infant Personal Floatation Device
Infant: Beach Balls 
Child: Popsicles 
Youth: Tie-Dye
Hyperlite Indy CGA Life Jacket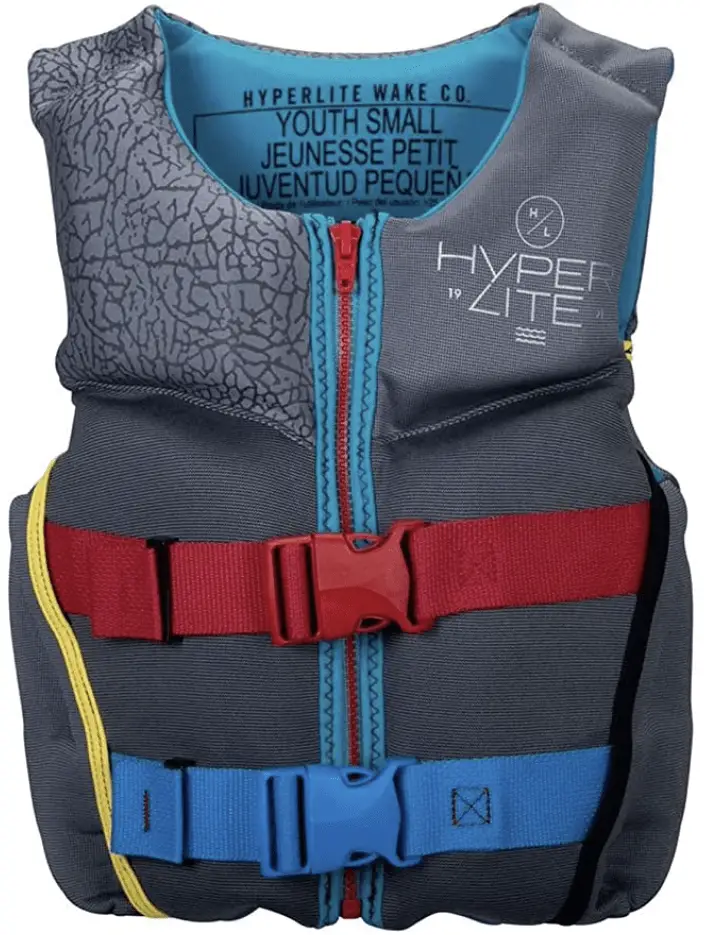 Kids: Hyperlite grey
O'Brien Child Flex V – Back Life Jacket
O'Neill Child Superlite USCG Life Vest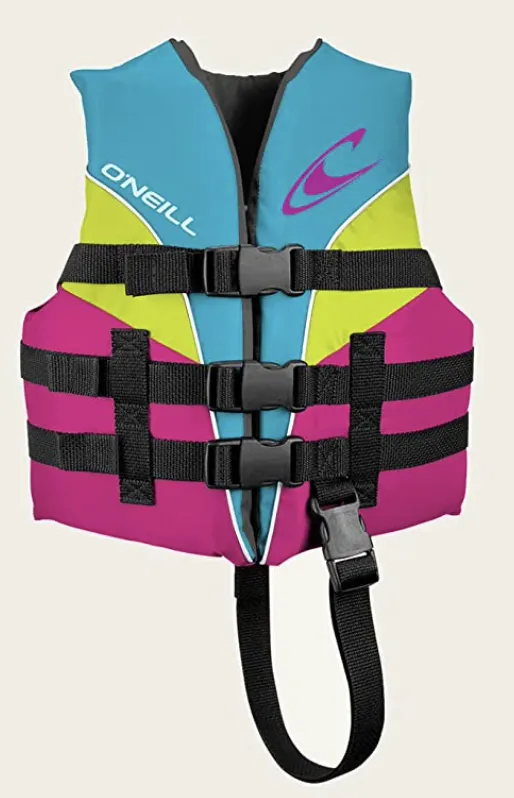 When picking a toddler swim vest, always double-check sizing and fit before and after you purchase your life vest. It should fit snugly on your toddler and be the correct size range.
Top Swim Vests, Floaties, and Puddle Jumper
There are a few non-negotiables when it comes to swimming gear in our home. Our girl has sensitive skin, so anything that irritates her skin is a no-go.
Non-Negotiables and Most Important Things
Rash Guard
Bright Colors
Sun Protection
Swim Vest
Many of today's toddler swim vest have "floating foam" in them, but that still does not give them the rating and approval of a life jacket. I'm sorry I'm stressing water safety, and I'm thankful you are taking your steps to find the best one. But some things need to be said and understood prior to sending you off to purchase anything to keep your child safe.
Top Toddler Swim Vest
Splash About Go Splash Swim Vest
This is our favorite for vacations and the water park. The non-removable floats make it very slim and help with a comfortable fit for your toddler. We found this to be really helpful for our daughter to become more comfortable swimming in the water. We originally used it to help teach swimming along with classes with a swim instructor without a vest.
Body Glove Paddle Pals Child's Swim Vest
As a trusted name, it's hard to look past Body Glove, making it a great option.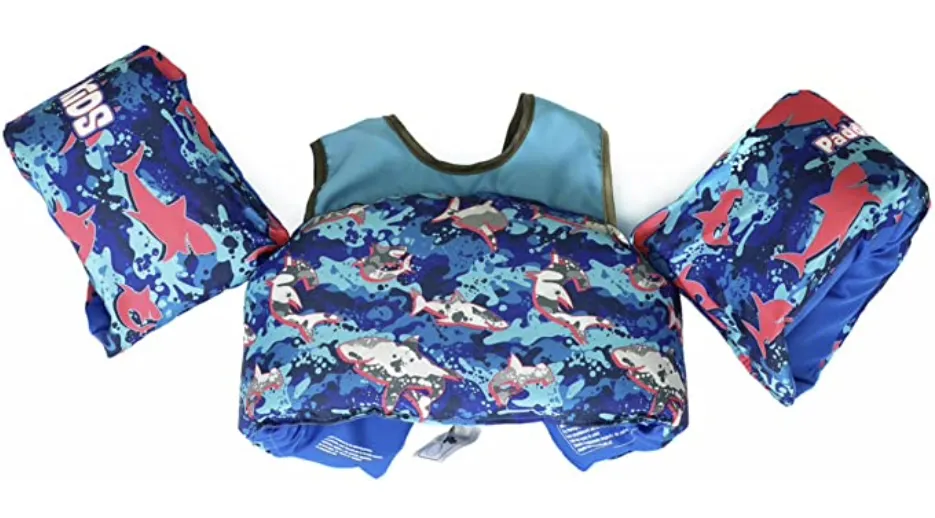 Kids: Sharks Paddle Pals
Speedo Swim Vest
The speedo classic toddler swim vest is slim and a great fit, and also has years of experience making great quality vests, landing a spot of our list.
SwimSchool Swim Trainer Vest
Another really great option and very similar to the Splash About Go swim vest. This light and easy design travels well and is really great for the next level of swimmer with supervision.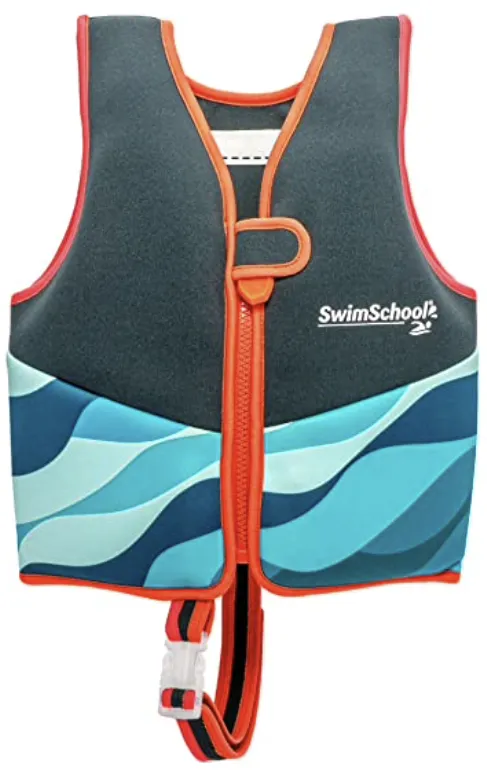 Swimways Life Jacket
Swimways Gabby's Dollhouse Life Jacket
Swimways PAW Patrol Life Jacket
Floaties
Arm floaties, also known as water wings, are worn around the upper arms and help kids float in the water. Not to harp on floaties, but they give a false sense of security, especially to children who are comfortable with water but not good at swimming. These are some of the most dangerous floatation devices if you even want to give them that credit. If you have older children who need a little bit of help, we suggest using floaties but strongly advise you to always keep an eye on your children, or just opt for swimming suit floaties, or swim vests instead.
Puddle Jumper
Puddle Jumpers are very similar to floaties and go around your child's arms, but in addition to that, it also wraps around your child's chest because it slides over your child's head or often has a strap or buckle. We like these more than floaties because of the more secure fit. Some have safety features like a back buckle, making it harder for your child to remove the flotation device if you have an escape artist child.
Best Swim Floaties and Puddle Jumpers
This section gives me anxiety to share, but I will say I think we've stressed enough about water safety and how you need to be very aware of children in the water. While some do qualify for Type III, I cannot stress enough to always keep an eye on children in the water.
Body Glove Paddle Pals Spalsh Life Vest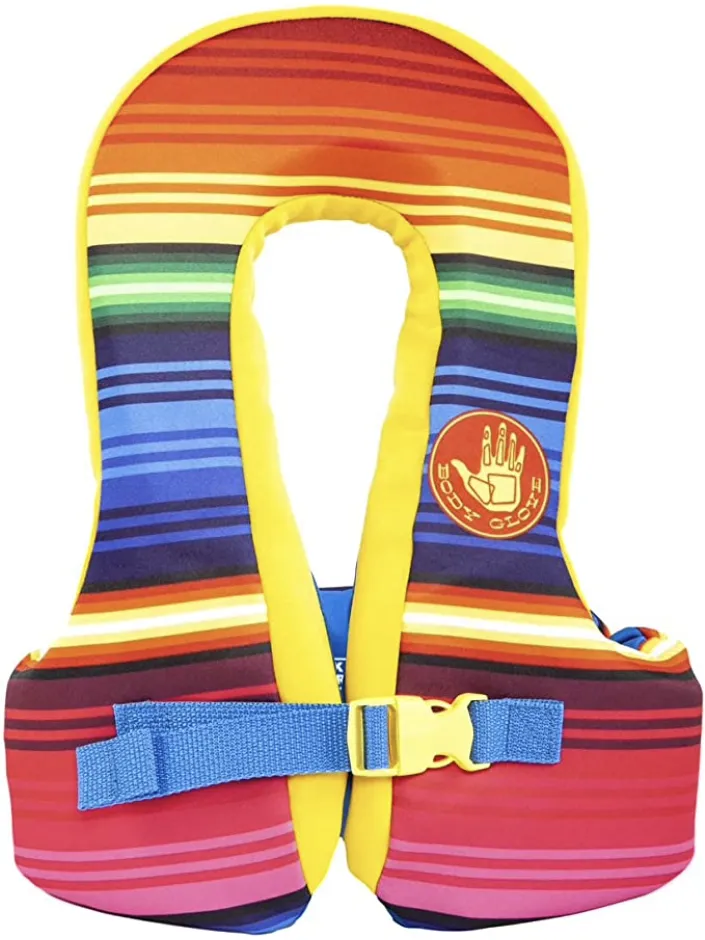 Body Glove Paddle Pals Life Jacket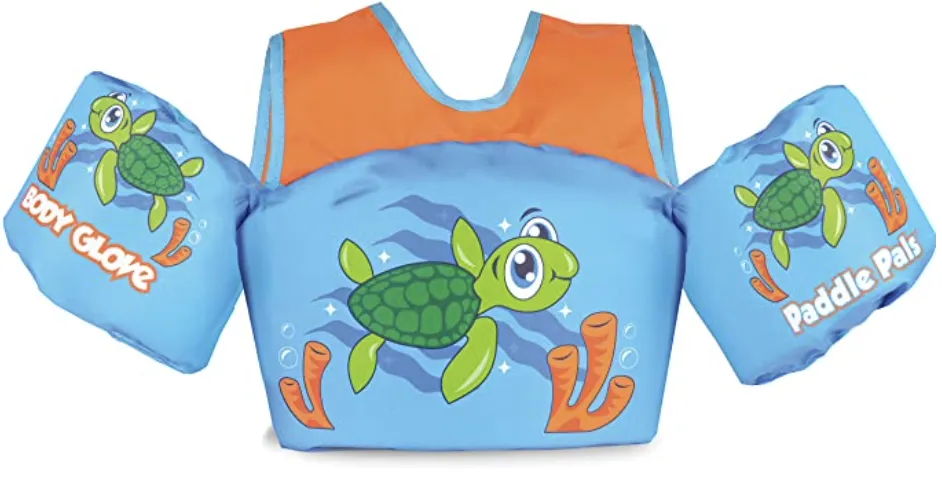 Splash About Collections Float Suit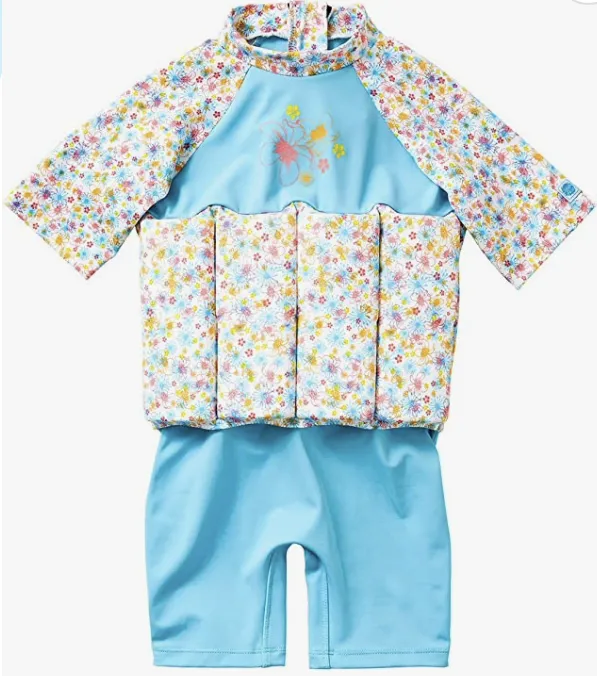 Stearns Original Puddle Jumper Kids Life Jacket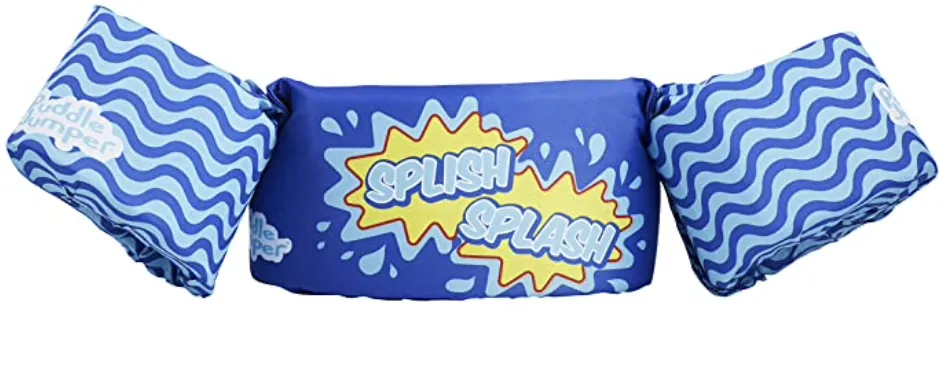 Speedo Splash Summer Life Jacket Vest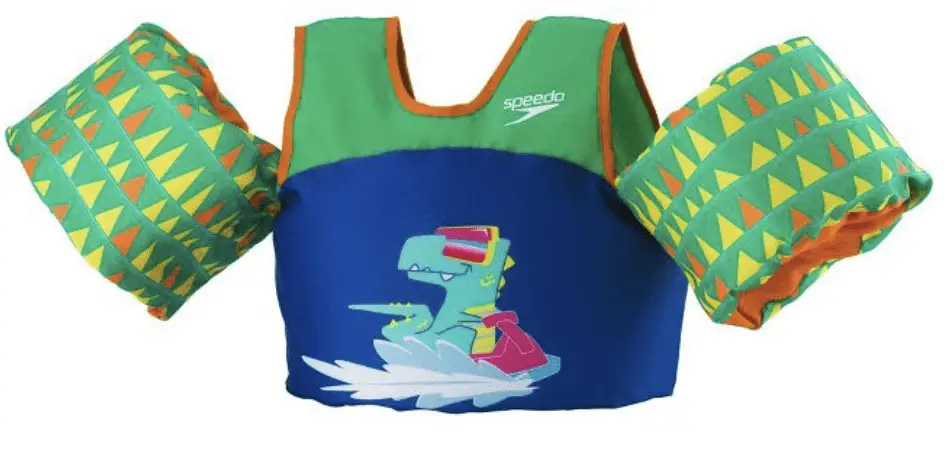 Swimways Sea Squirt Character PFD
Best Toddler Swim Vest For Travel
It was a one-and-done for us when we found this swim vest for our toddler.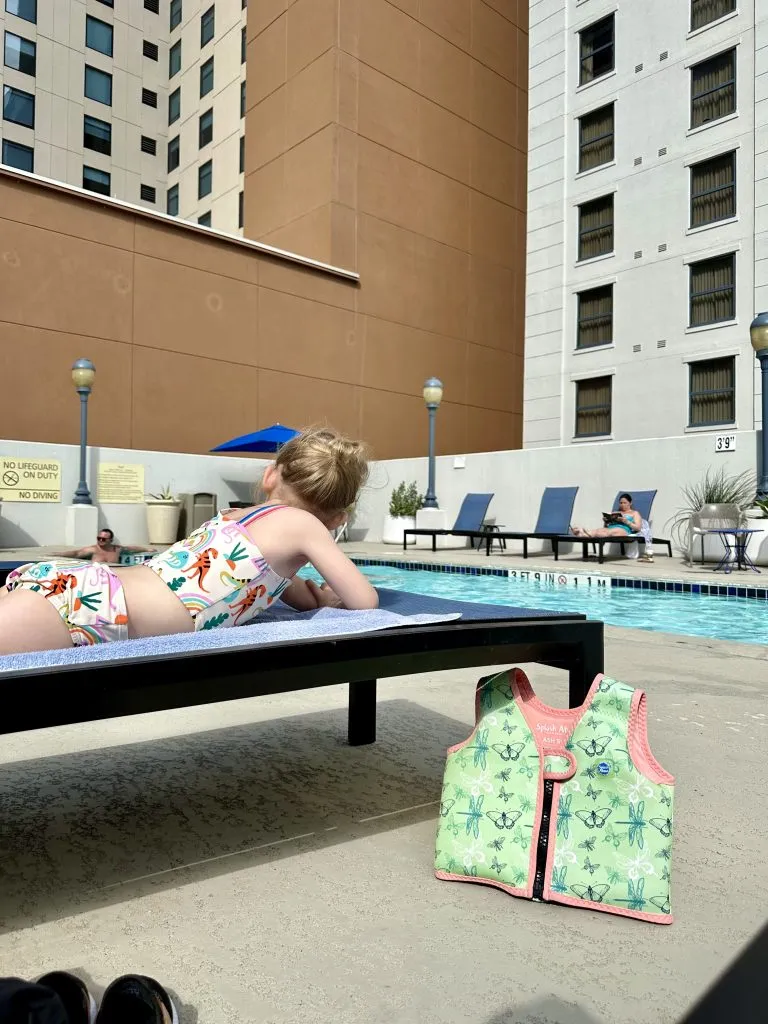 After extensive research, we found this vest, it's lightweight, lays flat, and fits our toddler really well. It is just a personal flotation device and is not us coast guard approved, making it a swim vest and not a life vest, as we discussed earlier. With that being said, we like this swim vest the most because of its easy packing capability and our daughter's comfort swimming in it.
She is in swim school and almost swimming on her own.
The only thing I should note is that if you are traveling to water parks, you will need a coast guard approved life vest at most of the parks, and the lifeguards are usually checking them when you enter the park. If this is something you will do, we highly suggest this life jacket instead. It will travel well and is coast guard approved.
Picking the right jacket for your child is very important and should not be overlooked or rushed. When we are looking at purchasing something new for our toddler, we like to order a few different options and try them all on, then make a decision on what one to keep. That way, we can have her input on what was most comfortable and
Frequently Asked Questions About the Best Toddler swim vest
Q: What makes a life jacket u.s. coast Guard approved?
A: Buoyancy level and fit help determine Coast Guard Approval. Toddler Coast Guard-Approved life jackets have open sides, and three adjustable straps. Each safety strap will help secure the fit, there is usually one crotch strap or leg strap, and two across the body.
The level the life jacket qualifies for will determine how and where to use the life jacket.
Q; What Types of Life Jackets are there?
A: A USCG-approved life jacket will have different level types depending on the level of buoyancy, ranging from extra buoyant to not buoyant. While some vests might have a type rating, that does not mean it is USCG approved for the floatation you are looking for. You want to stick with type I, ii, and with caution and supervision, type iii. Levels iv and v you will not normally use as a flotation device.
Type I extra buoyancy can turn an unconscious person face-up in the water and float very well. Used mostly in open water like the ocean. These offshore life jackets are very bulky and often remind me of infant life jackets.
Type ii can turn an unconscious person face-up in the water and is intended for calmer waters and a good option for near-shore vests
Type iii is typically used in water sports because of its slim form fitting and is not guaranteed to turn an unconscious person face-up in the water. Often used in a well-supervised area for water activities.
Type iv is typically held onto rather than worn, but can be worn, these have less buoyancy, and it can deteriorate the longer you are in the water.
Type v These are special-use PFD and should only be used for their intended purpose and not intended for young children as a floatation device. Often inflatable life jackets, as you would use in emergency situations, often require you to inflate them.
For young kids, life jackets should be worn in any body of water, most importantly open water and near a swimming pool. Calm waters can be just as dangerous as rough waters.
With so many different designs and body types, it's important that you pick the best choice for each body type by selecting the right size for a proper fit, and aligned with your swimming ability for the whole family.
Q: Are swim vests good for toddlers?
A: Yes, while swim vests help your toddler float in the water, the swimming level of your toddler will really dictate what type of life jacket is best for your child. We like to be more cautious than not and say you should go the life jacket route and make sure it is USCG-approved. With a lot of supervision, we also like the swim school swim trainer vest style. That type of swim jacket is often very light and will provide little swimming aid in floating but require your child to do more of the swimming work. This is great for toddlers who can swim and need some assistance.
Q: What should a 2-year-old wear in a pool?
A: A 2-year-old should wear a swimsuit, swim diapers if they are not potty trained, and some kind of swim aid. A few of the top swim aids are, swim jackets or life jackets, swim vests, puddle jumpers, and floaties.
Q: Is a swim vest or puddle jumper better?
A: Swim vests and puddle jumpers will help your child float slightly. Your toddler might find the freedom of the swim vest better for water activities and playing along the shore of the beach. While the original puddle jumper forces a younger child to sit more upright in the water, the freedom of movement is very limited. A swim vest is really the best option across the board.
Q: What is the difference between a swimming vest and a life jacket?
A: A life jacket is designed and approved by the us coast Guard to keep your head above water, while a swim vest does not.
Not to confuse you more, but those two words are very interchangeable, and not everyone knows the difference, always double-check the ratings before you purchase or use a rented one.
Other Related Guides