We are already 6 months into the year, and 4th of July in Reno is right around the corner.
There is one special thing about 4th of July in Reno, and that is you can attend one of the large fun events in downtown Reno with hundreds of people or drive and find a beautiful spot to sit in the back of your car and watch the city's fireworks from the hilltop. The biggest little city sure knows how to celebrate. 
While Fourth of July weekend is a little out of the norm this year, falling on a Tuesday, that doesn't stop the Northern Nevada celebrations.
There are so many locations to go and see fireworks and partake in multiple celebrations for the 4th of July in Reno. Please remember that fireworks are illegal in Washoe County/Nevada and should not be used.
Let's dive into our list of 4th of July in Reno Area Celebrations.
4th of July in Reno and Sparks
4th of July in Reno and Sparks is a favorite event for many in the Reno, Tahoe area. It feels like the entire town puts together a special event with a friendly performance, parades, live music, and a fantastic fireworks display for the city to enjoy. Many people flock to pyramid lake or one of the many local events to partake in.
Star Spangled Sparks
Tue, July 4th, 4 pm – 10 pm
Fireworks at 9:30 (weather permitting)
Victorian Square Nugget Casino Resort

Starting at 4 pm on the streets of Victorian Square, this festival includes music, food vendors, beverages, arts and craft booths, and more. Fireworks are scheduled to begin around 9:30 pm weather depending.
Extra parking and shuttle starting at 6:00 pm – free
The Reno-Sparks Livestock Events Center Parking Lot | 1350 N. Wells Ave., Reno
510 Greenbrae Drive | Corner of Greenbrae Drive and 4th St., Sparks
Reno Aces Baseball Game
Tue, July 4, 6:35 pm – end of the game
Greater Nevada Field
Reno Aces go head-to-head with Tacoma Rainiers. July 4th and Taco Tuesday!
Stay after the game for a spectacular firework show and enjoy 2 tacos for $6
If you have other plans for the 4th of July in Reno, join the Aces for another game against Tacoma Rainiers on Friday night and enjoy fireworks afterward.
https://www.milb.com/reno/schedule/2023-07
4th of July Celebration at McKinley Arts & Culture Center
Tue, July 4th, 10 am – 7 pm
Mckinley Art & Culture Center
Celebrate Independence Day with your entire family all day long at the McKinley Art Center. Enjoy various fun activities such as the 100 vendors of the great American craft fair, classic cars auto show, food and beverage vendors, live music, parade, and more.
Damonte Ranch
While this is more of a private firework display, this can be seen from Double Diamond and multiple South Reno locations.
If you are looking for a Fantastic Firework Finale, this is probably the best I've seen. If you are in South Reno, you can pretty much find any spot to pull over and watch the show. With the new Downtown Damonte breaking ground and multiple homes now covering old empty valley land, we will see what the plan is going forward for the fireworks in South Reno.
As you can see in the photo above, you can clearly see the fireworks from a random street we were driving down. This is probably one of my favorite things about living in a smaller city.
4th of July Celebrations in Carson City
Nevada State Railroad Fourth of July Celebration
Tue, July 1, 2, & 4, 9 am – 4 pm
Open July 3, but no train will operate that day.
Nevada State Railroad Museum
2180 S Carson St, Carson City
Ride the 1875-built wood-burning locomotive, Inyo, or the No. 25 train.
You can purchase a $15 all-inclusive wristband that gives you admission to the museum and unlimited train rides. The wristbands are available each event day. Regular admission and train fares are available as well.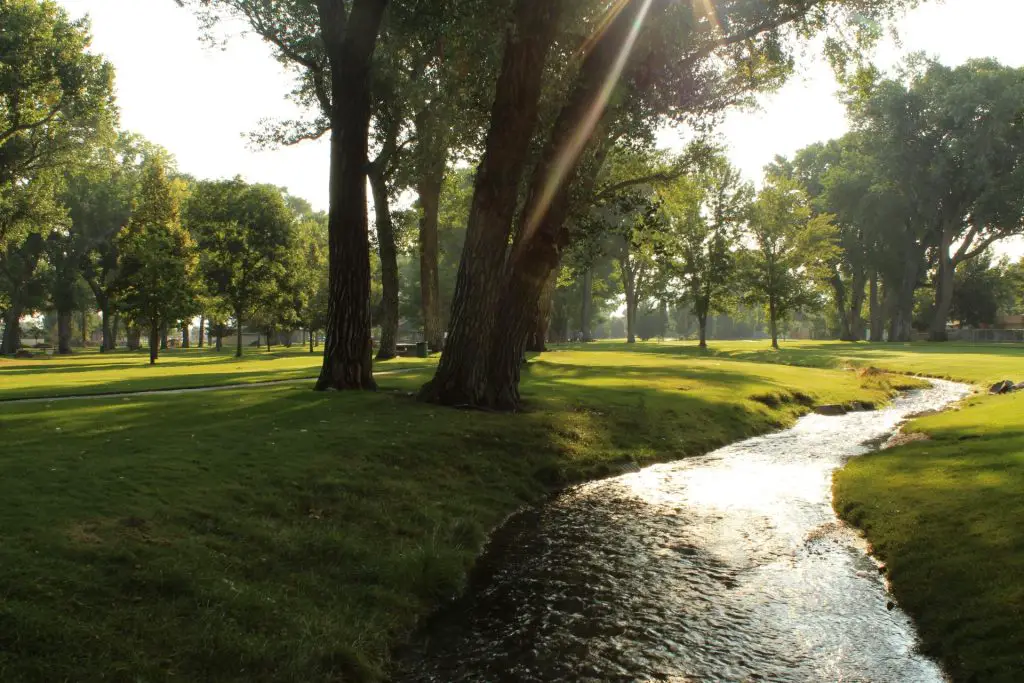 Mill's Park Fireworks and Carnival
2023: No Carnival this year, but you will still be able to hang out in Mills park and see the fireworks.
Mills Park Carson City
For almost 30 years, this 4th of July celebration and carnival has blessed families with a full day of fun in Carson City. While we await confirmation details for this event, if you live in Reno and have never made your way to Carson, we highly suggest putting this one on your list this year.
Virginia City Fourth of July Fireworks
4th of July Fireworks on The Comstock
Tue July 4, All Day
Virginia City's fourth party is all day, that goes into the night. Virginia City is it if you are looking for a place to park your car and relax for the day. Virginia City will keep you entertained all day with a parade honoring first responders, classic cars, car clubs, military and veterans, live music, and tons of shopping. V&T railroad will be running steam trains during the day.
12 pm annual 4th of July parade
6 pm Live music
Dusk Incredible firework show
Usually closed to the public, The Mackay Mansion is opening its 3rd-floor balcony for the best view of the fireworks. At $25 per person, you can enjoy smores and fireworks from one of the best balconies in Virginia City.
July 4 from 8-10 pm
18+ event
https://www.therealmackaymansion.com/event-details/fireworks-smores-2
Fireworks in Lake Tahoe
2023 Fireworks in Lake Tahoe. Tahoe seems to be split with fireworks and drone shows, and while the time is still here, we will lean towards celebrating America's birthday with fireworks.
Lights on the Lake
Tue, July 4, 9:45 pm
South Lake Tahoe
Known as the largest firework display west of the Mississippi, and with over 75,000 people enjoying the show, we know why. Over 3,500 fireworks shells launch from three barges anchored near Stateline, making the perfect lake fireworks show. While there isn't an ideal spot to sit between both the Light on the Lake and the Incline Village Sky Show, you will want to get there early and spend a good portion of the day on the beach to get a great view of the Lights on the Lake.
Incline Village Sky Show
Tue, July 4, 7 pm – 10:30
Incline Village Ridgeline Ball Fields
Bring your blanket, chairs, picnic baskets, and coolers, and enjoy the laser show and then the drone show. At 7:00, seating opens on Ball Fields 1 and 2, where you can enjoy live music, activities, US Trivia, food trucks, and a beer garden.
The drone and laser show will start around 9:30. Bigger and better than before.
Park and Walk lots: Incline Middle School, Parasol, IVGID Recreation Center, Travel North Tahoe Nevada Welcome Center
Shuttle lots: Chateau, Big Water Ski Way parking lot, Diamond Peak upper and lower lots.
Tahoe City 4th of July Celebration
Tue July 4, 12 pm – 10 pm
Commons Beach and Town, Tahoe City
Perfect for the whole family, enjoy food, drink, and activities during the day and a fantastic drone show to finish off the night of celebration. Tahoe City Downtown Association has put together a great free event with face painting, a free concert all day, and activities throughout the town and at Commons Beach.
Tahoe City says they will have the largest drone Light show ever done at Lake Tahoe, featuring 300 drones. We will let the people of Tahoe decide if the Tahoe City drone show is larger than the Incline Village Sky Show. While the drone shows are absolutely fascinating and great works of art, the boom of the fireworks will always have us.
Freedom Fest
July 1 – 3, 8 am – 3 pm
July 4, 8 am – 8:30 pm
Alpine Deck Palisades Tahoe
Enjoy skiing during the summer for the first time in decades! With record snowfall this year, Alpine will be open for a short summer ski season, and this year there is a great lineup and electrifying EDM music. Tickets vary, but make sure to grab your limited-edition event shirt from the festival.
Fireworks in Fernley
Fernley 4th of July The Old Fashion Way
Tue July 4, 10 am – 10:00 pm
Downtown Main Street
For over 50 years, Fernely has celebrated the 4th of July, and this year is no different. Starting with a pancake breakfast and one of the best Fourth of July parades, each year is getting larger and larger with classic cars, horses, color guards, floats, cheerleaders, bands, and so much more. Kid's crafts and activities will keep the entire family entertained all day.
Labeled as one of the longest fireworks shows in Nevada, these fantastic fireworks start at dusk and will always be weather permitted.
We hope you have a happy holiday weekend and enjoy the many patriotic events for 4th of July in Reno. 
Northern Nevada is the battle-born state. What better place to celebrate July 4th?