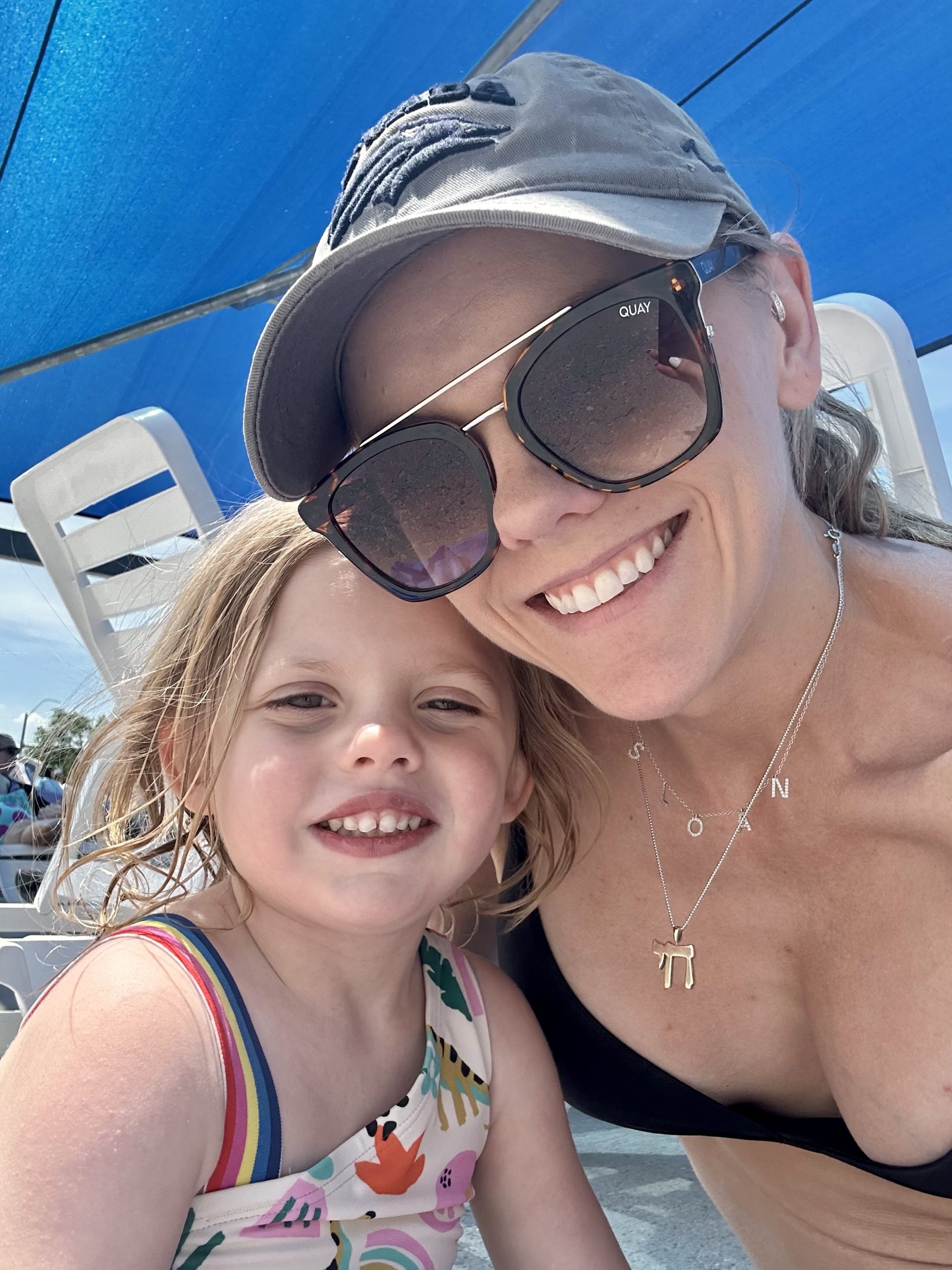 Wild Island Waterpark is a popular destination for summer fun located in a scenic spot. It offers a variety of attractions and slides, catering to different age groups and thrill levels.
The park provides the perfect place for family-friendly activities such as lazy rivers, wave pools, and kiddie play areas, ensuring there's something for everyone. Guests can also enjoy a range of dining options, including healthy choices and accommodations for special dietary needs.
Safety is a top priority, with lifeguards and attentive staff ensuring a secure environment. The park often hosts special events and offers discounted rates for groups, birthdays, and season pass holders. With practical tips for visitors, Wild Island Waterpark guarantees a memorable experience for all who visit.
Let's dive into Wild Island Waterpark and how you should make it a weekly must during your summer vacation.
Hours and Location
During peak months, the waterpark is open seven days a week, 11:00 am – 7:00 pm. Weather permitting.
We still go on the weekends because of my husband's schedule. Weekends are the best time for us to do things as a family, but during the week, I have more flexibility and can go Monday – Friday. Once summer vacation hits, most days are busy, but we have some top tips to make the best day possible.
I purchased the platinum pass last year, giving me an additional free daily park pass. So essentially, we got a two for the price of one Pass.
The only problem was the Platinum Pass was significantly more expensive this year, and we weren't sure we would utilize it to get our money's worth, so we went with the regular season pass this year.
We were heading into the summer months, and that meant less time for family days and, in turn, being able to go during the week.
A child under 4 water park pass is $5. and they typically do not run out or shut off sales quite like the other season passes they have available.
Wild Island is centrally located in the city of Sparks Boulevard and wild island ct right off the freeway. Being the only water park in town, it's easy to find and pretty much cannot be missed with its bright-colored sign and slides.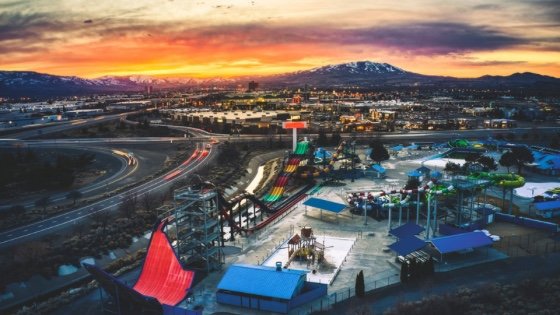 Thank you, Ali Rivera, for this beautiful photo of just that!
Across the main road, sparks blvd that is, you will find the Legends and the Sparks Marina. Both provide lots of things to do and places to eat for those that might not love the waterpark but want to stay entertained while the rest of the family plays in the sun.
2023 Updates
Queue lines and mobile ordering.
In addition to more shade in the park, Wild Island did a few items to the park this year to create better flow and ease of use.
A lot goes into creating systems around a park, and so far, they have done their research and really thought of many things for this year. One of my favorite features of this year's updates is the VIP line. They have snake lined or queue-lined under shade and provide easy pass-through and seating along the way. There is a portion that is missing a sail for more shade… I'm sure it was intentional, but I feel like we should always lean on the more shade, the better. Still a fantastic update, though.
This VIP gate typically opens around 10:20ish and allows the Pass holders a spot to wait in line before heading inside the waterpark for early entry at 10:45. It used to open at 10:45, and everyone was waiting in line awkwardly in the parking lot.
You will notice more queue lines throughout the park. This is the first year they have this, so we will see what comes of the changes.
Attractions and Slides
When we think of all the things to do at wild island waterpark, many of us that have lived here for a while think back to being a kid and going there during summer camp or even on a random school field trip.
20 years later, it has seen a major update, and we are hoping to see some future announcements at some point. They were rated top family amusement park for many years, so why would they not want to keep that title? Only time will tell.
And we are fingers crossed that they do an indoor waterpark addition open year-round or a second location. 😬 just an idea. 💡 @wildislandadventurepark, please take this as a note in your suggestion box.
There are 4 main areas to discuss to break down the layout of Wild Island.
Kid's Areas
Slides
Other Attractions
Adult Area
We will talk about food, mobile order, packages, safety precautions, and a few other items later, but to truly understand the fun wild island offers, you will want to start with the fun things.
If you are not a waterpark person but love indoor attractions and games, you will want to check out coconut bowl, where you will find bowling, mini golf, and state-of-the-art amusement games. We were recently at a Kalahari Resort, which is pretty darn comparable, minus the indoor roller coaster from a '70s carnival. But I digress.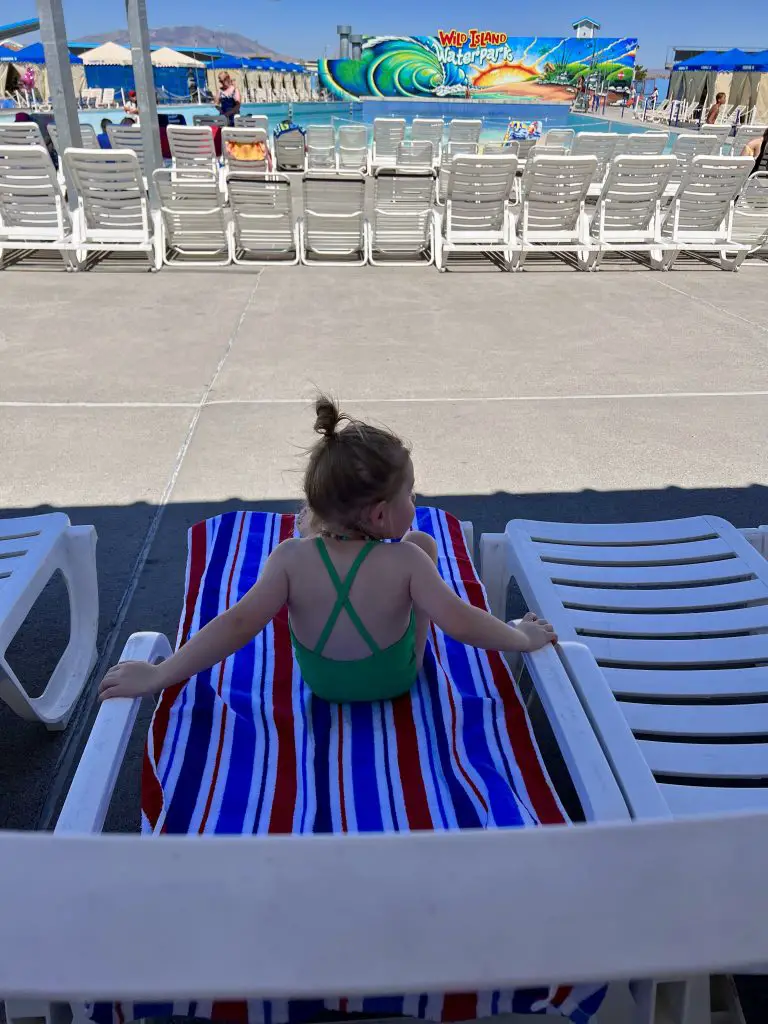 Kids Areas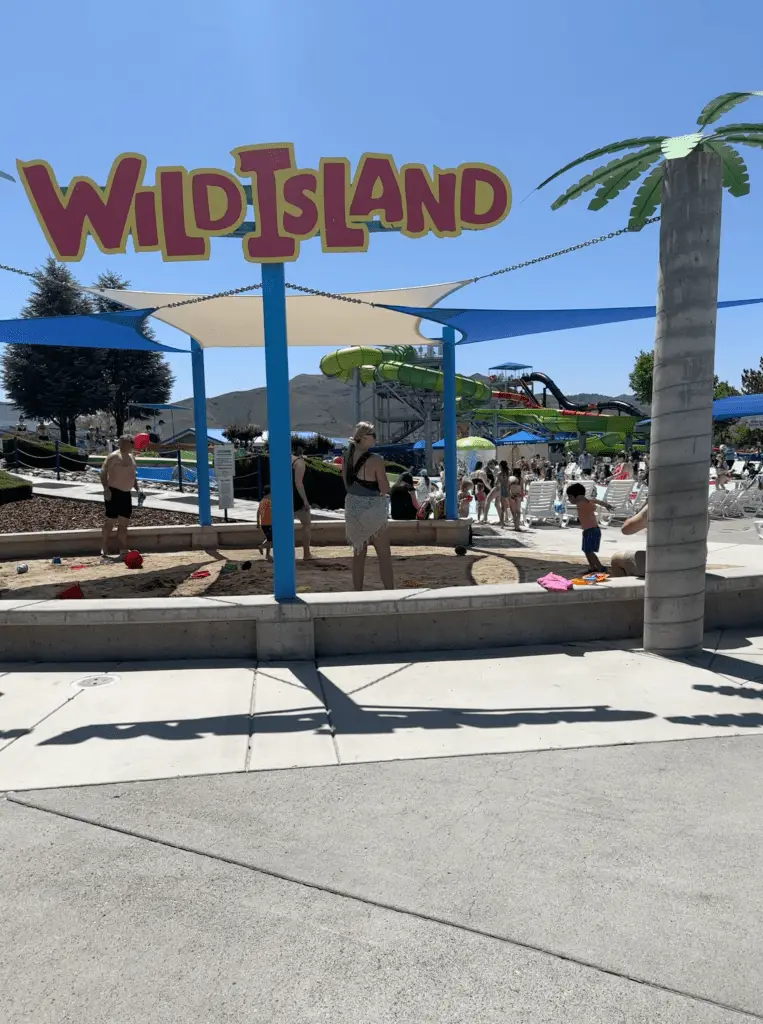 Sand Section
This is my LEAST favorite part. I have no idea why I would want sand in places that should not be at a water park if you get what I mean.
And my daughter wants nothing more than to play in the sand area while we are there.
While I'm knocking the area for us personally, I understand the drive for little babies or kids who are not entirely comfortable with the kids' slides and the water. The sand area features large sails that provide an amazing shaded spot with a large sand pit and sand toys to keep your baby occupied.
Little Lagoon Kiddie Pool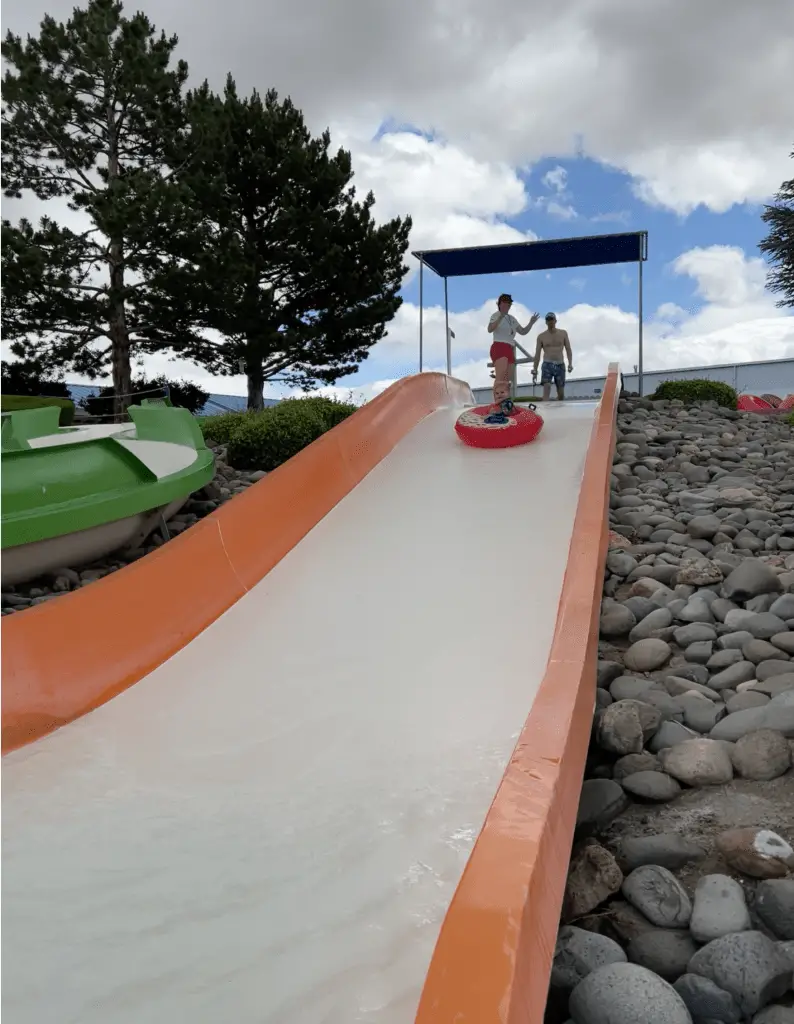 We spend most of our time in this area. The little lagoon kiddie pool area is the best for toddlers and kids under 48 inches.
This little area packs a lot of fun for kiddos featuring three main slides, two small slides, and a mushroom waterfall.
There are two small winding body slides surrounding an orange tube slide as the main attractions in this area.
On both sides of the small body slides, you will find the dragon slide and frog slide, designed for the smallest of kids to learn the thrills of a slide at the waterpark.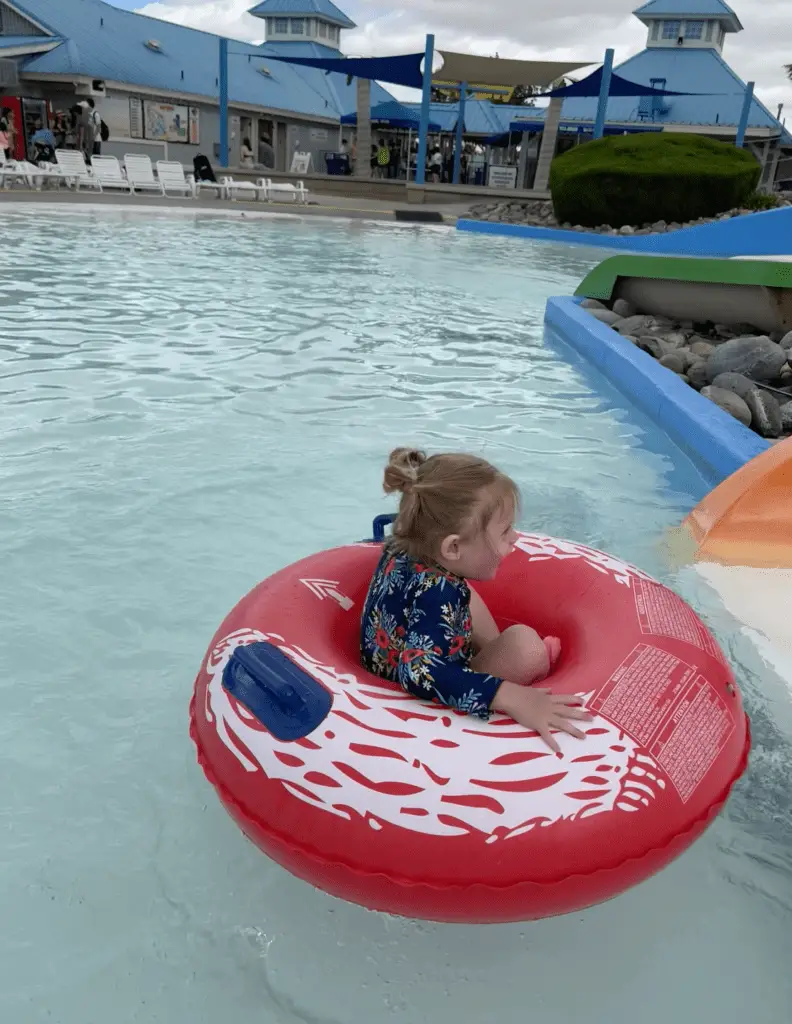 kids pool tubes
There are two types of tubes in this area, and it's important to pay attention. For the larger 42-48 inches kids, there are none lined tubes, and you will also find lined tube bottoms for babies and shorter kids.
The lined tubes have a lining in the middle where you would typically have the donut hole. These tubes make going down the orange slide significantly easier for shorter kids or babies.
Now I think EVERYBODY should go down that water slide with their kids the first time and, honestly, as long as you can.
There is literally nothing like getting splashed in the face with a bunch of other parents in a pool. At the same time, having a blast with your toddler.
Hurricane Cove
While I find this area to be very cool, I will never understand the temperature of the water. Being so shallow, it is the coldest water in the park.
I assume they need to "filter" the water more often than the other areas because it focuses more on children, and we all know they can be a little nasty sometimes. Haha
That might not be the reason, but even knee-deep, the water is just too cold for us to hang out in.
For those kiddos and parents that want to brave the temperature, this design reminds me of a park play structure featuring a massive water bucket and two big slides.
Our daughter hates the water bucket falling on her face, so we suggest a hat for those kiddos, and the water dumps are duration based. Making it easy to time in between dumps or even stand in a spot that does not get as wet.
This is definitely an afternoon stop for us.
We love it most for a quick cool-off when the summer temperatures are at their highest. There is no minimum in this area, and there are lifeguards on duty.
These three areas provide a lot of entertainment for the younger kids, and there are a few other attractions they can take advantage of, with adult supervision and a life jacket.
Other Attractions
Bahama Mama Lazy River
Tubes are available to grab from the entrance of the lazy river. You can also use your rented tube in this area. But this is our favorite spot to lounge in the sun and float. There is one spot where you could encounter the mushroom waterfall, but it is easy to avoid if you want to stay away.
There are multiple spots to hop in and hop out along the way, and if you are over 21, there is a particular spot for you to get in and out by Kokomo's Island Bar.
Wild Island has multiple lifeguards along the way, and you can find lifejackets near the entrances to the river.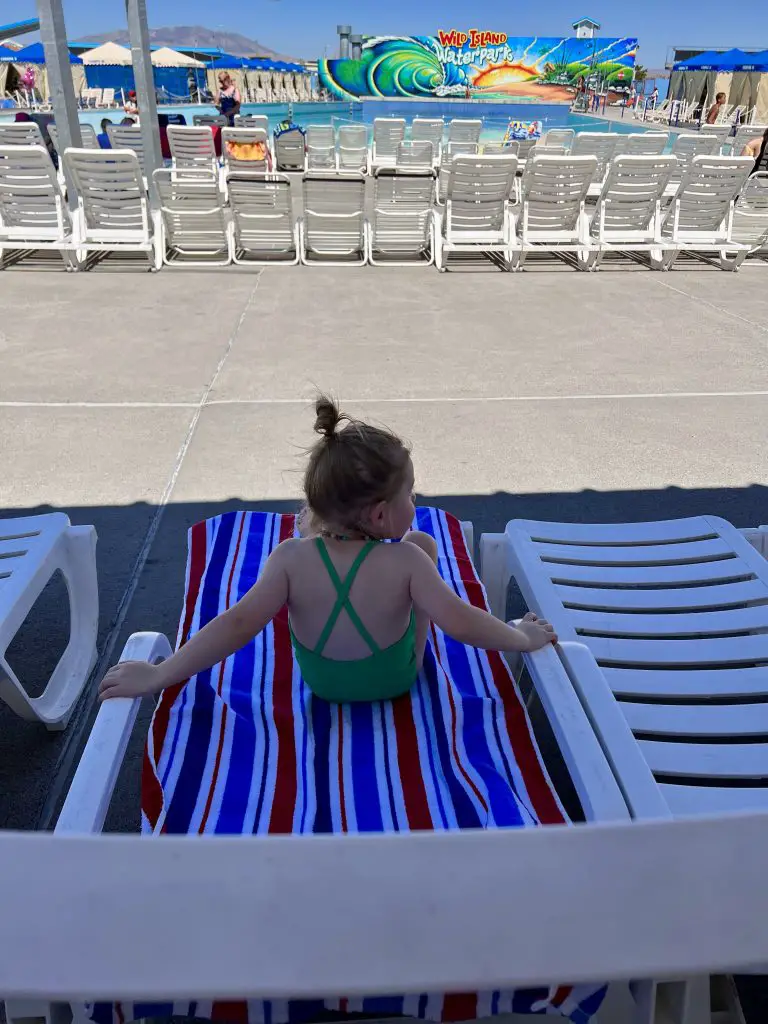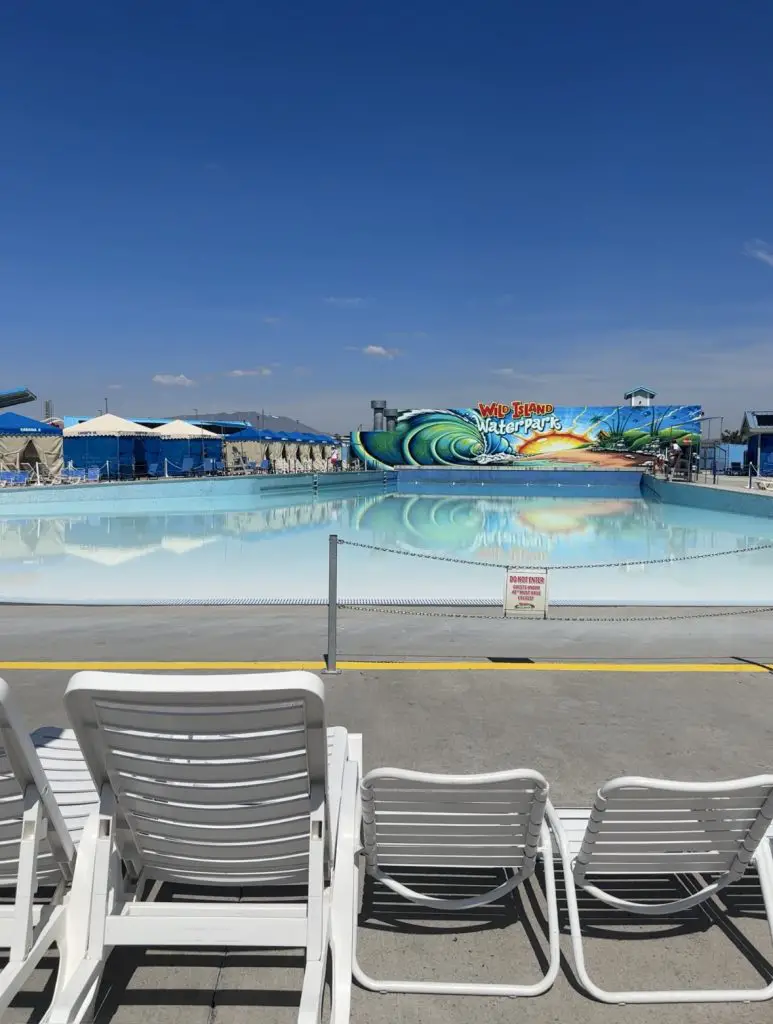 Montego Bay Wave Pool
We love this area because it provides a nice calm pool and the buzzer, indicating that the thrills of rolling waves are coming. The excitement is too much. There are 8 different cycles, so the waves are always unpredictable. Wade or swim, tubes or no tubes, this is such an excellent spot for all ages.
Both single and double tubes are allowed in the area, but you would need to have one as a daily rental. Only clear tubes are allowed in this area.
Life jackets and adult supervision are required for children under 42″, and there are multiple Lifegudes on duty.
While it's not my favorite thing to report because it means people might have gotten hurt, we have seen both live and training saves by the lifeguards in this area, and we love how much wild island cares about the safety of their waterpark goers.
Adult Area
21 and over, only this area has tall top tables, lounge chairs, and a centrally located bar to pick up most of your favorite adult beverages.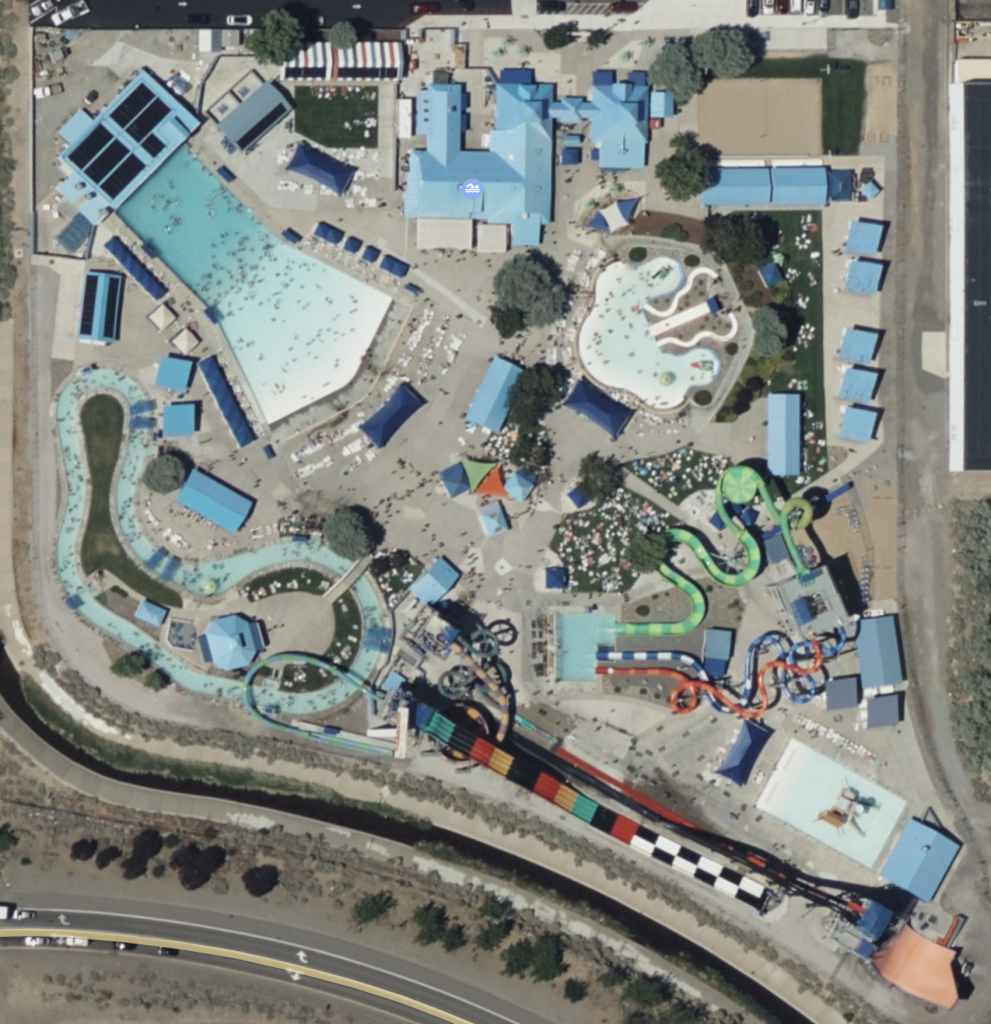 Waterslides
Wild Island Waterpark has 10 water slides for your riding pleasure. This is a mixture of tube slides and body slides. You can ride alone; for some, you will need to ride with others or be in a group.
Twists, Turns, and Free-Falls | Slides at Wild Island Waterpark
Let's break down each of the rides, height requirements, and other things to keep in mind. These 10 slides range from free fall body slides to gentle tube slides.
Fire and Ice
These enclosed body slides are a head-to-head battle for a race to the end. Whether you bring a friend or ride solo, you'll enjoy the thrilling twists and turns of the blue or red slide.
Who will win?
Fire or Ice?
Minimum Height Requirement: 42″
Please be aware this slide does drop into a landing pool, so a little swimming is required. Life vests are also available.
Tortuga
Enjoy the twists and turns of the longest slide at the park. This is a gentle ride with twists and turns all the way down. This also dumps into the large pool at the bottom. A little swimming is required, and life jackets are available.
Minimum Height Requirement: 42″
Please be aware this slide does drop into a landing pool, so a little swimming is required. Life vests are also available.
G Force
This capsule ride is perfect for all thrill seekers. Sitting at 45 ft high, this slide will send you down 300 ft of twists and turns in the bright multi-colored tube.
Does it really have g force?
Minimum Height Requirement: 48″
Black Widow
The tried and true. Ride double or single. This dark slide has multiple unexpected drops. It's such a blast, and I always love trying to time the drops and quickly getting a glimpse of the black widow before shooting out of the bottom.
Minimum Height Requirement: 48″
Red Viper
This body slide sends you free-falling down 6 stories directly next to Black Widow. I will note this one can irritate some people's backs while riding it. We suggest a rash guard top to help.
Minimum Height Requirement: 48″
Scorpion
The skatepark halfpipe you've always wanted to try. Jump on a single or double tube, and enjoy the 40 ft free fall down the bright orange halfpipe.
Minimum Height Requirement: 42″
Dragons Tail
G force B force. I ate a really good clean breakfast and took my Dramamine for this one in preparation.
While I didn't believe it was going to have any G forces, I knew that was a word I didn't want to mess around with.
I'm here to report you are safe, coming from a car-sick maniac.
This enclosed body slide sends you quickly down the twisty turns.
Minimum Height Requirement: 42″
Eye of the Dragon
This slide drops you 100 feet into a dark chute before dropping you down "the eye" of the dragon, but I like to refer to this portion of the slide as the toilet bowl. Because essentially, you are going in a circular motion and dripping through a dark hole. It really is a great slide, and I cannot wait until our girl is tall enough so we can all ride it together.
Minimum Height Requirement: 48″
Zulu Mat Racer
Challenge your friends to a race down the 273-foot 4-lane mat racer. This 50 ft tall water slide plunges you down over multiple bumps on a race to the bottom, just like the carnival ride but better.
Minimum Height Requirement: 42″
Height Requirements and Restrictions
This is a tricky part for us to write. While we did get water park passes for myself and my daughter, our thrill junkee 3-year-old is ready for the big kid slides, but she's 2 inches short.
While this does make us a little sad, it also reminds us how much the water park cares about its safety guidelines and sticking to them.
BUT that does not mean there isn't anything for her to do at 40″
The kid areas are designed for younger children and create a safe and fun place for smaller kids to hang out.
If you have a thrill-seeker toddler, 42 inches is the minimum requirement on most of the big slides, and 48 inches being the most ideal height for all slides with no limitations.
While water parks seem to have higher height requirements, there are still many things for kids and people of all ages and temperaments to take advantage of at the water park.
Family Friendly Atmosphere
We love the waterpark for its safe, family-friendly atmosphere. While big kids will always be less aware of the littles around them, there are restrictions on minors and chaperones. We are seeing this more and more at theme parks around the US, and it's not surprising that water parks are following suit.
It helps keep the family-friendly atmosphere at the core and provides a fun place for people of all ages to enjoy a day in the sun.
From slides to volleyball courts and sand play area, the wave pool, and lazy river, wild island waterpark has all walks of life covered.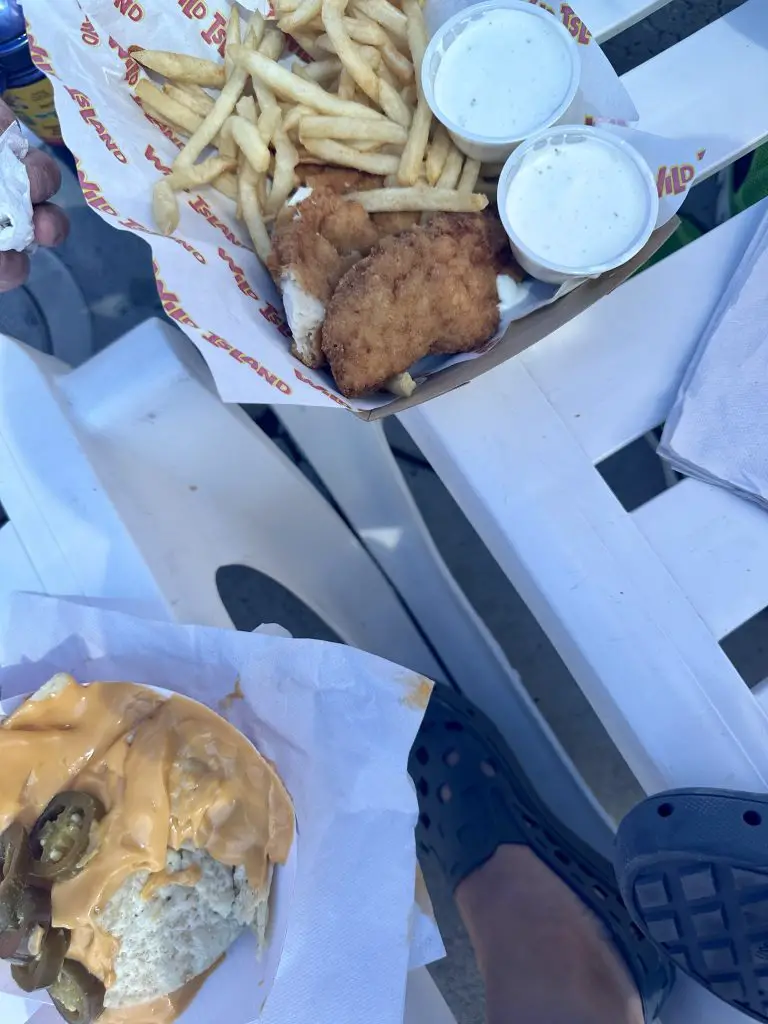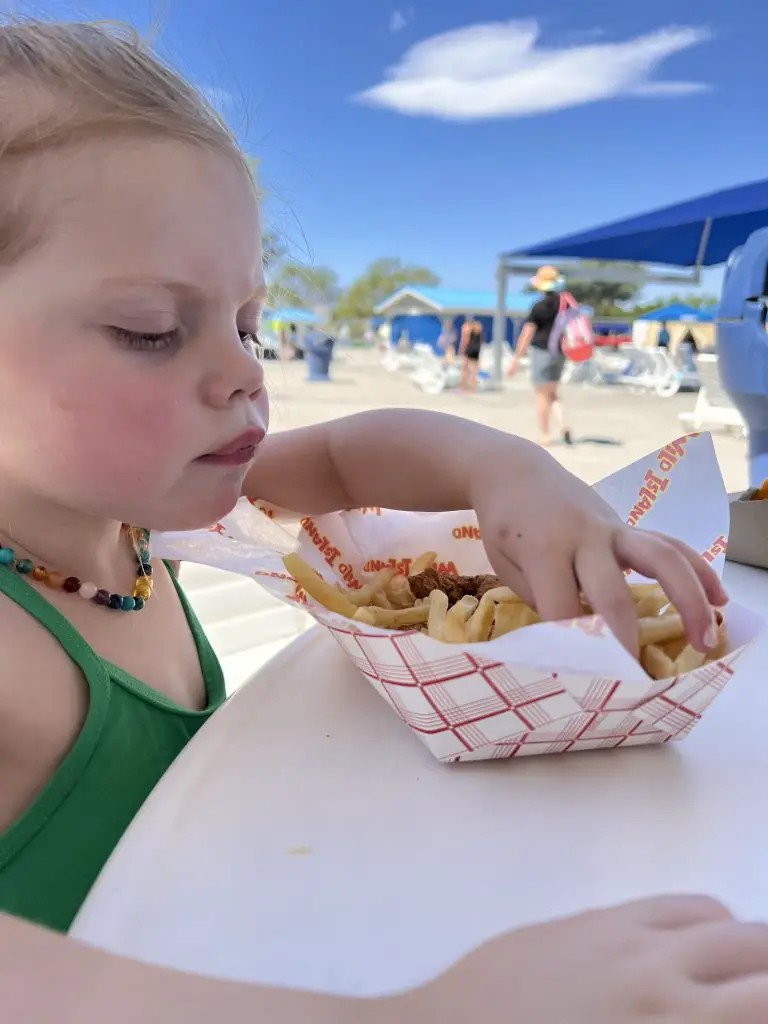 Dining and Refreshment Options at Wild Island Waterpark
Wild Island features multiple food options, both healthy and good old fried park food, and with the launch of mobile orders, food at the water park has become significantly easier!
I cannot express to you how exciting this is. We ordered chicken tenders and fries through mobile order when the Aruba Cafe line was almost 45 minutes, and we walked up within 5 minutes for our mobile order.
If you plan accordingly, food is typically not an issue but be cautious. The lunch rush can come out of nowhere.
Let's talk about all the many food options wild island waterpark has to offer
Green Coconut
Healthy salads, wraps, fresh fruit, sack lunches for the littles, and bottled drinks.
Aruba Cafe
All your American food wants and more. Hamburgers, chicken tenders, pizza, hot dogs, and more. This typically has the longest line for most of the day.
G's Chicken Shack
The newest addition, this chicken shack, has chicken tenders and fries, as well as chicken sandwiches and other items. It's tucked behind Aruba Cafe, and only a few people know it's back there.
Island Bistro
Sandwiches, paninis, and specialty fries. In addition, burritos, tacos, taco salads, and churros. You will also find soft-serve ice cream to cool off.
Kokomo's Island Bar
21 and over only
Your spot to relax and enjoy adult beverages like wine, domestic, imported, and micro beers and cocktails.
Dippin Dots
Grab one of the many flavors of delicious frozen ice cream at Dippin Dots, or like us, and cotton candy is an absolute must every park day.
Snack Shack
You can find all the fun treats like pretzels, nachos, frozen chocolate-dipped fruit, slushies, and more.
While a little limited at the moment, you can order chicken tenders, a cheeseburger, corn dog, grilled cheese, and a BLT as an a la carte or as a combo item with french fries and a drink.
You cannot currently use your waterpark season pass discount, so please keep that in mind if you are looking to use your discount.
Water and Ice Stations
There are multiple free stations around to have your water bottle filled.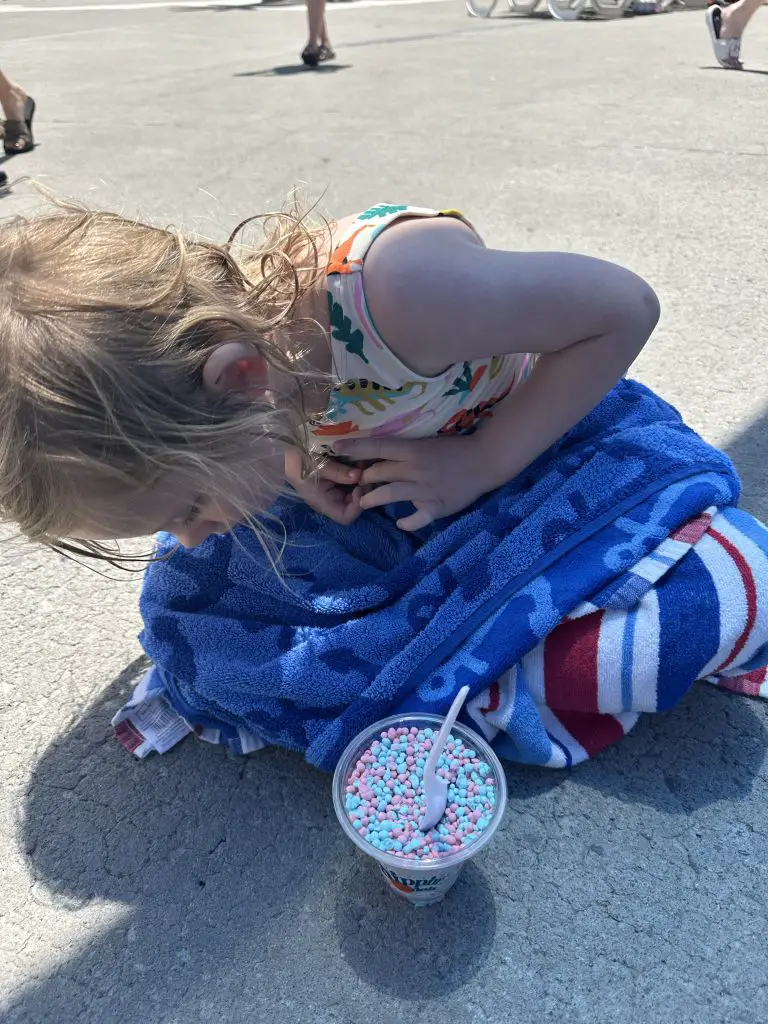 Picnic Areas and Other Spots to Eat
If you cannot find a spot when you first arrive in the morning with a table and chairs, you can head over to the picnic area by the front entrance to enjoy your meal.
We like to sit right in our lounge chairs, but we know some people enjoy a shaded spot to relax and eat their meal away from the hustle and bustle of the waterpark.
Another great idea, and one our daughter loves, is grabbing our food and sitting in the back of the car before leaving for the day.
Safety at Wild Island
Multiple safety measures are in place at the water park, and it seems like things get better and better each year. Wild Island has some of the BEST employees to begin with, but their hiring policy around their lifeguards is even better.
Lifeguards
They take water safety extremely seriously and have each lifeguard undergo the E&A (Ellis and Associates) Lifeguard training, where they must pass and receive a Lifeguard license.
While I am all for lifeguards, I am still an anxious mess regarding water safety, and we do not leave our daughter's side. Water safety training should be a community-provided thing open to everyone. It makes me so sad drownings are still common.
Water Treatment at Wild Island Waterpark
The water at the park goes through multiple cleansing states from chlorine, sand, and UV light equipment that treat bacteria and viruses. While many people think it was installed for 2020, they actually have had this in place since 2010, being one of the very few waterparks in North America with this technology.
Wild Island Waterpark goes above and beyond to ensure a safe and fun environment for families. Check out their website for more safety information. Wild Island Waterpark
Season Passes, Special Offers, and Packages
There are many ways to access the waterpark. As I mentioned earlier, we go the season pass route for the discounts and the ability to enter early.
We've also taken advantage of planning a party with wild islands coconut bowl, their indoor amusement park. However, the waterpark offers just as much for corporate events and even birthday parties.
You can rent a private cabana or birthday pavilion spot for any occasion.
Packages for Wild Island Waterpark
All packages include early entry, pizzas, soda, ice cream cups, and a VIP pack for the guest of honor. You can book in person or over the phone.
There are multiple spots to pick from and different party sizes available for the day. Park passes are not included in the purchase of a package but are available for a discounted rate.
Season Passes and General Admission
There are many benefits to purchasing a season pass. We will break each of them down here so you can decide what is best for your family. Some of the pass benefits are a souvenir bottle, four general admission tickets at $27, early entry, and discounts on cabana rentals and food.
General Season Pass
Unlimited visits for four years and over, early entry through the VIP Gate, Cabana discounts, a free souvenir bottle, and 4 $27 general admission tickets.
Platinum Pass
The platinum pass has all the same benefits as the general season pass but adds the ability to bring one guest per day into the park for free.
Military Pass – $105
All the same benefits of the general season pass.
Under 3 Pass
For $5, you can purchase a waterpark pass for your 3-year-old and under. This does not come with any additional discounts or a souvenir cup.
General Admission for Wild Island Waterpark
Waterpark general admission is $37.99
This general admission ticket is valid for single-day access to the waterpark, and you must use the general admission area to enter the park at 11:00.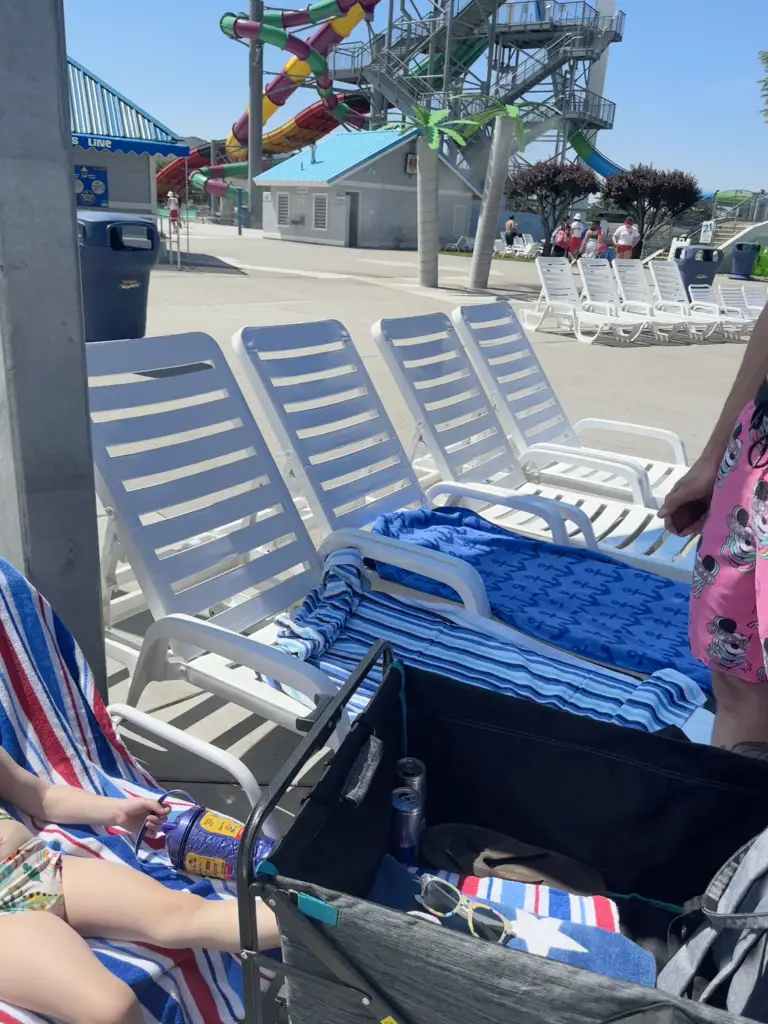 Top Tips for a Great Wild Island Waterpark Experience
The lines can be long, and it can be a little overwhelming for some. Sit back, relax, and enjoy the day. The sun is out, and you are with your family. Here are a few tips for making it a significantly better day, from what to pack, where to sit, and tips for food.
Food and Drink lines
Oh my goodness, the wait can be INSANE for food. Talk about slides having lines. If you do not plan accordingly, you could wait up to an hour to order food. DO not make this mistake.
We do one of two things. There are mobile order QR codes all around the park. It does not have the whole menu currently, but it does have the staples, and they are an easy order and grab-and-go.
While there are a few spots to order food, we suggest not waiting until lunchtime to order food.
What to pack for Wild Island Waterpark
There is a lot to think about when it comes to heading to the waterpark for the day, but our biggest tip is to keep your waterpark bag packed and ready for a quick grab-and-go any day.
Here is a guide for what to bring to wild island waterpark on your next visit.
Swimsuit, Rash Guard
Don't forget your swimsuit, I know, silly, but it can happen. Workout clothing is allowed, but no denim. Rash guards are great for the slides or to keep out of the sun. But also don't forget a change of clothes or a towel for the car.
Water shoes or sandals
The ground can get very hot during the day. Instead of jumping from water puddles to shade to where you need to go, we suggest water shoes or sandals.
I love the Vans water shoes for adults, but our daughter's shoes rub the back of her foot. We've solved the blister issue with two bandages, but we suggest finding comfortable kid's water shoes so they can have fun without the stress of shoes and bandaids. The set she grew out of was our favorite; we never had any issues.
Wagon or stroller
When we first started going, we used our daughter's stroller, and it worked fine, but after the waterpark one day, we had to do a Costco run and saw the wagon. We purchased it immediately and have not looked back since and used it for all of our waterpark and beach days.
The wagon holds a lot, and when our daughter gets tired or wants to relax by herself, we lay her down and cover the top so she can relax.
We wouldn't usually suggest a tablet at a waterpark, but if you have a child that can get overstimulated by people, covering them up and having them sit with their tablet or another toy is a huge life savor.
Reusable Water Bottle or Souvenir Cup
With the waterpark pass, you get a free souvenir cup. It is only $1 to refill but free to fill with water and ice at one of the stations. To stay hydrated while in the park, make sure to bring your own reusable water bottle that can be easily refilled at any water station.
Lots of towels
One towel per person is not enough. We would suggest running to Target or Walmart and picking up those cheap thin beach towels. We recommend at least two towels per person because you will most likely dry off once, hang out a little and head back out for another dip. But when you get back, you will find your towel is wet and cold, and you want nothing more than a dry, warm towel to end your day.
Sunscreen
We love Sun Bum… well, I love Sun Bum, but my husband's skin does not love it. We've had to try a few sunscreens and have settled on these for sensitive skin and ease of use.
Neutrogena, Alba, Banana Boat Sensitive Sunscreen
Powder Sunscreen Tube
I love the sunscreen stick from Hawaiian Tropic. I take it to the waterpark and amusement park and everywhere else because of its easy application and compactness.
It is a translucent sunscreen powder and is an SPF 30 UVA/UVB.
Face stick
Our daughter hated having sunscreen put on, and while we have used the brush/liquid application method, a stick on her face is significantly easier, and it leaves no white residue or need to wash a brush.
Lotion
Good old sunscreen lotion from a tube. It's the best way to apply sunscreen, and we find it provides the best protection.
Spray
Oh, good old spray, we have strayed a little from these because of the inconsistency of coverage and coldness of the aerosol, but I know many people still love them.
Waterproof Phone Case
These cases make it easy to throw them over your neck and go down the slides with ease, and if you want to film your ride this is the perfect way to keep it safe.
The life jacket must have the coast guard approval logo; they check them at the gate on your way in. If you are worried, there are life jackets available at the waterpark.
Personal Umbrella
These must attach safely to a chair or table, but this is the perfect way to provide shade for yourself at any time, no matter when you get to the park.
Hat
Sunglasses
Goggles
Hair Ties
Finding a good spot at Wild Island
You are guaranteed a great spot if you have a water park pass and are there early. You will likely have slim pickings but will still find places available if you enter the park through general admission at the park opening at 11:00. VIPs have early access, and the gates open at 10:45 to the park.
There are limited chairs and loungers around the park, but even more challenging to find is a good sun/shade spot. The tiny personal umbrellas provide the best of both worlds. So that you can sit where ever you want and pop up your shade whenever you need it.
We like a few spots and think they provide the best shade/sun exposure and location for the day.
There is a small shade spot by the little lagoon, a pavilion between the little lagoon and the wave pool, by the wave pool, and back by Hurricane Harbour.
We like these areas because they provide both sun and shade with the option for both loungers and short beach chairs. If you are looking for a table and chairs. Head directly for the Pavillion between little lagoon and the wave pool.
But I will say there have been times weve gone late in the afternoon and picked a spot on the grass in the open. That is when the picnic blanket and personal umbrella come in handy.
Whenever you decide to head to Wild Island Waterpark, we hope you have a great time and enjoy the fun in the sun.
Frequently Asked Questions About Wild Island Waterpark
Are outside food and drinks allowed in Wild Island Waterpark?
No outside food and drinks are allowed in the waterpark. Small amounts of baby food are permitted, and no glass is allowed.
Can I bring my water bottle to Wild Island?
Yes! Empty reusable water bottles are allowed, and there are free water and ice stations around the park to refill your souvenir cup or reusable water bottles.
Does Wild Island have life jackets available? Can I bring my own life jacket to Wild Island?
Yes and Yes. While Wild Island has life jackets in multiple size ranges around the park, you can bring your own life jacket.
But it must be Coast Guard Approved.
Can I bring my own umbrella?
Yes, this is one of our favorite things. You have to have an umbrella that attaches safely to a chair or table, which provides the most flexibility for sitting location.
Are there things to do that are not waterpark related?
YES! Wild Island family adventure park offers an indoor family entertainment center with indoor black light mini golf, go-kart racing, laser mazes, interactive play structures, and so much more.
Other Guides