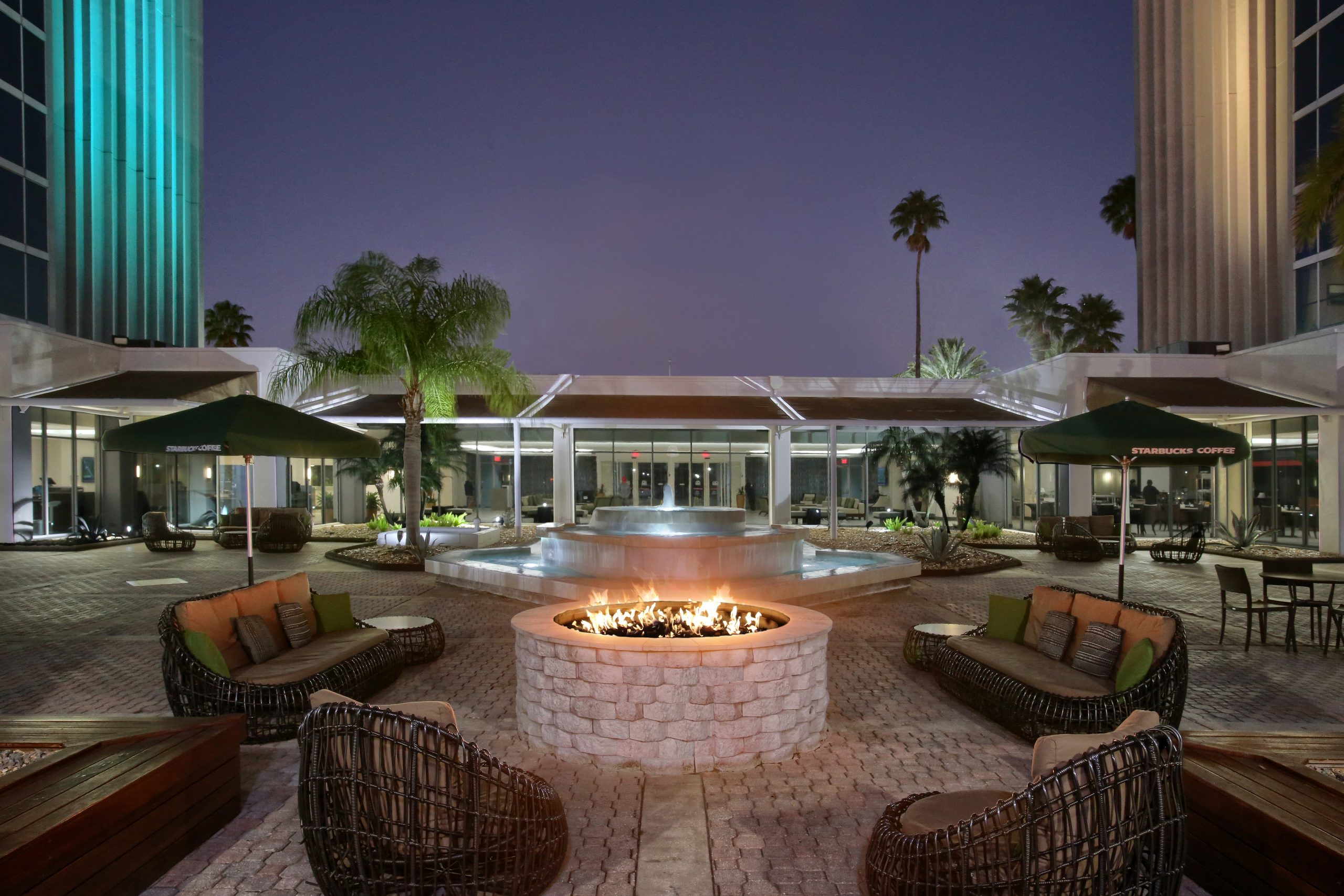 DoubleTree Universal Orlando
Heading to Universal Orlando like many others but looking for somewhere else to stay besides the Universal Orlando resorts? The Doubletree by Hilton at the Entrance to Universal Orlando was exactly what we were looking for on our most recent visit. On this particular visit, we were also attending a conference, so we needed a versatile hotel to accommodate fun and work while we were there.
DoubleTree is in the Hilton Hotel family, and this specific hotel is a universal partner hotel and has a universal partner hotel vacation planning center right in the lobby. DoubleTree is one of 18 Hilton brands and falls in the middle tier for affordability. There is also a Hilton Orlando just down the street, closer to SeaWorld and Icon Park. We opted for the DoubleTree because of its close access to the park and what we needed for this specific trip. Next time we are in Florida, we are definitely going to check out Hilton Orlando.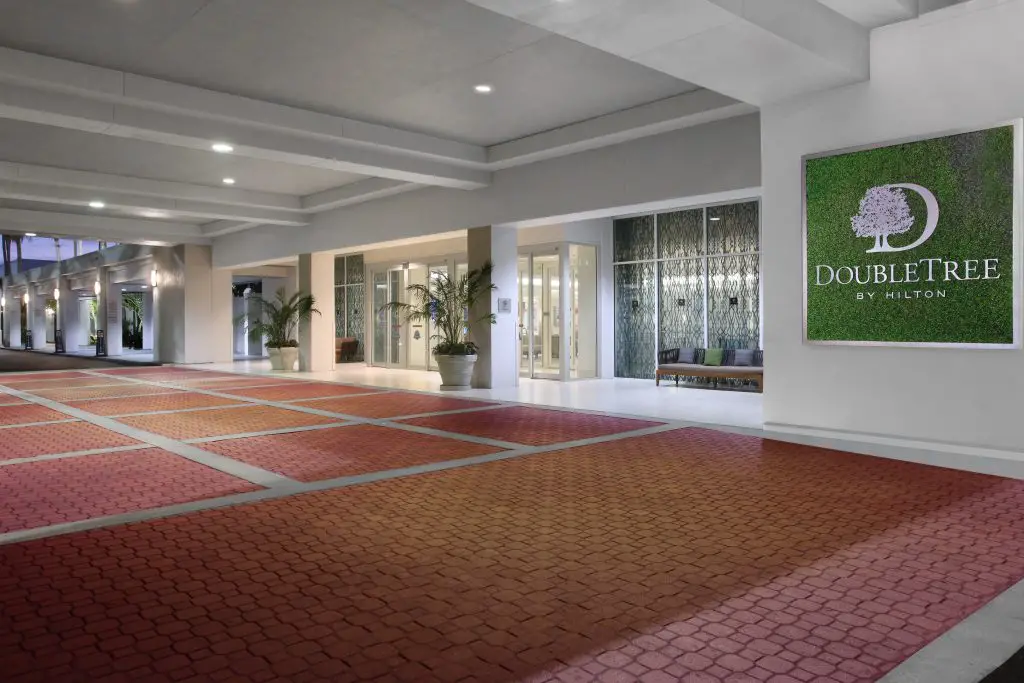 The on-property hotels for Universal Orlando range from $100 – 300 a night, depending on the hotel and room options. You can always bundle and save on a vacation package if you are looking just to enjoy Universal Orlando Resort. If you, like us, have other plans outside of Universal and want to experience more of the city, we found DoubleTree to be the best of both worlds. It might even save you some money compared to staying on property. 😉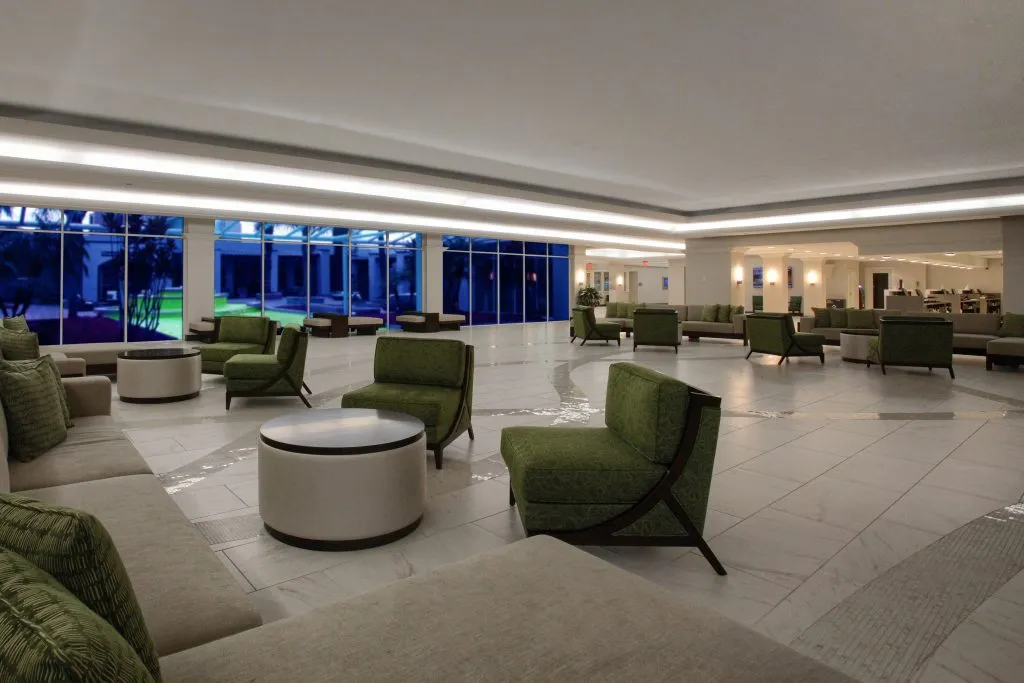 Our favorite part was that the Doubletree Universal Orlando is within walking distance of universal studios florida™, and many other attractions, and we will talk more about what is nearby towards the end.
Walking to the cross-over bridge entrance can be a little tricky the first time. We LOVE that you have access to the bridge over Kirkman Road. This road is 8 lanes wide and super busy. No, you cannot hear street traffic in the hotel, but if that bridge weren't there, it would be a mission to get across because this happens to be the entrance of Universal. They have a sign and everything. So naturally it is a busy intersection.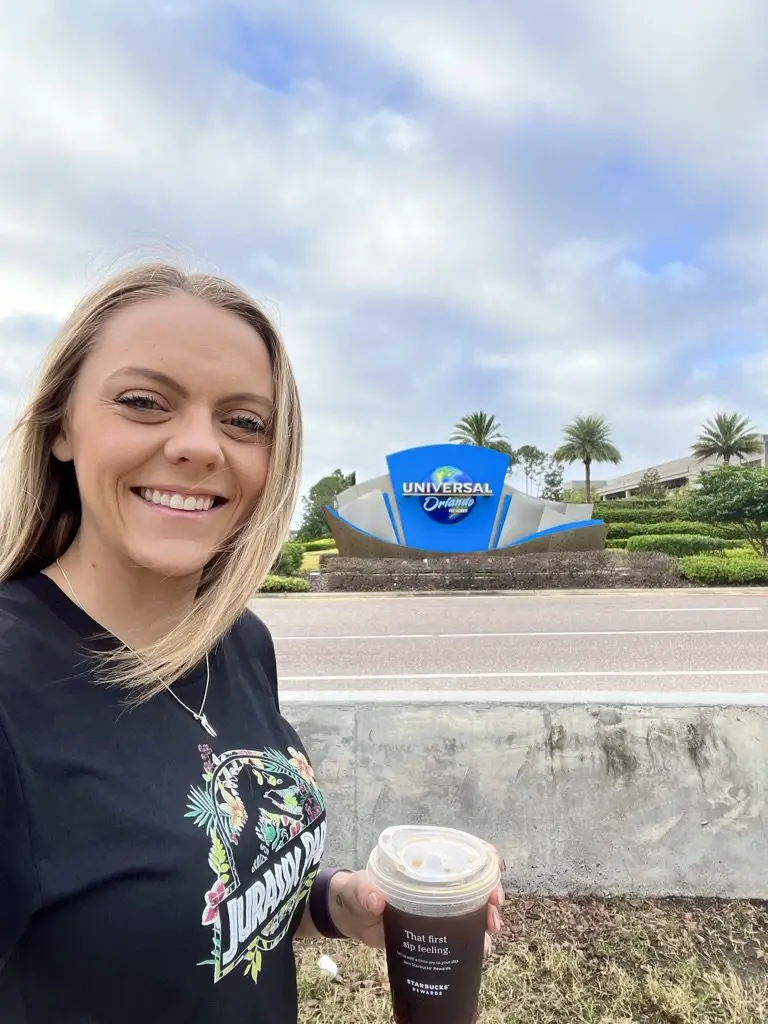 The DoubleTree Universal Orlando underwent a 25 million-dollar renovation a few years ago, and it shows! When you walk in, you are greeted with the Hilton hotel's amazing smell, warm hospitality, and the beautiful glass-enclosed hotel courtyard with a water feature, a fire pit, and lots of chairs to relax outside.
As always with DoubleTree, you will find their lobbies to be very accommodating, with comfortable chairs and sectionals and signature warm cookies that literally warm you from the inside out, thank you check-in desk.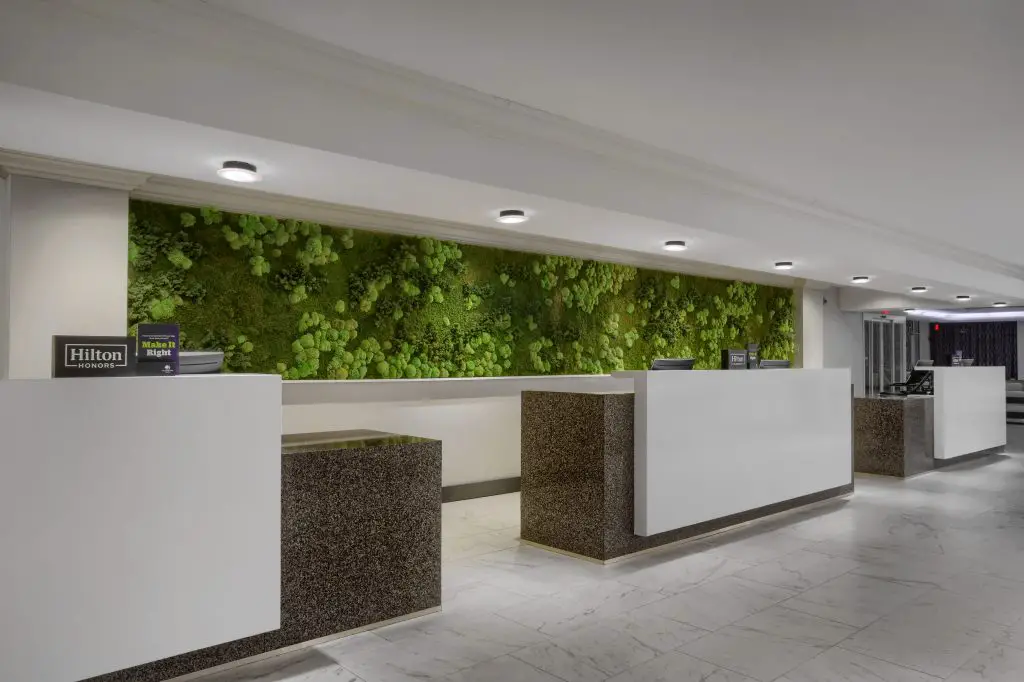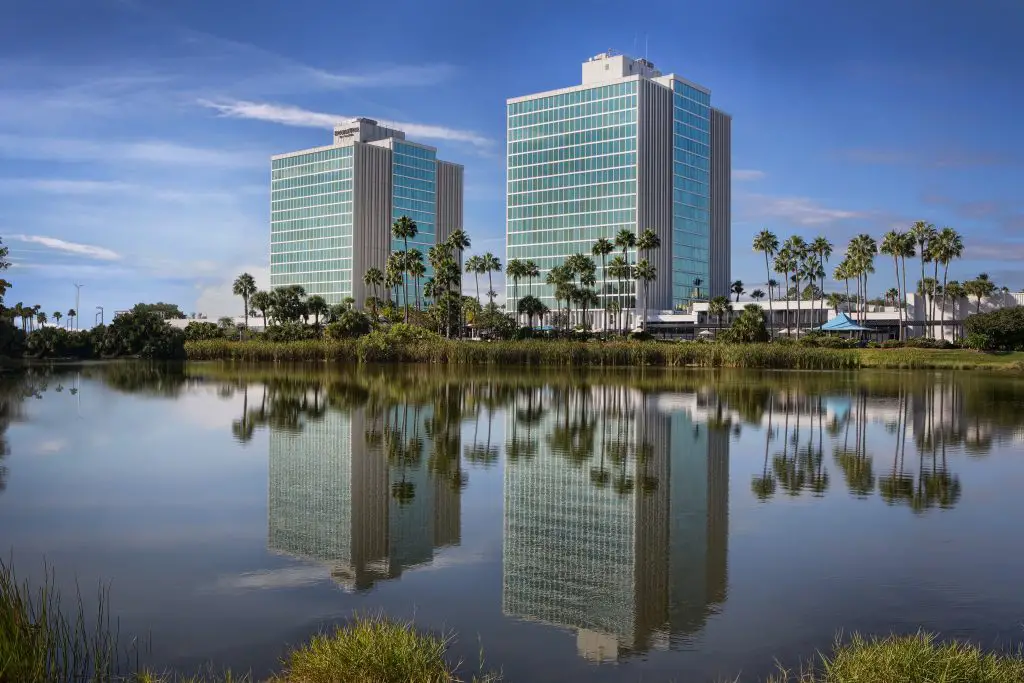 Doubletree Universal Orlando On-site Restaurants and Accommodations
In the main lobby, you will find American Grill, which features a wide variety of American cuisine and has a full bar. It is open from 4 – 11 pm, so just enough time to grab a snack after a long day at the park or wandering around Orlando.
We cannot contain our excitement for Starbucks, though. An actual Starbucks coffee shop on site to get your favorite beverages! Get your morning coffee and bagel to go as you walk over to City Walk and then your perspective park for the day, or run down in the morning and grab your coffee and sit in one of the many comfortable sectionals in the courtyard.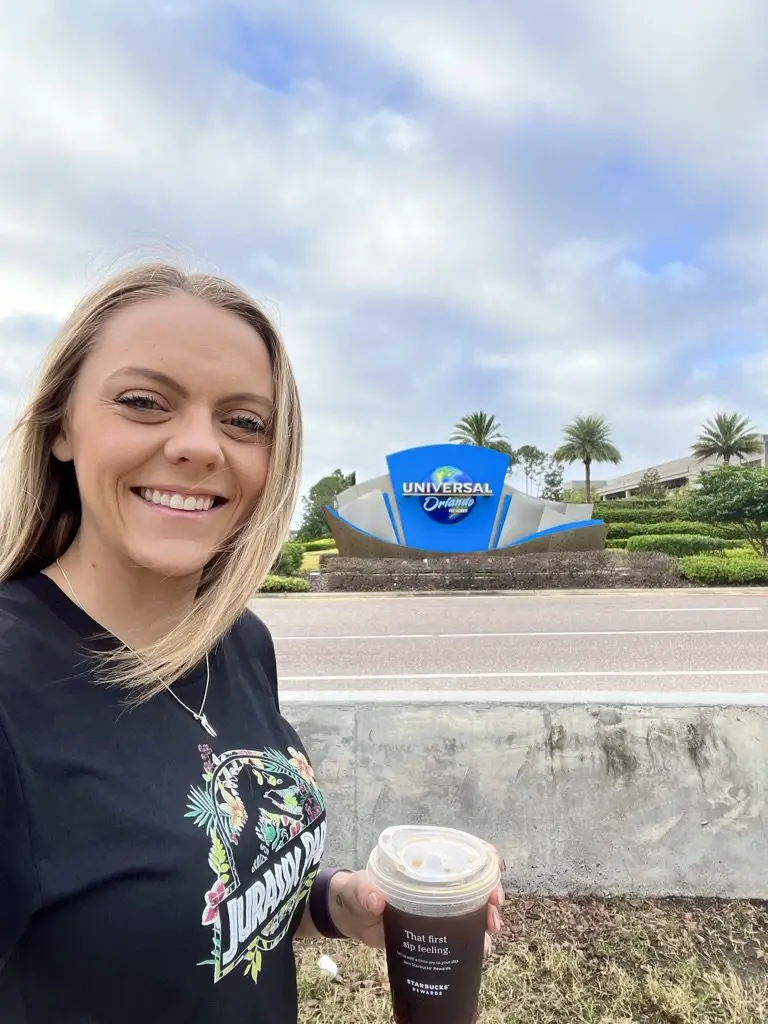 Sunshine café has a full breakfast buffet and all your favorite breakfast items.
Gelato Shop for everyone's late-night sweet tooth. Grab some gelato or candy from the shop and walk around the grounds after dinner. This cute gelato shop had over 12 different kinds to pick from and was a MASSIVE hit for our daughter.
Pizza, Burgers & more has just that, pizza, burgers, and more available during your pool day hangout, or grab it and have lunch or dinner in the courtyard.
The Gift Shop was like a game room with all the merchandise options they had. While they had your normal water, and aleve this shop was filled with anything you might need or want for your trip that you might have forgotten. No need to head over to CVS, although that is also very close by.
And our favorite is the Outdoor Pool. The Jr. Olympic heated pool is outdoor and lined with chairs and umbrellas, perfect for your day in the sun. The oversized hot tub is the perfect spot to relax with your family and reenergize those tired explorer legs.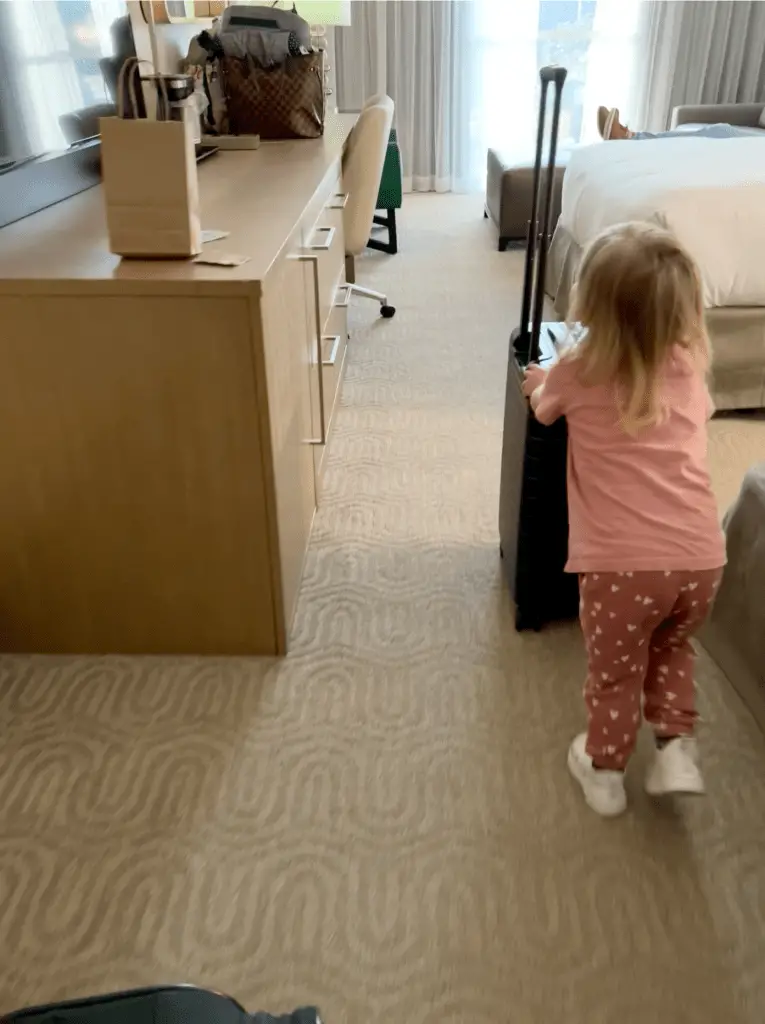 Doubletree Universal Orlando Rooms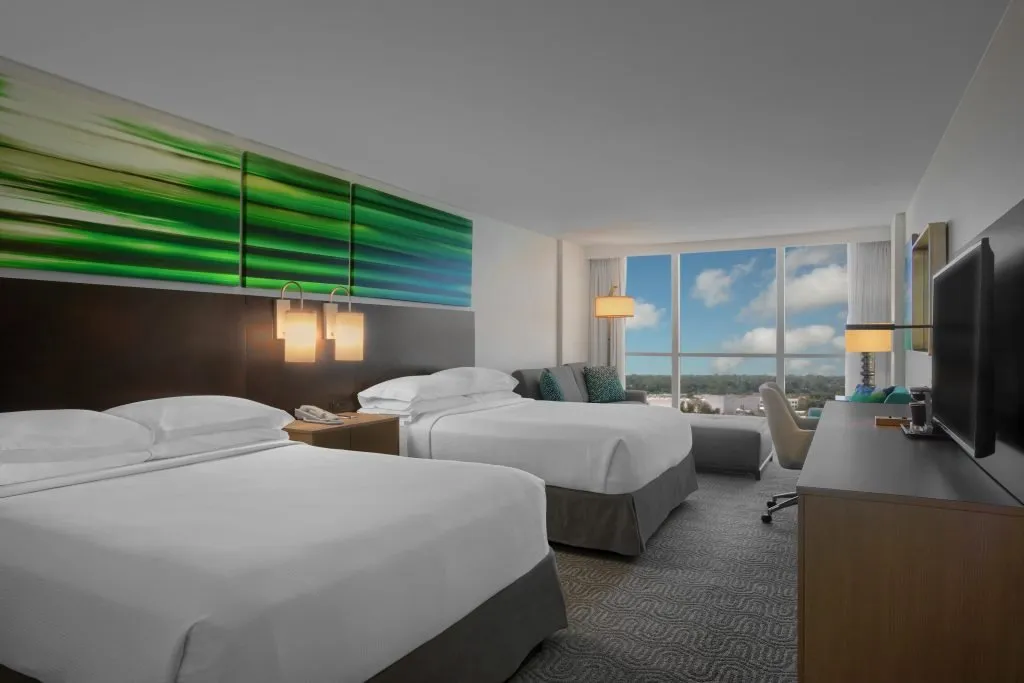 Doubletree Universal Orlando offers a very inviting guest room with the option of a universal view. The rooms were overall clean and well-maintained, thank goodness. Our biggest pet peeve is when hotels have poor sink drains or simple broken items throughout, and we often find that Hilton doesn't have these problems, and if they do, they send someone actually to fix them.
The beds were very comfy, and we were able to order a pack-n-play to use at the hotel.
They have two towers featuring guest rooms, suites, and accessible rooms available with and without views of the theme parks. You can also request a connecting room, and we did this during our last stay.
We brought along my Mother-in-law to join the amusement park fun, and at night it worked out perfectly to put our daughter down in our room and then hang out in the connecting room while she slept. 10/10 must do. We haven't made the jump to having rooms that are not connected yet.
Not all hotels offer connecting rooms, so finding a connecting room near Universal Orlando can be difficult. Doubletree has that, and they are confirmed. That is almost unheard of.
One of our biggest fears traveling with family is not having the connecting room confirmed, showing up just to be surprised when you get there, and finding out your second room is 3 floors away on the other side of the building or another tower for that matter.
This is always an easy fix with Hilton, especially as a Hilton honors member. They always go above and beyond to solve any hurdle you bring them.
The parking fee is $29/day, and they do have EV charging, although there were only a few chargers, and they cannot guarantee them during your stay. Since we are an EV family, it is something we are always aware of and account for if we are taking our electric vehicle. Since we flew across the country, this was not necessary on this trip.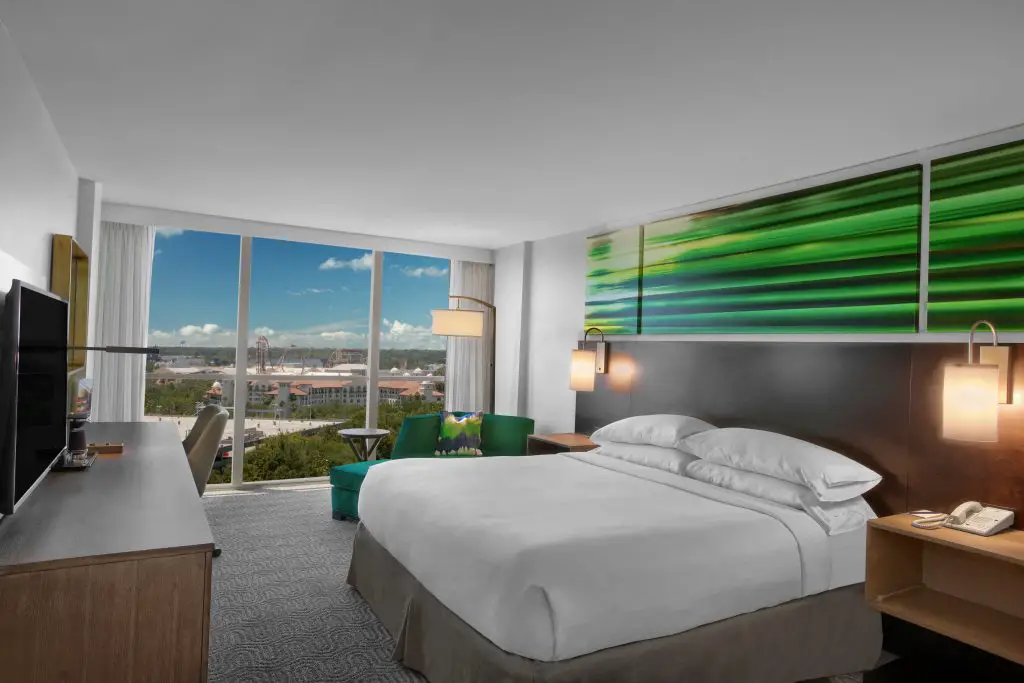 Universal Orlando Park
Doubletree Univeral Orlando offers free shuttle service to Universal Orlando City Walk. Check with the universal vacation planner after you get check-in for the schedule. We enjoyed the half-mile walk to City Walk on both of our days and did not utilize the shuttle service. We booked two regular park days and added park hoppers to our tickets. This is the only way to ride the Hogwarts train back and forth between the parks. If you do not have the park hopper pass, you can go to the train stations but cannot ride the train.
Two days was more than enough, but as a buffer, you can always tack on an additional day to wrap up any last rides you might have missed or, like me, RUN back to Hagrids Motorbikes because it is the best ride ever at Universal Orlando.
But I digress. The DoubleTree Universal Orlando was one of our best hotel stays, although it was a little bittersweet as we had to go to a work convention partway through our trip. The hotel was conveniently located to many nearby attractions and the orange county convention center where we had to go.
Popular Attractions Nearby Universal Orlando DoubleTree
SeaWorld Orlando®
Universal Orlando™ Resort
Universal Citywalk™
Universal's Islands of Adventure
Premium Outlets Orlando
Orange County Convention Center
Walt Disney® World Resorts
Aquatica by Sea World Water Park
Doubletree Universal Orlando Amenities
Wireless internet access
Meeting rooms
Travel services
Fitness center
Business center
On-demand movies
Pet-friendly rooms
Free Shuttle Service
Flexible Meeting Space
Early Check-in
Late Check-out
Baggage Hold
Valet Service
Contact Information
Even if you are not taking part in a park day at Universal Orlando, the DoubleTree Universal Orlando was by far one of the top hotels we have stayed at. What are you waiting for? Book your stay today.
DoubleTree by Hilton Hotel at the Entrance to Universal Orlando 5780 Major Blvd., Orlando, Florida, 32819, USA
DoubleTree by Hilton Hotel at the Entrance to Univeral Orlando
Related Content You Might Like
Universal Orlando Rides for Toddlers
Hilton Waikoloa Village Resort Hawaii