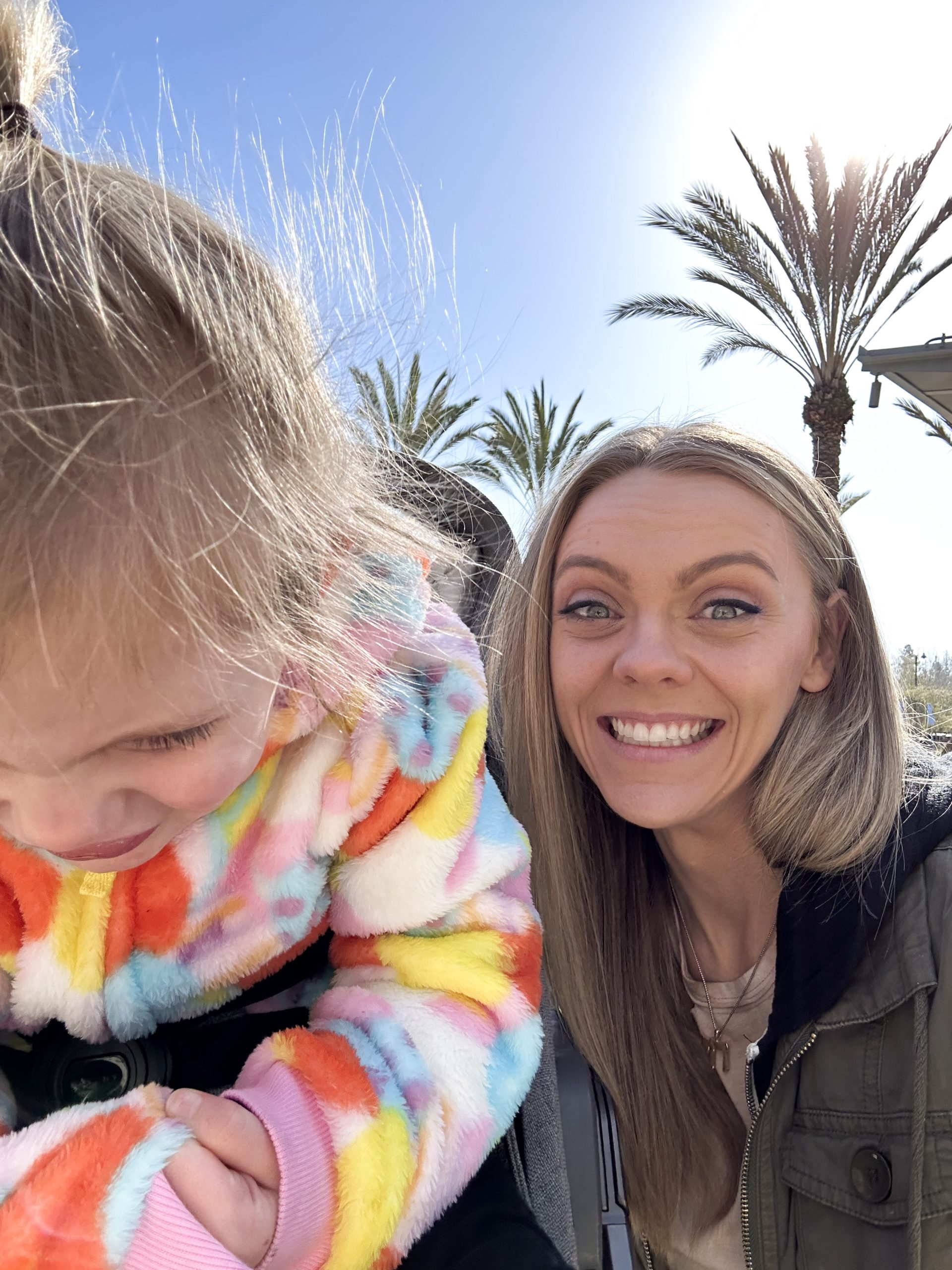 The Los Angeles Zoo is the perfect place for families to spend a little time together outside. Children, schools of college kids, families, and people on motorcycles.
The zoo is literally the place that makes everyone happy.
One girl next to me called her mom, almost in tears, and said he took me to the zoo mom, he took me to the zoo. But now that I'm writing it out, it sounds like she was sad.
She was very happy. Tears of joy, happy.
While you can hear your occasional meltdown, ours included. The zoo isn't somewhere where you should feel pressure to have the best-behaved child. Well, I guess I should say in a respectful and behaved way, yes, they should be, but the meltdown over dip n dots, or the popcorn bucket is completely normal.
Just remember your littles might need a nap or a little food.
Ours was tired-based.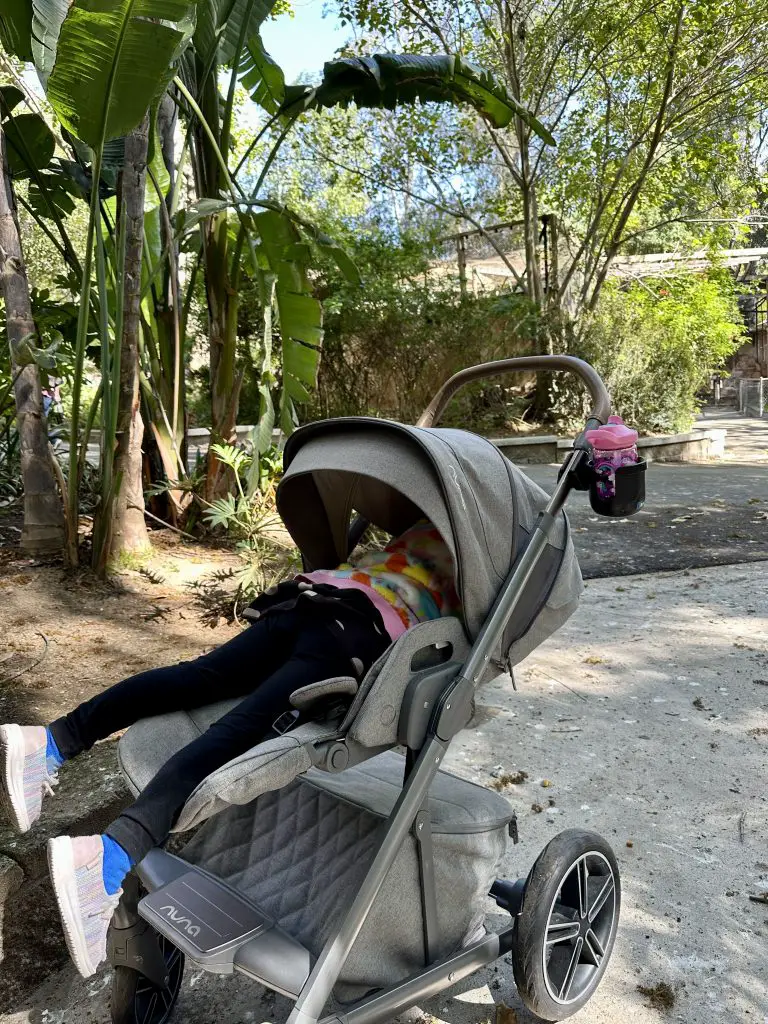 Tickets and Arriving at the Zoo
On the morning of the zoo, we arrived very early since we had a change of plans and didn't get to go to the aquarium as we had planned, so we headed off really early for the 10 am open. It is busy at 10 am at the zoo! OK, there was a line to rope drop, technically gate drop, to get in a place that opens at 10 o'clock. I thought they only did that at Disneyland.
But if you purchase your ticket online prior to going, you can just go stand in the gate drop line when the gates open. If you don't buy a ticket. You have to wait in the ticket line of either the membership line or the regular ticket window line and wait for the Zoo to open in order to purchase tickets. I highly suggest that you buy the aquarium and zoo combo ticket on the aquarium's website for $88. It gets you a parent and a child admission ticket. Much better deal than going to the aquarium for $66 on its own, and then purchasing Zoo tickets for another $39. You spend a little bit more and get pretty much one free admission to the zoo. Since we were doing both activities, this seemed to give us the best deal.
There are sites like CityPASS that give you discounted tickets Discount SoCal Tickets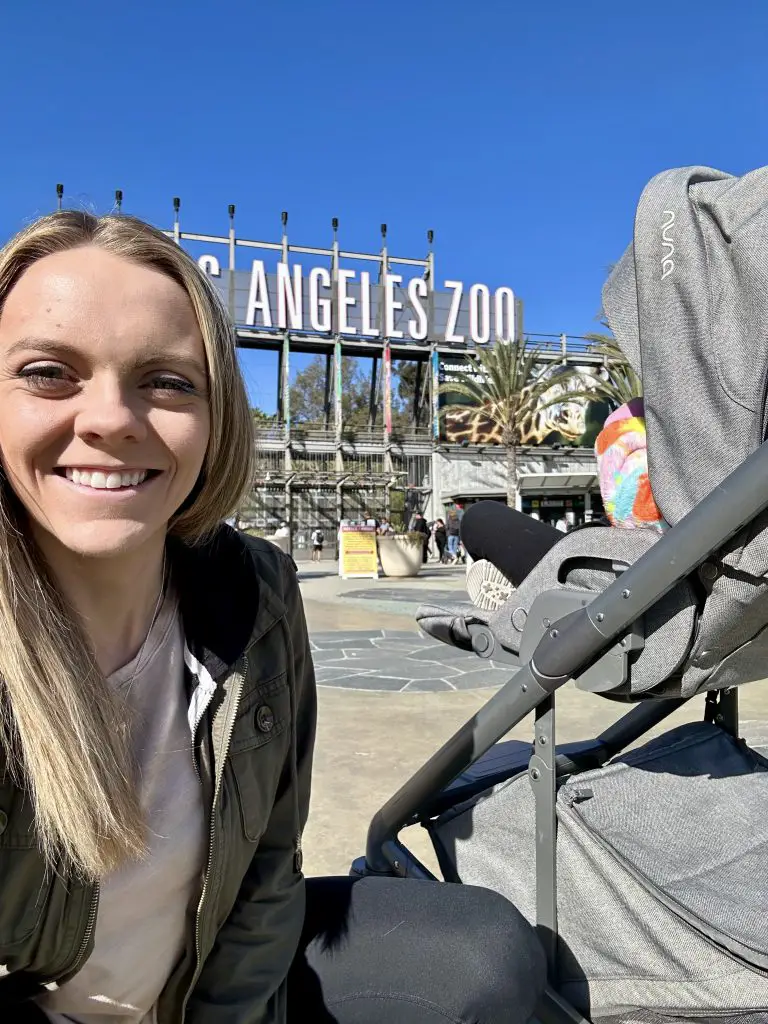 Getting the Perfect Picture of the Los Angeles Zoo Sign
In steel, right across the top of these massive iron gates is the sign for the Los Angeles Zoo.
Perfect photo opportunity right up front. Just remember there are a ton of people there, so stop early if you want a photo, I would say by 9 o'clock if you want no people in your picture. By almost 945 there are already lines at the front gate and the ticket counter.
But you make your way through these massive iron gates into the zoo, and it feels like you are walking in on opening day. The zoo is clean and full of life. It's a bit of a walk through the zoo and is built into the hillside of Griffith Park. There are lots of hills to push your stroller up, but there are just as many downhills and flat sections to keep you balanced. So prepare for a small workout if you have children and especially a stroller.
Best Time to go to the Los Angeles Zoo
The zoo opens at 10, and while I can now check rope dropping a zoo off my bucket list, the morning, for multiple reasons, is better than the afternoon. By 1 o'clock. The zoo is busy and full of people.
There are tons of trees that line the pathways in the walkways. It is almost always shady, and there are seats or spots to make seats all over the zoo. Pull over to take a quick break, sit in the shade or let your toddler rest like I did. Then head back out as it was very walkable and easy to get around. The pathways are very large. There are lots of strollers and people, but if you just take a few moments and wait, the big crowds will pass, and then you can be by yourself without a bunch of other people around you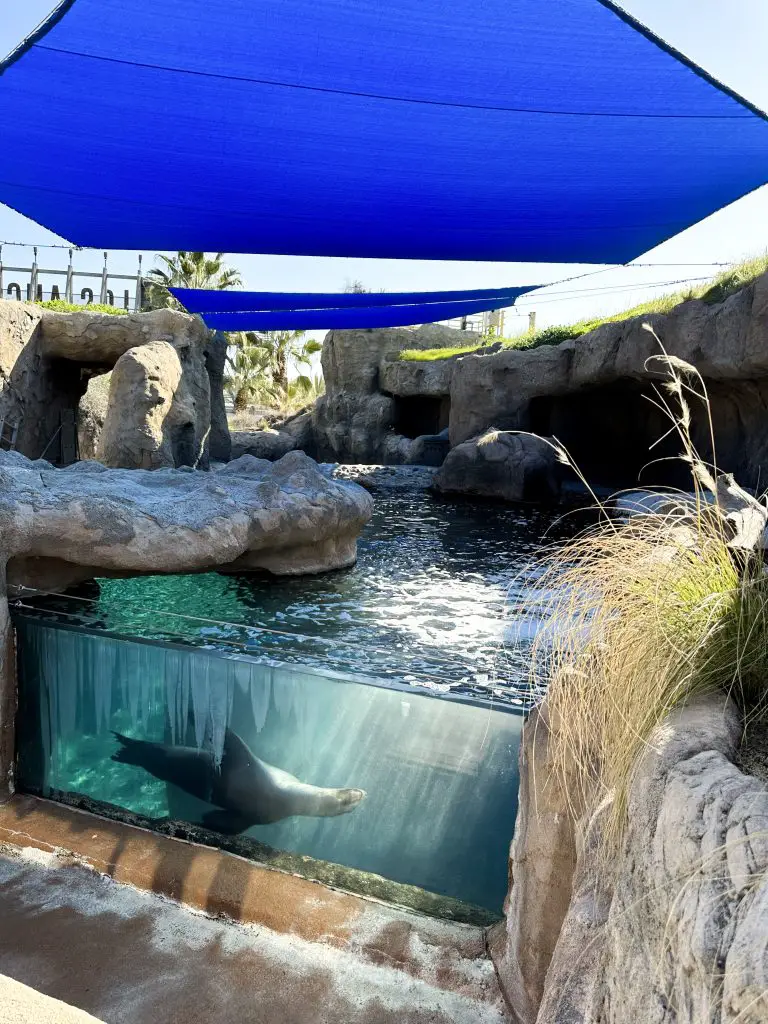 Getting Around the Los Angeles Zoo
There seemed to be kind of a flow, and when you first walk in, you'll be greeted with the sea otters, seals, and flamingos, I say bypass them immediately and go up to the other exhibit where they're already starting to feed the animals and come back to the flamingos at the end because if you stop and wait there, a lot of other people will also stop and wait there to look at the first animal in the zoo. While tempting, you get to see a lot more action up the hill and come back to them later in the day when the morning rush is over.
For what pathways and areas were open when we went. And this was early 2023 when California was receiving the water they've been begging for for years. And stuff at the zoo needed a little tending and care. It was roughly a 2-mile walk all the way around. One of the bridges was closed, and I had to detour and take what looked to be a longer pathway. But we got to see every single animal during our visit. Sometimes things happen, and not every animal is at the zoo. On this same trip, we went to the Aquarium of the Pacific, and they had all of their birds (PENGUINS) locked up because of bird flu. Sad day but we will be back again to see them.
The zoo keepers and staff members are wonderful, and we are so thankful for their hard work feeding, maintaining, and keeping the animals safe.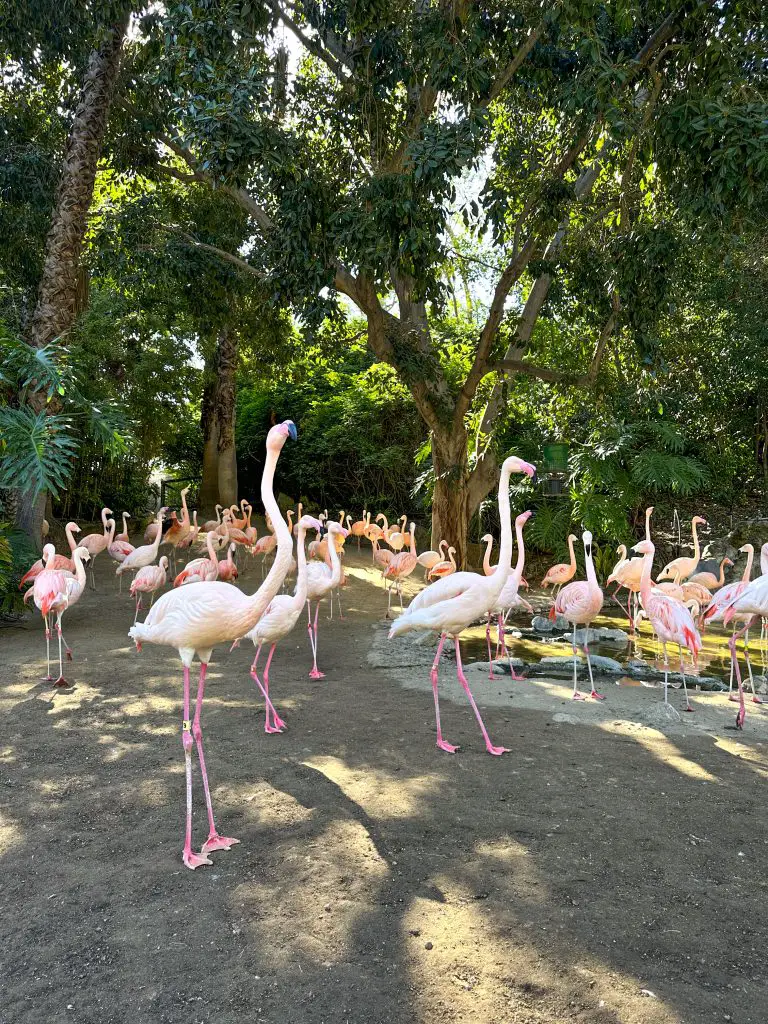 A Quick Lunch Break
We had lunch in the park, you are able to bring snacks and water into the zoo, but there are 6 restaurants and a snack bar you can get food at. We had the grab-and-go from Zoo Grill. Chicken stripes and fries
Peanut butter and jelly sandwich, with an apple, juice, and animal crackers. Cute touch for a zoo. 😉
The other restaurants looked absolutely fabulous and had much larger menus than the Zoo Grill. I would suggest if you are looking for a quick stop to grab something at Zoo Grill, but if you want something a little more than that, you will have to make your way to the other side of the zoo by the giraffes to have lunch at Mahale Cafe.
Snacks and More
The Churro Factory is a great stop for not only churros but popcorn and other carnival-style snacks while you make your way through the zoo. It's right by the koalas, and if you make a left at the fork in the road, you won't miss it. Or your child won't miss it because I quite possibly would have walked right past it because I wasn't thinking about food.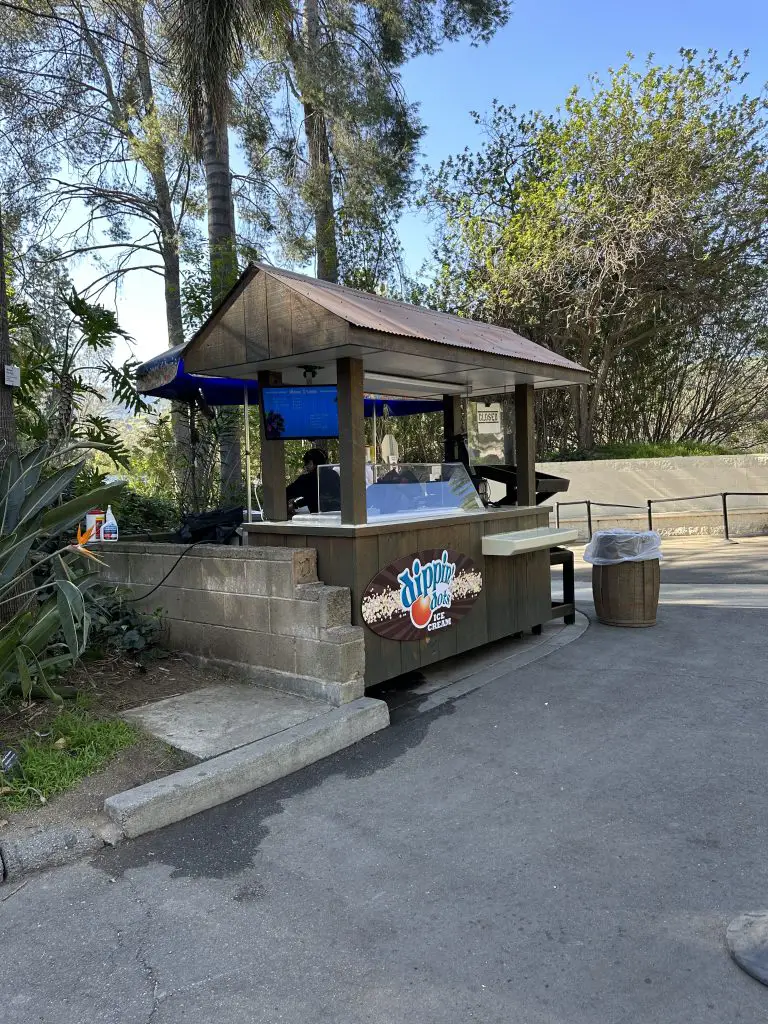 Animals at the Los Angeles Zoo
The animals are evenly spread out across the land, and we only ran into two animals that were hard to see, the darn koala, as always, and, surprisingly, the gorillas. They had just been let out and were slowly making their way down the hill where everyone could see them.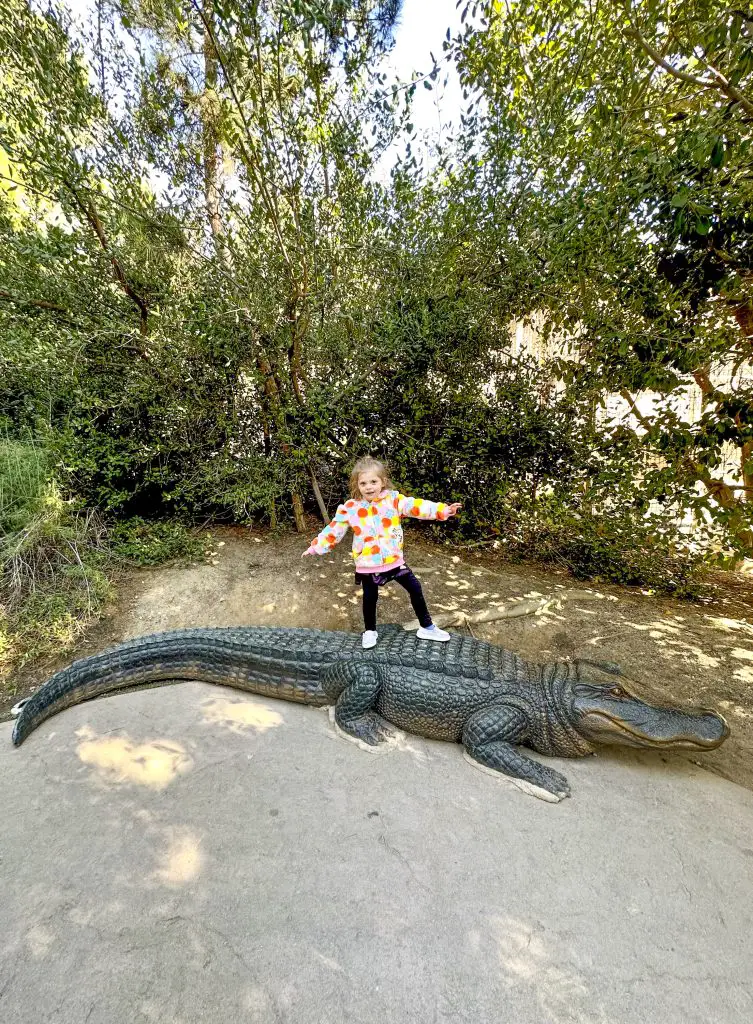 There is a new exhibit under construction expected to open in early 2024 that will keep the Cape Vulture Habitat.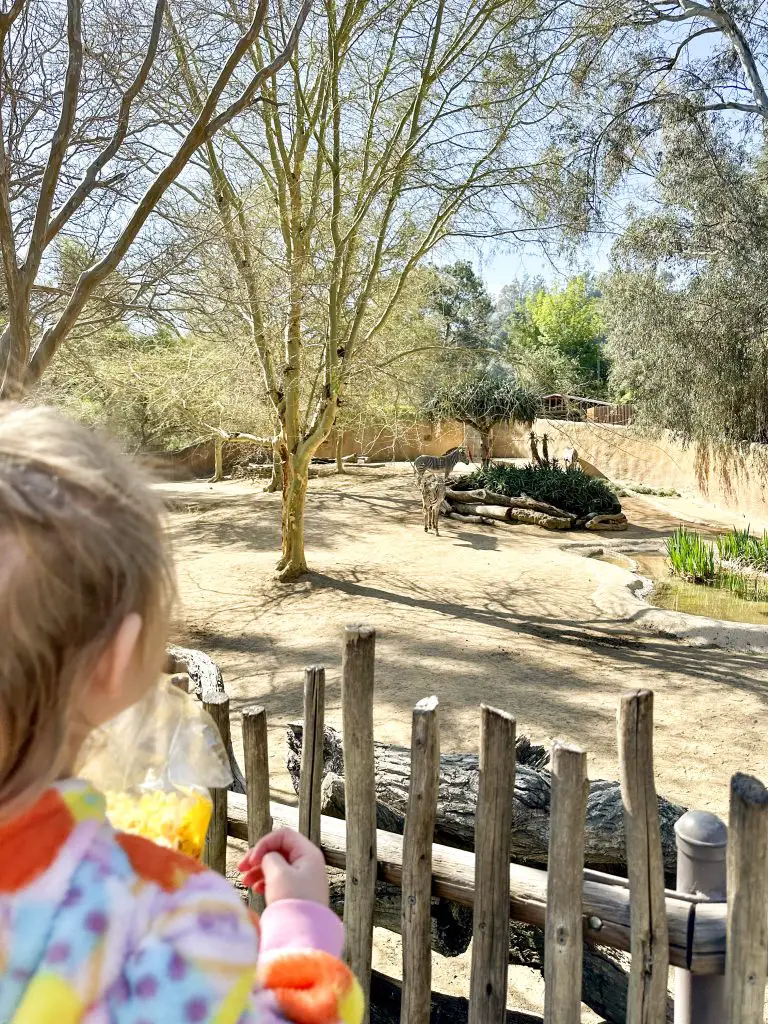 Los Angeles Zoo and Botanical Gardens Full Guide
We had such a great time at the LA Zoo and hope that you are able to experience it on your next trip to Los Angeles.
Los Angeles 4-Day Itinerary
Table of contents
Story
Parking information
Related: Best Museums and top things to Do in Los Angeles with Kids
LA Zoo Hours and Location
The Los Angels Zoo and Botanical Gardens opens at 10:00 am and closes at 5:00 pm. The zoo can be busy during the mid-afternoon, so get there early to beat the heat and crowds. The last entry into the zoo is at 3:45, and animals start making their way back inside for the night around 4:00. The zoo is only closed on Thanksgiving and Christmas Day.
5333 Zoo Drive, Los Angeles, CA 90027
Parking information
Parking is a breeze and super easy to navigate. The Los Angeles Zoo has free parking and is right off the freeway.
Los Angeles Zoo Tickets and Memberships
How much are Los Angeles Zoo tickets? Tickets depend on whether you are purchasing a ticket with a membership pass, CityPASS or general admission.
General Admission
Adults Ages 13-61 are $22
Seniors Ages 62+ are $19
Child Ages 2-12 are $17
Infant Ages 0-23 Months are Free
General Admission currently has you choose your day with time access open for the entire day. Please remember the animals start going in for the night at 4:00 pm. So don't wait too late to head to the zoo. The earlier, the better. Walk-up tickets day of are unpredictable, and unless you are going early to purchase a ticket, we highly suggest purchasing your pass through the zoo's website or combining multiple attractions with a go city pass.
If you are thinking about purchasing a zoo membership, there are loads of benefits and 4 different membership levels to pick from. The starting price of the membership is $60, and starting July 1, 2023, members will no longer need to make a reservation to go to the zoo for the day.
Deals and Discounts for the Los Angeles Zoo
There are no current deals for the Los Angeles Zoo, One way that you can combine your Los Angeles fun itinerary is to purchase a city pass or go city pass. These passes combine multiple attractions for one low price. There are some restrictions on how you use your pass, like making reservations ahead of time, but the money saved is totally worth it, especially as a larger family heading to some of these top attractions
Events, Activities, and Special Experiences at the Los Angeles Zoo
If you've been around for a while, you know there are lots of things to take advantage of at the zoo.
Join the zoo and LA Recreation & Parks for free on select Saturday mornings for semi-structured outdoor play as children and families explore nature with art, building, and imagination.
If you have a little zoo keeper on your hands, this is the perfect spot for kids to spend a portion of summer break doing something they love. For select summer weeks, kids from Pre K – 6th grade partake in age-appropriate classes. The camp starts at $400 a week, and members receive a 10% discount.
Summer camp registration opens in mid-March and fills up quickly!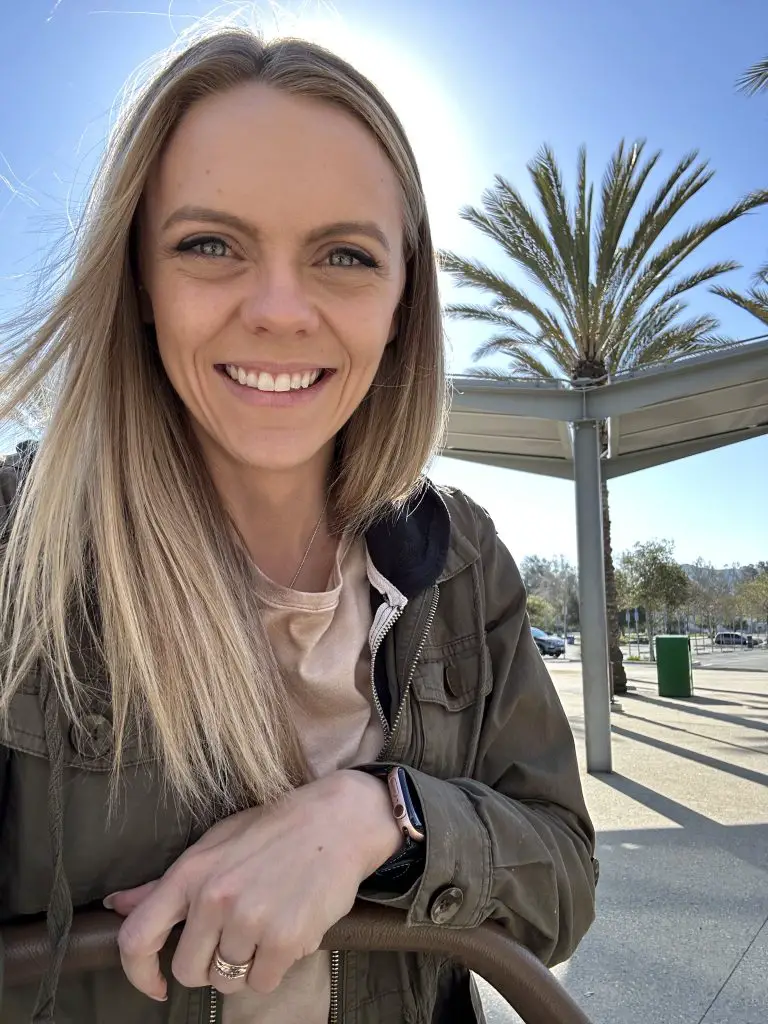 Shows & Activities
Currently, there are closures due to the safety and health of zoo-goers and animals.
Activities you can usually partake in are World of bird theater and Show, giraffe feeding, and contact yard at Muriel's Ranch.
The three activities that are still available are the safari shuttle, Neil Papiano Play Park, and Tom Mankiewicz Conservation Carousel at this time.
Safari Shuttle
The safari shuttle picks up zoogoers, circles the zoo, and returns them to the main flamingo exhibit by the front entrance.
Adults: $5
Children (2-12): $2.50
Seniors (60 and above): $2
Physically Disables: $2
Children under 2: Free
The shuttle is the perfect way to get around the zoo, they have 6 stops, and you are able to get on and off at any time. The last shuttle departs at 3:30 pm.
If you or someone in your party is concerned because of the amount of walking or the hills. Please use this amazing service it will make your time in the zoo significantly more enjoyable.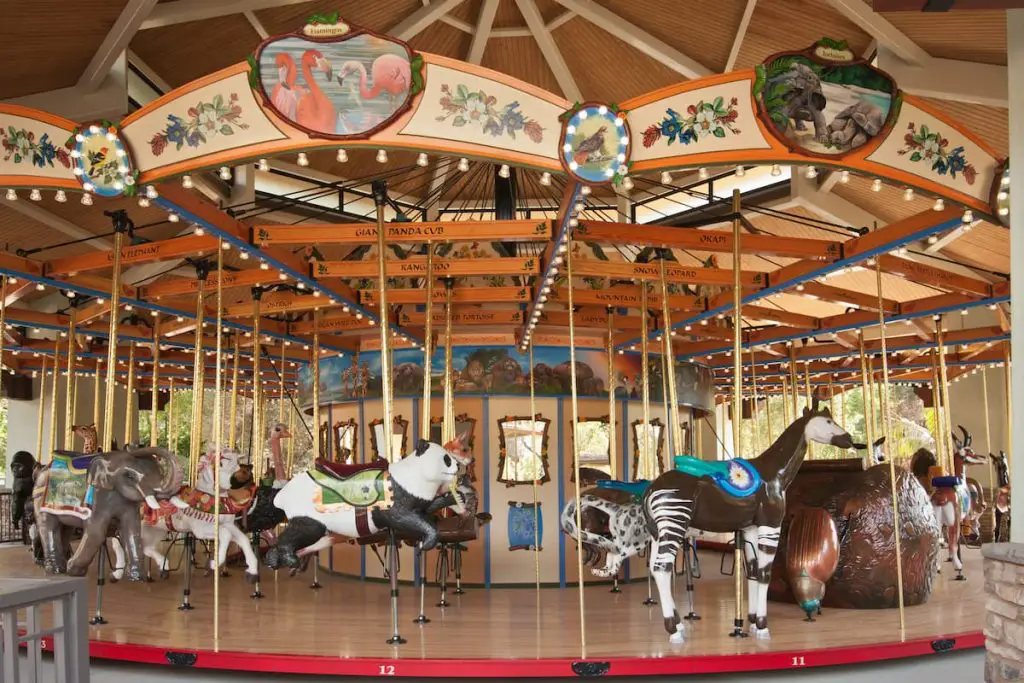 Tom Mankiewicz Conservation Carousel
One other amazing thing to take advantage of is the Carousel. The Tom Mankiewicz Conservation Carousel features 64 unique hand-carved wooden figures and sits on top of the hill by Treetops Terrace. This is a perfect stop for families to take a moment and get out of the sun and wind down with a perfect ride.
$3 per person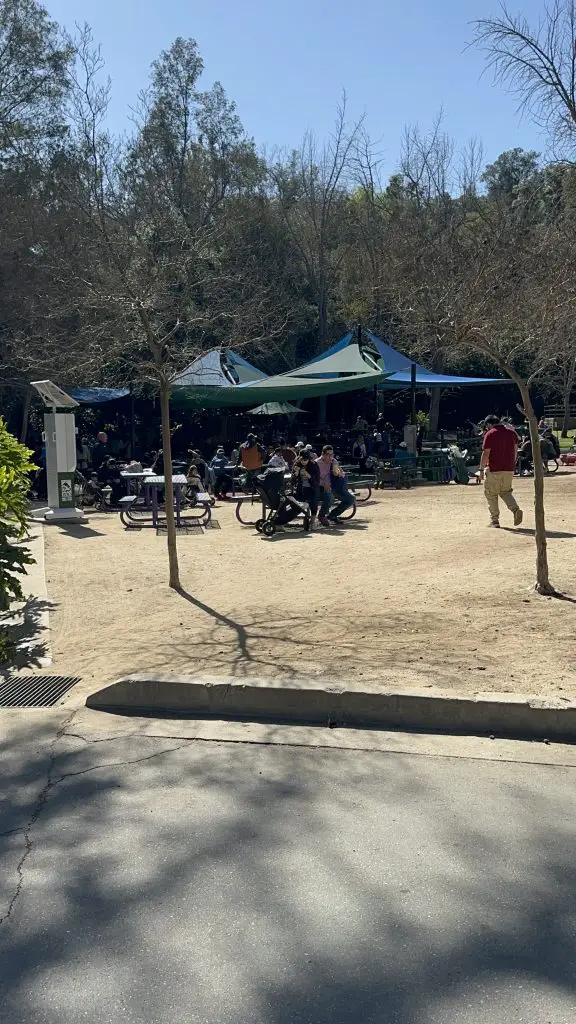 Neil Papiano Play Park
Neil Papiano Play Park is in the upper corner of the zoo and features a good size play structure for kids. The perfect spot for kids to run around on the open grass field and sit at one of the many open tables.
For Special Experiences, the zoo offers public and members-only events and experiences at the zoo.
Spring Event: Wild For the Plants
Sustainable Wine + Dinner Series
Animal Exhibits at the LA Zoo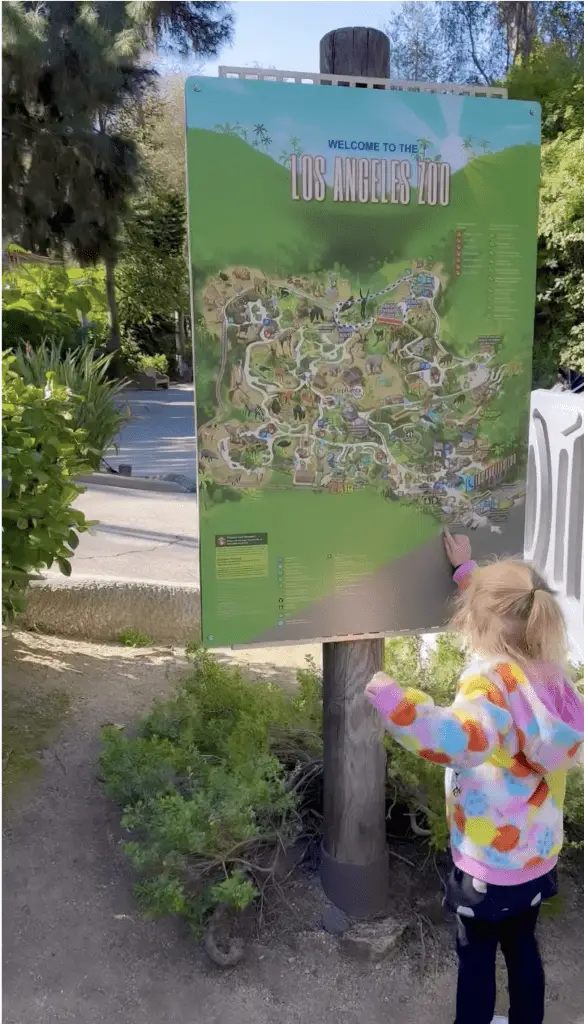 When you walk into the zoo, they have a board with a large QR code on it to get the most up-to-date map.
The zoo is home to more than 2,200 mammals, birds, reptiles, amphibians, and fish from 270 different species. There are plaques at each animal stop that share a little about the species and important facts like endangerment status and where they are from.
We loved the zebras the most and had a great time walking through the reptile exhibit.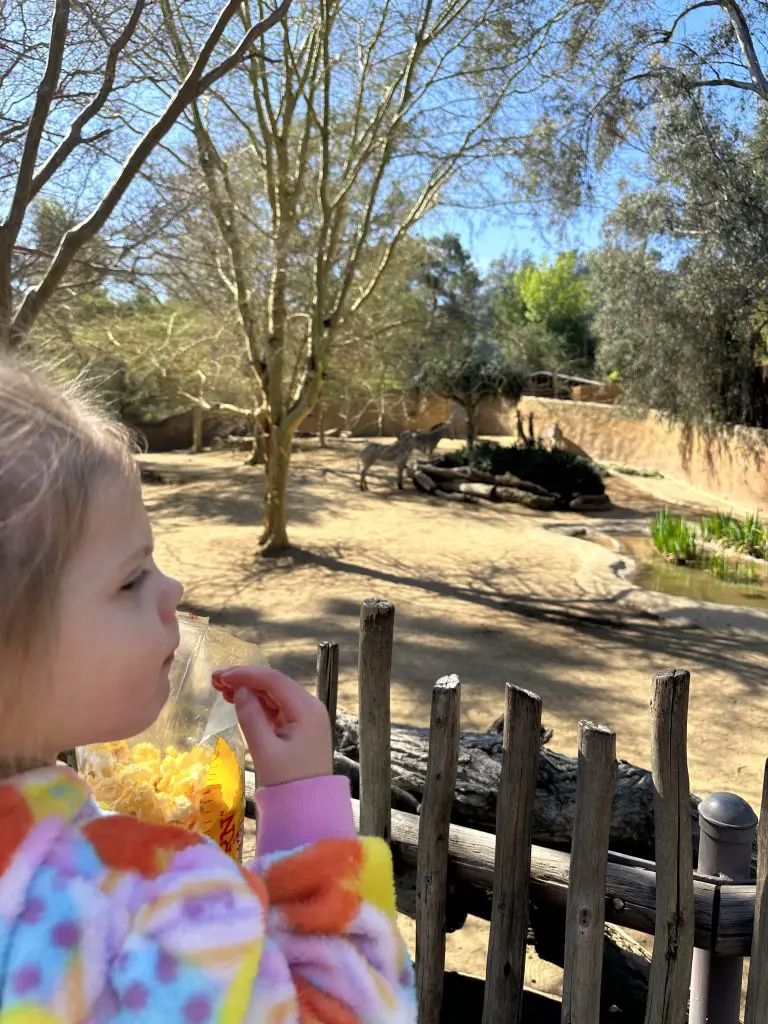 Food and Dining Options inside the LA Zoo
Reggie's Bistro
11:00 am – 3:00 pm daily
Fresh salads, wraps, burgers, sandwiches, and kids meals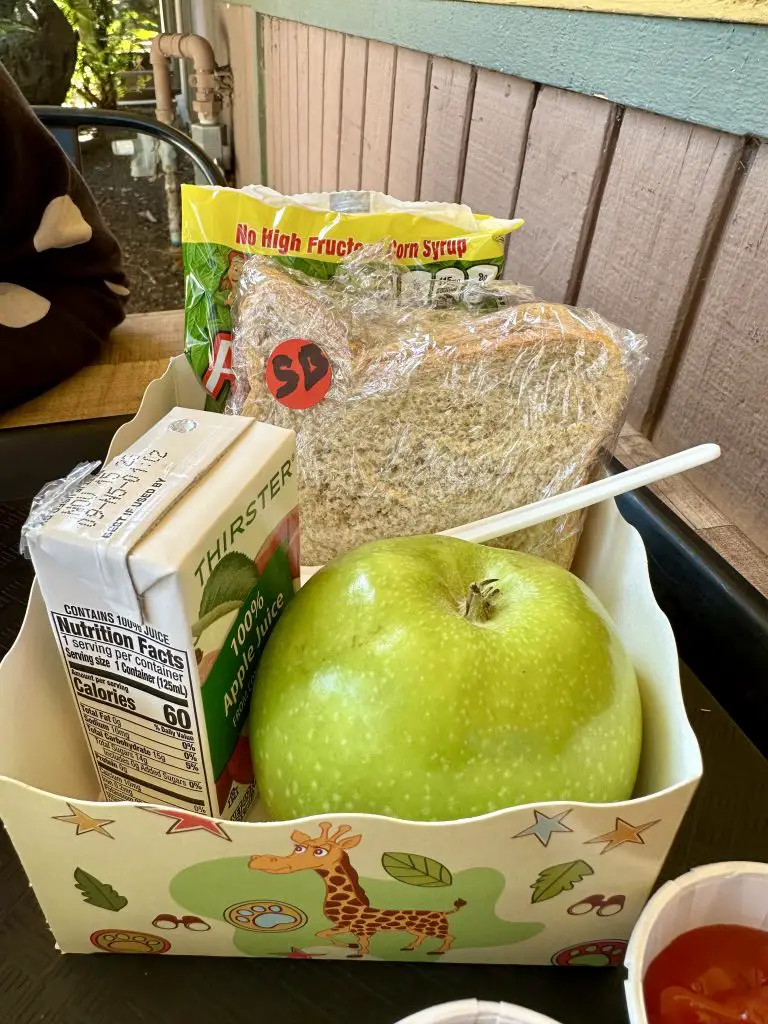 Zoo Grill
10:00 am – 4:00 pm (weekdays)
11:00 am – 4:45 pm (weekends/Holidays)
Where we grabbed food from. They have hot and cold sandwiches, specialty salads, chicken tenders, and healthy kids' meals.
One thing to note is that this is more of a walk-up-and-grab than a traditional restaurant.
Bean Sprouts Cafe
11:00 am – 3:30 pm. Weekends and Holidays only
Special healthy, allergy-friendly pizzas, smoothies, sandwiches, and hand-held food make eating healthy fun. They also have an award-winning kids' menu.
Fork in the Road
11:00 am – 4:00 pm Weekends and Holidays Only
Perfect spot for a pizza and a beer.
Gorilla Grill
11:00 am – 3:30 pm. Weekends and Holidays
Mahale Cafe
11:00 am – 3:30 pm (weekdays)
11:00 am – 4:00 pm (weekends)
All the normal quick service food. Pizza, grilled chicken and burger baskets, hot dogs, salads, deli sandwiches and Kids meals'. Also has canned and draft beer available, and is located in the most perfect viewing spot by the Giraffes.
Churro Factory
11:00 am – 4:00 pm (weekdays)
11:00 – 4:30 (weekends)
Churros, churro sundaes, pretzels, popcorn, and beverages. We stopped here for popcorn and a churro as we walked and watched the animals.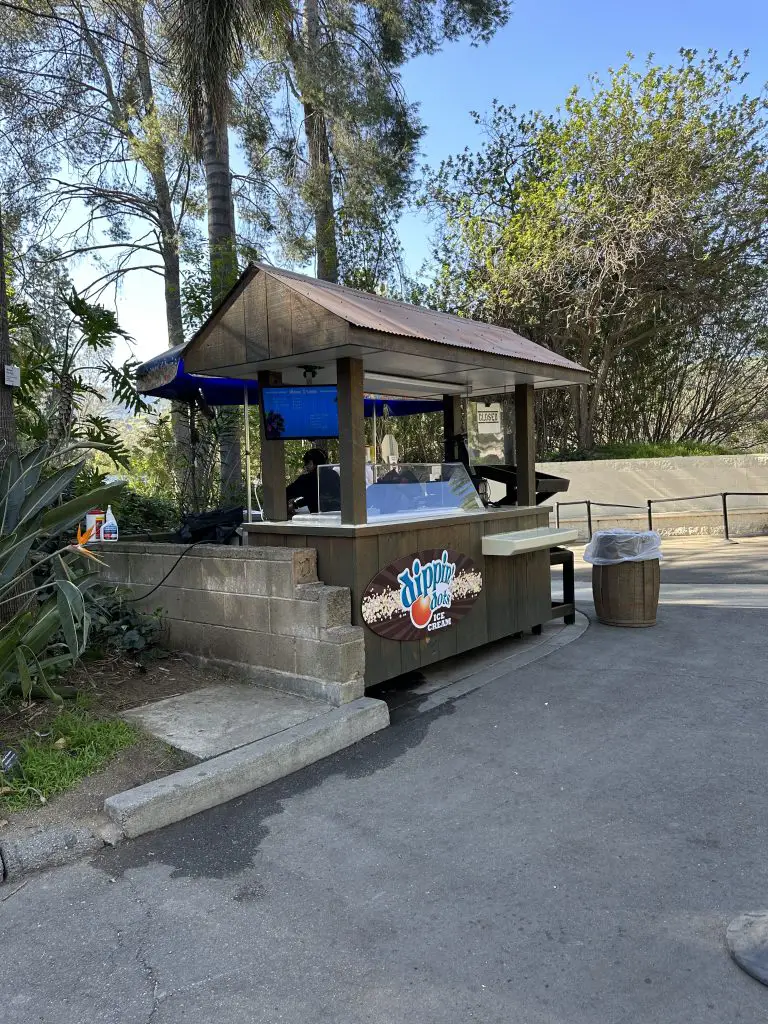 Sweet Treats
11:00 am – 5:00 pm daily
These pop-up shops are right next to Zoo Grill and Mahale Cafe (weekends only), and serve soft serve ice cream, icee's, cotton candy, popcorn, and sodas.
The zoo was such a great experience, if you are not quite over your adventurous day, explore more of Griffith Park and its many attractions, both indoor and outdoor.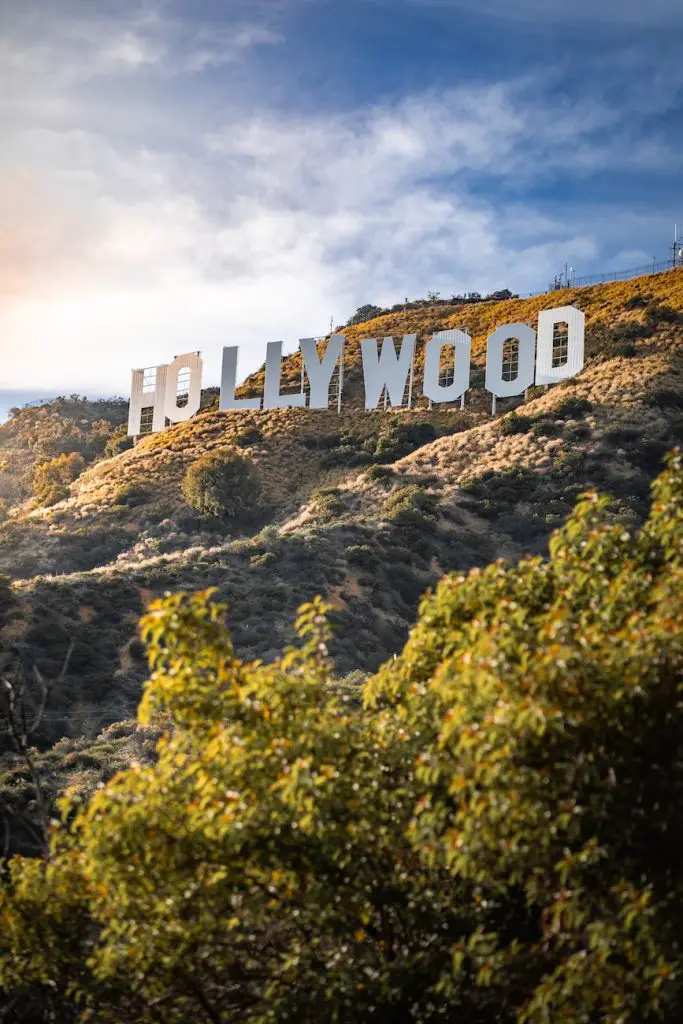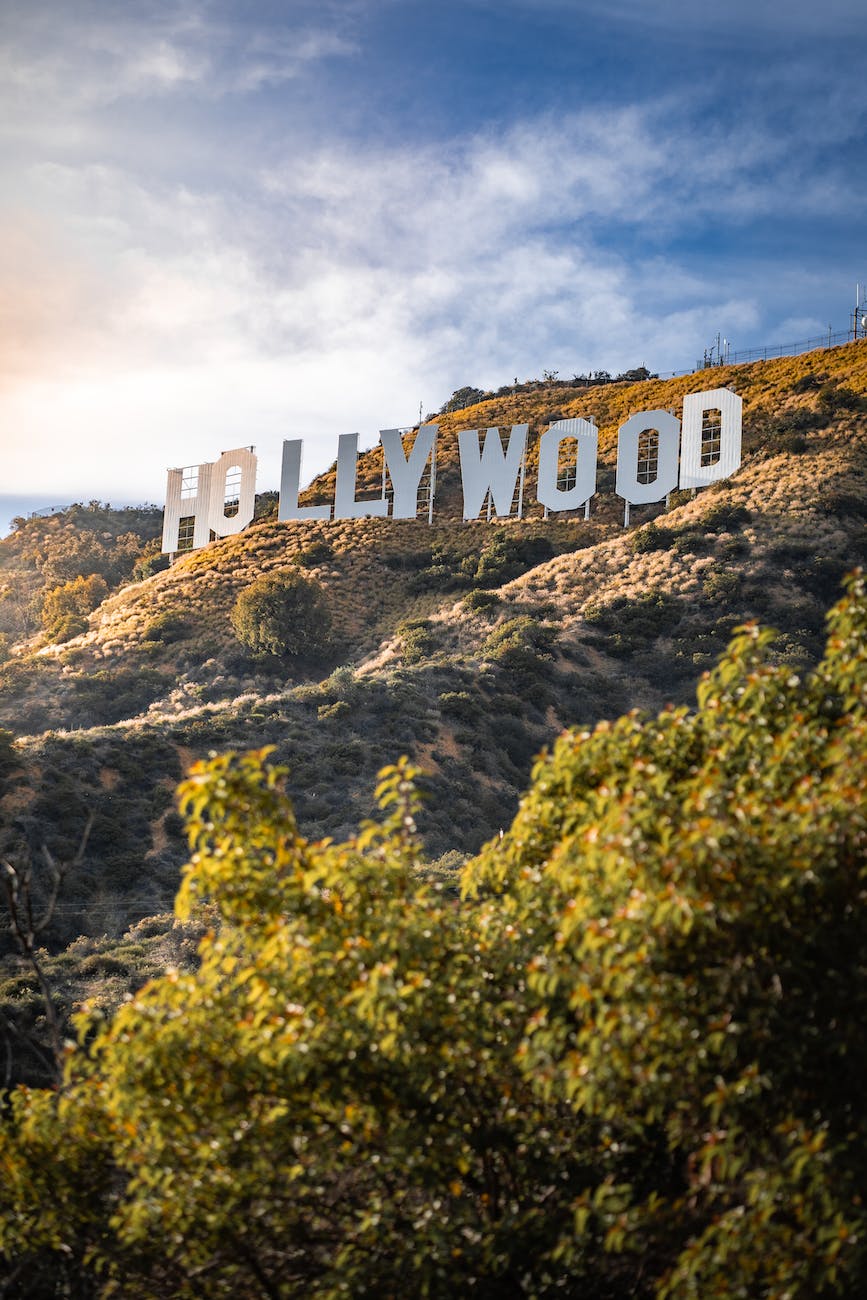 Download map: https://lazoo.org/plan-your-visit/zoo-map/
Frequently Asked Questions about the Los Angeles Zoo
Is Los Angeles Zoo Free?
No
Is Los Angeles Zoo Good?
Yes
Is the Los Angeles Zoo worth it?
Yes, we think if you are looking for a zoo to go to in Los Angeles, we highly suggest this zoo.
Where is the Los Angels Zoo?
Right in Griffith Park
How many zoos are in Los Angeles?
There are 11ish zoos in Southern California
What time does the Los Angel zoo open?
Hours: 10 am – 5 pm.
The zoo is open most days. Check for Holidays; they are closed on Thanksgiving Day and Christmas Day.
How much are Los Angels Zoo tickets?
Children's tickets are $17, and Adult tickets are $22
How big is Los Angels Zoo?
The Los Angeles Zoo is 133 acres
How far is Los Angeles Zoo from Disneyland?
The Los Angeles Zoo is 33 miles away from Disneyland. Roughly 45 min on a good California traffic day
How far is Los Angeles Zoo from Griffith Park?
The Los Angeles Zoo is located right on the edge of Griffith Park, but the map marker is roughly 5 min from the Los Angeles Zoo