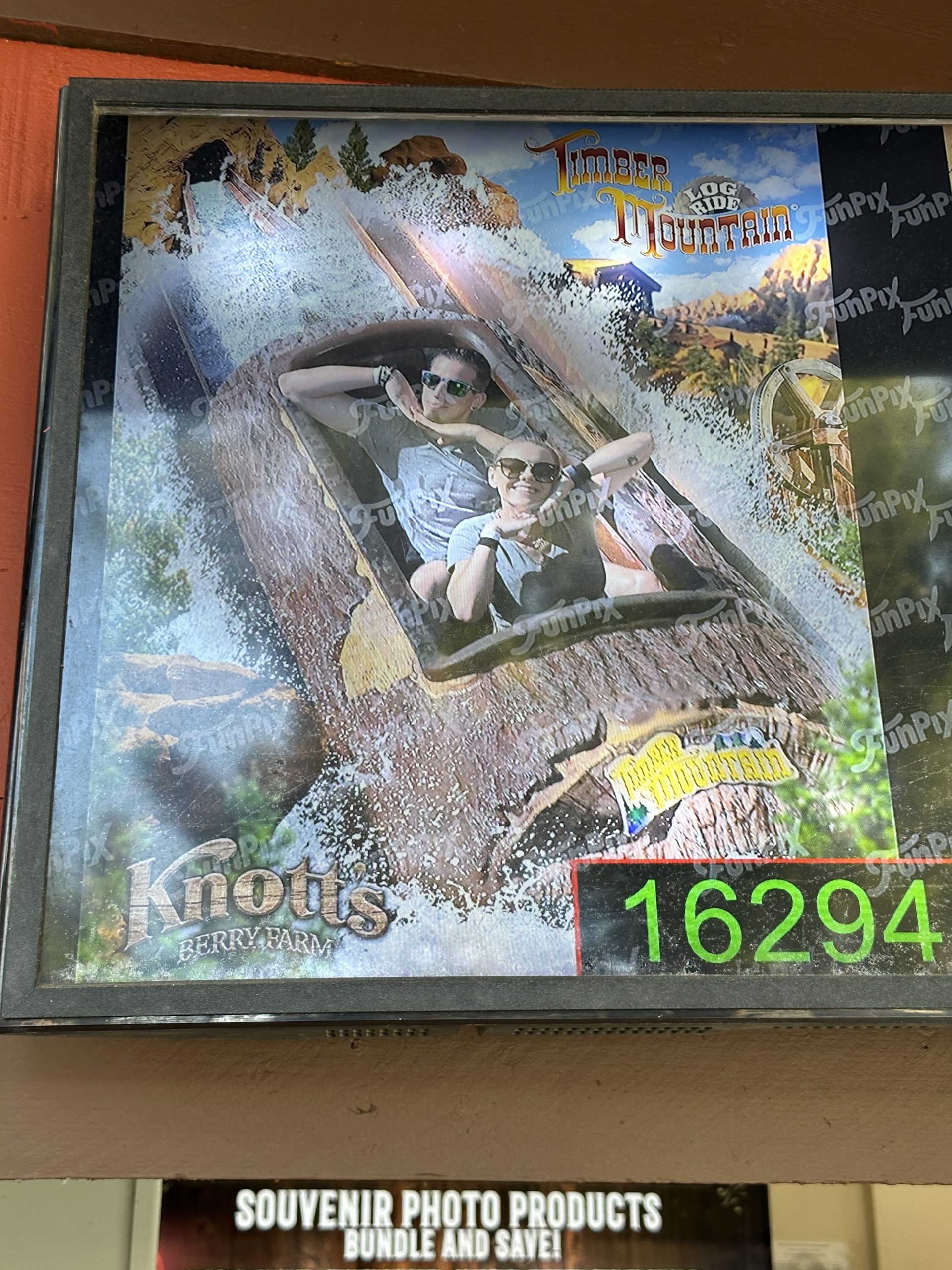 Knott's Berry Farm water rides have massive drenching potential, and we were pretty excited to cool off on a hot California Day.
While water rides are not for everyone, sign me up any day in the summer for a quick cool-down. Knott's Berry Farm has two water rides for families to enjoy.
Timber Mountain Log Ride, and Calico River Rapids.
I will break down both family rides shortly, but let's jump right to the point. If you are looking to get completely soaked, Calico River Rapids has you covered, making it one of the best rides in the park.
Knott's Berry Farm water rides will capture your heart and leave you wanting more. We enjoyed both of the water rides Knott's Berry Farm has to offer, each for their own unique reasons. In this blog post we will break down the two Knott's Berry Farm water rides and talk about their history, theming, and whether or not you get drenched on the ride. 
Calico River Rapids
The Calico River Rapids Experience
As you approach the entrance of Calico River Rapids, you're immediately transported to the 19th-century Gold Rush era. The theming and attention to detail are simply outstanding. You'll find yourself in the fictional town of Calico, a nod to the park's historical roots and founder Walter Knott's preservation of California's heritage.
A Traditional thrilling family raft ride. These round 8-12 person tubes send you down a river track with winding bends, mimicking a whitewater rafting experience.
Calico River Rapids has an 8-person tube and a 46″ height requirement with a velcro-style seat belt two passengers share.
The Ride
Once you board the circular raft ride with fellow adventurers, the excitement is in the air. Calico River Rapids features multiple twists, turns, and thrilling dips that promise to drench you from head to toe.
While I find this style of water ride to be a roulette because you never know how your boat will twist down the rapids.
Water coming into your boat is absolutely going to happen.
In some way, shape, or form, people are going to get wet.
Family-Friendly Fun from Knott's Berry Farm Water Rides
Calico River Rapids is an attraction that appeals to all ages. It's an adventure packed with thrills, and the ride's re-ride value means you can experience it multiple times in one visit.
Most people exit this ride drenched with soggy shoes, thanks to the unexpected twists and plenty of dynamic water effects.
If you are someone who doesn't want to walk around in wet shoes and socks, we suggest bringing a pair of flip-flops and swapping your shoes before you go.
Speaking of things staying dry, don't bring your bags on this ride if they aren't water-resistant.
There is a very small spot in the middle of the raft where you can put your bag that is enclosed, but it is made for small fanny packs, not full-sized backpacks.
My Park bag fit in the spot perfectly. It is leather, so it would have been alright, but our backpack, on the other hand, did not fit. Thank goodness it's waterproof.
There are lockers by GhostRider not far from the Rapids ride if you don't have a waterproof bag.
Knott's Berry Farm Water Rides Update for Calico River Rapids
In 2013 Calico River Rapids had a massive remodel with new animatronics and a new story overlay with a variety of wild surprises.
Calico River Rapids at Knott's Berry Farm is more than just a water ride; it's an immersive journey through California's rich history and the thrill of the Gold Rush era. The attention to detail, theming, and storytelling make it a standout attraction in the park's already impressive lineup.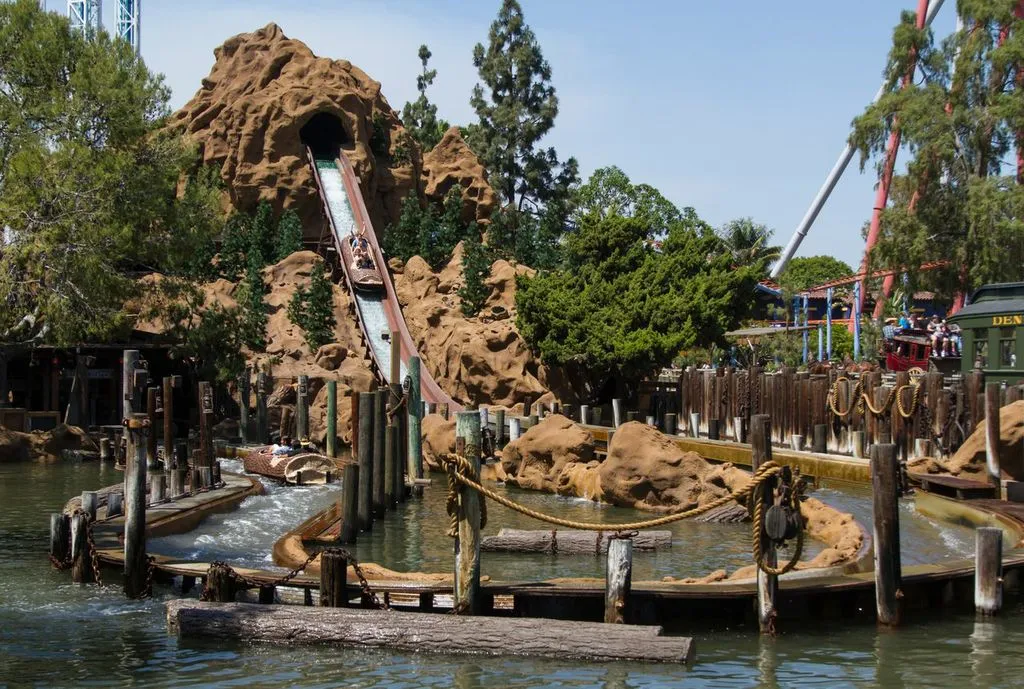 Timber Mountain Log Ride
The Timber Mountain Town
As you approach the entrance of the Timber Mountain Log Ride, you're transported to the charming Timber Mountain Town – a whimsical, fictional village set in the late 19th century. The attention to detail is remarkable, from the old-timey storefronts to the bustling streets. This immersive theming sets the stage for the adventure that's about to unfold and one of our favorite spots to sit and watch the ride's largest drop.
A Glimpse into the Knott's Berry Farm water rides past
As one of the park's original rides, debuting in 1969, the log flume rides are really unique as a whole, capturing the hearts of visitors. The timber mountain log ride celebrated 54 years this year as one of the oldest in the United States. This attraction was groundbreaking for its time, using animatronics, storytelling, and theming.
Many people suggest Walt Disney got a lot of his inspiration for Splash Mountain from Knott's berry farm water rides.
The Ride
As you board your log, the excitement builds. Timber Mountain Log Ride takes riders on a voyage through the woods and an authentic-looking lumber mill. As it tells the story of the lumber industry, you'll feel like you're a part of the story as you float along the water. The attention to detail, especially around the mill and water wheel spot as well as the cave section, helps build the immersive experience.
The Thrills and Chills
While the ride takes you outside the story, along the way, you do get a really great view of the boardwalk land and the thrill rides.
The Knott's Berry Farm water rides are not just about storytelling; they deliver their fair share of thrills tool. The ride features unexpected drops, twists, and turns that keep you on the edge of your log. Whether it's the suspenseful climb to the top or the exhilarating plunge into the water, the ride's dynamics have been expertly designed to provide both fun and excitement.
Family-Friendly Fun
We rode it three times in hopes of getting soaked and didn't. We did get wet, just not drenched as I would have anticipated. One of the most endearing aspects of the Timber Mountain log ride is its ability to transport guests back in time. For those who haven't been in years, this attraction evokes a sense of nostalgia, and it's truly heartwarming.
Side note for Knott's Berry Farm Water Rides
Do not use your phones on rides. The end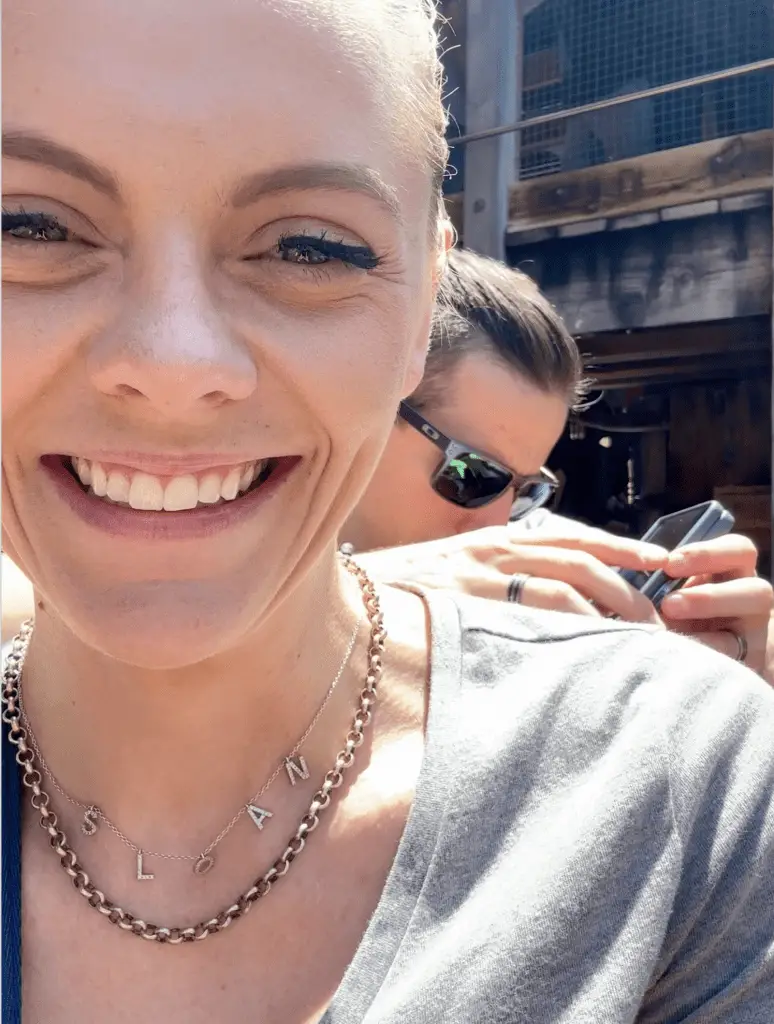 What to wear on Water Rides
While I myself loves a great water ride, soaking wet clothing and smudged makeup is just not something I'm for.
This particular day I did not coordinate my outfit for water rides, but the hotel was so close I figured I could change if necessary. It ended up being a pretty hot day, so it worked out well even though I wore a cotton skirt. For most other theme park days a lot of thought goes into outfits and accessories to make the day better.
Here are our top tips for what to wear on water rides.
Active Dry Skirt or Shorts
For men and women, this is an easy find. Many companies make active dry clothing. Similar to the material of a bathing suit men will enjoy lightweight shorts that stay dry all day. For women, I absolutely love the Spanx tennis skirts. Not only do they have pockets on the shorts but the material is lightweight and keeps you cool all day.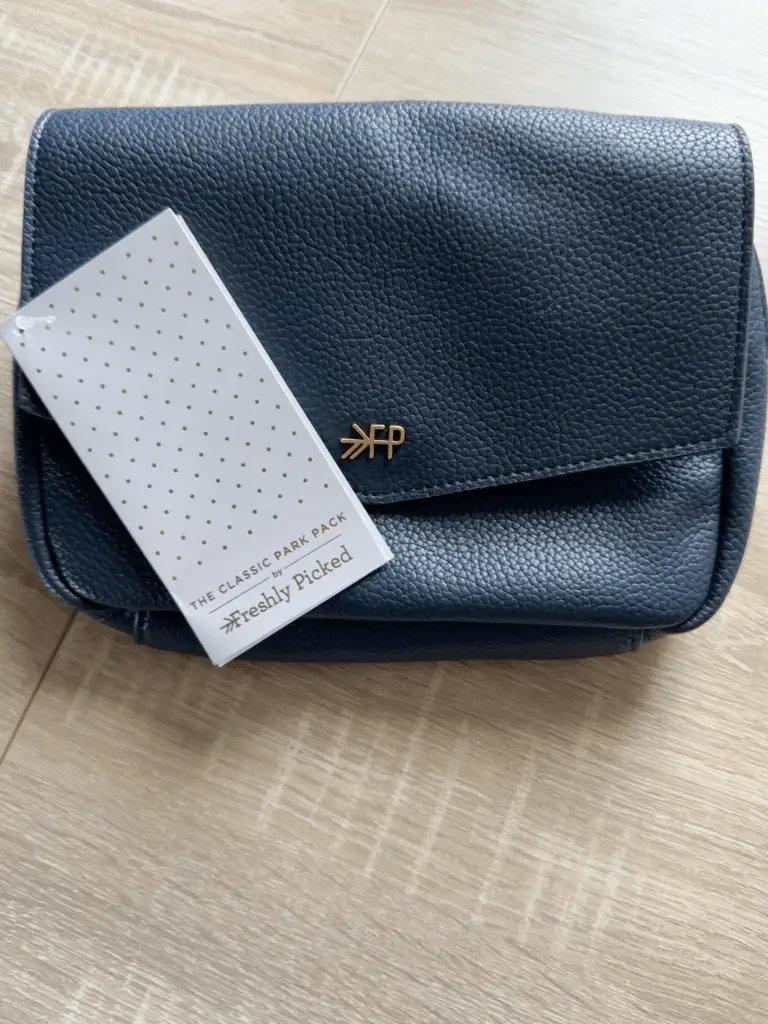 Waterproof or Water-resistant Bags
To keep your essentials dry, invest in a waterproof bag or pouch. This is a must for protecting your phone, wallet, and any other items you can't leave behind. Here are our two favorite theme park bags.
Park Pac
I love the park bag from Freshly Picked.
They come in many colors and designs to fit your style. Since I discovered them this is the only bag I take on our theme park trips.
Tumi Backpack
This is a splurge for sure but it is completely worth it and an investment for the future. Doubling as a work bag this waterproof exterior makes travel and water rides a breeze. Everything inside stayed nice and dry even though the outside was completely soaked.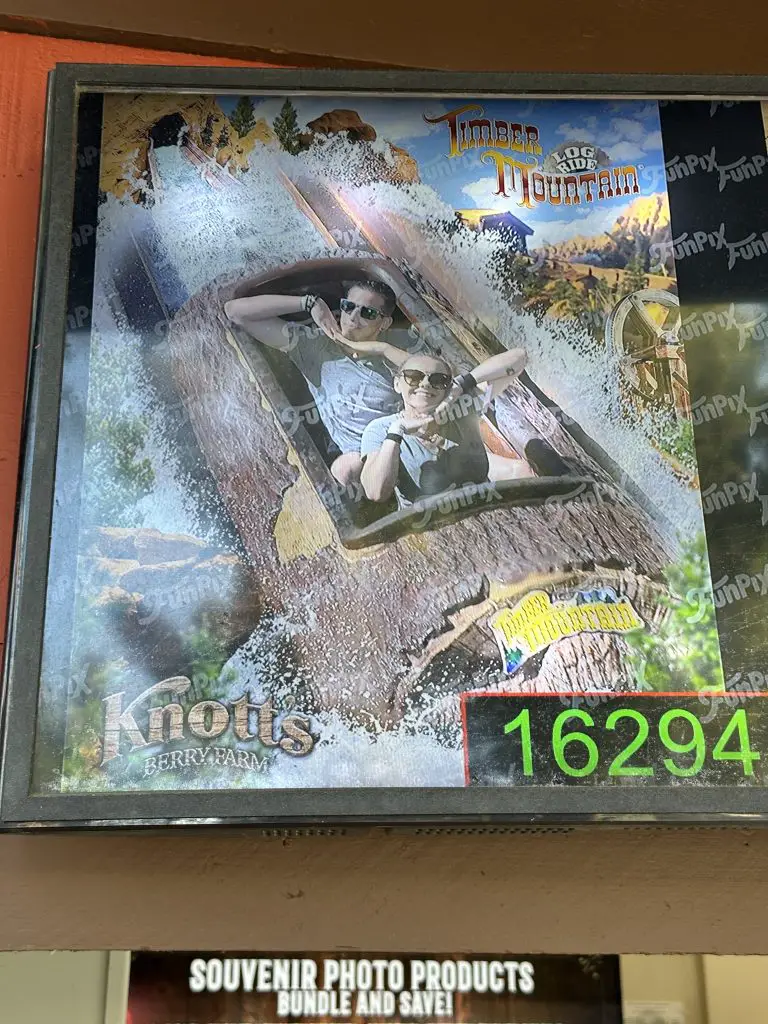 Sunglasses
Make them big! Sunglasses are your eyes best bet for avoiding smudging makeup or water in your eye. One other thing to keep in mind is to not turn your head on the rapids ride while your boat dips into one of the rapids. That is the best way to avoid water splashing on your face. I cannot tell you how many times someone would turn their head with their mouth open and the water pelted them in the face. 
Hat
A wide-brimmed hat or a baseball cap can provide additional protection and help keep your face and hair shielded from water.
Extra Clothes
Depending on how wet you want to get, consider bringing a change of clothes. It can be especially handy if you're planning on dining or exploring the park after the water rides.
Footwear
Footwear can be a contentious issue. While flip-flops are easy to slip on and off, they can easily get lost on fast rides. Opt for water-friendly sandals with a back strap or comfortable, quick-drying water shoes. These will provide good traction and stay securely on your feet if you are looking for an all-day shoe.
We suggest comfortable walking shoes for all day and a quick flip-flop change for the water rides since most of your time is spent walking in the park.
Rain Poncho
While you will never see me in one of these on a water ride, many people want the trill of the ride with no evidence of ever going on one. These are a great way to stay dry while still enjoying your ride.
The hood is a great way to keep your hair dry as well.
Ponytail Holders and Hair Accessories
If you have long hair, consider bringing ponytails or hairpins to keep your hair back. Wet hair can be heavy and annoying if it's flopping around during a ride or on your clothing after the ride is done. Consider putting it up to avoid it getting too wet on a ride.
​For those brave souls a shower cap is also a great option to keep your hair dry.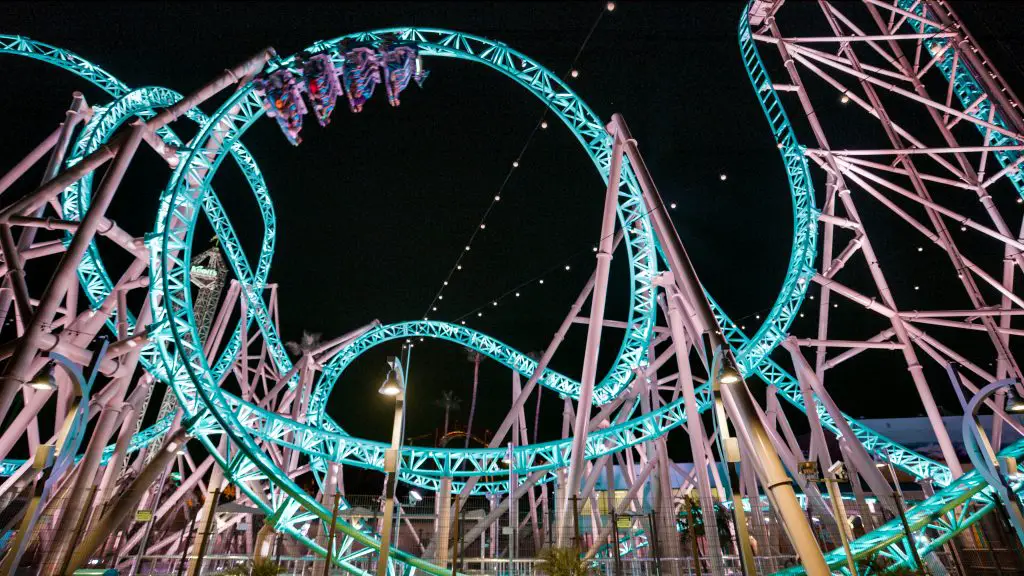 Exploring the Rest of Knott's Berry Farm
The Buena Park theme park is a hidden gem. Many people think of the Disneyland resort when they think of Southern California theme parks. Knott's is a great spot for the entire family and thrill seekers to enjoy, with fewer crowds.
Camp Snoopy is the perfect spot for younger kids with live shows with the Peanuts gang, a small vertical drop ride, and many more attractions. Two little kids rides have been removed this year to make way for a new family ride. We are hoping for a new kids' roller coaster or another fun family ride in its place. More to come once permits are filed.
One of the newest lands, Fiesta Village received a major renovation this past year with new food locations, drink stands, and fun rides to entertain the entire family. 
Thrill Seekers at Knott's Berry Farm
For thrill rides, Knott's Berry Farm theme park has 4 thrilling rides. Our favorite thrill ride at the park was HangTime. This steel roller coaster has the steepest drop of any rollercoaster in California, with a 96-degree drop. You load into the lap-only restraint and instantly climb a 90-degree angle straight up. Once you get to the top, you are released slowly to get the full thrilling experience of hanging. 
I typically don't get scared on rides, but this one had me a little nervous for the first time about what was to come. It ended up being an amazing ride, and took our top spot for thrills at the park.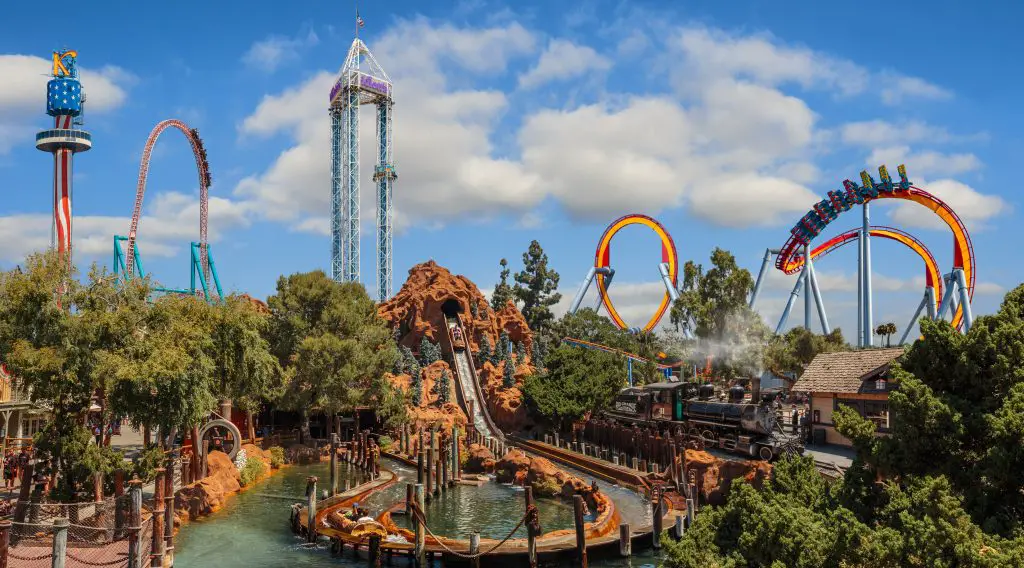 Other Popular Attractions
Montezooma's Revenge
Xcelerator
Pony Express
Silver Bullet
Supreme Scream
Calico Mine Ride
GhostRider
Knott's Bear-y Tales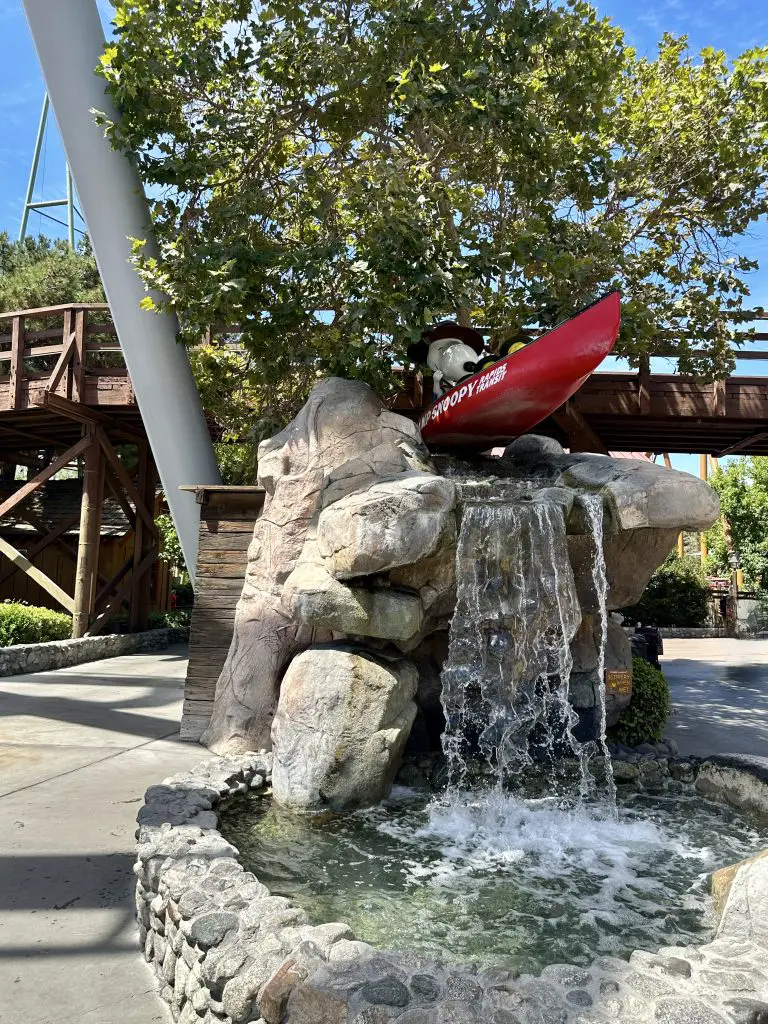 Special Events
Knott's Scary Farm
Snoopy's Birthday
Knott's Summer Nights
If you are looking for family fun without breaking your budget, this is a fantastic option!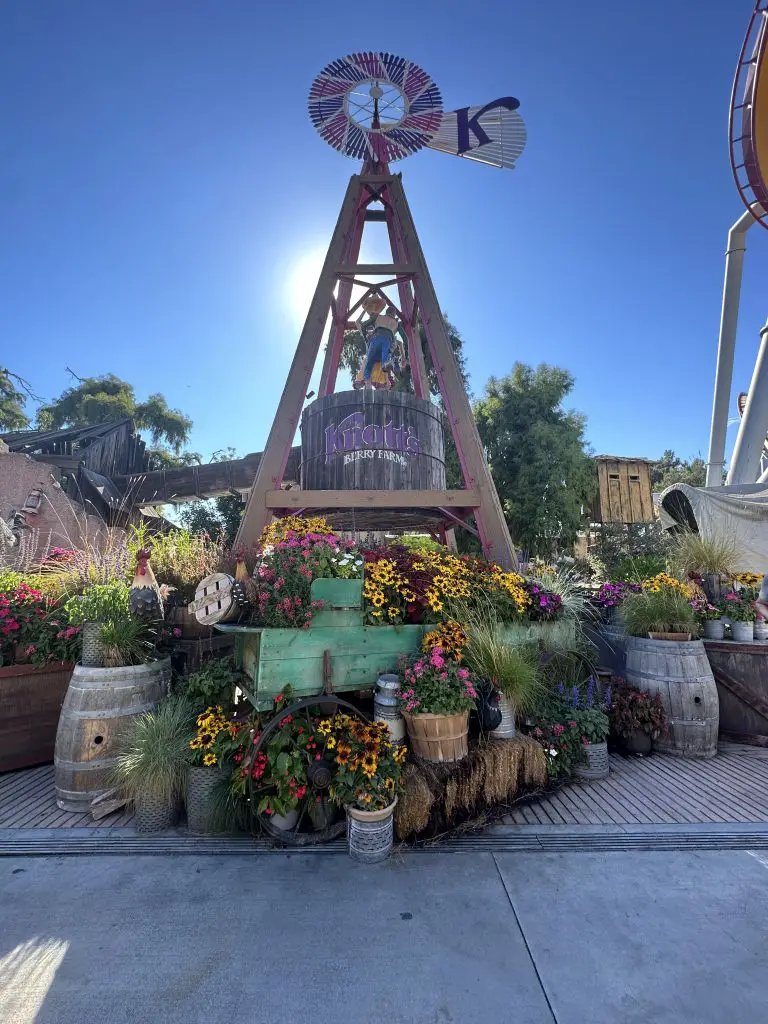 Discount Knott's Berry Farm Tickets
We will always suggest purchasing your ticket online ahead of time before heading to the theme park. Oftentimes the ticket price is significantly higher at the gate day of then purchasing online. You can save around $30 by purchasing them online instead of at the gate, and there are also third-party sites that sell tickets for a slight discount.
There are only two trusted sites we like to use. 
Undercover Tourist is the other site we like to use for discount theme park tickets. 
Get Away Today, you can go online or call to book your trip. Let them know For Motherhood Measure sent you, and you will get a little more of a discount. – Doesn't currently have Knott's Tickets
Until early September, Season Passes are on sale for the rest of 2023 and all of 2024. If you plan on going more than once, a season pass will definitely make sense.
Those three options are a great way to get discount Knott's Berry Farm tickets. BUT do not purchase tickets from other third-party sites or people, these cannot be verified, and we would hate for you to purchase tickets that you cannot actually use.
We will always keep an eye out for the best deals and share them with you if we find new options.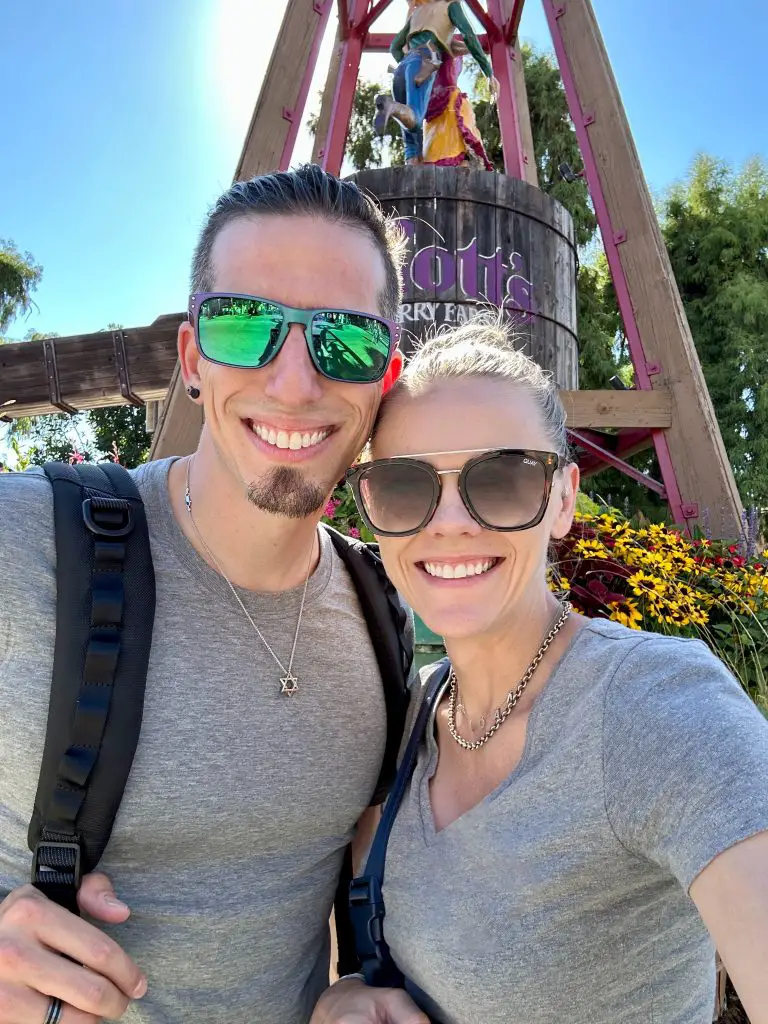 Knott's Soak City Water Park
While we are on the topic of water at Knott's, let's discuss the water park just next door. Right across Beach Blvd, you will find Knott's Berry Farm Soak City.
Knott's Berry Farm opened the 15-acre water park in June of 2000.
There are 23 water slides ranging from body slides to tube slides, as well as Sunset River lazy river and Tidal Wave Bay wave pool.
Life jackets and inner tube rentals are available for guests to use at the water park.
Many younger kids enjoy Gremmie Lagoon for its small slides.
Inside the park, guests have the option to dine at two restaurants and enjoy drinks from multiple stands that serve alcoholic beverages. Additionally, cabanas are available for day rentals.
We highly suggest separating your Knott's Theme Park Day and your Water Park Day. There are just too many things to do in both spots to limit yourself to both in one day.  
Where to stay near Knott's Berry Farm
Knott's Berry Farm Hotel is located near the park entrance and parking lot. The amusement park is a short walk from the hotel, making it the perfect location for both the water park and the theme park.
Staying within walking distance of your theme park has some massive benefits, especially if you are planning on riding any of Knott's Berry Farm water rides and do not dress appropriately.
The hotel has been completely remodeled and will fully open this fall. We stayed recently, and it has a fantastic pool and splash pad for a rest day. The guest rooms were well-designed with an open and light feel.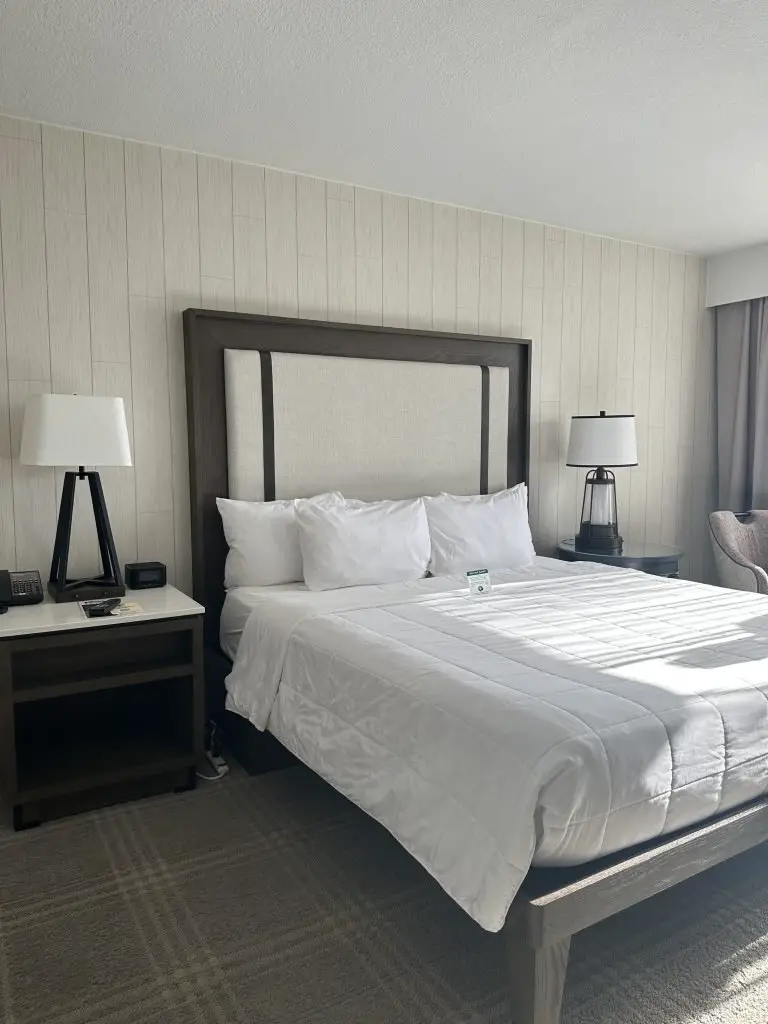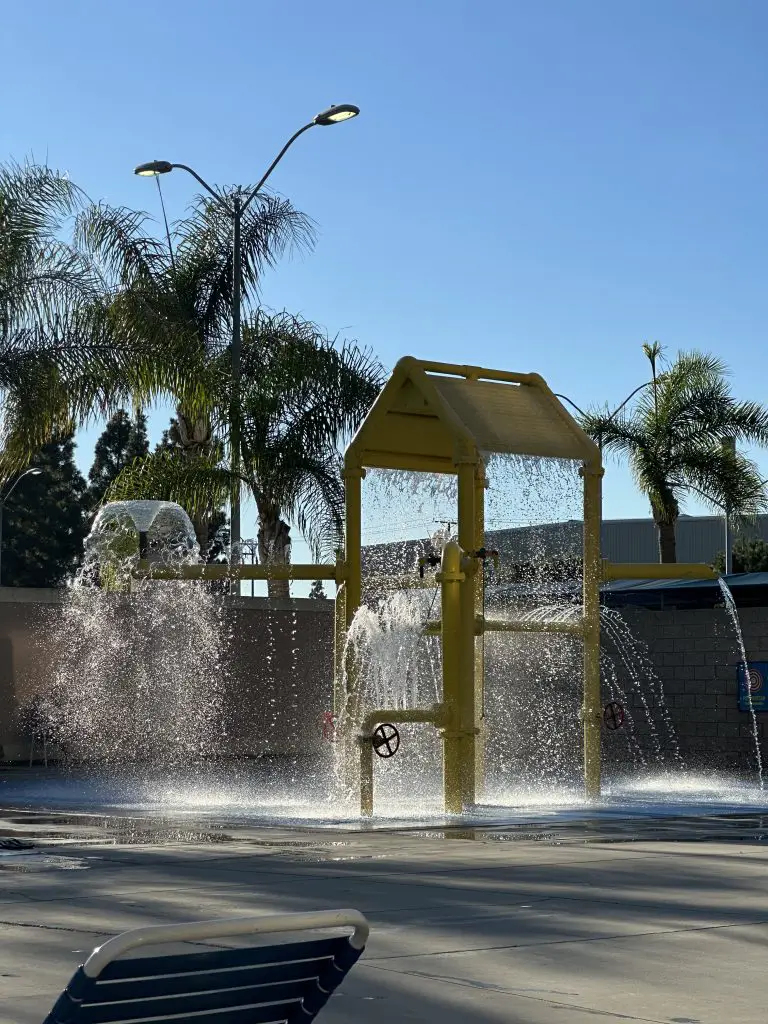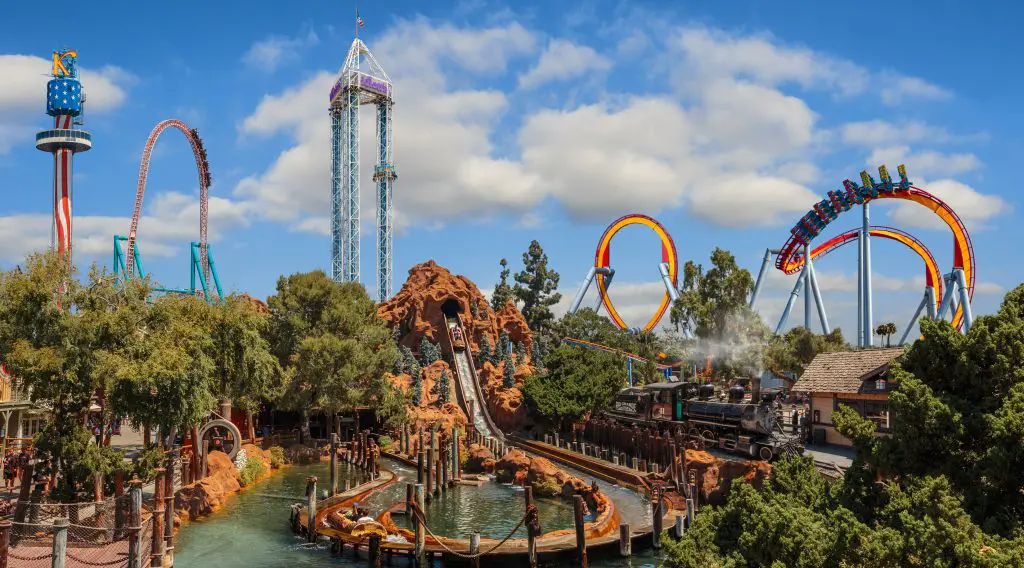 Frequently Asked Questions about Knott's Berry Farm
Do you get wet on Calico River Rapids?
Yes! While it is a bit of a roulette you are most likely going to get wet on Calico River Rapids.
How many water rides are at Knott's Berry Farm?
There are two water rides at Knott's Berry Farm. Timber Mountain Log Ride and Calico River Rapids.
What happened to Bigfoot Rapids?
Bigfoot Rapids had a complete remodel in 2013 done by Garner Holt Productions, and the new Calico River Rapids was unveiled.
What is Knott's Berry Farm Known For?
Knott's Berry Farm is known for its fried chicken and boysenberry
Who invented Knotts Berry Farm?
Walter Knott and his wife Cordelia owned a berry farm that almost closed due to conditions at the time. Cordelia made a chicken dinner one night with gravy, biscuits, and fried chicken. Her chicken dinners were so popular Walter created the Old West ghost town to entertain people while they waited for their dinner. From there, the entertainment area grew, as well as Mrs. Knott's Chicken Dinner Restaurant, soon becoming the classic theme park we all know today as Knott's Berry Farm.
Are there special events and seasonal celebrations at Knott's Berry Farm?
Yes, Knott's Berry Farm hosts various seasonal events like Knott's Scary Farm (for Halloween) and Knott's Merry Farm (for Christmas), as well as special celebrations throughout the year. Check the park's website for event schedules and details. Knott's Scary Farms sells out fast, so if that is something you want to partake in, be prepared for ticket release day.
Is there a parking fee at Knott's Berry Farm?
Yes, there is a parking fee for visitors who choose to park on-site. Preferred parking options are also available for an additional fee. Season pass holders may have different parking privileges.
Is there a water park at Knott's Berry Farm?
Yes, adjacent to Knott's Berry Farm is Knott's Soak City Water Park. It's a separate park with its own admission and features a variety of water slides, lazy rivers, and water attractions.
What are the park's operating hours?
Operating hours at Knott's Berry Farm can vary by season and day of the week. It's advisable to check the official website or contact the park for current hours before planning your visit.
What is Knott's Berry Farm?
Knott's Berry Farm is a popular theme park located in Buena Park, California. It offers a wide range of attractions, including roller coasters, water rides, live entertainment, and themed areas.
Other Guides