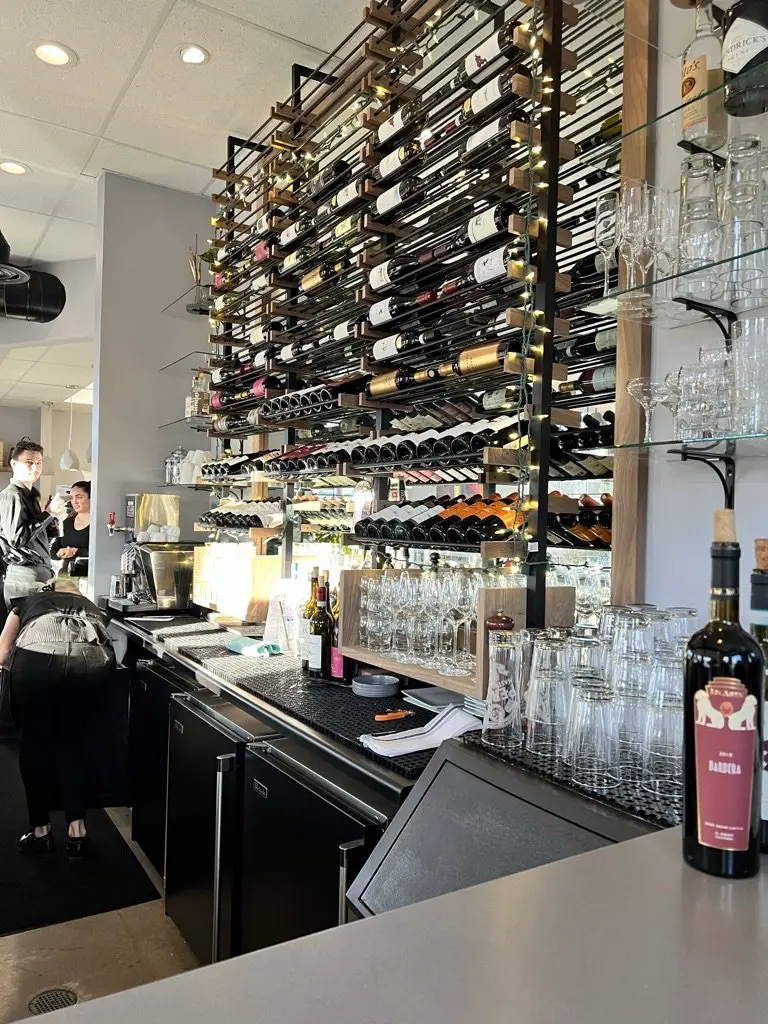 We are all for a good dinner and a walk along the Truckee river in Downtown Reno for date night. As valentine's day approaches, we hope you are able to spend some quality time together with your significant other and find some new great date ideas. We are going to share the best places for dinner and entertainment around the Reno area and a few others worth noting.
Fine Dining Reno Date Night Locations
From happy hour to Saturday nights, there are some fantastic places to eat in reno. Finally. we were missing good food in Reno. Yea, we had a few franchise spots that were yummy, but I think we can speak for a good portion of Reno. We needed more. We needed better. Thank goodness this is something I believe we have come a long way on, but we are still far from the good, unique food you get in bigger cities. Im sure Reno will get there one day, and for now, we will share what we have.
Smith and River
The quality of the food is out of this world. During the winter, you can only sit inside, but if you have the opportunity to go during the summer, the patio seating is right on the water.
Wild River Grille
We love that you can sit outside or inside at Wild River Grille, the food is delicious, and they have many signature cocktails to enjoy.
They have a special menu specifically for each night during the pioneer centers broadway shows.
Claio Rotisserie
The newest addition to Mayberry drive, the owners of Perenn, the most wonderful breakfast and Viennoiserie ever created, has blessed us with a greek inspired restaurant. We suggest their crunchy potatoes in any form! This quiet restaurant provides a great experience and delightful food.
Kitchen Table
Relaxing music, a full bar, and great food. This wonderful locally-owned restaurant has captured our hearts and our bellies. Each month they put new items on their menu, and the food gets better and better every time. We have tried 80% of their menu, and everything is wonderful.
Churrasco Brazilian Steakhouse
Their extensive menu is not in paper form. This fun outing with endless good food and a food coma at the end. If you are going to do something fun in addition to eating at Churrasco's, we highly suggest doing something fun and then doing your dinner date. Churrascos is a Brazilian steakhouse serving food in the rodízio fashion. Cooked meat on a skewer served right at your table. You can flip your token for ready for food or not ready for food. The meat options are steak, pork, and chicken. This is the best restaurant when it comes to fun and good food.
Biggest Little Steakhouse
Now before you go all crazy on me for it being a walk-up counter steakhouse, this is the most unique and absolutely delicious walk-up counter you will ever encounter.
Entertainment in Reno for Date Night
With a variety of events and places available in Reno/Tahoe for a fun time. We sometimes overlook certain places because we don't think of them as date night options. I'm here to tell you those are a unique way to connect and be together with each other.
Pioneer Center performing arts
This historic Reno landmark brings musical performances and Broadway to the Biggest Little City. We have seen some amazing broadway shows at the Pioneer Center. A few years ago, we were gifted season passes, and now 7 years later, we still get season passes. It is a guaranteed date night for us, and we always grab dinner before the show.
This is our time to try a new place to eat and enjoy a show we have not seen before. If you go on Saturday nights we just might run into each other.
Press Start and Playfield 76
Press Start was our first barcade in Reno. It was originally on South Virginia by Lou Lou's and has now moved to Center Street. The new location provides draft beer, craft cocktails, pinball, classic arcade video games, and pool.
Playfield 76 is Downtown's newest barcade. Arcade games and a restaurant that's serving quality spirits, and craft beers, in a retro space.
Pineapple pedicabs
We did a special twinkle lights tour during the holidays, and it was fun and unique. The brew tours and taco tours also seem like amazing options for tours.
Unique Reno Date Night Ideas
Coming up with a unique date idea is no simple task. There are many apps and boxes you can buy, but we like to go old school and simple for date nights in the city. No matter if you are on a budget or looking for a romantic evening on the town, we have you covered.
Grab a coffee from Crafted Pallete Coffee shop
As one of the only coffee shops open after 6:00, you are a little limited by coffee shops, but the best part the coffee is actually really great, making this a perfect place to grab a coffee.
Coffee houses are hard to come by downtown at night. There are a lot of coffee shops and a few Starbucks to get you by during the day. We love Starbucks, but we love local coffee shops more. Grab a cold brew or warm latte, and take your time walking around downtown Reno along the Truckee river. Our favorite is to stay along the bridge and then walk by Wild River Grille. It can get cold at night by the river, so make sure you bundle up during the winter.
Desert
Ice cream from Black Mountain or specialty cocktails with yummy desserts at Arch Society.
Movie night at home with a puzzle or legos
I know most people want out of the house for date night, but if you are on a budget and have children, sometimes finding someone to watch your child for a few hours just seems overwhelming. Order food delivery
Couples massages at spa Atlantis or Peppermill spa
Most of the spas in the casinos offer special messages and packages for couples. A few years back, we did a couples package that included a massage, facials, and pedicures.
Park date night
First up, narrow down the park of choice. Picking your park should not be too difficult. You want to find one with park benches or even a nice grassy area to lay your blanket down. We like the large grass field by the yellow library on arrow creek parkway or Wingfield park. Some parks have soccer or sports practice, so don't pick the middle of the field. Next, decide on food, we love getting sushi to go, and now you are ready for your pop-up picnic. Our favorite is Pieces Sushi. They have a special to-go roll option they introduced during covid, and we are so glad they still have it.
This fun pop – up picnic sunset date will surprise everyone and seem like you put a lot of time and energy into it.
Escape rooms
We like this as a double date night more than a couple's date night. Some escape rooms allow 2 people, but if you are open to a double date, this is the perfect opportunity to have some fun and complete a series of activities to escape the room. Our favorite escape room is key and code. They have multiple locations, and if you complete all of their rooms, you get a branded t-shirt. You can easily book online or even walk in and book your room.
Wine Walk
On the third Saturday of the month, from 2 – 5 pm, multiple Downtown Reno businesses partake in the Riverwalk District wine walk. This is an event we have attended many times in the past. The wine is decent, but the unique clothes and people downtown make this a win for us. Walk around as you enjoy your wine from multiple stops, complete your passport, and shop in the boutiques. Each month typically has a theme, especially if it falls closer to a holiday. You can check out the wine walk website here for more information and themes.
National Automobile Museum
If you are a classic cars lover, the National automobile museum is the perfect spot to wander on a cold, snowy day. The museum exhibits include over 225 vehicles, from celebrity vehicles and limited edition cars to cars in movies. The Harrah Collection will completely wow you as it walks you through a timeline of collectibles that are preserved for years to come. Each year they host a special exhibit like lightning McQueen and the Batmobile.
Movie theater
Century Riverside, or the legends luxury seats. Movies are the best first date throwback. Grab some popcorn and an alcoholic beverage, kick up your feet and enjoy
Drive-in movie, I know you probably have never been to the drive-in before in reno, or if you have, it was in the 90s.
Miniature golf
While magic carpet golf is a great spot, we like to tack on arcade games and a little bowling to our date nights to make the most of it. We love Wild Island Adventure Park the most because they have indoor and outdoor activities for couples to enjoy.
Roller Skate
While I will admit it's been a few years since I've been to Roller Kingdom, we saw a friend do a date night there and thought it looked like so much fun.
Ice Skate in Reno's newest skating rink
Reno Ice is our newest indoor ice skating rink in the reno area. It does open its door to ice skaters when the Ice Raiders aren't playing. If you are the type that gets overwhelmed with learning a new skill, ice skating might not be for you, BUT you could attend a Hockey game.
Lake Tahoe & Virginia City
Looking to get out of Reno for Date Night? Lake Tahoe is absolutely beautiful and such a great place to find fun things to do on a date night. Virginia City is a blast from the past and also a unique way to get out of the big city and go to more simple times.
Make sushi at home
This has been our valentine's day date night for the past few years. Each year we get better at making sushi and find new ways to put together our rolls. It takes some practice, but if you and your partner are the adventurous types, this is the perfect way to have a little fun and learn something new. We suggest not making sticky rice at home and buying it from a local sushi restaurant instead. The consistency and flavor are typically better than anything you can make at home.
Restaurants worth noting for Reno Date Night
These are a few around reno we know many enjoy already.
Duke's Steakhouse
Great Basin Brewing co.
Brasserie Saint James
Noble Pie Parlor
Cheesecake Factory
Stone House Cafe
Loco Ono
Old Granite Street Eatery
Online and Digitial Date Ideas
All you need is internet connection and your own mobile device. Try out some of these fun online and digital options for a date night. Some of these you need to prepare and purchase ahead of time, don't wait until you get on your date to figure them out.
Digital Date night box, the digital date nite box can be purchased online
Digital Love jar
Love languages
While where you go is part of the equation for a great time, the most important thing to keep in mind is your and your partner's love languages. The most simple things will be romantic things when they are presented to us in our love languages. We feel heard and understood, appreciated and loved. Love languages are the easiest way to love on each other in our own ways.
Physical touch
Acts of service
Words of affirmation
Quality time
Gifts
We hope this list gave you some ideas for your next Reno date night. There are always a variety of events to attend and ways to have a lot of fun. We hope you have a romantic time and build a lot of memories with each other.