Top Things to do in Redondo Beach
We had the chance to go to a beautiful coastal city in Los Angeles County for a quick weekend getaway. The City of Redondo Beach was overall a great little town and a fun beach getaway trip. On our last trip, we had an event Saturday night, so we didn't have a lot of extra time in the City, but we managed to hit some really great shops and restaurants while we were there. Here are the top things to do in Redondo Beach on your next trip, including where to stay and where to eat.
Where to stay in Redondo Beach
The Redondo Beach Hotel
We are Hilton members so picking a hotel was very easy for us. We stayed at the Redondo Beach Hotel and found it centrally located. They have an outdoor pool with a beautiful mural on one of the walls and an outdoor seating area that overlooks the Bay. The only downfall is that they do not have a great view of the ocean, and you get a view of the yacht club across the Street. They provide bike rentals right at the hotel for guests to enjoy.
The Portofino Hotel & Marina
If you are looking for an ocean view or to be right on the water, I highly recommend The Portofino Hotel & Marina. It is a little more expensive but has excellent views of Santa Monica Bay. The overall hotel and rooms have a nautical-style theme, and the bar lounge area is so elegant. The Portofino hotel was home to the Cannonball, a car race from NY to CA, with the Portofino bell desk being the final destination.
Shade Hoel Redondo Beach
Shade Hotel Redondo Beach. This beautiful luxury boutique-style harbourfront hotel has a restaurant/bar, an outdoor terrace, and a rooftop pool. The staff is friendly and helpful, and the rooftop pool has breathtaking ocean and harbor views. Some of the rooms have an outdoor bathtub, and we think it would be great to order champagne and sit outside in the tub after a long day.
Sonesta Redondo Beach & Marina
Sonesta Redondo Beach & Marina hosts modern rooms with ocean views. The hotel has tennis courts, an outdoor rooftop pool, and a bar & restaurant.
Where to eat in Redondo Beach
Captain Kidd's Fish Market
Captain kidd's Fish Market if you are looking for high-quality fresh fish and seafood. We ordered chicken fingers and fries for the girl who fell asleep and missed lunch. Mitchell and I decided on calamari and a few fresh-shucked oysters. You can buy crab and lobster from the market, and I have to admit they were the most enormous crabs I have EVER seen.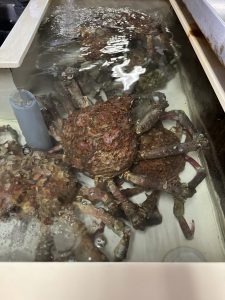 Kincaid's
For dinner, we highly suggest Kincaid's and if you are looking for a romantic seat to watch the sunset, ask to sit outside! They have heaters they turn for the evenings when the sun goes down, but bring a light jacket or blanket in the winter months. This is an excellent place for fine dining in Redondo Beach. Everything we ordered was delicious. I had the seared seabass, and it came with asparagus and potatoes.
When our toddler was in the nap phase, we would typically make our way back to the hotel or Airbnb and order lunch in while she took a nap. On this trip, we ordered California Sushi & Teriyaki, and the sushi and bowls were terrific. We picked the sushi & Teriyaki box with chicken and a spicy tuna bowl. The tuna was so fresh, and the sashimi was cut well and had just the right amount of rice. — Note they have since closed, but there are lots of other sushi and teriyaki places around. Hopefully, we can try one when we head back, and hopefully, it is as delicious as California Sushi and Teriyaki. We suggest South Bay Rice and Things since their menu is so similar, and their reviews were really great.
We are all about saving money where we can and using points and benefits when we can. Since we suggested the Hilton Hotel in Redondo Beach, we have to say they had wonderful lattes and breakfast burritos during our visit. Stopping for burritos in the morning before heading out for the day was quick and easy, and they were yummy.
Places to eat near Redondo Beach
Bluewater Grill
Blue Salt Fish Grill
Sea level Restaurant and Lounge
Rockefeller
South Bay Rice and Things
Places to get coffee near Redondo Beach
Pursue Coffee
Klatch Coffee Redondo
Coffee Cartel
The Boy & The Bear – Coffee Roastery
Things to do in Redondo Beach
Beach towns provide quite a few different activities and nearby cities to enjoy and walk around. The more prominent attractions are always great but can have a lot of people. We love walking along the pier and looking at the beautiful homes and architecture. The local spots are an excellent place to beat the crowds and enjoy the City in a new way. Insider tip: look for special events, farmers' markets, and tours around the City to fill your day with more local events and things to do.
A day in Redondo Beach
Redondo Beach Farmers Market
Redondo Beach Farmers Market runs every Thursday from 8:00 am through 1:00 pm, Located at George Freeth Way and Veterans Park West, also known as The Market by the Sea! We find this a perfect spot to stop and pick up local fruit to eat while in our hotel or a few items to take to the beach.
Redondo Beach Museums
Head to the local museum. Redondo Beach Historical Museum is located in the Queen Anne House, home to the Heritage Court and Morrell house. This is your one-stop for the extensive collection of artifacts, memorabilia, photographs, and historical documents about Redondo Beach.
Lomita Railroad Museum has multiple exhibits featuring a few caboose and locomotive trains.
Redondo Beach Parks
One of 15 local parks, Veterans park provides the perfect spot for leisure activities. This 6.3-acre park has children's play equipment and picnic areas, including the Veterans Park Community Center and Veterans Park Senior Center.
Hopkins Wilderness Park has the option to camp, but our favorite thing we found they do is story time in the park. It's a free service provided by the park. They read a family-friendly story and then do fun activities. It also has an outdoor amphitheater that fits 150 people.
Dominguez park is Redondo Beaches Dog-friendly park.
Perry Park is one of the larger parks in Redondo and features a baseball field, senior center, a large play area, and a teen center with over 4,000 sqft of teen-inspired activities and events/activities during the summer months.
King Harbor and Seaside Lagoon
King Harbor, the main pier in Redondo Beach, is going through a massive amenities plan approved in October of 2022. This new project will feature updates to local parks, boat launches, dinghy docks, watercraft storage, and updates to Seaside Lagoon.
JS Gallery
Jill Sanders Gallery. If you are looking to purchase beautiful landscape photography, this is your stop! Located in the "famous" Riviera Village in South Redondo. You will be absolutely blown away by her photography!
Roundhouse Aquarium and Teaching Center
Roundhouse Aquarium and Teaching Center is the perfect way to experience local marine life! Right in Downtown Manhattan Beach, the Roundhouse is a free aquarium perfect for kids and adults. With over 100 marine animals, this small but mighty aquarium is an ideal spot to pop in and get your hands on a sea cucumber and other sea animals.
Growing Wild Flower Shop near Redondo Beach
Growing Wild was the cutest flower shop, and they have super cute home decor items as well. A perfect spot to pick up a local tchotchke for your home as a reminder of your beach trip.
Murals near Redondo Beach
If you are a mural chaser, Manhattan has some adorable murals around town.
451 Manhattan Beach Blvd #124, Manhattan Beach, CA 90266
Civic Center Stairwell, 15th Street
Parking lot 6, west side of Highland Avenue just south of 14th Street
Polish by Sand Spa – 33rd and Highland, Manhattan Beach
1138 Highland Ave, Manhattan Beach – The Kettle
Corner of 13th and Hermosa Avenue, Hermosa Beach
1500 Lincoln Blvd, Venice, Santa Monica, CA, USA
1323 Abbot Kinney Blvd, Venice, CA, USA
1555 Camino Del Mar, Del Mar, CA 92014
849 West Harbor Drive, San Diego, CA, USA
601 11th St, Huntington Beach, CA 92648
5570 Melrose Ave, Los Angeles, CA 90038
10730 Ventura Blvd, Studio City, CA 91604
A stroll through the mall. The South Bay Galleria has over 100 shops, restaurants, and stores to walk around.
A Day at the Beach in Redondo Beach
Going to the beach is like the #1 reason you visit a beach town! We know that not everyone in your party is all about the beach, and for those, hopefully, they have a comfy couch to watch a show on inside the house or hotel. On the other hand, we are always ready to head down to the beach for a fun day in the sun.
Depending on how you got to Redondo Beach and whether you drove or flew will depend on what you take to the beach. We've stayed in many beach houses through Airbnb, and for the most part, the host house typically has a lot of toys and beach accouterments to make the most of your day. Thinking about driving, we've put together a packing list for a beach vacation with toddlers. With the limited space a suitcase provides, there is no extra room to pack your beach toys. If you are flying, we suggest hoping on babyquip and renting toys or other baby gear you might need. So, where are the best sandy beaches in Redondo?
Redondo County Beach is over a mile and a half long and runs south toward Torrance State Beach. Like most LA area beaches, you can relax on the beach or partake in water activities like diving, fishing, and swimming, or beach activities like beach volleyball on the volleyball courts, building a sand castle, or taking a nap in the sun.
Hermosa Beach
Hermosa Beach is another excellent spot for the day to post up by the ocean. With volleyball, surfing, drinking, and playing at this beach, it can be a little crowded around those areas. If you are wanting a close spot next to the water, show up early.
Although not the best place to post up on a sandy beach, Bluff Cove is the perfect surf spot.
Not so much the beach, but if you are looking for a Splash pad, you will want to head to The Splash Pad at 3353 Redondo Beach Blvd Lawndale, CA 90260, not far from the beach. This has fantastic reviews and is the perfect place for kids to run around and play in the water.
Other Things to do in Redondo Beach
Seaside Lagoon
Seaside Lagoon was closed when we were there, but the reviews are fantastic, and I highly suggest going if it's open while you are there. The lagoon provides a large saltwater lagoon with a large sand area, swimming, and a large play structure.
Redondo Beach Yacht Club
Redondo Beach Yacht Club. If you want to plan a wedding or event, this was a great location and feels very secluded and on its own island. On our last trip to Redondo, we attended a wedding, and the bride came in on a boat up to the pier. She made her way down the pier and up to her husband. The views were AMAZING, and such a fantastic location for a wedding.
Redondo Beach Whale Watching
Redondo Beach Whale Watching. If you want to experience the Sea and all the mammals it has to offer, this 2.5-hour tour has a high chance of whale sightings. You have a great opportunity to see Grey and Sperm whales. Since you are out at Sea, you may see sharks, dolphins, and sea lions along the way. The boat offers snacks and drinks with indoor and outdoor seating. Children 2 and under are free; tickets are about $50 a person. There is also a 45-min tour that goes about a mile outside the harbor, and you have a great chance of seeing dolphins and sea lions on that tour.
Best Time to Visit Redondo Beach
While the Summer season will always provide fun in the sun, we highly suggest September or October for your next trip. The beach will be crowded during the summer months of June – August, but those are also great times to go since the weather is nice and you have less of a chance of getting rained on.
Beaches and Cities to Visit Near
Redondo Beach
Hermosa Beach
Manhattan Beach
Long Beach
Santa Monica
San Diego

If this is your first time to Redondo or you are a returning visitor, there is always something fun to do for the family. Although the beach is the main attraction for most beach vacations, we have to say there are many things to do nearby and right in Redondo Beach. Making it one of our favorite small beach towns in CA.
Other Posts You Will Enjoy
Ultimate Packing List for Beach Vacation with Toddler
Hilton Waikoloa Village Resort Review | Hilton Hawaii Big Island