Reno Balloon Races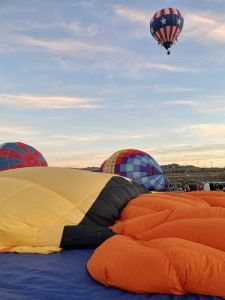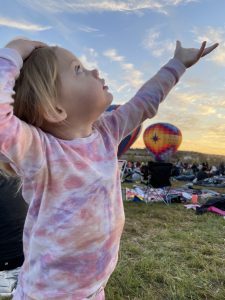 40 years! We are so thankful that over 40 years ago, 20 balloons decided to sign up, and take flight in our little town of Reno, NV for the Reno Balloon Races. 
The Great Reno Balloon Races have celebrated so many years here in our local community and now have over 100 Balloons that take flight every year.
The Reno Balloon Races have such a special place in my heart and so many memories I will never forget. 
When I was in high school, our cross country team would volunteer at the hot dog stand and be there bright and early when the gates opened at 3:30 am to prep the truck for the busy hours to come on Balloon Boulevard after the balloons take flight. A quick thank you to the hundreds of people that ate hotdogs at 6:00 in the morning. You, my friends, made all of that worth it.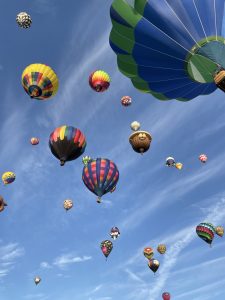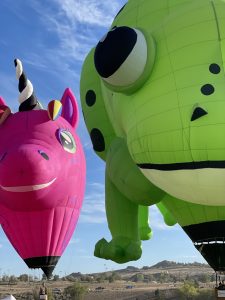 When we were kids, I remember going as a family—packing into our wagon and heading down to the field to watch the show. But it's one thing to go as an adult. Taking your child, especially the first time is an entirely different experience.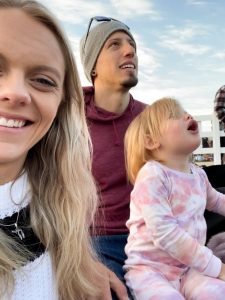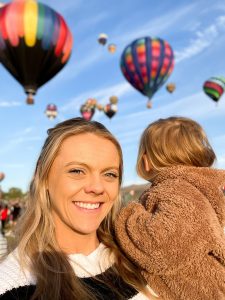 Let's dive into some top things to keep in mind for the Reno Balloon Races and then get into tips for taking your kids. 
It's a trek down to the field, the main road is busy, and for some moms and dads, it could bring out a level of safety anxiety you didn't know was a thing. The walk down is pretty well lit but use your light on your phone or bring a flashlight.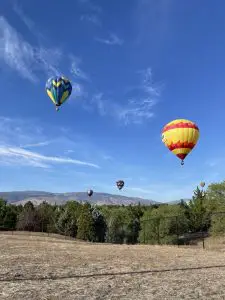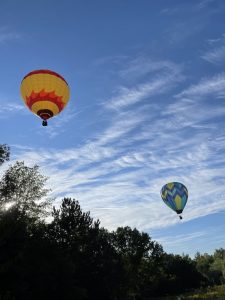 This is a free event, and there are designated spots to sit and enjoy the event. There are heated tents with tables and chairs, with food and hot coffee, called the Cloud 9 VIP Club, if you are looking for more of a luxury experience. The tent sells VIP tickets, and tickets sell out months in advance, so HURRY when they go on sale if you want to experience it from the comfort of the tent. 
You can check out the schedule of events page here. They have exceptional National Anthem singers and themes for each day.
Since Friday is a work and school day for most, it is less busy than the weekend, but don't be fooled. Over 120,000 spectators visit this event over the three days, so it is just a busier event. 
Give yourself time! Leave early. You can always sit in your car and wait for the gates to open. 
Now let's dive into the real Reno Balloon Races Tips and Tricks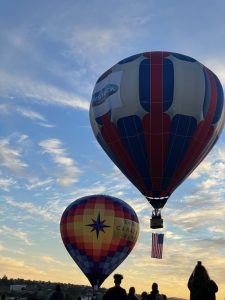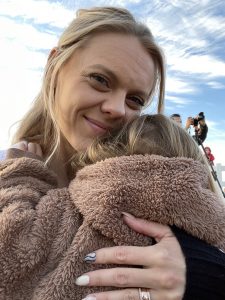 Reno Balloon Races Tips and Tricks
Picking a spot
Balloons are HUGE and take up a significant amount of space. With over 100 balloons seating on the field is tricky. Please respect the grounds and stay clear of the pilots as they roll out their balloons, and please relocate if they ask you to move. Without these pilots, we wouldn't have such a fantastic event each year. 
The white fence and along the walking paths are your best bet and a great spot for photos. The other location would be by the Cloud 9 VIP tents. This area is beneficial because it is closer to the exit path back to the parking lot. 
Chairs are welcome, but we like to lay and gaze from the blanket.
Grab Breakfast from Balloon Boulevard 
donuts and burritos and coffee for the parents. For some reason, our girl has an internal food clock. She is the I've been up for 30 min, I'm hungry kind of kid. It doesn't matter the time of day. If she's up, she's hungry. Bring your own snacks to save money. The donut stand and burritos were fabulous and perfect for us to share as a family. 
I have a soft spot for them because of my past and volunteering, but there are some really great things over there. 
Blankets and More Blankets. 
It's cold in September in the mornings and does warm up by the afternoon, bundle up and bring your blankets so that you can cuddle up and enjoy the show. The grass can be wet in the early morning so opt for one of the blankets with the waterproof bottoms to lay down first. It's cold, so bundle up under your blankets to stay warm.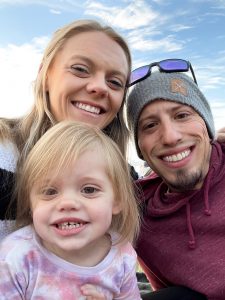 Speaking of staying warm, dress warm
!
You never know how warm or cold it will be in September, so bundle up. You can ALWAYS take layers off if needed. It is very chilly, especially if you are going before the sun comes up.
Bring a flashlight.
Getting down to the field can be a little tricky. The walking path is pretty well kept but can have spots where the rain runoff has washed away an edge. Keep an eye out for your little as you make your way down the hill.
Stroll or wear your kids.
If they are small enough and still rock the carrier, we recommend strapping them to you. If not, use a stroller or one of those wagons to pack all your stuff down to the field.
Show up Early. 
Now, if you are a morning person, you must go to the Glow Show and wait for Dawn Patrol. When I say morning person, I mean to be there by 5:00 am for when the show starts "morning person". Thankfully they added Friday a few years ago so that you can enjoy Dawn Patrol all three days of the event. We get it if you want to skip the early morning glow show and dawn patrol. It's EARLY! But… still, show up early. The early goers will take all the "good" spots, but you can still find some good places to post up and enjoy the show. 
If you are not a crowd person, totally ok. Stay up top or opt for sitting on the hill to get a full field view from above.
Be flexible.
Last year the weather did not play in our favor, and the balloons could not take off. It was a super bummer, but the safety of the pilots and spectators is most important.
Keep the kids in their PJs.
It's SOO much easier to keep them warm and comfy in their PJs. 
Donate to the parking fund.
I know you're probably thinking going to a free event and paying $20 for parking sounds crazy, but it's closer and more accessible with the kiddos than walking from UNRs parking lots. But that does come with the downfall of a crowded parking lot while everyone is attempting to leave. You can either wait for the field to clear or rush up there early to avoid long lines leaving and the crowded parking lot.

Reno Balloon Races Schedule breakdown
Friday, September 9
5:00 Super Glow Show
5:30 Dawn Patrol
7:00 Main Launch
9:30 E.L. Cord Foundation Tissue Paper Balloon Launch
Saturday, September 10
5:00 Glow Show
5:30 Dawn Patrol
7:00 Main Launch
Sunday, September 11
5:00 Glow Show
5:30 Dawn Patrol
6:45 9/11 Remembrance Ceremony
7:00 Main Launch
Every day 4:30 – 11:00, shopping along Balloon Boulevard.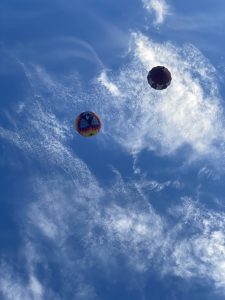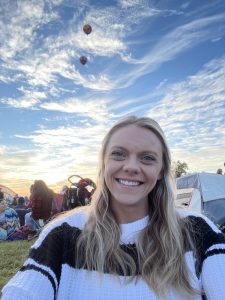 We hope you enjoy this event as much as we do!
Take lots of pictures, and don't forget to tag The Great Reno Balloon Races on social media.
For more info about the Reno Balloon Races head here: Website
Looking for other fun things to do this fall check out the local pumpkin patches or fall photo spots