2023 Reno Balloon Races
Happy Launching! It's time for the Reno Balloon Races of 2023.
The yearly event at Rancho San Rafael Park is back.
There are a few things new this year, and we are so excited to share them with you.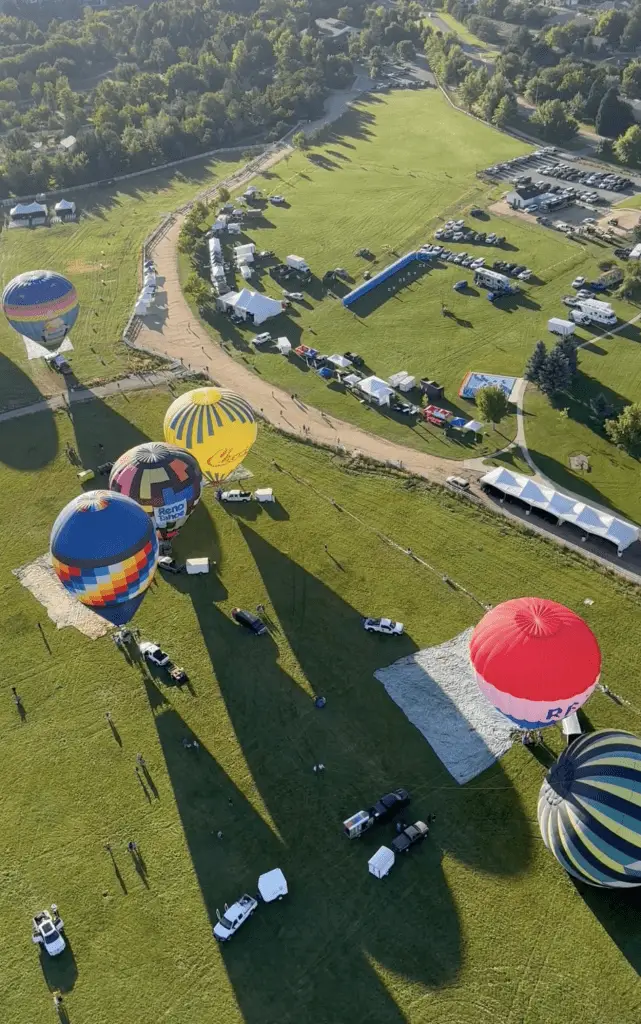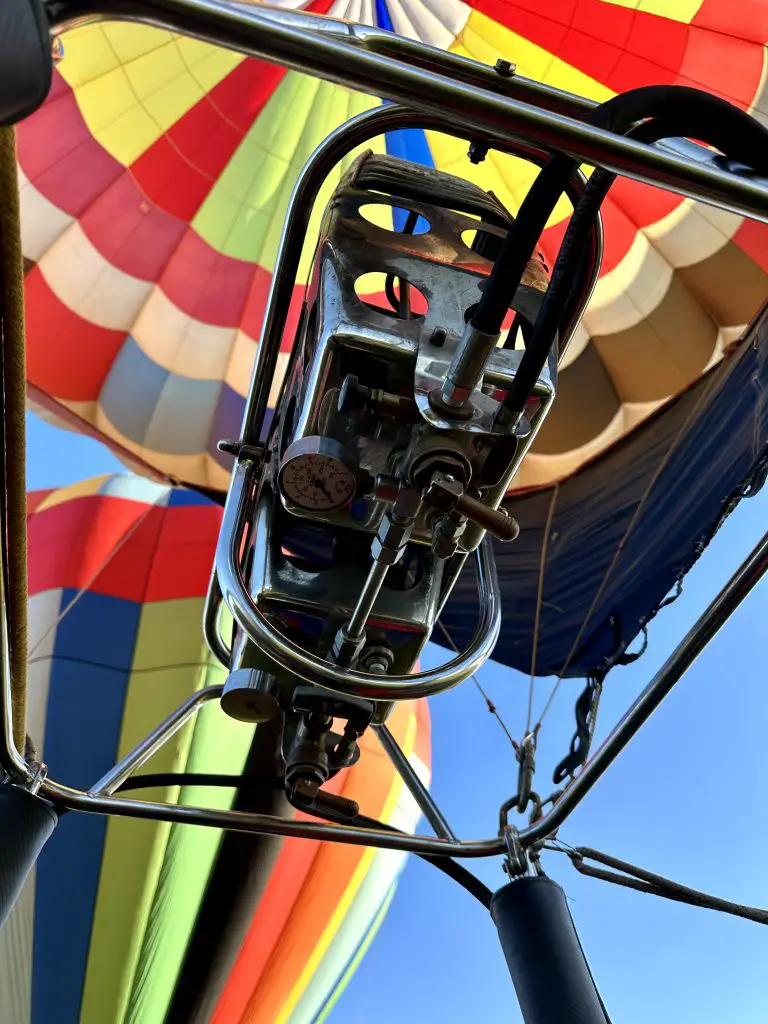 Reno Balloon Races – A Sky-High Adventure
When I was talking to our daughter about the balloon races, her response was…
Oh yeah, the place where we have to go to bed early to wake up really early, and it's dark, and we get dressed and go and see the balloons, and then the sun comes up. Right?
For this being her 3rd year attending the reno balloon races, she has the routine down pretty well.
I remember going as a kid, and I'm so thankful I'm able to continue the tradition with our daughter.
Pictures will never do these hot air balloons justice, especially the beautiful super glow shows.
Bright glowing balloons fill the sky early in the morning, which is the most peaceful thing to watch.
The oos and awws each time they glow make it that much better.
Let's dive into the reno balloon races, the world's largest FREE Hot Air Balloon event.
Such a cool thing to say about our little old town of Reno.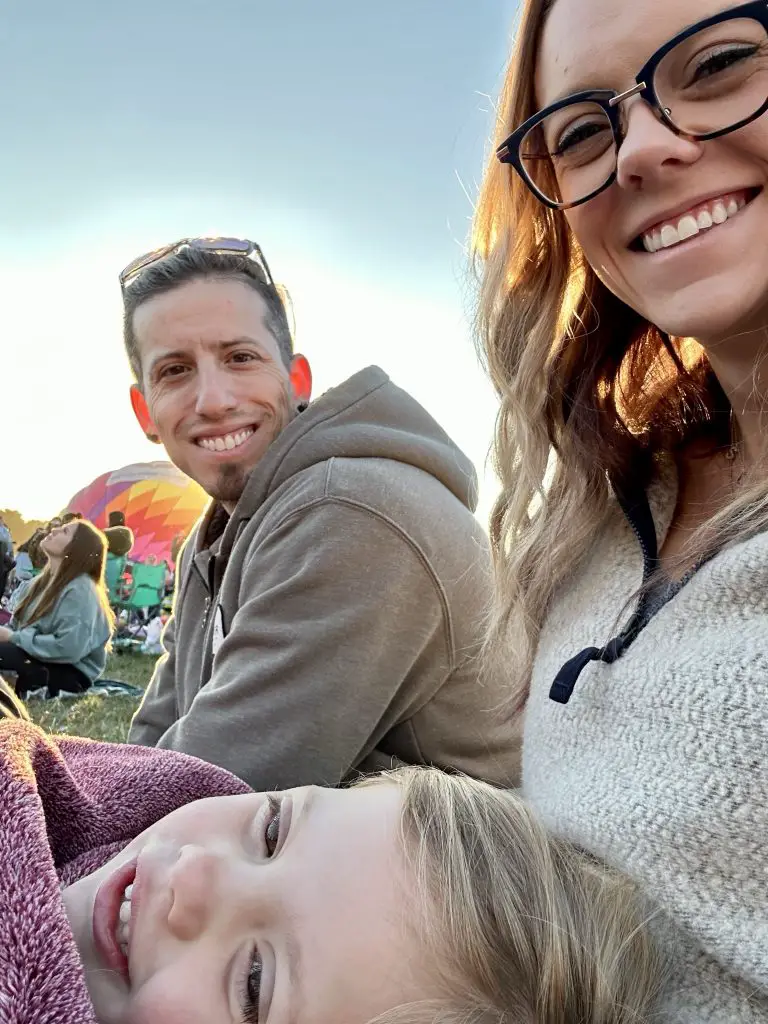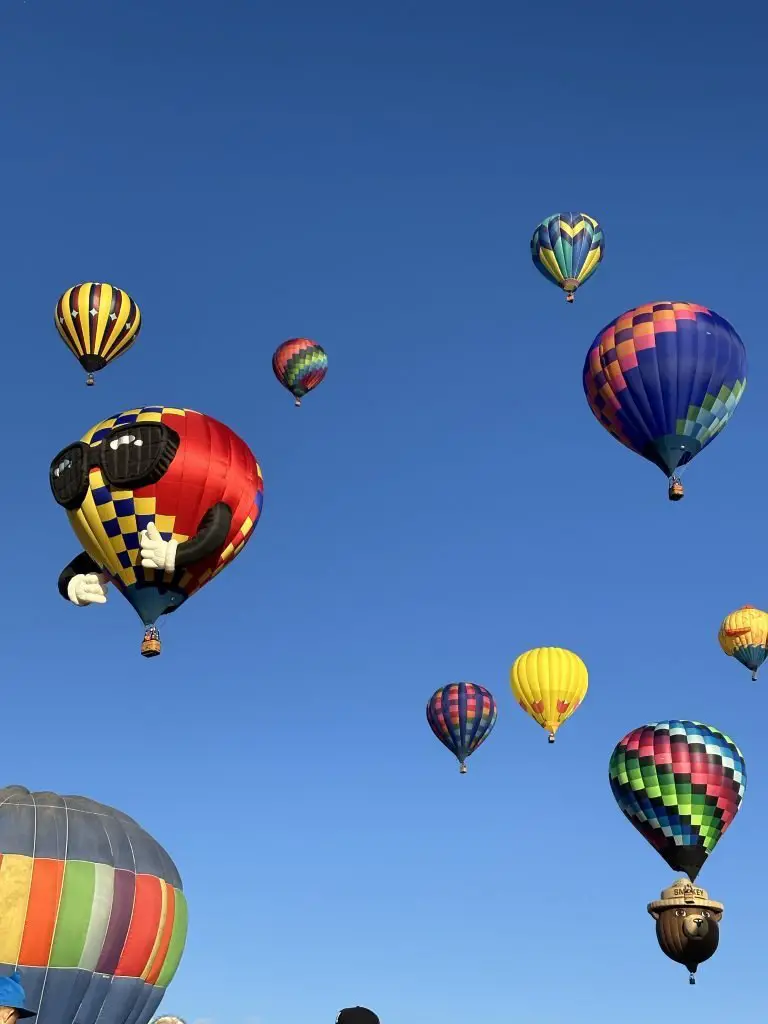 2023 Updates for Reno Balloon Races
New Balloons
There are SO many new balloons this year. While you will see the traditional colorful balloons, there will be many more shapes this year.
From Humpty Dumpty and Snobird to bears and fish, this year brings a wide array of balloon shapes!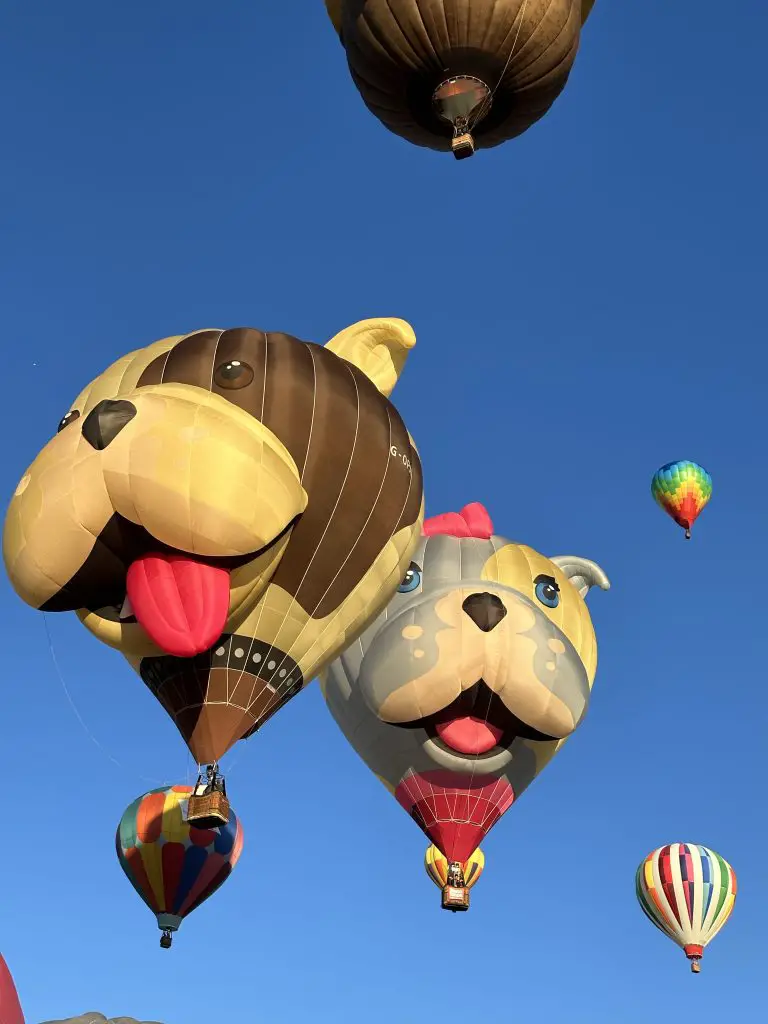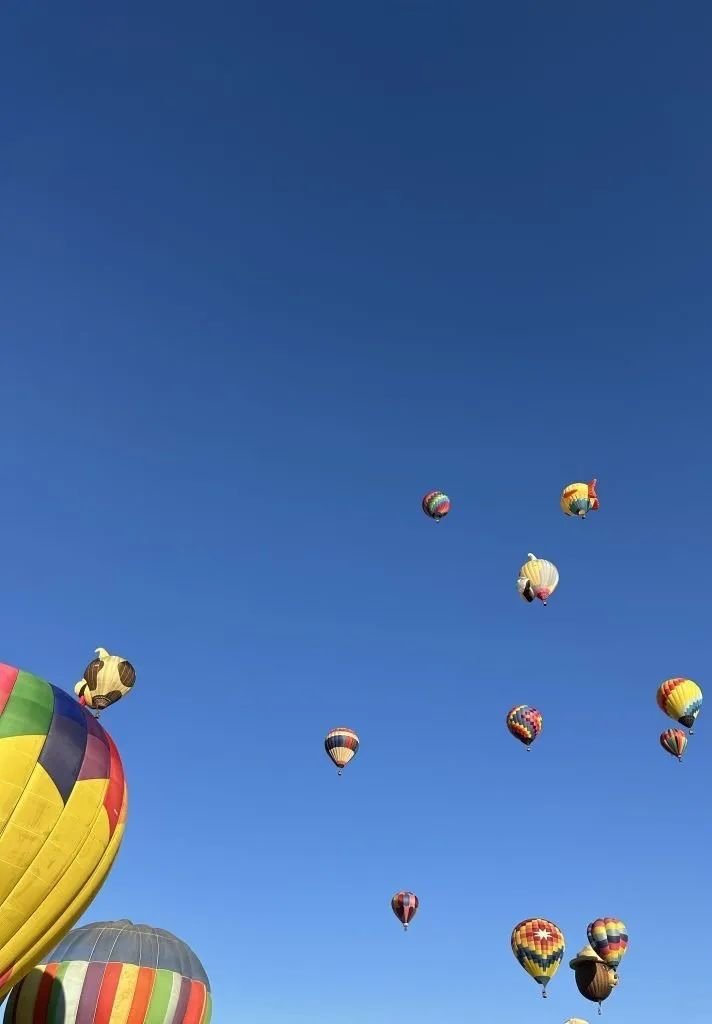 Tethered Hot Air Balloon Rides
At 8:00 a.m., after mass ascension, multiple balloons will host free tethered rides to the public.
Renown Children's Hospital and Reach for the Stars
Custom Ink and Karalyn Mumm and Citrus in the Sky
Child Care Development Fund and Snobid
And Two Rising Star Pilots will offer tethered rides as well.
Win a Free Ride
In addition to tethered rides, you can enter for a chance to ride in one of the balloons.
Head over to the information booth on Balloon Blvd between 4:45 a.m. and 6:00 a.m. each day to enter.
Drawings will take place each morning at 6:15 a.m.
All riders must be 18+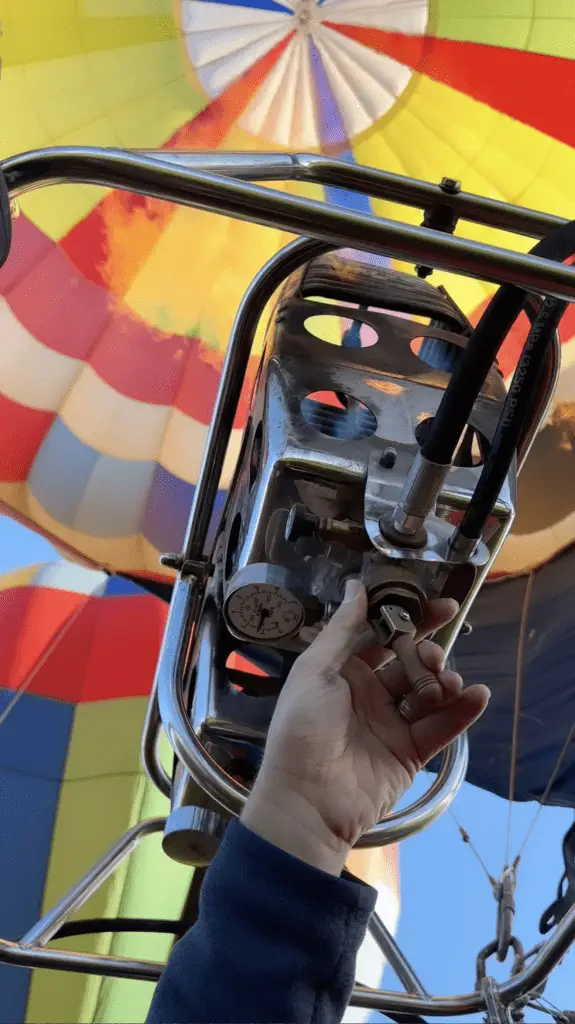 Balloon Blvd.
The food options are really starting to show up these past few years.
If you've been around long enough, you know I used to volunteer at a hot dog stand, and if there is one thing I do not want to eat at 5:00 in the morning, it's a hot dog.
This year there are some really great options
Pot Luck Food Truck
Gonuts 4 Donuts
Boopies Minis – More Donuts
Breakfast Burritos, Breakfast Biscuit Sandwich
Biscuits and Gravy
Bistro Habanero
Crepes
Smoothies
BBQ
Acai Bowls
Coffee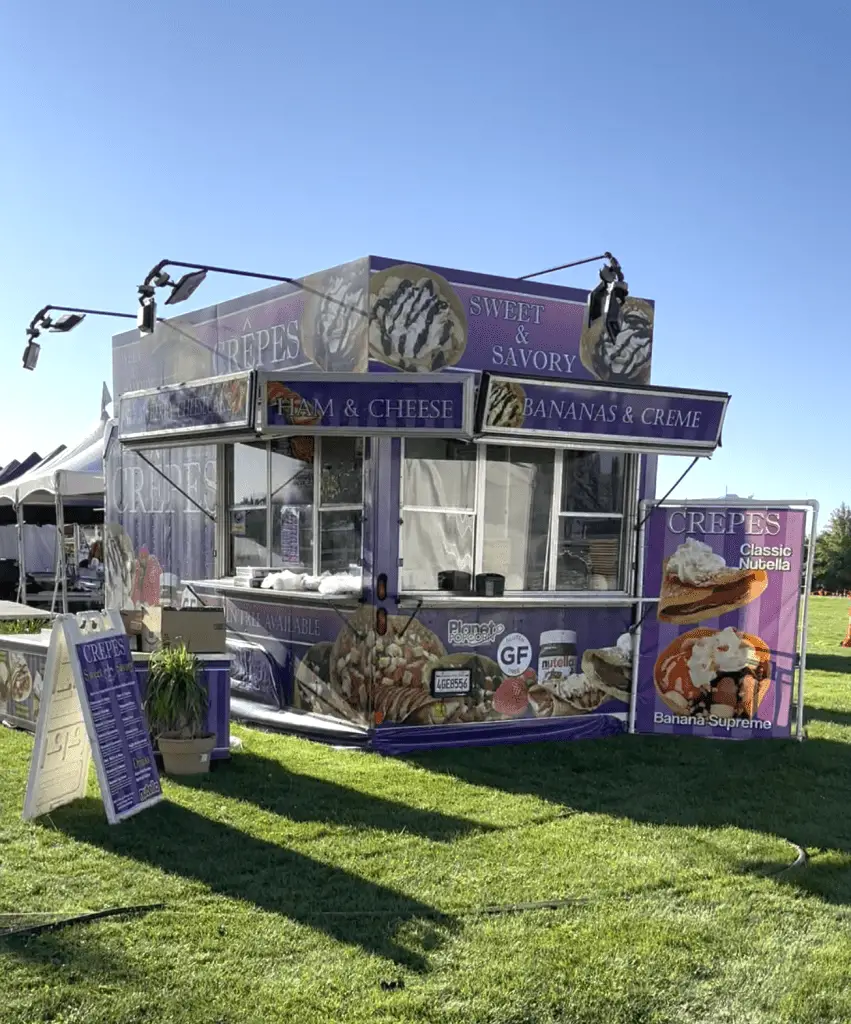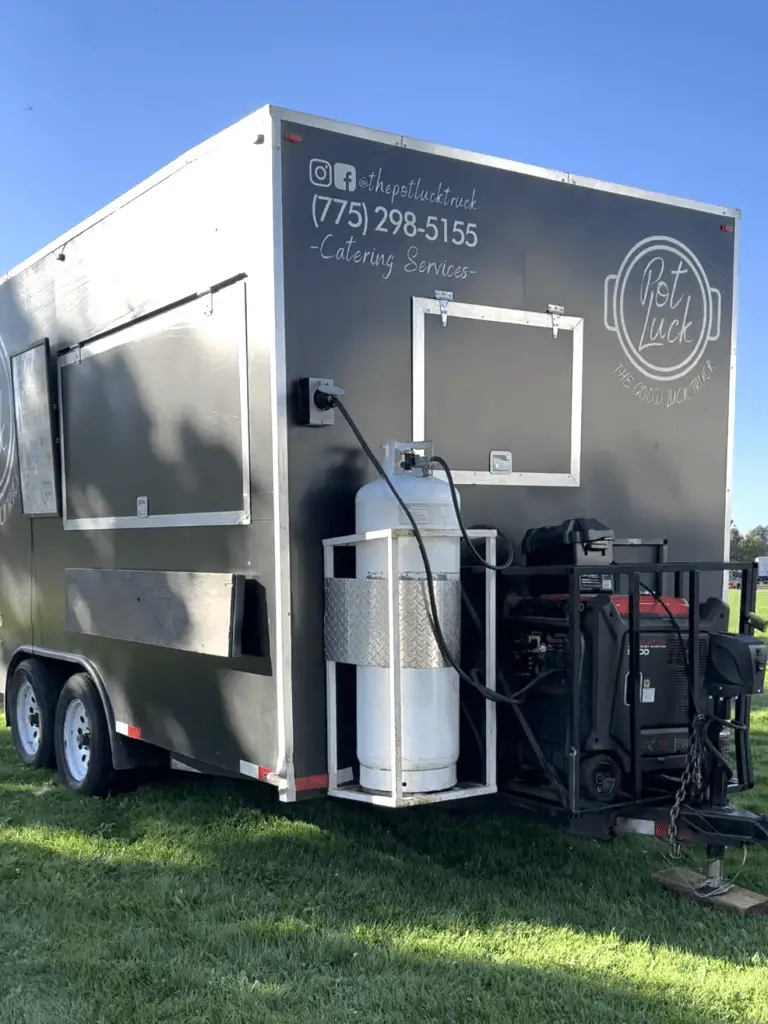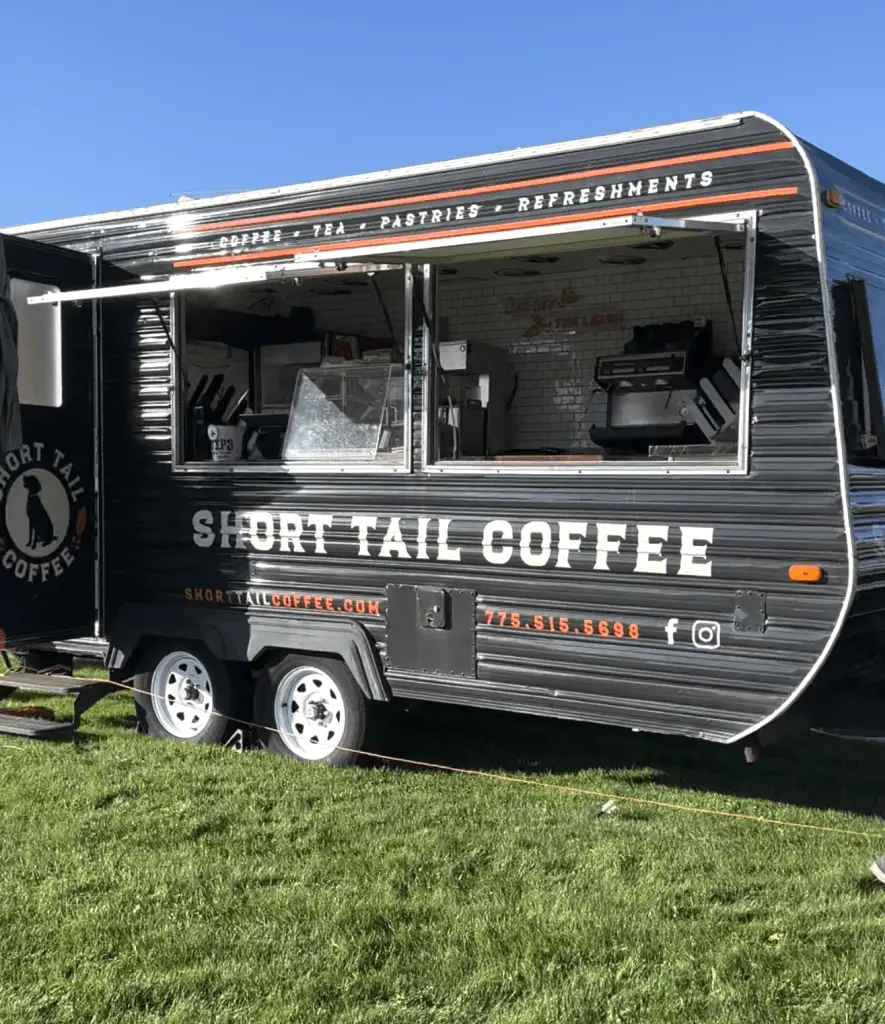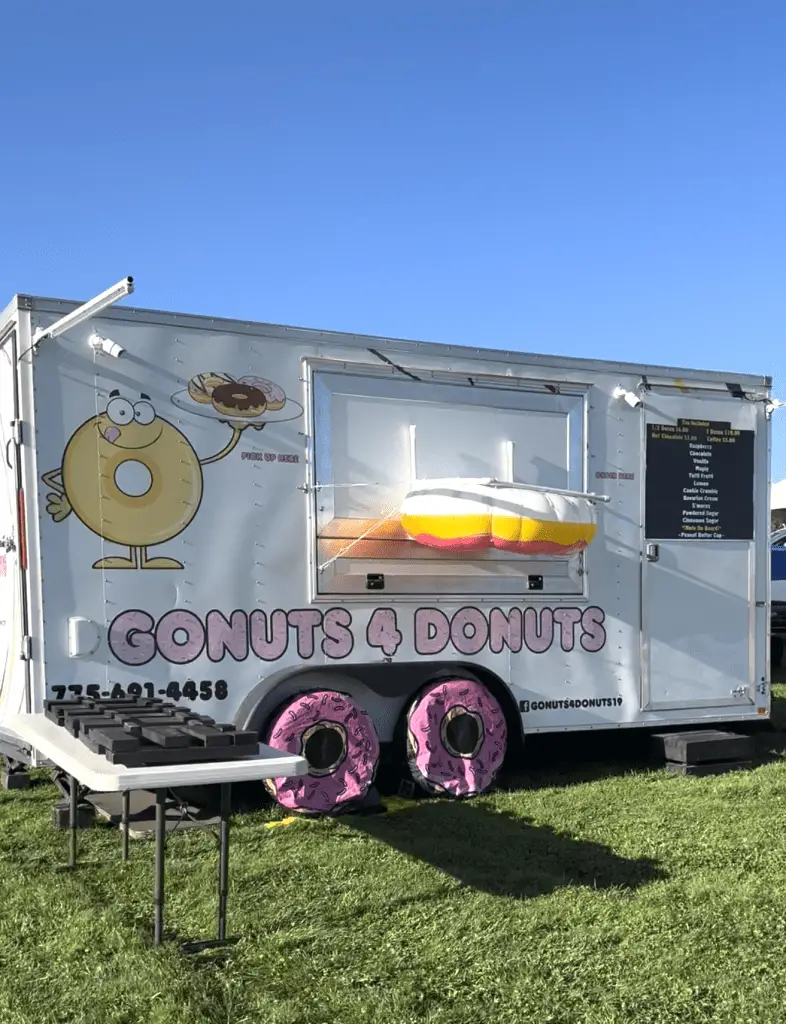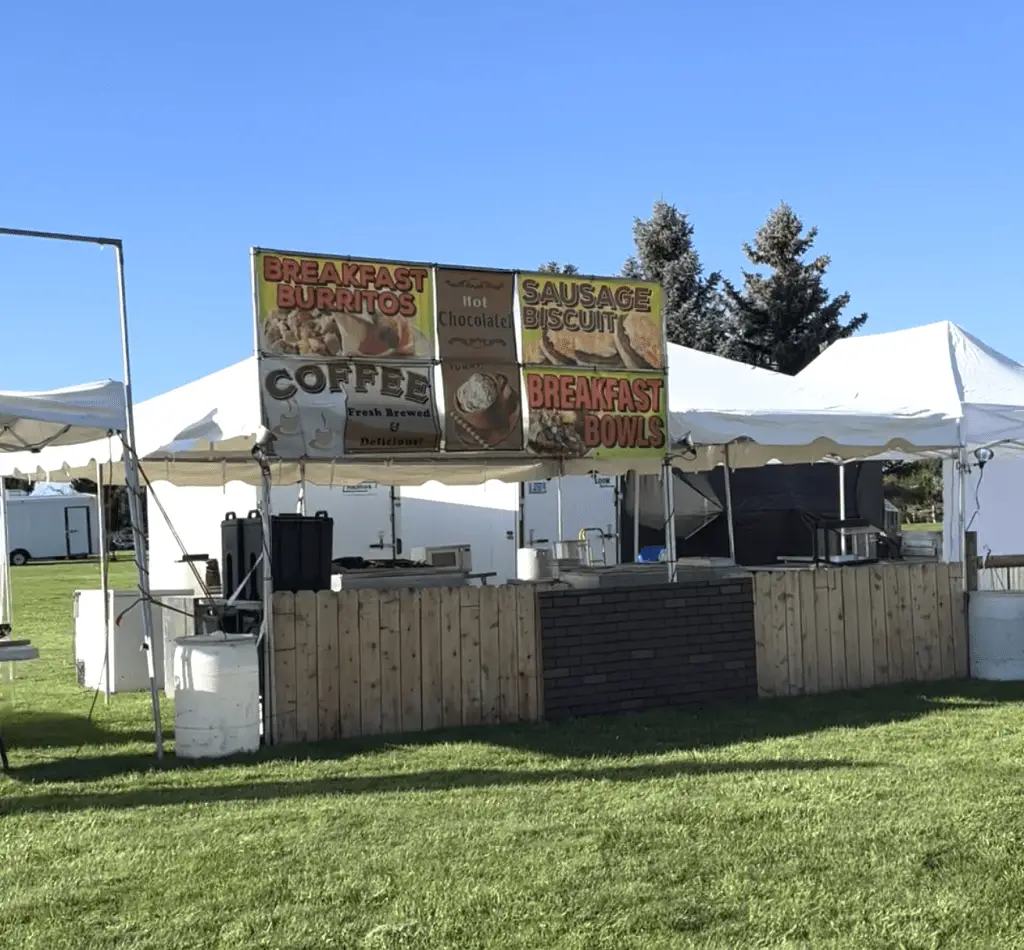 The breakfast burrito is my favorite, and I actually know the truck layout this time, so I can go get my burritos.
The mini donuts are a blessing from the morning gods. The perfect little sugar rush for you and your family before the sun comes up.
And last, the delicious coffee to fill your bodies with a little warmth. You can also grab a hot cocoa from a few of the food and beverage carts.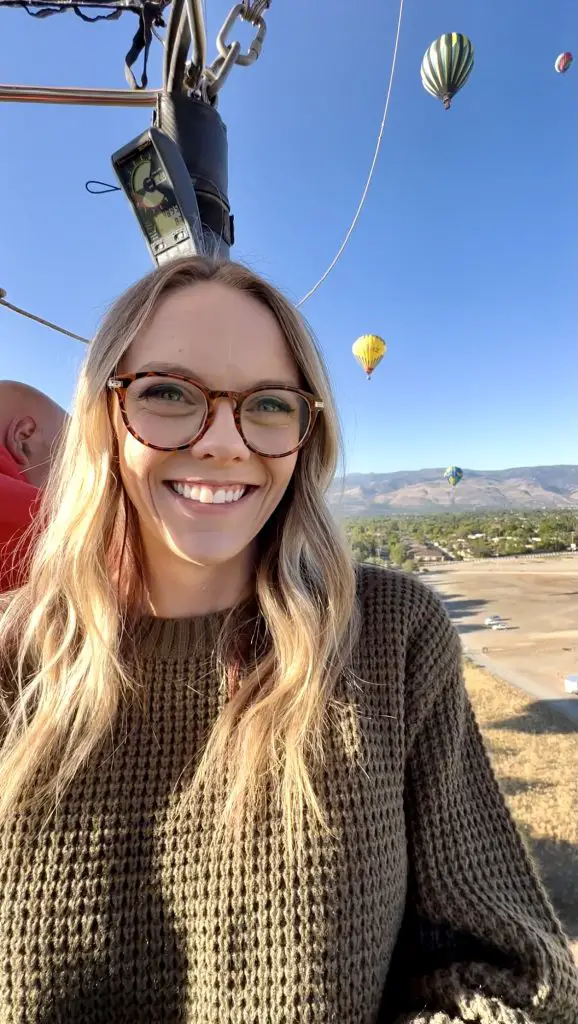 Preparing for the Adventure
Every year gets better and better. Years ago, I remember the glow show being on specific days, then they added the super glow show.
And now, there are themed days, T-6 flyovers, and tethered balloon rides.
Since this is a free event, there are no tickets needed. But if you are looking for a more "luxurious" experience, you will need to pick up VIP tickets to Cloud 9.
The best part about the balloon races is the ability to experience two separate events.
Dawn patrol and the glow show are the early morning events at the balloon races that require you to get to the park around 3:30 a.m.
Now, for most people, it seems unlikely and not feasible to be somewhere by 4:00 in the morning.
The second piece is the mass ascension, and this may be your calling for those who are not morning people. Starting at 7:00 a.m., hundreds of balloons will fill the sky with their beautiful colors.
The best thing about the Reno Balloon Races is the fact it's a free event open to the public. While it does have a paid option and parking passes as well, nothing beats a free event in Reno.
For 40 years, pilots have shared their passion with us Reno people, and we couldn't be more thankful. I had the opportunity to ride in a balloon this year, and it was truly a magical experience.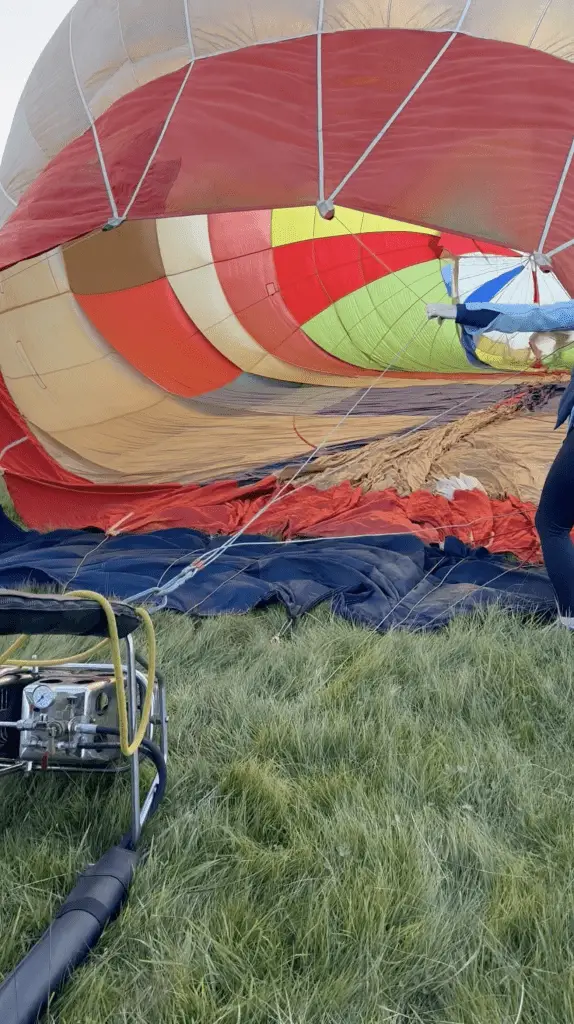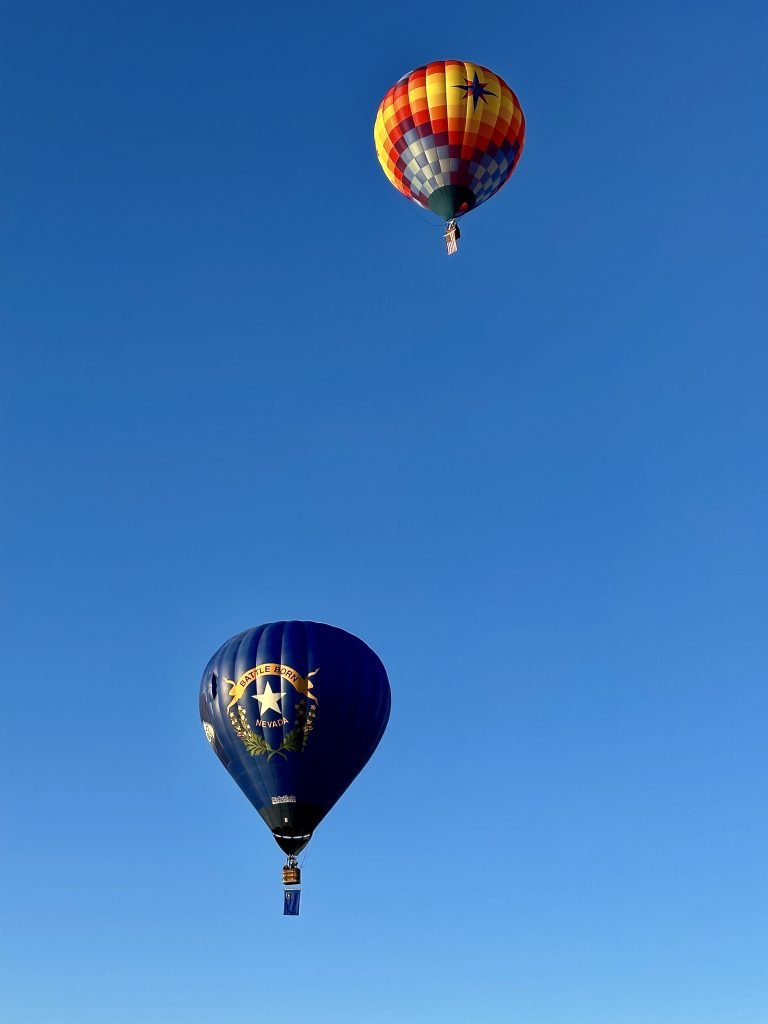 2023 Schedule
Friday, September 8
3:30 a.m. – Gates open to Rancho San Rafael Regional Park
5:00 a.m. – Super Glow Show
5:30 a.m. – 40th Anniversary of Dawn Patrol
6:45 a.m. – Reno Air Races T-6 Flyover
6:50 a.m. – National Anthem with Ashley Melendez
7:00 a.m. – Mass Ascension Launch
9:30 a.m. – Tissue Paper Balloon Launch with E.L. Cord Foundation
4:30 a.m. – 11:00 a.m. – Balloon Boulevard Shopping and Food
Saturday, September 9 – Paint The Park Pink
3:30 a.m. – Gates open to Rancho San Rafael Regional Park
5:00 a.m. – Super Glow Show
5:30 a.m. – 40th Anniversary of Dawn Patrol
6:50 a.m. National Anthem with Sierra High Notes
7:00 a.m. – Mass Ascension
4:30 a.m. – 11:00 a.m.- Balloon Boulevard Shopping and Food
Sunday, September 10
3:30 a.m. – Gates open to Rancho San Rafael Regional Park
5:00 a.m. – Super Glow Show
5:30 a.m. – 40th Anniversary of Dawn Patrol
6:50 a.m. – National Anthem with Nick Eng
7:00 a.m. – Mass Ascension
4:30 a.m. – 11:00 a.m.- Balloon Boulevard Shopping and Food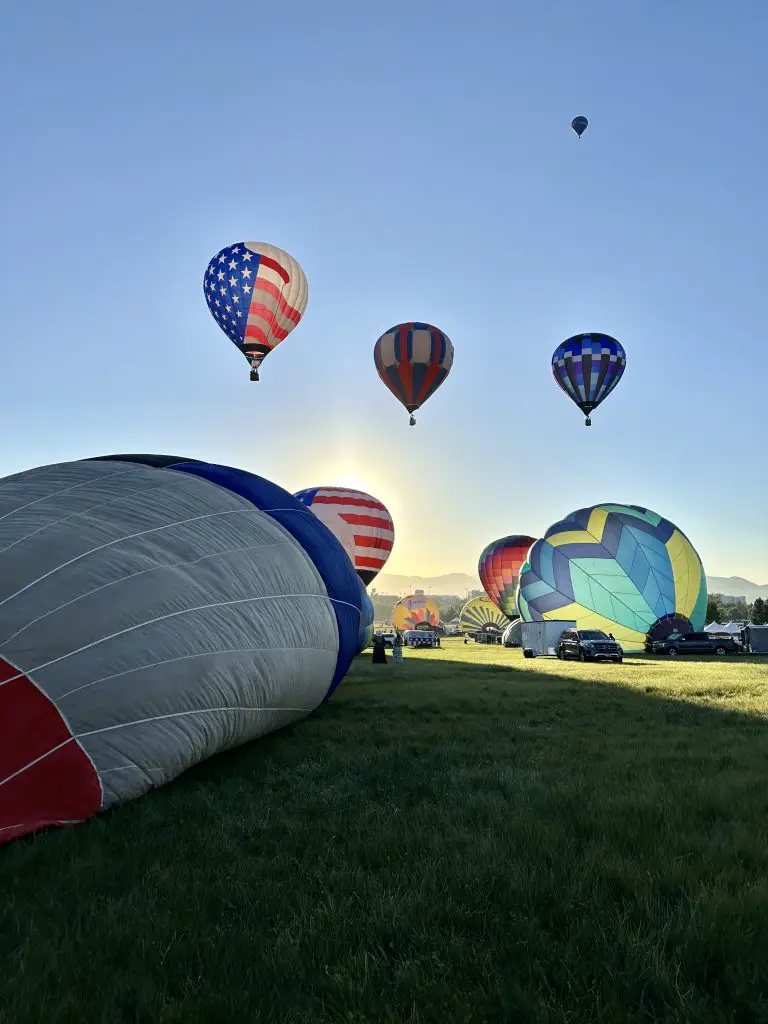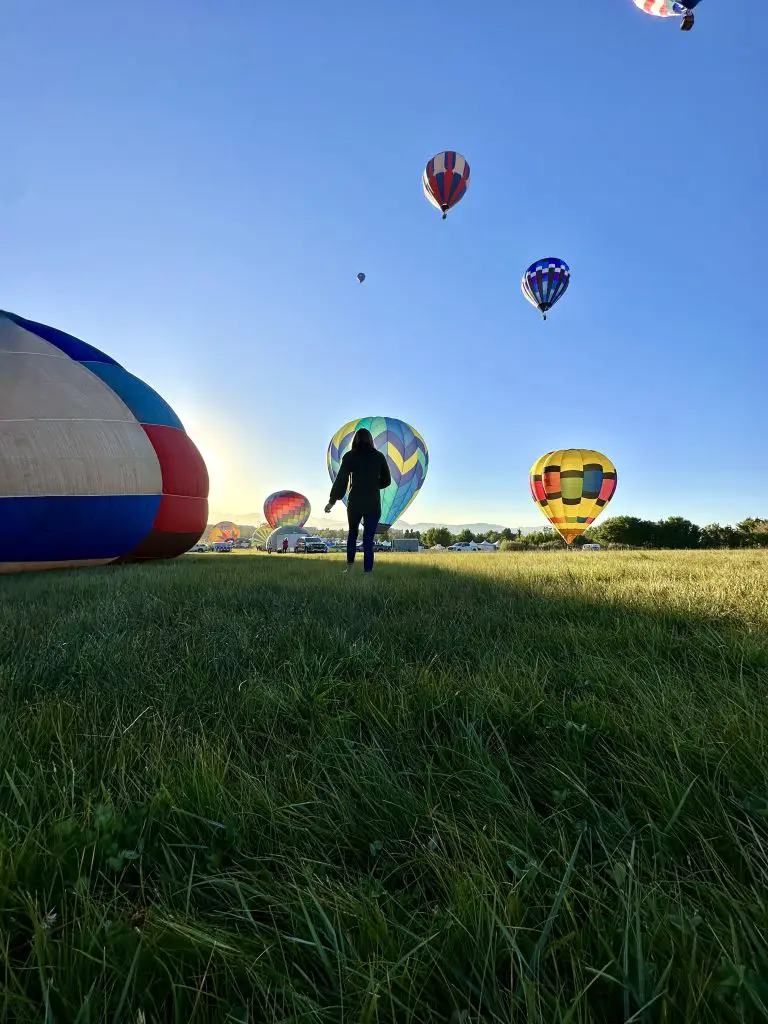 Tips for a Memorable Experience
Sharing these special moments as a family is next-level, and I hope you are able to create wonderful memories with your whole family as well.
We still believe to this day that picking your spot is probably the most important thing when it comes to the Reno balloon races.
More on our top tips and selecting a spot shortly, but a few other things to keep in mind are staying warm, a waterproof mat or blanket to sit on, and parking.
Picking a spot
A lot of people tend to walk onto the grass right past the Cloud 9 tent and park it. This is probably the busiest spot on the field because of that.
While this is convenient and gets you out "quickly" after the balloons take off, it will not provide the best view of all of the balloons.
Spread out and make your way to the West end of the field. Many people don't walk this far, and since the hill begins to slightly incline on the west side, you get a little more of an elevated view.
Grab Food and Coffee, or Pack Some
We like to grab burritos and mini donuts with a coffee and relax on our mat while we wait for the glow show to begin.
One little tip is to bring your own coffee. The coffee lines can be really long in the morning, and we don't always have patience before coffee.
If you want to save a little money, you can bring your own food and snacks as well.
What to bring

to the Reno Balloon Races

You can scroll down to read the more in-depth list, but one thing I noticed this year is the sign saying

No dogs,

No smoking,

And no baby carriages on the field.

I completely understand dogs and smoking, but the baby carriages were something different that I don't remember seeing last year.

Now, I'm not 80, so we don't call them carriages anymore, but I'm assuming this is all baby stroller varieties.

Many people bring strollers and wagons onto the the field and it doesn't seem to be an issue.

We are opting to skip the wagon this year, and I have to say I'm glad. It's always hard navigating through people and especially if you are grid lock on the field

It can be really dark and busy early in the morning, and I always find it easier to carry her rather than let her walk.

We like to bring a waterproof mat or blanket to sit on and a blanket for each person.

It's pretty cold in the morning for dawn patrol, so we suggest dressing really warm with layers if you are going for the early show.

If you are going to show up closer to the mass ascension, a mat and warm clothing are perfect.

You will be a little cold, but once the sun comes over the mountains, it will warm up quite a bit.
Parking
There are a few options for parking. While there is paid parking on the dirt lot connected to the upper portion of the field, getting out of the parking lot is a disaster and a half.
The gates for this parking lot open at 3:30 a.m. While this is probably the closest parking, you do have to pay for it, and it can fill up quickly.
For most people, it's best to park in the UNR parking lot and walk across Virginia st and N Sierra St. and down to the field at Rancho San Rafael Park. The corner of sierra street can be very busy so take your time and watch for cars.
It is dark if you are going in the morning, so bring a flashlight or use the one on your phone while you make your way down.
All Parking Options
RTC will have a bus run every 15 minutes from 4 a.m. to 10 a.m. You can park and ride free from the Reno-Sparks Convention Center in downtown reno.
University of Nevada Parking is Free in the Green and Blue 1 Lots.
First-come, first-serve handicapped parking on Sierra St.
$25 cash donation for general parking at Rancho San Rafael Park.
DO NOT park along McCarran Blvd.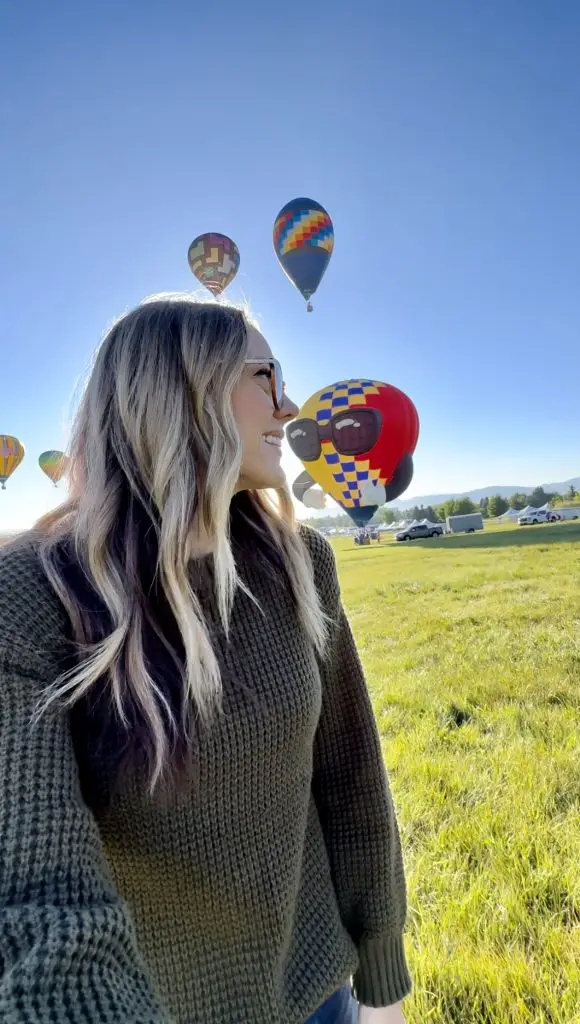 VIP Cloud 9
This VIP section provides seating, breakfast, coffee, and heat lamps for guests.
In addition to the private tent area, VIP guests will receive parking in a designated spot closer to the field and enjoy a mimosa or bloody mary provided by Squeeze In.
Tickets often sell out fast and weeks in advance for the Cloud 9 VIP experience. While you might have missed this year, definitely put it on your bucket list for next year.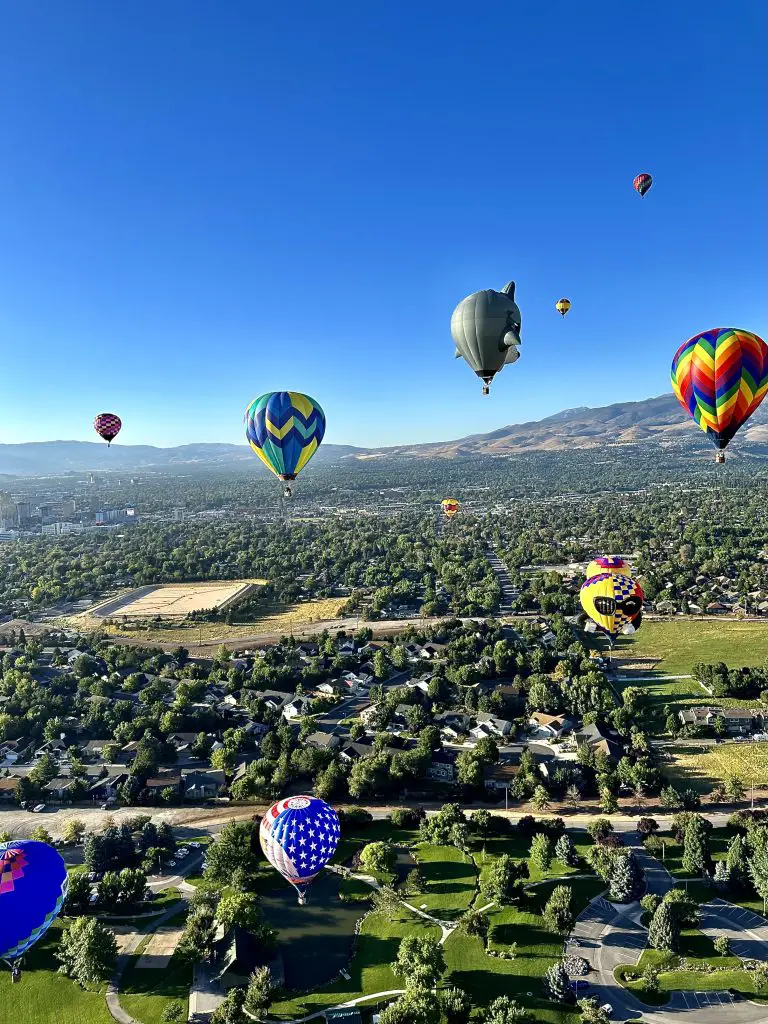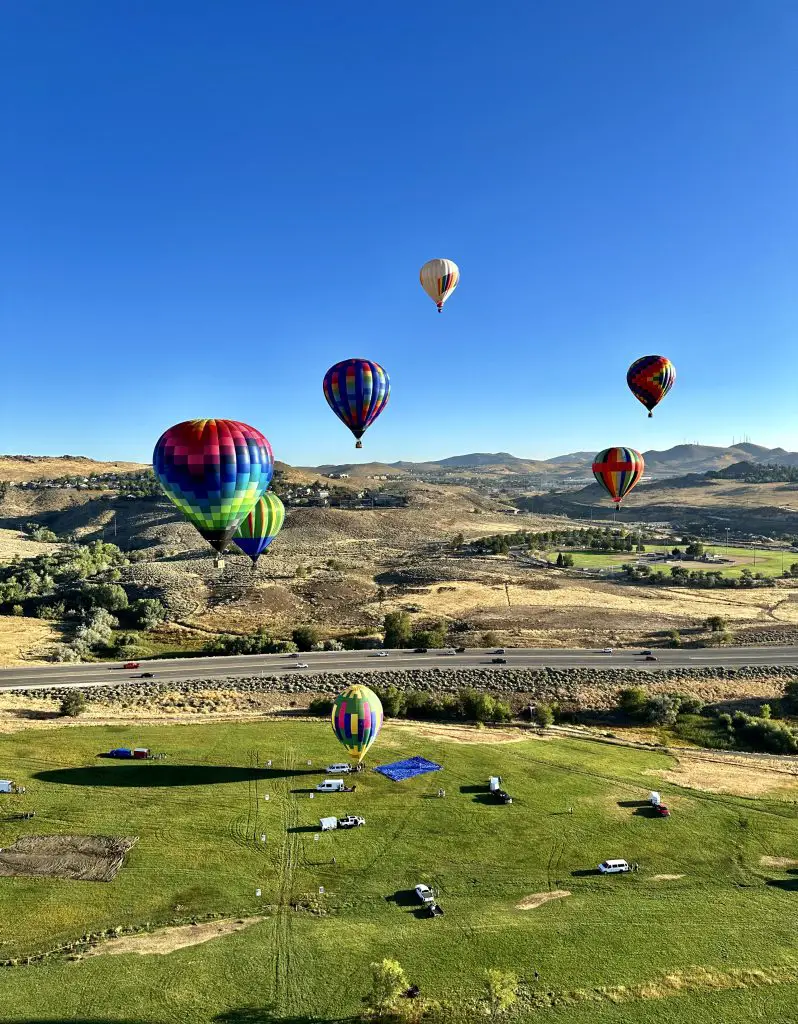 Things to do After the Reno Balloon Races
September brings a LOT of events, and being a September baby, The Great Reno Balloon Races are my favorite.
But this is one of the busiest months and weekends for events in Reno, so here are a few things that caught our eye that you can also enjoy this weekend.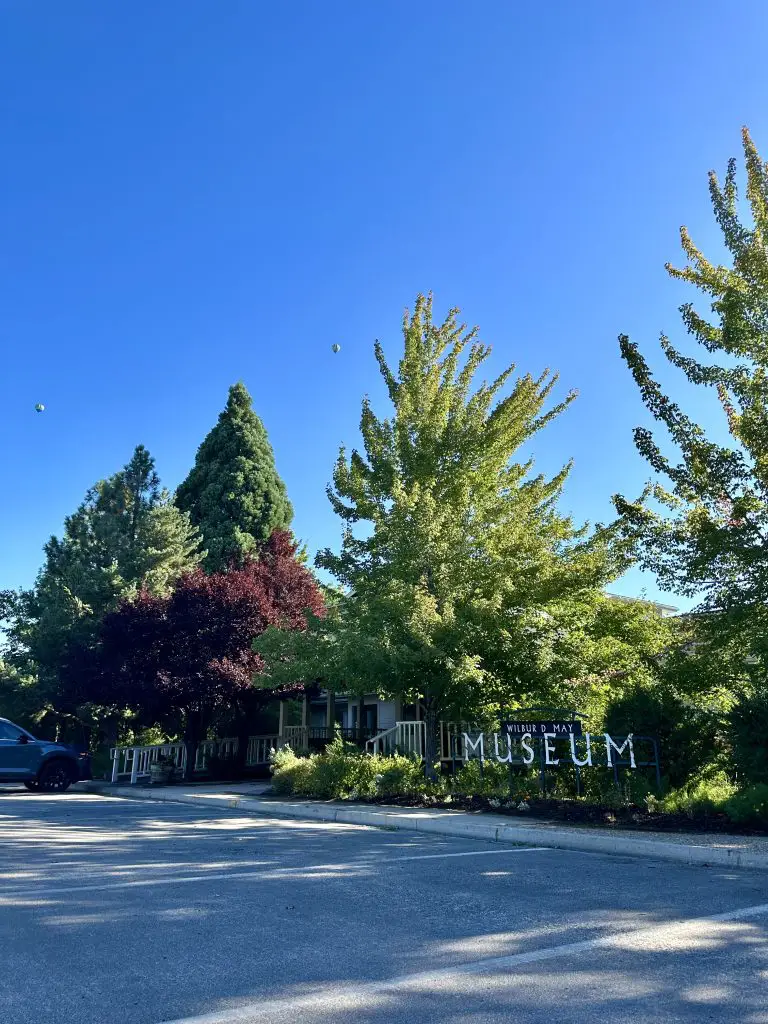 Explore Free Admission at Wilbur D May Center
During the balloon races, Wilbur D. May Museum is offering free admission.
The Museum has special hours during this event.
Friday 7:00 a.m. 1:00 p.m.
Saturday 7:00 a.m. 1:00 p.m.
Sunday 7:00 a.m. 1:00 p.m.
Head to the UNR game
Family traditions for MANY. The UNR game is the perfect spot to head after the balloon races. Many people tailgate and make it an entire weekend event.
UNR will battle the Idaho Vandals at Mackay Stadium this year on Saturday.
Tickets are still available as of Thursday morning.
Grab a bite to Eat.
If you are anything like us and don't get to make it Downtown by the University often, this is your opportunity.
Pick a spot for breakfast and hang out to watch the game.
This is another popular option among locals.
Here are a few spots to try out with and without the game.
Archie's has great burgers and breakfast and opens at 6:00 a.m.
Big Horn Tavern Bar & Grill
Two Chicks in Midtown
Perenn Bakery
Pegs Glorified Ham N Eggs
Squeeze In
Head to Virginia City for Camel and Ostrage races
For as many years as the balloon races have filled our sky with magical balloons, camels and ostrich have raced in Virginia City.
For 64 years, the international camel and ostrich races have blessed us with good old-fashioned family fun.
Virginia City hosts this silly and fun event that once started as a prank between two newspaper editors.
There are four shows to pick from Sept 8- 10.
Reno Greek Festival
Join the yearly Greek festival at St. Anthony Greek Orthodox Church for food, sweets, shopping, music, and more.
Sept 8 & 9
Milk & Honey
Jewish Nevada will also be hosting its 2nd Annual Milk & Honey event at the McKinley Arts and Culture Center on Saturday from 1:00 – 5:00 p.m.
Enjoy Jewish food, music, kids' activities, and culture at this festival.
We hope you enjoy this event as much as we do and make lasting memories as a family.
Here are our top tips and tricks for those who have not attended the event in a few years or are now going with kids.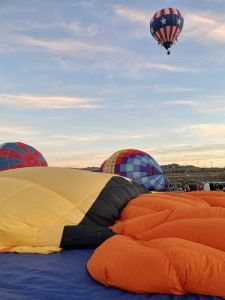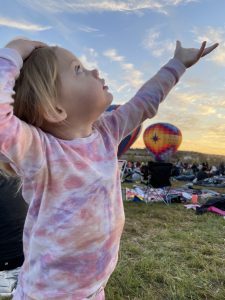 40 years! We are so thankful that over 40 years ago, 20 balloons decided to sign up, and take flight in our little town of Reno, NV for the Reno Balloon Races.
The Great Reno Balloon Races have celebrated so many years here in our local community and now have over 100 Balloons that take flight every year.
The Reno Balloon Races have such a special place in my heart and so many memories I will never forget.
When I was in high school, our cross country team would volunteer at the hot dog stand and be there bright and early when the gates opened at 3:30 am to prep the truck for the busy hours to come on Balloon Boulevard after the balloons take flight. A quick thank you to the hundreds of people that ate hotdogs at 6:00 in the morning. You, my friends, made all of that worth it.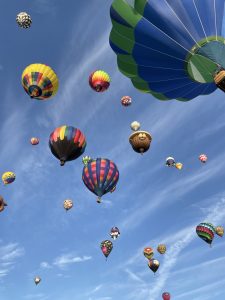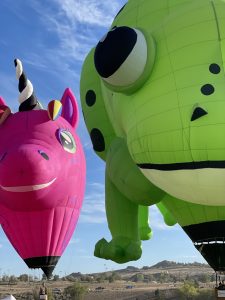 When we were kids, I remember going as a family—packing into our wagon and heading down to the field to watch the show. But it's one thing to go as an adult. Taking your child, especially the first time is an entirely different experience.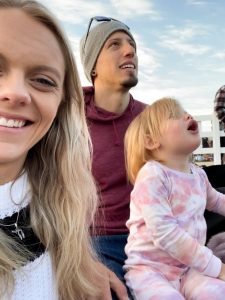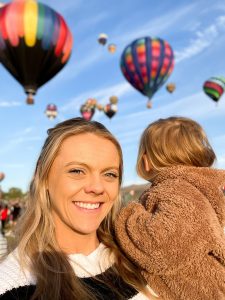 Let's dive into some top things to keep in mind for the Reno Balloon Races and then get into tips for taking your kids.
It's a trek down to the field, the main road is busy, and for some moms and dads, it could bring out a level of safety anxiety you didn't know was a thing. The walk down is pretty well lit but use your light on your phone or bring a flashlight.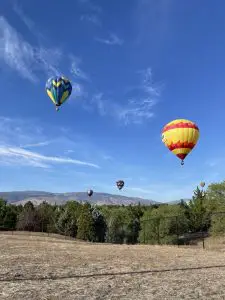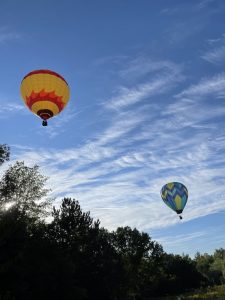 This is a free event, and there are designated spots to sit and enjoy the event. There are heated tents with tables and chairs, with food and hot coffee, called the Cloud 9 VIP Club, if you are looking for more of a luxury experience. The tent sells VIP tickets, and tickets sell out months in advance, so HURRY when they go on sale if you want to experience it from the comfort of the tent.
You can check out the schedule of events page here. They have exceptional National Anthem singers and themes for each day.
Since Friday is a work and school day for most, it is less busy than the weekend, but don't be fooled. Over 120,000 spectators visit this event over the three days, so it is just a busier event.
Give yourself time! Leave early. You can always sit in your car and wait for the gates to open.
Now let's dive into the real Reno Balloon Races Tips and Tricks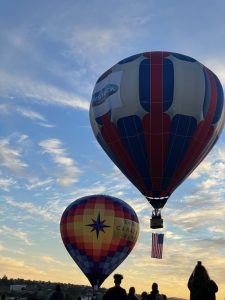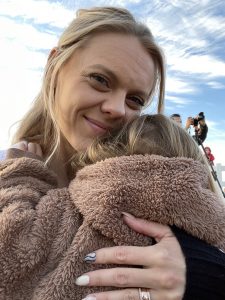 Reno Balloon Races Tips and Tricks
Picking a spot
Balloons are HUGE and take up a significant amount of space. With over 100 balloons seating on the field is tricky. Please respect the grounds and stay clear of the pilots as they roll out their balloons, and please relocate if they ask you to move. Without these pilots, we wouldn't have such a fantastic event each year.
The white fence and along the walking paths are your best bet and a great spot for photos. There will be signs that say blanket area.
The other location would be by the Cloud 9 VIP tents. This area is beneficial because it is closer to the exit path back to the parking lot. It. It can be busy, and if you are showing up late, there will not be a lot of spots.
Head to the west end of the field just opposite of the Cloud 9 side.
Chairs are welcome, but we like to lay and gaze from the blanket.
Grab Breakfast from Balloon Boulevard
donuts and burritos and coffee for the parents. For some reason, our girl has an internal food clock. She is the I've been up for 30 min, I'm hungry kind of kid. It doesn't matter the time of day. If she's up, she's hungry. Bring your own snacks to save money. The donut stand and burritos were fabulous and perfect for us to share as a family.
I have a soft spot for them because of my past and volunteering, but there are some really great things over there.
Blankets and More Blankets.
It's cold in September in the mornings and does warm up by the afternoon, bundle up and bring your blankets so that you can cuddle up and enjoy the show. The grass can be wet in the early morning so opt for one of the blankets with the waterproof bottoms to lay down first. It's cold, so bundle up under your blankets to stay warm.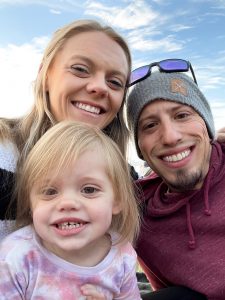 Speaking of staying warm, dress warm
!
You never know how warm or cold it will be in September, so bundle up. You can ALWAYS take layers off if needed. It is very chilly, especially if you are going before the sun comes up.
Bring a flashlight.
Getting down to the field can be a little tricky. The walking path is pretty well kept but can have spots where the rain runoff has washed away an edge. Keep an eye out for your little as you make your way down the hill.
Stroll or wear your kids.
If they are small enough and still rock the carrier, we recommend strapping them to you. If not, use a stroller or one of those wagons to pack all your stuff down to the field.
Show up Early.
Now, if you are a morning person, you must go to the Glow Show and wait for Dawn Patrol. When I say morning person, I mean to be there by 5:00 am for when the show starts "morning person". Thankfully they added Friday a few years ago so that you can enjoy Dawn Patrol all three days of the event. We get it if you want to skip the early morning glow show and dawn patrol. It's EARLY! But… still, show up early. The early goers will take all the "good" spots, but you can still find some good places to post up and enjoy the show.
If you are not a crowd person, totally ok. Stay up top or opt for sitting on the hill to get a full field view from above.
Be flexible.
Last year the weather did not play in our favor, and the balloons could not take off. It was a super bummer, but the safety of the pilots and spectators is most important.
Keep the kids in their PJs.
It's SOO much easier to keep them warm and comfy in their PJs.
Donate to the parking fund.
I know you're probably thinking going to a free event and paying $20 for parking sounds crazy, but it's closer and more accessible with the kiddos than walking from UNRs parking lots. But that does come with the downfall of a crowded parking lot while everyone is attempting to leave. You can either wait for the field to clear or rush up there early to avoid long lines leaving and the crowded parking lot.

Reno Balloon Races Schedule breakdown
Please refer to the top of this post for the most up to date schedule. Update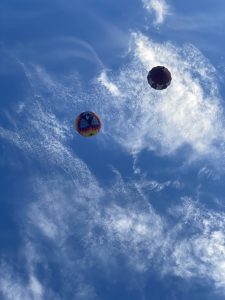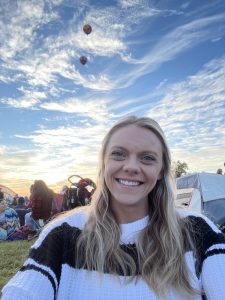 We hope you enjoy this event as much as we do!
Take lots of pictures, and don't forget to tag The Great Reno Balloon Races on social media.
For more info about the Reno Balloon Races head here: Website
Looking for other fun things to do this fall check out the local pumpkin patches or fall photo spots