Unpopular opinion, I hate Hot August Nights. You can only see a 1965 Mustang soo many times before it just feels like the same boring event and I am always for a good Reno August Events or reno events for that matter.
So although I do not love it, others ABSOLUTELY love it and come from around the world to experience our small town's big event. Let's dive into some of Reno's best August events for all ages.
Now, more often than not we share events, things to do, and travel tips and tricks for families but that does not mean Mitchell and I don't partake in adult-only events without our sweet girl. What's going on in August in Reno?
Reno August Events
Hot August Nights
The largest event in Northern Nevada during the first week of August. Over 800,000 people attend hot august nights, what started out as a "party" is now an event that draws more people in than Reno's population. This year you will see cars from 1979 and older making it a nostalgic event. Good food, live bands and music, and lots and lots of old cars will take the streets and over the hotels for this amazing event.
Lake Tahoe Shakespeare Festival
Starting in July every year The Sand Harbour Theater features two plays one always by Shakespeare and a few others to compliment what is playing. Until August 21 this year, you can see Mama Mia and Much Ado About Nothing. Mitchell and I are season pass holders to the Pioneer Center so this is always a good addition to the Summer series of plays. There are a few different options for tickets, ranging from general admission to Premium. General admission is open seating and we HIGHLY suggest getting there early to park your car and find your spot in the grass. If you opt for Premium you may pick between having a table or not. For more details about the event or to purchase tickets head to the Lake Tahoe Shakespeare Festival website
Classical Tahoe
Every summer Classical Tahoe brings some of America's leading classical musicians for their annual festival. The Sierra Nevada University Campus in Incline provides the perfect Lake Tahoe view with elegant classical music. At the end of the season, Classical Tahoe hosts their Summer Gala with a live auction, fine wine, and food as you listen to a special one-night performance. For more details or to purchase tickets head to the Classical Tahoe website
Reno Aces Baseball
Reno August Events
The Reno baseball season runs from April to September. Making this one of the last months to see the Reno Aces play this year. Each day has a special theme and Friday always has fireworks. For the full schedule head to the Reno Aces website.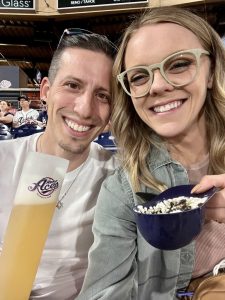 Lazy 5 Summer Music Series
Reno August Events
Starting in June you can attend the Lazy 5 Summer Concert Series for free on Wednesday evenings. Bring your blanket, low-back chairs, and coolers while you wind down and listen to some fantastic local bands. To see a list of the Summer Series head to the Washoe County Parks website and find their calendar of events.
Burning Man
Although we have never attended this event it is another MASSIVE Northern Nevada event that draws people from all over the world. I've always joked that if there was a AC tour bus with water and food that takes you around the entire event at night I would be the first to buy a ticket, but getting dusty with limited water is not my jam. This is not an event you can buy a ticket to last minute and I've heard you can bum a ticket in Wadsworth and sometimes on the long stretch on the way to the event.
Now let's get into the nontraditional Reno August Events.
We are most excited about Beyond Van Gogh. Starting August 19 until October 3 you will be immersed in over 30,000 sqft of projected Van Gogh art. Experiencing art in an entirely different way than before. With over 300 works of art by Van Gogh, even kids will enjoy this event. Tickets are available for specific entrance times and will take about an hour to walk through but no limit is set on how long you can walk around the exhibit.