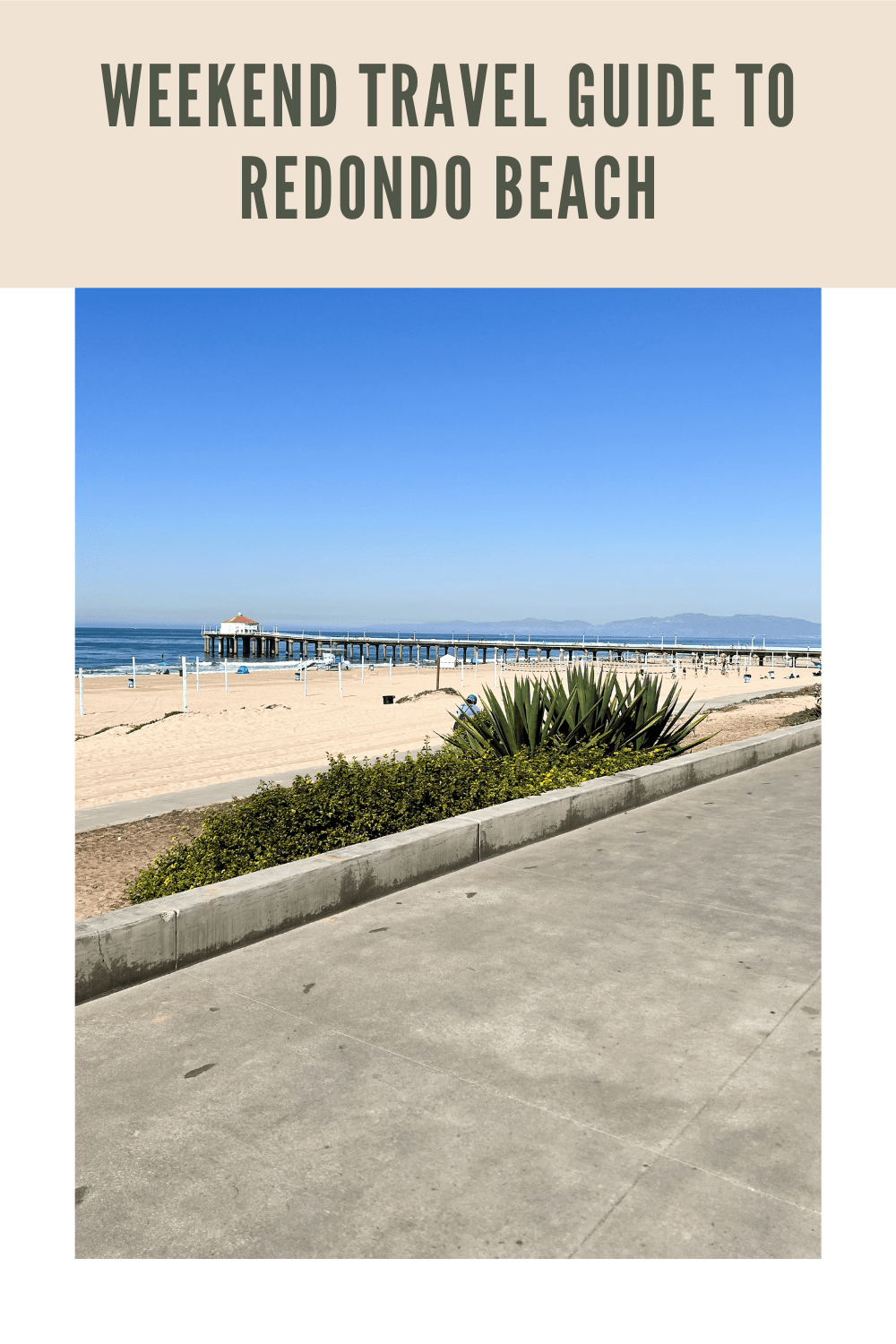 WEEKEND TRAVEL GUIDE TO REDONDO BEACH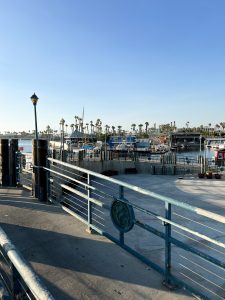 We had the chance to go to Redondo for a quick weekend getaway a few weeks back, and it was overall a great little town and a fun trip. We had an event Saturday night, so we didn't have a lot of extra time in the city but managed to hit some really great shops and restaurants while we were there. Here is the Redondo Beach Weekend Travel Guide breakdown
Where to stay
We are Hilton members so picking a hotel was very easy for us. We stayed at the Redondo Beach Hotel and found it centrally located. The only downfall is that they do not have a great view of the ocean, and you do get a view of the yacht club across the street. If you want an ocean view, I highly recommend The Portofino Hotel & Marina. It is a little more expensive but has excellent views of Santa Monica Bay.
Our flight landed around 1:30, so we had just enough left in the day to grab a quick lunch and explore the town before our dinner reservation.
Day One Guide
For lunch, we went to Captain Kidd's for some fresh seafood. We ordered chicken fingers and fries for the girl who fell asleep and missed lunch. Mitchell and I decided on calamari and a few fresh shucked oysters. You can buy crab and lobster from the market, and I have to admit they were the biggest crabs I have EVER seen.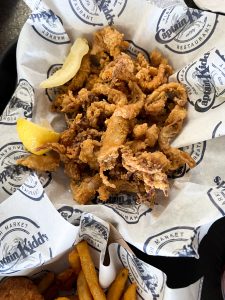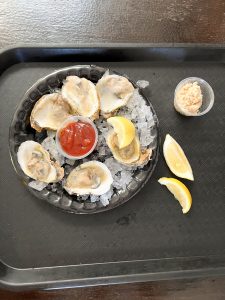 We walked around the pier a little before heading back to the hotel to get ready for dinner.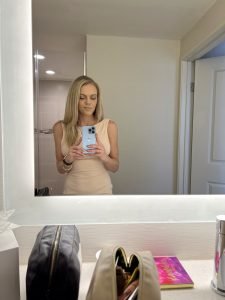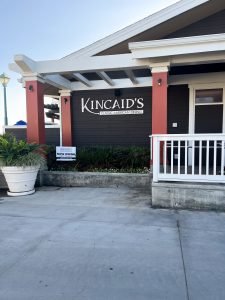 Dinner was on the patio at Kincaid's and if you are looking for a romantic seat to watch the sunset, ask to sit outside! They have heaters they turn for the evenings.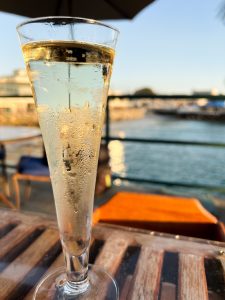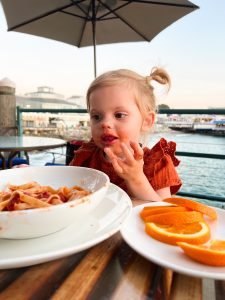 Unfortunately, Sloan had an accident, so I was not all there for dinner and missed taking pictures of all the food. Even though I didn't get photos of it all, the dinner was delicious. I had the seared seabass, and it came with asparagus and potatoes.
We did go during covid times, so we did run into a few outages that were not normal. Thankfully we got oysters from the fish market earlier because they were out of oysters. One other odd thing they were out of was multiple bottles of wine, and we all survived. They had other wine.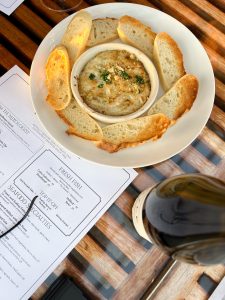 Day Two Guide
Because we are Diamond members with Hilton, we get food credits. So before we hit the beach town, we had breakfast burritos and vanilla lattes in the hotel lobby.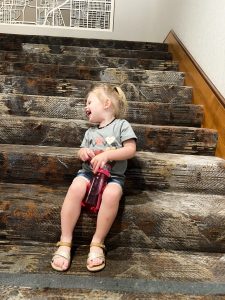 We did drive to Manhattan Beach for the day to walk along the beach and through the shops. One of our favorite things to do is walk along the boardwalk and look at the unique homes along the beach. I am always so surprised by the architecture and size of these homes.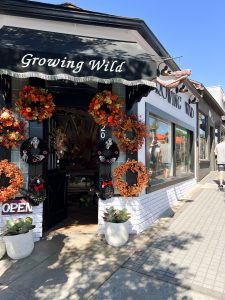 Growing Wild was the cutest flower shop, and they had decorations for fall and Halloween.
If you are a mural chaser, Manhattan has some adorable murals around town.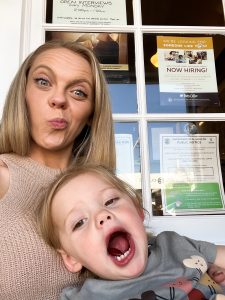 We stopped for a quick coffee and snack break before heading back to the hotel for a nap and to get ready for the wedding later.
While Sloan napped, Mitchell and I ordered lunch from California Sushi & Teriyaki. Mitchell picked the sushi & Teriyaki box with chicken, and I ordered a spicy tuna bowl. The tuna was so fresh, and Mitchell's sashimi was cut well and had just the right amount of rice.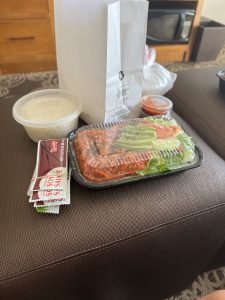 Seaside Lagoon was closed when we were there, but the reviews are amazing, and I highly suggest going if it's open while you are there.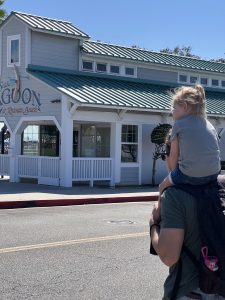 Saturday was the main reason for our vacation to Redondo. The wedding we went to was at the Redondo Beach Yacht Club. If you want to plan a wedding or event, this was a great location and feels very secluded. Sloan had to be carried off the dance floor at 10:30, too many hours past her bedtime. She would have danced all night if you could.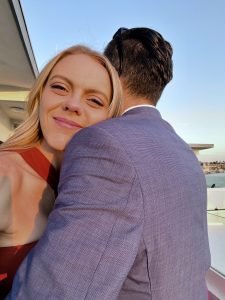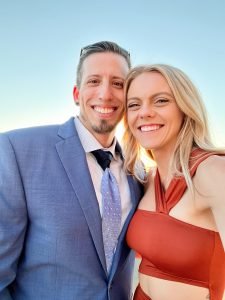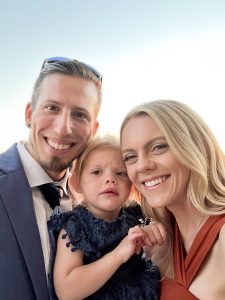 Day Three Guide
Travel day. We did head to a family member's house for breakfast with the wedding attendees for a good morning brunch. Then off to the airport.
LAX is one of our least favorite airports, and it does not have lounges, and the return car and bus ride to the airport is not our favorite thing to do. We live in Reno, so the flights from LA to Reno are not great.
The planes are small, and you have to walk to the end of the terminal to then walk down to the tarmac to take a bus to your aircraft.
Yes, just as wordy as that sentence was are all the hoops you jump through to take a plane from LAX to Reno before you even fly.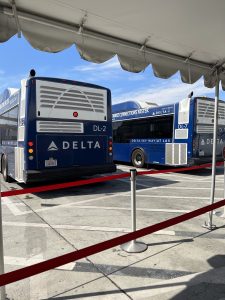 We love the quick getaway weekends. Even though this one had an event while we were there, we always enjoy our beach trips, and they never get old.
Where to Eat
Bluewater Grill
Blue Salt Fish Grill
Sea Level Restaurant and Lounge
Rockefeller
Where to get Coffee
Pursue Coffee
Klatch Coffee Redondo
Coffee Cartel
The Boy & The Bear – Coffee Roastery
Instagram Worthy Murals