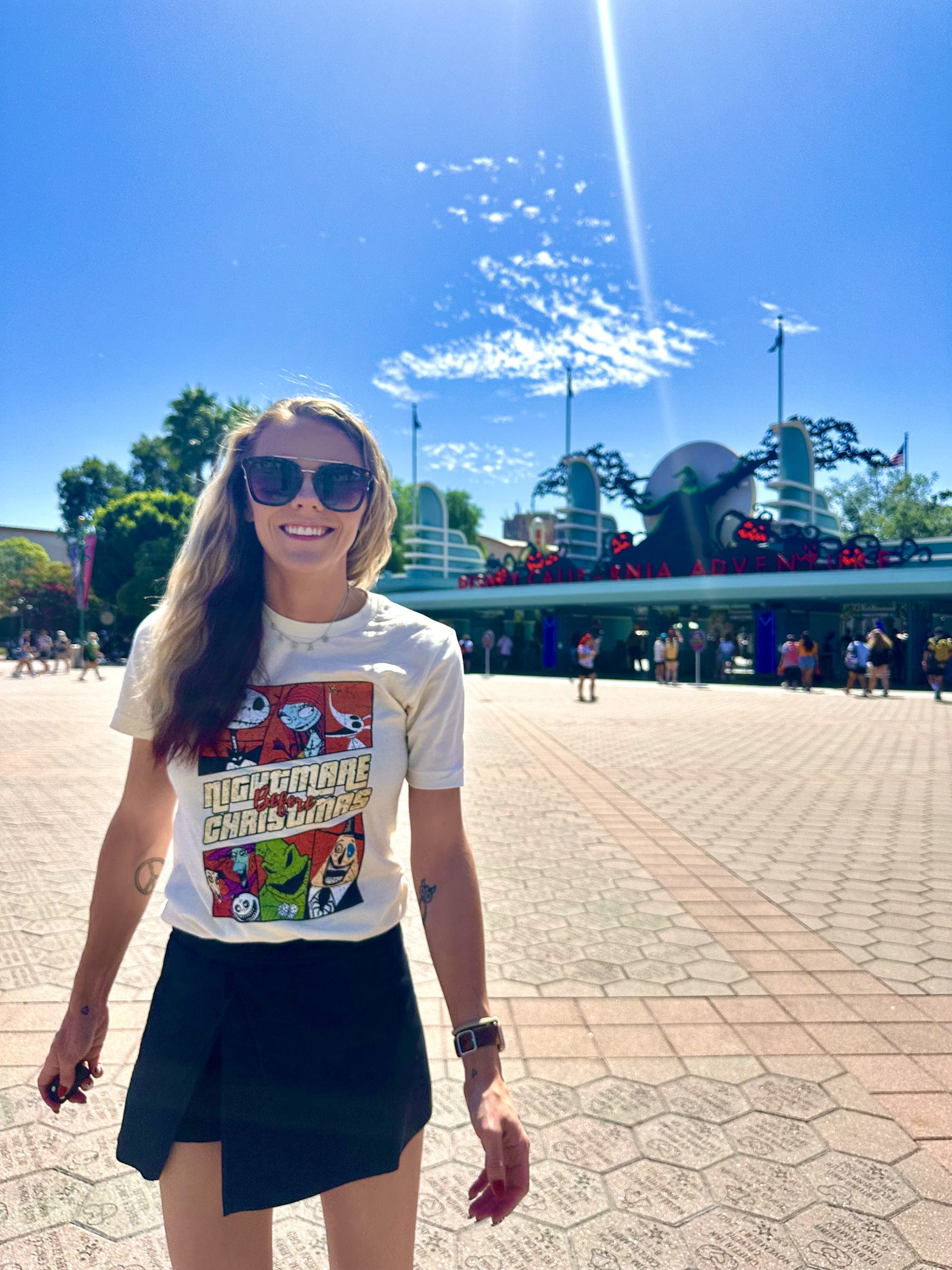 The Oogie Boogie Bash is the Disney Halloween party that runs on select nights in September and October at California Adventure. We are going to share some of the Oogie Boogie Bash tips that make a perfect night at this highly anticipated special event.
Before we talk about Oogie Boogie Bash tickets and how to get them and all the Oogie Boogie Bash Tips, let's discuss what there is to do at Oogie Boogie Bash and whether or not it is worth it.
Is Oogie Boogie Bash Worth it?
Let's start with the elephant in the room. Is this after-hours event actually worth it? Oogie Boogie Bash is completely worth it: fewer people, shorter wait times, a special themed event, a Halloween time celebration, unique food, rare characters, and lots of fun. What more could you ask for?
I actually attended this event solo for the first time and have to say it was an absolute blast to run around California Adventure and not have to worry about anyone else and just do what I wanted the entire time.

While I did go to this event solo, I will definitely be going back solo again and will go as a family one day as well. These party nights are so much fun and are making me consider some of the other various after-hours events that Disney hosts each year.
Let's discuss what there is to do at the Oogie Boogie Bash and then the best tips for the event.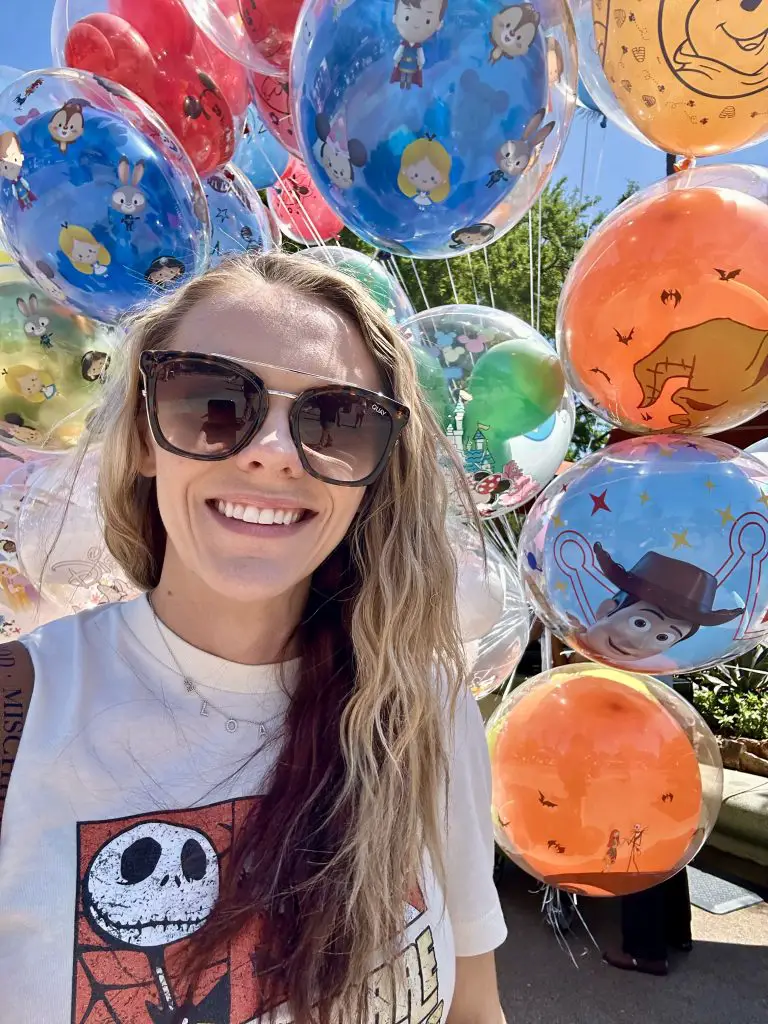 Things to do at Oogie Boogie Bash
There is a LOT to do at the party, and it's tough to do it all, so it's really important to create an ideal plan for your limited time in the park. If you are able to make it into the park at the mix in time, you will have around 8 hours in the park.
We will talk more specifics on each of the following items so you can make the best use of your time and decide whether or not its something you find important.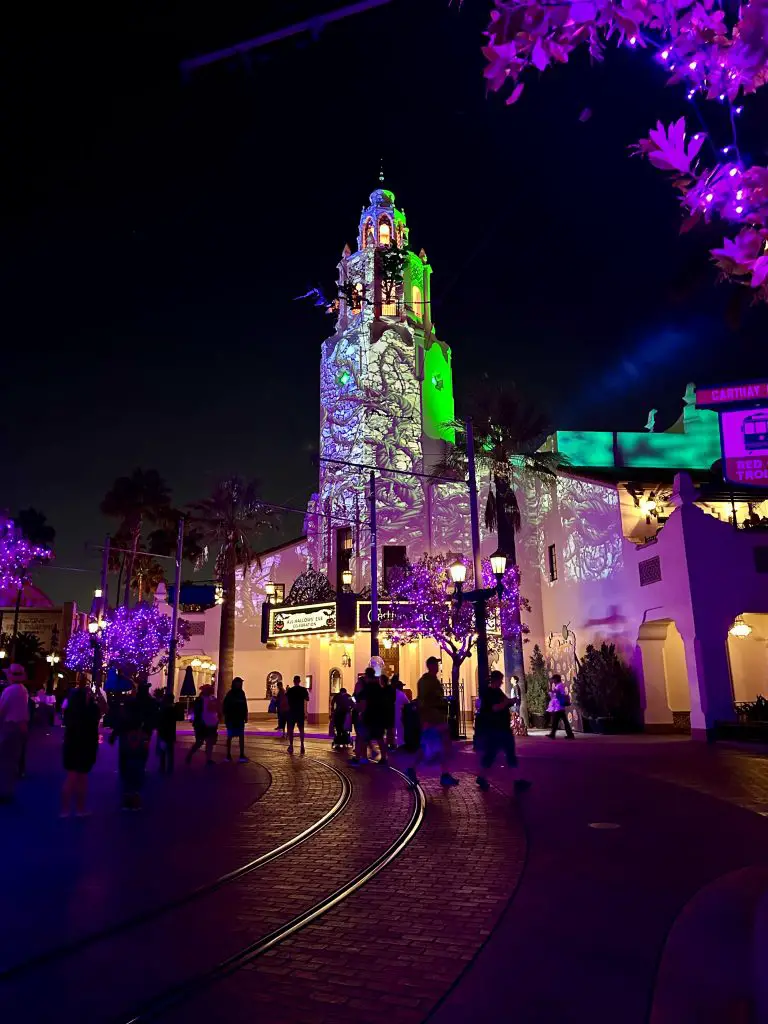 Oogie Boogie Bash: A Disneyland Halloween Party List
See Rare Characters at Photo Opportunities and Treat Trails with Villains
Wine Country Trattoria Oogie Boogie Bash Parade Dining
Oogie Boogie Bash Dessert Party by Seaside Souvenirs 
Mickey's Trick and Treat Dance Party
Unique and Exclusive Themed Food and Drinks
Popular Rides With Low Ride Wait Times
Purchase a Rare Popcorn Bucket and Sippers
New Things to See at 2023 Oogie Boogie Bash and California Adventure
Judge Doom
Yokai
Baymax
San Fransokyo Square
My Top Tips for Oogie Boogie Bash
I wasn't able to get everything done, but I got almost everything I wanted done. The one thing I wish I would have made more of a priority was the Sanderson Sisters and Villains Grove. Both have been at every Oogie Boogie Bash, and those will be a top priority for the next one I attend.
Rides
If you have a general admission ticket to Disney's California Adventure Park on the day of the event, rides might not be a top priority for you during the party since you were able to ride them all day. There is one special ride that switches themes and is only available after 3:00. Guardian switches to Monsters After Dark and is a fabulous overlay to the already thrilling Guardians of the Galaxy: Mission Break Out!
Characters
Characters seem to be a top priority for many guests. Mostly the rare characters at the photo opportunity spots and through the treat tails. Lines started for the photo opportunities almost right away, but Judge Doom had a 2-hour wait at the beginning of the night and 5 minutes at the end of the night. During the first parade i was able to see Oogie Boogie twice.
Villains Grove
Villains Grove is a 50/50 toss-up in popularity. I happened to skip it because the line was too long after the parade when I wanted to go. Pretty bummed I missed this and wish I would have prioritized it a little move over a ride. I chose to get on Soarin' instead of jumping in line for Villains Grove.
Rare Items and Merchandise
It took me 8 times walking around the park to find this Rare Popcorn Bucket. While the 30th Anniversary Zero was very cute as well, there is nothing like the Mayor's Car, the Trio Children, and Zero all in one spot.
Pick up the Oogie Boogie Bash merchandise as soon as you see it. There are limited quantities, and if you want something, don't wait too long to buy it because they could sell out. You can always rent a locker to hold all of your items so you don't have to carry them around the park all night.
Food
Book reservations ahead of time for any food you might want. In addition to reservations, consider mobile ordering food so you don't waste time in line ordering food. I like to eat on the go to make the best of my time. You can also order alcohol through mobile order.
Scroll through the tip board on the Disneyland app for ride queue times and show times.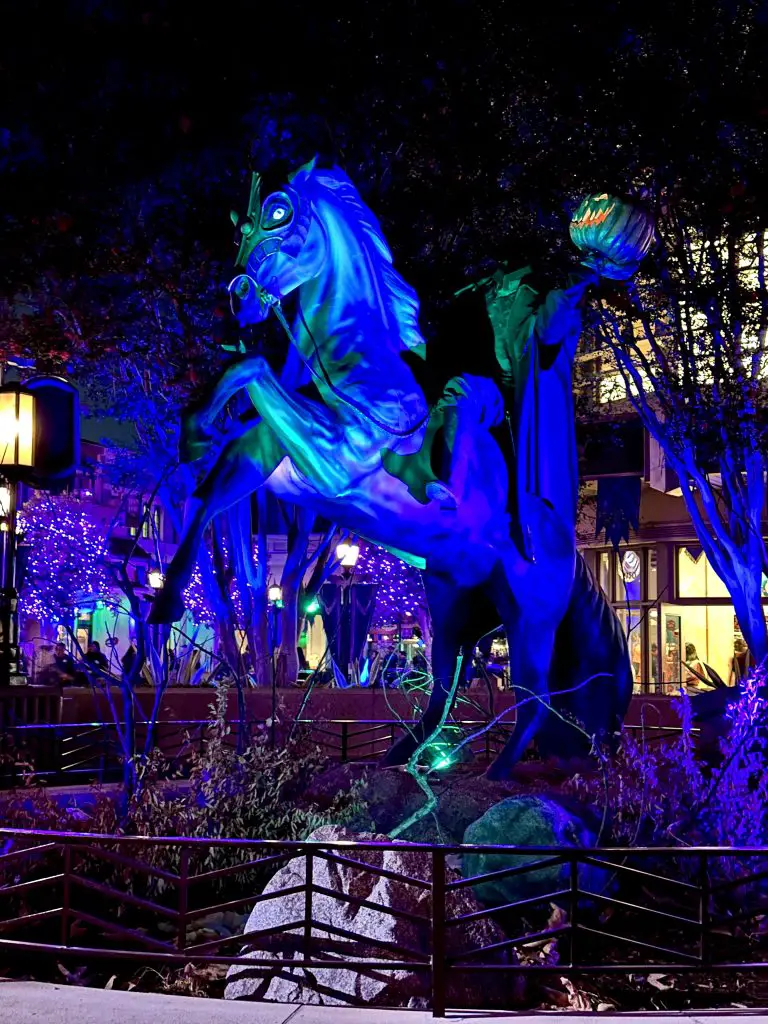 Oogie Boogie Bash Tickets
This year is sold out, and I would highly suggest not purchasing tickets from anyone. Disney doesn't allow transfers, and I would be fearful it wouldn't be an authentic ticket.
One of the Oogie Boogie Bash Facebook groups in apart of did have a buy day and could possibly still find tickets. The group seems legit and the admin seems well organized.
I've never bought a transferred ticket for Oogie, so I would be very careful still. I did purchase tickets for a friend and have them on my account because of how the purchasing process works.

They are also on their account, so if someone is going to buy your ticket, make sure you trust them.
Ticket prices started from $135 and went as high as $189 depending on the night you pick.
This party ticket allowed you to get into the event at 3:00 for a mix-in.
Sept 5 – $134
Sept 7 – $144
Sept 10 – $159
Sept 12 – $134
Sept 14 – $144
Sept 17 – $159
Sept 19 – $134
Sept 21 – $144
Sept 24 – $159
Sept 26 – $144
Sept 28 – $144
Oct 1 – $169
Oct 3 – $159
Oct 5 – $159
Oct 8 – $169
Oct 10 – $159
Oct 12 – $159
Oct 15 – $169
​Oct 17 – $159
Oct 19 – $159
Oct 22 – $169
Oct 24 – $169
Oct 26 –  $169
Oct 29 – $189
Oct 31 – $189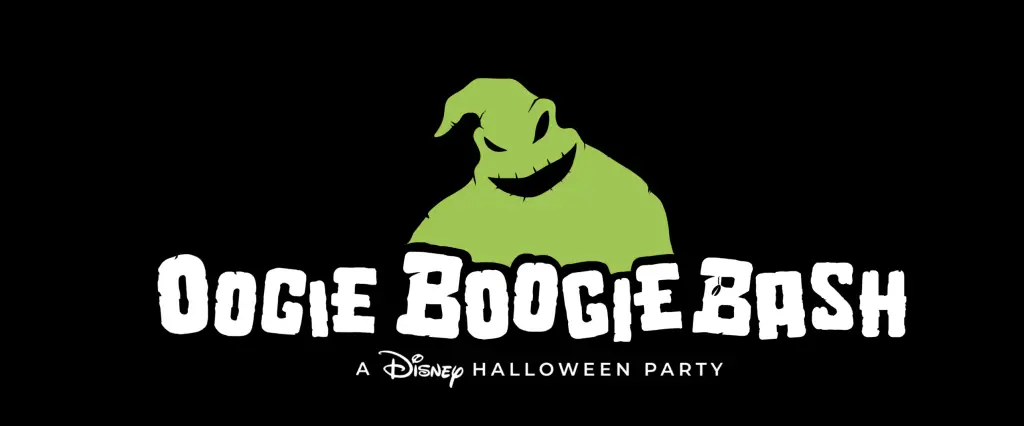 Oogie Boogie Bash Tips For Tickets
Tickets go on sale around June 27th for the September and October Oogie Boogie Bash Party at Disney's California Adventure.
Many people will tell you to log on with multiple devices, and while this is a tactic that works for some, I have to admit it wasn't something I did either time.
I was one of the lucky few who got tickets on the first day tickets launched and was also able to get tickets on the second launch day as well.
Log on with one device, many people rush the system with more than one device, and I feel like that is what caused the major crash that caused ticket sales to crash and Disney to relaunch sales a week later. If you want to read more about the Oogie Boogie Bash Tickets Debacle and what happened, head here.
While I am not a tech guru, and the reason has been pretty hush-hush, Disney being the largest corporation and having sold tickets to Oogie Boogie in previous years, it is surprising that it crashed.
For both the original release and the second release to the general public, I only used one device and was able to get in multiple times to get tickets.
Magic Key holders could purchase tickets a few days ahead of general ticket sales.
We will put our tips to the test again next year and see how it works out.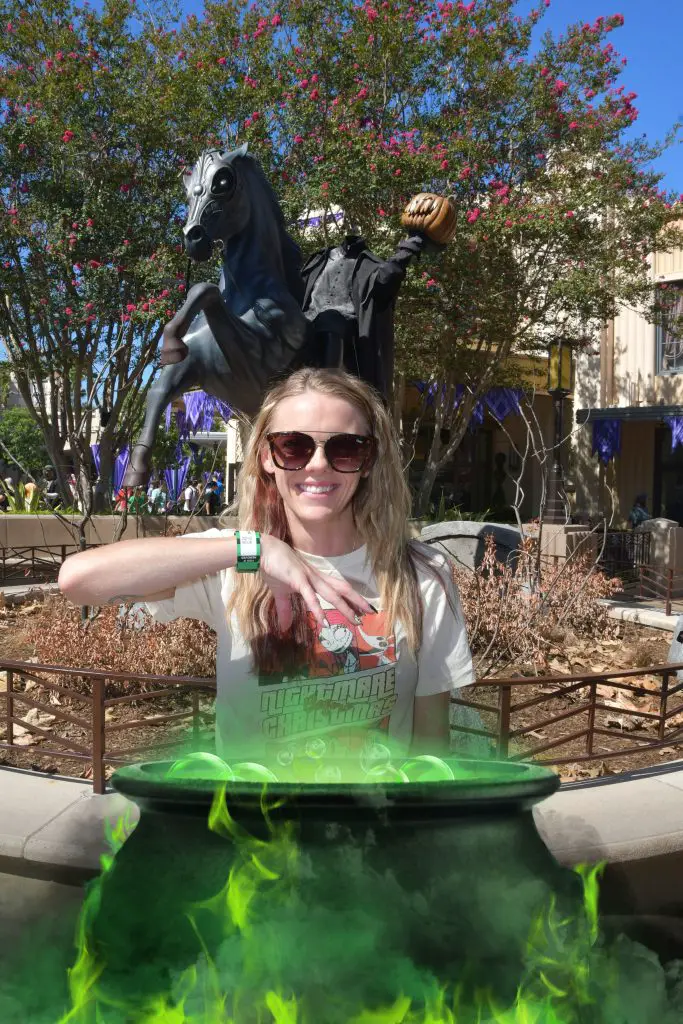 Understanding Everything to do at Oogie Boogie Bash
Let's now dive into each of the things you can do at the Oogie Boogie Bash so you can create your ideal plan of attack.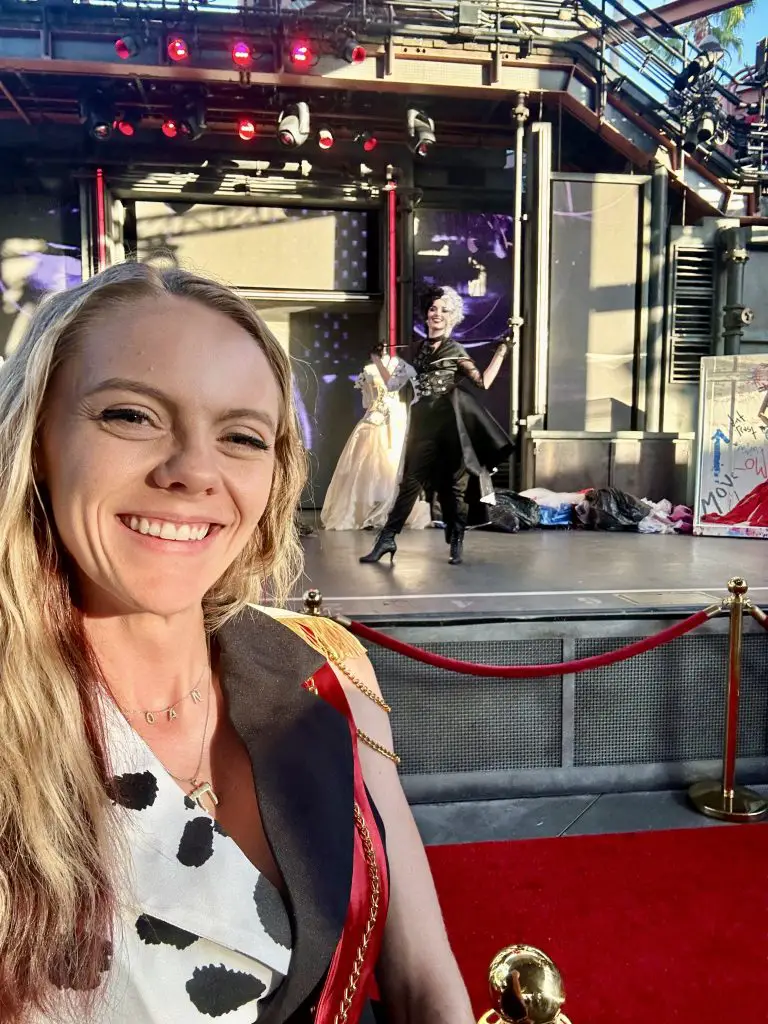 See Rare Characters at Photo Opportunities and Treat Trails with Villains
At the Oogie Boogie Bash, there are two ways to see rare characters we don't often or ever get to see in the Disneyland Resort and Disney Parks.

One way to see Villains is at the photo opportunities spots around the park. These are going to have long lines, and if you have to see one of these special characters, you will want to make it a priority to hunt down your character and get in line before the party starts. The Sanderson Sisters will have the longest line, but it is one of the best photo ops.
The other way you can see Villains is on the treat trails. The treat trails are a drive-by style character trick-or-treating trail. There is a spot to stop quickly and take a photo with the characters, but this is not somewhere to stop everything and try to get your photo. The reason the treat trails move so quickly is because of the walking style.
Tips for Oogie Boogie Bash Trick or Treat
The treat bags that Disney passes out are small, and many like to bring their own bags to fill.
Most of the Rare characters that are a part of the immersive treat trails are Disney Villains that you do not get to see on a regular basis within the park.
Rare Characters – Photo Opportunities
Sanderson Sisters Minnie Mouse, Daisy and Clarabelle
Bruno
Hans
Kingdom Hearts Mickey Mouse, and Goofy
Zombie Cap and Regular Cap
Thor
Loki
Scarlett Witch
Lightning McQueen
Tow Mater
Cruz Ramierz
Red dressed in Halloween Costume
Lotso
Jack Skellington and Sally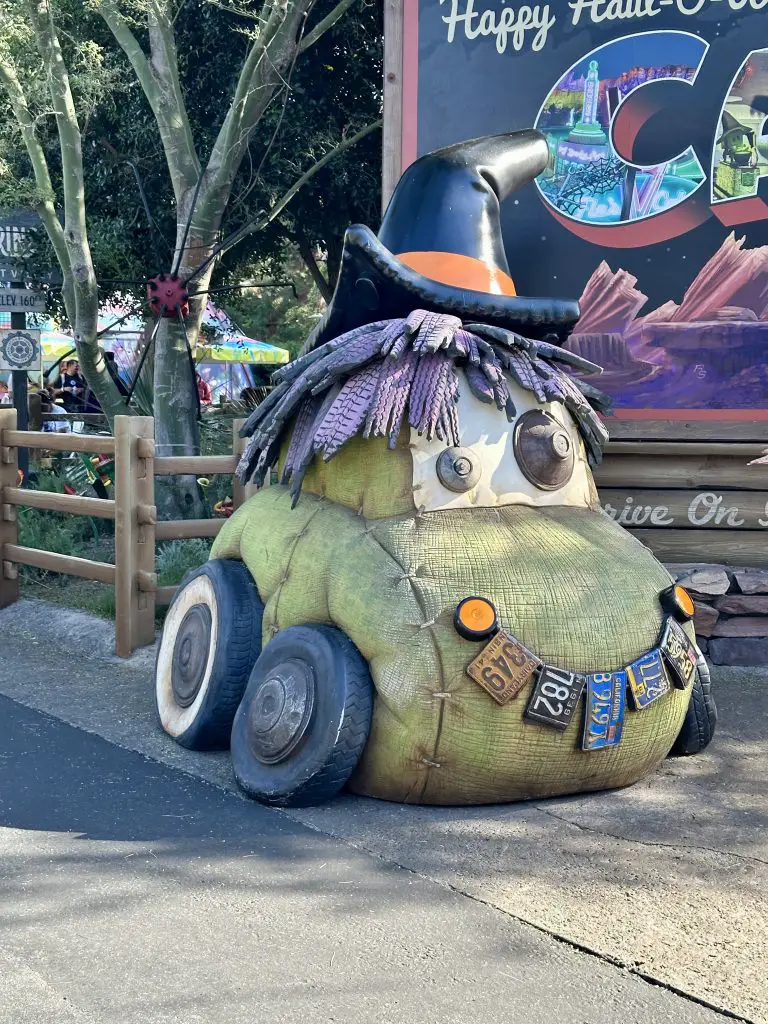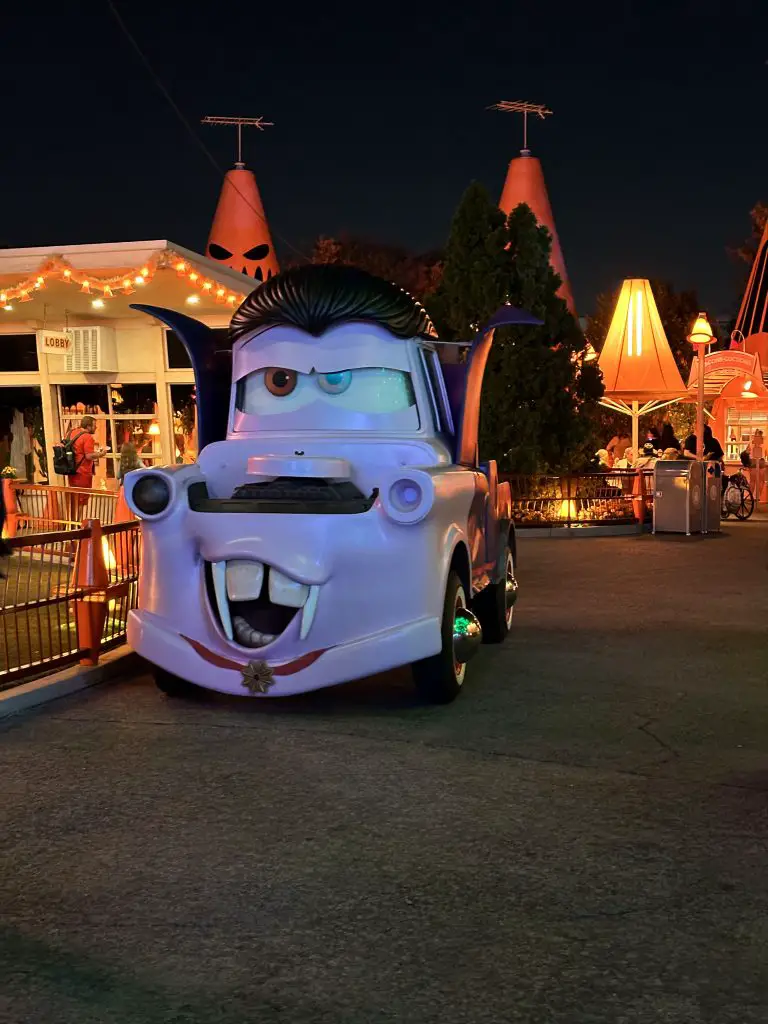 Villain Treat Trails
The 9 immersive trails and their locations in 2022 were (expect several changes for 2023):
If you want to be surprised by the character meet and greet spots, skip this bullet point section
Treat Trail Spoiler Alert for 2023
Who Framed Roger Rabbit Villain NEW IN 2023 left of Soarin'
Big Hero 6 villain NEW IN 2023 in New San Fransokyo Square
Villains at Oogie Boogie Bash Treat Trails
Oogie Boogie – Animation Academy
Agatha Harkness – Ancient Sanctum in Avengers Campus
Sid from Toy Story – Pixar Pier Mini Stage
Cruella de Vil – Hollywood Land Stage
NEW IN 2022: Mother Gothel – Behind Grizzly River Run
NEW IN 2022 Madam Mim – Next to Carthay Circle
NEW IN 2022: Ernesto de la Cruz – Hyperion Theater
Villains in the Past
Mad Hatter
Evil Queen – in the Frightfully Fun Parade
Dr. Facilier NEW IN 2022 – in the Frightfully Fun Parade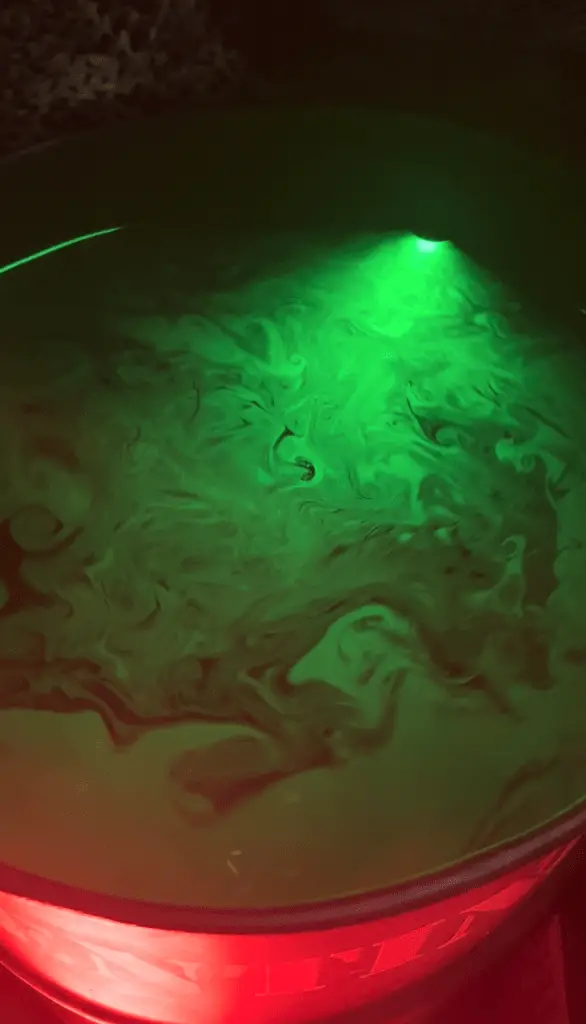 New Villains in 2023
Judge Doom from Who Framed Roger Rabbit
With the relaunch of Toontown and Mickey and Minnie Runaway Railway, this makes complete sense for this year.
Yokai from Big Hero 6
Also running strong with the new lands and areas, San Fransokyo opened In early September, so this also makes a lot of sense that they would have Baymax and Yokai at this year's bash.
New Villains Oogie Boogie Bash Tips
Don't jump in line right away for these treat trail villains. Head to the other photo opportunity villains first and head to these treat trails towards the end of the night.
Oogie Tip, make your way to his treat trail during the parades. That side the street fills with people making it hard to move, while this sounds terrible it is the best time to go. I was able to go through twice back to back because the line was non existent.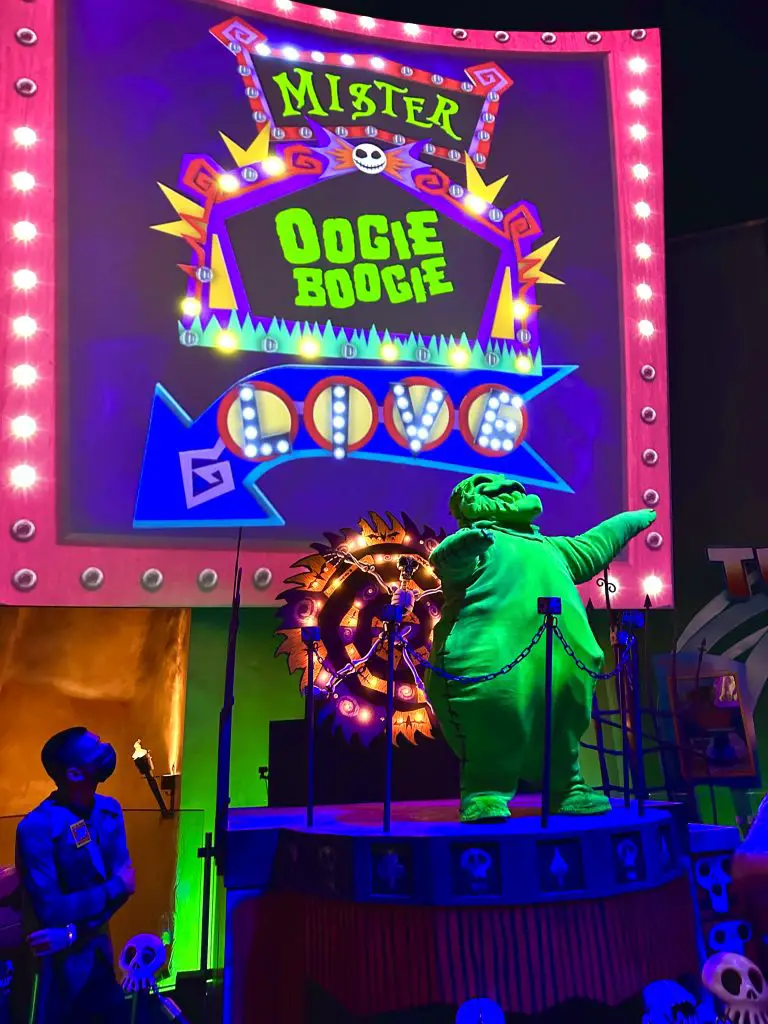 Wine Country Trattoria Oogie Boogie Bash Parade Dining
Similar to the Dessert Party, this is an additional add-on to your party ticket. Enjoy a 3-course dinner at Wine Country Trattoria and come back for a fabulous view of the Frightfully Fun Parade.
I haven't heard a lot about this meal one way or another. I would say if you have been to the party a few times and are looking for something new to do, this might be a great addition to your night.
I'm assuming since it is a 3-course meal, the food will be delicious but will cut into your party time and might not be worth the trade-off.
Oogie Boogie Bash Dessert Party by Seaside Souvenirs
Some people are strongly against the dessert party as a separately ticketed event. Many think It cuts into their event time too much to enjoy the cost.
It is an additional $85+ to the already ticketed event, but you get a special spot by Pixar Pier to watch the parade, and you get a drink and treats to enjoy at the event.
Oogie Boogie Bash Tips for Dessert Party
If this is your first time attending the event you should skip this.
Villains Grove
Villain's Grove is a slow-walking interactive villain-inspired environment. Located in the Redwood Creek Challenge Trail, which just opened back up after a long refurbishment. Pumps fog and displays Halloween-colored lights around the area.
This area does not have characters, so to speak, but lots of animated villains hidden in the
It begins at dusk, so the time is a little more limited for this activity inside the party.
Oogie Boogie Bash Tips Villains Grove
Go during the parades or be ok standing in line and waiting. The Villains Grove time never dropped below 30 minutes, and by the end of the night after the second parade, I was exhausted and had no want to wait in line for the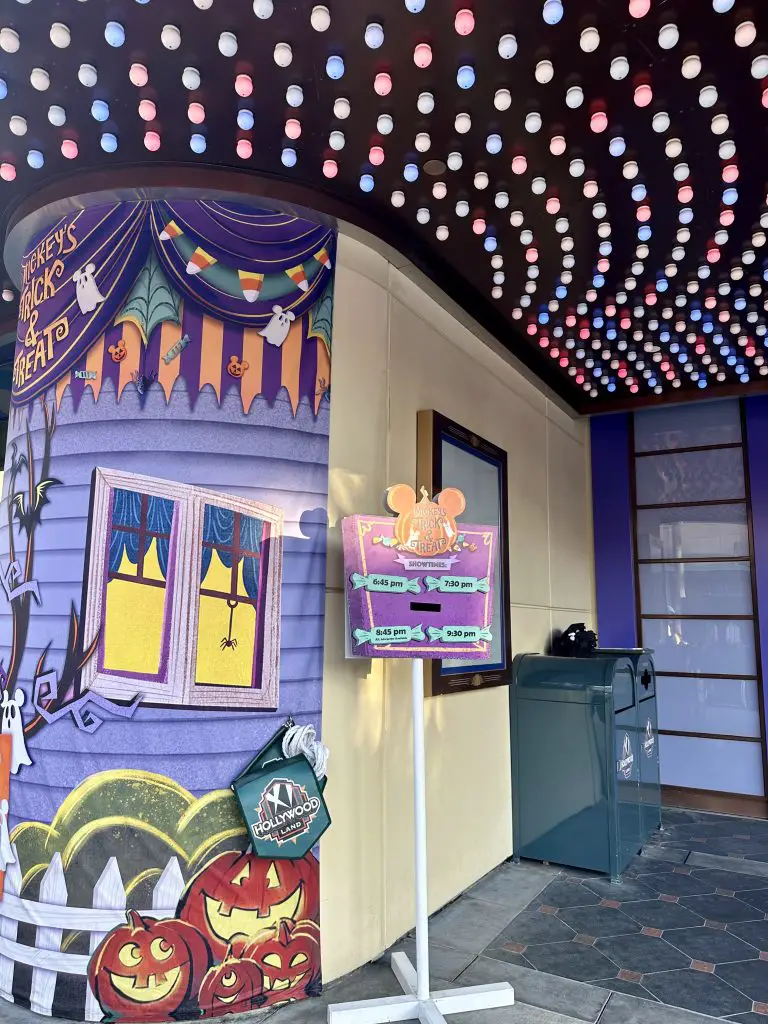 Mickey's Trick and Treat Dance Party
The Mickey's Trick and Treat show is held in the Disney Junior Dance Party theater right on Hollywood Lane, right on the main street. Join Mickey and his friends for Mickey's Halloween party with a not-so-scary story and lots of music and dancing. There are multiple show times for this interactive Halloween party.
​Mickey's Trick and Treat Dance Party Times
6:00 pm
6:45 pm
7:30 pm
8:45 pm
9:30 pm
Frightfully Fun Parade
The adorable parade route runs from Goofy's Sky School by Paradise Gardens Park and goes through Disney's California Adventure all the way to Hollywood Land by Guardians of the Galaxy.

The parade kicks off with Headless Horseman as long as the weather is okay for him to walk. The main parade will start after he has made his way off the parade route, which takes roughly 20ish minutes.
You will see characters like Evil Queen, Dr. Facilier, Mickey and Minnie Mouse, Jack and Sally, and many more. The Haunted Mansion House was probably my favorite float out of them all and was followed by the gravediggers and their shovels.
The stilt walkers are always my favorite individual walkers, especially because this is a long parade route, and they seem to walk with ease from one end to the other.
I, on the other hand, am exhausted from walking around the park twice and couldn't imagine being 3ft higher off the ground.
While the parade is on the shorter side, it is filled with some AMAZING villains and dances.
When it comes to the busyness of the parade, a lot of people start lining up around an hour before the parade begins.
I wouldn't suggest you need an hour unless you are SPECIFIC about your photos and location.
There are two parades that run on Oogie Boogie Bash nights. The First parade is at 7:45, and the second parade is at 10:00.
The parade route is one of the longest Disney has, making it really easy to find a spot.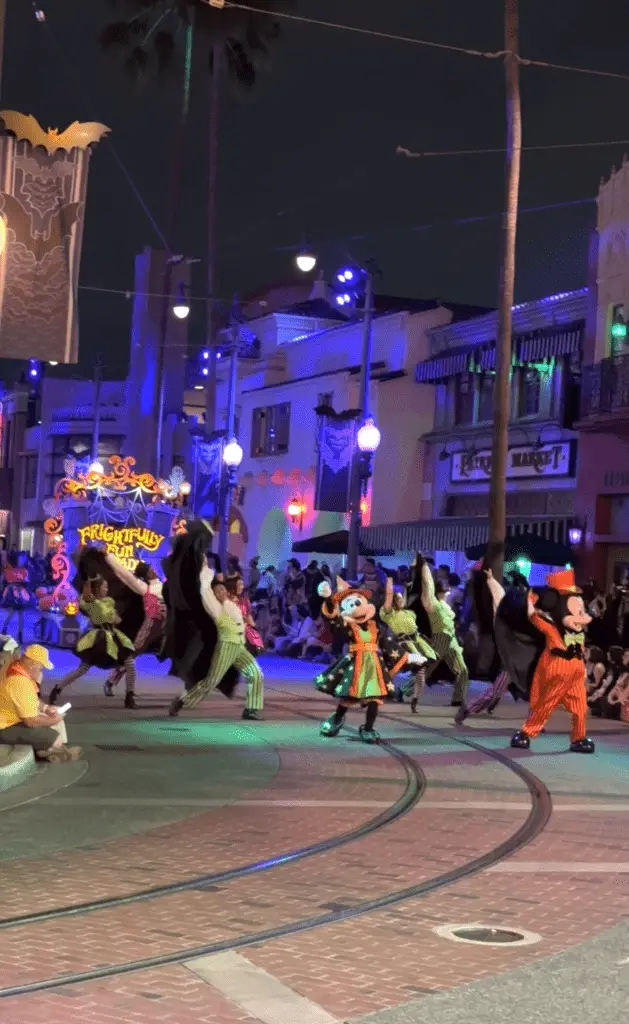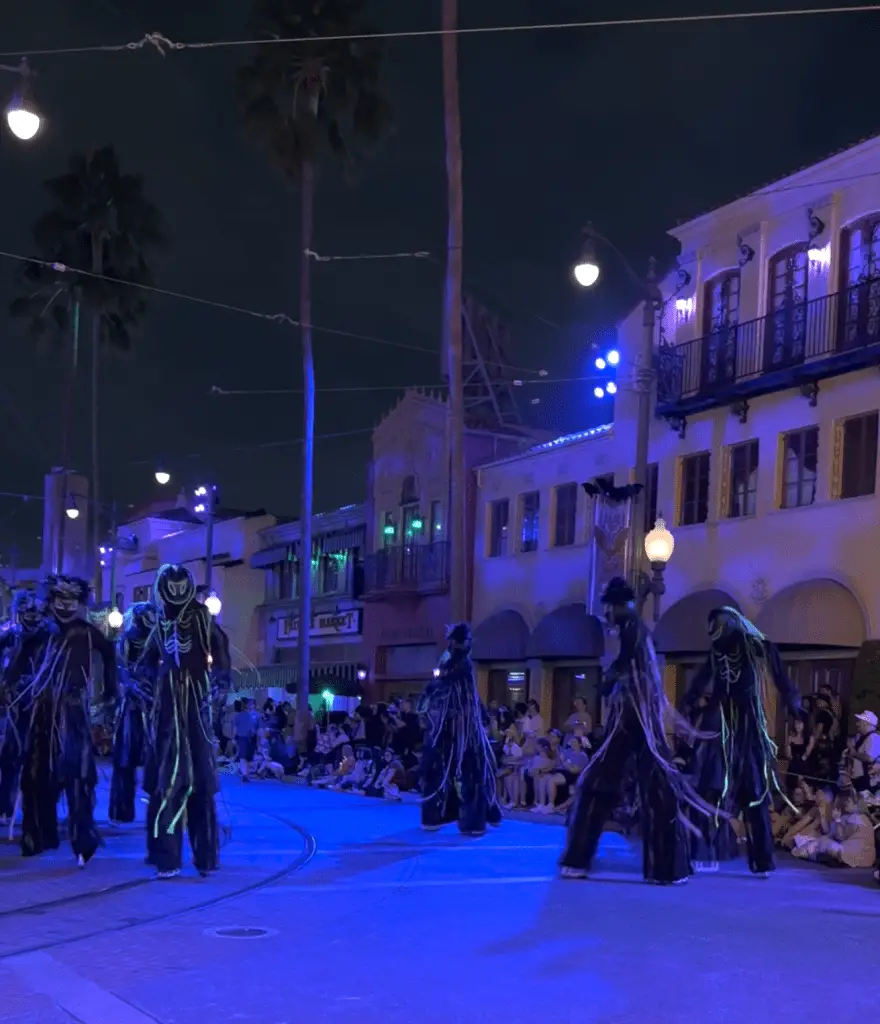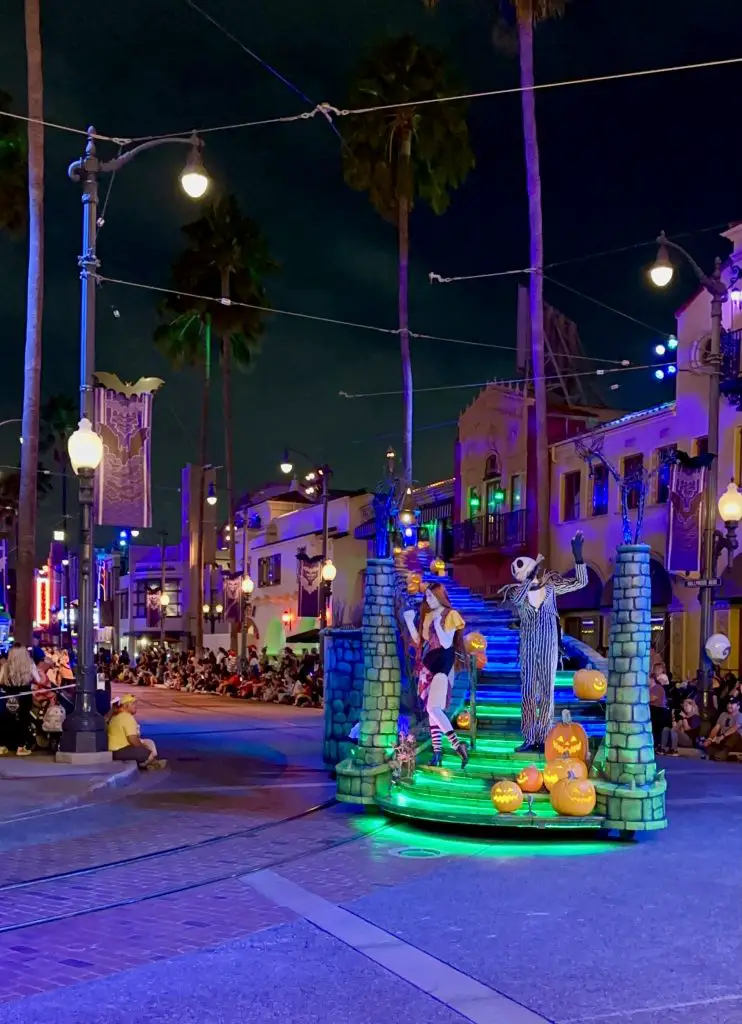 Oogie Boogie Bash Tips for A Frightfully Fun Parade
This is probably the most important Oogie Boogie Bash tips I would suggest going to the first parade. I had a lule in time where I just filled it with sitting and eating food at the restaurant and going on a ride and seeing Oogie Boogie.
Next time I'm going to mobile order food and walk over to a trashcan to watch the parade at 7:45 and then go to Villains Grove or Rare Characters photo opportunities during the second parade instead.
There are lots of spots to pick a spot, you cannot sit in front of the trashcans, and cast members will be holding ropes and directing people where to sit.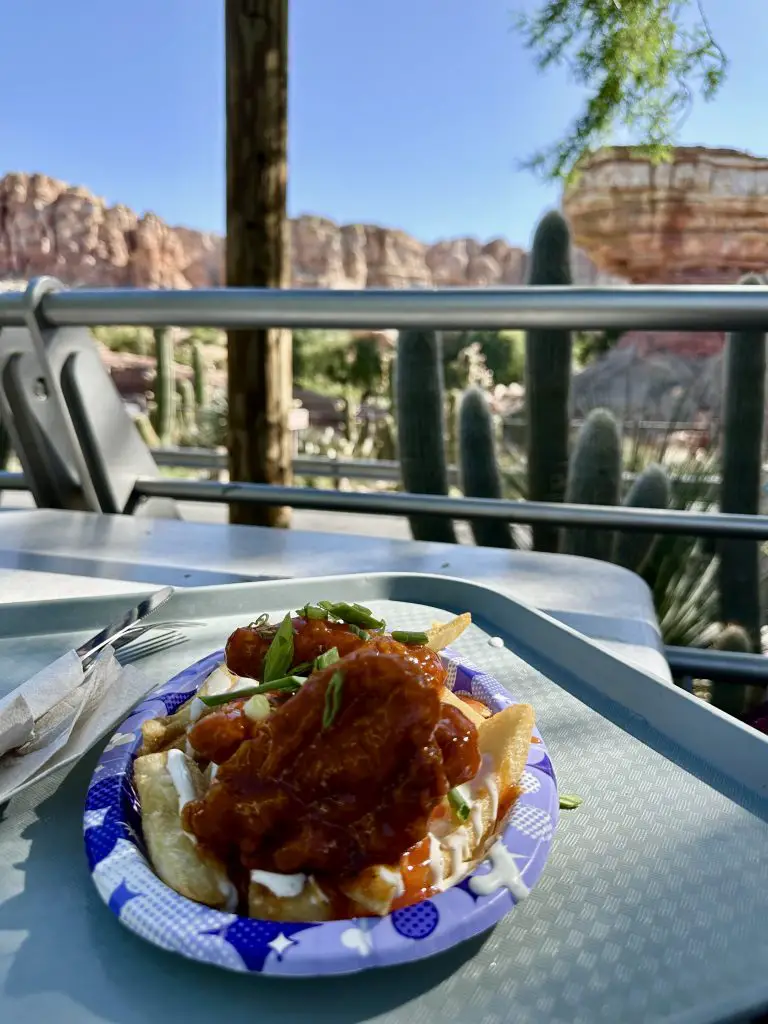 Unique and Exclusive Themed Food and Drinks
This is as of 2023, and there are a few things available during this time, exclusively for the event and some during event hours only.
Food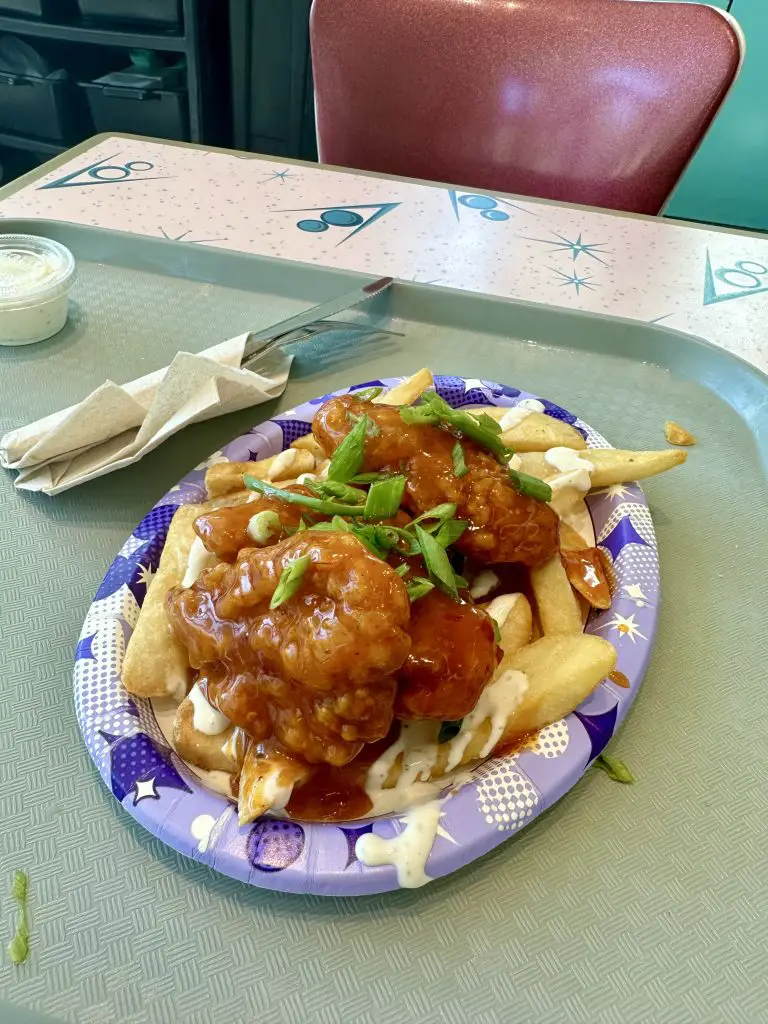 Flo's V8 Cafe
Spicy Chicken and Fries
This mango-habanero sauce is spicy but with a sweet chili spice. Served with steak fries, ranch, and green onions, this was one of my absolute favorite meals at the park.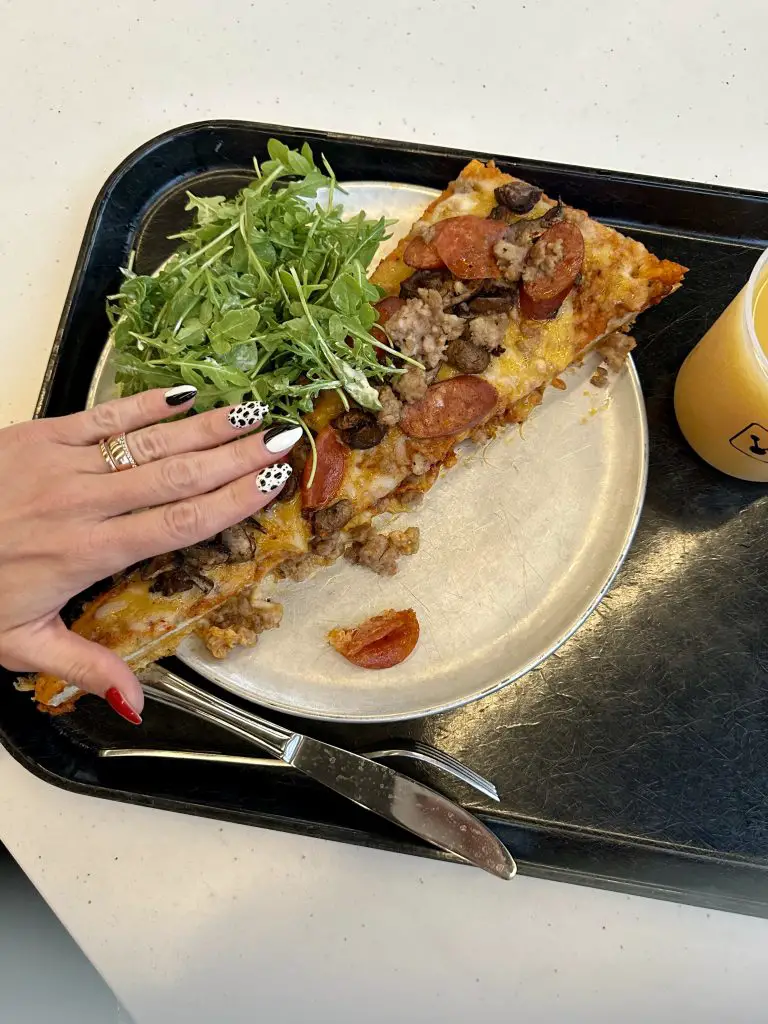 Pym Test Kitchen
The Combustible Pizza
Spicy and HUGE! Served with arugula salad, this was the best pizza I've had in the park. You would think with the size that, the crust would not be cooked well and soggy, but it was perfectly crisp.
Everything is super-sized at Pym and perfect to share. You will have to have an Oogie Boogie Bash ticket for the combustible pizza.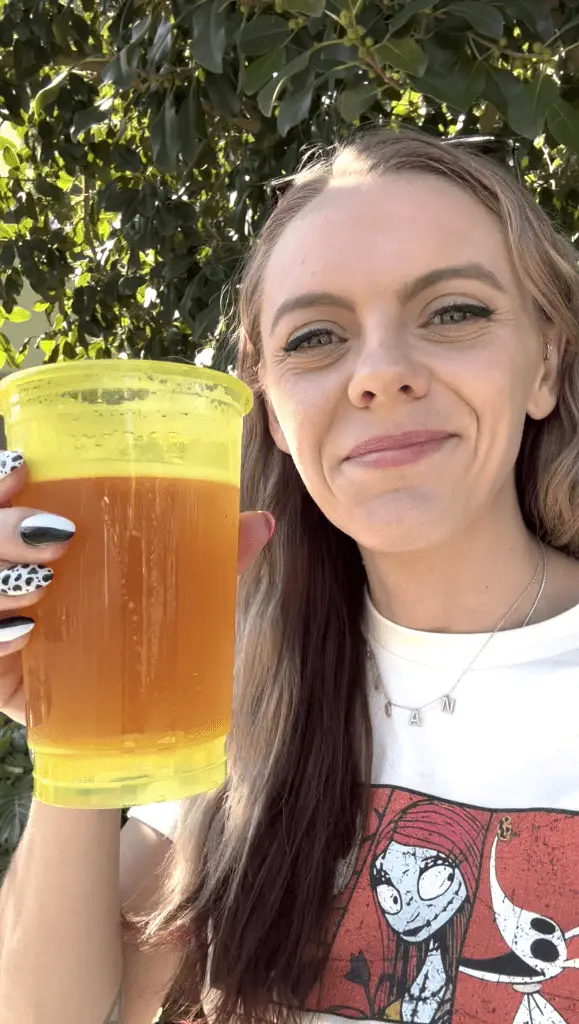 Drinks
Clarabelle's Hand-Scooped Ice Cream (Buena Vista Street)
Pumpkin Ale Hard Float
Cozy Cone Motel 4 (Cars Land)
Mango Beer, and I forgot to write down the name of it, sorry. BUT it was very delicious
Pym Test Kitchen (Avengers Campus)
Beer Mimosa (comes with the test beaker cup)
​Tio Rodrigo Blood Orange Michelada with Chamoy
Skydusters Beer: This one was my favorite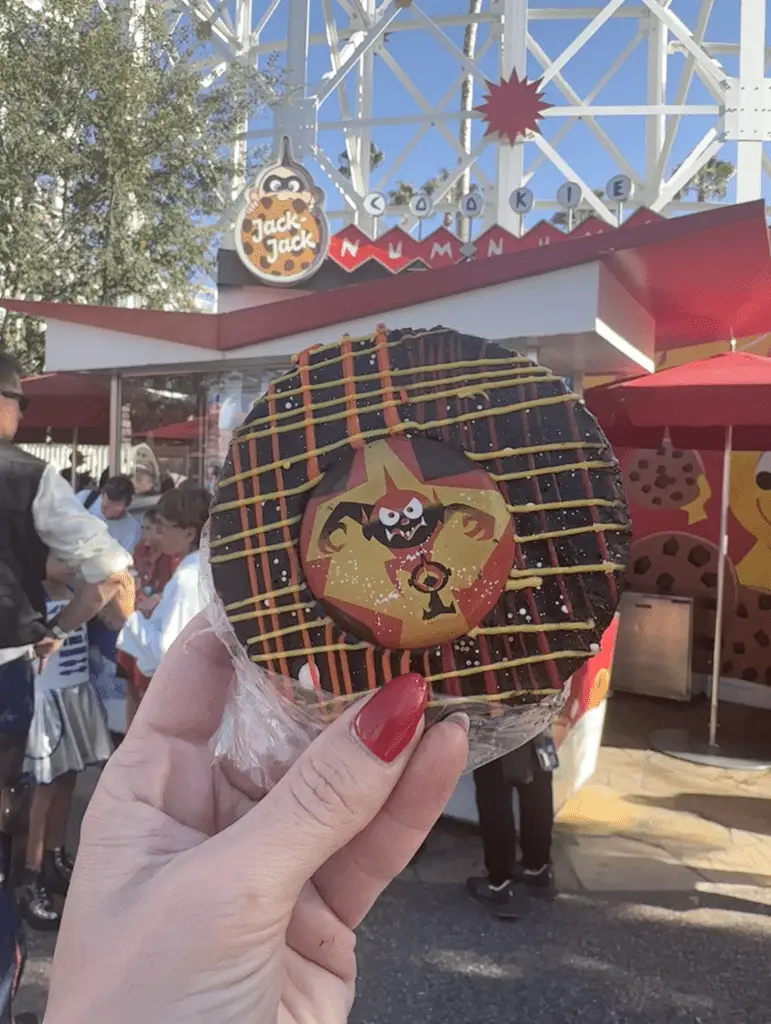 Treats
Jack-Jack Cookie Num Num
The shortbread cookie dipped in chocolate melts quickly but was very soft and yummy. It comes with a very cute Jack-Jack chocolate piece.
Bing Bong's Sweet Stuff (Pixar Pier) & Trolley Treats (Buena Vista Street)
Skull Apple: Green Granny Smith apple dipped in caramel with marshmallow ears enrobed in red-colored white chocolate and green-colored white chocolate skull face (Available Sept. 1 through Oct. 31; mobile order available)
Oogie Boogie Cereal Treat: Cereal treat dipped in green-colored white chocolate with a dark chocolate face
Ghost Cereal Treat: Ghost-shaped cereal treat dipped in white chocolate with a dark chocolate ghost fac
Unique Churros Everywhere
Around the park, you will find many unique churros. Cozy Cone, Redwood Creek Challenge Trial, Churro Cart by Goofy's Sky School
Cappuccino Cart
Pumpkin Bundt Cake: This cute pumpkin-flavored cake in the shape of a pumpkin with dulce de leche and cream cheese frosting.
Oogie Boogie Bash Food Tips
Mobile order! It is significantly easier to plan ahead of time with a mobile order and then pick it up when it's ready.
The only trick is that you have to be near the location to tell the restaurant to prepare your food.
You can walk near, say you are there, and come back when it is ready.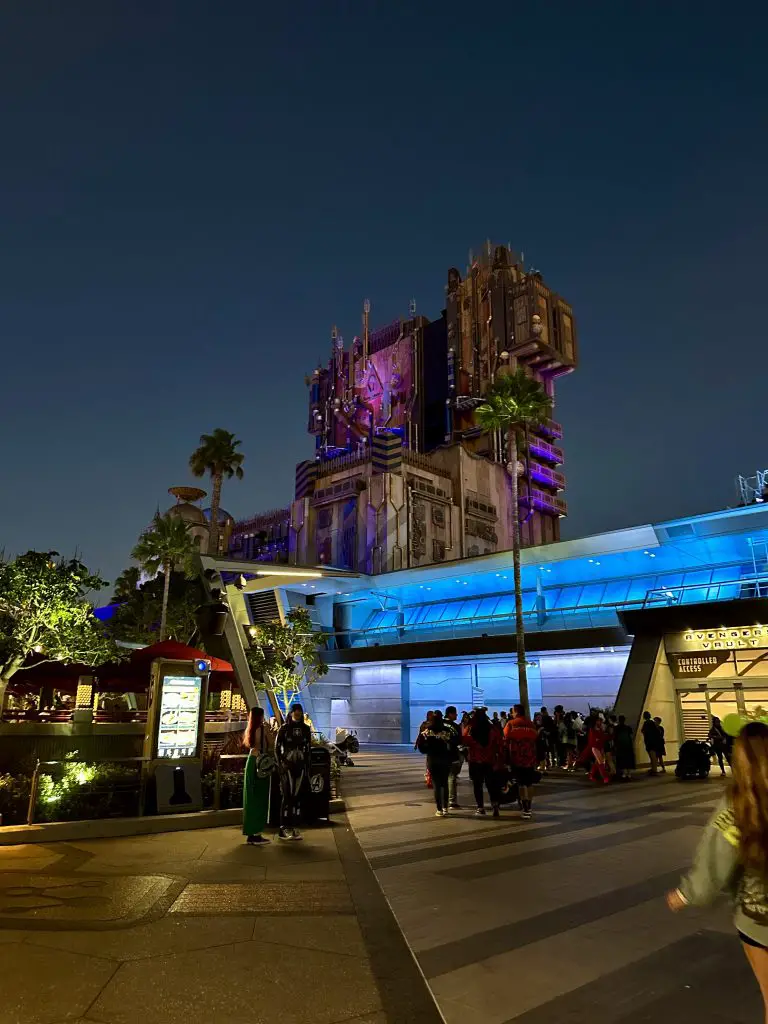 Popular Rides with Low Ride Wait Times
This is a great opportunity to ride some of the popular rides with low wait times. Since the park is at a limited capacity and there is so much to do within the park, if you are a rides person, you will definitely love the reduced wait times on some of the popular rides within the park.
A few of the rides at Disneyland parks actually have special overlays for the Halloween season. The two rides that receive a new twist are Hunted Mansion in Disneyland Park and Guardians of the Galaxy in California Adventure Park.
Oogie Boogie Bash Rides
One is special to Oogie Boogie Nights and has a special overlay that begins at 3:00 when mix-in partygoers are allowed to enter the California Adventure Park.
Guardians of the Galaxy receives a Monsters After Dark overlay, and you are on a mission to save Gru from the monsters that have been let out of their cages.
This is a little more scary than the original ride overlay and can scare children.
I thoroughly enjoy this ride either way, but I actually love the music of the original more.
This is a great time to ride Radiator Springs since it does receive some updated lights for the Halloween season, and the queue lines are significantly shorter for this one.
Single Rider Tips for Oogie Boogie Bash
Always opt for single rider if you can, I was able to do multiple rides in a limited amount of time by going on the single rider line.
If you are with a group, you will be split up, but you can always talk about the ride afterward.
Another side note this is a really quick "rider-swap" option if you do have your children with you during the bash.
A few other rides to prioritize during the Oogie Boogie Bash if the wait times are low
Web Slingers
Toy Story Midway Mania
Guardians of the Galaxy: Mission Breakout! Monsters After Dark Edition
Incredicoaster
Little Mermaid
Monsters Inc.
Soarin'
Radiator Springs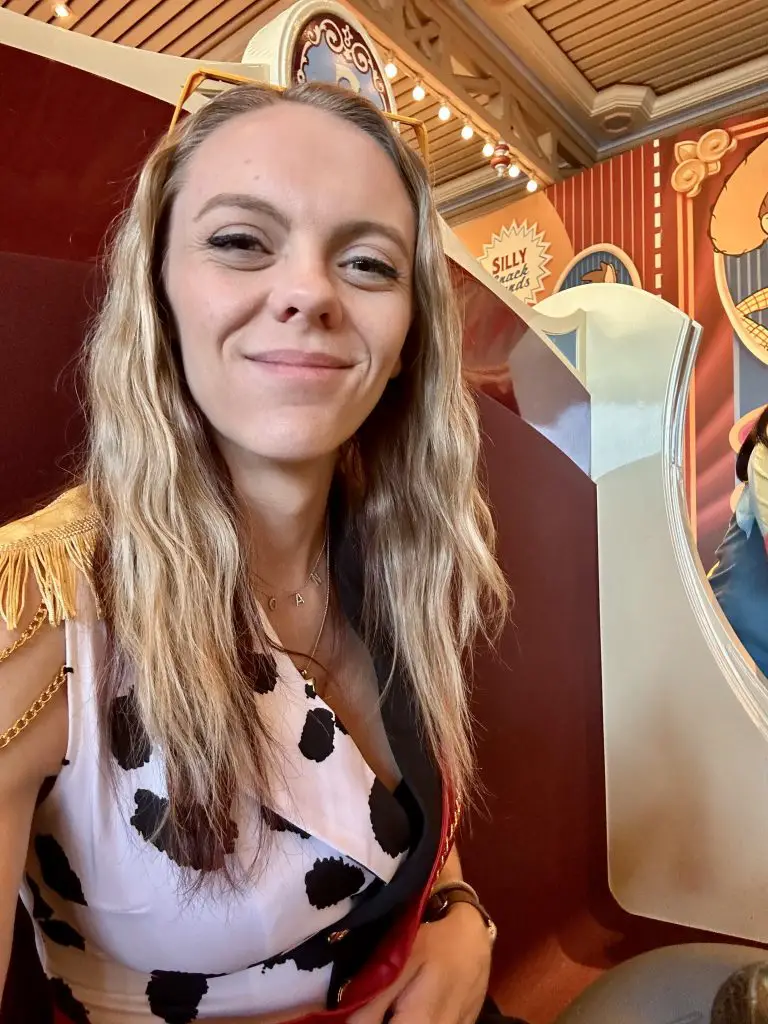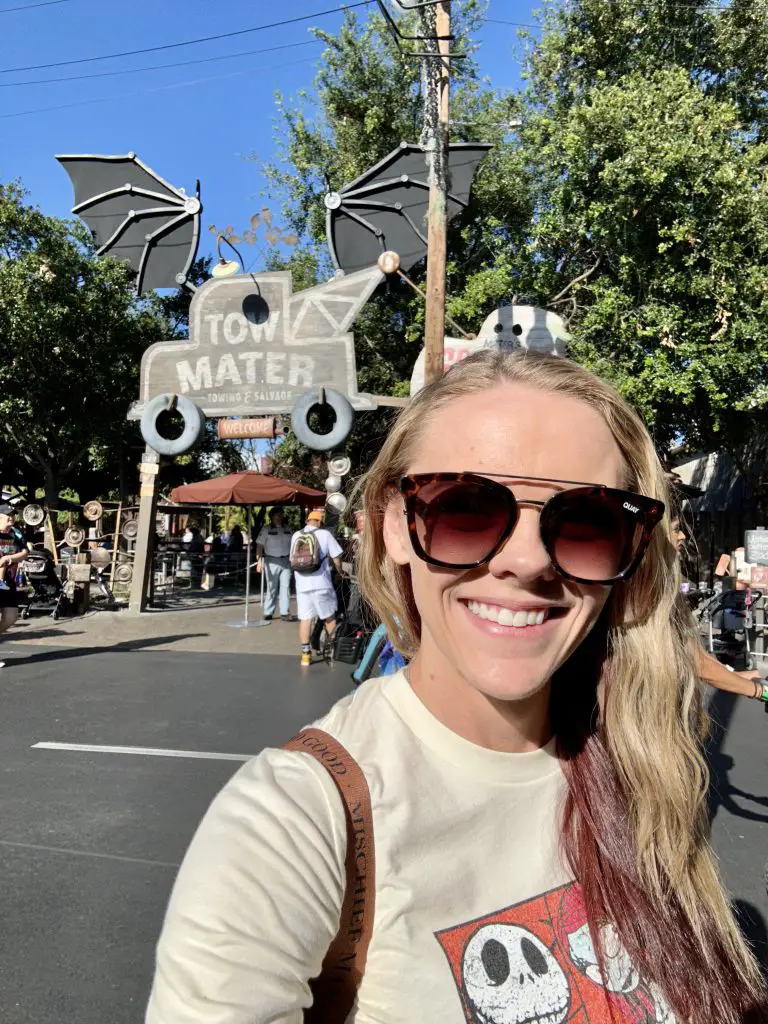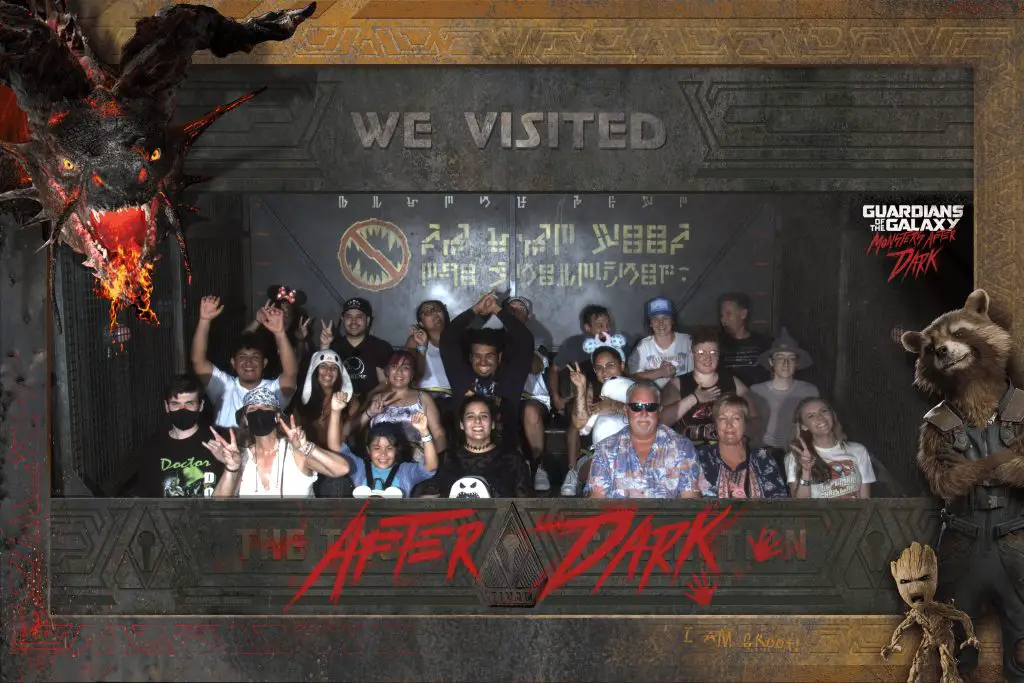 Oogie Boogie Bash Tips Popular Rides:
Ride Guardians Monsters After Dark and Radiator Springs at night are significantly better than during the day time.
The lights around Radiator Springs are Halloween-themed with red, purple, and green lights.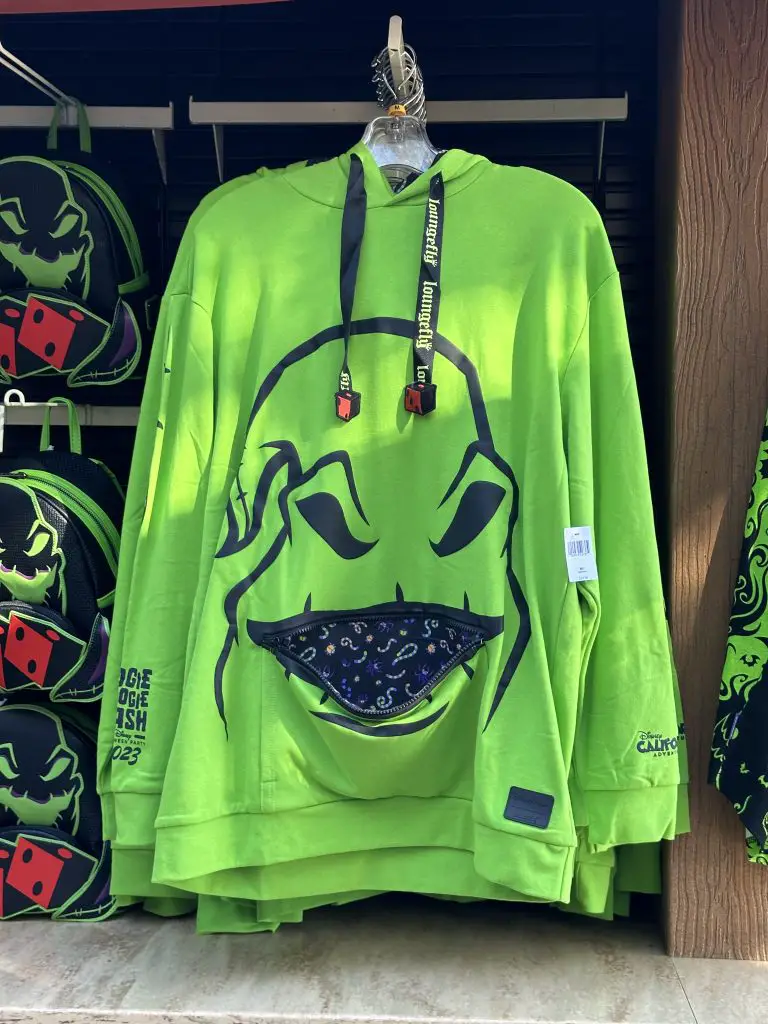 Purchase a Rare Popcorn Bucket and Sippers and Merchandise
This was a MUST for me! If there was anything that had to get done, it was a picture with Cruella and the Nightmare Before Christmas Mayor Popcorn Bucket, and for those two things, I was successful.
There were many special and unique popcorn buckets and sippers to select from this year.
Zero was REALLY easy to find and seemed to not be sold out. The Mayor, on the other hand, I had to circle the park quite a few times to locate him.
Finally, I found him outside Toy Story Mania at the Popcorn at Pixar Pier around 10:00.
Tips from the Disney Blogs Website
Popcorn Bucket Locations
Zero 30th Anniversary Bucket
NEW (Disclaimer from Disney: Limit two per person per transaction; no discounts apply; available while supplies last);
Available at the following locations:
At Disneyland Park: Popcorn near the Haunted Mansion
At Disney California Adventure Park: Popcorn near Carthay Circle Restaurant, Popcorn at Pixar Pier, Churros near Redwood Creek Challenge Trail, and Outdoor Vending
Tim Burton's The Nightmare Before Christmas Mayor's Car Bucket
NEW (Disclaimer from Disney: Limit two per person per transaction; no discounts apply; available while supplies last)
​Available at the following locations:
At Disneyland Park: Popcorn cart near Haunted Mansion and New Orleans Square Outdoor Vending Cart
At Disney California Adventure Park: Popcorn near Carthay Circle Restaurant, Popcorn at Grizzly Peak Airfield, Popcorn at Pixar Pier, and Outdoor Vending
Minnie Winnie Sipper: Hocus Pocus Halloween Dress-up Sipper
NEW (Disclaimer from Disney: Limit two per person per transaction; no discounts apply; available while supplies last)
Available at the following locations:​
At Disneyland Park: Galactic Grill, The Golden Horseshoe, Harbour Galley, Jolly Holiday Bakery Cafe, Little Red Wagon, Rancho del Zocalo Restaurant, Red Rose Tavern, Refreshment Corner, and Stage Door Cafe.
At Disney California Adventure Park: Boardwalk Pizza & Pasta, Chiller at Paradise Garden Park, Fairfax Market, Mortimers Market, Paradise Garden Grill, Smokejumpers Grill, and Studio Catering Co.
Oogie Boogie Exclusive Merchandise
This year Oogie Boogie Bash has a Spirit Jersey, Hoodie and Backpack as the main items. In edition there is a t-shirt.
These items come out at 6:00 when the Oogie Boogie Bash begins to allow guests to purchase the items.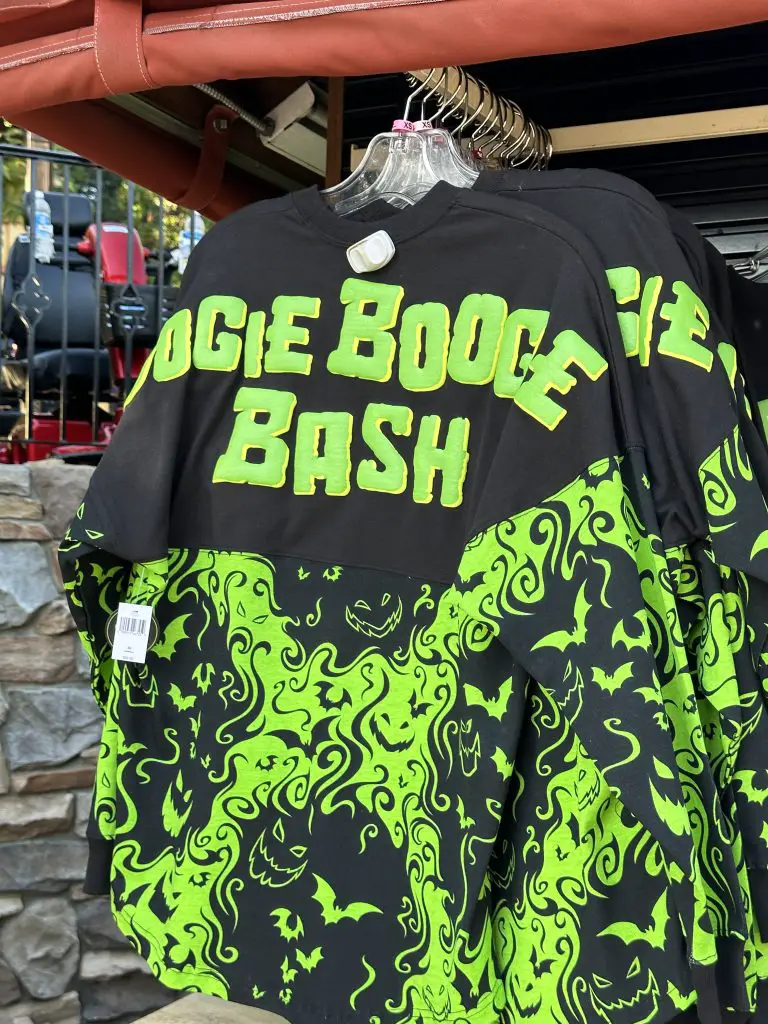 Getting into the Park and Check-in for the Oogie Boogie Bash
Partygoers are allowed into the park for a few extra hours, called mix-in time. This starts at 3:00.
The line to get in at 3:00 started forming at 2:00 in a single line off to the side.
DON'T be a sheep. DON'T do this.
Line up at one of the many turn styles at the gates of the Disney California Adventure Park.
If you want into the party at 3:00, you need to get in line about 45 min early to stand in line. It is really sunny, and there is little to no shade unless you are one of the first few in line.
I was able to snag a small sliver of shade, but the line quickly grew, and there were a good hundred people in the sun waiting to get inside for an hour.
Once party guests are allowed to join other parkgoers for this mix-in time, this is a good time to enjoy rides, eat food, and map out your game plan if you have not already.
Some people say you can enter through the Grand California entrance, while I do trust the blogger I head this from, I just couldn't risk getting in line over there and being denied because I wasn't a Grand California Guest.
Next time I will try this out and see if it works, the walk from Grand California to California Adventure through Downtown Disney is not too far away, and I might miss out on 20 or so minutes.
The line takes a little bit to get through because the cast members have to scan your ticket and then take your picture. Why they take your picture, I am not sure. Possibly so that tickets aren't transferred between guests, and they have a photo of the person it is supposed to be.
You will receive the trick-or-treat bag and your map of the Oogie Boogie Bash.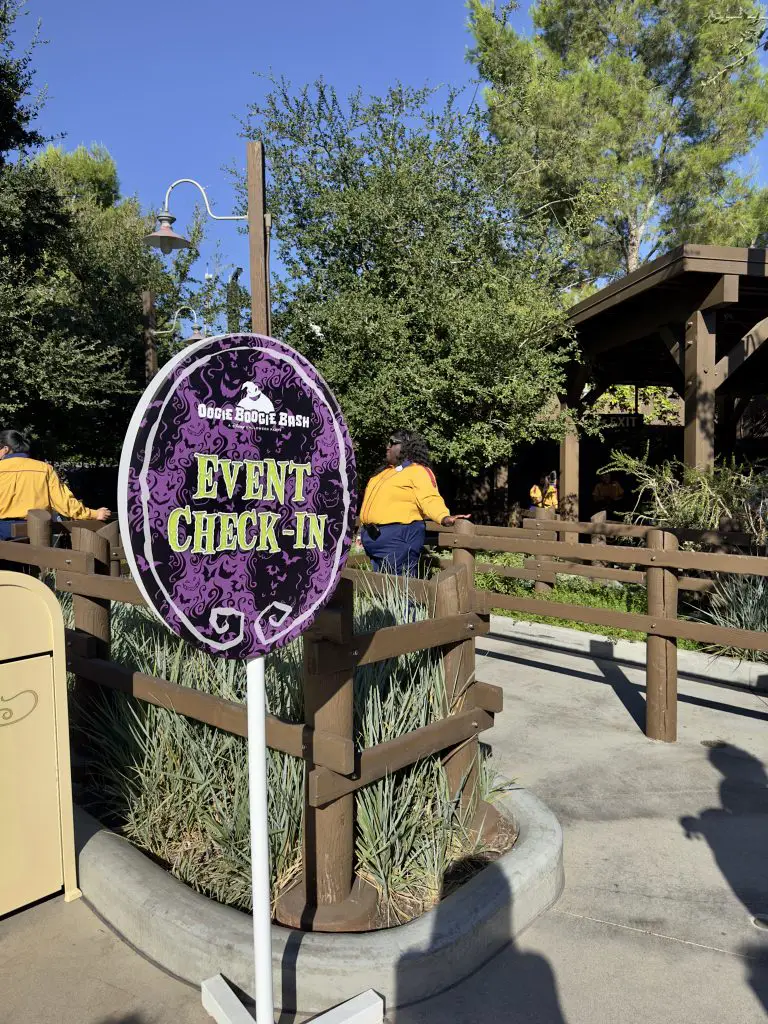 Oogie Boogie Bash Check-in inside California Adventure
If you are already in the park for the day you do not have to leave the park to check into the Oogie Boogie Bash. There is a check-in spots to get your band and bag once mix-in begins inside California Adventure outside Cars Land.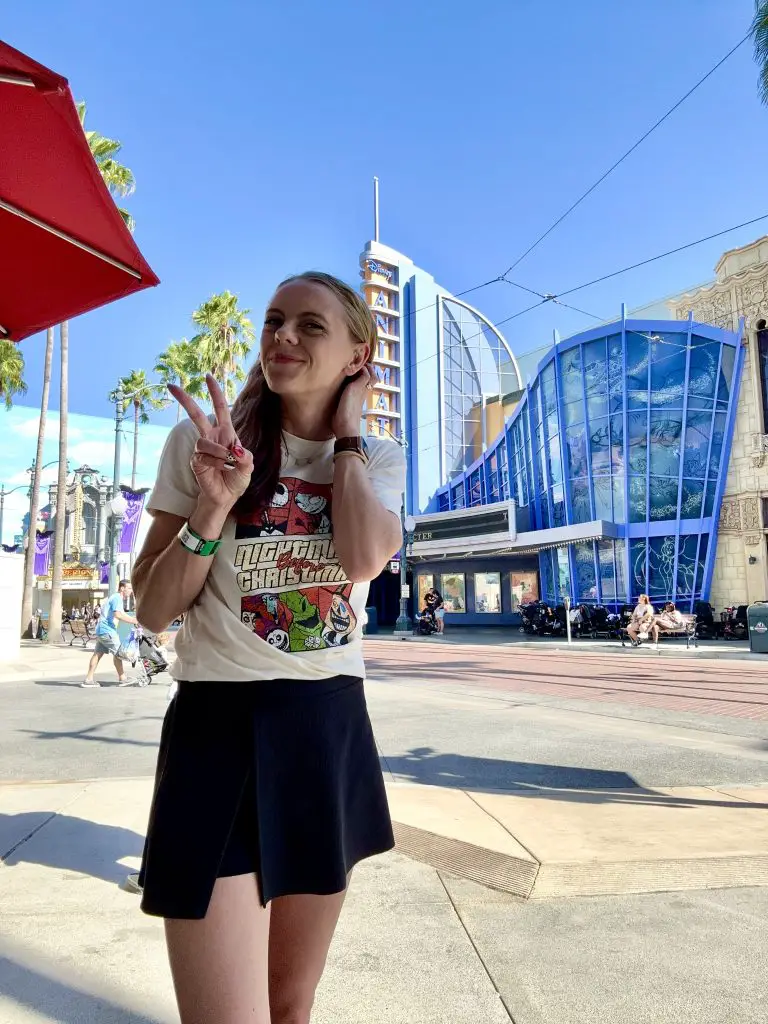 What Should You Wear to the Oogie Boogie Bash
Southern California can be hot but can also get a little cool at night. Good news Fall weather officially shows up around mid-November, giving you the best odds for comfortable temperatures.
We suggest sunscreen so you don't get burned for the few hours you have in the sun as well as a light jacket or a long sleeve if you are making the walk back to your hotel after the event finishes. My favorite thing to do is buy a Spirit Jersey once I get to the park since they always have a themed one or special Disneyland park jersey for that year.
I brought my costume with me to put on when the party started.
While I did LOVE my costume and dressing up next time, I am going to wear just a themed shirt and my tennis skirt.
My costume was wonderful, but it did not survive the theme park day. Guardians broke both chains on my shoulders, and the restrictiveness of movement made it very hard to sling my webs easily. Priorities I know.
But here are some ideas on what to wear to the Oogie Boogie Bash.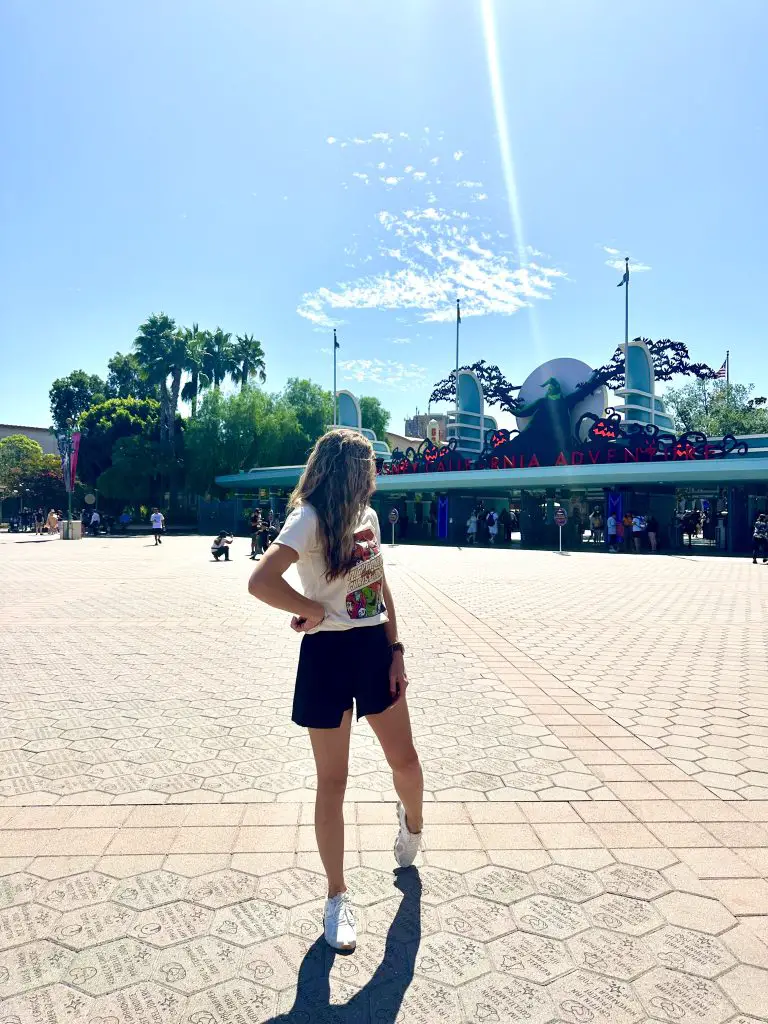 Themed Shirt or Spirit Jersey
This is what I wore into the park and was most comfortable in
Nightmare Before Christmas
Villains
Halloween
Alice in Wonderland
​Oogie Boogie Bash Spirit Jerseys from prior years.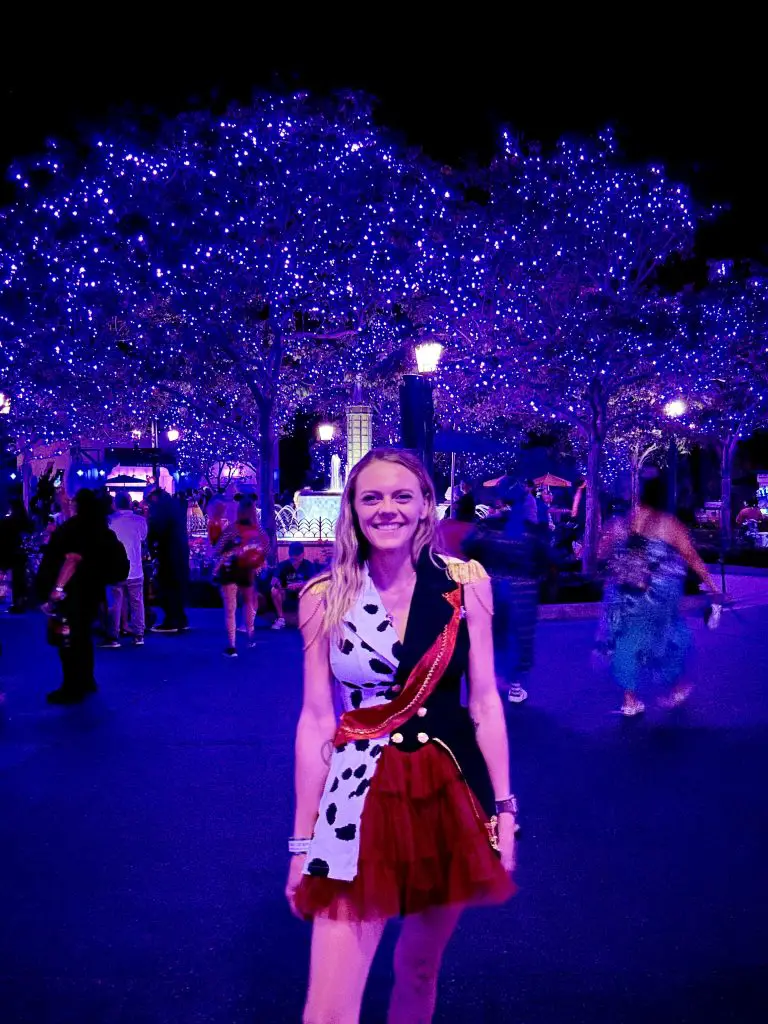 Costume
Costumes are fun, and a LOT of people go all out on their costumes
Dresses, lights, wigs, and more. Make sure your costume follows the Disney guidelines for costumes, the last thing you want is to go all out and not be able to wear your costume.

Cruella de Vil
Sanderson Sisters
Jack and Sally
Little Mermaid
Ursula
Bo Peep
Petter Pan
Evil Queen
Three Good Fairies: Flora, Fauna, Merryweather
You can also be unique and original by coming up with your own fun costume.
I saw an adorable family dressed as caution cones like cozy cones in Cars Land.
Other Random Facts and Things about Oogie Boogie Bash
There is a small show projected onto the outside of the Carthay Circle Restaurant.
World of Color is put on hold for the nights that the Frightfully Fun Parade runs.
Watch A Musical Celebration of Coco with the Storytellers of Plaza de la Familia
Visit Cars Land at night. It has the cutest Halloween Decorations and the most colors.
Walt Disney World hosts a similar after-hours event called Mickey's Not So Scary Halloween Party, and this special ticketed event has just as much fun.
Frequently Asked Questions About the Oogie Boogie Bash
What is the Oogie Boogie Bash?
The Oogie Boogie Bash is a special Halloween party hosted at Disney California Adventure Park. It's a separate-ticket event that features Halloween-themed entertainment, character meet-and-greets, trick-or-treating, and more.
When does the Oogie Boogie Bash take place?
The event typically runs on select nights from late September through October, leading up to Halloween. It's important to check the official Disney website for specific dates and ticket availability once ticket sales are announced.
How much does it cost to attend the Oogie Boogie Bash?
Ticket prices for the Oogie Boogie Bash vary depending on the date and availability, starting at $135 – $180. It's advisable to check the official Disney website for current pricing information.
What should I wear to the Oogie Boogie Bash?
Many guests choose to dress in Halloween costumes, and Disney has guidelines for appropriate costumes. Make sure your costume is family-friendly and adheres to Disney's costume policy, which can also be found on their website. Many people also don't feel comfortable in their costumes, so they opt for themed shirts and Halloween shirts.
Is trick-or-treating included in the event?
Yes, one of the highlights of the Oogie Boogie Bash is trick-or-treating throughout Disney California Adventure Park. Treat trails are set up, and guests can collect candies and other goodies. There are healthy food options as well as candy at all the treat trails.
Are there special shows or entertainment during the event?
Absolutely! The Oogie Boogie Bash features exclusive Halloween entertainment, including a parade, character cavalcades, and stage shows.
Can I meet Disney villains during the Oogie Boogie Bash?
Yes, Disney villains are a big part of the event. You can often find them for meet-and-greets and photo opportunities.
Is there a special dining package for the Oogie Boogie Bash?
Disney sometimes offers dining packages that include reserved seating for certain shows or parades during the event. Availability and details may vary from year to year. 2023 has Oogie Boogie Bash Dessert Party and Wine Country Trattoria Oogie Boogie Bash Parade Dining available this year.
Can I bring my own trick-or-treat bag?
While Disney provides treat bags for guests, you're welcome to bring your own if you prefer. The one Disney provides is a small bag, and many people bring a larger bag to fill.
Is it worth attending the Oogie Boogie Bash with my family?
Many families find the Oogie Boogie Bash to be a fantastic Halloween experience. It offers a unique and festive atmosphere with lots of activities for guests of all ages. However, it's a separately ticketed event, so consider your budget when deciding. Find out why we think its completely worth it!