The Oogie boogie bash tickets paused and stressed me out. The website had a full day of technical issues that crashed the internet. This was our first time purchasing an After Dark ticket, and I didn't know it was going to be as much stress as the release of the first iPhone. Disney's Oogie Boogie Bash Tickets debacle of 2023 did not disappoint. It flat-out sent hundreds of people into uproar over ticket sales.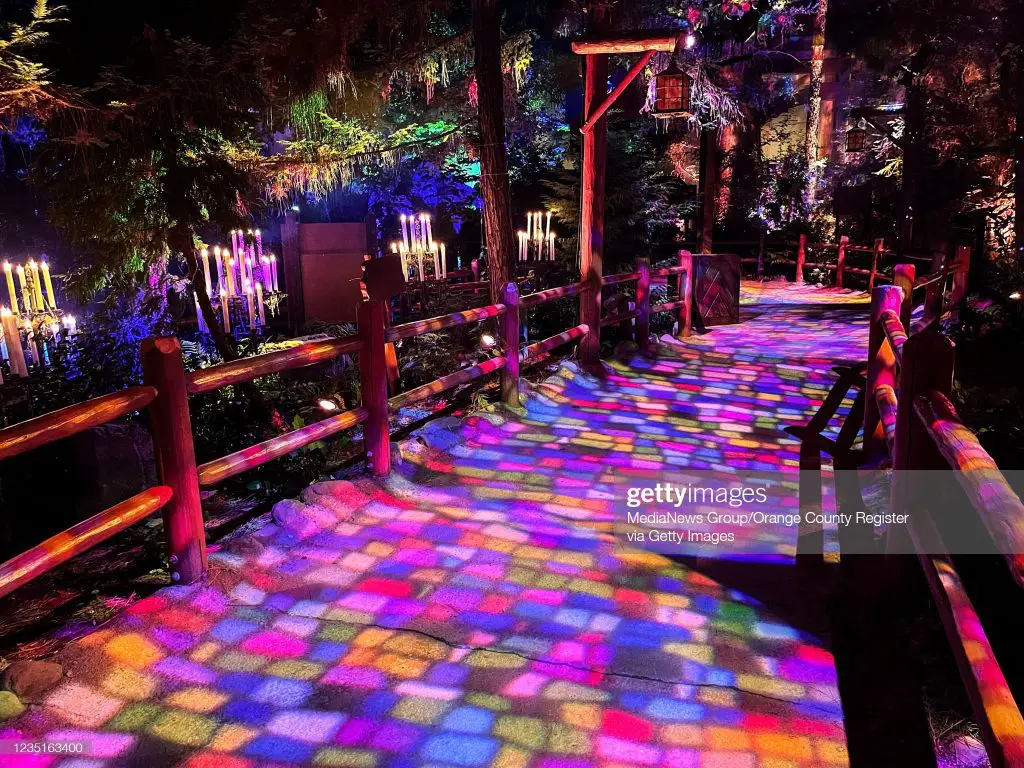 There are 6 separate After Dark parties Disneyland Resort hosts each year, and one that was just wrapped up a month prior to ticket release. No debacle encounters last year or for any of the other events.
While this is NOT the first year Disney has held Oogie Boogie, it is the first time they have had the website crash, Oogie Boogie bash tickets paused, and people be on edge for 8 hours straight and then into a new day.
Tickets went on sale for Magic Key Holders on the 27th and then general ticket sales on June 29th no earlier than 9:00 am pst.
By 8:30 am, I logged onto the Disneyland website and waited patiently for the clock to change to 9:00 am. As I was sitting on the site, it moved me to the waiting room before the queue.
While I waited, the page changed and informed me that it was too early and that as soon as the queue opened, I would be added. Being impatient, I reloaded my browser until it took me to the Oogie Boogie purchase screen to select how many tickets I needed and for what day.
Everything seemed to go smoothly until I needed to type in my credit card information and didn't have that specific CVV number for the card on my account available. Mental note for next time. Have the preloaded credit card on your account and the CVV number handy for checkout.
It kicked me out of the payment section multiple times, but I kept trying and submitting my order until it went through. That was when I received the following message saying my order was being processed, not the normal confirmation order and number you would get on other days.

Two things went through my mind, either my ticket purchase meant absolutely nothing after all that, or this was normal after the processing order issues and a massive number of sales for this popular event.
Thankfully 2ish, hours later, I received a confirmation email. Phew. I had secured a ticket and was heading to Oogie Boogie Bash 2023.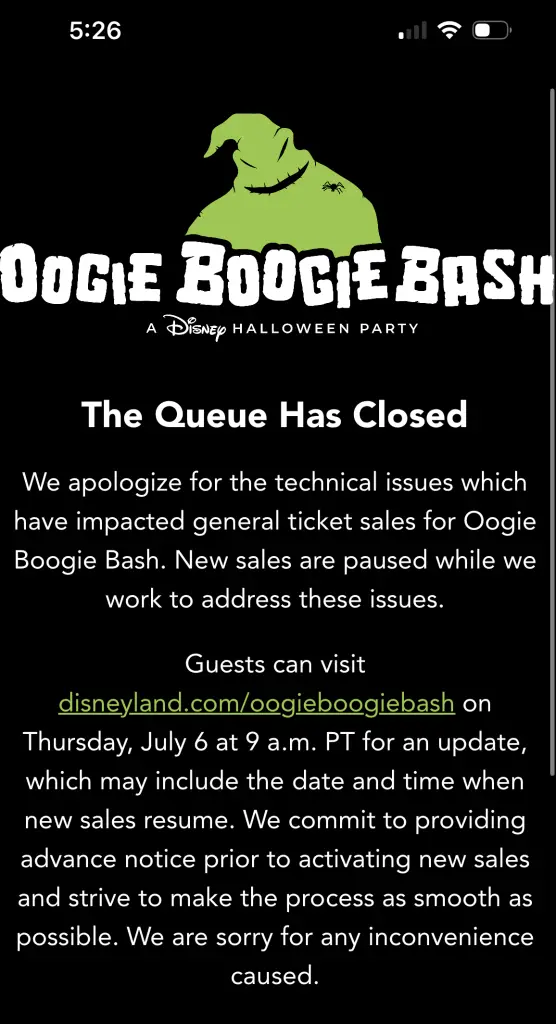 What is Oogie Boogie Bash?
Oogie Boogie Bash is a Disney Halloween party in the Disney California Adventure Park. This Halloween time event is on select nights in September and October. This is an event open to guests of all ages and celebrates Halloween and the villains of Disney. You will see and experience Halloween costumes, a frightfully fun parade, Disney villains, an exclusive Halloween parade route, and a treat trail with candy stations.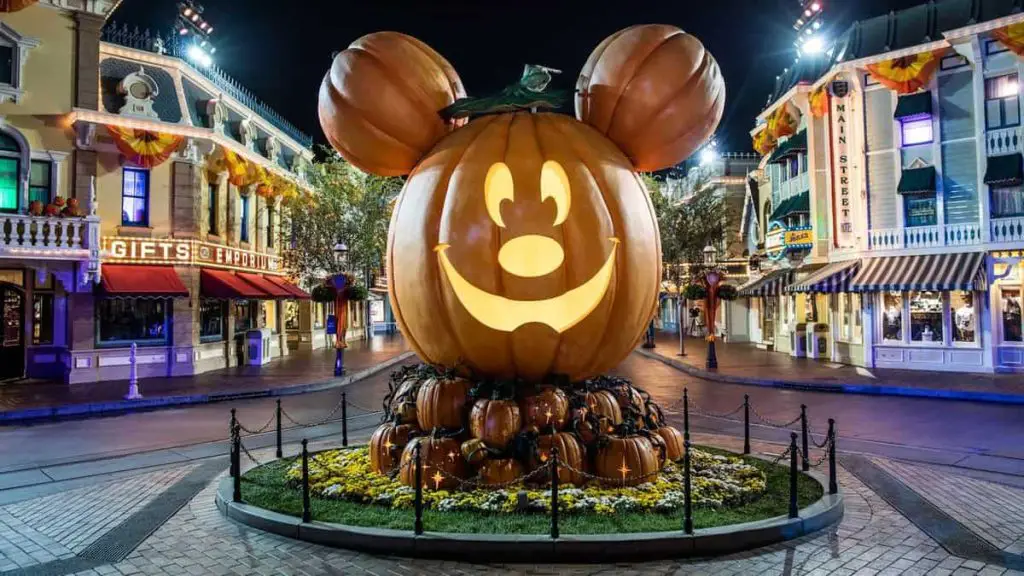 Both Disneyland Park and Disney California Adventure have the Halloween season decor all over starting September 1st. Disneyland keeps its Mickey Pumpkinhead, and DCA features the headless horseman of sleepy hollow.
This special event requires a special party ticket, and general admission tickets are not included. If you are not attending the special After Dark event and have regular theme park tickets for the day, you will want a park hopper ticket for that day so that you can move over to the Disneyland park once DCA closes to the general public for the event. The park closes to the public at 5:00 to prepare for the 6:00 start time.
While Haunted Mansion, the OG Halloween ride, is located in Disneyland, the Guardians of the Galaxy and Avengers campus will see a Halloween theme on select nights during this event, making it almost comparable.
World of Color is still the current show at night on general admission days, but on Oogie Boogie nights, it will be villain themed for a limited time.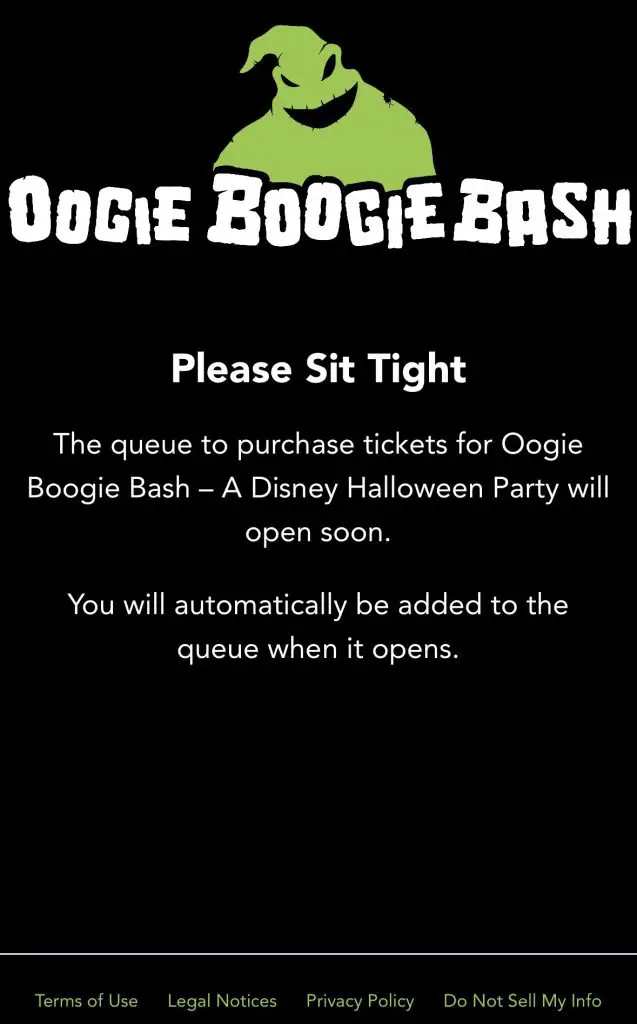 So what happened: Oogie Boogie Bash Tickets Paused?
I was able to get through the site and purchase tickets by 9:20 am after MULTIPLE processing kick outs. I was sent to what I believed was the confirmation window which ended up being a payment processing screen. While all that was going on, Disney paused queues, and everything was put on hold because they were experiencing technical difficulties. Ticket sales were on hold until further notice. Everyone started freaking out. Many people left their browser windows open and sat in the paused queues until the ticket sales announcement came out.
Disney, when I was imagining the spirit of Halloween and Oogie, I was not imagining this as a scary encounter.
Almost 3 hours later, and after an attempt at the call center, wait times were through the roof. I received an email with my confirmation number and ticket for said Oogie Boogie Bash.
On most of the forums I was reading leading up to the day, many people talked about using their computer, tablet, and phone for virtual queue and purchasing tickets on whatever device goes first. If each person had a minimum of three devices attempting to load the site and purchase tickets, I would not at all be surprised if that had anything to do with the crash.
Even though the site was down and ticket sales were on hold, some people were still able to process ticket orders throughout the afternoon. Me being one of them. By 5:00 pm, ticket sales had ended, and Disney was going to give it another go on another day, and we might possibly hear an update on July 6th at 9:00 am pst.
Even for a Disney travel agent, there were no special tickets or ways to get tickets. Stress overload for so many people.
Oogie Boogie Bash tickets paused and will return, that much we know.
How do you snag tickets to Oogie Boogie Bash Now?
Currently, ticket sales are temporarily on hold, and new sales resume on July 11th no earlier than 9:00 am.
Prior to the date announcement, Disney left us with a very broad message to check back on the 6th at 9:00 am for an update on ticket sales that may include the date and time of new sales.
Ummm… Thanks for that.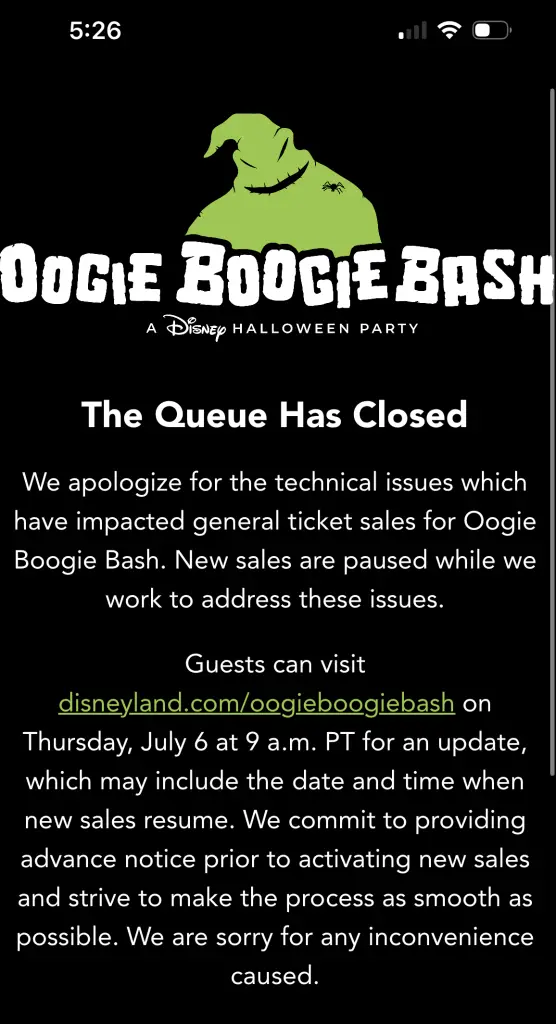 I will say they really do have the best customer service and attention to detail once you are in the park, but prior to that… customer service can be a little sketchy there in the beginning.
Clearly, they are saving it for later. But I digress.
If it were any other ticket sales day, you would log onto your Disneyland app or go to disney.com and head to the events section on the website and navigate your way to ticket sales. We go through specific steps a little later, but for now, you get the general idea.
Only issue. Disney Afterdark is like really cool, and ticket purchases go quickly for these popular nighttime events so Disney gives advance notice for when tickets will go on sale.
So many people will suggest running the queue browser on multiple devices like we mentioned, so that you can use the one that opens first to purchase tickets. While this does work, I am slightly against this because it clogs a significant amount of "spaces" for others in the queue. Many times we forget to exit out of the other browser on our devices when we are in a frenzy to select the right number of people and the date we want, then type everyone's names and credit card information in before your date sells out.

The browser window gives you a 10-minute window to purchase your tickets once you have entered the queue, and if it is not active within that 10 minutes, it will kick you out and go to the next in the virtual queue line.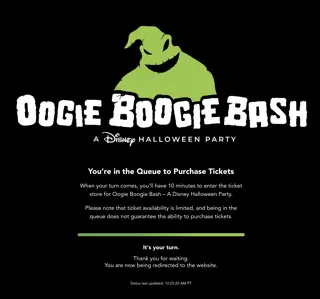 Whatever you do, do not refresh the queue page that is your place in line, and if you refresh your page, it will move you to the end of the queue line.
If your screen goes black, that's alright, but keep your phone on and charged so you don't mess anything up.
It's usually an easy hour or so wait to purchase tickets, but with the highly anticipated 2023 ticket, sales were much higher and crashed the site.
Couldn't tell you why this year was so special, but after all this, it will be a very special year for sure.
The queue is the queue, and there is no real beating the system. People have hacks, but some are tricky because it suggests you get out of the queue line and get back in. For some reason, that doesn't make sense to me, and I cannot jump on that wagon and lose my spot in the queue.
Tickets can only be purchased online ahead of time and are not available at the gate day off. Scams do happen, so be very cautious when purchasing resale tickets.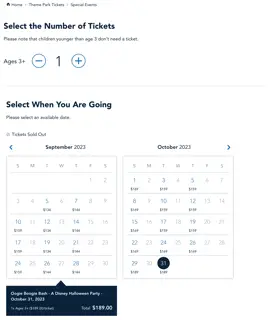 Oogie Boogie Bash Dates
Select from 25 exciting Halloween nights
Tuesdays and Thursdays from September 5th – October 31st
Ticket prices vary depending on specific dates. Starting at $135
The party starts at 6:00 pm, and there is a special mix-in time at 3:00 pm, and no park reservation is required. This is a limited offer for the mix-in, so make sure to get there early to get in.
You will be with other parkgoers for a few hours, so long lines and wait times will be a little higher until the event starts.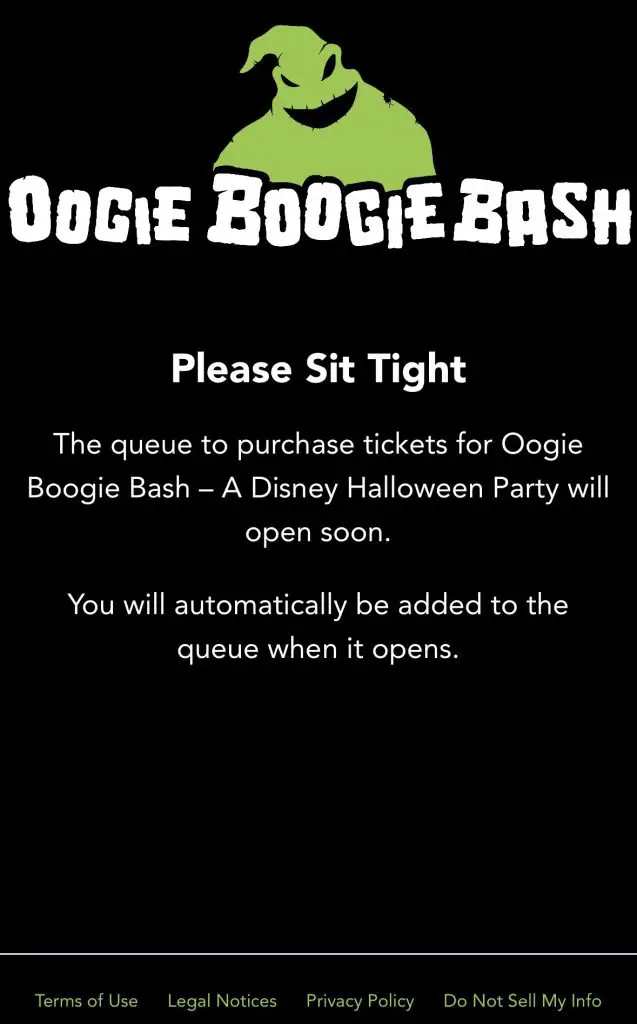 How to purchase tickets after the Oogie Boogie Bash tickets paused debacle
Disneyland App
Tickets and Passes
Buy Tickets
Special Event Tickets
Opens the browser for the special event ticket page.
​
Disneyland website
Hamburger menu (on a mobile device)
Park & Tickets
Special Events Tickets
Opens the browser for the special event ticket page
If there is a queue active, it will sit on the waiting room screen, and during none event times, it takes you to the overview of After Dark events for the year.
You will select the number of tickets for your group
Select the date you would like
Fill in the names of each person for the tickets selected
verify your credit card information with CVV and address
Confirm your purchase
All should be smooth sailing from there.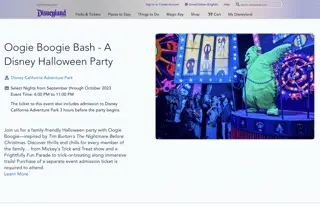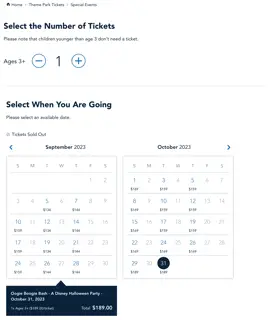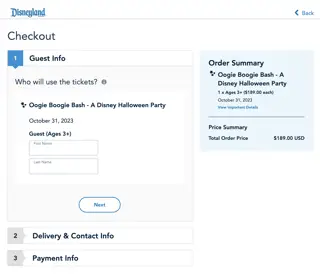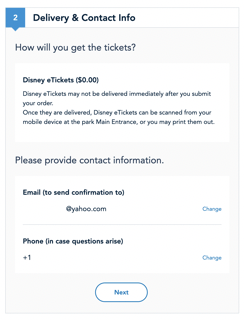 You should hopefully go to the confirmation window and receive your confirmation number – or the unfortunate payment processing screen I received, and hopefully, you will receive a confirmation number within a few hours. You can reach out to a cast member, but if wait times are high and they are experiencing what they did last time, you won't be able to speak to anyone for a while.
Your tickets should appear in your account within 24 hours. If it does not do it on its own, you might have to add them manually after the fact. This is very easy to do.
What to Expect at a Disney After Dark Event
First off, it's a lot of fun, with limited park guests, attractions, photo passes, and special theme events.
Specifically for Oogie Boogie, party guests will participate in
Treat trails
Special Attractions
Halloween themed entertainment
Villain Grove
Photo opportunities
Fun decor and more
Early admission into the park
Beginning at 3:00 pm, Oogie Boogie Bash ticket holders will have access to the park before the 6:00 pm event time. This is called mix-in time and is something new Disney experimented with and has stuck with for event nights.
Starting at 6:00 pm, the theme park will close to all guests besides those apart of the Oogie Boogie bash, and those not apart can move to Disneyland if they have a park hopper or leave for the day.
Side note: If you are not a part of Oogie Boogie Bash but have a California adventure theme park day pass, we HIGHLY suggest adding the park hopper so you can switch parks later in the day. Disneyland will be crowded because of this, and you might consider adding genie plus to your day. There is no Disneyland Halloween Party specifically, but you can eat amazing treats and ride a few themed rides during your time.
Fun Parade
Starring Mickey, Minnie, and some of your favorite villains, you can watch this special show at two times throughout the park
Mickey's Trick and Treat
Great for kids, this live show is filled with Mickey Mouse and friends and their not-so-scary Halloween tales.
Villains Grove and Character Meet and Greet
See some of your favorite goblins and ghouls. Cruela, Sanderson Sisters, Jack, and Oogie, and get a chance to see some of your favorite villains that are not typically in the park.
Special rides
While the entire theme park is transformed starting September 1st to Halloween decor 🎃 a few of the rides themselves have special songs and themes for the holiday.
Photo opportunities
With your After Dark ticket, you have access to take photos with characters around the park but also download your ride photos from the app as well.
Mickey's Not-So-Scary Halloween Party
Many people get Oogie and Not-So-Scary mixed up.
Walt Disney World's Mickey's Halloween Party, also known as Mickey's Not-So-Scary Halloween Party, is the Disney Halloween Party in Magic Kingdom in Florida.
Come collect candies and treats while Magic Kingdom Park thrills you and chills you with eerie entertainment, favorite attractions, and beloved Disney Characters.
Head to the Oogie Boogie Bash Webpage for tickets
Update: ticket sales have ended for this year's event.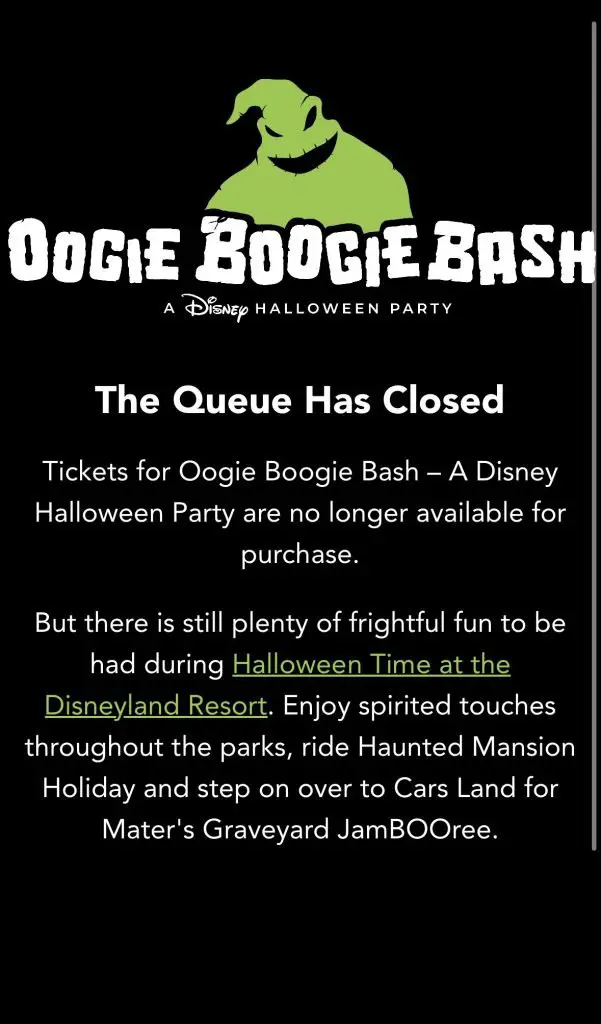 We will create must-do tips and guides after so that you can plan for next year and join the Disney Parks' unique entertainment and yearly celebration that broke the internet.
Other Guides
Best Disney Good Neighbor Hotels
Disney vs Universal Studios Hollywood
Oogie Boogie bash tickets paused tips