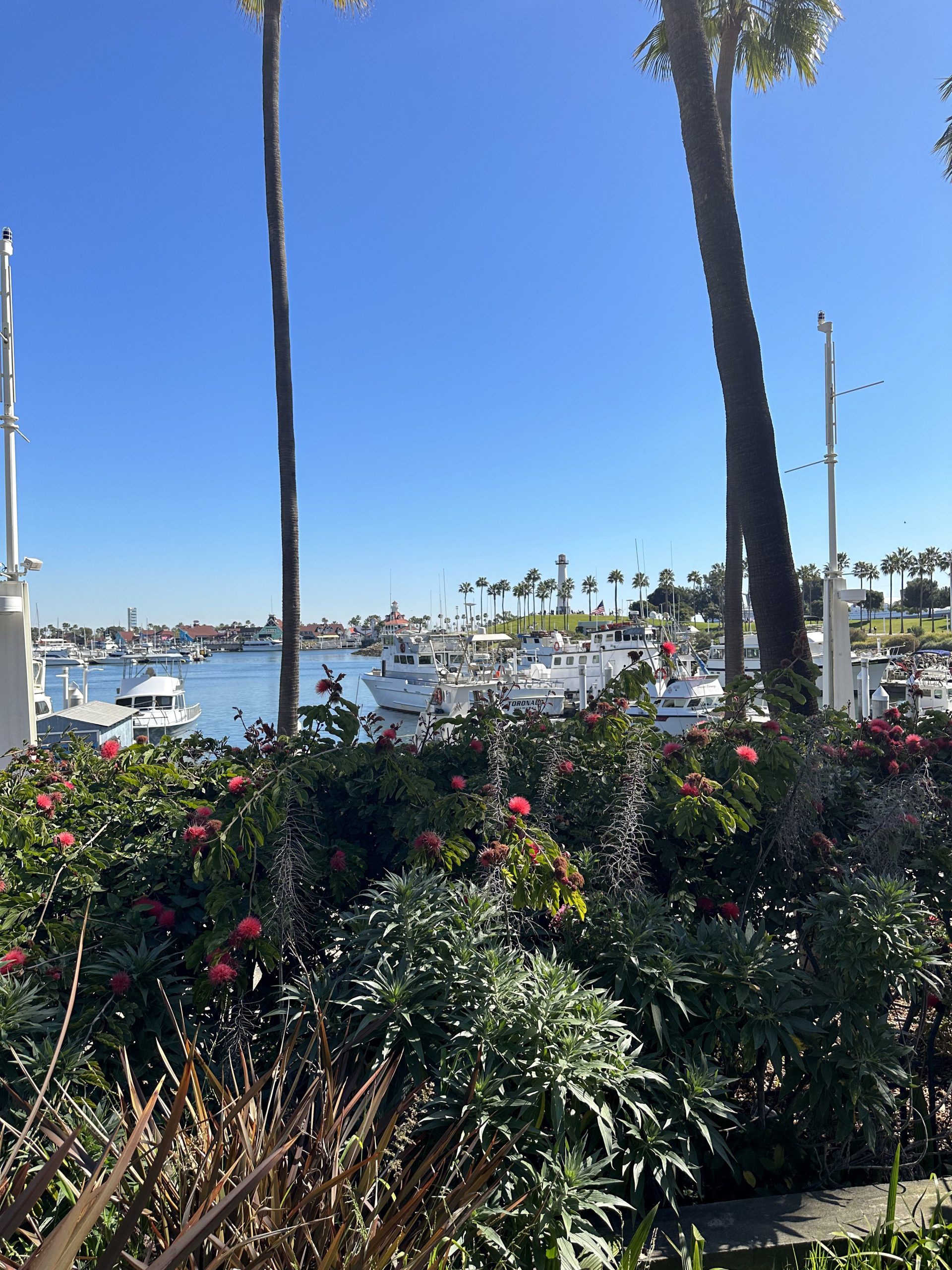 This la itinerary is a roundup of 4-Days in Los Angeles. It is the perfect amount of time to relax and enjoy what California has to offer. Depending on what the main focus of your visit is will really depict your days.
We've spent our entire 5-days at Disneyland Resort, and other times explored the city and surrounding area.
We always love our Southern California vacations.
Let's dive into the ideal 4 day itinerary for LA.
Downtown Disney, Pool Day, and Anaheim GardenWalk | Day 1 LA Itinerary
LA Zoo and Roof Top Drinks | Day 2 LA Itinerary
Long Beach Aquarium of the Pacific and Lighthouse | Day 3 LA Itinerary
Universal Studios Hollywood and Preview Super Nintendo World | Day 4 LA Itinerary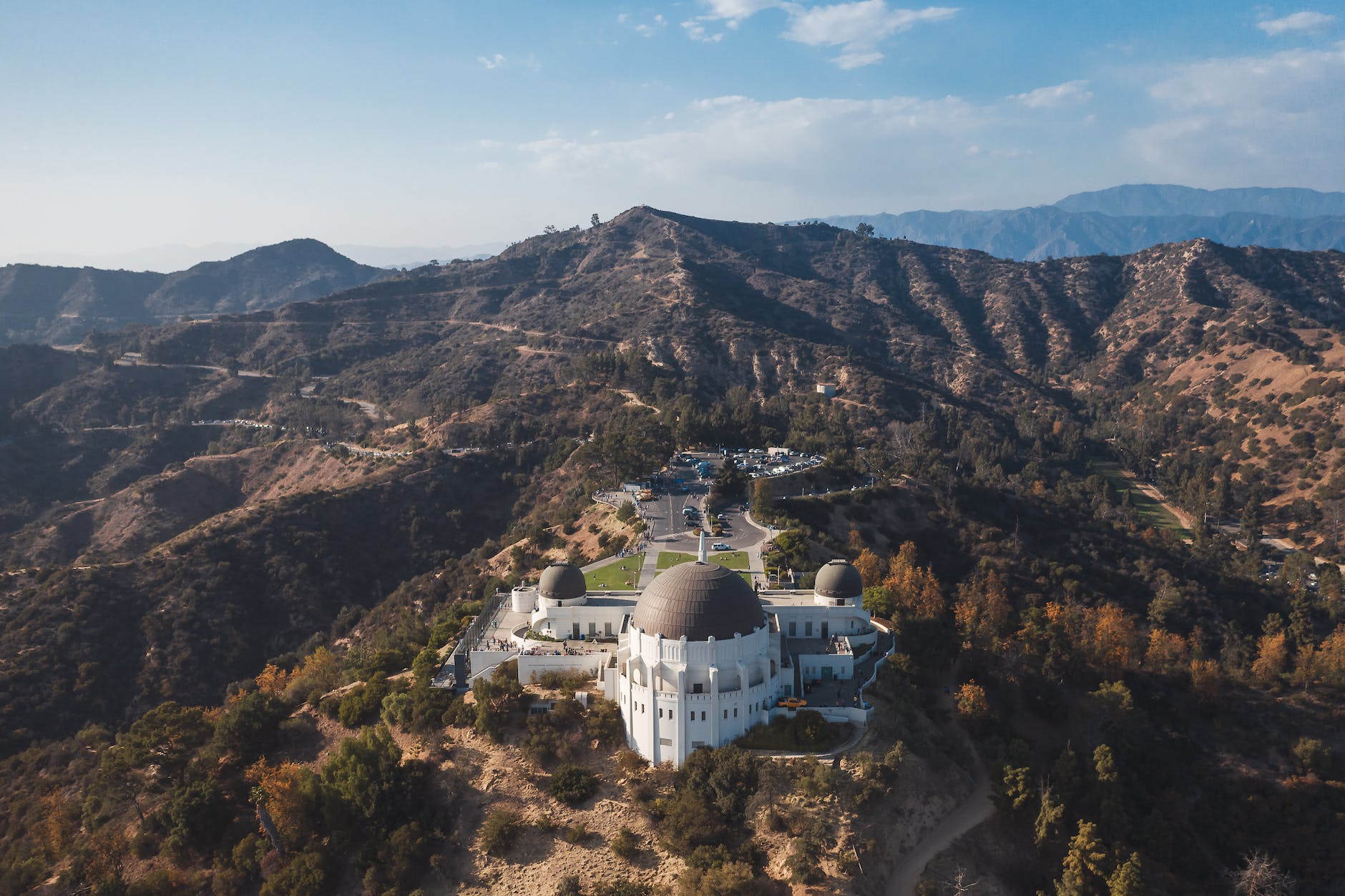 Big news before we jump to our 4-day LA itinerary. When Mitchell was offered his new position, I knew it would involve a lot of travel. Why. Well, because I used to hold this position 3 years earlier, which was a big reason Sloan got so comfortable with flying. There were two big conventions each year and many smaller randomly placed leadership trainings throughout the US, which I would attend, both by car and airplane.
First up was Family Reunion, one of Keller Williams's big conventions each year. It brings thousands of agents from across the world together in one room. To learn, to inspire. I touch on this slightly because we are not the only family with a spouse traveling for work. But we are in the smaller group of people who travel with their spouse when they have a work trip. Creating fun a fun LA itinerary to share was a must.
It was really important for us to travel with him. The conventions and training are really impactful for his business, and the places his company picks for locations are unique and so much fun.
Who else works for a company that buys park tickets to Epcot for hundreds of people? Anybody?
Only issue. We hadn't planned ahead like we usually would have. We hadn't planned on going this year and forgot the dates. Our typical way to get cheap flights with tracked prices wouldn't work. It was next week, and cheap flights would not be an option. Flights from Reno to LA the week before were $1,600. That wasn't going to work, so we decided to drive.
Driving to LA
A drive we have made many times before, by soccer mom van, by sprinter van, and by car. Mitchell's grandmother was from the valley, so heading to LA was normal for us.
Since we decided so last minute to go, packing was last minute. Packing last minute can be controversial, but we've traveled so frequently that we have it down to a science. The night before or the morning of, we have no issue throwing our things together and heading out the door.
Suppose you've made the Reno to Los Angeles drive before. You have probably taken 395. We packed our bags into the car and made our way to LA. While we did take the freeway on the way down, we were quickly reminded why we hate taking it, even if it's "faster."
If you are a family, the stops could be better on 395. It's slow and goes through so many tiny towns. With little to no rest stops or more prominent chain restaurants, it's not our favorite route. Bishop is the only saving grace since they have delicious jerky and deli sandwiches.
Related: Road Trip Essentials and Packing List with Kids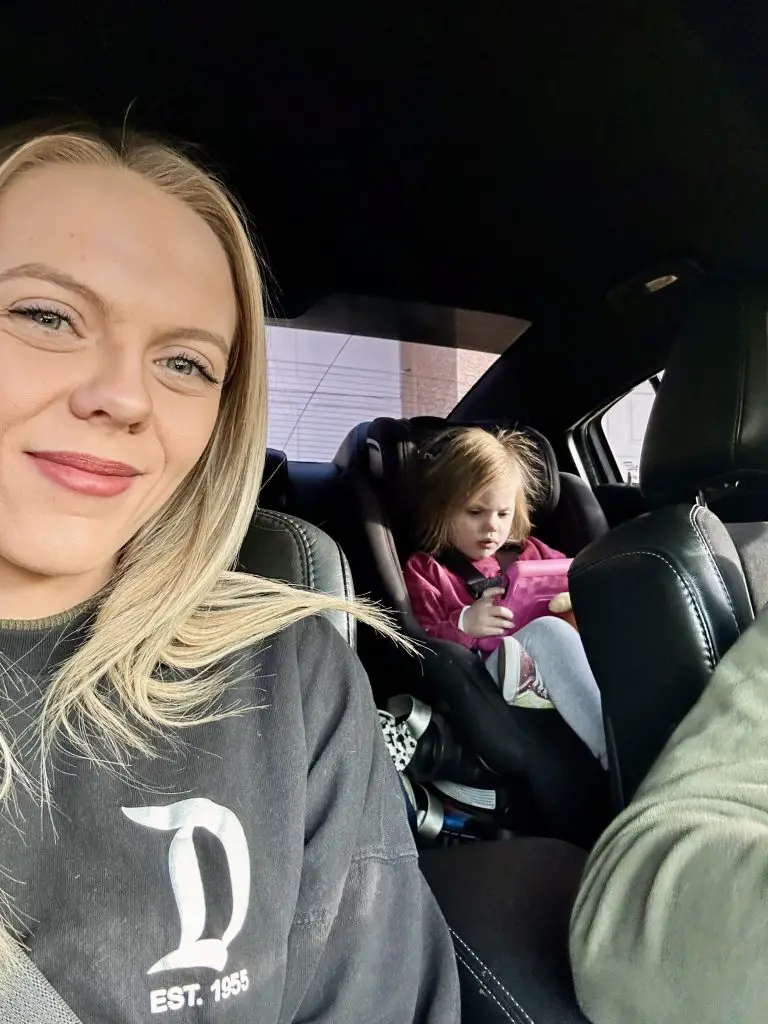 Arrival Day in LA
As we crossed the hill and got to the hotel, we dropped off our things and had to do one very important thing. First things first, Downtown Disney. It had been a whole four months since we had been there, but it was time to look at the new merchandise in the Disney store, eat some good food and explore the Lego store.
Sloan found the cutest rainbow unicorn sweatshirt the second we walked into The World of Disney Store. She put it on immediately, and we knew that would be her selection. She pretty much lived in that sweatshirt the entire weekend.
Mitchell and I found cute matching Star Wars shirts that I'm currently wearing while I'm writing this while watching The Empire Strikes Back Episode V. It is a great movie. But my goodness, the coincidence, I didn't even notice. Besides, the shirts are adorable and based on the saying in this movie.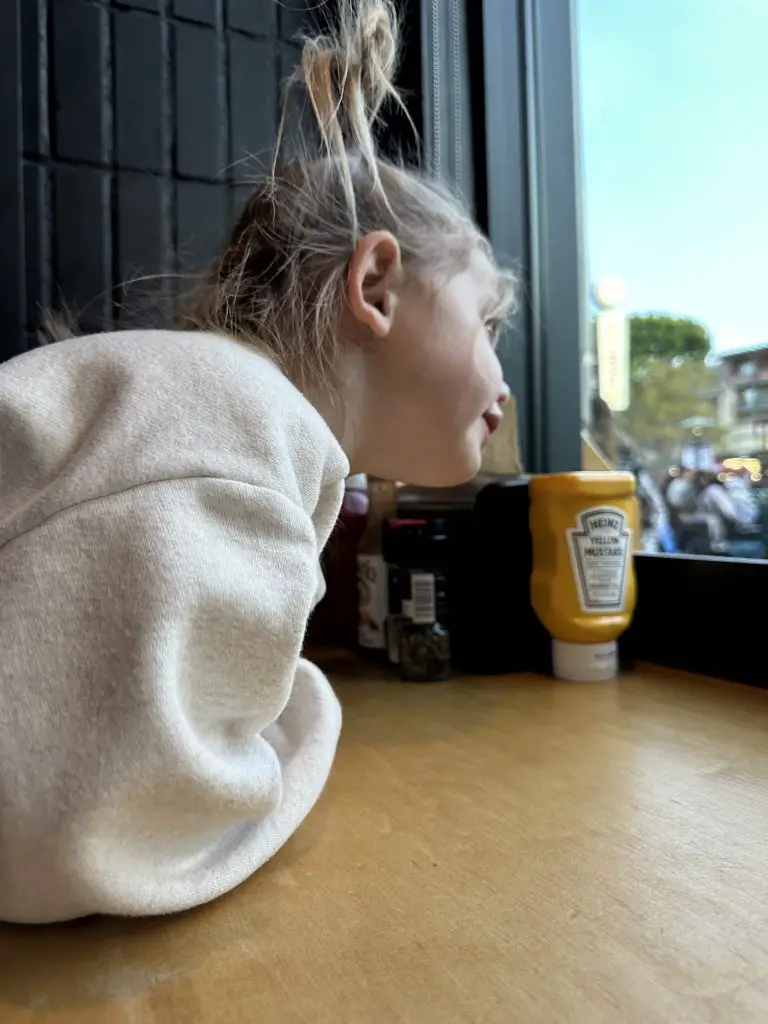 Dinner in Downtown Disney
Our Disney friends told us that Black Tap was fantastic and had unique specialty burgers. So we decided to give it a try. They were right. I wouldn't usually opt for ground beef, and couldn't get past this burger. It was a beef parmesan burger, and it was the juiciest burger I've had.
Disney is just so full of imagination. Sloan watched a girl practice her Jedi skills outside the window from where we were sitting, and she was completely content. Sloan asked a few questions, but it was so out of the normal for her. Much like her dad, she is an app kid. She loves puzzles, games, and shows, so not a lot in the real world entertains her quite the same.
To each their own. You do you.
But this girl captured her attention, and it just reminded me why I love being able to unplug and be in the moment while in Disney. It truly is the most magical place, and I couldn't imagine a better place to take my family.
Although we like other theme parks, we are Disney people and must disclose that we don't put them in the same category as any other theme park or amusement park anymore.
After we finished up our delicious dinner, we made our way back around to all the shops and specifically back to the Lego store for one last glance before grabbing ice cream at Salt & Straw and headed home for the night.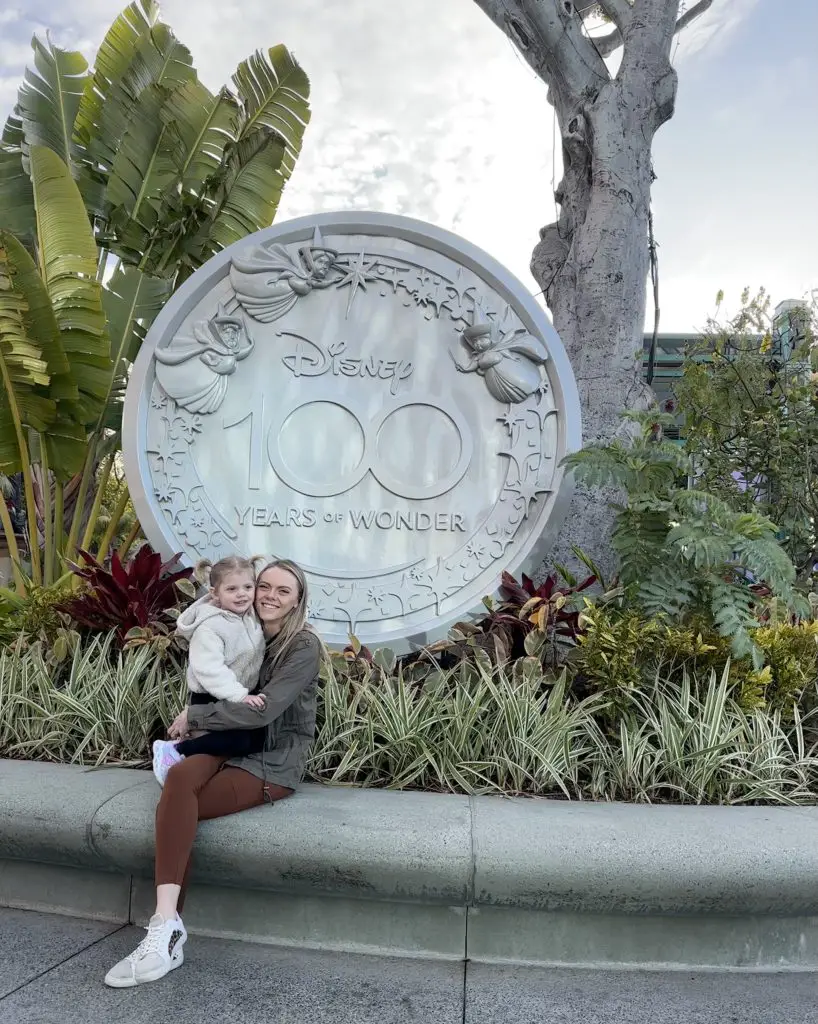 Things to do in Downtown Disney
Guide for Things to Do in Downtown Disney with Kids
The Disney Store from mid-morning to about dinner time is just chaos in Downtown Disney. We like to go late at night after dinner or first thing in the morning while everyone makes their way to the park. It's less crowded during those times.
Before we purchase anything, Mitchell and I walk through and discuss what our options are. If you want to go broke in a Disney park, great. We like to find ways to save money while visiting the parks and not break the bank.
We purchase gift cards from the grocery store to get more points since Disney is not a category on our CC. Then we discuss our options, even sleep on them, and return the next day to purchase our selections with our gift card.
That way, when the gift card is gone, we can have an honest conversation about what is worth it and what is really needed. We take our finances very seriously, especially on a Disney vacation.
No need to break the bank, lol Im tryin' to do other things here.
DAY 1 IN LA ITINERARY
Downtown Disney, Pool Day, and Anaheim GardenWalk | LA Itinerary Day 1
Downtown Disney for breakfast and shopping
Lunch
Pool Day and Hang at the Hotel
Dinner at Anaheim GardenWalk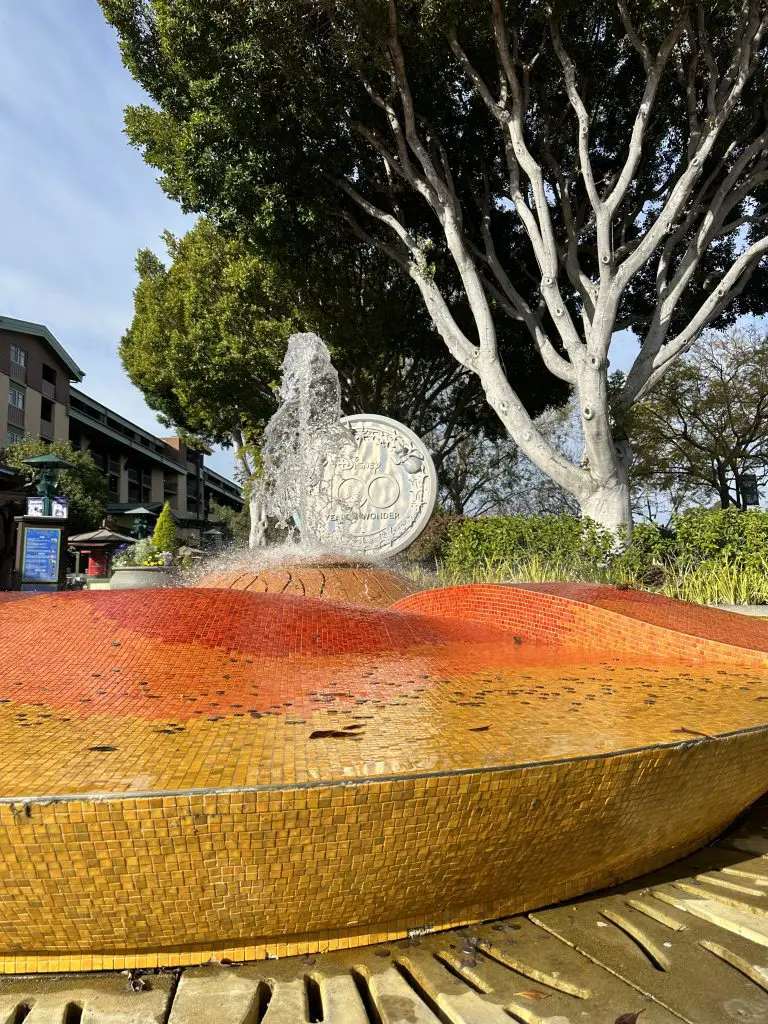 Downtown Disney
The following day I made our way back to Downtown Disney with Sloan. Mitchell needed to be at the convention center early to get his badge and head into the opening keynote. We spent most of the morning at the park, and she and I explored, had some beignets, and finished up with a little bit of work.
The water fountain we spent the most time at had a very Pirates of the Caribbean vibe with the smell of the water, and shortly after, the theme song began to play. It was like kismet…fate, I tell you.
We took our time walking down the main pathway as people made their way into the park. Disney is currently celebrating 100 years, and with Mickey and Minnies Runaway Railroad opening, people seemed even more excited and themed up. The colors are generally platinum with royal blue accents, which are in all of their decorations and merchandise.
Sloan likes to try out and on everything. You name it: Minnie Ears, Crowns, Butterfly Wings, Backpacks, screaming Monster's Inc cups. I have the most fun doing this with her, she even asks for photos, and it's an entire thing. She gets so excited and tells me she isn't ready yet for photos and then poses when she has it on and ready.
She always asks to see them after and look at them at a later date. She's my little tourist and always wants to remember all the things she does and sees.
*reason number 95 we like the phone more than a tablet for her. She can carry it around and document it with her camera easily.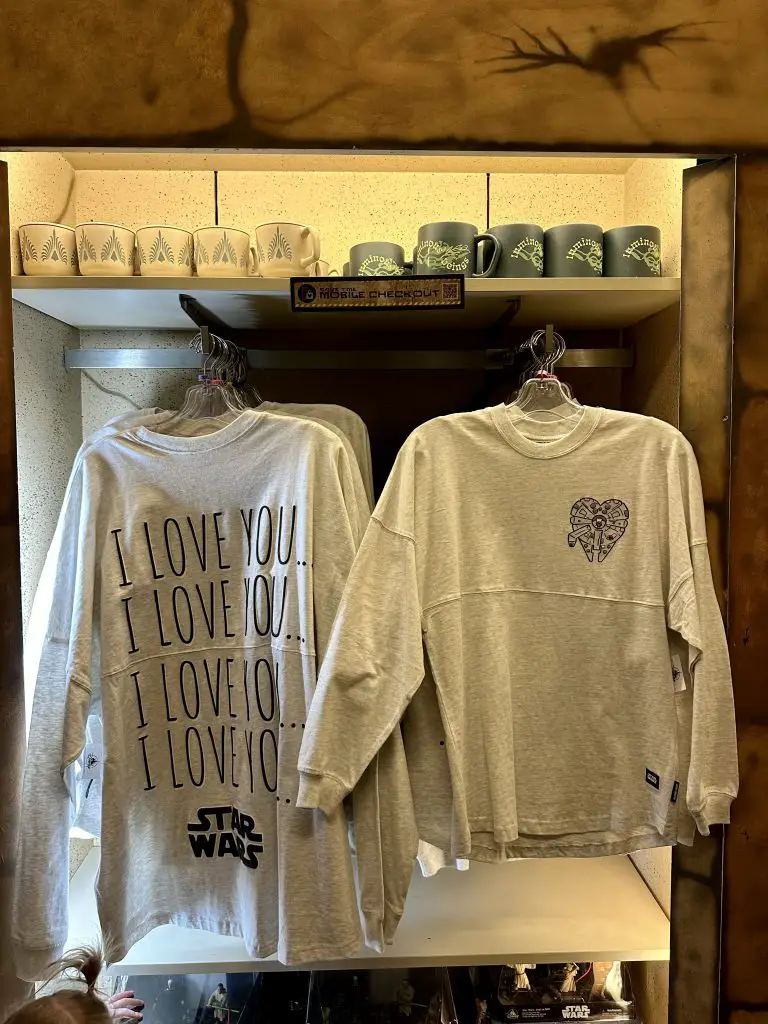 Lunch
We used DoorDash and called in Red Robin chicken fingers and fries, and a chicken salad. Nothing fancy, we considered staying for lunch and eating a little Italian at Downtown Disney, but it started to get a little busy, and we needed more time today. But the most important reason is we only had 3 hours on our $10 parking, and then it was going to go up.
Pool Day and Hotel Hang
These are two parts of the trip that are really important and should always be included in your vacation. There is something about the first vacation day—the excitement for the day and the travel from the day before hit differently in the afternoon.
While we were in the same timezone for this trip, having one day to settle into the schedule and acclimate to the time is helpful. After lunch, we made our way down to the pool. The hotel pool is critical for this to be fun for everyone. Hot tubs, pools, water play areas, and lounge chairs are all necessities for a hotel for families. This specific hotel only had a pool and a small hot tub, so we didn't spend our typical amount of time down by the pool. I happened to forget Sloan's swim vest, so swimming wasn't really being had on this day, and I needed to get a little work done, so we cut short and made our way to the room.
Top Disney Good Neighbor Hotels' cool pools and water areas included.
Lego Build
We would typically bring toys with us, but this time we only brought a few lovies, puzzles, and books, knowing we would get a small toy while in Downtown Disney.
Sloan picked a Lego, she is really into building legos right now, and she can do both the 4+ and 6+ Lego sets for kids.
It's easy to post up next to her on my laptop or phone and help her as needed while I work. We have always done this together, so if this is new for you and your family, it takes time and practice to bring in her habits and skills.
Once she was done building, she took the mini figures, started playing with them around the hotel, and fell asleep on the floor in the blinds.
Dinner at Anaheim GardenWalk
Once Mitchell called and said he would be done around 5:00, I started looking at places for dinner. With Disneyland and California Adventure being nearby and the thousands of real estate agents from the convention, I knew finding somewhere would be difficult.
Just a reminder that you have no idea what is going on in a City. It would be best to do food research before you go so that you can pick somewhere good and not have to wait an ungodly amount of time since you forgot a reservation and a plan ahead of time.
GardenWalk Anaheim
I found the GardenWalk, and if you've been to Downtown Disney, think that just smaller and not Disney-themed.
This outdoor shopping mall was not like anything id seen before. They had large murals painted on the sides of buildings, cute little shops, restaurants, a movie theater, and activity-style businesses like an escape room and an indoor fighter jet simulator called Flight Deck. But what we found to be the most surprising thing was how much Asian culture was present in the shops and restaurants.
While yes, it was Chinese New Year, and there was a lot of celebration going on for the Holiday. There was Vietnamese coffee, a Japanese nick-nack store, and a store full of anime, games, and builds. Then lots of smaller shops selling unique lounge fly backpacks for a reasonable price.
We stopped for boba and coffee and made our way through the shops. This was right up Mitchell's alley; he was in heaven as we made our way through the shops. One, in particular, stood out because of how fun it was. The inside was like walking into a tea house with wood beam ceilings and wood floors, each co-op shop was set up in its own little rooms, and each had something different. One was filled with plants, another with how to draw fortune sticks, some had games, and others were filled with authentic cultural items.
This was one of the most incredible spots to walk through, and I'm so glad we stumbled upon these little shops.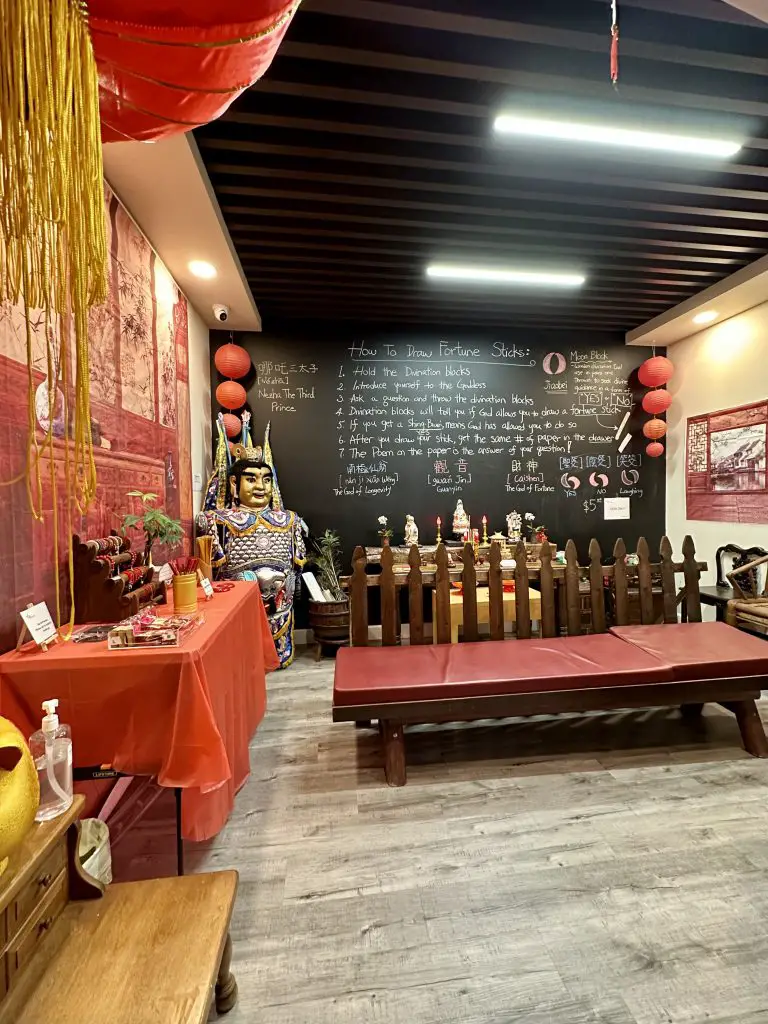 Dinner
This location has the House of Blues restaurant with live music and entertainment, and the line to get in was already 30 people deep at 6:00. So there was no way we would make it there for dinner, and everything else full-service restaurant had a significant wait by now. Our tip is to put your name in somewhere right when you get there, and then while you wait for your table, make your way around the shops and grab a coffee or boba to share.
We ended up finding a poke shop, and that was perfect. Sloan loves having a veggie-style poke bowl, and Mitchell and I got what would be our regular poke orders.
The bowls were delicious, and the fish was really fresh.
Once we finished dinner, it was time to pack up and head back to the hotel to get ready for bed since we had a few more days of early wake-ups.
DAY 2 IN LA ITINERARY
LA Zoo and Explore | LA Itinerary Day 2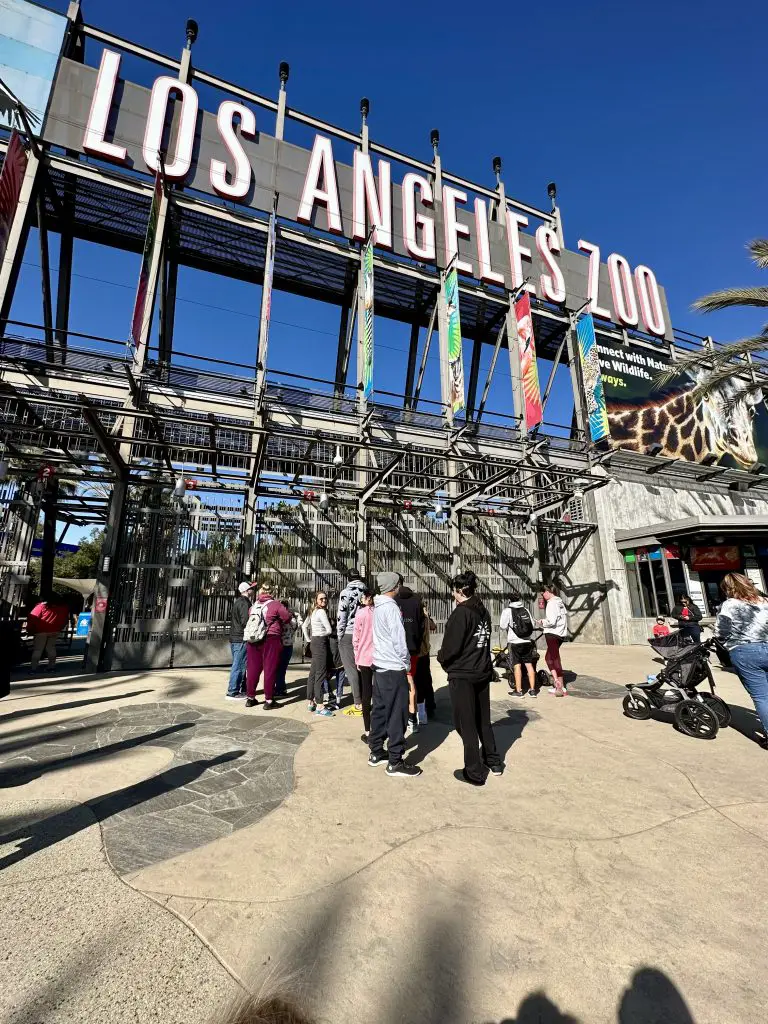 LA Zoo
Lunch
Explore Universal City
California Adventure Rooftop Drinks at the Westin
Dinner at Buca Di Bebo
There is no time for relaxing when it comes to vacations, well, at least for our family. We schedule a day to hang by the pool and soak up the sun's rays, but that's like only a tiny portion of our time.
In real day-to-day life, we survive on chaos. We do NOT sit well, and our daughter each night asks us what our plans are for the next day. Um, school, my child, you have school. Her answer… Yes, but after that.
Day 2 of our la itinerary was no different. Up and early, the zoo opened at 10:00, and it was a 45 min drive from where we stayed by Disneyland.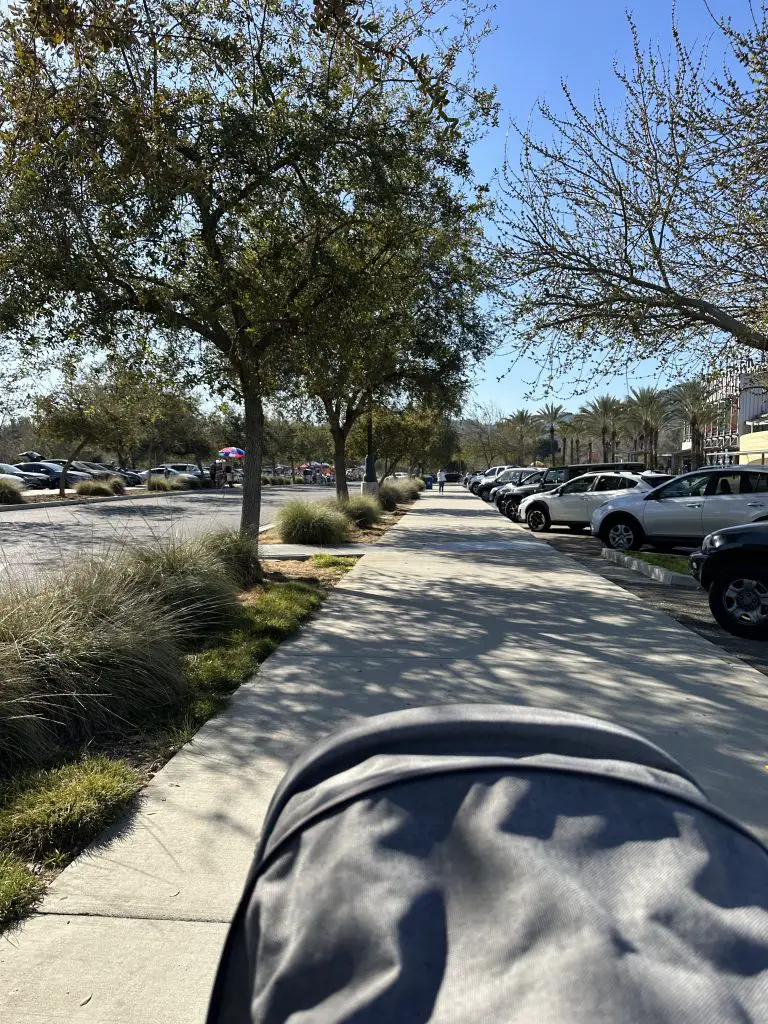 Los Angeles Zoo
Right off the freeway, tucked into the hills, you will find the beautiful 110-acre zoo. While built into the hills, it does have some spots where you have to hike a little, so bring your comfy shoes; it's a bit of a hike.
When I say the zoo opens at 10:00, we arrived at 9:00 with front row parking and literally gate dropped the zoo. I will admit this is my very first-time "rope-dropping" a zoo.
In Southern California, it can get very warm during the day, and while the zoo has lots of trees that provide shade throughout the area, it still gets hot outside during the mid-afternoon.
One girl beside me called her mom, almost in tears, and said he took me to the zoo mom. But now that I'm writing it out, it sounds like she was sad. Lol
She was very happy. Tears of joy happy.
The zoo is literally the place that makes everyone happy.
Well, until a toddler sees the dip n dots, all hell breaks loose, and you now have a very sad child at the zoo who only wants ice cream.
La Zoo Animal Exhibits
As we made our way through the animal exhibits, we saw a crocodile being fed (thanks, college kids, for getting a cool tour). This one, in particular, was for the skinny-nosed crocodiles, and it was absolutely fascinating to watch them eat, and you could hear their snapping jaws as they caught the food.
The maps all around provided a really great spot for us to stop to talk about the animals we had seen, what direction we were heading next, and what animals she was most excited about seeing.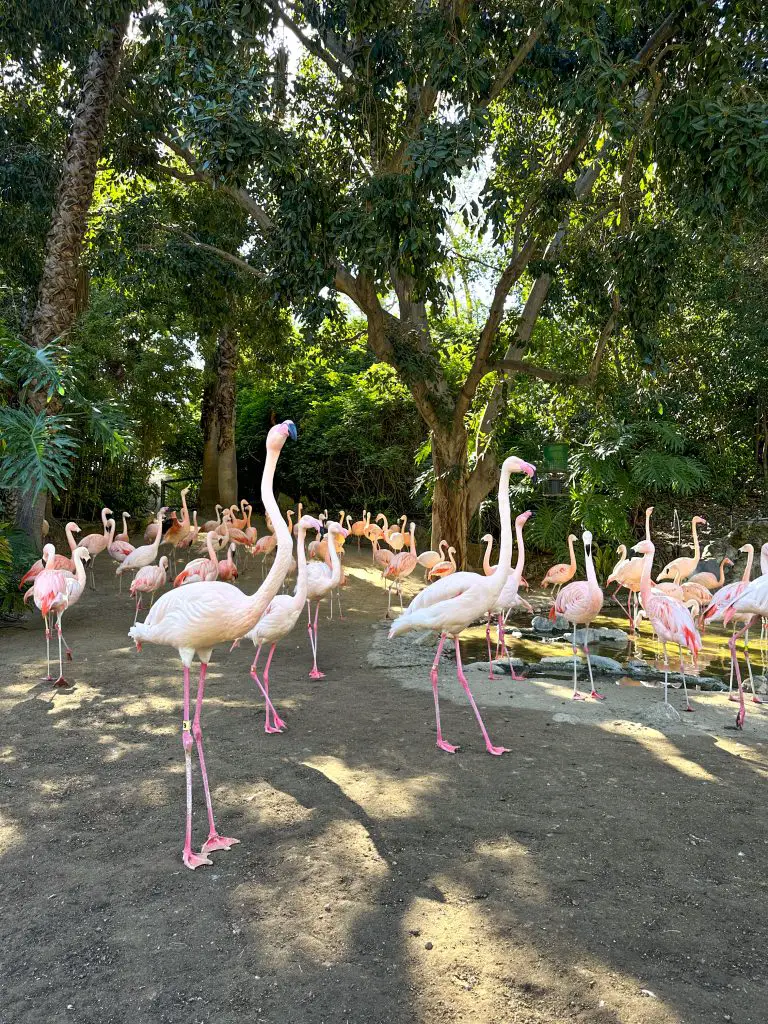 One thing to note about the early morning and how it connects to a zoo specifically. Animals are unique. While some might be heavy sleepers, some are shy, and some sleep the entire day, meaning no matter when you go, you will run into animals sleeping or not in their primary areas. Why, you ask? Because animals have different schedules, and you will do significantly better at the zoo with your little ones if you've prepared them for what they will see and you spend a good portion of time at the zoo and will see more animals.
Beating the Crowd
If getting there early is your plan, we suggest bypassing the flamingos and sea lions that are the first two exhibits as you walk in. Many people stop here because it's the first thing you see when you enter the zoo, but pass these and keep going. Since so many people stop, finding a spot and enjoying looking at them is hard. As you leave, we suggest heading back down the hill and stopping at the Flamingos and Sea Lions on the way out.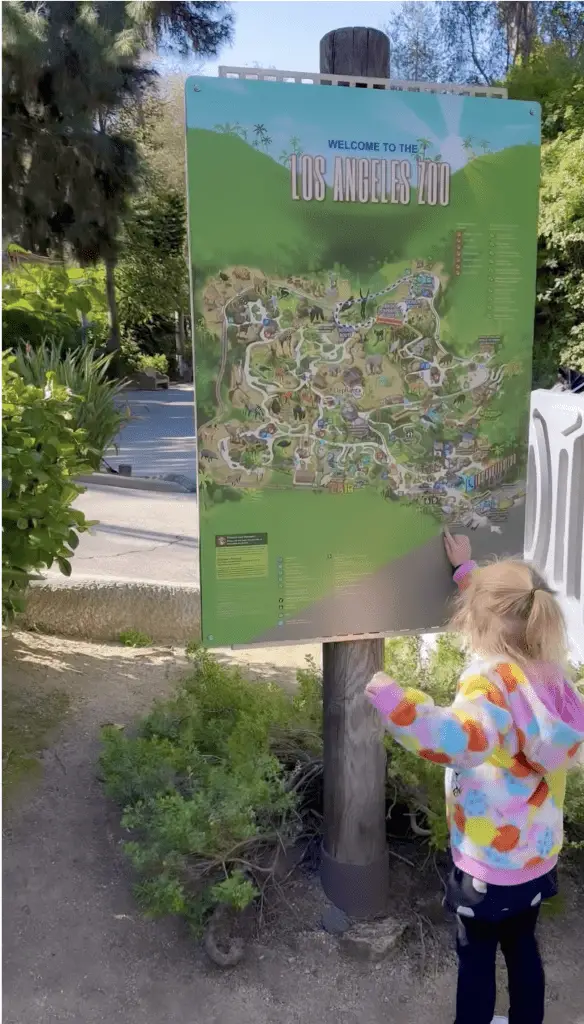 Getting Around the Zoo
The zoo is a good 2-mile walk all the way around, and as I mentioned, there are hills. None of the hills are too difficult, but please keep in mind it can be a little tough to push a double stroller with all the things in it and children up some of the hills by yourself. Don't stress. Take your time; soon, you will find the downhill, and everything will be fine in the world again.
Tons of trees line the pathways all throughout the zoo. It was almost always shady, and there were lots of benches, seats, and ledges to stop along the way and take a break.
I had a breakdown that morning over something minor. My downfall is that I don't always pivot well and put a lot of pressure on myself to make life amazing for Sloan. I know a pressure I should not carry and need to work on, but, just like her mom but worse, Sloan had a 10-min meltdown over nothing. Well, not nothing. She was starting to get hungry and ready for a nap but was having too much fun and didn't want to miss out.
At school, she has her routine and sticks to it. Outside of school, we do not. That still throws her off, and the zoo was not cutting it. She was exhausted and hungry even though we had snacks, and she had a large breakfast.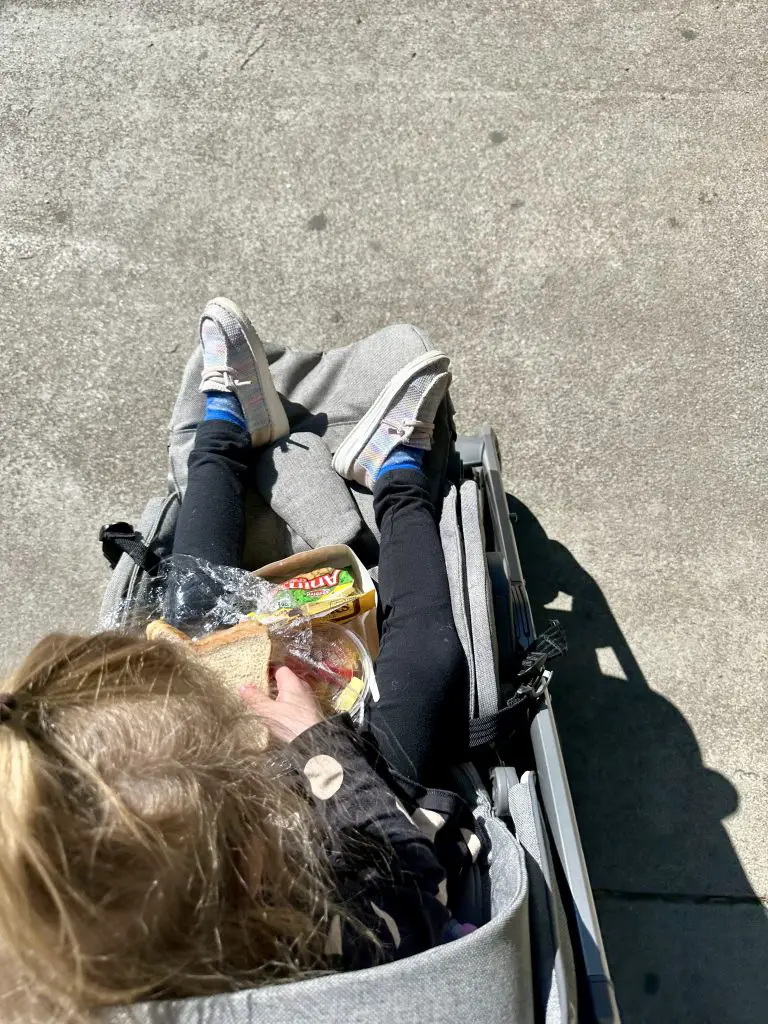 Lunch
We made our way to one of the restaurants and grabbed lunch. We sat outside and ate, and when she was ready to get going again, I packed all her food onto the stroller, and she munched while we walked.
She started to get a little tired and asked to lie down with her blanket. The smooth walkways and overall quiet background of the zoo put her right to sleep. I had no intention of letting her sleep in the zoo since we had been there for 3 hours already, but here we were, walking around while Sloan slept.
I found the perfect spot to sit and relax while letting her sleep for a few minutes.
By 1 o'clock, the zoo was busy and full of people, and we were ready to make our way to the next city activity.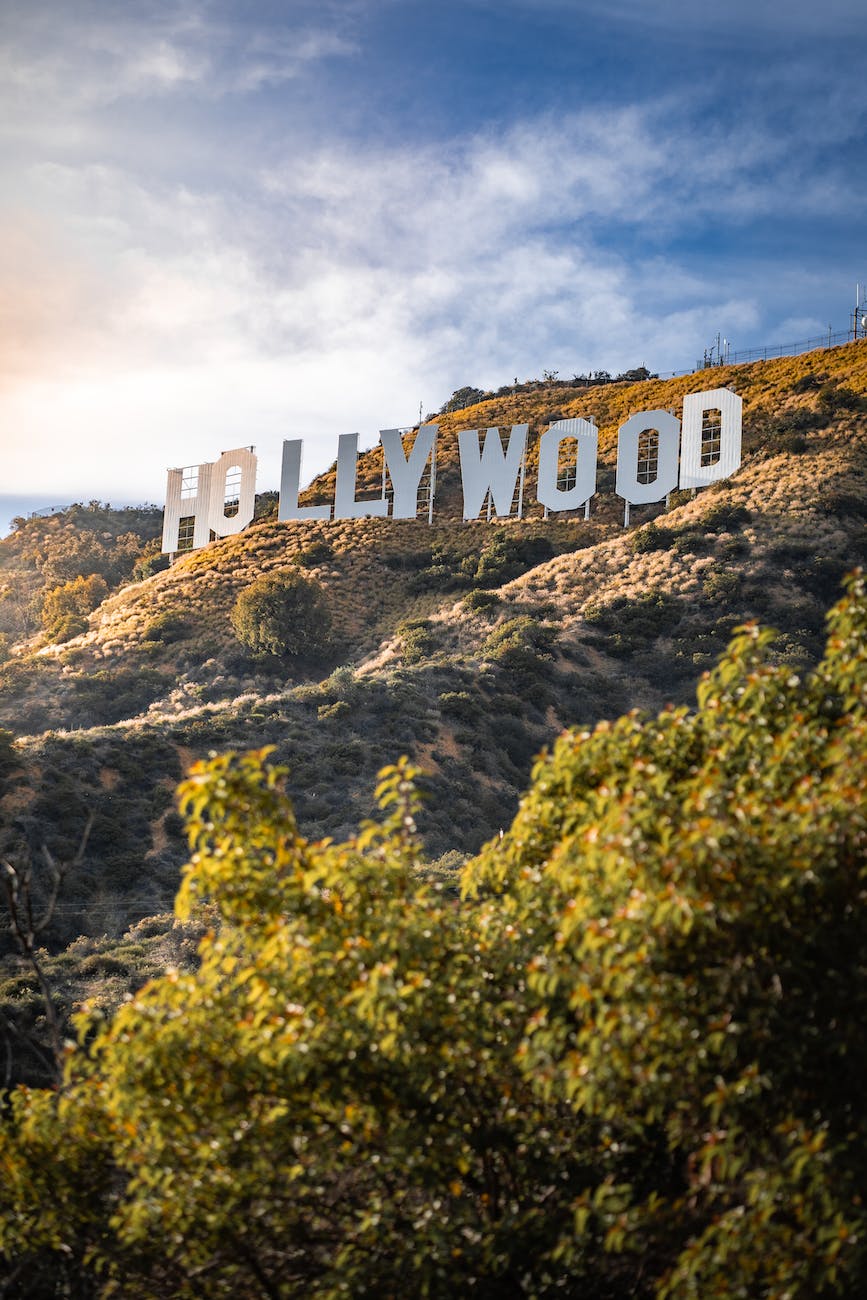 Hollywood Sign and Universal City
I had been to and driven past Griffith Park before. I cannot tell you how many times in the past ten years and had no idea the zoo and Universal Studios Hollywood were right there.
Unfortunately, this particular day was extremely overcast, and you could only see the Hollywood Sign if you hiked up to it, and that was not happening today.
Here's a picture from another trip, and we suggest making your way to 3160 Canyon Lake Dr, Los Angeles, CA 90068. You will see a large grass area, and behind, you will see the Hollywood sign. As I mentioned, it needs to be a clear day to see the Hollywood Sign. But still a fantastic stop since it's not far from the zoo.
Universal Studios Hollywood CityWalk
We had an entire day planned at Universal Studios Hollywood, so I only spent a little bit of time in Universal City. I will make a note here, though. Universal CityWalk has poor hours compared to the theme park. You will not be able to explore both CityWalk and Universal Studios Hollywood on the same day without cutting time in one of the spots, so we suggest breaking up Universal Studios Hollywood and Universal CityWalk into two different days or knowing going in that you will cut into your time at the theme park a little.
CityWalk has terrific shops, food, and desserts to enjoy. Our favorite is Chocolate Emporium. Grab lunch or just go in for a specialty milkshake, but this is the perfect treat after the zoo.
Look at it! Well, this one is from Universal Orlando, but it's the same place, and the milkshake was just as delicious.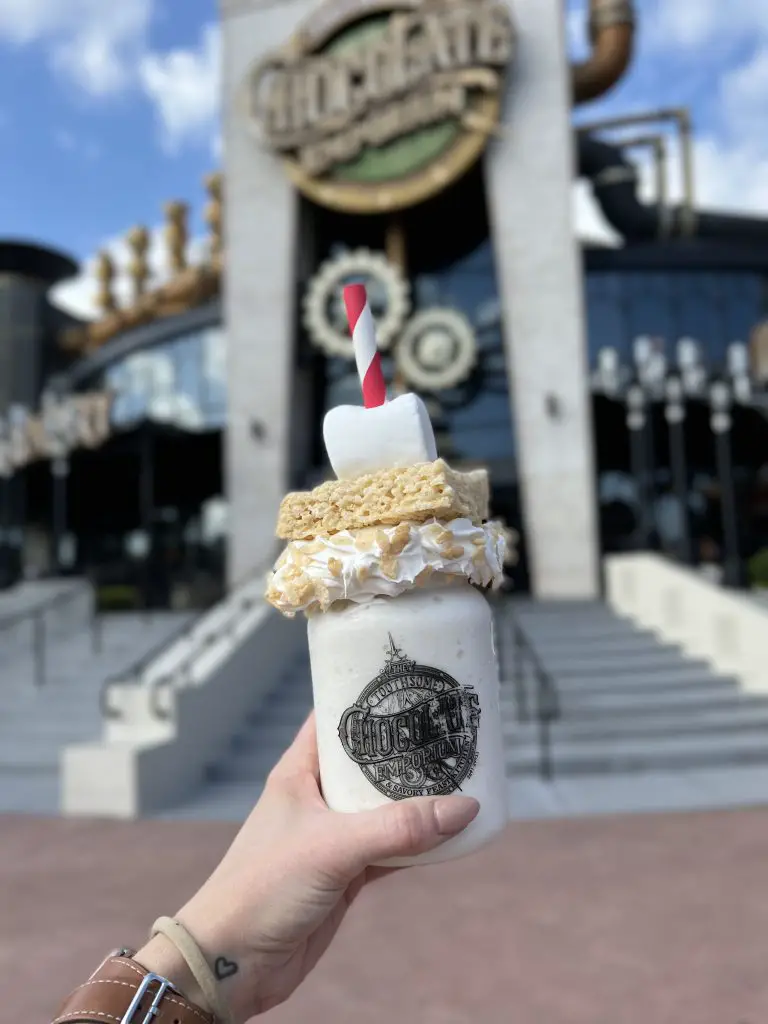 No time for photos, but you needed to understand the goodness of this milkshake.
It was an hour's drive back to the hotel, and since it was midday traffic, the hour turned into longer than expected.
California Adventure Rooftop Drinks at the Westin
The view was breathtaking! You see the top of Incredicoaster. We were there right before sunset. I always worry about Sloan when we are on vacation, whether or not she can be at a location or not. But they had no issue and didn't say anything to us about her being there. Fingers crossed that wasn't a fluke, and you can bring your children up to the Rooftop.
The drinks were incredible, and as the sunset, the view from the hotel was perfect.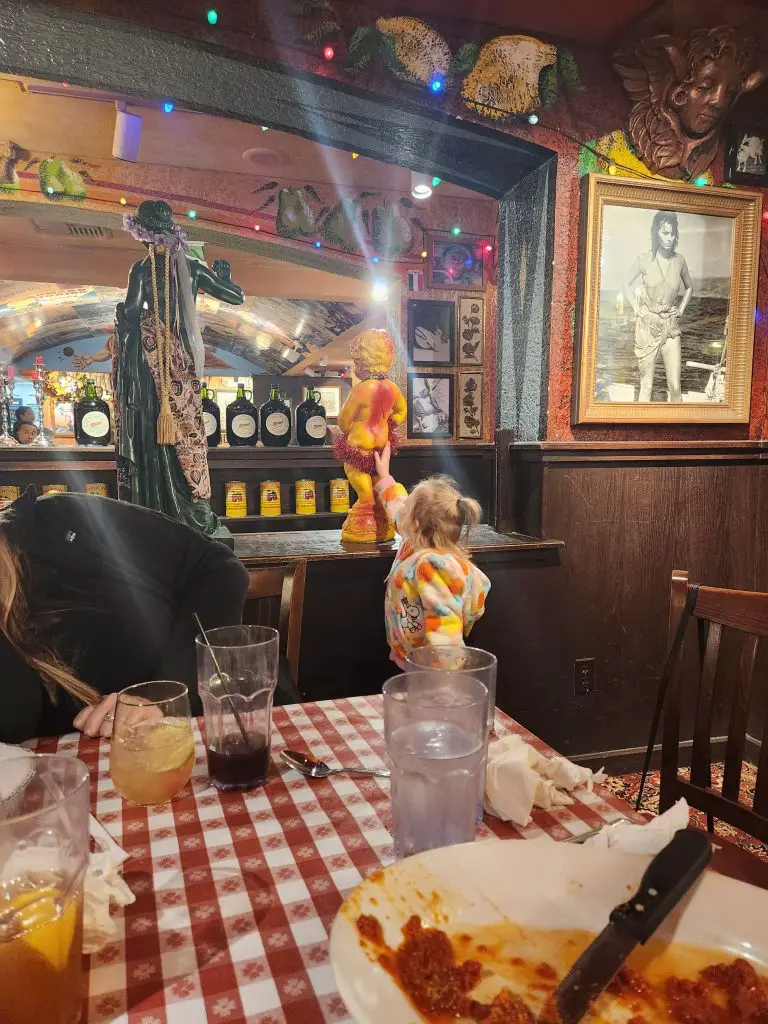 Dinner at Buca Di Beppo
Our group work dinner was this night, and we were headed to Buca Di Beppo. A chain restaurant wouldn't usually be our pick, but it had actually been a long time since I was there last, and we had a great time, and the food was good. Sloan saw a baby statue with its butt hanging out, and she walked up to it and started talking about his booty cheeks. Probably the best part of the dinner was listening to her say booty cheeks and having grown adults laughing out loud. 
Once we got back to the room, Sloan wanted to show Mitchell her puzzle, so the two of them sat together and worked on her puzzle before bedtime.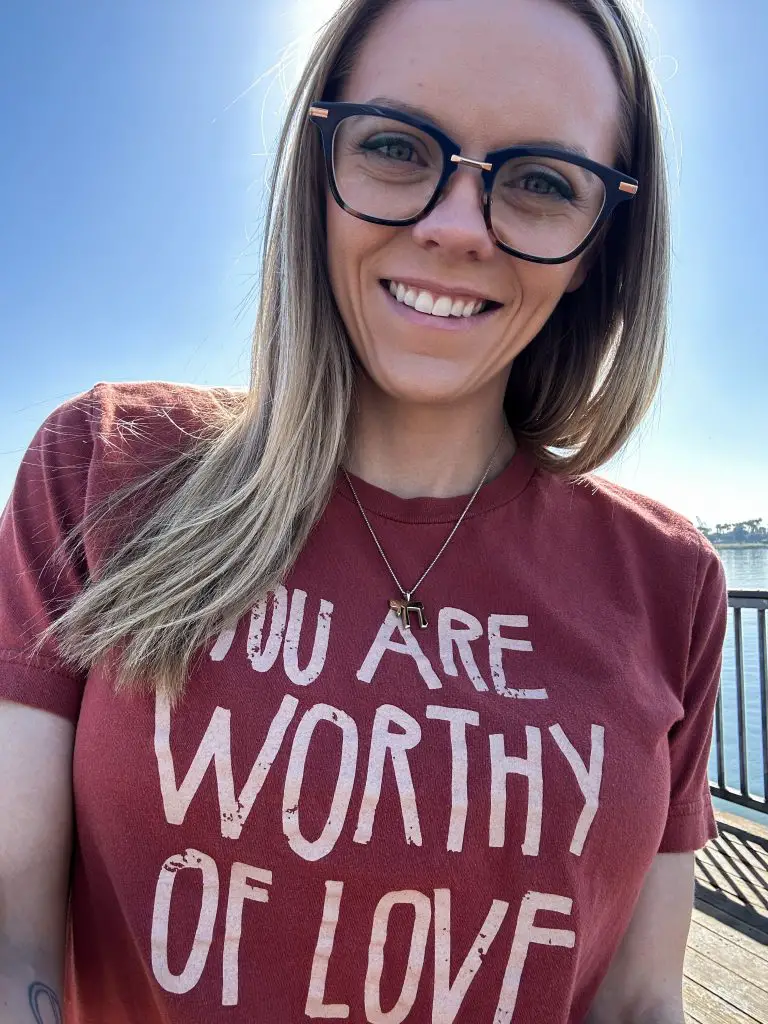 DAY 3 IN LA ITINERARY
Long Beach Lighthouse and Aquarium of the Pacific | LA Itinerary Day 3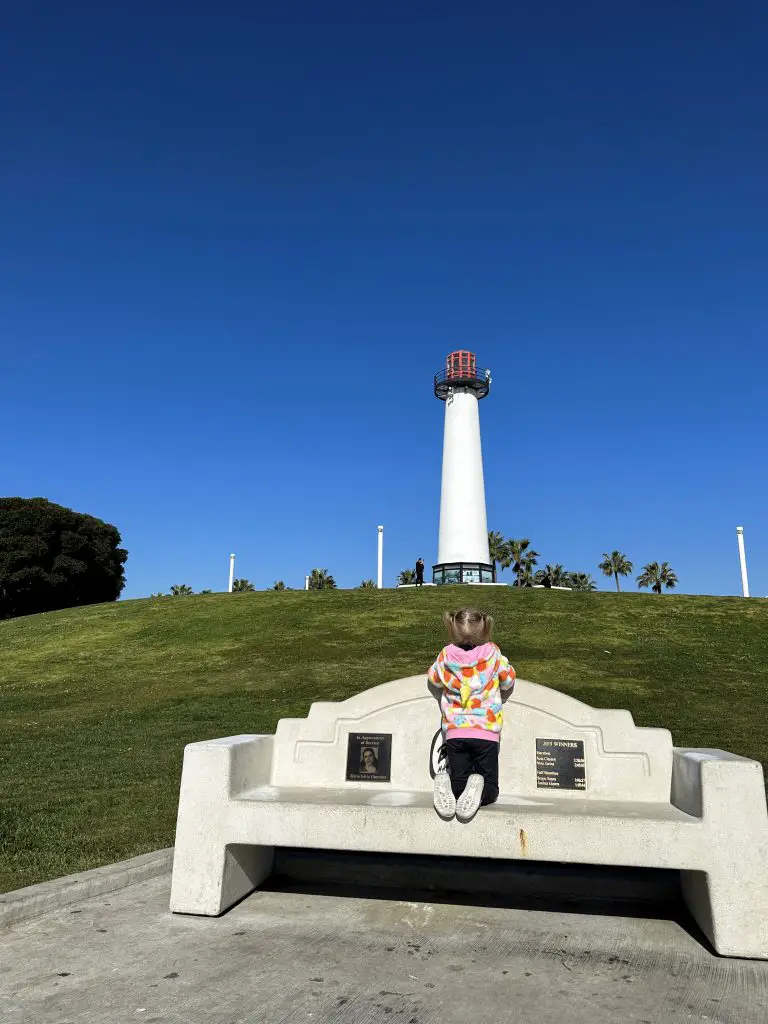 Long Beach Lighthouse
Aquarium of the Pacific
Lunch
Dinner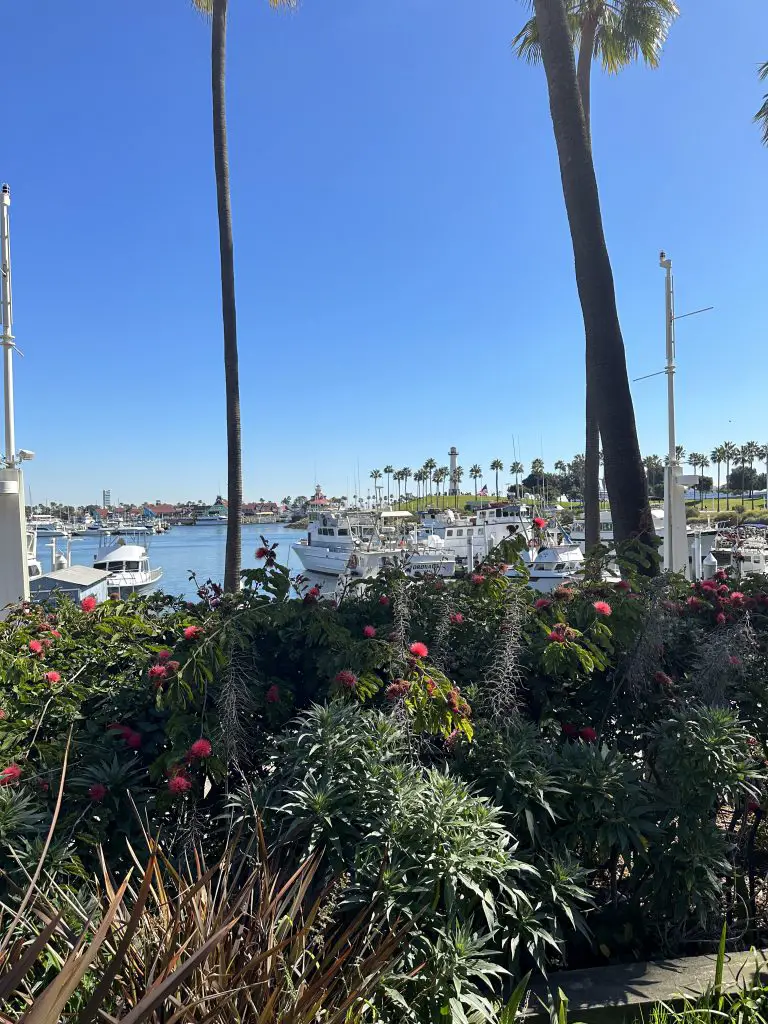 Long Beach
Good morning day three! Off to a quick breakfast and then in the car to Long Beach, this was Mitchell's final day of the conference, and day four of our LA itinerary was all about Universal. But more on that later. Day 3 was for the Lighthouse and Aquarium.
This is where the hiccup came into play. Purchase your tickets for the Aquarium ahead of time! Like days ahead of time. They still have a capacity restriction (which is actually good for enjoying the Aquarium and not feeling so crowded), but you need to make a reservation and pick your time slot. Originally I was supposed to swap the aquarium day and zoo day because I wanted to do other things, but when I missed my opportunity to get my time slot, I had to pivot and change our LA itinerary. While our days altered and a few items had to be dropped, we still went to Long Beach early to see the Lighthouse and walk along the pier.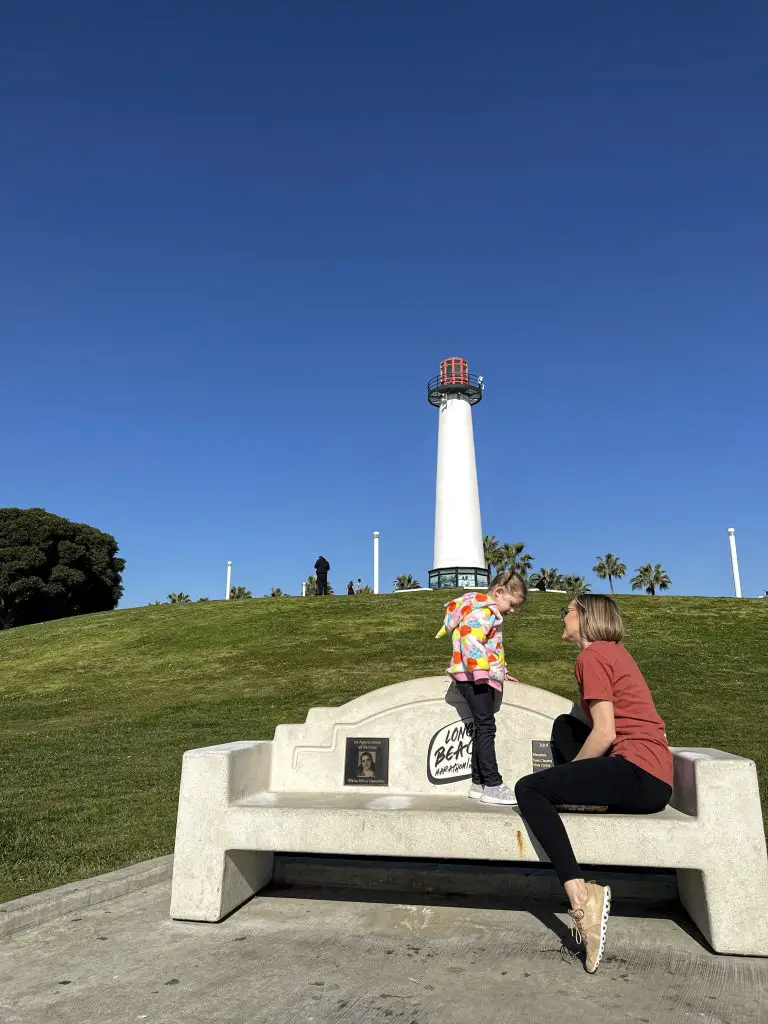 Long Beach Lighthouse
Long Beach isn't much of a beach by the Aquarium. The Pine Ave Pier is much more of a walking path along the yacht docking and the shipping yard across the waterway than a California sandy beach.
But I didn't prioritize the beach and should have. We love the beach and make many beach trips, especially in the LA area, but it just wasn't going to fit into our schedule this time. We are heading to San Diego later in the year and will definitely be enjoying the beach and, hopefully, an amusement park while we are down there.
The parking garage is perfectly located right next to the Aquarium, and parking was reasonably priced.
We wandered around the pier for a while, looking at all the boats, and then made our way up the walking path to the Lighthouse, where Sloan and I relaxed and watched the water and people ride bikes.
If you are looking for a spot to ride bikes down by the pier, this was a great little spot with many trees and extensive bike paths.
We didn't spend too much time but just long enough to leave my water bottle by the Lighthouse.
The first time slot for the day I could secure was for 12:45. We still had about an hour before our scheduled time but walked over to the front of the Aquarium anyways.
Originally they had a sign out stating what time slots they were taking, and then I saw the sign swap to all time slots open to enter.
We ran over, got checked in, and made our way into the Aquarium.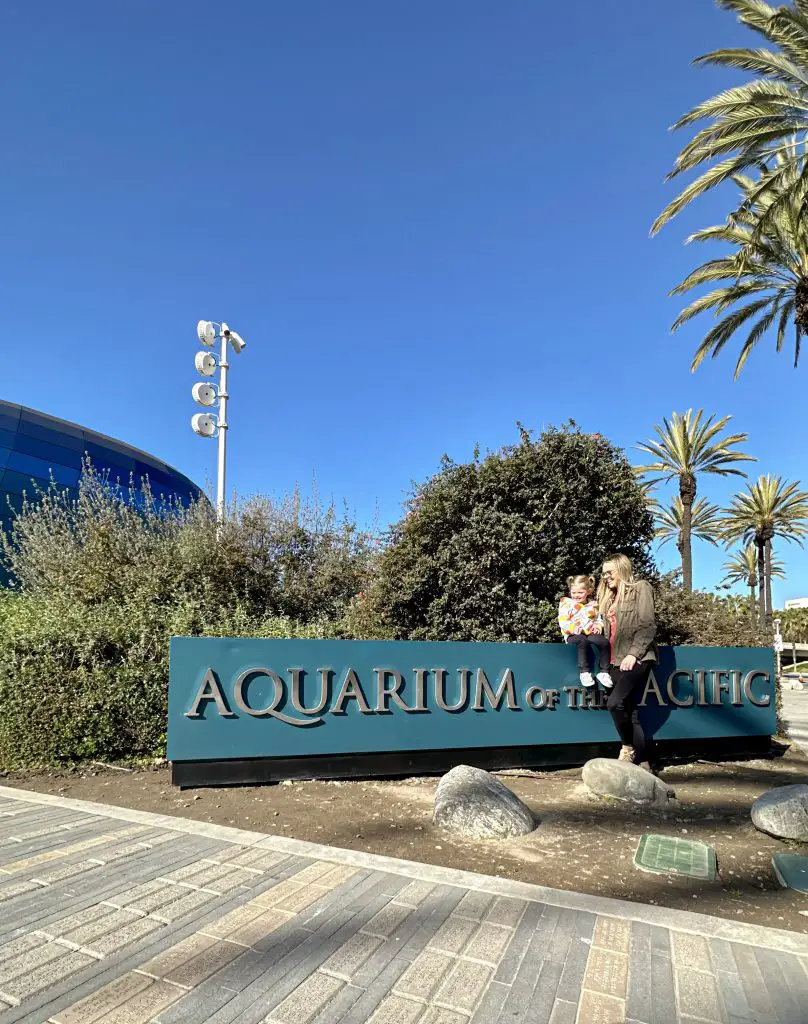 Aquarium of the Pacific
For nearly three hours and we highly suggest that you buffer around 2 hours minimum to go through each exhibit and have time to go back through them.
During our visit, LA was experiencing bird flu, and most of Southern California had their birds indoors and behind the scenes or not on the property. No birds at an aquarium mean only one thing. No penguins. I was super sad because they are my favorite. BUT that does not mean don't go, just go again or wait until they are back if that is a must for you. I'm assuming you are not going to show up to la one time and call it a day, you can add and revisit things on your la itinerary all the time.
Although there are no penguins there currently, the Aquarium of the Pacific has over 20 different exhibits, some interactive and some viewing tanks.
The exhibits at the Aquarium were perfect for Sloan and, well, any child or adult for that matter. We spent most of our time in the touch tank sections of the exhibit. Sloan is still very much at the age of wanting to do every activity and touch everything. Her favorite was the moon jelly touch tank, and I loved the sharks and rays touch tank.
Touch Tanks
The Aquarium has a two-finger rule to help people be more gentle while at the touch tanks. Please be gentle and wash your hands before and after using the tanks to ensure nothing is transferred.
Jellyfish
Moon Jelly touch tank. Something fun about Jellyfish is that all jellyfish sting. So does it hurt when you touch a moon jelly? Nope… The stings are so faint you won't feel them. This touch tank has a small ledge for children to stand on for anyone not quite tall enough to reach. You will want to return a second time to touch the jellies before leaving.
Sharks
If you haven't touched a shark before, this is your chance. They are gentle sharks, but that doesn't mean you should put your hands near their mouths. The rough exterior is the scariest part of them.
Rays
This tank is a little deeper than the other touch tanks, and because of the sand, it seems more shallow than it is. This tank is ideal for bigger kids and adults because of the Ray's tails and the depth of the pool; it's harder for toddlers to touch them.
Coral Reef
Get a hug from sea anemones and touch the rough exterior of a starfish. These touch tanks make it easy for everyone in the family to explore and learn more about the great reef in our seas. There is a little wait because of how this tank is set up, but it is completely worth the small delay.
Lunch
After we did the second round of touch tanks before leaving, Sloan said she was feeling a little tired and wanted something to eat. I was blown away by the want to go but knew we had a bit of a drive back to the hotel that afternoon.
There was a spot to grab food in the Aquarium, but Sloan wanted a cake pop and would have no other food options until she knew the cake pop was secured in the car.
This girl and her cake pop really cramp plans sometimes.
But off we went. Finding a Starbucks with a drive-thru in California is really difficult! Many of them are only full service and do not offer drive-thru as an option.
But we pulled up the Starbucks app, looked at locations with Drive Thurs, and found out we needed to drive about 20 min.
In that short amount of time, Sloan passed out in the car and no longer needed the cake pop we had to leave the Aquarium for, but at least I got a coffee boost and a protein box for lunch.
Work from the car
I hung out and worked for a little in the parking lot because #momlife and the car is pretty much my mobile office nowadays.
After about 15 min, she still didn't wake up, and I was at a stopping point for work, so we made our way back to the hotel and started packing up since we were leaving EARLY and not staying at this hotel for our final night in California.
Once we got back to the hotel, I had the ultimate mom win. I was about to wake her up to get her out of her car seat and put her into the stroller, BUT she stayed asleep. Usually, there is no transfer happening where she stays asleep, but here we were with a sleeping child! WOOHOO!
Up to the room we went, where I left her passed out in the stroller, cuddled with her lovie.
She woke up complaining there wasn't enough room in the stroller, so I picked her up and cuddled her for a minute before laying her on the bed, where she stayed passed out until it was time to go pick up Mitchell for dinner.
Dinner
Our hotel was a little ways away from Downtown Disney, about 10 min, but it had food options. We opted for a quick dinner within walking distance, with salad, wings, and pizza. Leaving us just enough time to finish packing everything for the following day. Our fun LA Itinerary is coming to an end, and I always have a little morning moment while packing our suitcases up *sad face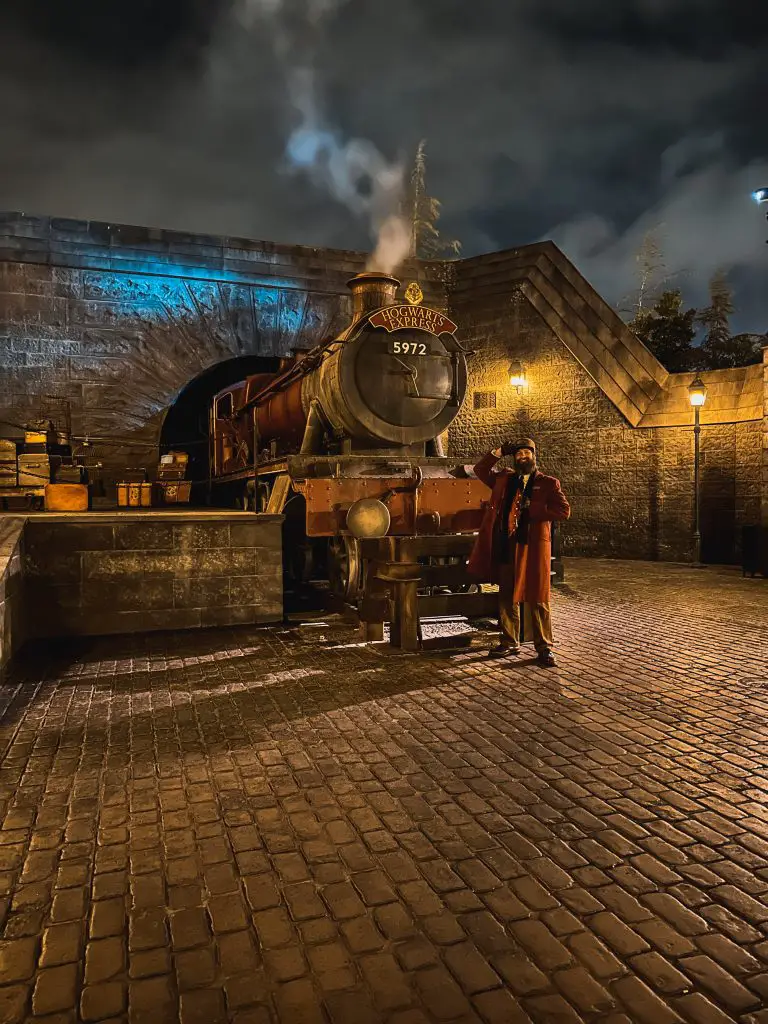 DAY 4 IN LA ITINERARY
Universal Studios Hollywood | LA Itinerary Day 4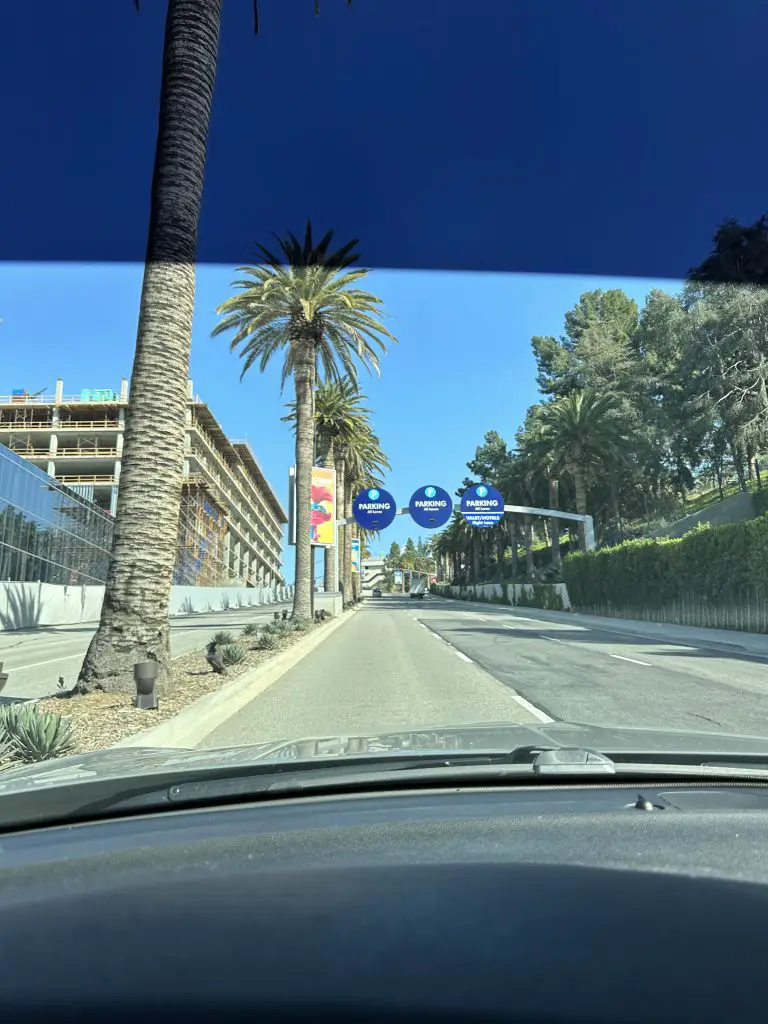 Universal Studios Hollywood
Super Nintendo World Secrets and Guide
Wizarding World of Harry Potter
Get Ready With Me
EARLY WAKE UP! Like 4 am early wake-up for me, for our 4th day in LA itinerary, and let's be honest, it really was the best day if you ask me.
I needed to get ready, and we had a bit of a drive to Universal Studios.
Sloan still had no idea what we were doing. I tried to explain to her that it was similar to Disneyland but not Disneyland, all she heard was Disneyland, and she was ready for the choo choo train ride.
Yup, this girl had one thing on her mind, and that was a roller coaster.
Well, she would ride a roller coaster but nothing like Big Thunder Mountain.
I had a little bit of work to do in Universal CityWalk before all the people got there, which meant we were getting to the park a few hours before they opened. What we didn't account for was traffic (I know, shocking it's California who doesn't account for traffic… me… slowly raising my hand and finishing with a facepalm…) BUT. I still got all the photos and things I needed and still had time to get in one of the many lines to get into the park.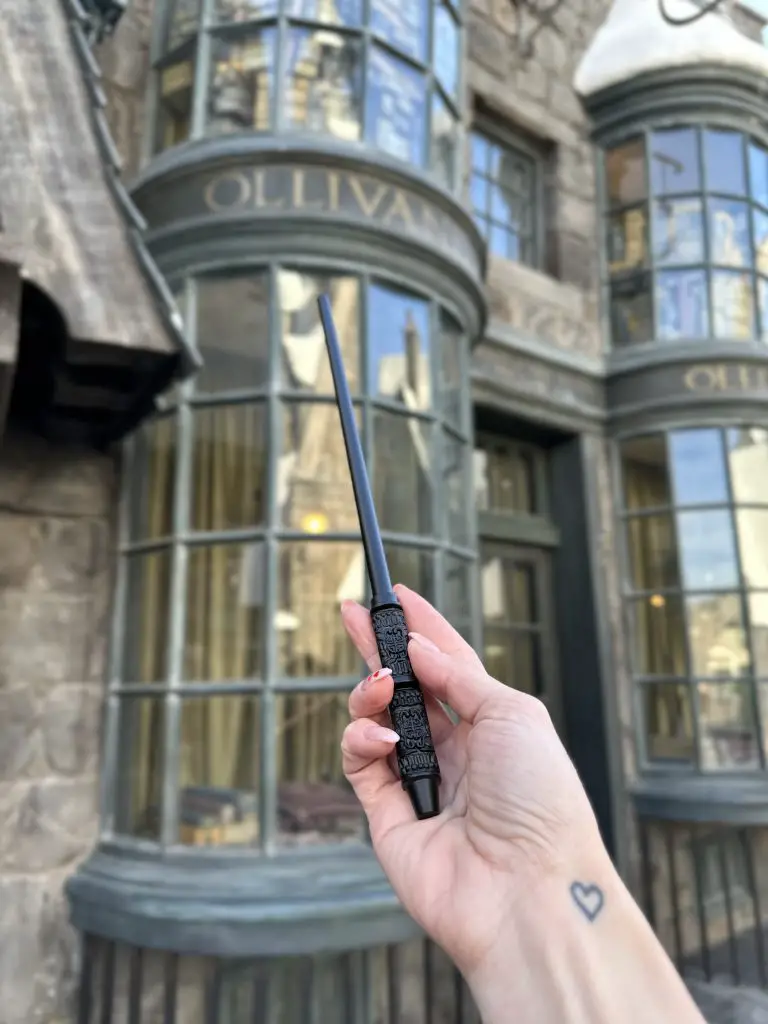 Universal Studios Hollywood
Universal Studios Hollywood works slightly differently than Disney. You can get early access to the park currently, not as a hotel guest but with the Super Nintendo World Preview Pass. It's an extra $20 per person but guarantees your spot into the land.
We originally had no plan for this area, it had just opened to the public on the Friday before, and we just didn't believe we would have enough time to get through everything we needed to.
But while we were standing in line, I opened the app and saw the virtual line reservation pop up, and I was able to snag us three spots that morning for Super Nintendo World. LA Itinerary WIN!
#momwinnumber2
You need access with the preview pass or the virtual line to enter the area currently. Many parks are implementing this new virtual line system, and I'm here for it.
Universal is much more of a locals park compared to Disneyland, but with the opening of this new land and the few projects they have planned for the future for the Hollywood location, I don't believe it will be so "locals" after these plans.
Wizarding World of Harry Potter
Super Nintendo World is the most immersive land out there and brings a new level of interaction that we haven't really seen at this scale. While I do think Diagon Ally and the Wizarding World of Harry Potter are both incredibly immersive and have interactive things to do in the area, super Nintendo World is just next level.
Harry Potter and the Forbidden Journey is a little too scary for Sloan, but she loves the area for all it offers. From the rides to being a wizard, she is all for it. Sloan could watch the interactive magic come to life as I cast spells. Each one surprised her more than the last, but her favorite was the door with the smoke. I purchased my wand while in Orlando last year but didn't use it while we were in Universal Studios Florida.
It was almost time for us to head to Super Nintendo World for our time slot, but Sloan wanted to get on a ride. She had been on Flight of the Hippogriff before but got spooked for some odd reason. She surprised us when she got a little scared before it was our turn to get on.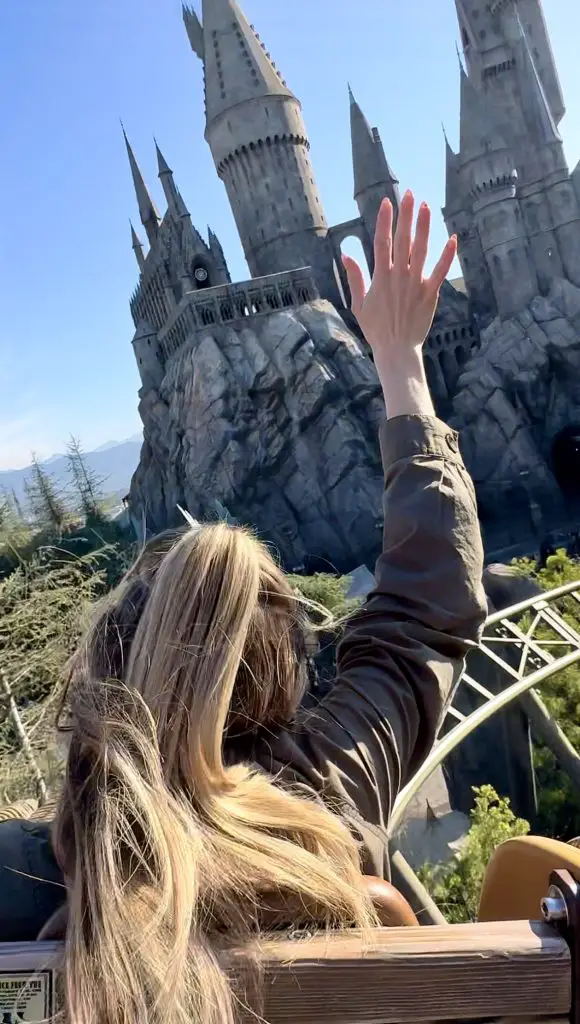 A Pep Talk for the Toddler
I talked to her about the ride and explained that she had been on one of these before, and it was like the choo choo trains one at Disneyland. She gave me questioning eyes but said, ok ill try it. We use photos to help remind her of things shes done as a baby and toddler.
Thank goodness she was brave enough to get on and ride because she screamed just like she always does and asked to go on again as soon as we were done.
That's my girl!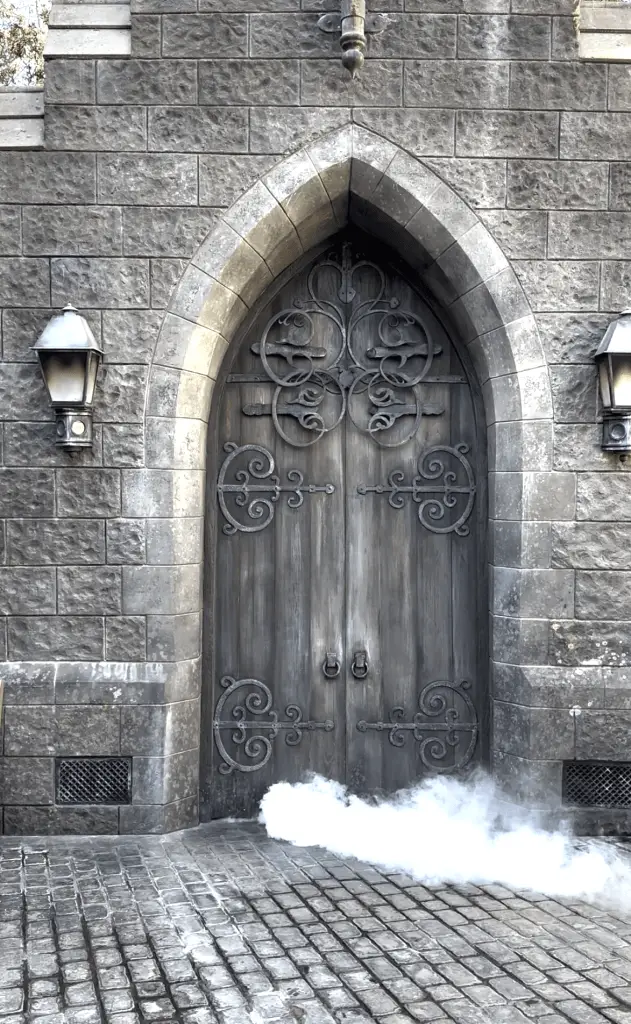 We made our way down to the lower lot, and if you have yet to go to Universal, it is literally built into the LA hills and requires you to go down four flights of escalators to get to the lower lot.
The stairs are significantly faster to go up and down and can be tiring since it's over 300 stairs from top to bottom.
We took a quick photo in front of the Jurassic World sign before heading into the gift shop to purchase a power-up band before Super Nintendo World. The power-up bands are not required for the area, but they are required if you want to do any of the mini-games.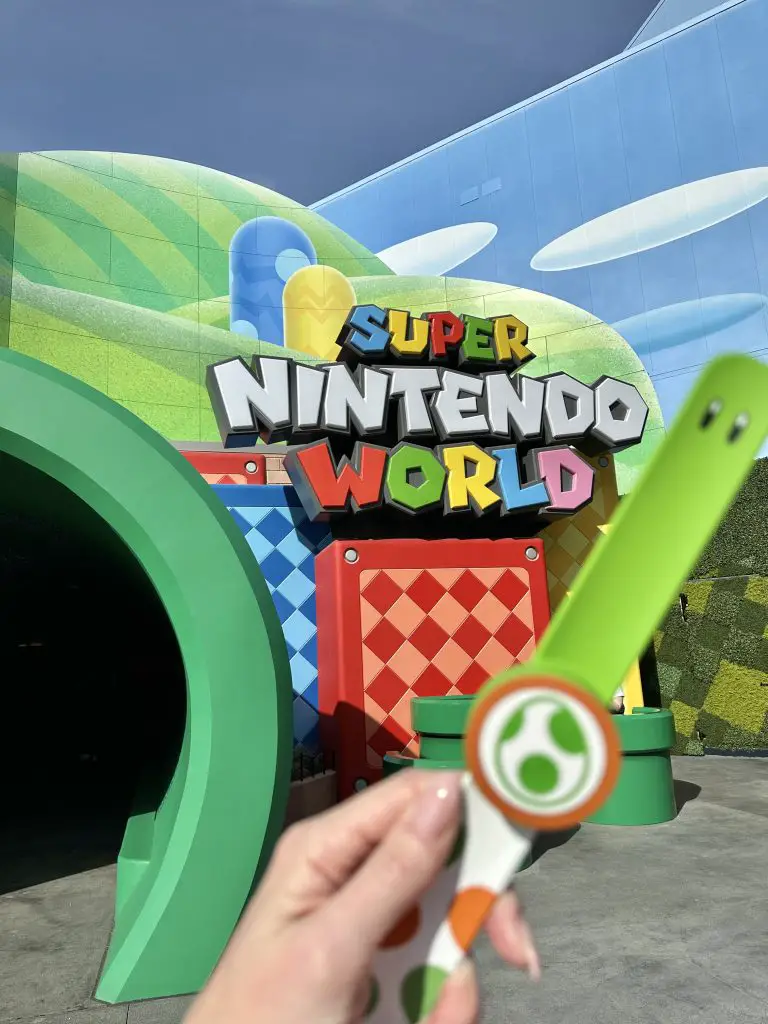 Super Nintendo World
Read more about our morning inside Super Nintendo World and what there is to do. It's an entire day inside of itself.
We had lunch at Toadstool Cafe, and even their food is themed. The mini-games while we were there were very busy since just opening, and the Mario Kart ride was already at a significant wait by the time we got to the land. Sloan still got a photo with Peach, and she was happy with that.
Next time we go, we will play all the mini-games and go on the ride.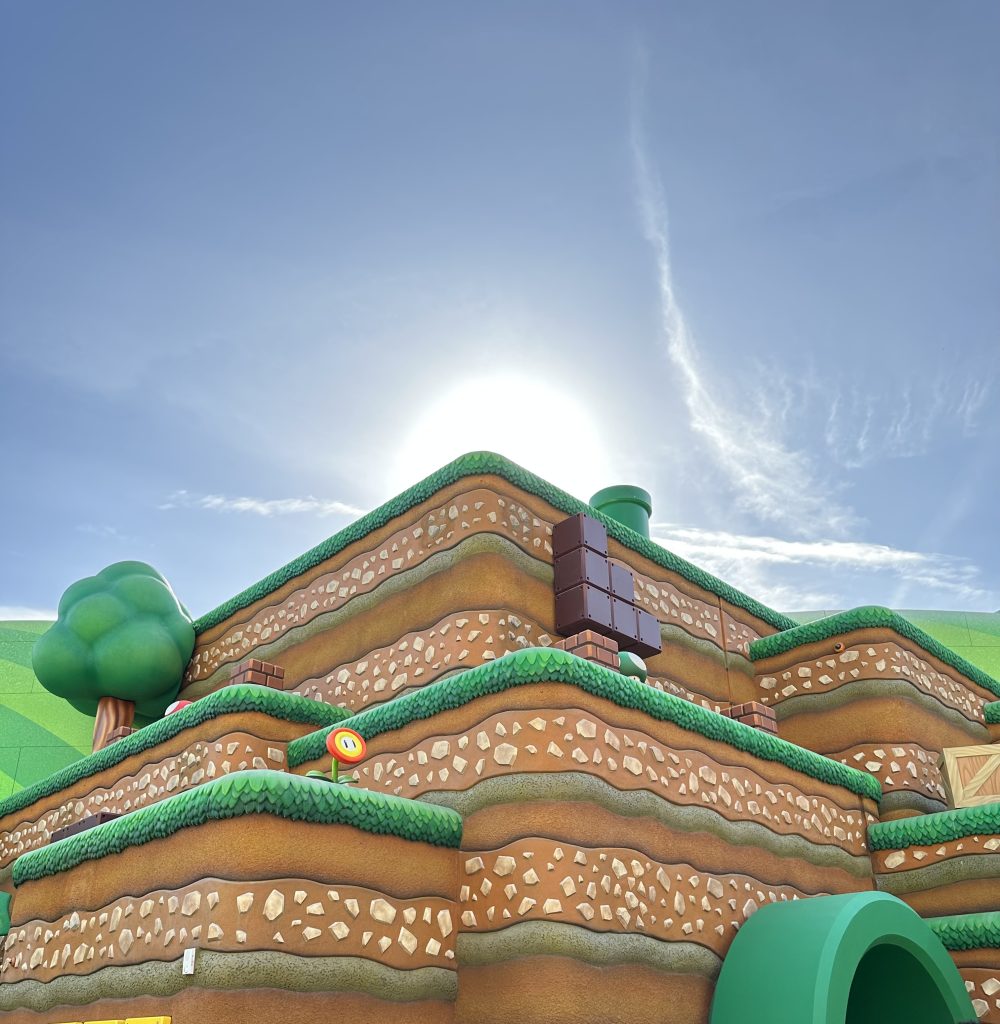 We did most things in Universal Studios Hollywood before the rain started at the end of the day.
One thing to keep in mind is to watch wait times on The Secret Life of Pets. This one attraction gets REALLY busy and doesn't have enough line space in the queue to hold everyone, so they utilize the virtual line experience to manage long wait times. Many rides open at 10:00 am and get pretty busy around midafternoon. By 4:00, virtual times are gone for Secret Life of Pets, and you might be able to get on the ride before closing, but typically unlikely on a busy day.
Super Nintendo World Hollywood Guide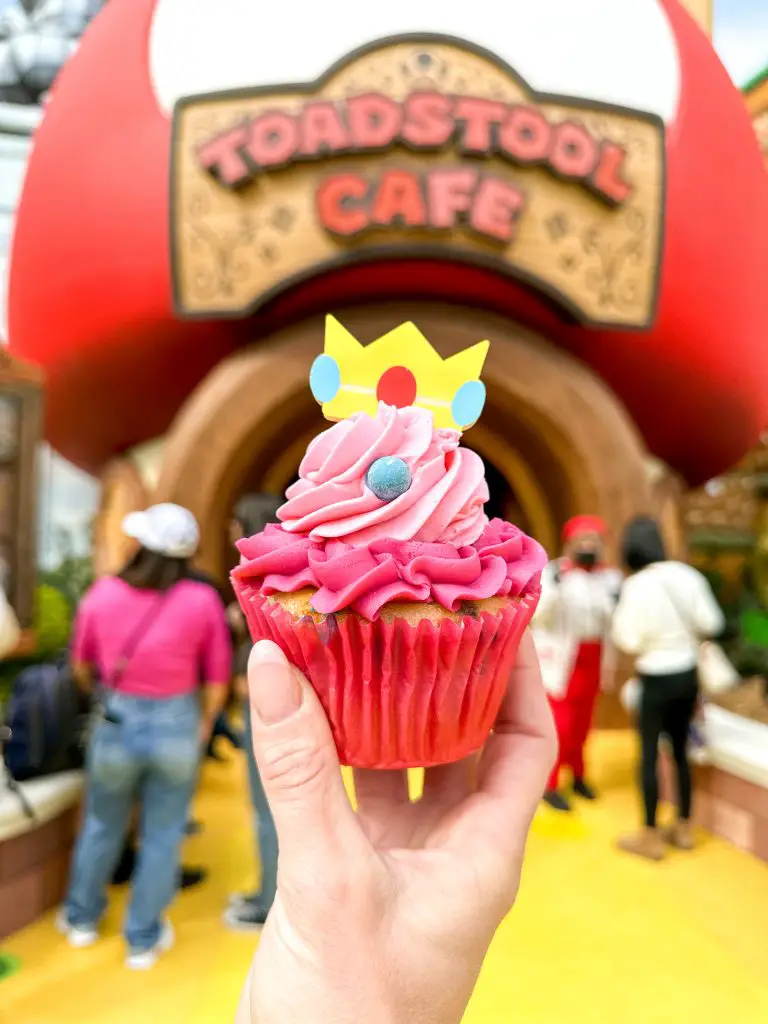 Dinner
We had a quick dinner in the park and a last walk around the Wizarding World of Harry Potter before heading to our hotel about a half hour North. We were driving back home the following morning, so we wanted to help cut a portion of the time the night before.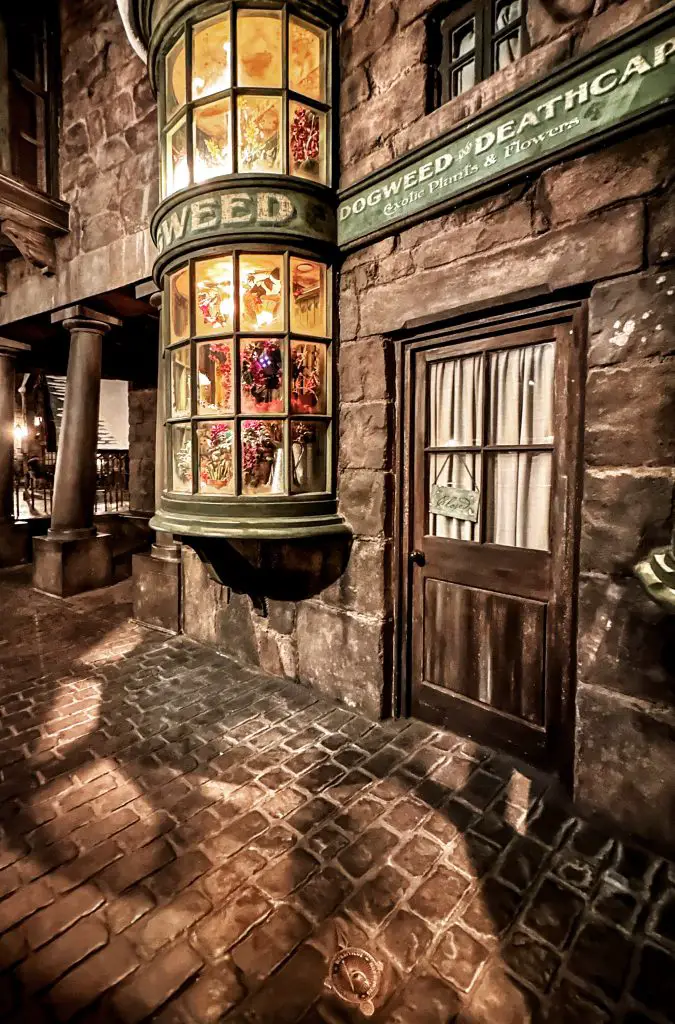 Thank you for letting us share the ideal la itinerary with you!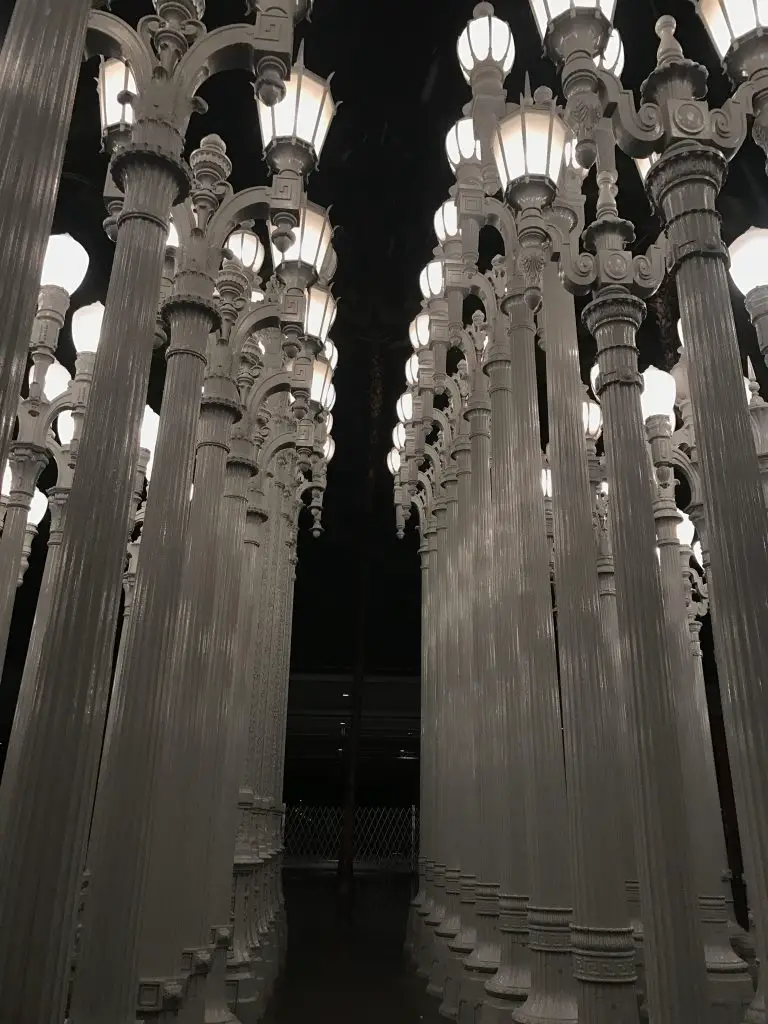 Things to do with a Toddler in Los Angeles
Here are a few other things you can add to your la itinerary that are great for adults and toddlers.
Beaches

Venice Beach
White Point Beach
Playa Del Rey Beach
Manhattan Beach
Santa Monica Beach
Huntington Beach
San Clemente Beach

Amusement Parks

Disneyland and California Adventure
Universal Studios Hollywood
Knott's Berry Farm
Six Flags Magic Mountian
SeaWorld San Diego
LEGOLAND
Belmont Park
Santa Cruz Beach Boardwalk

Museums

Los Angeles County Museum of Art
Natural History Museum of Los Angeles
The Getty
California Science Center
Griffith Observatory
The Hollywood Museum
World of Illusions Los Angels

Aquariums

Aquarium of the Pacific
Sea Life Aquarium at LEGOLAND
Shark Encounter
Birch Aquariums
Roundhouse Aquarium

Zoos

Los Angeles Zoo
San Diego Zoo
Santa Barbara Zoo
Santa Ana Zoo

Community Events
Hikes

Griffith Park Trails
Bluff Lake Trails
Green Land Trailhead
Trebek Open Spaces

Photo Spots

Hollywood Sign
LACMA
The Pink Wall at Melrose Ave
Hollywood Hotel
Bradbury Building

Hollywood Walk of Fame and the Chinese Theater
Hollywood Sign
Food
Desserts

The Pie Hole
Diddy Riese
Artelice Patisserie
Salt & Straw
Chocolate Emporium
Where we stayed in Anaheim and Universal City
Anaheim Marriott Suites
Hilton Santa Monica
We hope you enjoyed this la itinerary, and we want you to have the best time in la
Related Posts
Universal Studios Hollywood wait times
Super Nintendo World Secrets Guide
Things to do in Downtown Disney With Kids