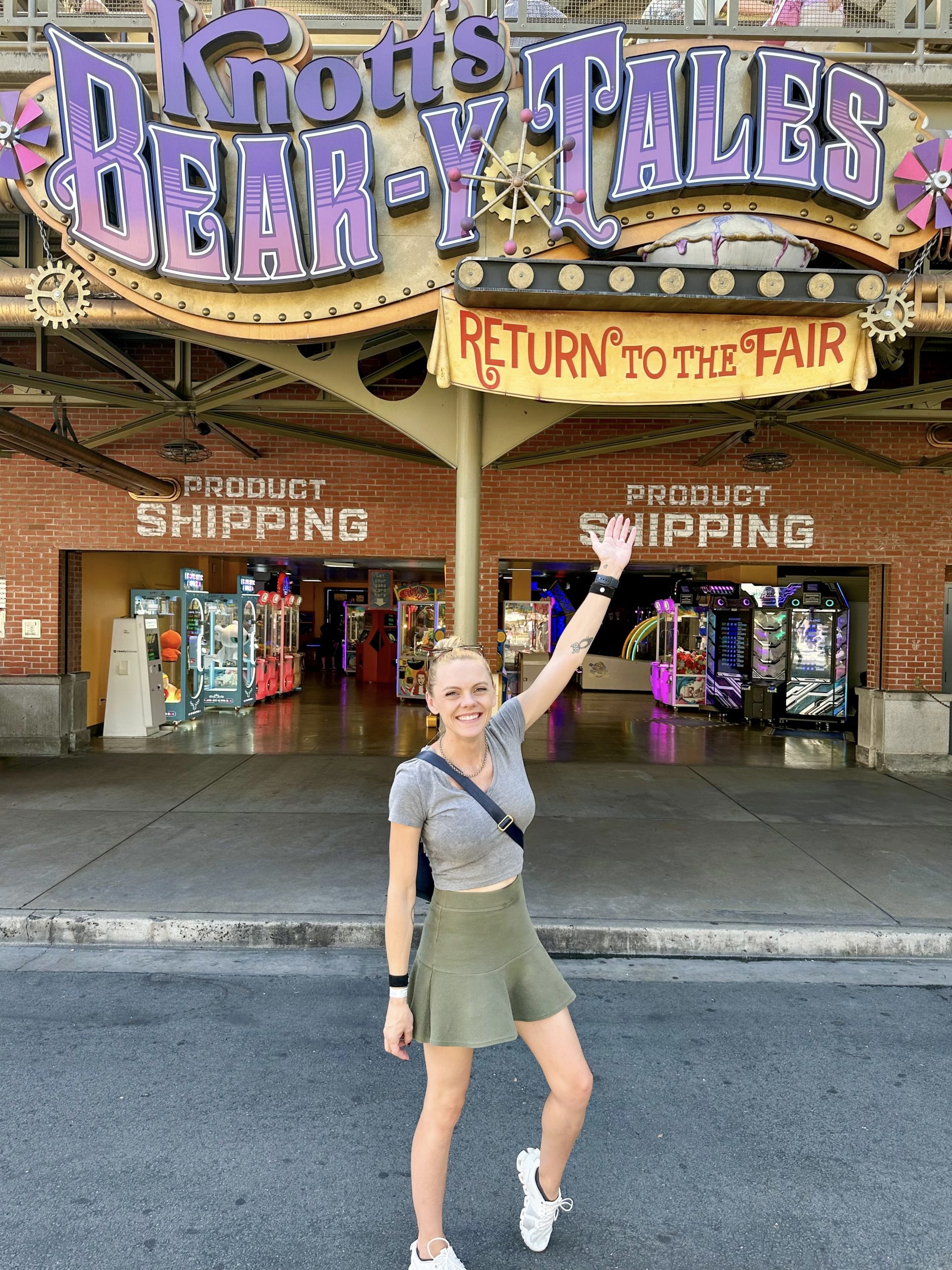 When you think about theme parks in southern California, Disneyland is pretty much the only thing that comes to mind. But the hidden gem of amusement parks in Southern California is Knott's Berry Farm.
For those similar to me, your parents may have taken you 30 years ago and have completely forgotten about what a special little spot this is.
If you've never been, or it's been a few years, it's time to make your way back to Knott's Berry Farm.
They have fantastic food, unique drinks, theming, and stories throughout the park, and to top it all, rides to cover both kids and thrill seekers. You would think I was lying if I told you the ride wait times were low and bearable.
But that's why it's such a hidden gem for guests of all ages at this amusement park.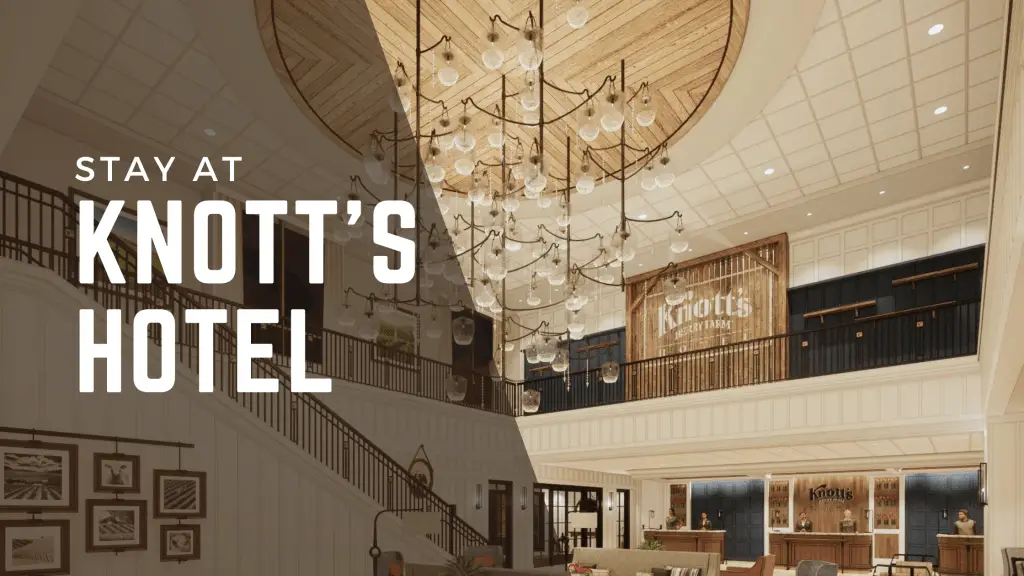 What's New at Knott's Berry Farm 2023
The Buena Park theme park has some amazing updates in 2023 and many things to come in the future
Chaperone policy
Kids must be with an adult at all times. From the Knott's website: Children 15 years old or younger must be accompanied by a chaperone who is at least 21 years old in order to be admitted to or remain in the park after 4:00 p.m. local time to close.
Refreshed Fiesta Village
While Fiesta Village has been open for a while, the entire village is almost complete.
There are some new signs, fun activities, savory foods, and the sounds of mariachi music, and you can find your own spirit animal friends all around the village.
Gold Season Pass
Perfect for all the seasons of fun Knott's has to offer.
The Gold pass is on sale until September 2023, for the rest of 2023 and all of 2024. In addition to merchandise discounts, season pass holders will receive bring-a-friend discounts.
Knott's Berry Farm Hotel
Official remodel and refurbishment opening in Fall 2023. After a few construction delays, the hotel so far looks absolutely wonderful, and the rooms have received a much-needed update. No issues with AC in the rooms.
Knott's Soak City Waterpark
Not absolutely new in 2023, but this 15-acre water park is an amazing addition to your Knott's Berry Day.
The waterpark has one of the longest lazy rivers and many slides to keep your entire family thrilled all day.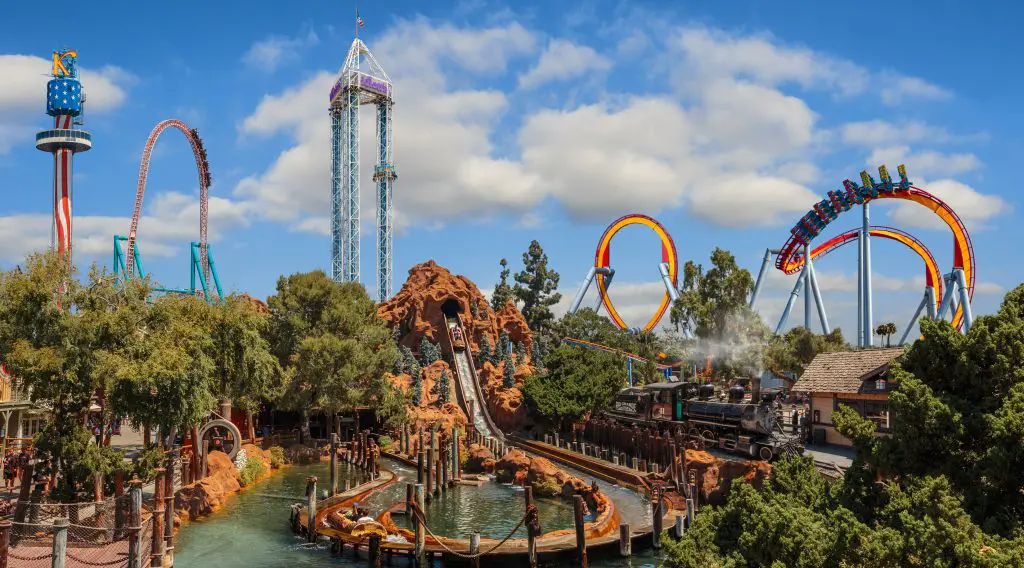 The History Behind Walter Knott's Berry Farm
The history behind Knott's Berry Farm is just so unique.
Many people are under the impression it was the location Boysenberries were invented, but actually, Walter Knott's had a small berry farm in the 1920s that almost closed due to conditions during that time.
His wife Cordelia opened up a chicken restaurant. The lines of people waiting for fried chicken were so long that they needed a way to entertain people while they waited. A small area called Ghost Town was opened, and the rest is history.
Today we have 4 massive coasters, family coasters, dark rides, water rides, train rides, and so much more. Don't get me started on the food of this park. The fried chicken and boysenberry-themed items are an excellent addition to everything they offer today. 
The Fried Chicken
But more on the history of the park. In the 30s, Walter and his wife Cordelia opened a chicken restaurant that is still very well-known for its fried chicken.
In 1934 his wife made chicken, gravy, and pie one night, and it was so delicious that it changed their family forever.
MRS. Knott's Fried Chicken. The first restaurant fit 20 people and grew to over 300 seats. The Calico Ghost Town was created to keep people entertained as they waited for his wife's chicken.
Rudolph Boysen of Anaheim invented the Boysenberry but later turned it over to Walter Knott for commercial development at the farm. But that isn't what put them on the map. Mrs. Knott's fried chicken is what really put them on the map and where the park stemmed from.
If people didn't need something to do to wait for chicken, Ghost Town wouldn't have ever started. But as the little, no-admission entertainment area also grew in popularity. 
First Theme Park Opens
But in 1968, the first theme park, Knott's Berry Farm, opened to the public, charging admission.
Knott's Berry Farm was sold in 1997 to Cedar Fair Entertainment Company, which also owns Cedar Point and many other theme parks in the US. Disney was an option as a purchaser, but the family felt it would be Disneyfied instead of keeping with the Knott's History.
We are so thankful it kept its Knott's History and got the extensive theme park umbrella systems. With more funding and a growing fanbase, Knott's Berry Farm received significant updates and fun new attractions over the years.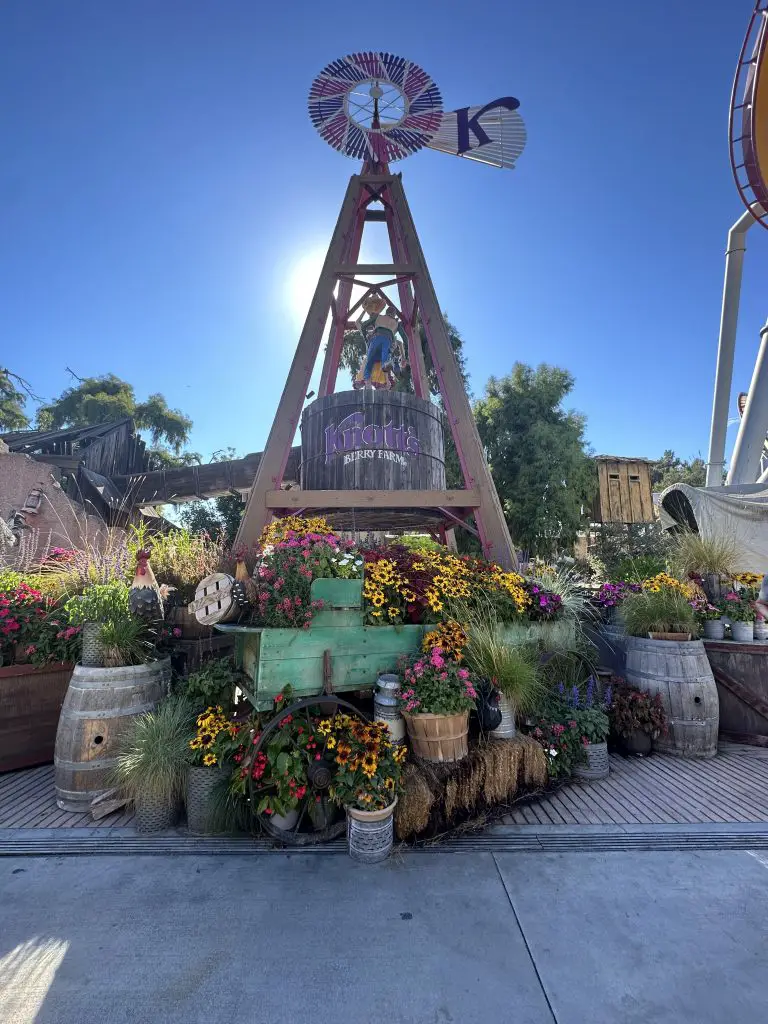 How to save on Admission to Knott's Theme Park
On this particular trip, I had theme park admission covered by Knott's Farm but added the Fast Lane ourselves because we like to have the option for shorter lines.
While the park covered my admission, all thoughts are honest and unbias.
For discount Knott's Theme Park Tickets. We use Under Cover Tourist for all of our other theme park tickets, and if they don't have what we are looking for, we go straight from the theme park's website.
Besides that third-party company and Wanna Get Away, we do not trust any other sites or sellers.
Under Cover Tourist is a trusted third-party site that sells more than just theme park tickets. They now have concerts, sports, and other fun attraction tickets available at a great price without hidden fees.
Get away from ticket master asap.
Actual Gate Ticket Prices: $99.99 
Under Cover Tourist Ticket Price: Save $38 (what you can save compared to the gate price)
Fast Lane Add-on
Fast Lane starts at $79 a person, and we've seen it as high as $135 per guest. We do not go to theme parks without these passes anymore. While it does increase the price for the day, it makes lines bearable.
More on how it works later, but we highly suggest working this into your budget if you can!
Where to stay
Knott's Berry Hotel
Currently under refurbishment and slotted to complete construction in a few short months, we found this to be the closest and best option for the hotel.
This is a great hotel and relatively average in price. We like the fact that it is close to the park and everything is so beautiful now after the remodel. It has a restaurant, pool, hot tub and small splash pad, fitness room, and ballroom all on the property.
The walk from the hotel is roughly 5-8 minutes and is very well located to all the shops and amenities near by. Our Uber driver on the way to the airport mentioned the ac being terrible in past years. That was not an issue at all during our stay.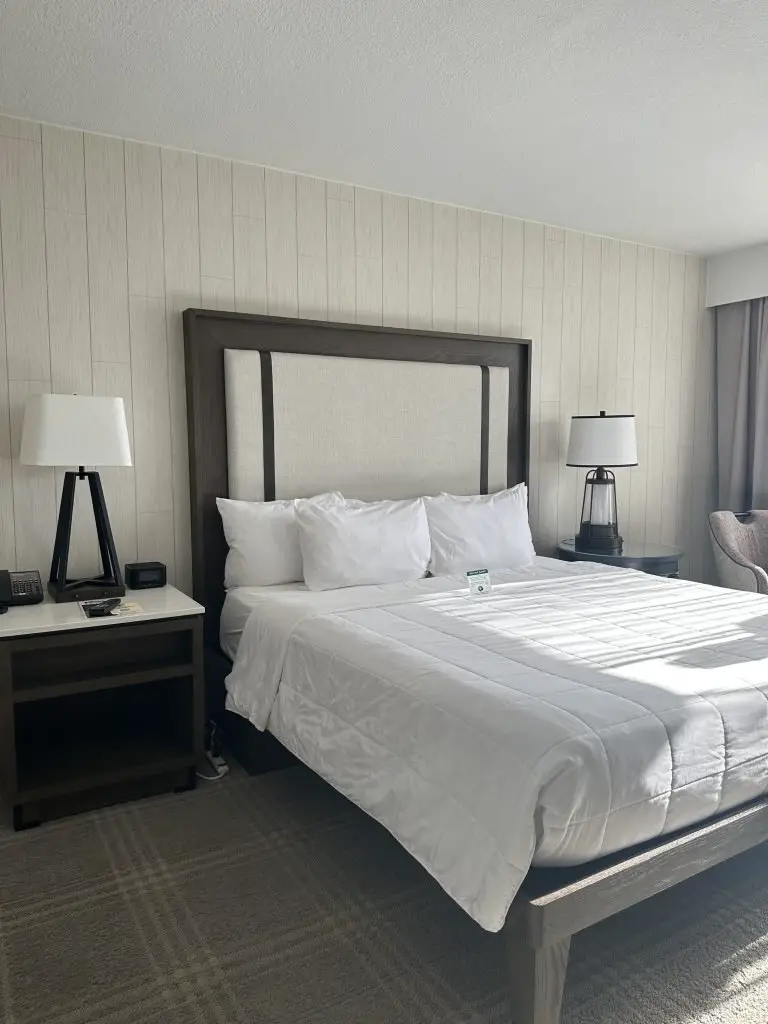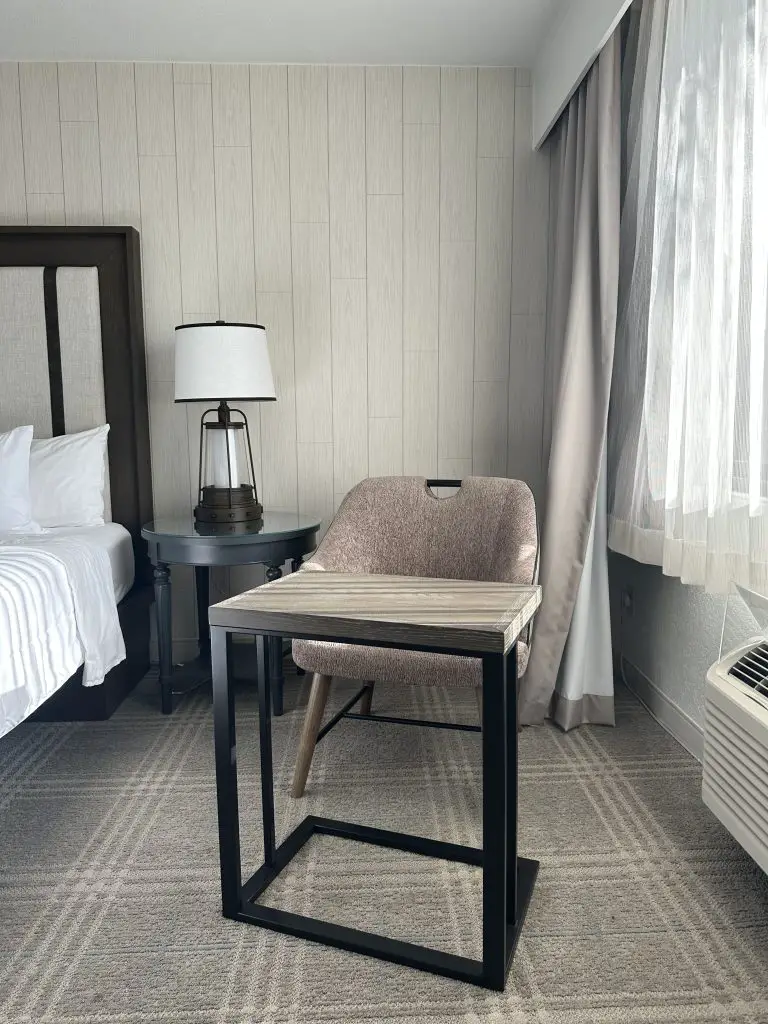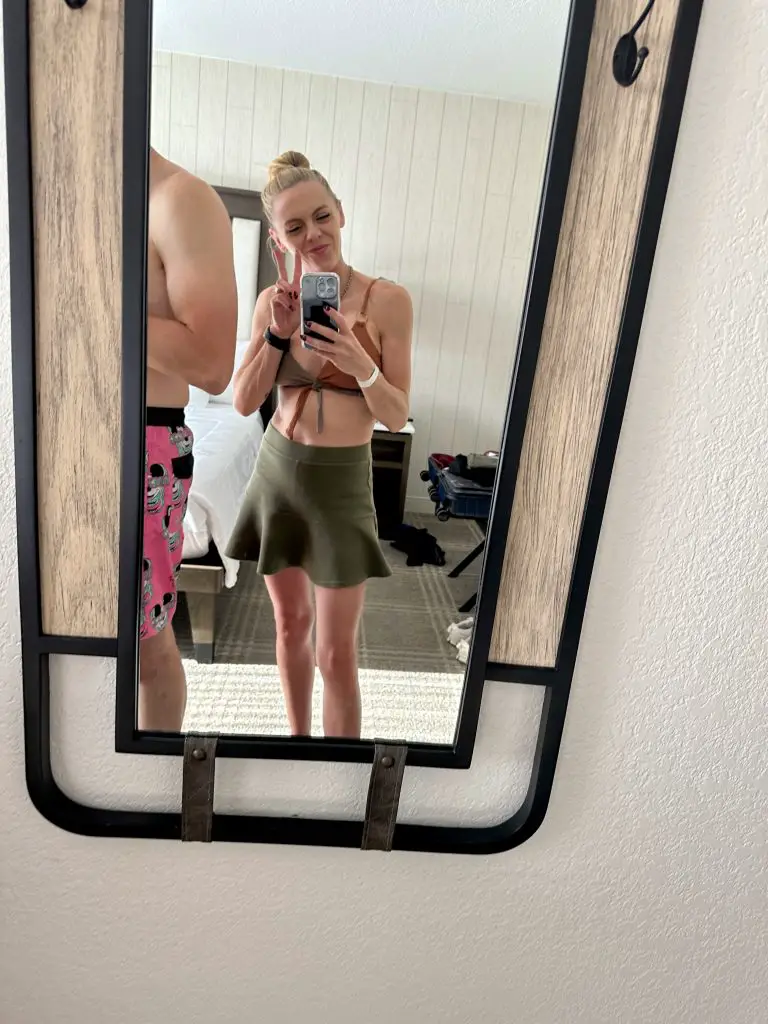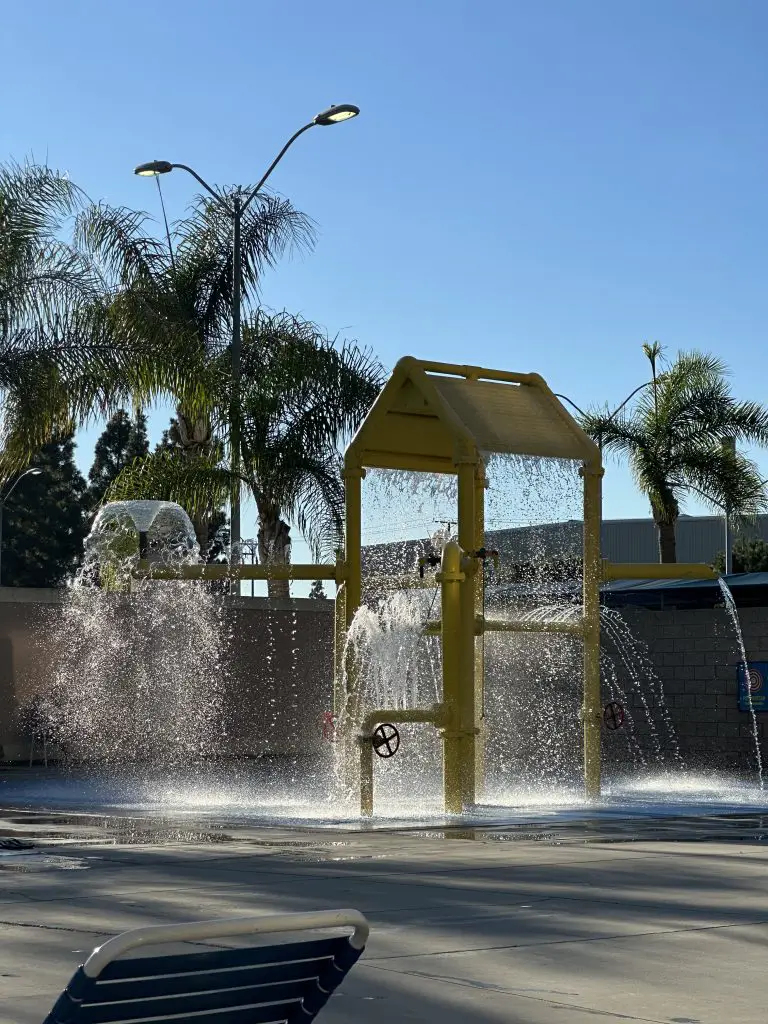 Parking at Knott's Berry Farm
There is a Parking right on the property for Knott's Berry Farm.
Parking costs range from $35 – 50, depending on what parking lot you choose. Preferred Parking will be the closest parking lot, but we found Parking very close to the park for both parking lots.
When to go to Knott's Berry Farm
Knott's Berry Farm is a semi-busy park. If you get a good day, you may wait up to an hour for a ride, and on a bad day, you could get lucky with a shorter hour-and-a-half wait but hit lots of higher wait times.
It all depends on the day and what is going on near-by.
We were pretty lucky on our most recent visit and still used the Fast Pass add-on.
We went the week after kids returned to school, the second week of August during the week, and the longest wait we saw was around 45 min.
You want to note some events: Ghost Town Alive, Knott's Scary Farm, Snoopy's Birthday, Knott's Summer Nights. Each brings unique food and theming throughout the park. Some are special ticketed events that close the park to the general public.
If you are looking for lower crowds, avoid holidays and the few events I listed above during the day. Those will draw higher crowds than other days.
Knott's Berry Place
Secrets, Unique and Hidden Features of Knott's Berry Farm
Berry Market
Rock Garden and the Fireplace Washington had inside his home, it is a super unique bathroom area, but the waterfall is beautiful.
Wilderness Dance Hall
Once owned in Burbank, it was moved to the current location; once used for championship fights is the J Jeffries sign on the side.
Penny Press Corner
All the penny machines are in one spot, a friendly and easy way to see them all and pick what penny you want without having to remember where you saw them last. 
Mine Ride
Knott's is one of the only rides to give homage to the Chinese mine workers. You will see the people inside the ride. Panda Express is also a hat tip as well since it's located in Ghost Town. Kind of a weird hat tip, but I love Panda, and it smells delicious in the park.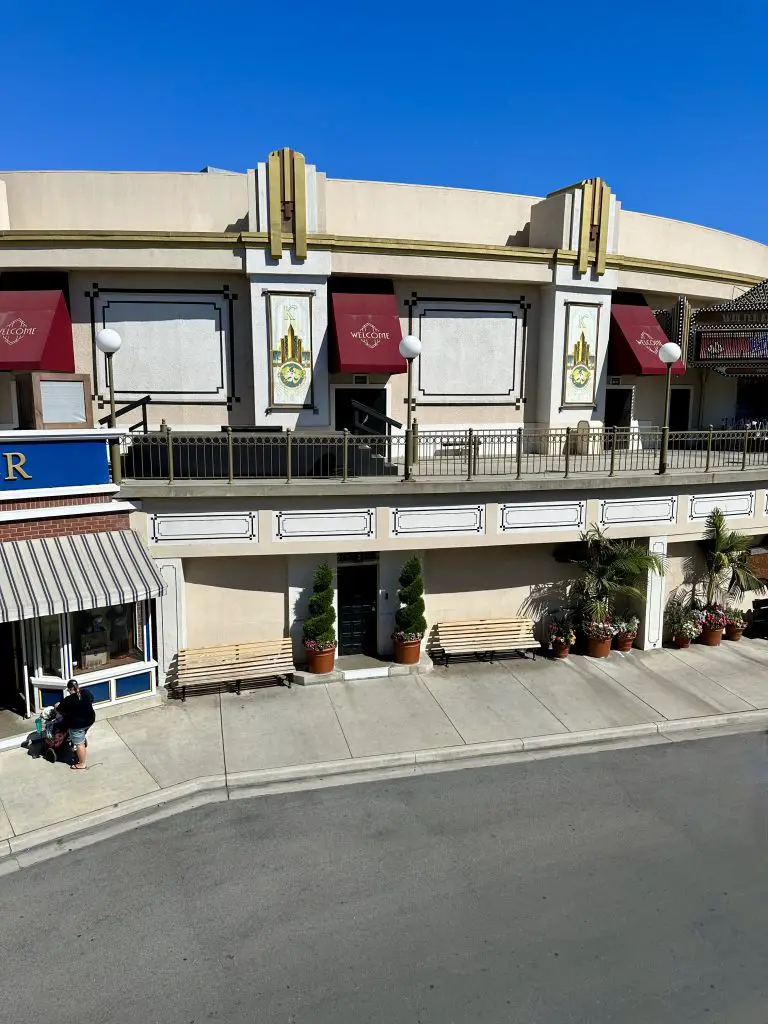 Doorbell
Located in Charleston Circle, you will find a Music Doorbell. The doorbell is across the street from the Knott's Bear-y Tales ride. This working doorbell will play music when you push the button.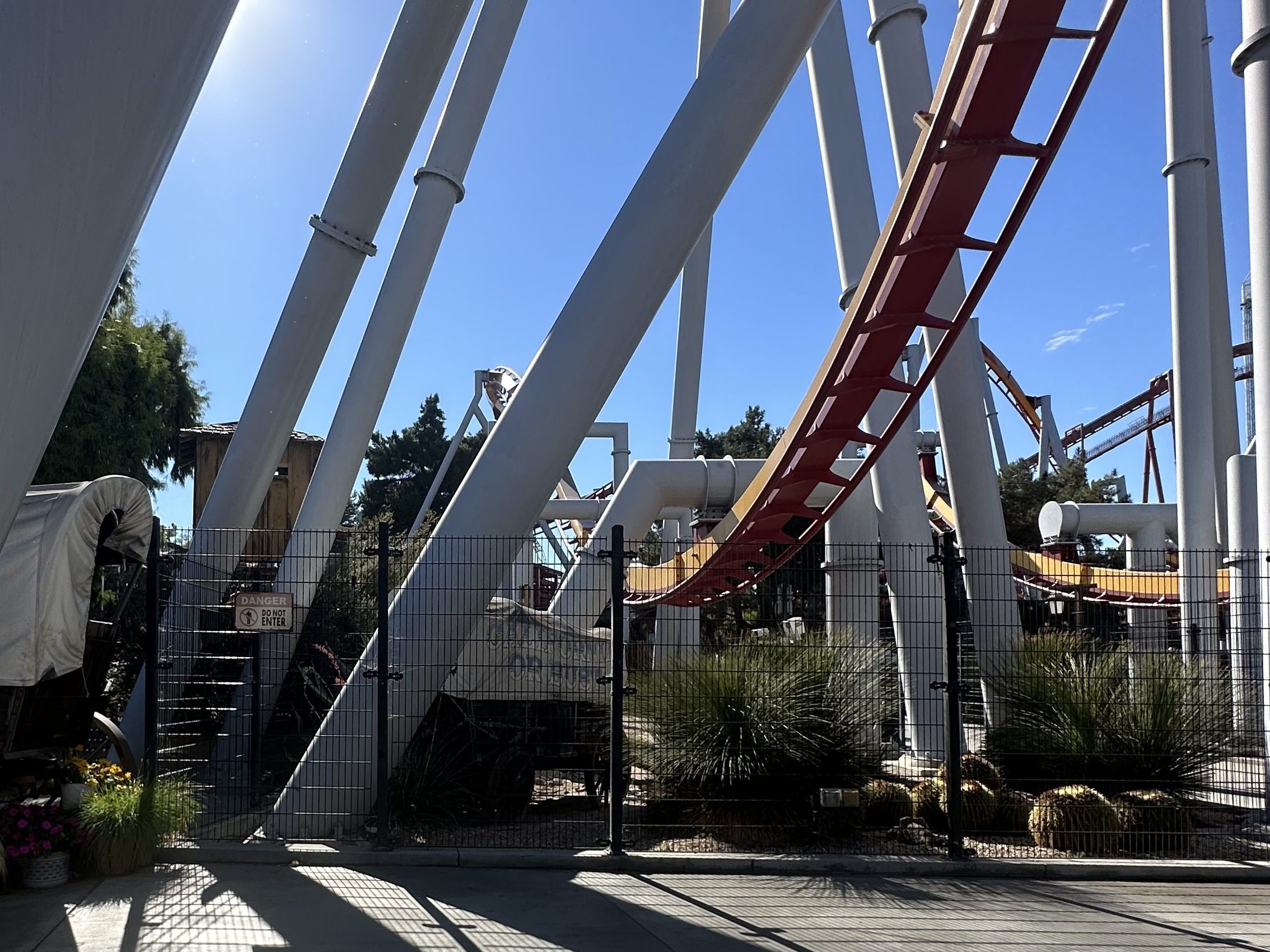 The Original Berry Market
Under the Silver Bullet, there is an old wagon, and that is the place where the original stand was. I wish they would have a little shop or something in this spot so that it could fully pay to the past since there is so much history, but this was crucial real estate for a fantastic ride as well.
Tunnels to explore
Walk the caves, bridges, and waterfalls in Camp Snoopy. This is a great shaded slow walk and is a great way to escape the heat.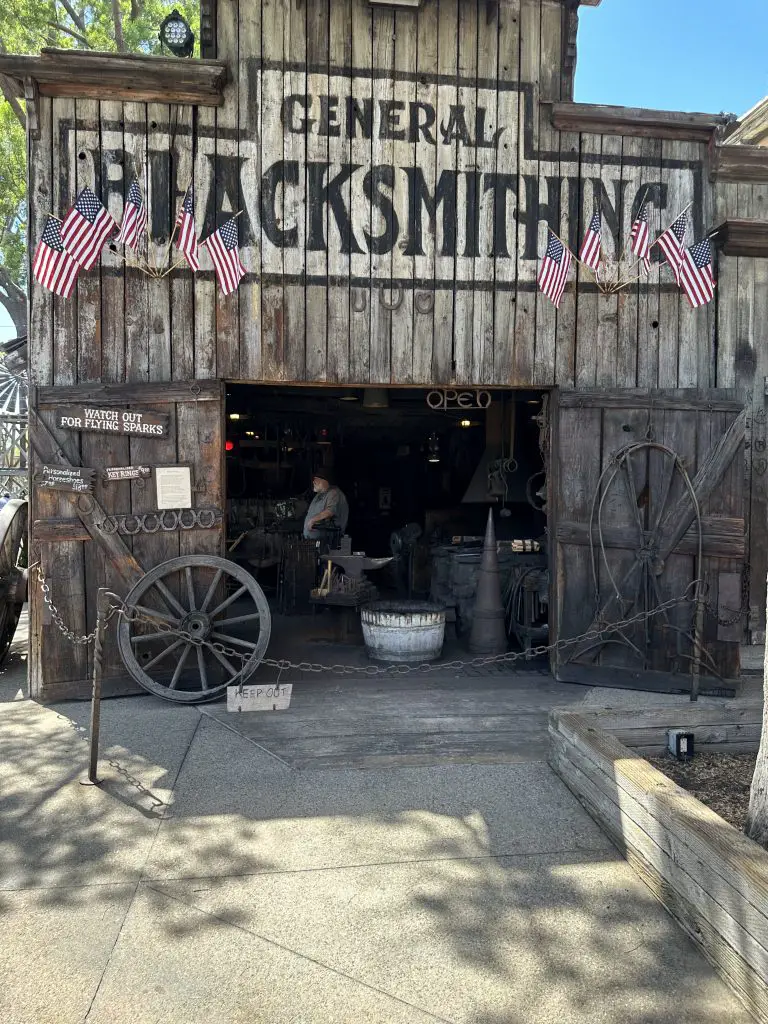 Blacksmith
You can interact with him, and that's a hoot of a time, BUT! You can also have a horseshoe made and have it engraved for only $7.
Flow of the Theme Park
The park has a flow to it. The park's layout is a big circle, but there is a lot to do within the middle of the park as well, so you won't want to miss out.
When we first arrived at the park, we stopped in Ghost Town to pick up our wristbands and went straight to Boardwalk for our first ride.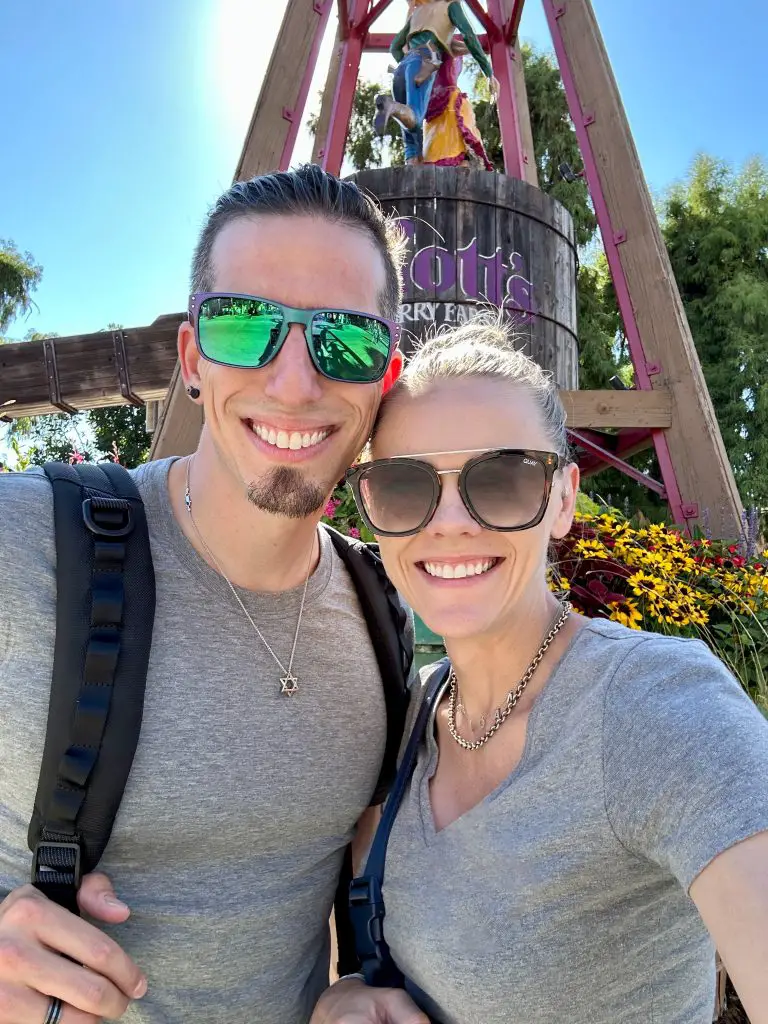 Our Knott's Berry Day
Boardwalk
First up was Hangtime and Coast Rider in the Boardwalk area. Xcelerator is the other really big roller coaster in this area, and it was under refurbishment and in the testing phase when we were visiting. BUT I've heard AMAZING things about this roller coaster and cannot wait to try it again next time.
Hangtime, on the other hand, was my favorite roller coaster at the park for high thrills. With just a lap restraint, you immediately climb a 90-degree hill and slightly relax at the top for just a moment before you are gently released and slowly approach your 89-degree drop.
This is one of the best thrill rides I've been on in a while, and it was absolutely amazing.
Coast Rider is a traditional mouse-style ride. These mouse-style coasters are very cute and silly, and this one did go pretty fast. It feels like the back of the coaster lifts off the rails around the corners, making it feel silly.
Ghost Town
After Coast Rider, we made our way to Silver Bullet for the second thrill coaster of our day. Silver Bullet was one I did slightly blackout on. I have a major sensitive stomach for motion sickness, so make sure you eat well, drink a lot of water, and separate coasters as much as possible to avoid any issues, especially on a hot day.
Besides that, the ride was excellent and had some awesome loops, twists, turns, and inversions.
Fiesta Village
After that, we jumped on Jaguar since it's right there in Fiesta Village next to Ghost Town. It is a really great family coaster. It has amazing banks and turns and is a very nice long ride with lots of ride cars.
After a few rides, it was time for a margarita flight and some food.
The margarita flight was 4 margaritas of your choice, with or without salt. We did a mixture of on-the-rocks and frozen.
We ordered cucumber, original, mango, and strawberry. They were all really great, but we loved the cucumber the most. It comes with 4 Fiesta Village souvenir cups you can take home.
For lunch, we grabbed a burrito bowl at Casa California. These are very similar to what you can get a Chipotle. They had burritos, bowls, guacamole, and chips.
Ghost Town
It was a hot day, so it was time for a water ride, and head back to Ghost Town to finish up the rides in there.
We made our way over to Timber Mountain Log Ride. It is a very old-school splash mountain but lacks a real story for its theming.
But it is a very cute ride and does have two really great drops, one of which is in the dark.
If it was open GhostRider is the big wood coaster, we would have jumped on, but since it was closed, we made our way up to Pony Express for a surprisingly good time.
This was actually one of my absolute favorite rides in the park. It is a very short roller coaster, but you board a horse's back and have a back harness for your "belt." If you have seen the new Tron ride in Disney World, it is very similar to that.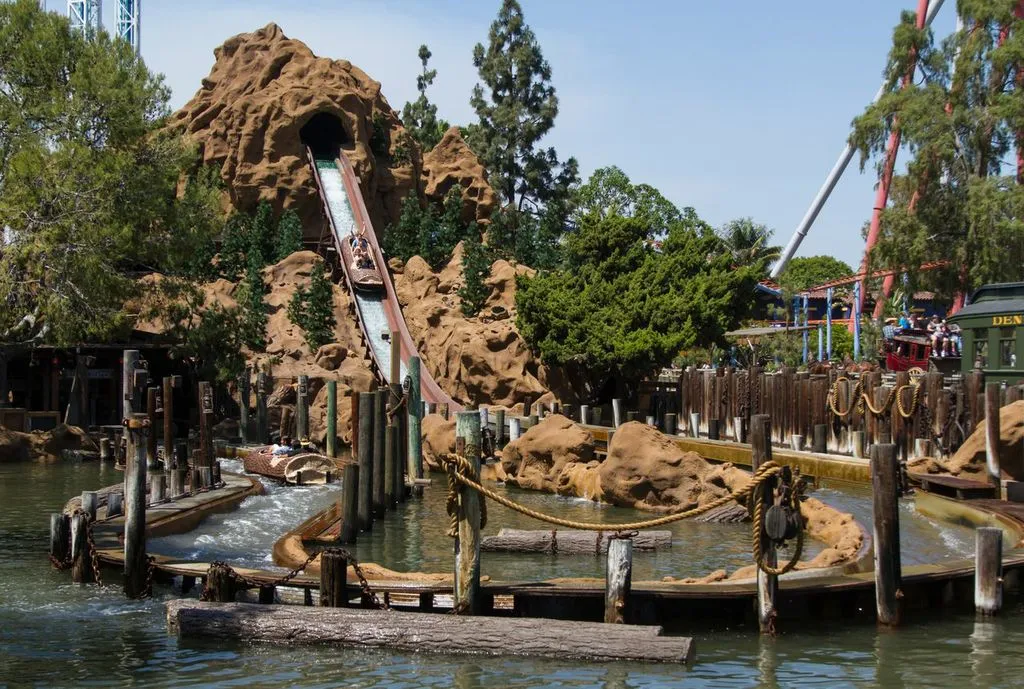 Water Rides
Since it was still really hot mid-day, it was time to cool off again on the other water ride Knott's Berry Farm had. As my second favorite style of water ride, the Calico River Rapids literally leaves you drenched and your feet wet.
It is a high probability that you will be soaked and will not get off this ride dry. We like to wear active dry tennis skirts and active dry shorts for men to dry quickly and not be uncomfortable the entire day.
Back to Boardwalk
Knowing that it was a hot day, we wanted to put the dark ride towards the end of the day so that we could take a nice break indoors. Mitchell could jump back on Hangtime again with our fast pass bands before we went to the dark ride at the back of the park, Knott's Bear-y Tales, Return to the Fair.
I'm a big dark ride lover, and this was one of the most fun shooting-style dark rides I've been on. It was a little unclear in the beginning on what to do, but your main goal is to shoot the foxes and as many pies as possible to earn points.
The leaderboards and guns are a little finicky, but this was still a really great ride and a lot of fun.
Camp Snoopy
At the end of the day, we made our way over to Camp Snoopy for Sierra Sidewinder. This coaster really surprised us, and we ended up riding it a second time.
There are not many of these coasters around the world. Not only does this spin you 360 degrees while it goes around the ride, but if you get the second or back spot, you climb the first hill backward, giving you an entirely different feeling on the ride.
I was worried about the twists being too overdone, but the ride had a great balance, and the twists added more thrill to an already thrilling coaster.
Since this was an adults-only theme park trip, we skipped most of the Camp Snoopy rides, but many of the rides in this area are 36-inch height requirements, with very few over 42 inches.
As of early August 2023, two rides in Camp Snoopy have closed to make way for a new exciting feature.
Knott's Berry Farm has removed Timber Twister and Camp Bus for this new attraction.
Over All Flow Thoughts
We suggest either starting in Ghost Town and ending in Camp Snoopy or doing what we did to add the lunch and drink stops throughout the day and explore the park.
For Family Only Focus
You will want to head to Camp Snoopy first and break up some of the thrill rides throughout the day.
One thing we really like about this park is that there are thrill rides and low thrill rides in every area. Making it perfect for a family to stay together and enjoy the park.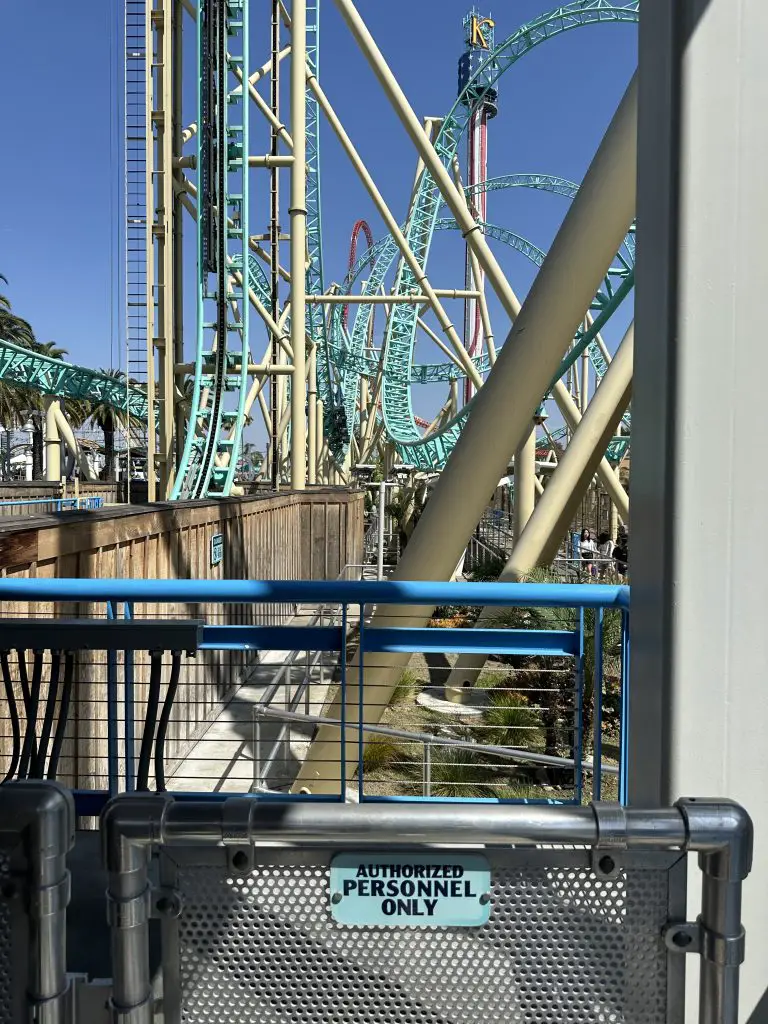 Rides at Knott's Berry Farm
We've put together a list of the most noteworthy rides at Knott's Berry Farm. There are 40 Rides and attractions ranging from low thrill to aggressive thrill throughout the park, and while we covered most of them in the flow of the park, we will list the other rides in each area we think you should definitely add to your list.
Camp Snoopy
For adults, this area has a lot of height restrictions the other way, where you are way too tall for rides.
Shows
Character Meet and Greet
Sierra Sidewinder
Kiddi Drop Tower
Huff and Puff
Balloon Race
Boardwalk
Xcelerator
Super Scream – was the tallest in the US
Hangtime
Knott's bear-y tales Ride

Tribute to an older ride called berry tales

Coast Rider
Sky Cabin – Tower with the K at the top
Carnival Games
Fiesta Village
Jaguar – Great Family coaster
Hat Dance
MonteZOOMas Revenge – Under Construction
Sol Spin
La Revolucion
Ghost Town
Ghost Rider – Wooden Coaster
Pony Express
Silver Bullet
Timber Mountain Log Ride – Water ride
Calico River Rapids – Water ride
Calico Mine Ride – Not a crazy thrill ride. Very much so, a slow train ride through the mines. With lots of story and theming. Does need a few animatronics updated
For full ride breakdown, download the Free Knott's Berry Farm App.
Suggested Park Ride Order
A lot of the big thrill coasters are scattered throughout the park, making it really easy to jump on a thrill ride at any time when you are in the park.
We like to do the thrill rides and must-dos first thing so we don't run into them being down or over-crowded later in the day.
Here is the ideal ride order at Knott's Berry Farm
Big rides first

Xcelerator
HangTime
GhostRider
Silver Bullet
Sierra Sidewinder
Timber Mountain Log Ride (save for the afternoon on a hot day)

Other thrills in the afternoon

Knott's Bear-y Tales – interactive dark ride
Pony Express
Coast Rider
Wipeout
Calico River Rapids
Calico Mine Ride
Jaguar
La Revolucion
Must have food at Knott's Berry Farm
Food at Knotts Berry Farm
For theme park food, Knott's does a pretty good job. Disney will always take the cake on food in theme parks, but if we take them out of the equation, Knott's Berry is definitely a great food theme park.
They have traditional fast food chain restaurants like Johnny Rockets and Panda Express, but if you are looking for unique good food, you will find it throughout the park.
Here are a few top tips for the best food in Knott's Berry Park.
Brunch In California Marketplace
One, we do not have something for it Brunch. We got to the park a little late since we flew in and haven't been able to grab a brunch item.
But stop by the Farm Bakery for a warmed cinnamon roll and a coffee in the morning.
Lunch in Knott's Berry Farm
Lunch is a must in Fiesta Village. There are multiple spots to grab burritos and tacos at Baja Taqueria and Casa California. We've heard the steak tacos are the best at Baja. We got a burrito bowl with queso and hot sauce at Casa California, and it was amazing.
Ghost Town Grill is also a great option. They have a buffalo chicken fiesta salad that looked delicious.
Snacks around Knott's
Ghost town grub it's a newer food location that has funnel cake and other baked goodies.
The second snack spot is at Miners Mac & Spuds for the mac and cheese bread bowl. While yes this is a heavy snack, you can also get baked potatoes.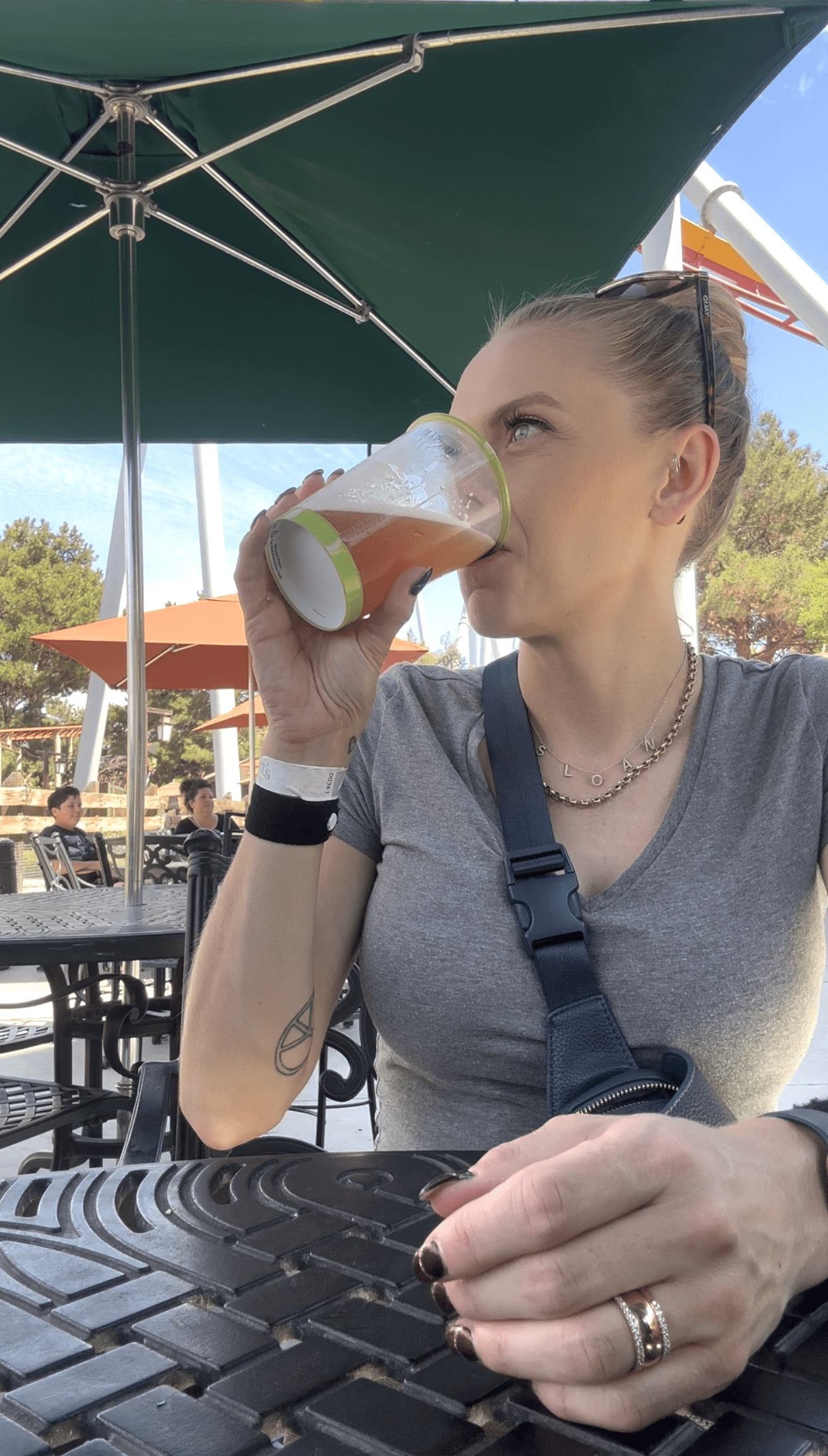 Knott's Adult Drinks
Calico Saloon in Ghost Town
All the unique boysenberry-themed adult cocktails. These are switched out often, so you will want to try out whatever the special at the time is.
We had a boysenberry blonde that was very delicious and did not overpower the beer.
Cantina Del Sur in Fiesta Village
Margaritas and beers, this is where we got our margarita flight. There is a cute little spot to sit and relax while you enjoy your margaritas.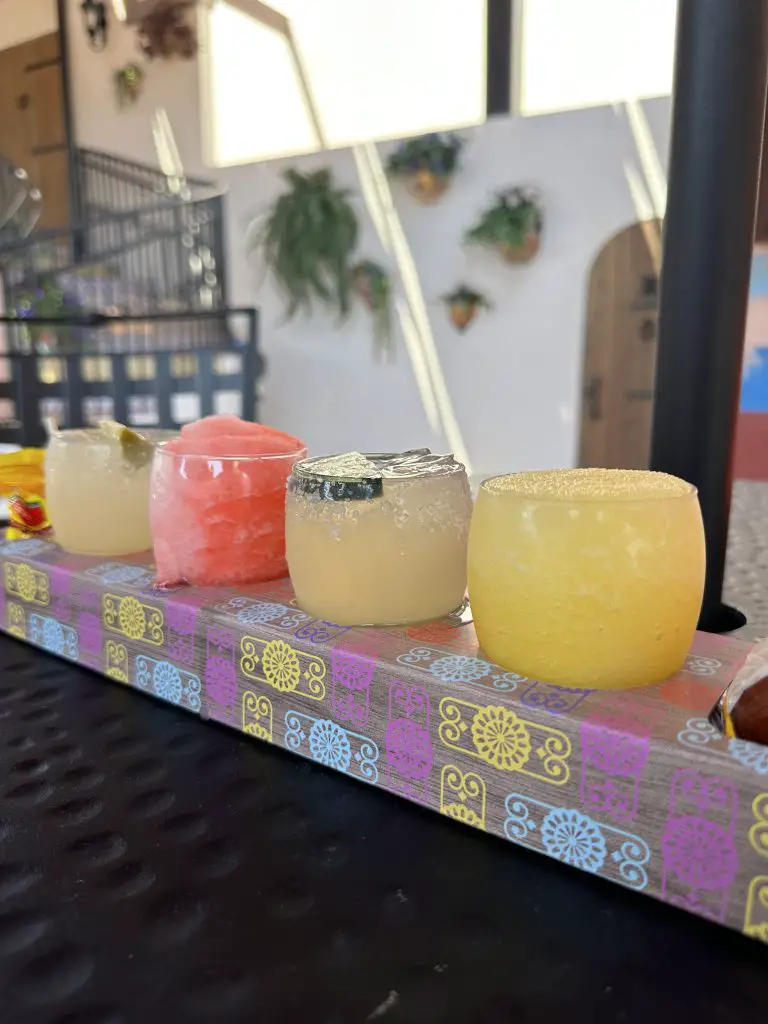 Dinner in Knott's Berry Farm
California Marketplace for dinner is a must at Mrs. Knott's Chicken Dinner Restaurant. You can either grab chicken to go or sit down at the restaurant and enjoy the world-famous fried chicken dinner.
I will note you will have crispier chicken if you go to the restaurant, or you must eat your chicken immediately if you get it to go.
Mitchell and I shared the chicken dinner; it was more than enough food.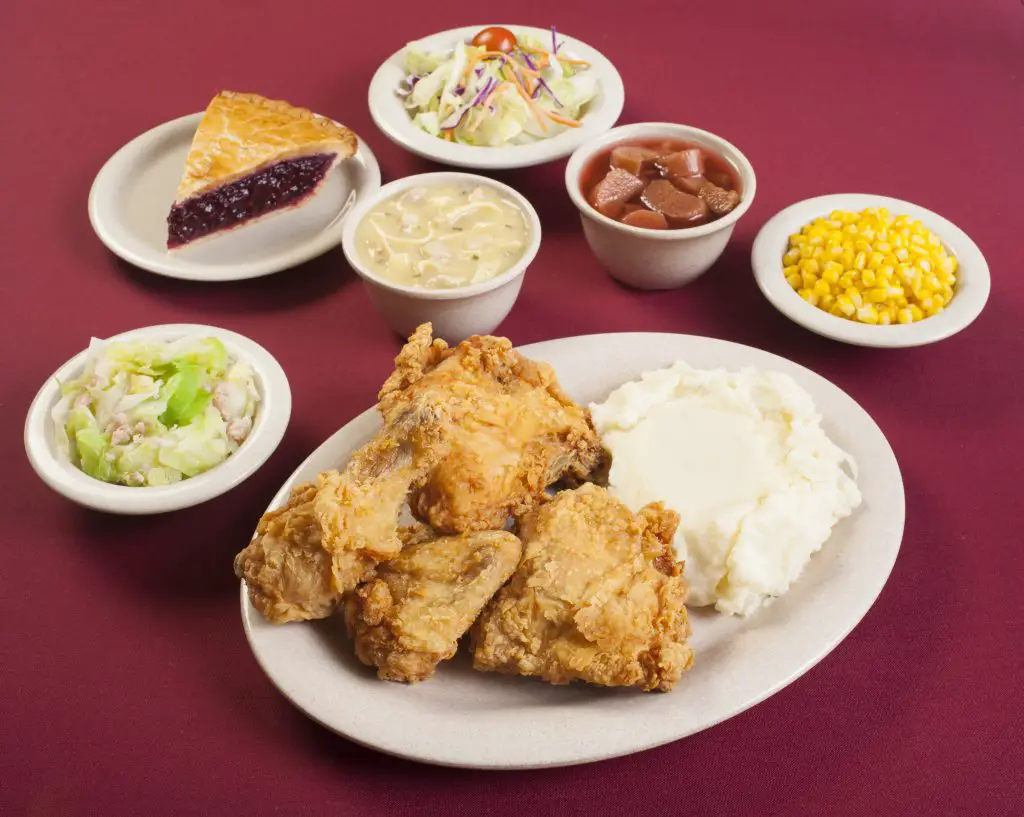 Lands in Knott's Berry Farm
There are four lands in Knott's Berry Farm, with 40 rides, 36 different food and drink locations, and over 21 theaters and attractions.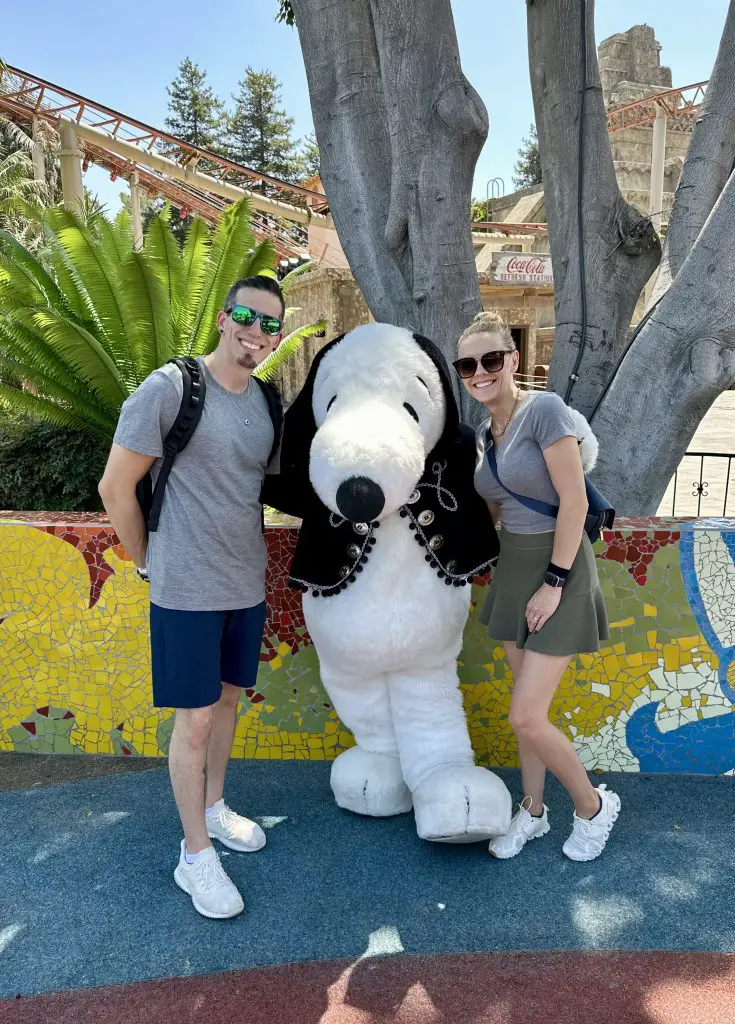 Camp Snoopy
Camp Snoopy is designed for kids but also for the entire family. Lots of shade, very cute to walk around and look at, and it has multiple rides and attractions for little kids.
There are little waterfalls and streams and flowers all around this area with lots of shade. If you are looking to put a sleepy child down for a nap, this is a great spot to stroll.
The shows, rides, and characters make this area best for kids.
The show is super cute, great for kids or silly adults, and has many of the Peanut friends and Snoopy.
Besides that, you can see Charlie Brown, Snoopy & the Peanut Friends, like Pig Pen and Sally, for meet and greets around the area and by the theater after the show.
The merchandise in this area is absolutely adorable, and we ended up getting our daughter a cute snoopy dress and Belle the girl snoopy as a lovie.
Boardwalk
Once themed to the roaring 20s, this renamed spot brings the boardwalk-style theme park to the middle of California. It plays beach music and has lots of boardwalk-style games you can play.
The newest ride in this area is Knott's Bear-y Tales, Return to the Fair, which opened in 2019. The original was here from 75-86, and there is a little hat tip to that ride on the back of the water tower that faces the ride queue.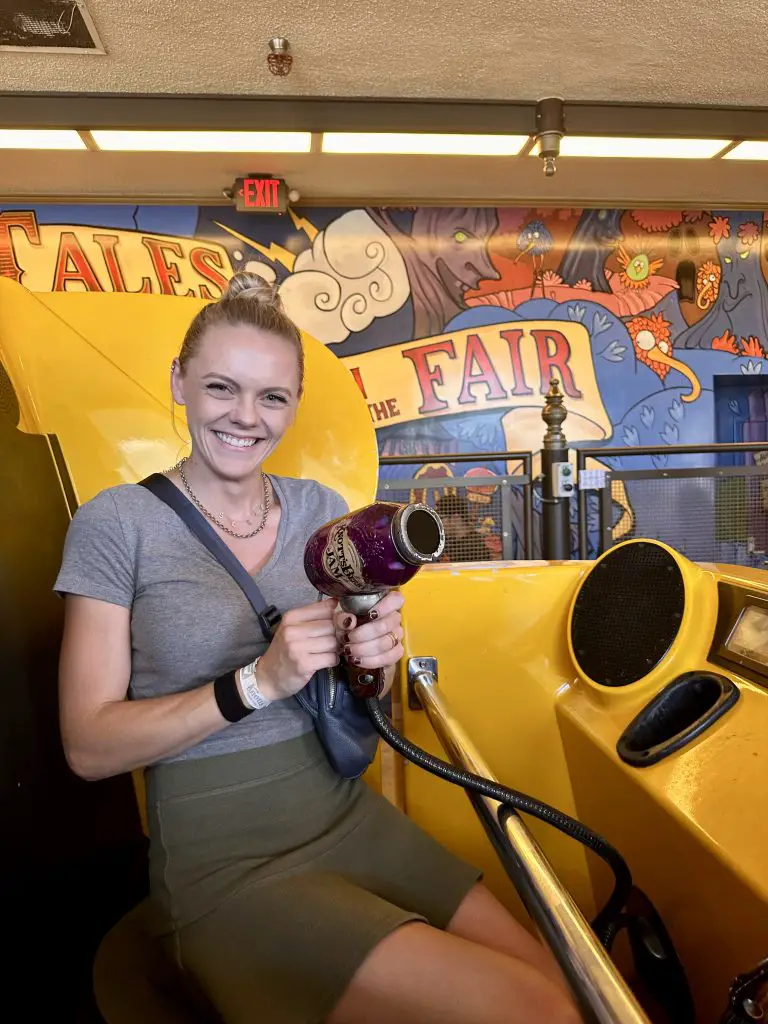 This is a shooter-style game where you shoot wolves and pies all around the Fair. It is a longer ride and could use a small update on the intro so that you know what you are doing.
You are at the Fair, and there are lots of pies and bad coyotes trying to steal your pies. You shoot jam at them and the pies with your Jam gun with a pullback shooter with a berry string.
Think swiper, no swiping.
Don't forget to grab a sea salt caramel iced coffee at Charleston Coffee and listen to the music when you ring the doorbell in Charleston Square.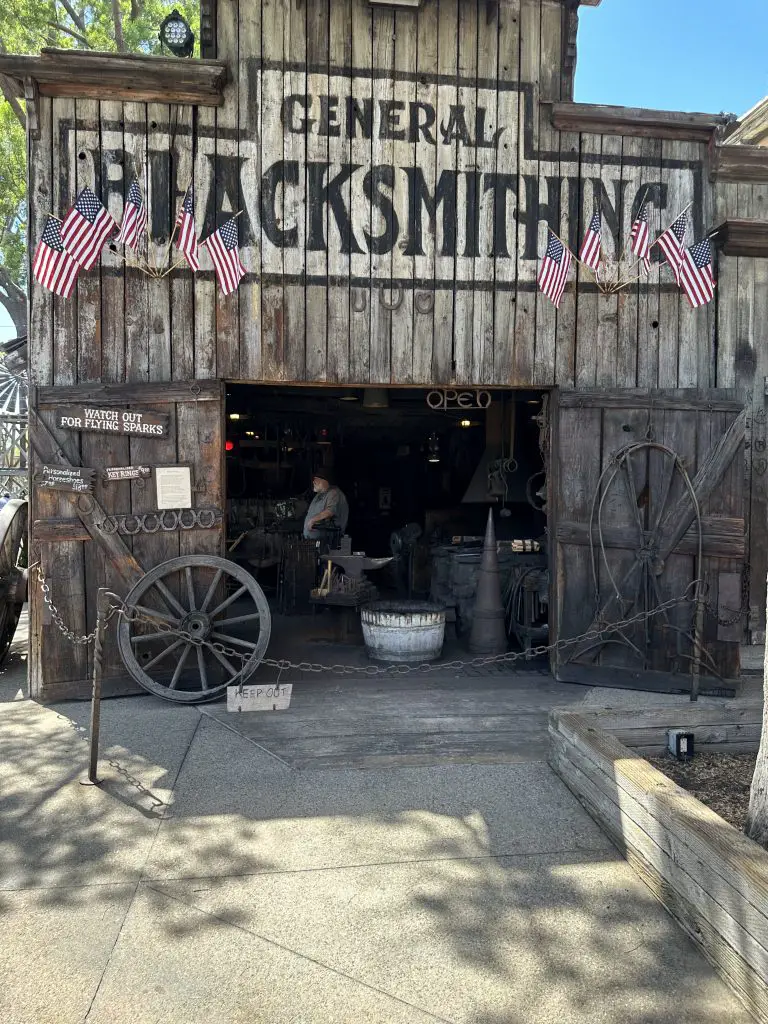 Ghost Town
As the Largest land and heart of the park, Ghost Town is where you will find Calico Saloon and rides like Ghostrider the wood rollercoaster in the park.
There are live stables that not many people notice, with animals you can pet, a beating heart in one of the graves at the cemetery and Sad Eye Joe who is in a jail cell tucked behind one of the buildings.
If you find that Sad Eye Joe is awake he will talk to you making it a fun interactive spot.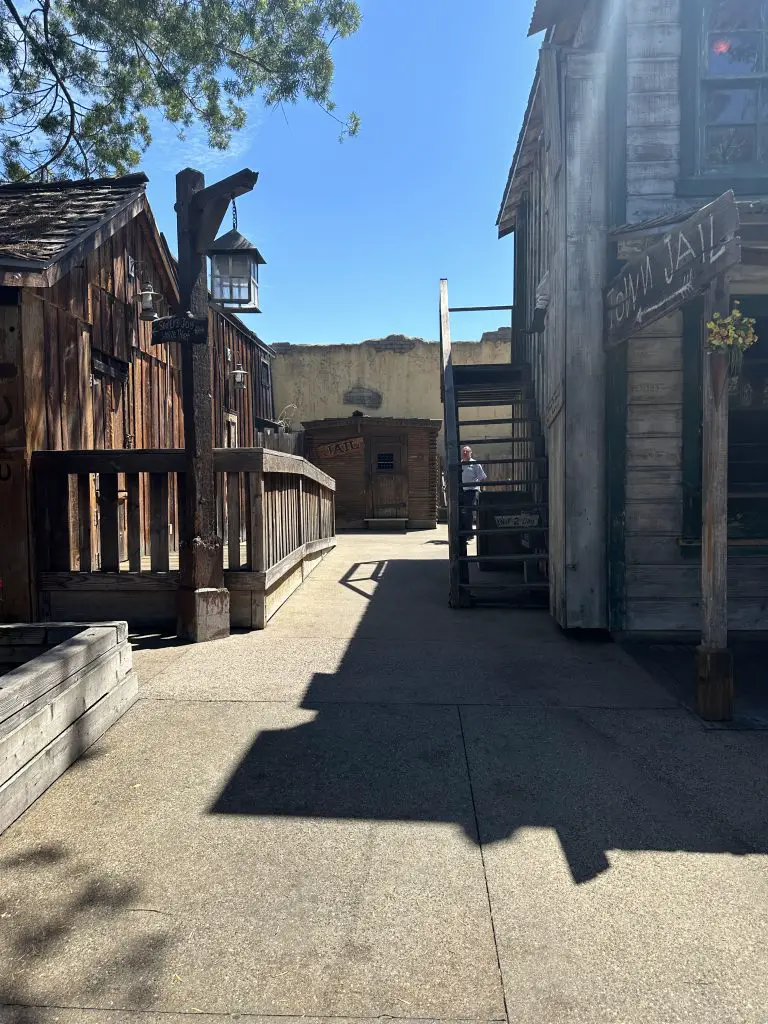 Ghost Town has a few food and drink locations you should check out.
As we mentioned Calico Saloon is a fun spot to stop for a pretzel and a specialty boysenberry alcoholic beverage. There are a few non-alcoholic options as well.
Calico has seating upstairs that not a lot of people know about making it an easy spot to escape the heat and crowds.
Ghost Town Grub is one of the newer spots in Ghost Town and has fun baked good like funnel cake and more.
Ghost Town Grill and Miners Mac & Spuds are great spots to stop for a snack or even food in this area.
It has been a little remodeled but still keeps the authentic feel.
We found lots of spots tucked away where you could take pictures or walk around and take a moment to slow down. If you are looking for Instagram-able photo opportunities, this was an amazing spot.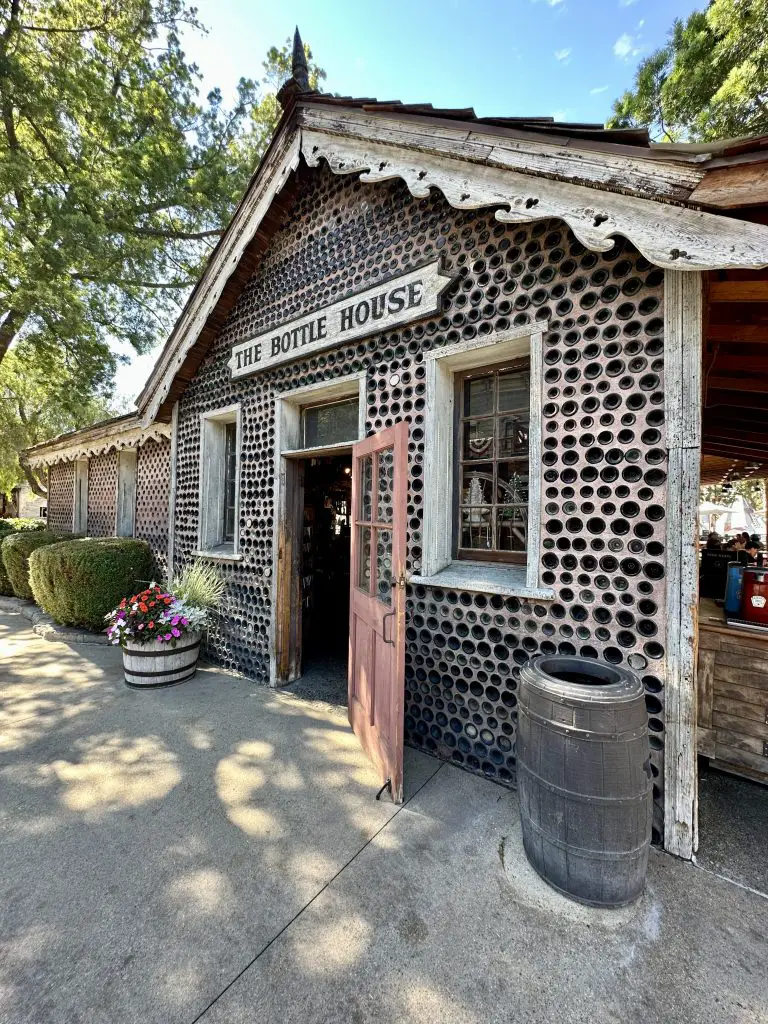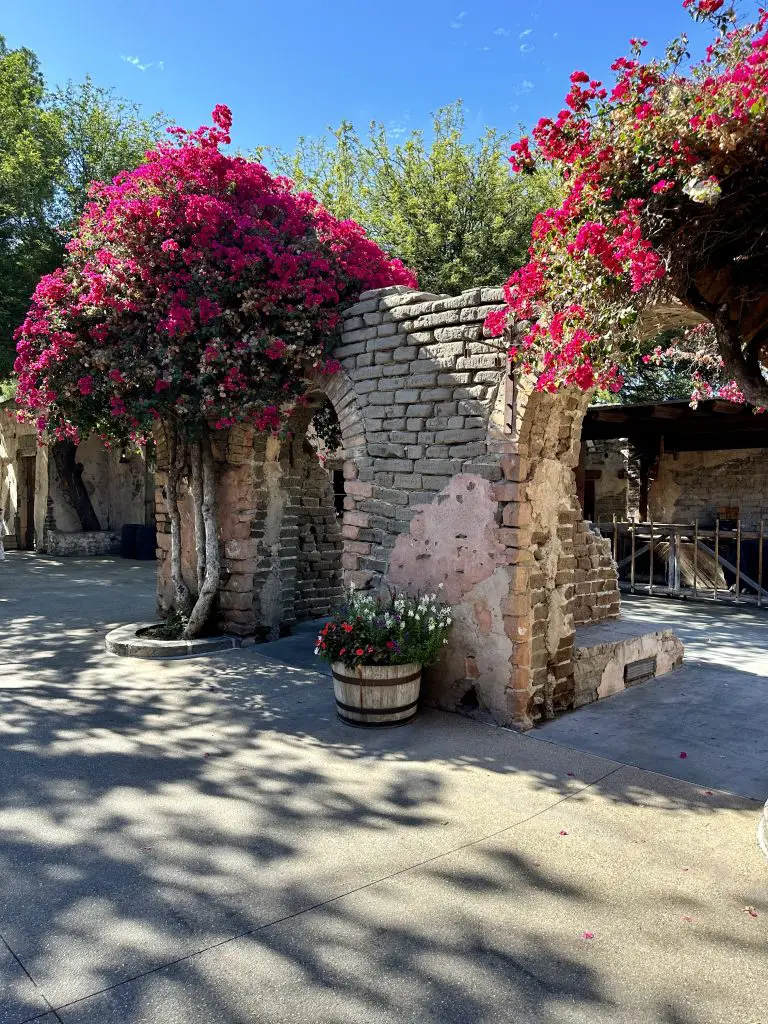 Fiesta Village
The newest land at Knott's Berry Farm. The new Fiesta village has a few updates since it opened, and has LOTS of savory food
Best Food

Cantina Del Sur

Margarita flight (4 margaritas, frozen or Rocks)

Casa California

Chipotle or Qudoba Style

burritos, tacos, etc.

And sweet treats

Baja Taqueria

Tacos

Baja Birria Tacos

Papas Mexicanas

Loaded Fries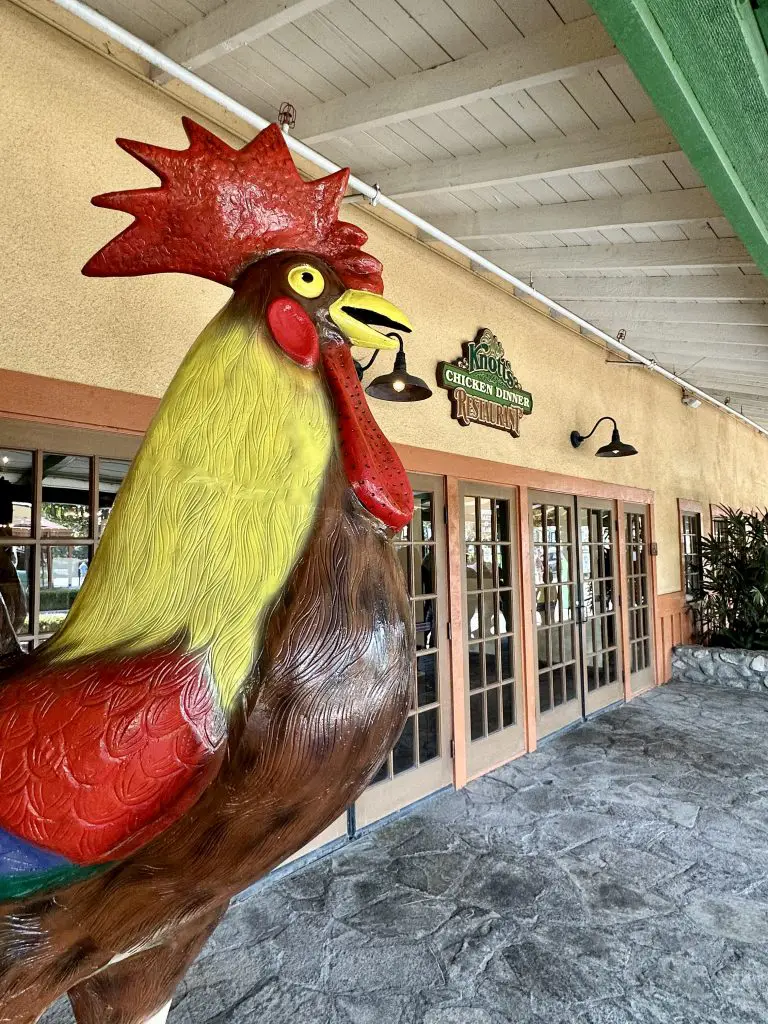 California Market 
Mrs. Knott's Chicken dinner Restaurant
Hours
Open Daily from 11:00 am to 9:00 pm
Wait until the park closes on an early night to head over for dinner. We didn't want a full restaurant meal to get in the way of our park day.
What to order
Fried Chicken Dinners
Mac n Cheese
Biscuits and jam
Boysenberry Pie
Side note: Highly suggest Mobile order fried chicken and sides.
Farm Bakery
What to order
Cinnomon Roll
S'mores Brownie
Blondie
PB&J cookie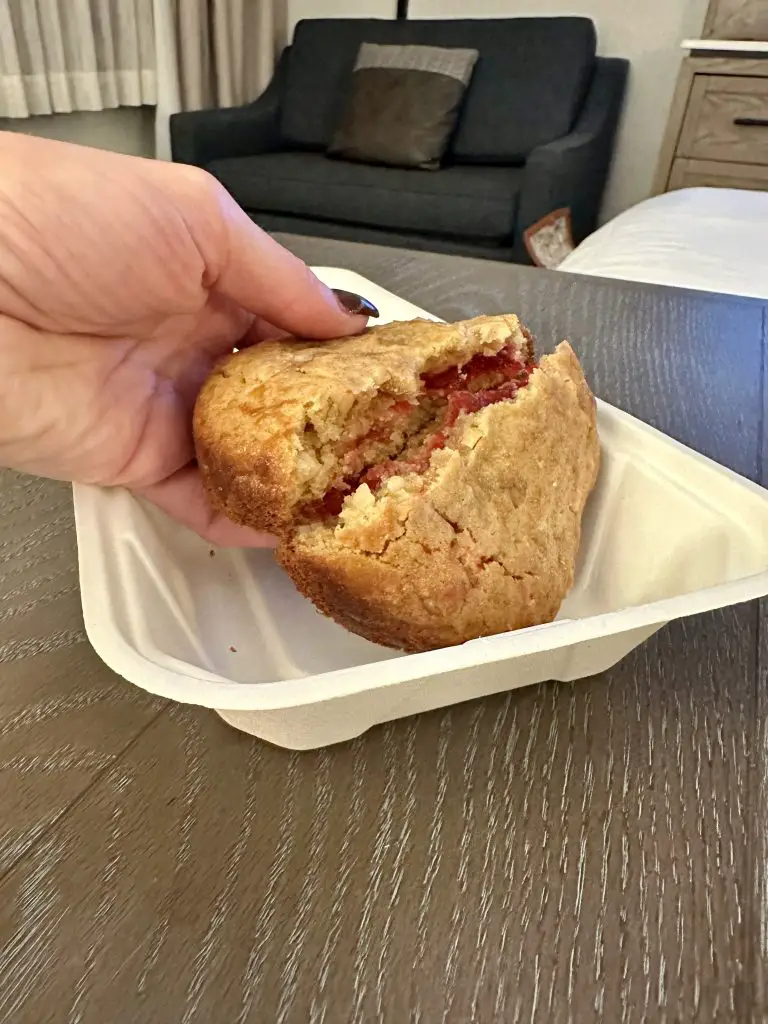 History Behind America's FIRST Theme Park and More Fun Facts
Fun Facts About Knott's Berry Farm
Before you enter the farm, you can visit Virginia's gift shop that pays tribute to Walters' daughter Virginia and her card table of knick-knacks. Now it's full of Christmas decor, Halloweentown homes, mini-figures, and other knick-knacks.
1968 started charging admission $.25
Disney opened in 1955 and charged $1 for admission
57 acres
40 rides and attractions
For many years, Knott's Berry Farm was recognized as the first and received numerous accolades as a theme park for its rides.
What makes Montezoomas Revenge revenge a rare and unique roller coaster?
Home to the first ever launch coaster, it went 0-60 in 3 seconds, which nowadays is not a lot, but for its time, that was something never seen before.
Hangtime (aka boomerang, corkscrew) First inversion was at Knott's Berry Farm.
Supreme Scream held the tallest drop ride in California for a very long time until now. Magic Mountain takes the cake with Lex Luther's plunge.
Calico Mine Co is the best hat tip to the mine workers.
In 1997 Disney almost bought Knott's. They were going to turn it into Disney's America and theme it all around America. I'm imagining an American Epcot lol.
The Knott family didn't want the Knott family history to leave the park and went against selling to Disney.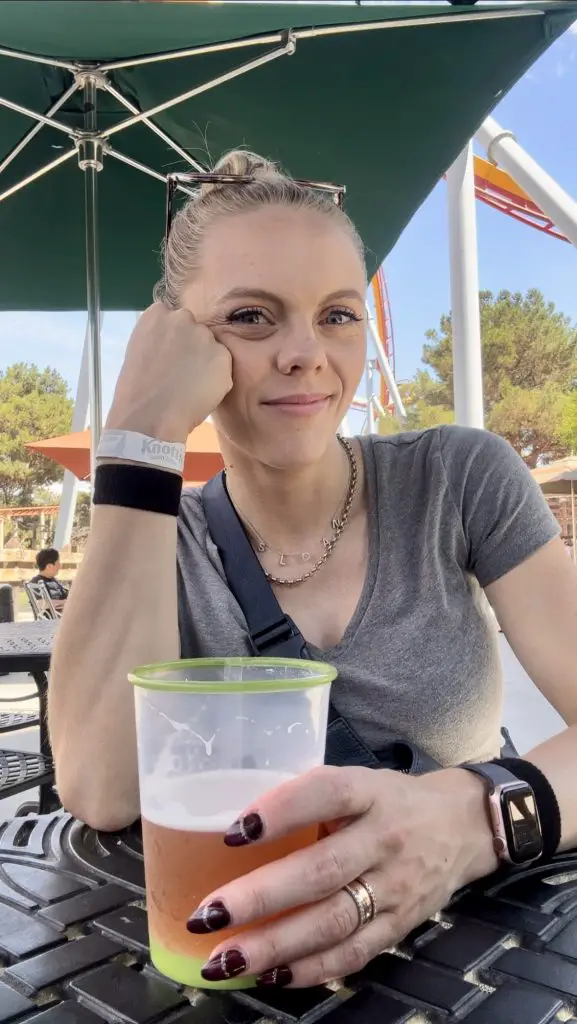 Everything about Fast Lane
Now for the Fast Lane wristbands!
If you wait to buy your pass until you get to the park that is totally ok, but you will want to get it right away.
We think it's a great idea, especially at a smaller park, to wait to purchase your pass or upgrade your passes until you are at the park and get a feel for crowds.
If you were at Disney or Universal you want to do everything before you get there, to avoid not taking full advantage of the perks and missing out on the park once it opens.
What is the Knott's Berry Fast Lane Pass
The fast lane works just like you imagine without complication. They are a wrist band that you purchase that gives you special access to a quicker line to get on a ride.
Where can you purchase a band?
Before you enter the theme park, after you've gone through security, you can purchase a fast lane from the ticket booth. If you are comfortable using the phone and their website, you can purchase the pass through the website and pick up your pass at one of the pick up stations.
Where can you pick up your Knott's Fast Lane band
The Fast Lane band can be picked up in a few spots within the park. My favorite spot to pick it up is inside the general store in Ghost Town.
You can also grab them in the following spots
Fast Lane Booth at the front entrance
General Store
Guest Services
Cordy's Corner
Fiesta Mercado
How does the Knott's Fast Lane Pass work
Unlike Disney, the Knott's Fast Lane Pass is a wristband that you wear and show to an attendant within the fast pass queue line. No need to book rides, or have to manage an app.
All you need to do is jump in the fast pass queue line for whatever ride you want to do, and you are good to go. If you want to reride that particular ride, you will have to go through the exit and jump back into line again but for the most part we waited around 5-10 minutes max for a ride during our visit.
Where are each of the Fast Lane entrances at Knott's Berry Farm
Most of the fast lane queue lines are near the exits to the rides, a few of them were located near the general entrance. It also seemed like there were a lot of easy to read signs near the rides.
What if something happens to my band
We didn't have any issues with our bands throughout the day but were told that if anything happened to head back to one of the original pick-up locations, and they would get everything squared away.
Is Fast Lane at Knott's Berry Farm worth it
We completely think the Fast Lane Pass at Knott's Berry Farm is completely worth it. Everytime no questions asked. We were on an early close day and wanted to make sure we did everything we wanted to. If you have two park days planned, you would probably also have enough time, but we still like to bypass lines no matter what.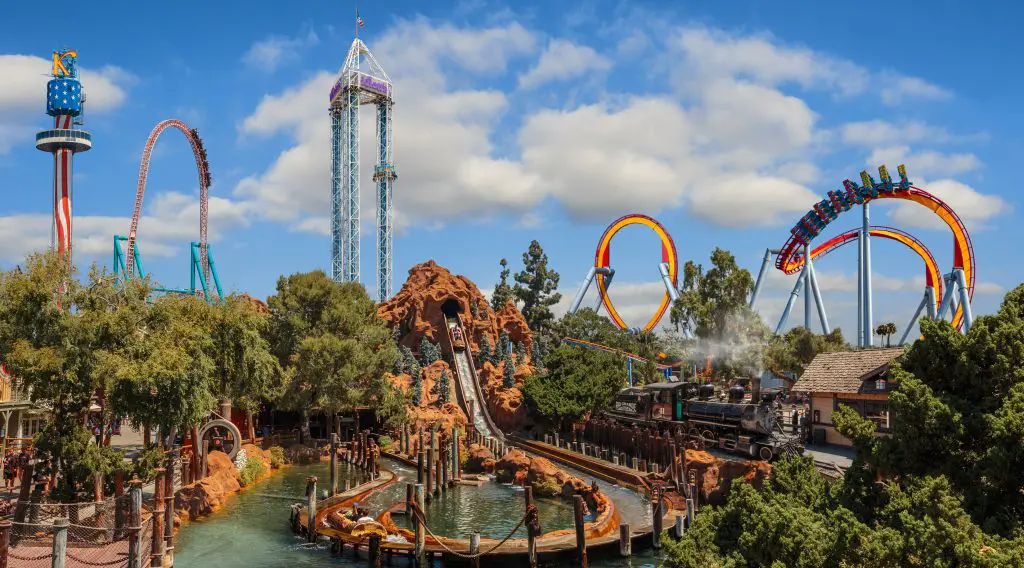 Frequently Asked Questions about Knott's Berry Farm
Is Knott's cheaper than Disney Resort?
Yes, a day pass to Knott's Berry Farm is cheaper than a day pass to Disneyland and Disney's California Adventure.
How many hours do you need at Knott's Berry Farm?
If you want to experience everything Knott's Berry Farm has to offer a full day (about 8 hours) with Fast Lane will give you a great experience but still miss out on the vast intricacies of the park. Especially, on a short day you will want to prioritize what is most important to you.
Two days at Knott's Berry Park would be enough time to experience everything.
Can you bring food into Knott's Berry Farm?
You can bring a small amount of food and snacks to Knott's Berry Farm.
Is Knott's Berry Farm scarier than Six Flags Magic Mountain?
Knott's So Scary Farms at Knott's Berry Farm and Fright Fest at Six Flags are similar with scary levels. Depending on the theme of that year will really dictate which park is scarier.
Is Knott's Berry Farm in LA?
Knott's Berry Farm is located in Buena Park near Anaheim or Los Angeles (LA), California.
Knott's Berry Farm Address is 8039 Beach Blvd, Buena Park, CA 90620
Is Knott's Berry Farm worth it?
YES, Knott's Berry Farm is worth it! If you are looking for a family park with a lot of theming, good food, unique drinks, and amazing customer service without Disneyland prices, Knott's Berry Farm is totally worth it. They have many rides for young children and even massive thrill rides for thrill seekers.
Did Knott's Berry Farm invent the Boysenberry?
While Walter Knott's has a massive focus on Boysenberries in his theme park and has carried on with keeping it relivant, Rudolf Boysen a swedish immigrant from Napa Valley is who we have to thank for the invention of Boysenberries.
Did Knott's Berry Farm close?
NO! As of 2023, Knott's Berry Farm is open, there have been many heavy weather days that have caused many of the Southern California theme parks to close due to weather, but for the most park, Knott's Berry Farm is open and amazing!
Does Knott's Berry Farm sell alcohol?
Yes, there are many unique alcoholic beverages at Knott's Berry Farm.
We tried a Boysenberry lemonade, Boysenberry Blonde, and a Margarita Flight. All were absolutely amazing and can be found in many spots throughout the park.
Our favorite spots to stop for drinks were the Saloon in Ghost Town and Cantina Del Sur.
Does Knott's Berry Farm allow refillable water bottles?
Yes, you can bring a water bottle into Knott's Berry Farm
Does Knott's Berry Farm have water refill stations?
Knott's Berry Farm has a lot of water refill stations throughout the park, and they were very easy to refill our water. We also loved grabbing a cup of ice to help cool down and keep our water colder longer.
Does Knott's Berry Farm have fast passes?
Yes, Knott's Berry Farm has Fast Lane passes, and the passes are completely worth it and also VERY easy to use.
When did Knott's Berry Farm open?
Knott's Berry Farm officially opened to the public in the 1920's. The history is hard to pick a specifiic day because it started so organically.
But the first offical admission day was in 1968.
Are Knott's Berry Farm rides open?
Almost all of the Knott's Berry Farm rides are open. There are always a few going through refurbishment or updates, and as of late 2023, Camp Snoopy has two rides coming down to make way for a new ride.
What is Knott's Berry Farm known for?
Knott's Berry Farm is known for its fried chicken and Boysenberry-themed food and drinks.
Knott's Berry Farm to Disneyland?
If you want to make your way from Knott's Berry Farm to Disneyland. Take the CA-91 East, then take the I-5 South towards Santa Ana.
Take exit 110B onto Disneyland Dr. toward Ball Rd. Keep left onto S Disneyland Dr.
Welcome you have arrived at Disneyland.
Where is Knott's Berry Farm parking?
Parking at Knott's Berry Farm is very close, and ranges in price, depending on where you park near the Theme park.
As of 2023
Preferred Parking: $50
General Parking: $30
Hotel Guest Parking: Starting at $15 (available with Hotel Package)
What is Knott's Scary Farm?
Knott's Scary Farm is a yearly event Knott's Berry Farm has during the Fall Season. Scary Farm is celebrating 50 years this year.
This exclusive event is held within the park with scary actors and theming throughout the park. This event is a separate cost from a theme park pass. Once you purchase the event ticket, you are good to go for the event, and no theme park pass is required in addition. 
Season Passes are on sale right now for $95.00 for the rest of 2023 and UNLIMITED visits all of 2024. – Goes up 9/5/2023
Who made Knott's Berry Farm?
Long ago, Walter Knott's opened his theme park that once started after his berry farm and his wife's fried chicken and having to entertain people while they waited.
Who owns Knott's Berry Farm?
Cedar Fair Entertainment Company purchased Knott's Berry Farm in December of 1997.
Why is it called Knott's Berry Farm?
Walter and Cordelia Knott named the theme park after the Berry Farm that started within the park walls. It pays homage to the old roots of the park and fried chicken.
​What are some of the other events at Knott's Berry Farm?
The special events and holiday season bring some of the best events and live music, and family-friendly fun.
Knott's Merry Farm
Knott's Boysenberry Festival
Snoopy's Birthday Celebration
Other Guides
Ultimate Guide to Conquering Theme Park Queues Like a Pro
Top Theme Parks in California for Toddlers