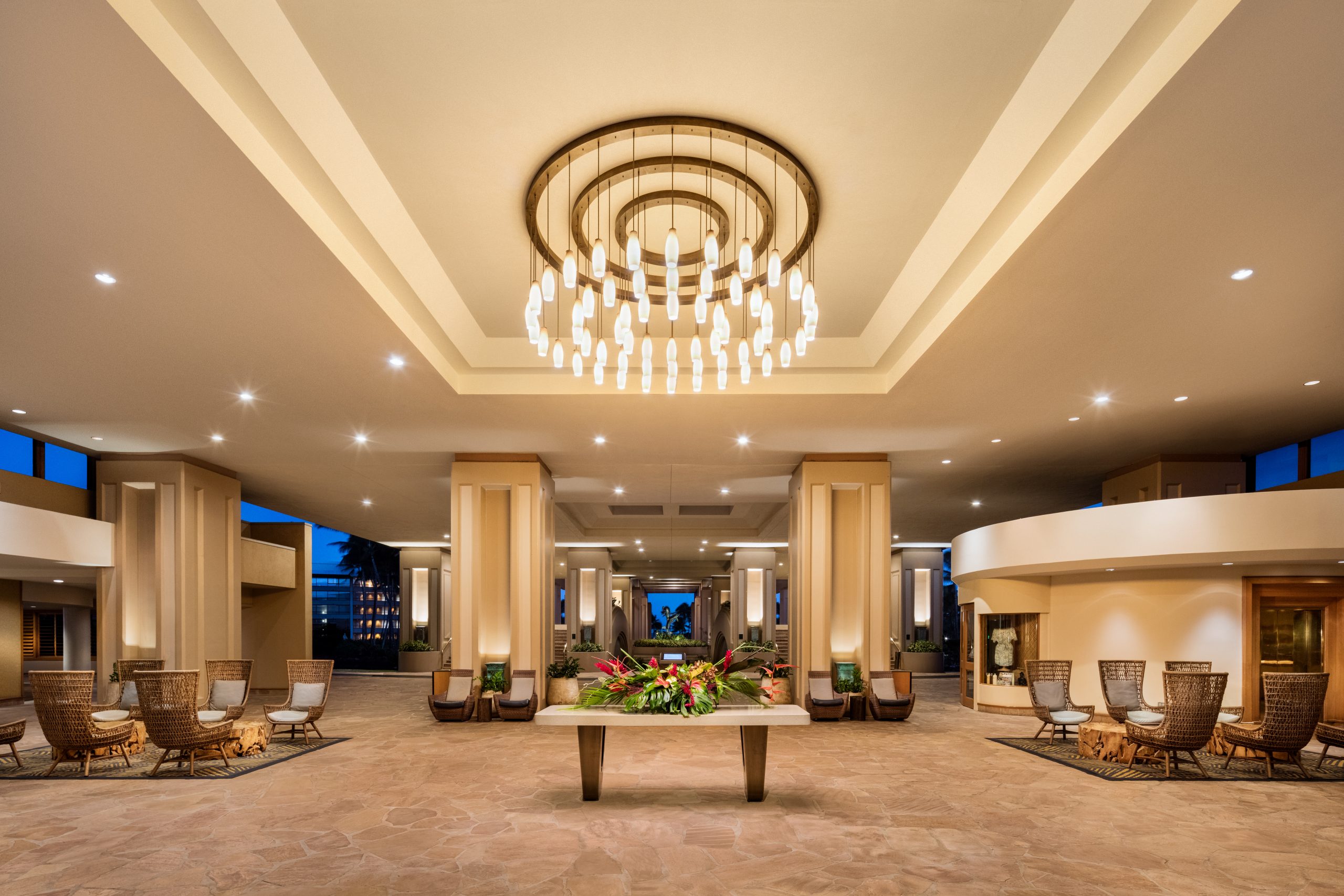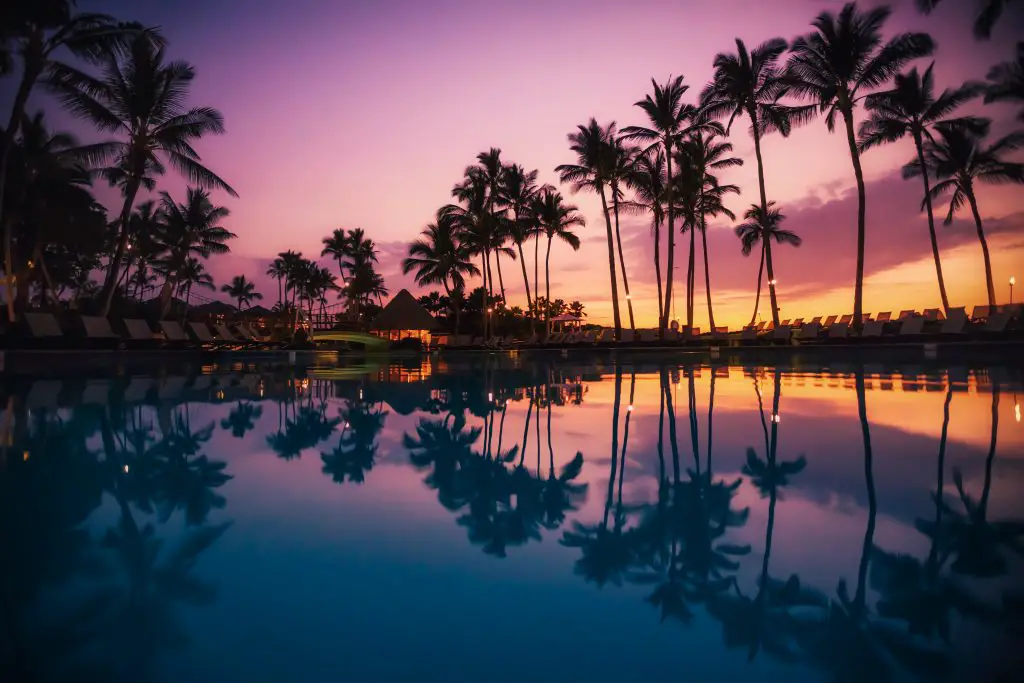 Hilton Waikoloa Village Resort Guide | Hilton Hawaii Big Island
Hilton Waikoloa Village Resort is an oceanfront resort located on the big island of Hawaii. When you fly into Kona international airport, you will notice the black lava rock everywhere, from how the lava flows down the hills before it goes into the ocean. From the sky, you couldn't imagine it to be a perfect romantic getaway or a family-friendly trip, but you would be mistaken. Hilton Waikoloa Village is your stop.
Waikoloa beach Resort is located in Waiulua Bay, a short distance from Anaehoomalu Bay, where you will find King's Shops and Queens Market Place, your closest market, shopping mall, and restaurants.
The staff was great, and the resort was wonderful. This was a very special trip for me since it was my first time in Hawaii, and I was celebrating my 30th birthday.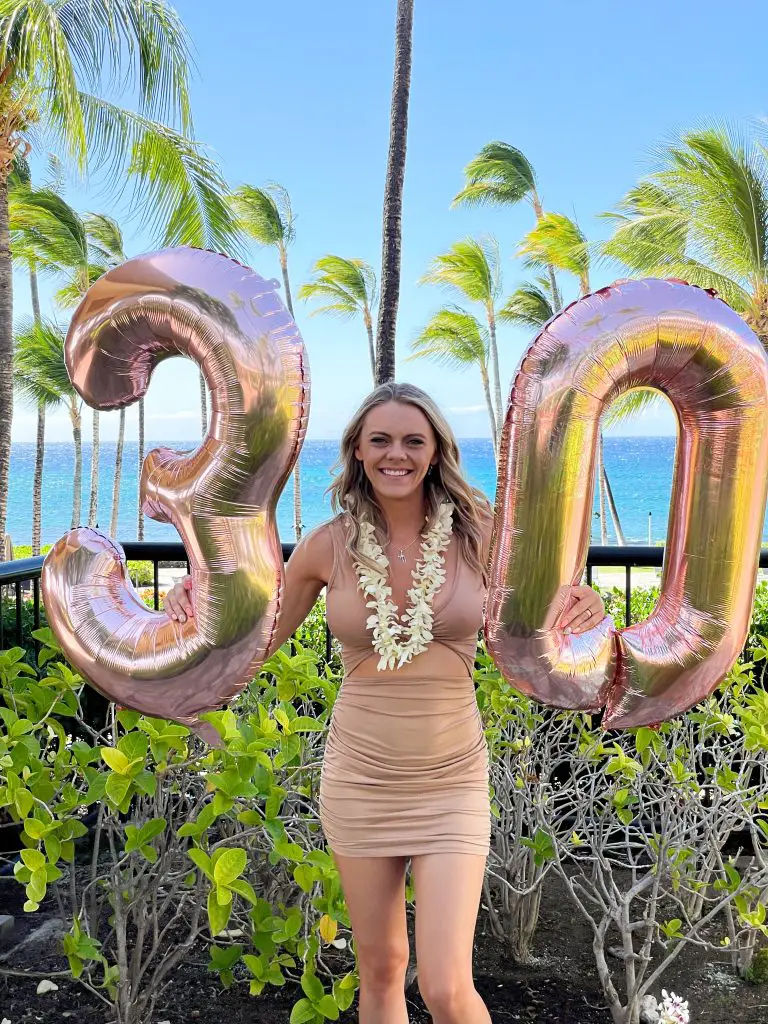 Hilton Waikoloa Village Resort Rooms
Depending on what tower you stay in or what room you are in the tower, you may have an Ocean View, Lagoon View, Golf course view, or resort view.
There are three towers Palace tower, Lagoon tower, and Makai tower. We stayed in the Makai tower with a lagoon and ocean view
The Makai Tower rooms overlook the ocean and a portion of the saltwater lagoon where the dolphin encounter is located. *Hotel in the left side of the photo below overlooking the building with the tan roof. That is where the dolphins are located.
The Lagoon Tower rooms overlook the main saltwater lagoon *in the picture below
Palace Tower overlooks the large grass area on the other side of the resort.
I completely spaced taking a picture of our room while we were there. BUT we stayed in the Makai Tower with an Ocean View, and had a 1 Bedroom Suite with a King Bed. Our room was absolutely wonderful and when we first arrived we received Hawaiian Kukui Nut Leis. They were absolutely beautiful and you actually get these by being a Hilton Honors Member.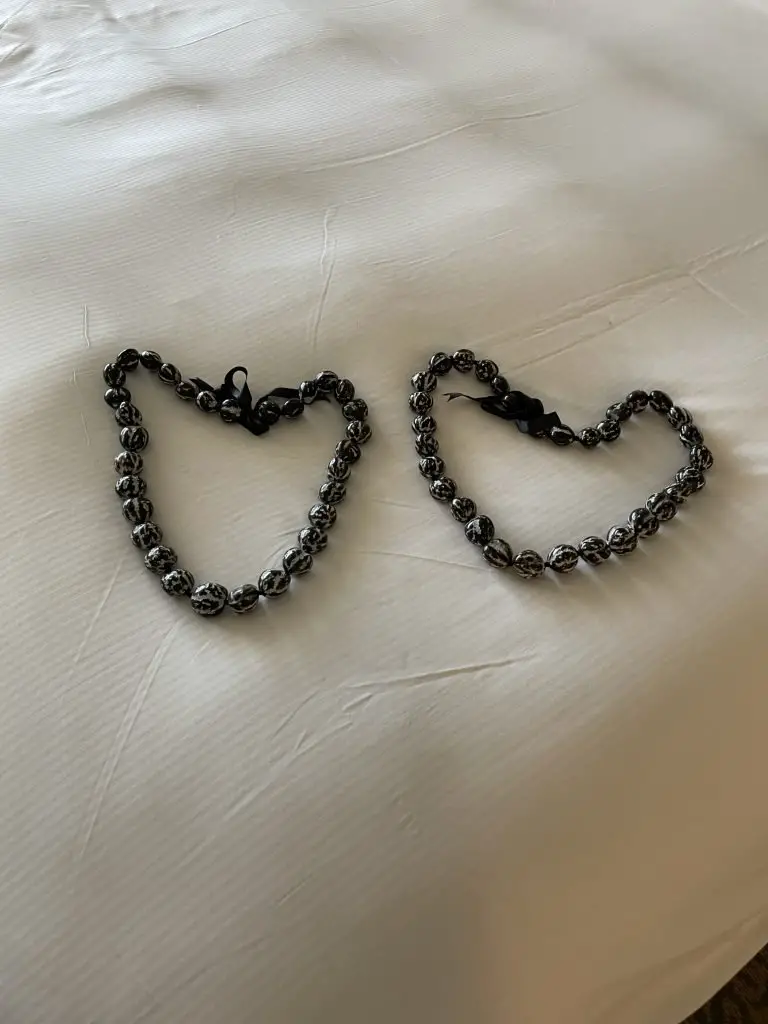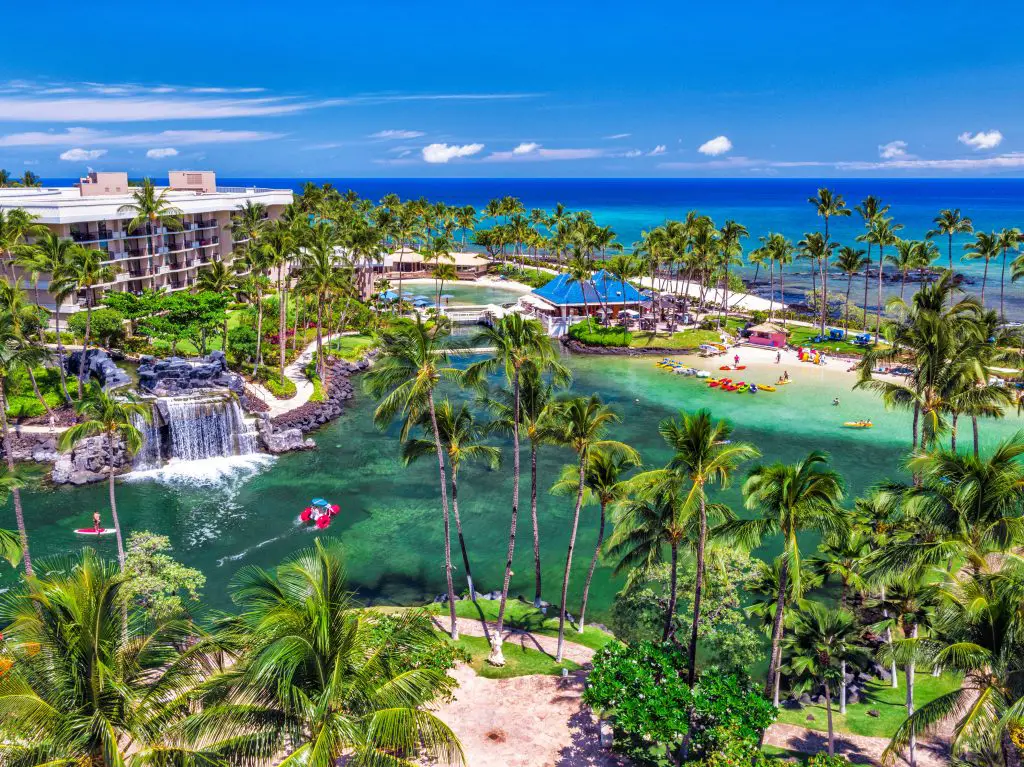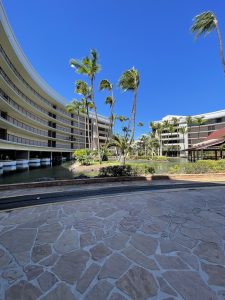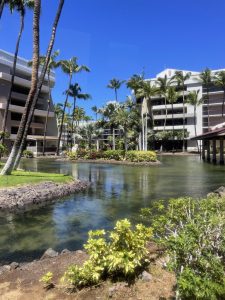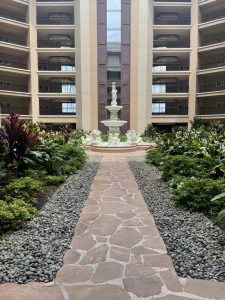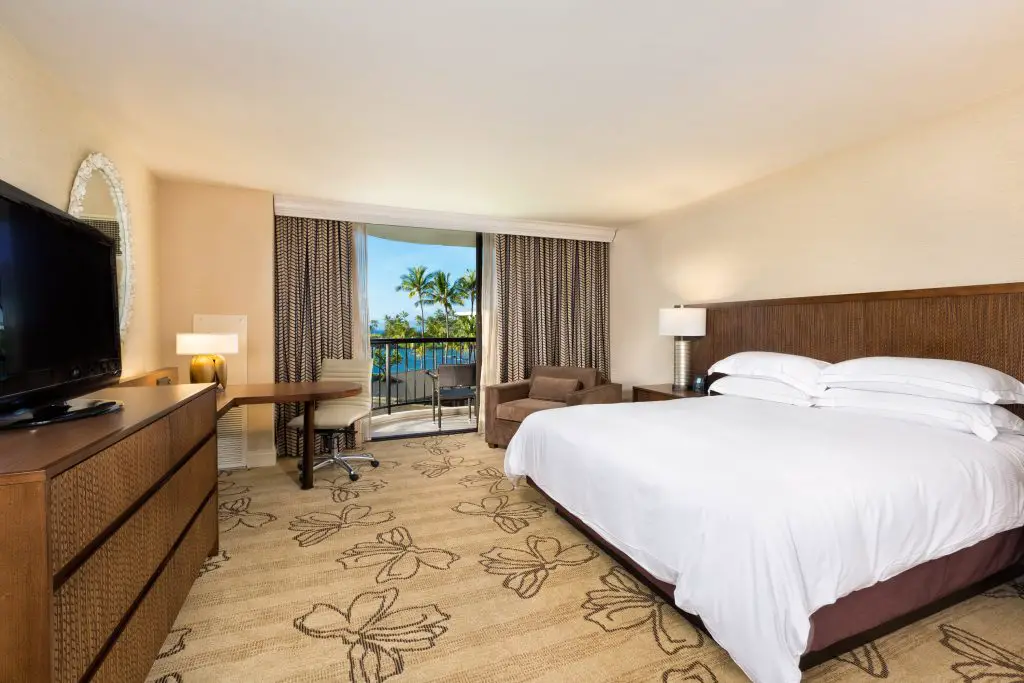 What to do at Hilton Waikoloa Village Resort
World-class Kohala Spa this full-service spa is open 9:00 am – 6:00 pm and offers body treatments, couples massage, prenatal massage, yoga, an adults-only pool, pedicures, etc.
Water Activities and rentals. The 4-acre ocean-fed saltwater lagoon is the perfect spot to feel like you are on the beach. You can rent kayaks, pedal boats, paddleboards, snorkeling gear, or a water trike. Since the saltwater lagoon is connected to the ocean, that does mean there is a potential to see tropical fish and exotic wildlife. While this is their home, please be respectful and stay away from any marine life you see.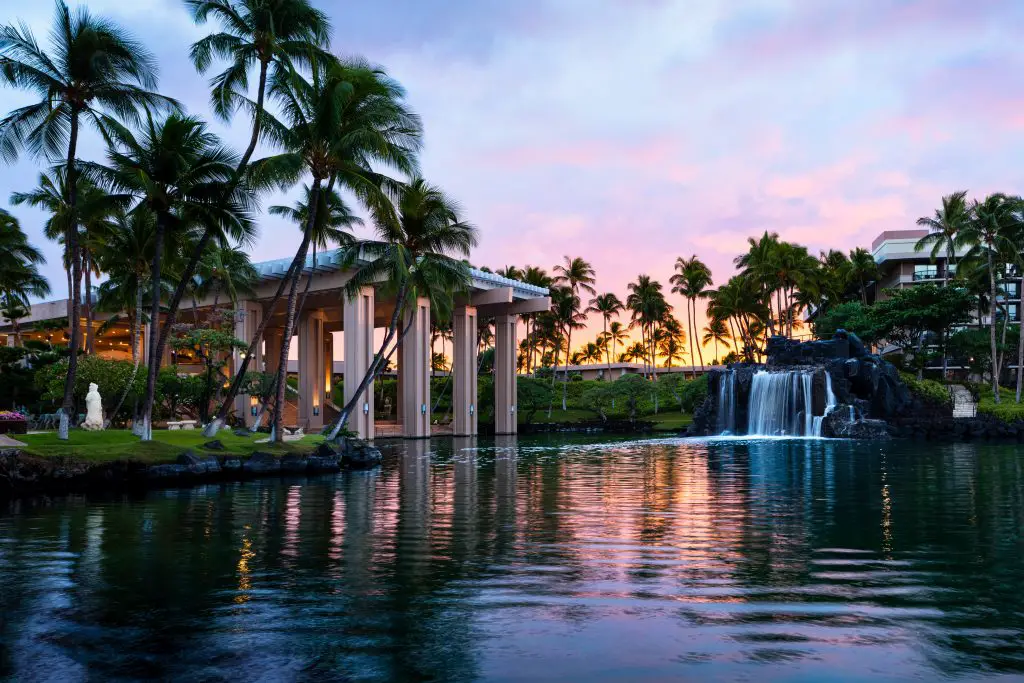 Swimming Pools and Water slides. Hilton Waikoloa has 3 pools and a kid's sand pool that connects to the Kona pool. You can rent cabanas all around the property, depending on where you want to be that day.
Kohala pool has a lazy river and small water slides for toddlers. The ocean tower pool has two kid pools that have slides that feed into a lazy river. Sloan had the most fun going on the slides and had no issue doing it all on her own. We did bring a swim vest for her.
Kona Pool, their largest pool, has a 175-foot waterslide, whirlpools, hot tubs, and a waterfall grotto. Our favorite was walking across the rope bridge every morning to head down to the pool. The kid's pool attached to the Kona pool was very shallow and warm, making it an easy hang-out spot for us. The bottom is sand, so make sure to bring sand toys to hang out and make a castle. The 175-foot water slide does have a height requirement, and there is a lifeguard on staff to watch who is getting on the slide.
Ocean Tower Adults-only pool this one is secluded and has beautiful surroundings. We did not get to experience this pool since we had our daughter on this trip, but next time we visit, we will definitely be taking advantage of the adults-only area.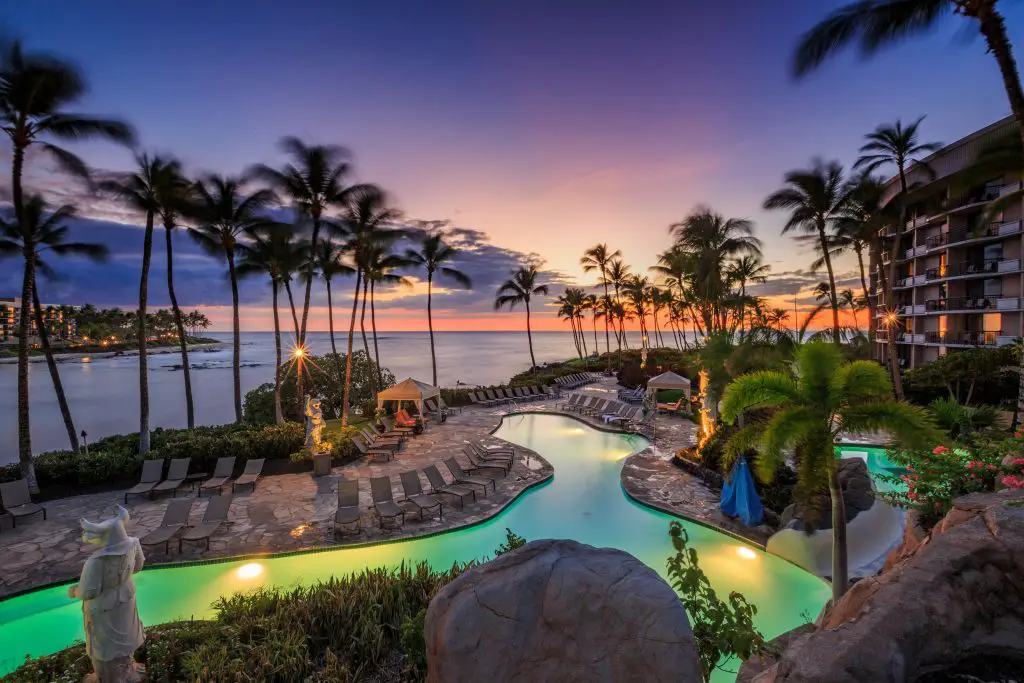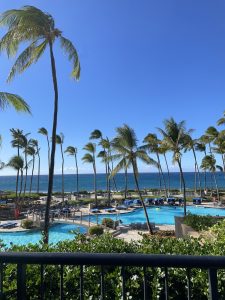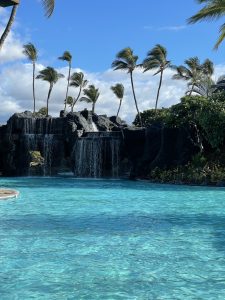 Tennis Courts
Fitness Center
Walking distance to championship golf courses made for
Culture Classes are the perfect way to have fun educating yourself on vacation. They have hula and ukulele classes, flower lei necklaces and kukui bracelet classes, and more.
We made leis and shell necklaces while we were there.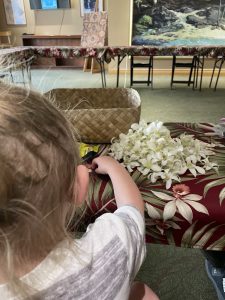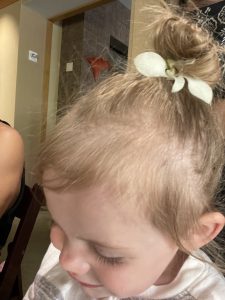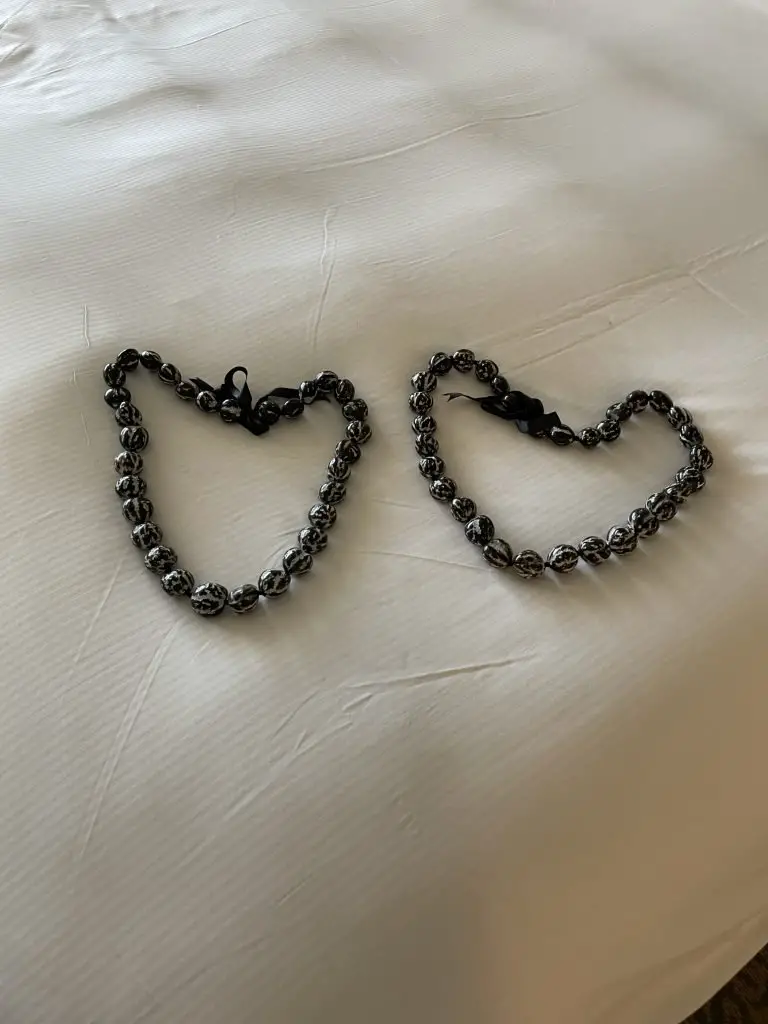 Dolphin Quest Lagoon Hawaii is located on property in the Lagoon area. This is where you can enjoy the dolphin quest experience right at the resort. You do not have to partake in swimming with dolphins.
On this trip for my birthday, I wanted to do something special with my daughter, and we signed up for the wee tots' 15-min dolphin encounter. This was the perfect amount of time to spend with the dolphins and was very reasonably priced. You join a small group while you interact and play with the dolphins. It's roughly 5 min of prep before you get into the water and a solid 10 min in the water with the dolphin. Although this might not seem like a long time, with a small child, this was the perfect amount of time.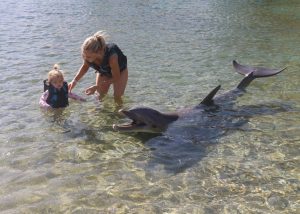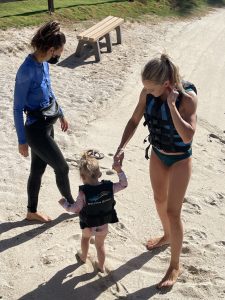 We sat on the grass and watched the dolphins daily during lunch while they swam in the lagoon every day and watch as people swam and the dolphins did tricks. I feel like we got the best of both worlds when we booked the wee tots and sat at lunch every day.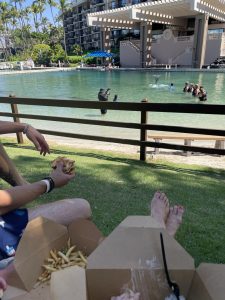 Day passes can be purchased to enjoy Hotel amenities even if you are not a guest of the hotel.
Hilton Waikoloa Village Resort Beach Options
The Hilton beach access does have some tide pools and not a lot of sand and water access. You would need to hang out in the lagoon, or if you want to spend some time on the beach, you will have to take the shuttle to the Marriot and make your way down to the beach there.
The water was warm and a little rough. Between Sloan pooping in her swimsuit and Mitchell getting a rock stuck under his nail, we only lasted an hour, and we were ready to make it back to our hotel. 😂 let's just be honest, sometimes everything isn't as picture perfect as it may seem.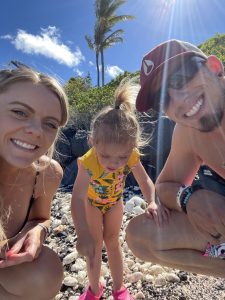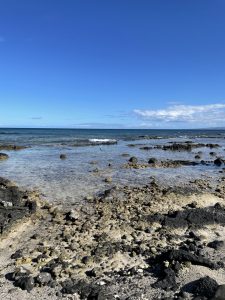 Restaurants on Hilton Waikoloa Village Resort property
There are 8 dining options on-site, and only 2 of them were closed while we were there.
The only issue we ran into was kid-friendly food at the resort.
Nui Italian
Italian on the big island seems odd, but this restaurant had amazing pizza and pasta!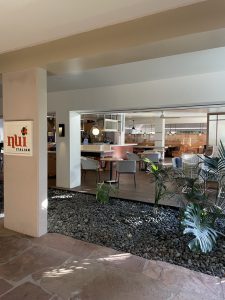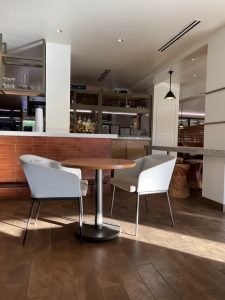 Kona Cafe
The Cafe had fantastic tuna, and we found ourselves here every afternoon for lunch.
Kona Tap Room
Kona has 18 beers on tap and some amazing appetizers.
KPC, or Kamuela provision company
KPC is an upscale steakhouse. Everything we had there was delicious and completely worth every penny. It's located on the water and has stunning views of the sunset from all outside dining spots.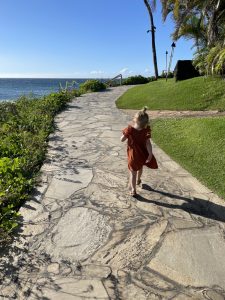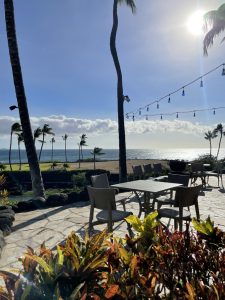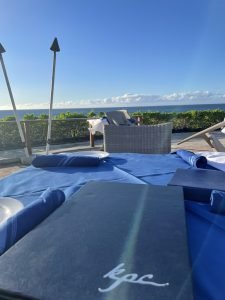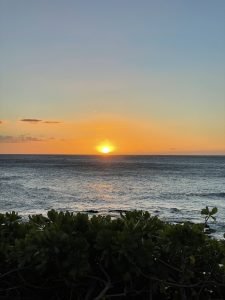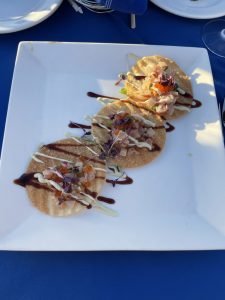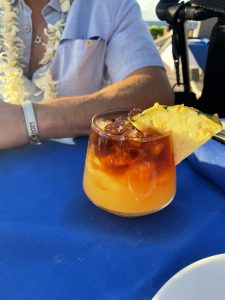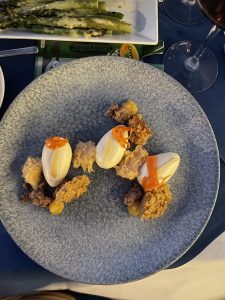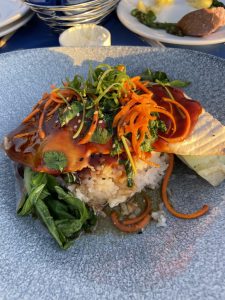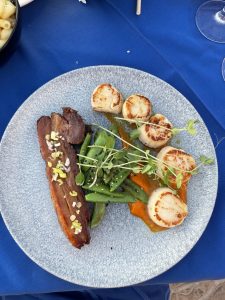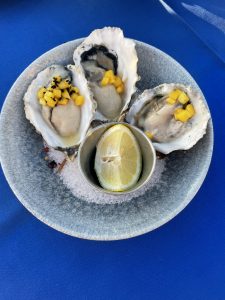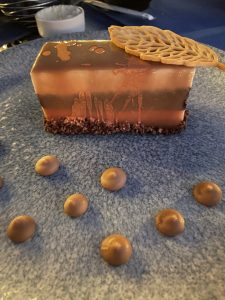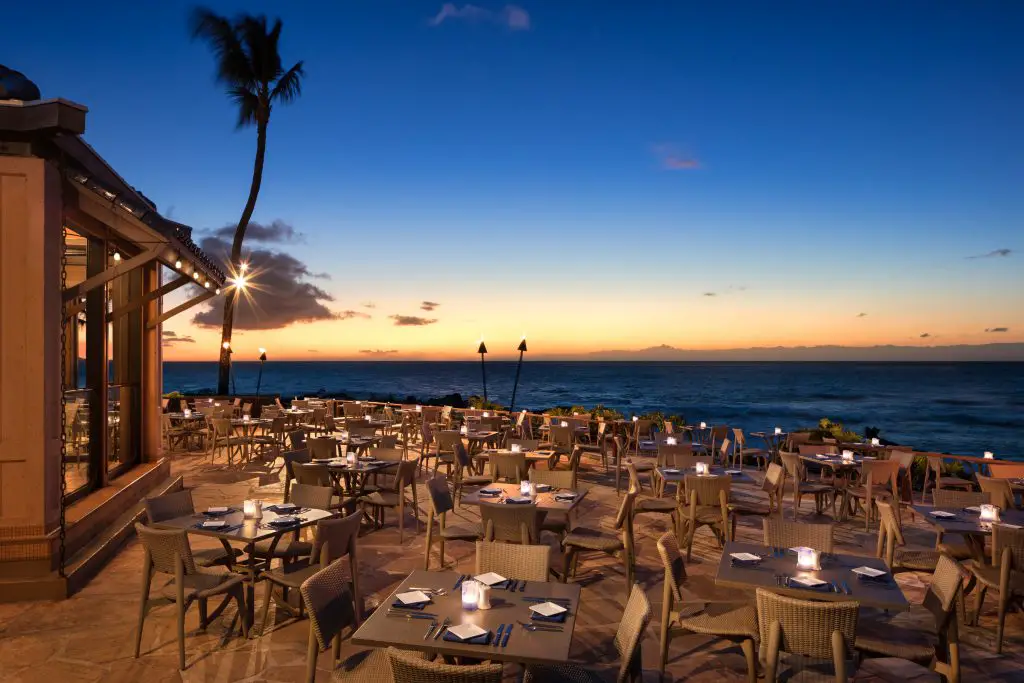 Legends of Hawaii Luau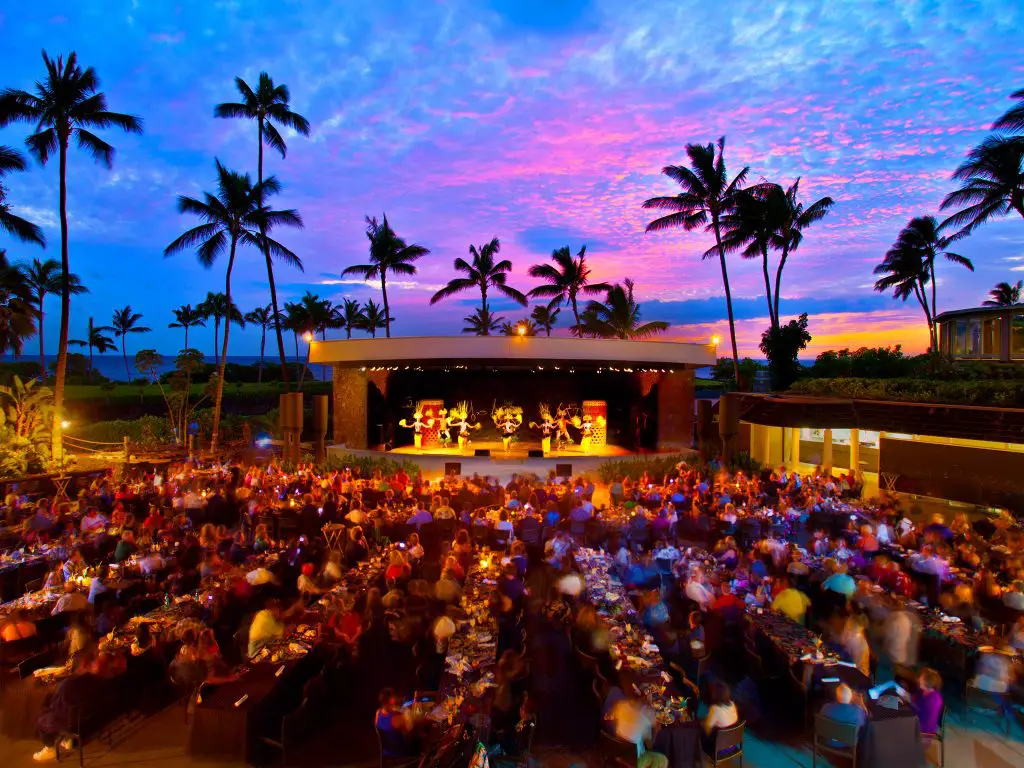 Legends Luau is also a little expensive, and you can head here to read more about the experience. It is well worth the money and voted the best on the island. After watching a short part of the Marriot Luau down the road, DO NOT go anywhere other than Legends of Hawaii Luau, even if you don't stay at the resort.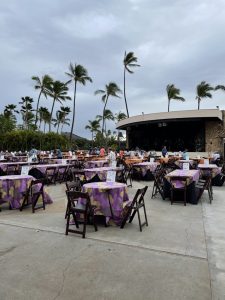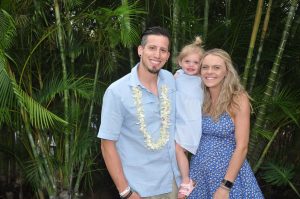 Kona Coffee
Kona coffee is where we went here for breakfast most mornings since it was a little more affordable and the lines were short.
Big Island breakfast.
Big Island didn't have great kids' options, but the food was really great, and if you go early enough, you can see the dolphins in the lagoon when they let them out into the bigger lagoon to swim around.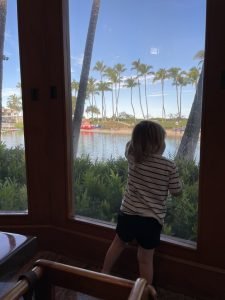 Market place
Market place was closed while we were there, so I cannot say anything about it. The menu was more of a grab-and-go and was right by the big pool at the Makai Tower.
Lagoon Grill
How to get around the resort
The canal boats are the easiest way around the entire resort. You can walk from one end to the other, and it can be quite a trek, but a good way to experience the property and the stunning artwork and grounds. There are different pools and restaurants around the resort, so you will want to make your way from one end of the property to the other.
Boats run from 2 pm – 10 pm every day. The boat runs from one end of the resort to the other. It is a fun ride from one end to the other and stops at each tower and a few spots in between. Not always the fastest route, but very enjoyable and a good way to keep your little one entertained.
The 65-acre of property is a wonderful walk from one end to the other, with over $700 million dollars of art along the museum walkway. The walkway spans from one end to the other, with many paintings, wood carvings, statues, and other artifacts. This was a really great way to experience the property and appreciate the artifacts.
Tram runs from one end to the other, and they also have two running during busy times. It takes about 20 mins from one end to the other. It stops at each of the towers, the lobby, and the big island breakfast. This is the easiest way to get luggage around.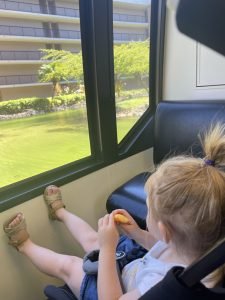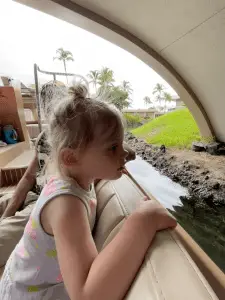 Amenities Close to the Resort
Queen's Marketplace
This became one of our regular activities. Queens has the largest food court on the Kohala coast and quite a few shops, premier retailers, and restaurants. Drinks at the resort are about $15 a piece, so Mitchell and I rode the trolley to the market and queens market and picked up seltzers so we could save a little extra money on the drinks. We also grabbed tons of snacks and other food since it was a little cheaper than anything at the resort.
Queens Market has the closest Starbucks to our resort and where you can buy a pineapple cup or a been their series mug.
Kings Shops has your normal roundup of high-end shops like tiffany & co., Michael Kors, Tommy Bahamas as well as Tori Richards. You can enjoy many restaurants and shopping while you are here.
You can take the tram from the resort to the Marriot, Queens Marketplace, or Kings shops for a low fee. We used the tram almost every day while we were there.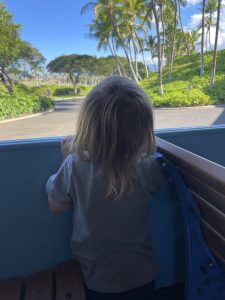 Best restaurants near Hilton Waikoloa Village Resort
Lava Lava Beach Club MAKE A RESERVATION IN ADVANCE
Kamuela provision company
Mai Grille by Chef Allen Hess
Legends of Hawaii Luau
Napua at Mauna Lani Beach Club
Overall Score | Hilton Waikoloa Village Resort
4.5 out of 5
This is a great hotel and resort for your next Hawaii visit.
Pros.
Great staff. The resort was wonderful, and the grounds are beautiful. They were doing a little construction while we were there, and it was still a beautiful resort. Great food, and no need to leave the resort once you are there.
Since travel was limited to Hawaii's big island and Hawaii's other islands as a whole, the resort was not at max capacity, so it didn't feel crowded at all. BUT! I will say even at a normal capacity, the resort is so large you won't feel crowded or overwhelmed.
Cons.
The room had a few broken items, and things that needed updating. They were remodeling one of the towers while we were there, so we can't wait to go back and see them again.No turndown service or room service was available during our stay. Covid restrictions were still in place, and we hope they go back to turndown soon ❤️
I'm a bit of a coffee connoisseur and love my Nespresso, unfortunately, I was not a fan of any of the coffee at the resort.
You can book your stay here: https://www.hilton.com/en/hotels/koahwhh-hilton-waikoloa-village/rooms/
Phone: (808) 886-1234 ext.
Address: 69-425 Waikoloa Beach Dr, Waikoloa Village, Hawaii 96738 United States
Other Hotels by Hilton you might like