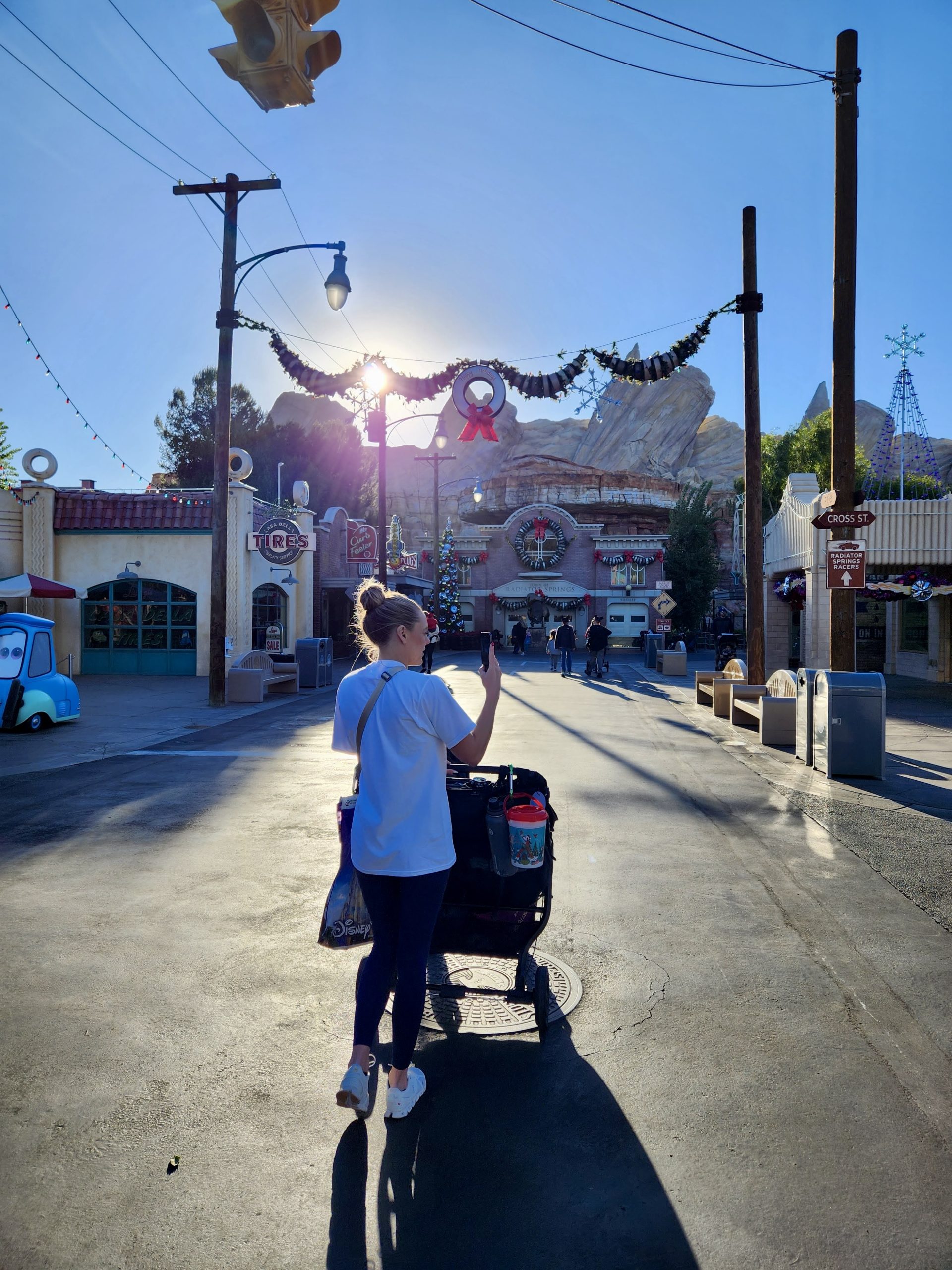 Tickets are purchased, and hotels are booked, now it is time to plan for rides, food, and for the best toddler strollers in Disney.
If there is one thing that is true about a Disney trip, it's that there will be a lot of walking involved, and you'll want to pick a stroller for Disneyland that fits all your needs.
Every family is different, and Disneyland has rules about what strollers are allowed and what is limited. Not all double strollers or wagons are an option.
There is a lot to consider regarding strollers in Disneyland, like rental or purchase, weight, cost, size, and more.
While it might seem like picking a stroller will be overwhelming, we have you covered!
A stroller in Disneyland is a place to relax in between rides, take a quick nap, and a way to move kids quickly between crowds. Having a stroller makes navigating Disneyland a lot easier and less stressful.
Whether you're a parent with multiple kids or a single-kid household like us, we will discuss both single and double strollers to take to Disneyland with you.
Top 10 Best Toddler Strollers For Disney List
Should you have a stroller in Disneyland?
The average family walks 8 – 10 miles or 22,000 steps daily. Walking is a massive part of your Disneyland adventure, and for kids or young children, that is not something they will be able to do with ease.
Many families wonder if a stroller is worth it at Disneyland since you will ride rides, eat, and watch parades. Depending on the age of the children going, some say it is unnecessary, but I don't know any of those people, and we think any child under 10 or families with multiples should use a stroller at Disneyland.
The easiest way to enjoy the park is to bring a stroller. Kids can easily and unexpectedly get exhausted and want to be carried. I will never forget walking back to our hotel, and a mom was carrying their 10-year-old while the dad carried their 12-year-old. After a LOOONG Disneyland day, the last thing I want to do is carry a 60-pound child and all the bags and items.
A stroller allows your child to hang out, decompress, and nap in the shade. Our daughter can get overstimulated easily, so the stroller gives her a spot to sit away from people, relax, and have some snacks.
Having a stroller also gives you the flexibility to stay in the park and not have to head back to the hotel room for a nap.
Many people also believe that the stroller gives them peace of mind for safety in the park. While wandering children are a thing at Disneyland, the stroller provides a safe spot to keep your kid strapped in while you navigate the large crowds.
Can you bring your own strollers to Disneyland?
Yes, you can bring your own stroller to Disneyland, but as long as it follows the guidelines and rules Disneyland has specified.
A lot of people who fly or drive to Disneyland rent a stroller once they get there. Whether you fly or drive, we think bringing your own stroller helps you save money on a Disneyland trip.
Getting to and from Disneyland, you can use the monorails or walking paths to enter the park. There is no need to collapse your stroller while going through the gates, but you may have to collapse your stroller to get on the monorail.
Disneyland Stroller Parking
Disneyland has multiple spots to park your stroller throughout the Disneyland park. Never leave your stroller in the middle of everything, and use the designated spots indicated on the map and on signage around the park.
You can leave your stroller in a particular part of the park and return for it later if that is more convenient. We like to take our stroller from land to land and not worry about moving it from ride to ride.
Many times, your stroller will get moved by a cast member to keep the stroller parking organized. We suggest attaching an AirTag to your stroller so you can easily find it in the sea of strollers.
Disneyland Stroller Rules and Restrictions
Disneyland Policies and Resort Rules
Stroller Rules 2023 Disneyland
There were two significant updates to Disneyland stroller guidelines. One focused on dimensions, and the other.
New Toddler Strollers Policy for Disney
Disney Stroller Dimensions
The most updated stroller dimension guidelines are set at 31″ in width and 52″ in length.
Double strollers are typically the strollers in question for Disneyland, and you have to make sure yours meets these dimensions, or it will not be allowed.
Upon entering Disneyland and Disney World, you will notice a large box outlined on the ground with the maximum dimensions of a stroller. Many strollers are within these guidelines nowadays, so don't overly stress, but you will want to double-check before you go.
No more Wagons
Wagons, including stroller wagons, are not allowed in Disneyland parks anymore.
Wagons, in their traditional fashion, have not been allowed in Disneyland for some time, but the stroller-style wagon was something many people used as a stroller in Disneyland to get around the wagon rule.
These wagons are pushed more like a stroller and provide a lot of flexibility to families with multiple children.
Unfortunately, Disney no longer allows wagons or stroller wagon variations as strollers in Disneyland.
Disneyland is only so big, and the walkways are not getting any larger. While some rules might make things more difficult at times, we know they have a goal to make this the most magical place for all, and it starts with the quality of the park experience.
Can you rent a stroller in Disneyland?
Stroller Rental Disneyland
Renting a stroller in Disneyland does not come free, but Disneyland does have strollers to rent.
Single strollers cost $18.00 per day
Double strollers cost $36.00 per day
You will need a credit card deposit to rent a stroller. It's also important to remember that you can only use the stroller on Disneyland property and cannot take it to other locations, such as your hotel. Rented strollers may be used in both Disney parks, California Adventure and Disneyland Park.
You can find the stroller rental booth outside the park entrance at Disneyland Resort.
When it comes to Disneyland, this is your only option for stroller rentals, and you'll also find several different strollers to rent at a variety of price points around the park. Our favorite to use is BabyQuip, and as an added bonus, you can order toys, baby essential items, beds, etc, on Babyquip for your Disneyland trip.
Picking the Best Toddler Strollers for Disneyland
There are a few essential features to keep in mind when it comes to picking the best toddler strollers for Disney.
We will cover a few things to keep in mind so that when you are looking for a stroller to rent or purchase, you have the right items to keep an eye out for.
Layback feature for napping
Having the ability to lay your child back to nap is the most important feature of your stroller for Disneyland. A reclining seat can be the most amazing thing in the world during your trip. Long days are an absolute in Disneyland, and we dislike having to head back to our hotel for a nap in the middle of the day.
Cup holders
Cup holders for you and your child. Everyone needs to stay hydrated. If your stroller doesn't come with cup holders for your water bottles, there are a few options to get around that. While most strollers don't offer cup holders, you can add one or use an extra large carabiner to hook your water bottles. Carabiners, in general, can be an excellent stroller addition.
Storage
If there is one thing a stroller needs, it's storage space, and surprisingly, some strollers have very little storage room. There are ways to get around storage options if your stroller lacks a large storage basket. We will talk more about accessories for your stroller in Disneyland shortly, but keep an eye out for storage so you can make specific accommodations if needed.
Shade
Most strollers come with some form of large canopy for shade that is attached to the stroller. They provide essential sun protection for your toddler and children during sunny days at Disney.
Some stroller canopies have a peek-a-boo window, and these can be very helpful while you are walking and curious about what is happening in the stroller.
If your stroller does not come with a canopy or the canopy does not provide sufficient coverage.
Snack bar
Many strollers come with a tray of some kind, and they are a lifesaver for keeping snacks within reach and minimizing hunger meltdowns.
Remember that some snack trays are small and flimsy or challenging to unclip to get your kids out.
Seating Configuration
There are two styles of double strollers: a side-by-side stroller and a front-behind stroller option.
We love both options at Disneyland, and the side-by-side stroller has a few benefits over the front-behind option. The front-rear seat option often does not allow both seats to lay back fully. While the front seat does recline slightly, many children want to be laid back entirely to nap, and this stroller style will limit that option.
One of the main benefits of the front-rear option is the infant car seat and the stand deck addition.
We love the side-by-side option for one child or multiple. For multiple kids, it gives them the freedom to sit side by side with their sibling or friend to interact and enjoy each other. For a single child, it gives the flexibility or freedom to choose a side and leaves a side open for additional storage.
Safety features
Reliable breaks and a sturdy frame are a few things you want to check for when it comes to safety features on your stroller. Jogging strollers happen to be the worst when it comes to "running away." They often come with a strap and a heavy-duty break. Make sure to engage the brake when you leave your stroller at stroller parking when you leave it to go on a ride.
Easy to maneuver
Strollers with excellent maneuverability make it a breeze to navigate through crowded areas and tight spaces. There are lots of grooves and tight spots when it comes to Disneyland.
Portability
While not essential in the Disney theme parks, the portability of your toddler Disney stroller is very important. When it comes to transportation and the monorail, you will need to fold your stroller and pack it along.
If you are flying or driving with your stroller and not renting one once you get to the theme park, you will need to pack it up for travel no matter what.
Good news: Disney transportation is a much larger issue to be aware of when you are in Disney World, and the best option is to go with a compact design that is lightweight.
Other items that can be important
Five-point harness system
Many strollers have a five-point safety harness. While this is something great for safety, some strollers allow you to have the five-point option or be able to use the hip or shoulder straps individually, allowing for easier in and out.
Adjustable Handlebar
While not all strollers come with an adjustable handlebar, being able to change the height of the handlebar creates a better walking experience. Whether you are short or tall, these designs are minimal but very noticeable to the parents pushing them.
Top 10 Toddler Strollers for Disney
There are many strollers on the market, both double strollers and single strollers that are great options for both Disneyland and Walt Disney World. In addition, we have made it a point to include great options for older children and tall toddlers when it comes to the best strollers in Disneyland.
Let's look at the best toddler strollers for Disney.
We have used multiple strollers in Disney and are happy to share there are tons in multiple price point levels. I will never forget when we packed our stroller into the car and forgot it for our Universal Orlando trip and had to run to Target to purchase a stroller for our trip.
While not ideal, the stroller was absolutely wonderful and worked well for our trip.
Top 10 Best Toddler Strollers for Disney
Baby Jogger City Mini GT 2
This was the most recent stroller we used on our Disney trip, and absolutely love this stroller.
As for Double strollers, this is the best double stroller you could pick.
Joovy Caboose or Joovy Scooter
Joovy's Caboose and Scooter strollers are compact, with a platform for an older child to stand or sit. They're great for navigating crowds with their thin design.
Joovy Kooper X2 Double Stroller
Joovy's Kooper double stroller has a simple snack bar with a water bottle holder and side-by-side seating arrangement.
Bob Gear Revolution Flex 3.0 Duallie
This double stroller is known for its exceptional maneuverability and sturdy construction. It handles various terrains well.
The Mockingbird Double Stroller is a versatile option with a roomy storage basket and adjustable seats for napping. It's relatively easy to maneuver.
Mockingbird Single to Double Stroller
The Sit n Stand design offers flexibility, allowing one child to sit while the other stands or uses a bench seat.
Baby Trend Sit n Stand Stroller
A great option for active parents, this jogging stroller handles uneven terrain well and has a large canopy for sun protection.
Kolcraft Cloud Plus Lightweight Double Stroller
The Kolcraft Cloud Plus is lightweight and easy to fold, making it convenient for travel and storage.
Kolcraft Cloud Plus Double Stroller
The chicco cortina double stroller has a tandem seating design that helps navigate crowds effortlessly. If you have babies at varying ages, this stroller is designed to hold both older kids and a car seat easily.
Chicco Cortina Double Stroller
Valco Baby Trend Duo Light Weight side by side
This lightweight and compact stroller for Disney, the Valco Baby trend duo, has a side-by-side seating configuration and is extremely lightweight and very portable.
Ultimately, the best choice among these toddler strollers for Disney depends on your specific needs and preferences. Consider factors like the age and needs of your children, the duration of your trips, and how much storage space you require. Testing these strollers in person, if possible, will help you determine which one suits your family best for a magical day at Disneyland.
Best Toddler Stroller Accessories for Disneyland
While the Best Toddler Strollers for Disney have a lot of essential items included, there are a few stroller accessories we think every stroller should have to make your Disneyland trip even better.
Carabiners
You can hook ANYTHING to a carabiner, and this is one of the easiest additions for a stroller. You can hook things like your diaper bag, water bottles, merchandise bags, or even your popcorn bucket to the carabiners.
Cup holder Storage Compartment
These add-ons provide more storage and other essential items some strollers are missing. Whether you have a Jove, Nuna, or Bob stroller, cup holders are not something they come with. This cup holder will hold your coffee or water bottles and can easily be adjusted to accommodate whatever you need.
Joovy Parent Organization System
Stroller Fan
A stroller fan is a must during the summer months. It can get really hot, and nothing is worse than a hot baby or a hungry baby. These portable fans clip right onto the stroller and can be angled toward your toddler to cool them off. While not an addition to the stroller exactly, the cooling towels are also a great way to cool off your toddler on a hot Disney day.
Rain Cover
While more of a Florida Disney World necessity, it still rains in Southern California, and a rain cover can keep your stroller and items nice and dry. There are very few covered stroller parking locations, and while the sunshade does keep some of it dry, on a really rainy day, it won't do enough.
Universal Side-by-Side Rain Cover
Travel System Bag Check Bag
If you are choosing to fly, we highly suggest purchasing a stroller protection bag. These bags help to keep your stroller clean and protected from the airlines.
Rental Companies for Strollers in Disneyland
We love being able to fall back on the Disneyland strollers but believe the best strollers for Disney can be rented or purchased. If you are not looking to bring your own stroller and want to rent a stroller once you get to Disneyland, here are the best toddler strollers for Disney.
BabyQuip
Cloud of Goods Anaheim
City Stroller Rental Anaheim
We've always used Babyquip for our stroller and pack-n-play rentals while on vacation and have never had any issues. We've heard great things about Cloud of Goods and City Stroller Rentals.
If you are also considering Disney World strollers, babyquip is great, as well as Kingdom Strollers, a wordplay on Magic Kingdom.
Strollers to stay away from at Disneyland
Umbrella stroller
While this is a lightweight stroller option, this is probably not the most ideal for smaller children. There is typically no layback feature, cup holders, or storage spots.
If you are in a crunch, Disney does sell umbrella strollers on-site that you can purchase as well.
Pocket Stroller
Similar to the umbrella stroller and great for travel in general, this is not an ideal option for a day at a theme park. They lack some really important items to help make the day easy.
Wagons and Stroller Wagons
While we mentioned it earlier, we want to touch base again on the importance of skipping the wagon and wagon variations while on your Disney vacation.
These are not the best options for toddler strollers for disney, these are a fall back if all else fails.
Frequently Asked Questions about Strollers in Disneyland
What kind of strollers are allowed at Disneyland?
There are multiple kinds of toddler Strollers for Disney that are allowed, as long as the stroller fits inside the dimensions of 31 x 52 inch. These guidelines are very open when it comes to size and allows for many options of toddler strollers for Disney.
Are strollers still allowed at Disneyland?
Yes, strollers are still allowed at Disneyland. While stroller dimensions receive updates frequently, Disneyland still allows strollers.
Do you need a stroller for a 6-year-old at Disneyland?
We highly suggest a stroller for any child under 11 at Disneyland. Kids can get exhausted easily, especially during summer months, and with the amount of walking required, a stroller can definitely help everyone in the family.
Where to rent strollers in Disneyland
If you are in the Disneyland Park, there is one easy spot to rent a stroller. If you head to the front gates of the Disneyland park at the east end of the kiosks, you will find the Guest Services for stroller rentals.
Can I use my stroller in both the Disneyland Park and California Adventure Park?
Yes, you can use your stroller in both the Disneyland Park and California Adventure Park. Whether you rent, or you own your stroller, you can use it in both parks.
We know you have some other really exciting things to accomplish now that you have crossed the Best Toddler Strollers for Disney off your list. We hope you have found multiple toddler strollers for Disney after reading this post. Please share with us about your adventure and if you ended up renting or purchasing a stroller for your upcoming Disney trip.