Best rides for toddlers at Universal Orlando
While they have many rides, our favorites being Hagrids Motorbikes and Hulk, those are not the best rides for toddlers at Universal Orlando. SO much has changed over the years at Universal Orlando.
With a significant focus on roller coasters and rides for adults and older kids, there are a great number of rides and theme areas for younger kids and toddlers at Universal Orlando and Island of Adventure.
We will break down the rides quickly by height requirement since toddlers can be slightly different, even within the same year. In February of 2022, we made our way to Universal Orlando, and our daughter was just 38 inches. In November of 2022, during our Disneyland trip, our daughter was 40 inches, opening up an entirely new arena of rides! Big Thunder was the first "big kid" roller coaster for our toddler, but she LOVED Flight of the Hippogriff until she was 40″
When planning a trip like this with rides, you might want to give a green color to those that your toddler for sure is in height for, and then yellow for those that they are close to and could possibly ride while you are there and then red for those that they cannot go on no matter what and plan your rides and trip with this in mind.
Kids need a steady balance of rides so they don't get bored quickly but also, especially for a toddler, time for a nap and a break for food or a snack. These are the main pieces we include when planning a park day with our toddler.
While this is not a Disneyland post, we wanted to give a reference to the heights of toddlers and how quickly they change. It's important to plan accordingly and plan out a rides list or Universal Orlando itinerary so you can make the most of your trip. You may consider putting off a trip for a few months to wait until your toddler is a little taller to enjoy the theme parks.
If this is your first time, we will help you plan for your upcoming trip and give you a daily guide you can follow.
This is strictly a mother's review with a toddler, and I will say our toddler is willing to try anything and not too scared of a roller coaster or too scared for a dark ride. Please take into account your toddler's personality and temperament. Do they like dark rides and roller coasters, or do they startle easily? Answering those questions will help you pick the right rides for your family.
Best rides for toddlers Universal Orlando & Island of Adventure
Flight of the Hippogriff
ET Adventure
One Fish, Two Fish, Red Fish, Blue Fish
Caro-Seuss-el No Height Requirement
The Cat and The Hat
Pteranodon Flight
Despicable Me Minion Mayhem
Skull Island
The High in The Sky Seuss Trolley Train
Harry Potter and the Escape from Gringotts
Insider tip: Escape from Gringotts is #10 on our best rides for toddlers because it has a 42″ height requirement, and most toddlers are not quite 42 inches at the age of two and three years old. Also, you probably noticed we put Skull Island, which can be scary higher than Seuss Trolley Train because we found it to be very slow, and the lines were on and off all day. We do not just take into account the ride itself but also wait times and what you get out of the ride. Last is Woody Woodpecker's Nuthouse Coaster did not make our list because it is closing in January 2023.
Rides
Insider tip: Download and use the app and set Wait Time Alerts, you can set wait times, and when it is below the time you have selected, the app will send you a push notification to let you know that the wait is at the desired time you have set. You can then quickly hurry over and get on the ride.
Kang & kodos' Twirl 'n' Hurl No Height Requirement
Board your flying saucer and spin into space 😉
This is your everyday aerial carousel-style ride for young children. Since there are so many versions of this ride at most amusement parks, this is one of our least favorites.
E.T. Adventure 34″ Best rides for toddlers at Universal Orlando #2
This ride reminds me of peter pan, it's dark, and you fly over the scene. However, E.T.'s story is just better, in our opinion. You board your flying bicycle and fly around the story. The line goes quickly, and the walking queue will keep you entertained. This is a great family-friendly attraction.
Woody Woodpecker's Nuthouse Coaster 36″
Almost identical to Flight of the Hippogriff, this mini coaster is the perfect introduction to coasters for children. We noticed a lot of adults and teens with no children on Hippogrth but very few, if any, without kids in the Woodpeckers line. Although this has seen better days, Woody's coaster had a significantly lower wait time than Hippogriff, and we think that is because of the harry potter theme.
On a Woody Woodpecker side note. The play areas are fun. Once we were done with the rollercoaster, we tried our luck on a water slide. Woody Woodpecker's Kidzone has a water play area with a minimum height requirement of
Insider tip: Fievel's Playland, Woody Woodpecker's Nuthouse Coaster, Curious George Goes to Town, DreamWorks Destination, and Shrek and Donkey's Meet & Greet will close on January 16, 2023, to begin the next steps for new fun things.
Fast and Furious – Supercharged 40″
Load into a bus and join the crew to explore a re-creation of their headquarters and see actual props from the movie and supercharged vehicles.
Despicable Me Minion Mayhem 40″ Best rides for toddlers at Universal Orlando #7
This was one of the few we couldn't go on while we were they because our toddler was not tall enough. Similar to some of the other attractions, this 3D ride will take you on a mission with Gru and his Minion friends when all goes wrong in the super villain's laboratory.
Race Through New York Starring Jimmy Fallon 40″
A race through New York City below and above Midtown Manhattan. As high as a skyscraper and into the East River, Jimmy Fallon takes you on a behind-the-scenes view of The Tonight Show and a race to the end.
The Simpsons Ride 40″
Head to Krustyland as you ride a simulated rollercoaster through the park with Homer and his family. Check out Springfields' fan favorites along the way.
Transformers: The Ride-3D 40″
Board your very own NEST vehicle and join Optimus and Bumblebee for an immersive thrill ride. Your mission on today's ride is to keep the Allspark out of Megatron's hands.
Men in Black Alien Attack 42″
Aliens have overrun New York, and you must use your laser gun to blast those aliens and rack up points. The fate of the earth is in your hands. Make sure to get as many as you can before they zap you back.
Harry Potter and the Escape from Gringotts 42″Best rides for toddlers at Universal Orlando #10
Enter the bank of Gringotts and make your way through the vaults, where you will encounter Voldemort and others that attempt to stand in your way back to Diagon Alley. This is a dark 3D/4D experience.
Hogwarts™️ Express King's Cross Station
Hogwarts Express | Park to Park Required
No height requirement, but 48″ requires supervision. You must have a Park-to-Park ticket to board the train. A park-to-park ticket is not the same as a one-day park ticket. Board the train for your fall term at school and ride along as you go along the countryside to Hogwarts. You see something different to and from the King's Cross Station, so make sure to take it both ways.
Revenge of the Mummy is in "technical rehearsal and on a limited, unscheduled basis." 48″
Board your cruiser and attempt to flee the evil mummy, and just when you think you are about to escape, you are dragged back down. Will you escape the depths?
Hollywood Rip Ride Rockit 51″
G-forces are not my thing, but this coaster will take you around the track in under 2 minutes. You get to pick your own song to listen to while you twist and turn. There is no full inversion on this ride but lots of turns and twists
Shrek 4D Closed forever 🙁
It's been around since about 2003 and is due for a replacement and closed a few weeks before we arrived in early 2022. We will be excited to see what they do with this spot. A Trolls or How to Train your Dragon ride would be cute in that spot.
Dreamworks Destination is a meet and greets for kids, and it has quite a few great characters. But please note this will be closing.
What is the best age for Universal Orlando?
We find Universal Orlando to have things for kids and toddlers to do, but if you are looking for the age that kids will have the most fun at Universal Orlando, we suggest 6-8 because of the height restriction.
Best rides for toddlers at Universal Orlando Island of Adventure
This is where the real fun begins for toddler rides at Universal Orlando. While this park has the most toddler rides out of both parks we still encourage you to head to both parks since all kids are different when it comes to temperatures and stimulation levels of rides.
We found more toddler-friendly rides here at universal's Islands of adventure, making it the best place for kids of all ages.
Storm Force Accelatron No Height Requirement
Teacups like you would ride at magic kingdom, but make them Professor Xavier's power generator. Spin faster to summon storm's powerful lightning and thunder and save the planet.
Caro-Seuss-el No Height Requirement Best rides for toddlers at Universal Orlando #4
Jump on the cutest merry-go-round. You can ride on one of the characters from Dr. Seuss's classics and make their eyes close, ears wiggle, and heads turn, making it more interactive and fun for your little one.
One Fish, Two Fish, Red Fish, Blue Fish No Height Requirement Best rides for toddlers at Universal Orlando #3
Fly in one of Dr. Seusse's flying fish on this aerial carousel-style ride. As you maneuver yourself up and down around the ride, make sure to listen to the words of the song so that you don't get wet.
Hogwarts™️ Express: Hogsmeade™️ Station No Height Requirement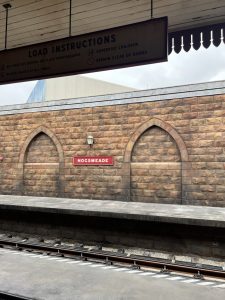 Board the train to make your way back to London at the King's Cross Station. Both directions of the train show a different perspective, and you MUST have a park-to-park pass to ride the train.
The Cat in the Hat 36″ Best rides for toddlers at Universal Orlando #5
Board the adorable couch car and experience the book firsthand. With bright colors and crazy twists and turns. Can you clean up after The Cat in the Hat before mother gets home?
The High in the Sky Seuss Trolley Train Ride 36″ Best rides for toddlers at Universal Orlando #9
This adorable slow-moving train takes you around Seuss Landing on two different tracks. One takes you through the story of the Sneetches and the other to the ABCs of your favorite Seuss stories.
Pteranodon Flyers 36″ min 56″ max under 48″ must have an adult Best rides for toddlers at Universal Orlando #6
Have a kid just to ride on this! Board your own flying Pteranodon and glide over the park in a comfy seat. As your Pteranodon gently swings through the air, your toddler will enjoy this thrill ride.
Kids must be 48″ to ride on their own with no supervision. If your child is under 48″, they must be accompanied by an adult. The maximum height requirement for this ride is 56″, making it a kids-only ride.
Skull Island: Reign of Kong 36″ Best rides for toddlers at Universal Orlando #8
Board your ride vehicles for the ultimate jungle journey with King Kong. We skipped this ride for our toddler because she was taking a nap, but I don't think she would have enjoyed how dark and loud this ride was. Large creatures attack from all sides in an unexpected tale of events.

Flight of the Hippogriff 36″ Best rides for toddlers at Universal Orlando #1
This was our toddler's FAVORITE ride at Universal Orlando. This cute introduction to roller coasters will spiral and dive around Hagrid's hut, and you might get a chance to see Fang.
We found this and Woodpecker to be pretty much the same ride, although there were many adults with no children in the Hippogriff ride line, and we are assuming that's because of the Harry Potter theme.
The Amazing Adventure of Spider-Man 40″
If this isn't the most confusing thing.. How do both Universal and Disney have Spiderman? Well, the license agreement was only good for Florida, and they cannot use Spiderman's real face, so Universal sticks to the comics. The Amazing Spider-Man is still AMAZING. This 3-D ride will take you on an adventure through the city as you save the day.
Popeye & Bluto's Bilge-Rat Barges 42″
If you are looking for a water ride this is one of two. Brace yourself, and your group will you make your way through raging rapids to save Olive Oyl. You will experience lots of water and a few drops of this ride. Make sure to wear flip flops and bring a change of clothes for this.
Jurassic Park River Adventure 42″
This water ride will take you around Jurrasic Park as it puts you right next to a giant T-Rex. Will you escape the jaws of the T-Rex? Yes, in an 85-foot drop! While this is the third water ride at Islands of Adventure, you will only walk-off partially soaked.
While you are in the Jurassic Park area, there are two sections for kids to play. You can check out the Jurassic Park Discovery Center and Jurassic Camp. They both have interactive areas for children to explore dinosaurs and even hold a dinosaur egg.
Dudley Do-Right's Ripsaw Falls 44″
Before you change your shoes and clothes again, we suggest you hit both water rides back to back. Part water ride, part roller coaster, this water flume will take you along twists and turns to a lovely tune.
Harry Potter and the Forbidden Journey™️ 48″
This one-of-a-kind ride has state-of-the-art technology as you soar around the castle grounds with Harry and his classmates. Not only is this a ride, but the entire queue as you wait is enjoyable to walk through. You will see many different rooms as you enter the castle gates and make your way through the passageways of Hogwarts™️ School.
Hagrid's Magical Creatures Motorbike Adventure 48″
Although we are massively outside of a toddler's height requirement, this is a MUST! There are not enough words to describe how amazing this ride is! You will want to make your way to this ride first thing in the morning or wait until night to ride it because of the lines. If you ride it at night, you will miss some of the details of the ride. You will have to opportunity to pick the motorbike or sidecar. The roller coaster takes you on a fast ride beyond the castle grounds, where you will see many of Hagrids Magical Creatures.
Spend some time in the wizarding world of harry potter once you are done with a few of the rides. They have live shows and interactive wand stations in different areas on Diagon Alley and Hogsmead. This is the newest land at Universal parks.
Jurassic World Velocicoasters 51″
Just outside camp Jurassic you will find the fastest launch coaster in Florida and the fastest ride in Universal. This coaster will take you around a velociraptor enclosure in Jurrasic Park. There are inversions on this coaster, 4 of them, to be exact. Child swap is available for this ride.
Doctor Doom's Fearfall 52″
Similar to Drop Zone, this ride will have you flying to the sky one moment and next plummeting to the ground before you can catch your breath.
The Incredible Hulk Coaster 54″
Hulk's coaster takes you on a high-speed, action-packed ride through the sky. 7 inversions, 2 subterranean trenches at 67 miles an hour is the definition of a thrill ride! Not for the faint of stomaches.
While we found Islands of Adventure more geared toward toddlers, there are many fun characters, parades, and shows to do while in the park.
Toddler amusement parks are a growing thing and we are excited to experience more of them with our toddlers while bringing you the honest truth about the parks.
Head to our list of best amusement parks for toddlers for a full list of parks your entire family will enjoy. If you are a west coaster or looking for another option, Universal Studios Hollywood is also a fantastic choice for fun rides.
19 Best Amusement Parks for Toddlers
21 Best Apps for Flying with a Toddler
Universal Newest Parks Announced 2023
This past week brought some FANTASTIC news to us west coasters in terms of Universal. Universal announced not one but two new parks coming to the United States. Las Vegas, Nevada, and Frisco, Texas, will now be the new home of the Universal Family. Las Vegas will now be the home of a year-round horror experience. If you haven't been to the Halloween Horror Nights yet, this might bring some major insight as to what the intentions of Las Vegas are. Now for all those who like that Halloween is one day a year, the plans for Frisco, Texas, are a little different. This one-of-a-kind theme park will provide families with attractions, shows, merchandise, and more geared toward younger demographics while keeping the Universal Parks & Resorts quality.
10/10 recommend the DoubleTree by Hilton Hotel at the Entrance to Universal Orlando