We've had our fair share of crazy road trips. What should have been a 3-hour drive turned into an 18-hour unexpected road trip and we are so thankful we had the road trip essentials with kids dialed in or we would have been hurting. We did learn a few things about what is actually essential for a road trip with kids.
A few years back we were making our way back home from a San Francisco winter weekend and found out that EVERY freeway and road to get back to Reno from California was closed. Many times a "hidden" path reveals itself (no thanks google/apple maps) and people take it and get trapped, but we knew better, you should not always trust technology. I80 the main freeway that corrects California to Nevada was closed, due to snow, and people were taking alternate side roads (not freeways) to beat the "system." I tell you this small part of the story because if we were not prepared for a 4-hour car ride we were doomed for anything longer than that.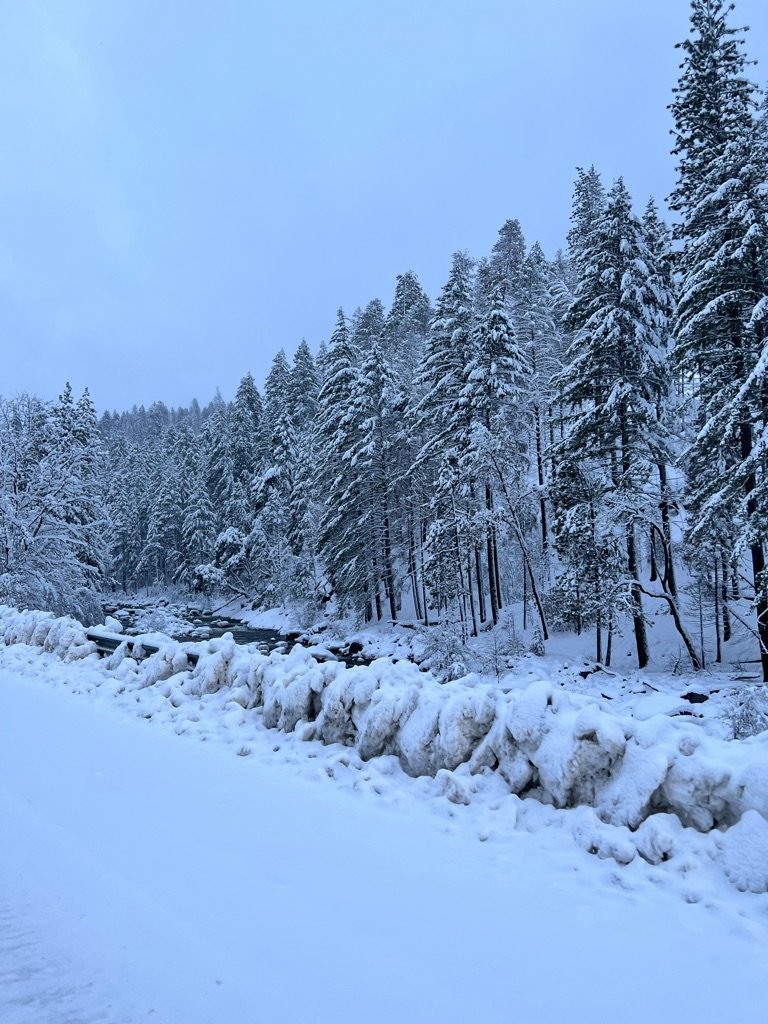 We live in a winter town so traveling anytime from November-March we have a great possibility to run into winter road trip issues. Snow, rain, and road closures are normal. Just this past weekend on our way back from Sacramento, CAL Dot closed I80 again because of white-out conditions. Not only do you need to know how to drive, but a little winter weather driving experience is important to have during the winter months of travel, but not all driving will be winter related sometimes it's you and the open road for miles. Clear skies and sunshine.
I will be honest, we've made the drive from Reno to Los Angeles many times, it's roughly 9-10 hours depending on who and what you are driving. A long car ride is a long car ride, no matter how many hours. I've heard the fall foliage drive on the east coast is absolutely beautiful, (putting that on our travel list now).
Once you get past the first hour everything is relatively the same from there on out. You will use a lot of the same road trip essentials with kids no matter how many hours and you will no longer travel 30 min the same anymore.
Planning Stops
Not to scare you but we just started a movie on Netflix recently (it was terrible, don't watch it) where someone was taken from a gas station. Anxiety overload over here yelling at the screen. Now there are LOTS of ways to stay safe when stopping at a rest stop or gas station. Google maps or Apple maps are great resources for this, you can easily type in what you are looking for and it will pull multiple options close to where you are.
Finding the best spot to stop or eat is just as essential as packing for the trip, we try to stop at well-lit and well-trafficked spots like the grocery store or busy gas stations. Here are a few things to stay safe when stopping.
Check your surroundings
Go together
Don't explore alone
Take your phone with you
Not only is finding the spot to stop a good thing to think about but the most important road trip essentials tip I can share is to get out and stretch, especially on a long trip. We will never forget our 18-hour car ride, and how sore/tired we were from being in the car, but that's because the 18 hours were a little unexpected. For those that know what they are getting into, planning stops to get gas and stretch should just be part of the planning phase. Try taking breaks every 2-3 hours, and more frequently if needed.
Stretch
Walk around
Push-ups
Jumpking jacks
Get your body moving so that you do not become stiff and uncomfortable. This also means getting your young children out of their car seats and allowing them to move around also. They have the least mobility of anyone in the car since they have a 5-point harness that does not allow them to move more than an inch in any given direction. Everyone will thank you later for this great idea. While I don't think you are reading Road Trip Essentials with Kids because you are traveling alone, although you might use the same tips while alone, I cannot stress how important it is for your kids to get out of their seats and move.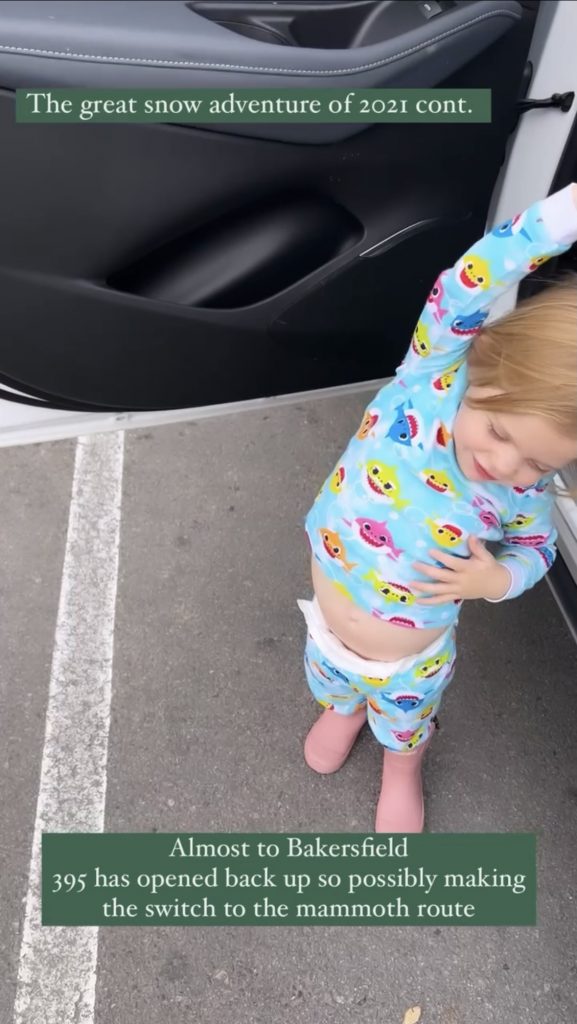 Road Trip Snacks For Kids
It's a really good idea to bring your own food while on long drives. It's not always easy to stop and not ideal to take additional breaks outside the gas station, it cuts into your drive time and to be honest, will cut into your budget. Here is our go-to snack list, please note if any substitutions need to be made for your family. We used to travel with powder formula because finding lactose-free milk on the go was darn near impossible and attempting to keep the milk cold and bringing enough was just not feasible. Don't just pack candy and sweet snacks, it's important to bring healthy snacks as well. Eating healthy is not easy while traveling, it's easier to stop really fast for Mcdonald's since they are off every exit. Here are the best road trip snacks
Goldfish
Cheerios
Yogurt melts
Dried fruit
Fruit
Fruit snacks
Fruit strips
Pistachios
Trail mix
Cheese
Yogurt
Cheeitz
Bars or protein bars
Apple sauce
Rice
Popcorn
Veggie chips or straws
Seed based crispy treats – like rice crispy treats but healthy.
Wafflez
Crackers
But don't forget to have a little fun and stop for the ice cream and sweets. Remember your vacation starts the second you leave your house not after you get to your destination. Have fun, and make memories, get the ice cream.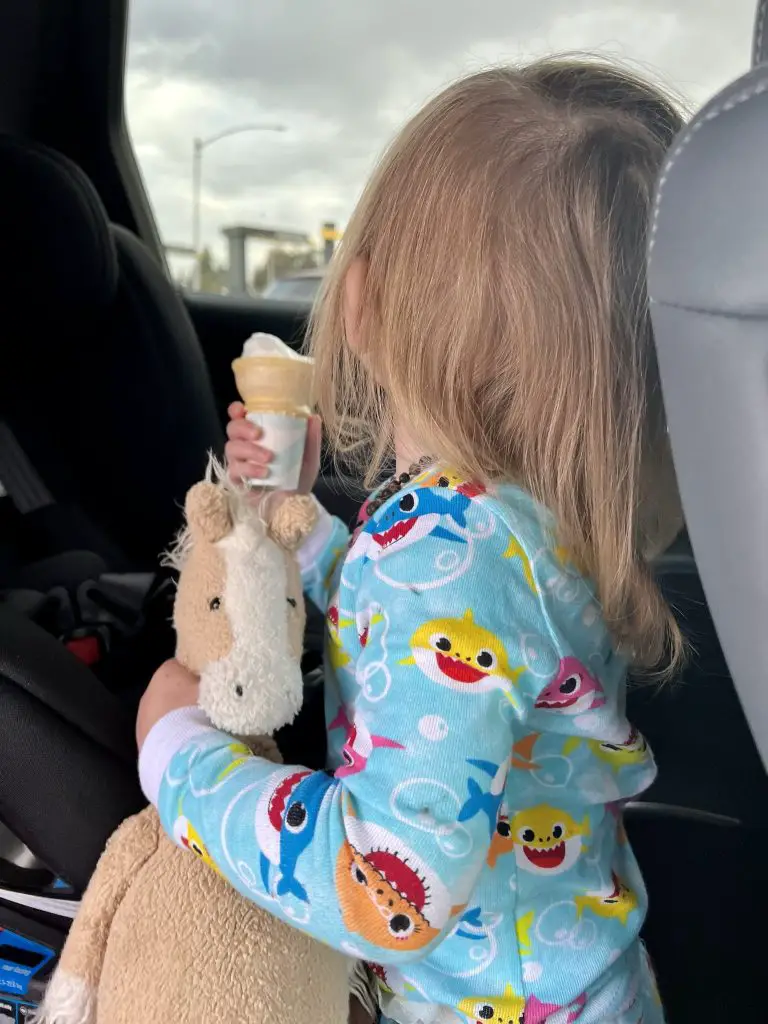 Road Trip Essentials for Toddlers
While snacks are super important for most of the car, we will chat about all the Road Trip Essentials with kids and the family shortly. We want to quickly touch base on toddlers specifically since they are the youngest of the kids in the car and only toddlers for a short time. This also includes infants.
Diaper bag with all the baby/toddler essentials. Diapers, wipes, cream, changing pad, pacifier if they are still using one, and their favorite blanket and lovies. If you want a breakdown of the travel diaper bag head here.
Device or lots of different activities

Some kids love books, movies, games, puzzles, you name it. They like what they like and there are things that keep them busier than others. Focus on those. We highly suggest getting them something new that you give them on trips or a specific trip toy that they only have during travel. It sort of gives them the feeling of something new and unique but not breaking the bank if you travel often. We found this to be really helpful especially on airplanes when Sloan was younger.
We are a tablet and cellphone family, more about it here, but that does not mean you have to be. We like educational games and apps for Sloan to play, and she really enjoys her shows. I do not allow youtube kids, I don't find it to be what works for our family. But many people I know use it, but have suggested being very proactive in liking, disliking, and managing what your child watches on a frequent basis.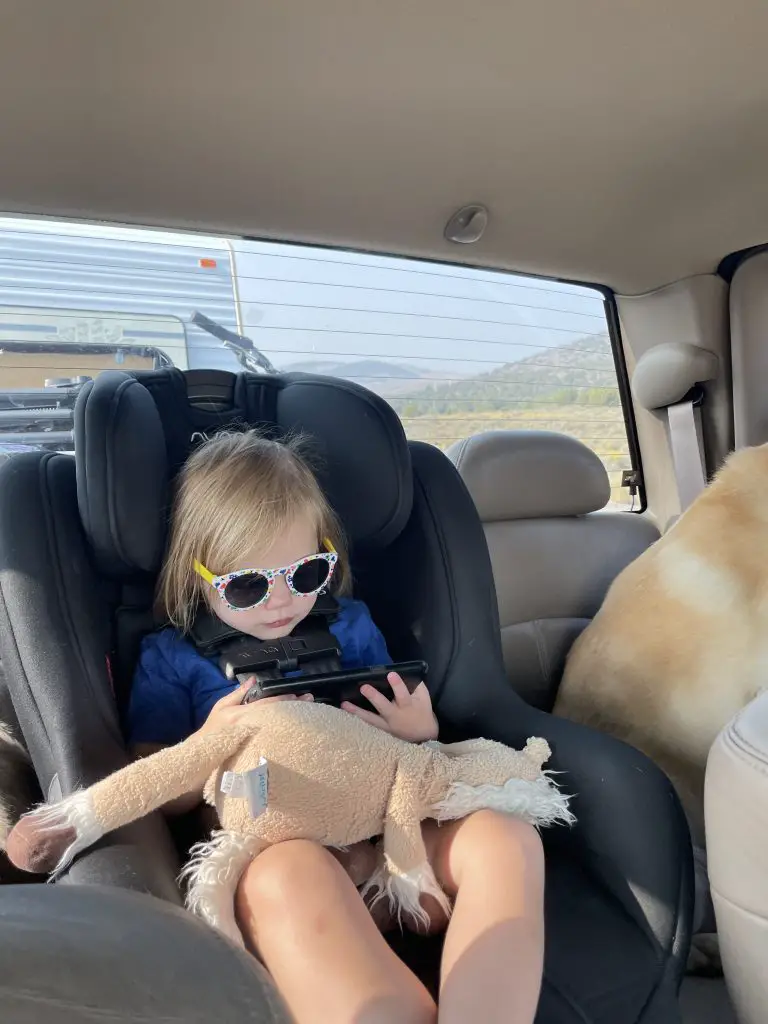 Road Trip Activities for Kids
While all the items above are very important road trip essentials with kids it's important to not forget about the entire family on your upcoming road trip. Fun games are great for a long road trip, your favorite playlist, audio books, Ispy both the book and the game, the license plate game, trivia questions, The alphabet game, a scavenger hunt, and the restaurant game are great options for the entire family, especially for older kids.
And sometimes they get to an age where they want nothing to do with you or your games, let them be. Allow them to entertain themselves. Help them prepare for the trip by talking to them about what they would like to have on the trip and making sure they have everything together before you leave. You will find new ways to engage with them but once they get older you don't have to do as much of the entertaining as you used to.
Road Trip Essentials for Adults
The list for adult is short, we don't need as much specifically since one is typically the driver, and if there is a second adult they are often tending to the needs of the driver, kids in the car, and themselves. Drinks, snacks, and something to listen to. I will never forget when I was younger there was this lady in the front seat and the assumed husband and children were all in the back. She was using a water bottle as a weight to get some exercise in while she was driving.
Road Trip Checklist for Family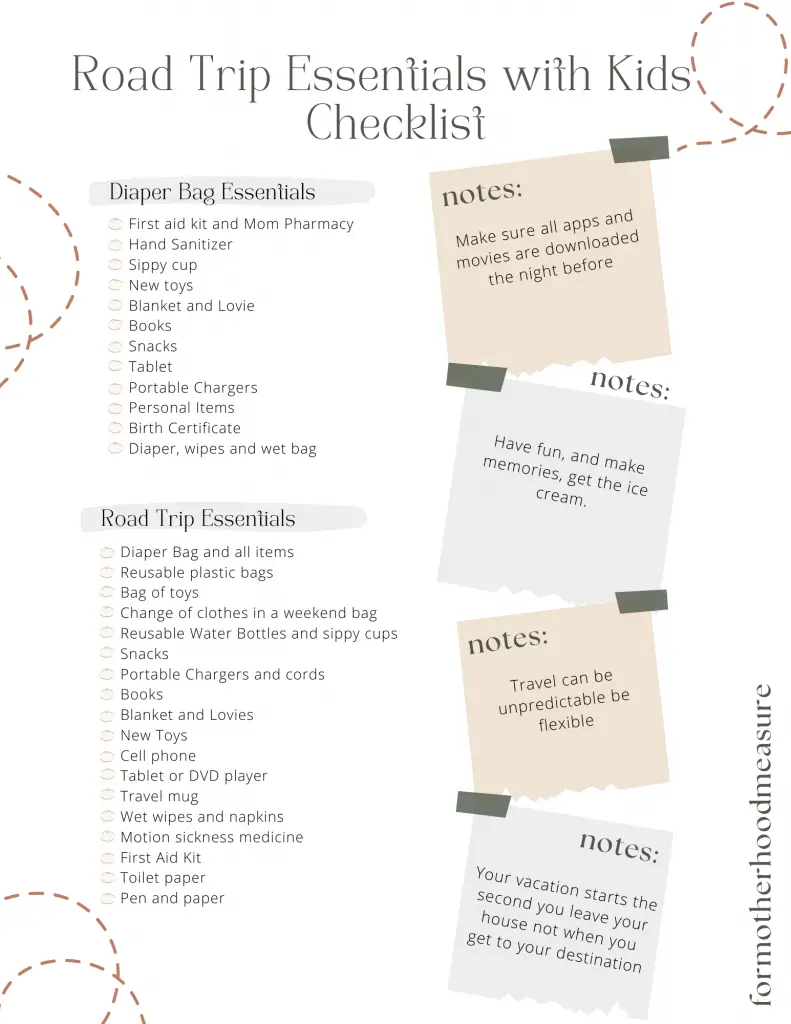 Now for the official Road Trip Essentials with Kids list. This is the larger all-encompassing family road trip checklist great for a longer road trip, we just finished the few items specifically for each family member but this is the list for the whole family.
Electronic Devices
Although many would say this is a 50/50 split for parents we are screen time parents and love it, like I mentioned earlier. We have educational apps and games for her to play check out our 21 apps for toddlers – flying or not these are amazing apps because they work with or without wifi or cellular data.
Until recently we used one of our old phones for Sloan and had to replace it with a pay-as-you-go phone since we lost it in Disneyland. We like the portability of the phone and you do not have to activate the phone until you are ready… if ever.
Be very particular about what your children play and watch. Youtube and Youtube Kids are a NO go in our house. You have to decide what is best for your family and if you are not a device family skip this one and head to essential tip for kids #2.
Portable DVD player
All jokes aside if you are not a tablet family, you might be a movie family and we will say movies and shows are probably one of the most important things to bring. It passes time much more quickly and keeps kids entertained.
Cell Phone
Our lifelines will always be on my lists because, without the silly line item on my list, I wouldn't remember to ask my husband if he has his phone.
Car seat travel tray
We've never used one but I've seen them and they seem VERY helpful, especially for longer trips and children who are not screen-time kids. Your child will need something with a hard surface so they can do puzzles, color, or any other activity that might need a flat surface. A travel tray is designed to work with a car seat, although if you have too many car seats in the back seat, the trays will not work. #multiplekidslife We only have the one child so the tray is not an issue but is something to think about if you have multiples.
Car Seat Organizer
These are really great for organizing things in your car, they often have cup holders and a small tray, and are within easy reach for the front and back seats. These organizers hang on the backs of the driver and passenger seats and hold a lot of your family road trip essentials. Although not only used for road trips we find we do not need as many things in our car during short trips, we use a smaller collapsable tote during the week or for shorter trips. Organizers of any kind are one of the best road trips additions so that all of your items are not free rolling around the car.
Change of clothes
While most of your clothes will be in your duffle bag or suitcase, digging through each bag to find clothes is not ideal. Pack a change of clothes for each person into a weekend or day bag so that it is easier to grab what you are looking for quickly.
Travel Mug
Whatever you do, do not forget the lid of your travel mug. Nothing is worse than spilled coffee with creamer in a car. EW… It might not be one of the most important items but coffee is pretty high on my list.
Plastic bags and Trash bags
For any kind of mess. Also, an easy way to clean out the car if you've stayed on top of trash pickup in the car as everyone is enjoying their snacks, either way, something is bound to happen on your next road trip, so have some items for easy throw-away available.
Wet Wipes to clean your car
To piggyback off of the last point, either sticky hands, or a small mess you want enough napkins and wipes to clean with ease and not worry if you have enough. We signed up for the honest diaper subscription and they sent more wipes than we know what to do with. The wipe packs from Honest are really great for cleaning up both kids' hands and the car in a pinch.
Motion Sickness Medicine
For us that don't do well in the car having medicine to ease car sickness is a game changer. This works wonders in two ways. Yes, you are supposed to take Dramamine before you get sick, but if you are sick, take them anyways and you will feel much better shortly. In addition, drink lots of water and eat a good breakfast before you head out on the road. Having something as a base will help you not get as sick. You can always prepare ahead of time and take Dramamine before leaving the house.
First Aid Kit
I wouldn't skip either of these and to be honest they should be in your car ALL the time. Tylenol, Aquaphor, motion sickness medicine, hand sanitizer, bug spray, nippers, tweezers, scissors, and any personal items you or your family might need specifically. Having them onhand will stop you from making additional stops or spending money on something you have 90 of at home.
Reusable Water Bottles
Sippy cup for littles, I cannot tell you how many times Sloan drops her water bottle in the backseat all the time and if it was leaky and spilled all over the back seat, that would make me so mad. Wasted water and a mess no thanks. Buy sippy cups that don't leak and aren't crappy, seriously don't waste your money.
If you are staying at a hotel, we highly suggest packing extra water bottles so that you do not have to consistently buy them for more than they are worth. We didn't bring enough water for our quick overnight trip and had to buy a $9 Smart Water. Not the best purchase of all time, I will be milking that water and bottle for as long as possible, it's my new reusable water bottle at the moment.
Toilet Paper
While you can use it to blow a nose or clean something up, let's be honest when you have to pee, you have to pee, and it's always right after you pass a rest stop. Trusty toilet paper to the rescue.
Electronic Cords and Chargers
We have enough cords for everything to charge at one time. Although excessive we find everything dies at the same time and often we end up with a janky cord that isn't working for whatever reason. If you are renting a car that is not your own, its hard to know how many charging ports they will have, buy the charger with two USB spots, or have your portable chargers full so you can plug into that instead.
Pen and Paper
I'm not talking like a giant pad of paper but a stack of post-it notes will do. Yes, you can jot something down but you can also use it for games or entertainment if you are in a pinch.
Car Essentials for a Road Trip
If you are taking your own car many of the sites will already be in your car, if not, you will want to do a once over on the car and check all essential items. Once you have completed your check it's time for some useful items and to check a few other things.
We've taken them all, cars, RV, sprinter van, Turo, you name it. Do your checks, at the end of the day it is a vehicle, and you are a human, drive safe and be aware. Here are the few things we like to check and make sure we have before we go.
Spare tire
A flat tire will ruin your day if you do not have a spare, double that you have everything to swap it out.
Car Check
Give it at full once over! Like old school Driver's ED 360 check.
Check everything from the seat belt to the windshield wiper fluid and wipers, especially if this is from Turo or a rental car. You do not want to miss something being damaged and then have to pay for it because you missed it on the initial check-in.
Car Registration
Jumper Cables
Roadside Emergency Kit
Many of these fit inside of a glove box but there are larger ones with flares and cones that fit well in your trunk. This is one of the top road trip necessities for your car.
We hope you have a wonderful time on your next family road trip, create lots of memories, and take lots of photos, we cannot wait to hear about your journey.