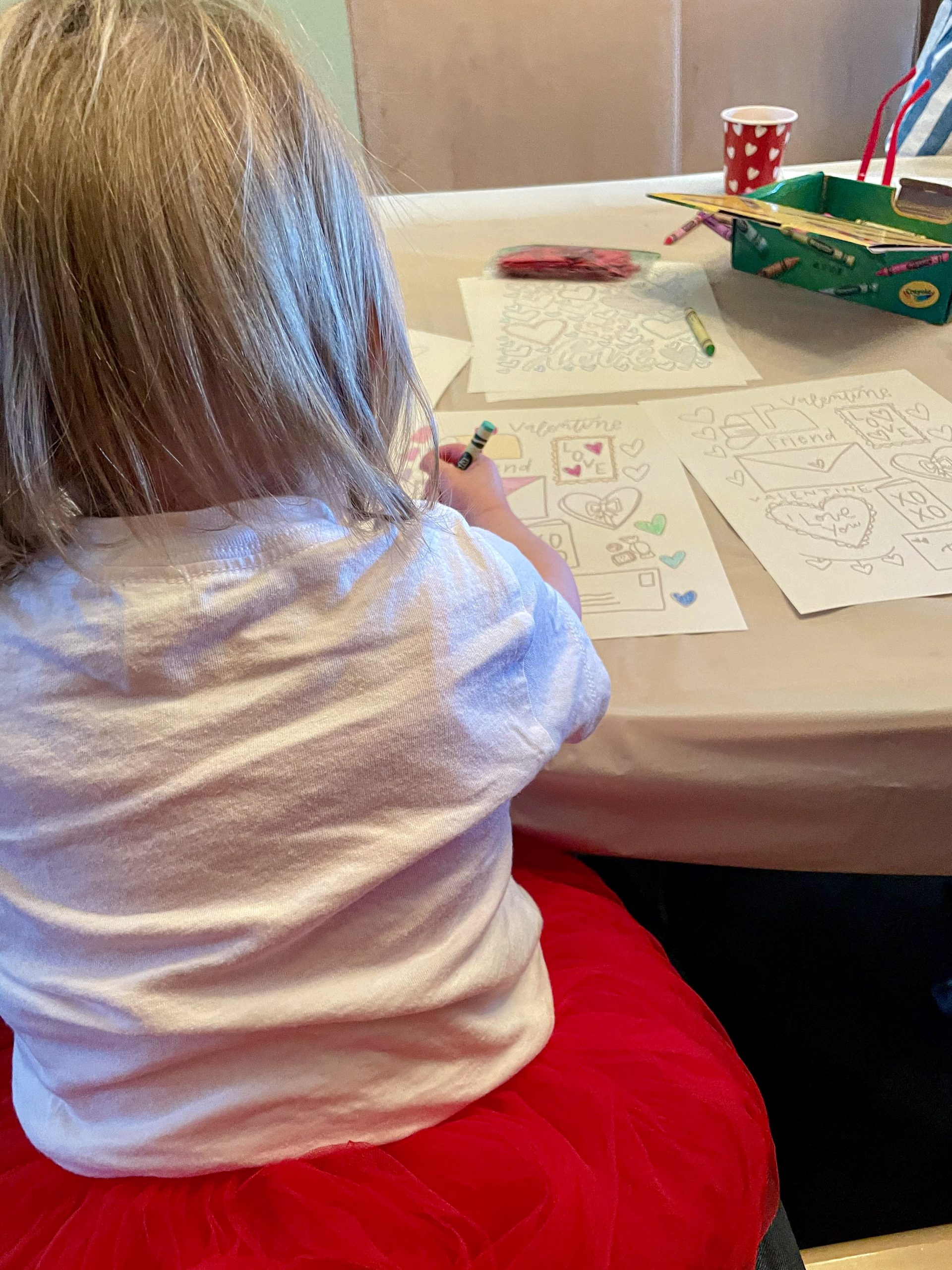 Valentines Day Crafts for Toddlers
We love doing themed activities and parties at our house. Halloween, Valentine's Day, the First day of Spring, you name it, we go all out and decorate the house and make crafts. It's so much fun to teach our toddler and get her into the holiday spirit.
What you need for Valentines Day Crafts with Toddlers
This is a large list of basic craft supplies you will use for valentines day crafts with toddlers and other themed crafts. Depending on what you create will determine the supplies needed. I always get inspired when I see a list and hunt through the house to see what we already have so we don't have to buy anything. If you are looking for specific craft supply lists, we've put together our top crafts and the supply lists together right after this section.
construction paper
glue stick
Mod Podge
pom poms
cookie cutters
tissue paper
salt dough
white sock
paper bag
googly eyes
toilet paper rolls
heart stickers
paper plates
popsicle sticks
pipe cleaners
coffee filters
Watercolor paper
shaving cream
dot markers
white paper
bubble wrap
acrylic paint
buttons
scissors
ruler
rolling pin
5 Easy Valentines Day Crafts for Toddlers
Salt Dough Heart Ring Dish
This valentines day crafts with toddlers is the perfect gift for friends, mom, or grandmothers.
What You Will Need:
Salt Dough Kit: We found a salt dough kit at our local Michael's craft store. You can also purchase it from Amazon. You will use 2oz per bowl, so you can make several bowls!
Acrylic Paint: The paint we used came in a canvas paint set we already had, but you can also purchase paint from the craft aisle of any local store (or online!).
Knife
Small glass
Small bowl
Ruler
Paintbrush
Baking tray
Parchment paper or wax paper
Rolling pin
How-To Steps:
Preheat your oven to the recommended temperature as indicated on the salt dough kit packaging.
Place dough in hands, and begin to warm it with your hands by rolling it around into a ball.
Once warmed, place the dough ball between two sheets of wax paper.
Use the rolling pin to flatten out the dough to about 1/8 inch thickness.
Peel away the top sheet of wax paper and cut the dough to make a heart shape, either by freehand or using one of your heart shaped cookie cutters.
Once you have your desired shape, wet your fingers and smooth out the edges of the heart.
Grab your small glass, find the center of your dough, place it on the cup, and press down the sides until desired bowl depth is reached.
Place your shaped dough on an oven bake sheet and place in the oven.
Bake for 15 minutes.
Place your dish on a cooling rack or counter to cool.
Once cool, decorate with paint!
Insider tip: If your dough cracks while still in the oven, pull it out (using a hot mitt, of course!) and use leftover dough to cover the crack using water to smooth out the edges. Careful it can be hot
Canvas Heart Pictures
What you will need
Canvas
glue
hot glue gun
double sided tape
scissors
paint brushes
construction paper
glitter white, pink, and red
pre-cut heart
heart stickers
foam heart stickers
heart doilies
pom poms white, pink, and red
tissue paper white, pink, and red
paint
buttons
How-to Steps
Pull out the desired number of canvases you would like to use. We used 6 all together
Trace a heart on each canvas, making sure each one is in the middle.
Follow each section below for specific heart shape steps
Pom Pom Canvas Heart Valentines day Toddler Craft
Fill the first heart with pom poms using the hot glue gun to affix it to the canvas. Start by alternating colors around the outline of the heart, then scatter the remaining colored pom poms all over the open space left.
Tissue Paper Heart Craft
Cut two inch strips of tissue paper and crumple each one into a little ball with your fingers. Run a line of hot glue or a glue stick along the heart outline and place each crumpled ball along the edge.
Valentine's Day Glitter Heart Craft
The glitter heart is probably the easiest but the most messy Valentine's Day Craft for a toddler we could pick. Lay down a large piece of plastic or construction paper under the canvas for easy clean up.
Spread a layer of amps Podge within the heart outline, using a small paintbrush. Sprinkle the desired color onto the mod Podge.
You can create an ombré effect by painting sections of mod Podge and sprinkling the color you wish. Then painting the next section underneath and spreading the next color and so on until your entire heart is filled.
Puffy Heart Sticker Heart
Peal the back of a large heart sticker and put it at the base of the large pencil heart on your canvas to get a perfect shape base. Then peel the back of each puffy sticker and place them on the inside of the pencil heart.
Yarn Heart Canvas valentines craft
Starting from the outside of the heart run a bead of glue along the edge and press the yarn into it. Keep running beads of glue along the heart in a heart spiral motion until you reach the center of the heart.
This one will be the most difficult and time consuming but the results are beautiful.
Doilies Heart Craft
Line the heart shaped doilies up to the heart you drew in the middle of your canvas and use double sided tape to stick it to the canvas.
When all are complete you can hang them on your wall using small nails or command hooks so they don't leave a hole in your wall.
Silly Heart Puppets
This is a really great for little preschools and toddlers.
What you need
Construction paper
Popsicle stick
Glue
Scissors
Pom poms
Googly eyes
Paint
Glitter
How to steps
Start by cutting out a heart shape on construction paper. Take your glue stick, popsicle stick and construction paper heart shape and glue the heart to the popsicle stick.
Next decorate the heart with googly eyes, glitter and Pom poms.
Paper Heart Wreath
What you need
Construction paper in red, pink and white
Paper plate
Scissors
Glue
Ribbon
Start out by cutting paper hearts of all different sizes in multiple different colors. You can use a template or a cookie cutter to get the perfect shaped paper hearts.
Cut the center out of the paper plate, leaving the outer rim intact.
Randomly glue the cut out paper hearts onto the paper plate until you can no longer see the paper plate. Alternate colors and sizes to get desired look.
Glue ribbon to the back of the plate to hang your wreath.
Love bug Ladybug Craft
These adorable little bugs craft can be a ladybug bookmark or you can make multiple and create a love bug ladybug garland.
What you need
Paper
Scissors
Glue
Markers, crayons or colored pencils
Googly eyes
Pipe cleaners
String if you are making garland
How to steps for bookmark
Start by taking the 8.5×11 construction paper and making it square. Put strip to the side to use for ladybug head.
Using the piece of paper you cut off the 8.5×11 making it square draw a circle and fill it in with black for the ladybug head. Stick Googly eyes to the top of it.
With the square piece of white construction paper, draw a heart in the top left corner so the bottom of the heart is at the center of the paper.
Color the inside of the heart with red and draw black hearts around making a ladybug.
Take the square and fold it diagonally in half so the heart is on the top right side up.
Flip your triangle over and fold over both bottom corners along the straight side of the heart. You should now have a square shape.
Unfold each of the sides and with the heart facing the table, fold down only the back piece of paper to the bottom of the paper.
Grabbing the bottom corners, fold them back up and tuck them into the pocket you have made
Turn your lady bug over and cut off the white part at the top of your heart and glue your ladybug head in its place.
How to steps for garland
Follow all steps from above desired amount of times for garland. We used 8 for a 6 foot garland.
Once you have made each of the ladybugs poke a hole through the bottom of the paper and feed your string through the hole.
Spread the ladybugs evenly along the garland string and tape the string in place behind the head of the ladybug to keep them upright.
Sit pipe cleaners into 1 inch strips. Glue pipe cleaners over the top of the string and bend to make the ladybugs antennas.
Benefits of Crafts with Toddlers
Getting those little hands moving and connecting the brain to their hands is essential for toddlers. We could always ask them to touch their finger to their nose, but that isn't as enjoyable as, say, a fun craft for younger kids.
Fine Motor Skills
Picking up small items helps develop the muscles needed for buttoning jackets, tying their shoes, write, and more
Exploration and Creativity
Creativity boosts confidence by allowing them to express the creative ways they put together the crafts
Patter and Counting Recognition
Teach shapes and colors
Have your toddler put hearts that are the same color and size together
Make patterns with the cut-out hearts and ask them to finish the pattern sequence.
If you are looking for the perfect valentine's day crafts, you most likely won't find it with a toddler. While some toddlers care about coloring within the lines, most just care about having fun and googly eyes. This isn't the time to stress about how it looks, have fun and enjoy the special day with your toddler creating crafts and memories.
Valentine's Day Crafts are fun for toddlers and kids of all ages, and the finished product is something we can cherish for a long time.
Other fun valentines day crafts for toddlers
Large Valentine's Day Envelopes
This is the most adorable valentine crafts because you can use them as a photoshoot backdrop
Valentine's Day cards
handmade card, DIY cards, free printable cards through canva that they can decorate also
valentine cards for class
Free printable
Cardboard hearts
Valentine's Day Tree
family tree, best friends, people they love
fingerprint heart poem keepsake
Heart picture frame
paper plate love birds
heart butterfly craft
valentines day decorations
wonderful decorations to keep forever that you and your toddler have made
Decorate hearts
Think simple crafts. easy heart crafts are cheap and easy for your 1 or 2-year-old that isn't quite aware, but you still want to do fun valentine's day crafts with them.
Valentine's day gift
for a family member
Happy Valentine's Day
We hope you enjoy valentines day crafts with toddlers.
Upcoming Toddler Crafts
First Day of Spring Crafts Ideas
Cute little bugs
Rainbow heart suncatchers
Some items in this post contain affiliate links. I earn a small commission from the brand that does not affect your purchase.