Searching for the best Halloween books for toddlers to ignite your little one's spooky spirit this season?
As the leaves turn golden and a crisp chill fills the air, Halloween approaches, bringing with it a sense of excitement and anticipation. It's the perfect time to dive into the enchanting world of Halloween-themed books that are tailored just for your young reader.
If Target starts putting out decorations and themed items to sell, it's time for the Halloween and Fall bins to come down and decorations to go up at the house.
In our decoration bins are our beloved Halloween books for our toddler, and she gets so excited to get her favorite books out each holiday and decorate her bookshelf in her room.
If you haven't made holiday books a tradition, this is the perfect time to introduce your little ones to the magic of this spooky season through enchanting books tailored just for them.
In this blog post, we'll explore a handpicked selection of Halloween-themed books for toddlers that are not too spooky, ensuring a delightful and engaging reading experience.
List of Halloween Books 
"Please note that some of the links below may be affiliate links, and at no additional cost to you, I earn a commission if you make a purchase."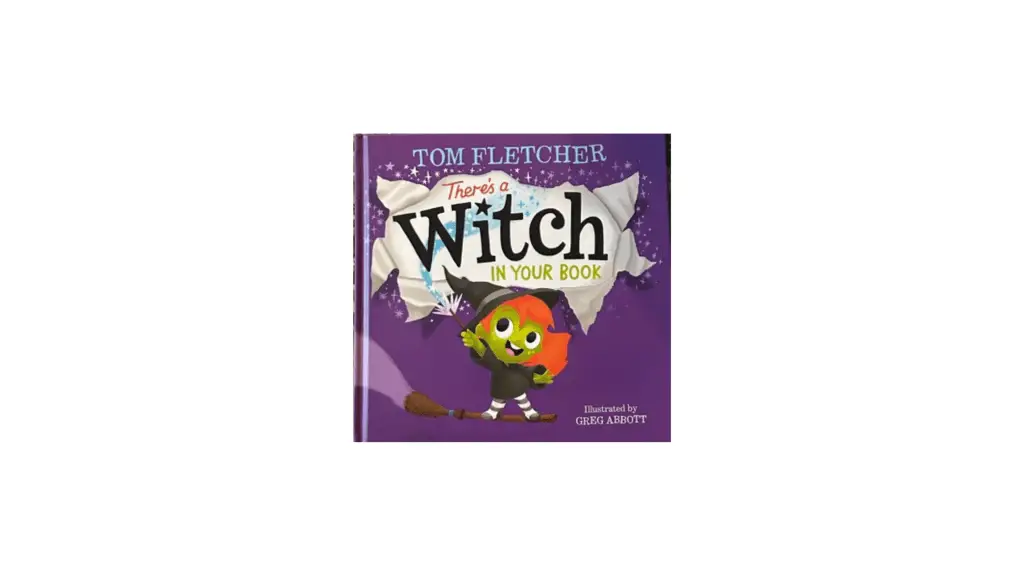 Witch is causing a bunch of mischief and messes in your book, and you must stop her from causing more trouble. This interactive book is absolutely adorable and a go-to each night for our little girl. She loves using her finger wand to cast spells, just like the little witch, and the sweet illustrations make it a great Halloween book for little monsters.
When we asked our toddler what her favorite Halloween books were out of them all, she put this as her favorite book, taking the #1 spot.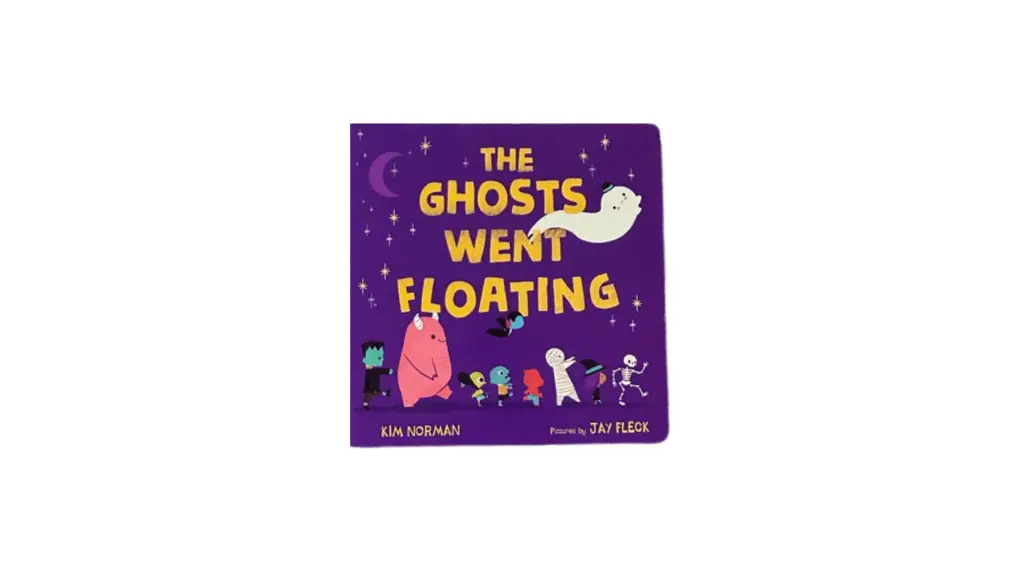 A playful Halloween spin on The Aunts Go Marching song with early math concepts to help tell the story.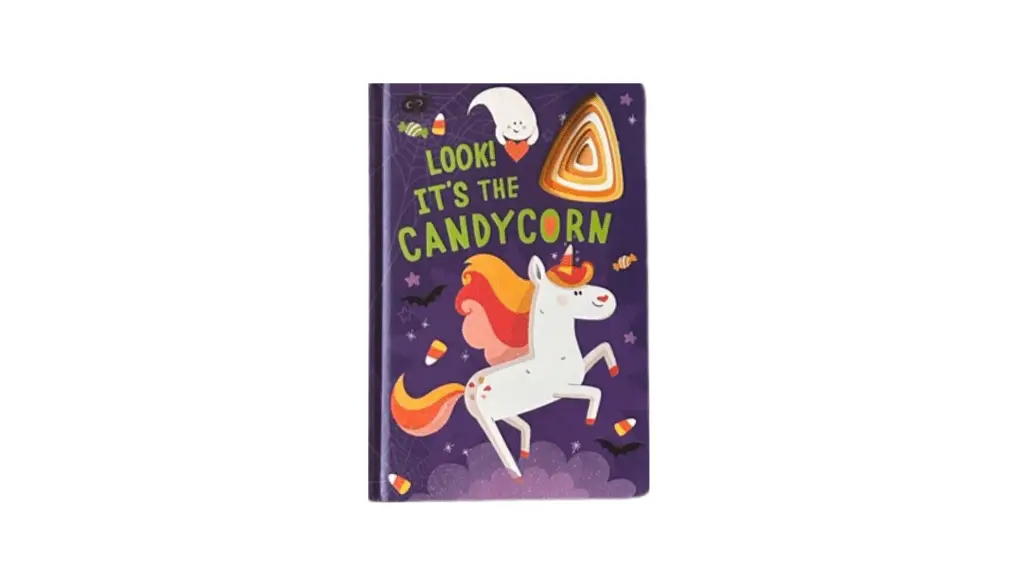 The cute Halloween unicorn spreads joy and glitter everywhere she goes.
Join Candycorn, and all get friends as they celebrate the fun and spooky things around Halloween.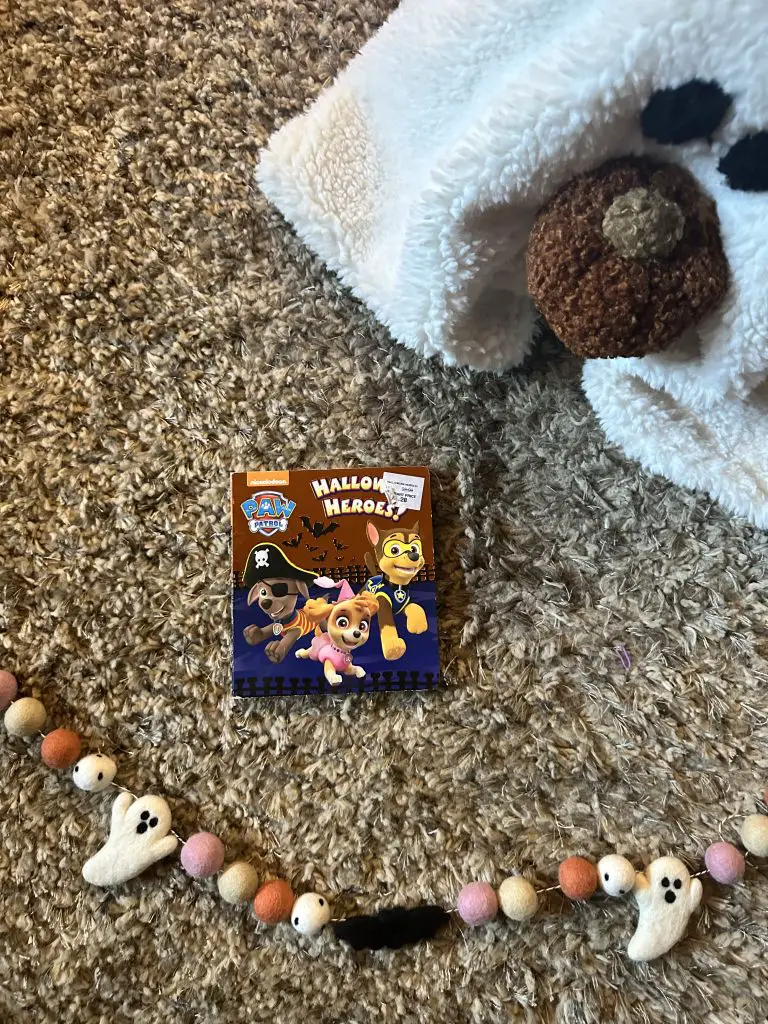 Ryder and the paw patrol gang head out on a Halloween hero adventure as they help Cap'n Turbot on his ship. You are in for a friendly, spooky Halloween treat with this book.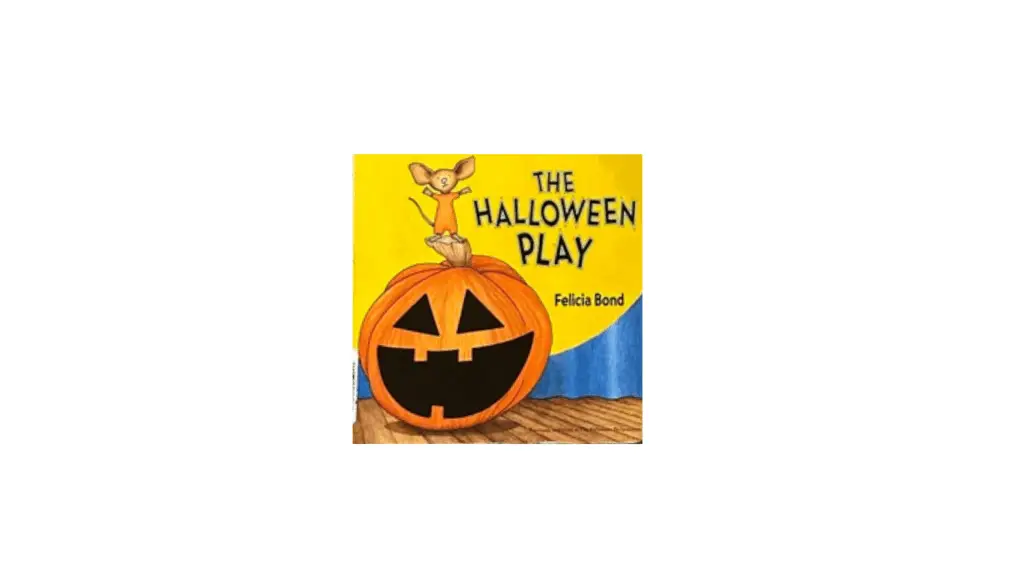 It's the night of the Halloween play, and Roger has a very important part in his school's performance. Find out what small but mighty part Roger plays on his big day in this adorable book. 
Sandra Boynton's books are our family's absolute favorite book series. Each one with a silly rhyme and funny story. These are perfect for young children learning to read and great for parents. Filled with adorable barnyard animals cow heads off into the moonlight to find out what is going on with the animal sounds.
The cow says BOO.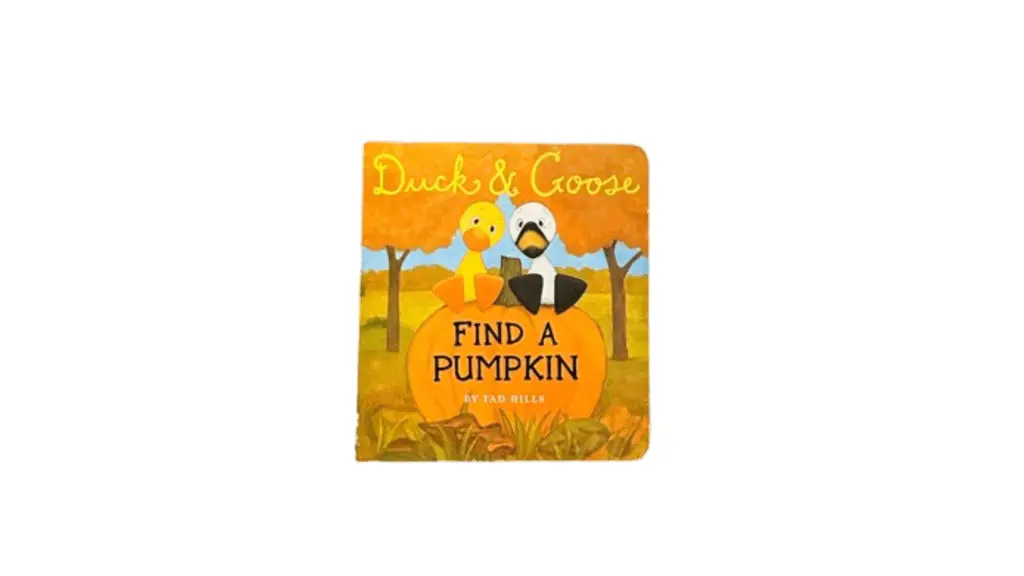 Duck & Goose are at it again, these adorable buddies always seem to have a lot of fun on their adventures. This time, they are on a hunt to find a pumpkin and end up in a pumpkin patch.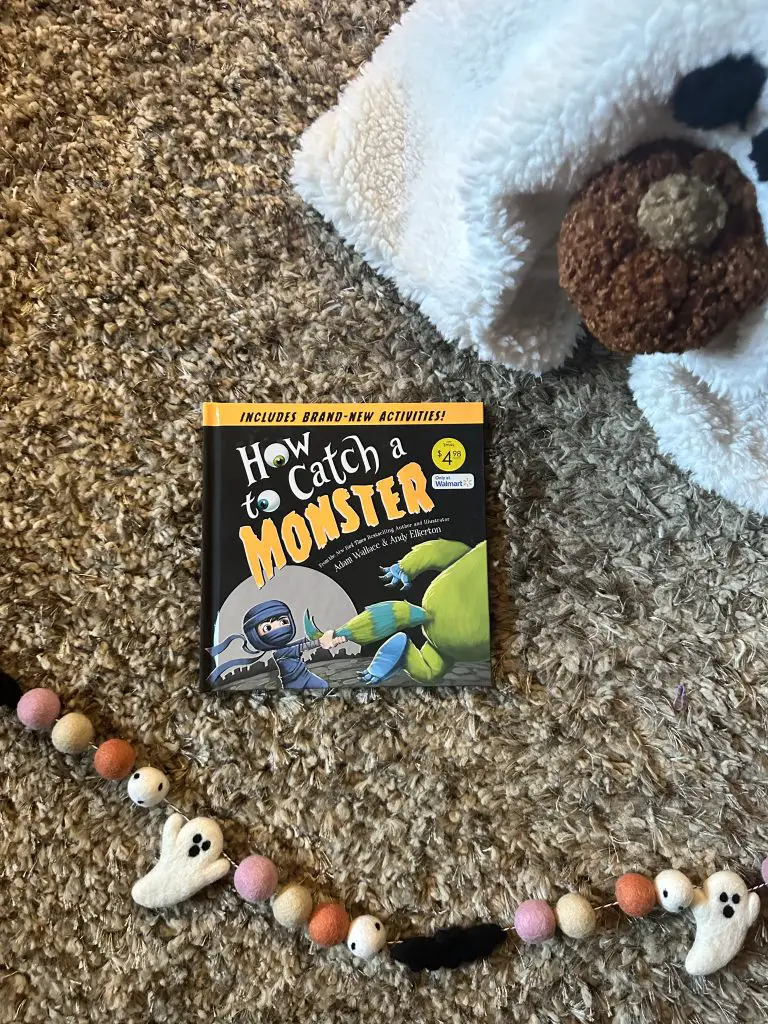 There's a monster on the loose, and it's time to catch him. Find out if they catch the monster and who they meet along the way.
This book also comes with 3 activity pages inside the book.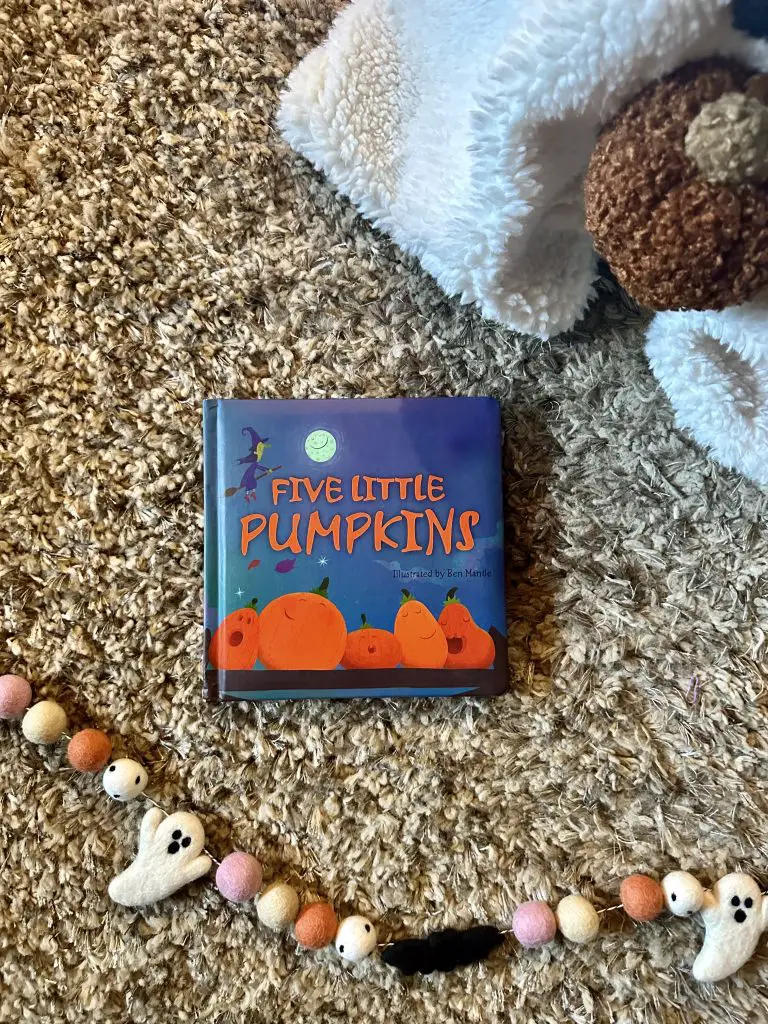 This adorable rhyming book brings out the best characters of Halloween. Join the five pumpkins as they get into a little mischief.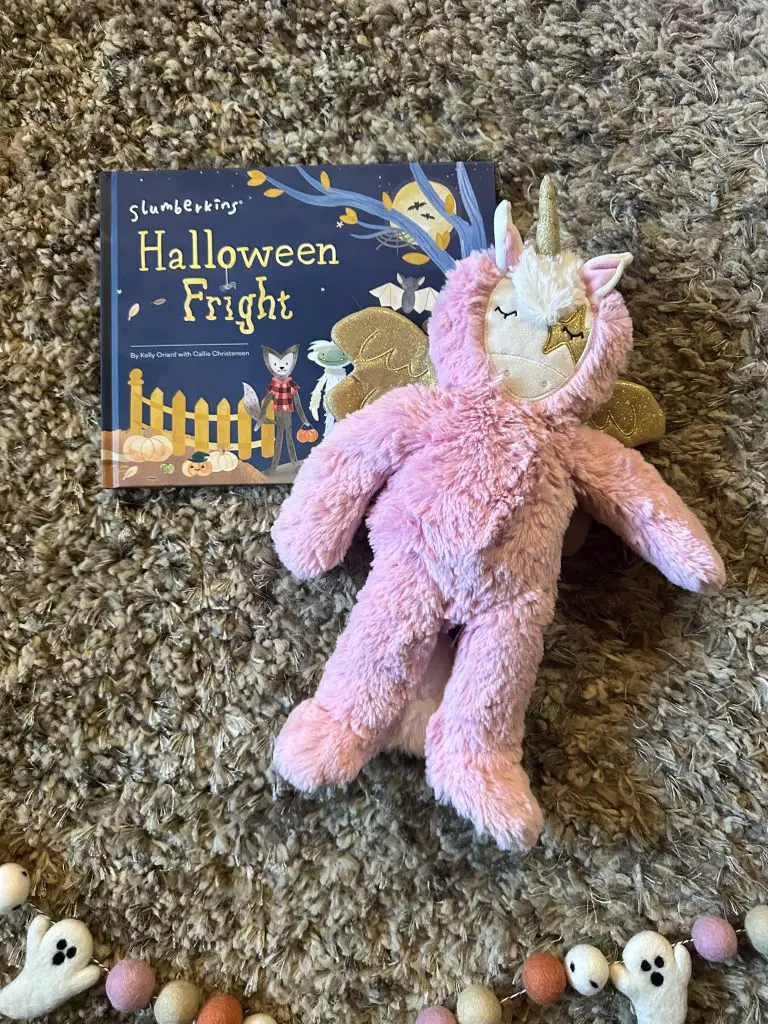 Join Unicorn as she learns to trust her intuition and face her fears on this spooky fall night.
Slumberkins supports parents and educators in building a foundation of social-emotional wellness in children.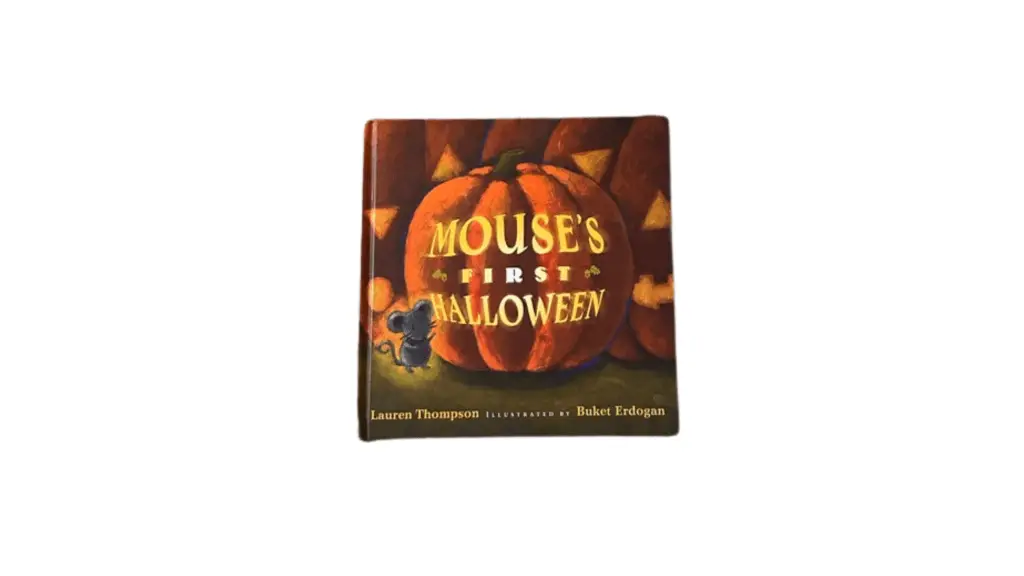 Join Mouse as he goes on a daring adventure on his first Halloween night.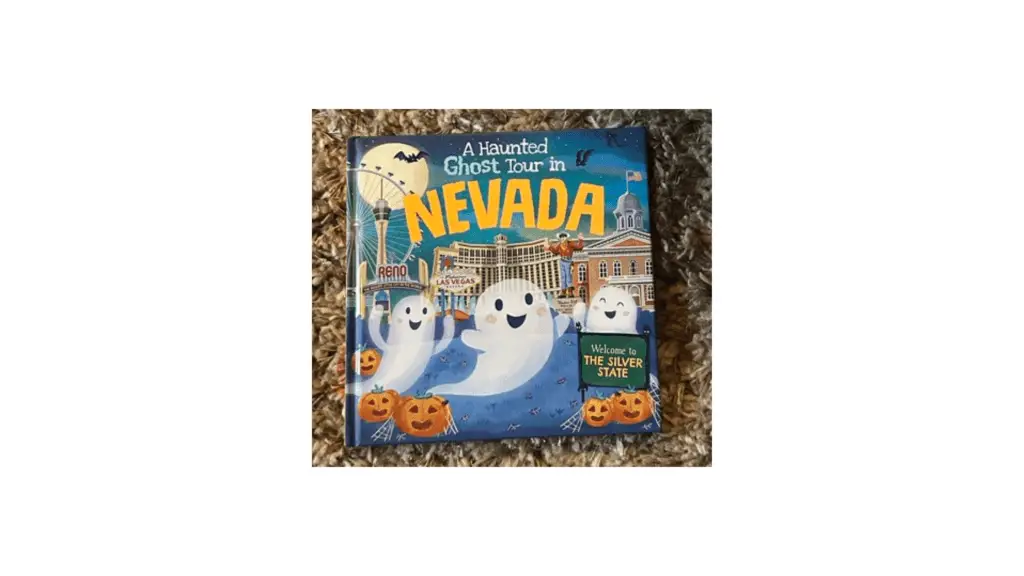 Join Ghost and his friends as they explore their home state of Nevada. Along the way, they explore cities within the state and have fun, unique things to do. While this book is specific to Nevada each state has a book dedicated to them.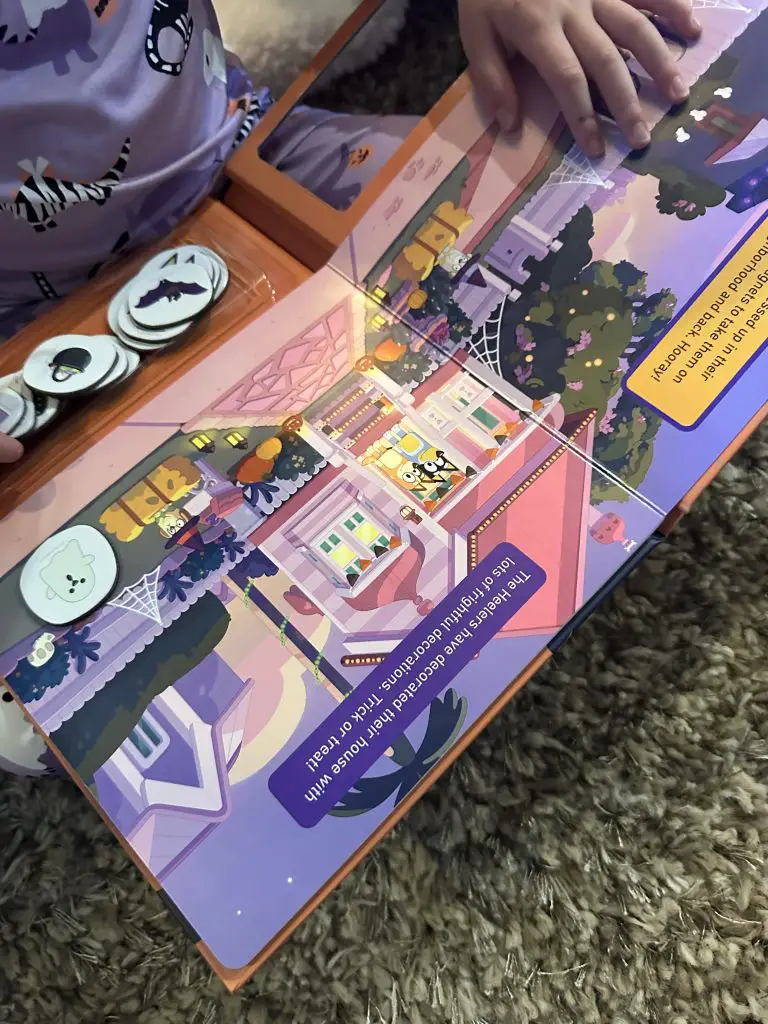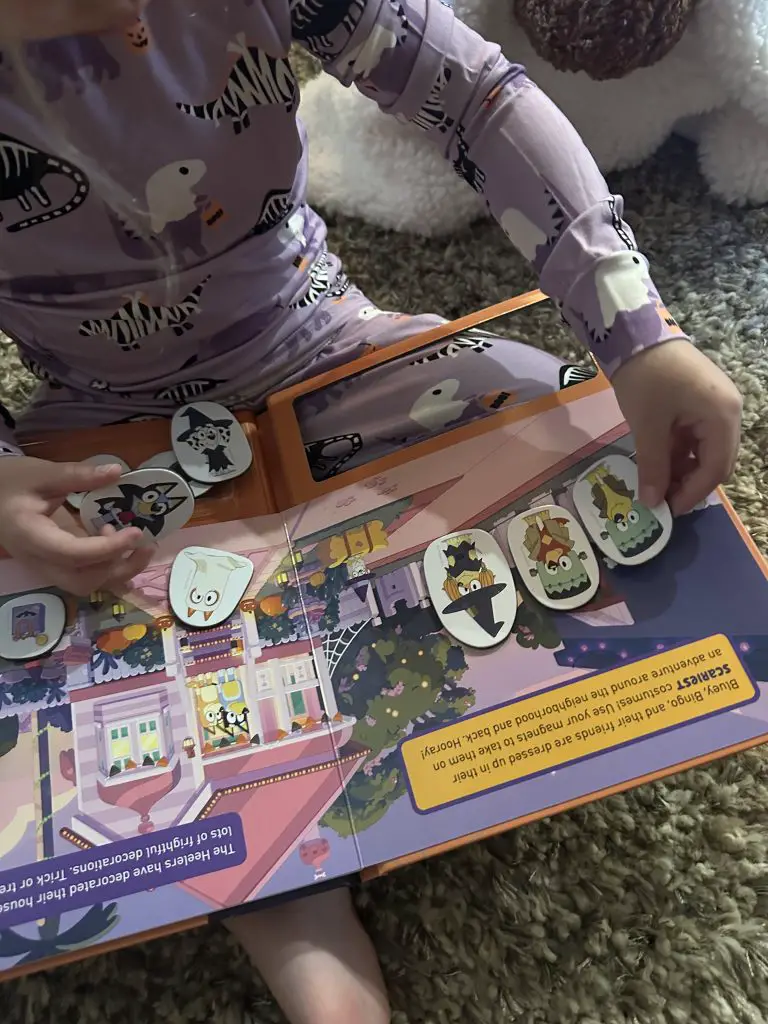 We love interactive books just as much as regular books.
But this interactive book is really one of a kind. You can use the magnets to build your own fun-filled nighttime adventure with Bluey and Bingo.
Featuring Bluey, Bingo, Chloe, Rusty, Indy, and Lucky 
This delightful book follows a friendly witch who, along with her animal friends, goes on a magical adventure. It's a tale of friendship, teamwork, and kindness, perfect for the Halloween season.
We love the Little Old Lady series, and the Halloween edition is just as silly and fun.
This great book engages toddlers with its repetitive text and invites them to participate by clapping, stomping, and more. It's a fun and not-so-spooky choice.
This adorable story follows Baby Mummy as he searches for his Mummy. It's filled with humor and love, making it an ideal Halloween read for toddlers and little kids.
If your toddler is a fan of Llama Llama, they'll adore this Halloween-themed adventure. Llama Llama goes trick-or-treating with Mama and friends, and it's a heartwarming tale of costumes and candy.
Known for her charming board books, Sandra Boynton brings us "Spooky Pookie," a cute story about a piglet searching for the perfect Halloween costume. This fun book is short, sweet, and perfect for the youngest readers.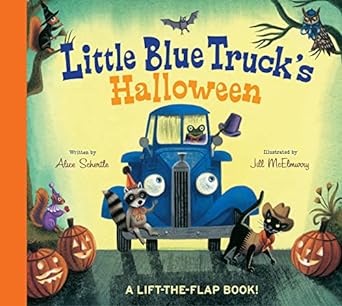 Little Blue Truck and his farm friends are on their way to a Halloween party. They encounter various costumed animals along the way and learn the importance of friendship and sharing.
A spooky twist on a classic song, "The Spooky Wheels on the Bus," adds Halloween fun to the familiar tune. Join the creepy creatures as they ride the bus and sing along to this playful adaptation.
There are multiple Pete the Cat books around Halloween, this book series is great for young toddlers, especially the Halloween version.  
"The Hallowiener" is a delightful and heartwarming Halloween story that follows the journey of a dachshund named Oscar. Despite his unusual shape and size, Oscar proves that even "wieners" can be brave and kind. This book is filled with humor and an important message about embracing our differences, perfect for young readers.
"Go Away Big Green Monster" is an interactive and empowering book that helps toddlers conquer their fear of monsters. As the reader turns the pages, they gradually "make" the monster disappear. This book is filled with a great message for kids about the power of their voice and helps them recognize various facial features. 
The mischievous farm animals from the "Click, Clack, Moo" series are back for a Halloween adventure. Farmer Brown doesn't like Halloween, but his animals have other plans. They're determined to have a spooky and fun night.
What is Halloween without Charlie Brown? This is a beloved Halloween book based on the Peanuts character. In this story, Linus awaits the arrival of the Great Pumpkin while everyone else heads out to trick-or-treat. 
Where is Baby's Pumpkin is an engaging flap book that takes toddlers on a fun Halloween-themed search for a hidden pumpkin. As they lift the flaps, they discover Halloween surprises. 
The Good, The Bad, and The Spooky by Jory John
This humorous and lighthearted Halloween book explores the various aspects of Halloween, from fun costumes to candy. It's a playful and cute book about what makes Halloween so special. 
These fun Halloween books for toddlers provide a variety of experiences, ranging from classic Peanuts characters to interactive flap adventures and heartwarming tales of friendship. Many of these books are suitable for kids of all ages, and they grow with kids from the first bedtime story of the season until they transition to older children's books.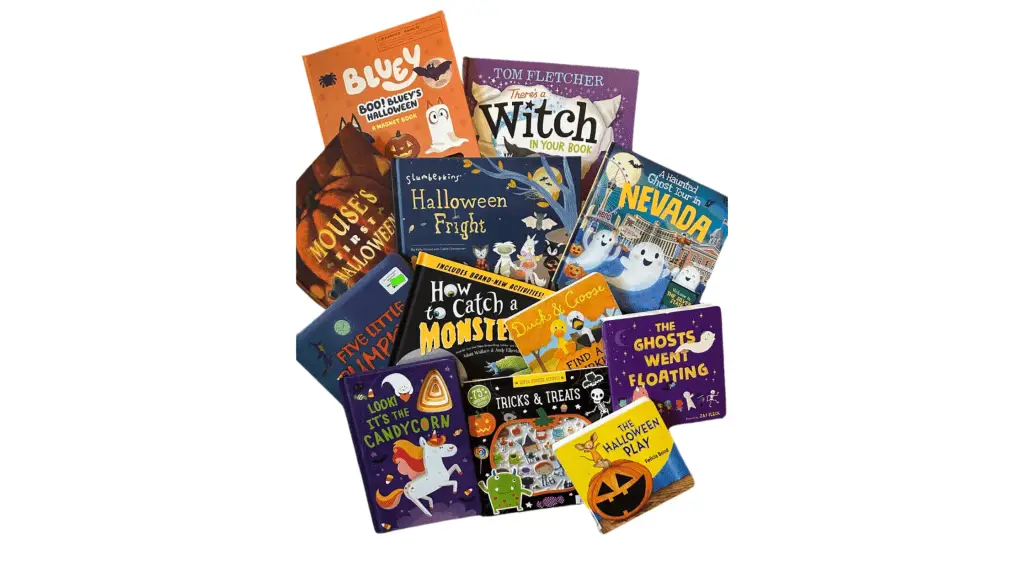 Why Halloween Books for Toddlers?
Let's briefly discuss why Halloween books for toddlers are a fantastic choice. The passion and love for reading is something that must start at a young age. While yes, people can develop a love for reading when they are older, the learning curve through school is not fantastic.

Many kids struggle with reading, and it is something very easy that we, as parents, can start at home.
Nighttime routines are an entire thing in themselves, but adding a book before bed can be a wonderful habit and stress reliever for children.
Here are a few reasons why theming books around a holiday like Halloween helps encourage imagination, vocabulary and building lasting memories as a family.
Sparking Imagination
Halloween-themed books are a great way to encourage creativity and imagination in children. The colorful illustrations and playful narratives can transport them to a world of friendly ghosts, adorable witches, and charming pumpkins.
Building Vocabulary
Reading to toddlers is an excellent way to enhance their vocabulary. Halloween books introduce new words related to costumes, animals, and the changing season.
Creating Traditions
Reading Halloween books can become a cherished tradition in your family. It's a wonderful way to bond with your little ones and create lasting memories.
Where to find the Best Halloween Books for Toddlers
We put together a big list of the best Halloween books for toddlers, but there are so many more we didn't discuss.
You can head to your local library or bookstore and go through the picture book section to find just the right one.
One of our favorite traditions is to go to one of our local used bookstores. Our local store has new and gently used books at a discount and does special discount days for children who have less than 50 books at home.
Although we cycle books based on age and seasonality, we are well over the 50-book limit. We are always donating and getting new books.
During the Fall season, there is nothing like a great Halloween book to put you into the Halloween spirit.
Online is always a great option for purchasing books as well. Amazon, Barnes and Noble, and Thrift Books
Final thoughts on our best Halloween Books for Toddlers Round-up
Halloween is a time for creating cherished memories with your family, and introducing your toddlers to the enchanting world of Halloween books is a wonderful way to do just that. These carefully selected books offer just the right amount of spookiness and fun to make this Halloween season memorable for your little ones. So, snuggle up with your child, grab one of these books, and let the Halloween adventure begin!
Happy Halloween