Best Places to Travel in February
February is one of the best times to travel with fewer crowds and ideal weather, and we are going to dive into the best places to travel in February.
We are currently in the thick of our winter months, and it's snowing where we are. As we are putting together the best places to travel in February, it's making warm weather sound pretty good at the moment, and this time of year, if you are looking for sunny weather, Lake Tahoe is not it. White-sand beaches and horseback riding sound like a good time.
With February being the shortest month of the year, packing up and heading out requires pre-planning and a look at the destination's offerings.
Is it the high season for the area?
Are you looking for sunny days or cold weather and outdoor activities?
10 Best Places to Travel in February in the United States
Theme Parks
Theme parks are always the best place to travel in February, but in any month, really, if we are being honest. While many families might plan their theme park visits for Spring or Summer Break, there are lower crowds and fun events throughout the year that are often overlooked. When the weather is not ideal, and a little rain is always better than a sunny day in the office.
Disneyland After Dark: Sweethearts' Nite sells out immediately once on sale. It's really important to plan ahead of time for this specific event.
Our favorite parks to visit in February are Disney World, Disneyland, Universal, and SeaWorld. Follow the link for a complete list of Top 19 Theme Parks for Families.
New Orleans
New Orleans is a very popular destination for the Mardi Gras Holiday. Mardi Gras this year begins on February 21, 2023. New Orleans starts its festival celebration in January, but all month long, you can enjoy Live music, parades, delicious food, and events to attend.
The French Quarter is where a lot of the main events will take place, but spots fill up quickly. We suggest staying a few blocks away and heading to the french quarters for fun and events.
San Antonio
Texas in the summer is HOT and really humid! The average temperature is around 65-70 degrees F, making outdoor activities completely worth it in February. Exploring outside is ideal during the winter and spring months because the weather is modest.
San Antonio is home to amazing food, the Riverwalk, SeaWorld, Botanical Garden, The Witte, Hemisfair, The Alamo, Live music, and many local events.
Our favorite place to stay in San Antonio is the Hampton Inn & Suites San Antonio Riverwalk and the Canopy by Hilton San Antonio Riverwalk. They are both close to great food and entertainment and a quick uber ride or drive to Six Flags, Morgan's Wonderland, and Ripley's.
Southern California
West Coasts' sandy beaches are a must all year long, but a perfect place to travel in February. With the average temperature in the mid-70's places like Palm Springs and San Diego are screaming our name.
San Diego is 70+ miles of coastline, nightlife, and family adventure. While it is home to some of the best theme parks like Belmont Park and SeaWorld San Diego, we love Balboa Park, USS Midway Museum, and Mission Beach. Follow the link for the Top things to do in Balboa Park. Stay on the beach or at one of our favorite hotels Hilton San Diego Bayfront, and the Embassy Suites by Hilton San Diego Bay Downtown are really great options. Both hotels are close to Mission Beach, Balboa Park, and Downtown San Diego.
Whenever we hear Palm Springs, we think of a really expensive hotel and spa getaway. While that is our top reason for going, many families find that running away to Palm Springs is actually filled with tramway rides to the tops of beautiful mountains, One of the US top Zoos The Living Desert, Museums, and absolutely breathtaking food.
California is known for its wineries, but it has some of the best attractions and food a State can offer.
Lake Tahoe, Nevada
Not far from California, and technically speaking, still a part of California, you will find crystal clear Lake Tahoe and World Class Ski Resorts. This is where you will find the best ski towns. Northstar, Palisades, originally known as Squaw Valley home to the 1960 Winter Olympics. This Lake Town is surrounded by endless winter sports options.
Nestled in the trees, you will find the Ritz-Carlton, Lake Tahoe. The Northstar Mountain Resort is at the base of the mountain and a 15-minute drive to Lake Tahoe. Cross-country skiing or moguls riding at this ski resort during the day and having a cocktail and hot cocoa around the fireplace at night.
Want to ride a gondola over the snowy mountain? Just on the other side of the Lake, you will find Heavenly Mountain Resort. Where you will find both Summer and Winter sports to partake in and the gondola ride up the base of the mountain.
Salt Lake City is also a great option. Typically, crowds are higher during the cooler temperatures because of the main focus on ski resorts.
New York
If you are on a budget, new york is at the top of our list of the best places to visit in February. This is a major off-season for the city, and it's pretty chilly, making it not ideal for most travelers. But you can get great deals on hotels because you are out of season in NYC, and that is massive when it comes to staying in the City.
You can visit all the amazing sites and museums with fewer crowds. Just make sure to pack extra warm clothes so you can be outside for extended amounts of time. The 25th Annual New York City Lunar New Year Parade takes place in February, where hundreds of people gather in Chinatown for the annual procession.
Head to the Westminster Kennel Club Dog Show for a day of fun, then make dinner reservations at one of the local hot spots and head to a broadway show for date night. NYC has endless opportunities for your next vacation.
Florida
With average temperatures ranging from 65-75 degrees Fahrenheit, the beautiful beaches of Florida sound pretty good.
Fort Lauderdale, known for its beaches and boating canals, this oceanside strip is lined with upscale restaurants, bars, boutiques, and luxury hotels.
Key West is the perfect spot for snorkeling and scuba diving. The lack of soft sand and shoreline creates the perfect spot for live coral reef diving. Dolphin encounters and wreck diving are some of the things you can find only in Key West.
30A is one of the best-kept beach towns in Florida, and you've probably never heard of it if you arent from Georgia or Florida. This collection of quiet beach towns between Panama City and Destin has no big resorts or tourist overload. These beaches have small local boutiques, unique coffee shops, and seafood to die for.
St. Augustine is one of the oldest cities in the united states. The charming cobblestone streets are lined with shops, historical landmarks, and immense culture. The beaches along the Atlantic Coast are just as unique as the city itself.
If you are adding theme parks to your list of places to travel in February, we loved Universal Orlando during Mardi Gras. We put together a ride guide for Universal Orlando to help plan your day.
South Carolina
Myrtle beach temperatures are low, but there are smaller crowds because of it. January and February are the best times to visit South Carolina for the best deals. September thru November are the peak season but have the best state festivals.
Head to the old-school amusement park at Family Kingdom and ride one of 35 family-friendly rides or hang on the boardwalk for restaurants, shops, amusement, and theaters. The SkyWheel is one of the tallest Ferris wheels and you can see the entire coastline from the top.
Montana
If winter activities are more your style, Big Sky is the perfect place for a February vacation. You will find Skiing, Dog sledding, snowshoe tours, horseback riding, snowmobile tours, and zipline tours. It's a winter wonderland adventurers' dream come true. You can fly right into Bozeman airport and find yourself in Big Sky after about an hour's drive.
Bozeman is also a fabulous ski town with great mountains and awesome nightlife for its small-town feel. It has many restaurants and bars as well as museums, escape rooms, and a comedy club.
National Parks for Nature Lovers
If you are a nature lover, national parks are the perfect place to travel in February. The crisp weather and lower crowds make national parks a beautiful and quiet spot to vacation.
Yellowstone National Park
Yosemite National Park
Death Valley National Park
Redwood National Park
Grand Teton National Park
Acadia National Park
Rocky Mountain National Park
Best Places to Travel in February Outside the United States
Looking to utilize your passport instead, these places to travel in February outside the united states might surprise you.
Jordan
With multiple Unesco world heritage sites, Jordan is big on culture, ancient history, breathtaking views, and architecture. Travel in February can be cold, don't be fooled by the warm-to-hot sand and beach photos, the average temperature for winter is closer to 50 degrees F. Some of the popular spots are Petra, Amman, Red Sea, The Treasury, and Jerash.
Sri Lanka
Sri Lanka is home to Anuradhapura, Polonnaruwa, Sigiriya, and Kandy from the cultural triangle, where most of the ancient ruins are. February in Sri Lanka is beautiful, and the weather is absolutely amazing. As one of the most beautiful countries in South Asia, it's easy to get around and reasonably priced. The only downfall you will not feel like you have enough time.
Abu Dhabi
We ran into a friend recently who went, and it looked to be absolutely amazing. we couldn't miss an opportunity to add it to our list. February can be warm, with temperatures in the 70's. Start the day with a unique museum Louvre Abu Dhabi, and finish the day at one of their amusement parks or water parks. Yes, we were shocked they had amusement parks as a top thing to do. The Sheikh Zayed Grand Mosque is absolutely breathtaking. Like most "instagramable" spots/ tourist spots, go early to avoid crowds.
South Africa
If the southern hemisphere is calling, Cape Town is one of the greatest places to travel in February. Table Mountain is a flat-topped mountain that overlooks the city of Cape Town in South Africa. Disney World Safari Tour has nothing on a full-day/two-day safari. Elephants, lions, leopards, Cape buffalo, and rhino are apart of the private game reserve just a few hours outside of Cape Town.
7 Wonders of the World
7 wonders of the world was started in 2011 to help drive traffic to some of the most unique structures in the world, both man-made and natural. The seven wonders of the ancient world are:
Great Wall of China
Chichen Itza
Petra
Machu Picchu (closed indefinitely)
Christ the Redeemer
Colosseum
Taj Mahal
Canada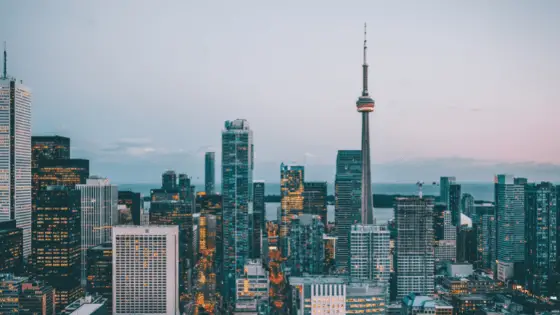 While still in North America, we put Canada in the not US section because it can still be a hop, skip, and jump away for most travelers. February is cold, like really cold in Canada. Temperatures are around 10 – 20 degrees F. So warm clothes are an understatement. If you think you've packed enough, pack more. The colder a place, the less crowded it will be. Winter Sports and festivals will be easier because of the weather.
British Columbia is the perfect spot for dogsledding, cross-country skiing, heli-skiing and cat-skiing, and backcountry skiing. A skier's paradise. British Columbia is one of the main spots for travel and although it might be freezing, if you find yourself in Vancouver, Canada, you will find yourself in a town full of top sights and activities. Botanical gardens, Stanley park, aquariums, interactive exhibits at science world, and Capilano suspension bridge park.
South America
Buenos Aires is known as the city that never sleeps. Fantastic nightlife, with traditional neighborhood bars to big clubs, hidden gems, and award-winning cocktail bars. During the day you can visit the colonial building Plaza de Mayo. Known as the Paris of South Africa, the tree-lined, cobblestone streets with cafes will remind you of Paris.
You cannot travel to South America and not go see Rio de Janeiro. This statue in Brazil is one of the most famous and is a feature in many movies.
Paris
What is more romantic than being in the city of love on valentine's day under the Eiffel tower? Probably nothing. The Eiffel tower is one of 1,154 unesco world heritage sites. The United States is home to only 24 World Heritage sites, while the rest lie across the world.
This was our Honeymoon destination, and we found that it was romantic and packed full of beautiful sites and architecture. We took the big bus around the city the first day to get the lay of the land and figure out what and where we wanted to go. The last few days, we walked and wandered around, stumbling into malls, museums, and cafes.
Tromso, Norway
The best place to visit and see the Natural beauty of the Northern Lights, while February is not the perfect time to see them, March and September are the ideal time to see the Northern Lights because of the season.
Costa Rica
Clear, sunny skies are exactly what you will find when heading to Costa Rica in February. The weather is very warm during the day, and nightfall brings a small break in temperature but is still warm enough to enjoy a mountain tour. Relax on a beach or explore one of the outdoor adventure tours. Costa Rica provides many options for travelers.
Puerto Rico
If the mid to high 80s sounds like more, your style Puerto Rico is one of the best places to travel in February. El Yunque National Forest has a beautiful waterfall during your hike. It is one of the only tropical rainforests in the U.S. territories. Puerto Rico is known for its beautiful sandy beaches and their rum production.
Old Viejo San Juan joined the UNESCO World Heritage Site list in 1983. The cobblestone streets, and colorful buildings along the water, Head to Toro Verde Adventure Park for ziplining and a rope course, and finish off at the glowing organisms in the Bay Bahia Bioluminiscente. Puerto Rico actually has 3 Bioluminiscente Bays.
10 Best Places to Travel in February in the United States Recap
Theme Parks
New Orleans
San Antonio
Southern California
Lake Tahoe, Nevada
New York
Florida
South Carolina
Montana
National parks
Best Places to Travel in February Outside the United States Recap
Jordan
Sri Lanka
Abu Dhabi
South Africa
7 Wonders of the World
Canada
South America
Paris
Tromso, Norway
Costa Rica
Puerto Rico
While picking places to travel in February can be easy if you are basing it on the weather, we found a lot of out-of-the-norm places to visit that are off-season with low crowds. We are all about experiencing a city as it is, and if that means having to bundle up more to beat the crowds, we are all for it.